These Pan-Seared Pork Chops are a fast and easy weeknight main dish that is on the table in under 30 minutes! They're pan-seared to get that crispy crust, broiled until perfectly tender, and loaded with flavor from garlic herb butter!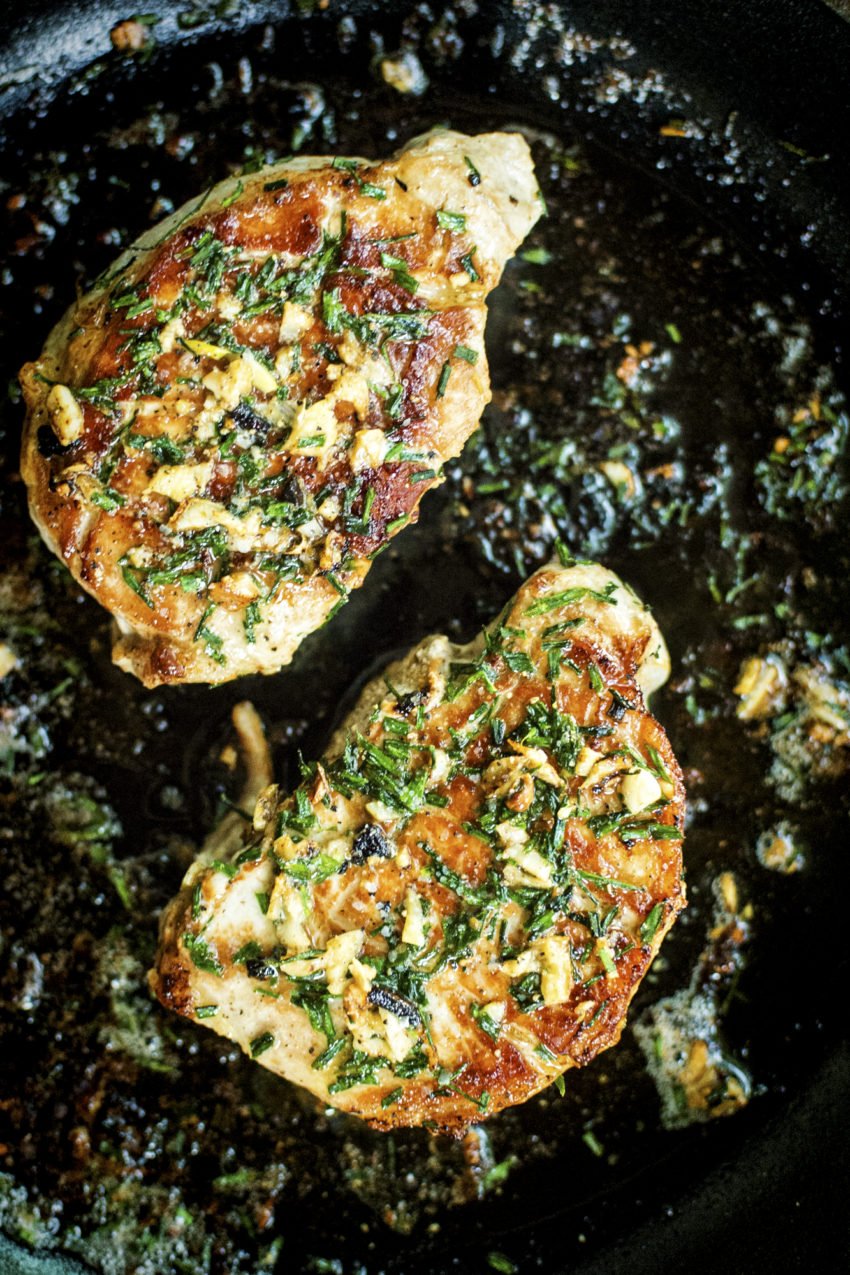 Believe it or not, there was an entire generation that butchered pork. They cooked it long past done until it became a tough, tasteless block. But then science came along and told us that cooking pork to medium doneness with a pink center was a-okay.
Thank goodness for new discoveries and well-cooked meat.
This quick thick-cut pan-seared pork chops recipe is an amazing way to cook thick pork. It's fast, it's easy, and it's basted in a flavorful garlic herb butter. It is definitely not a tasteless block! For more pork recipe inspiration, check out the Pork Archives!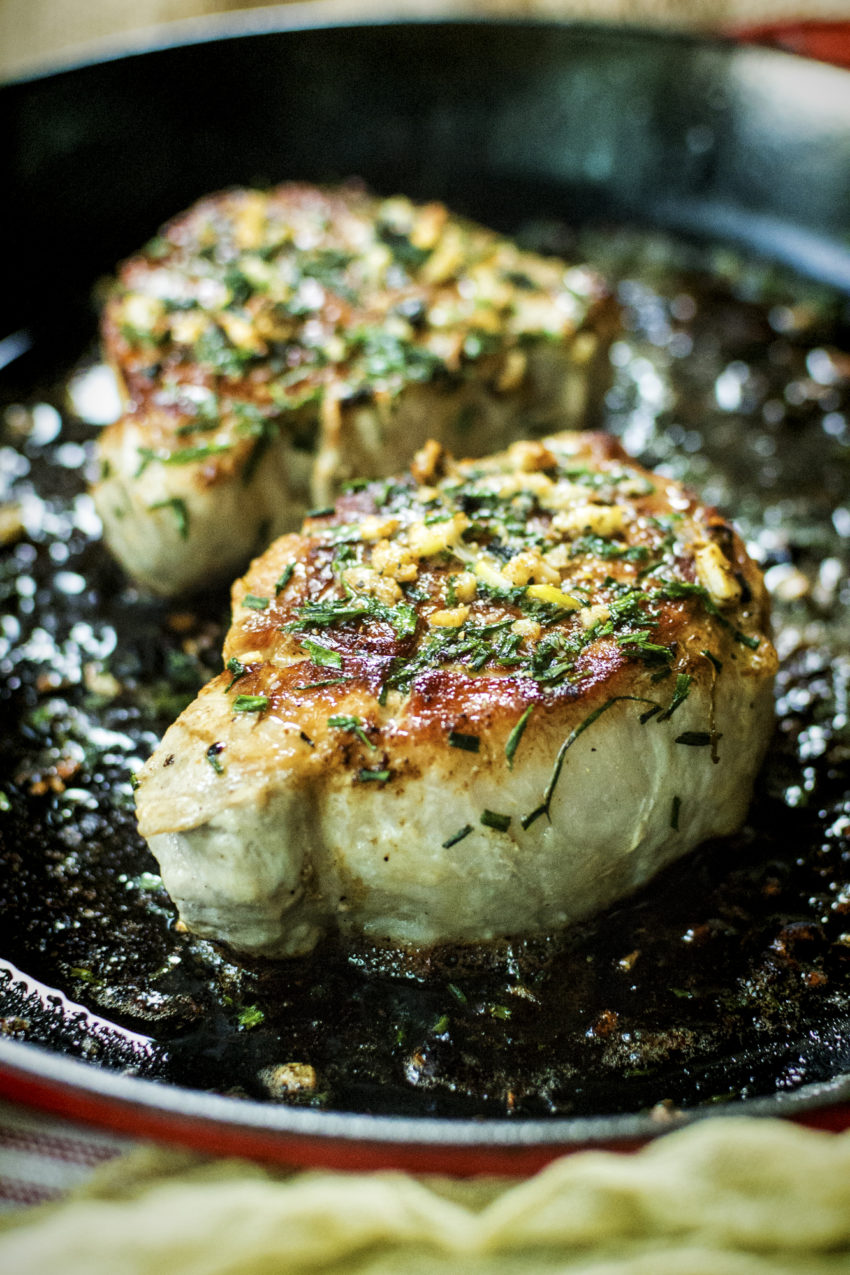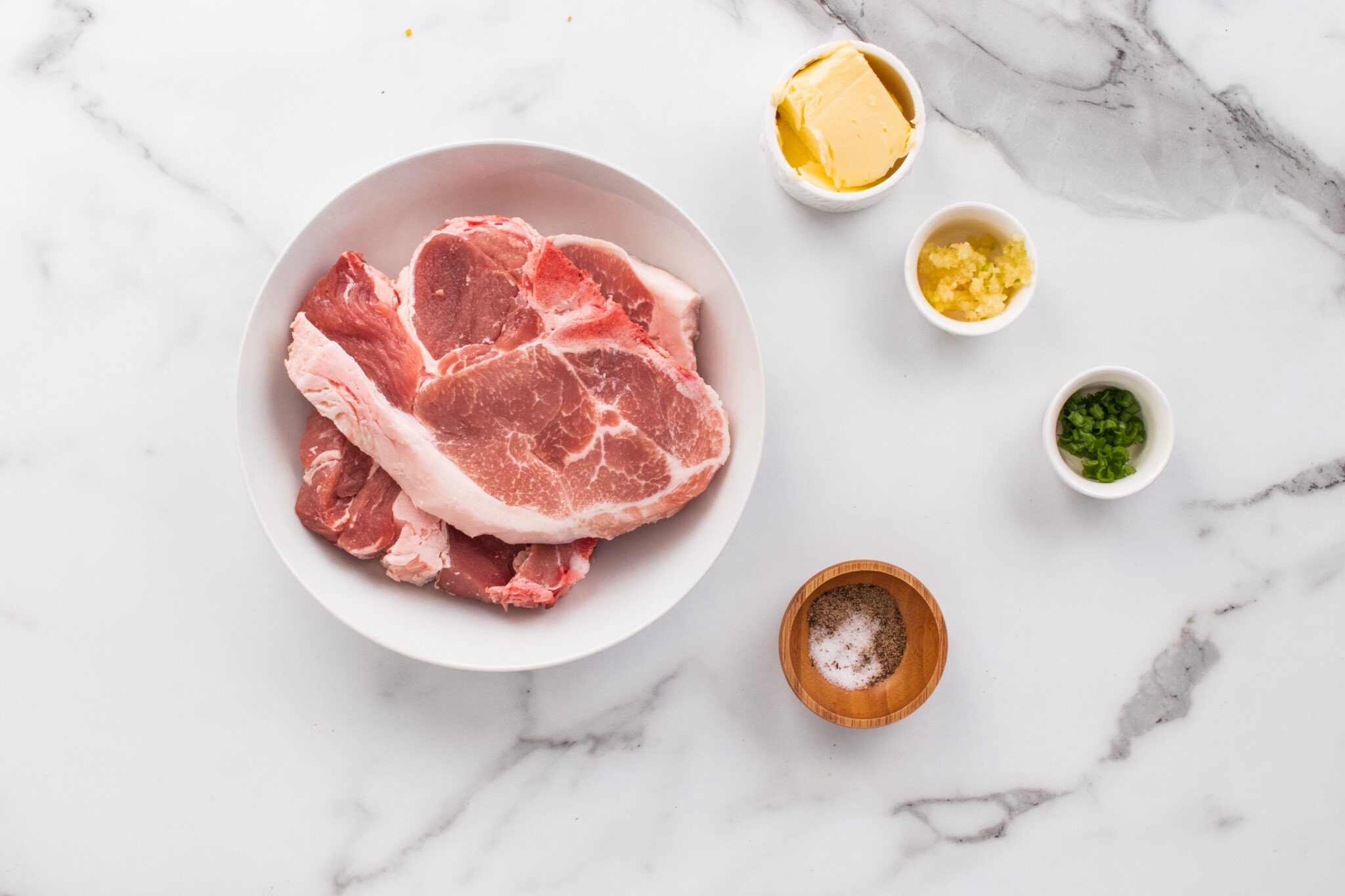 Ingredients Needed for Pan-Seared Pork Chops
Find everything you need at your local grocery store, or peek in your pantry, you may already have everything.
Pork Chops – Use pork chops that are 1 inch thick. If you use different thicknesses, keep in mind that the cooking time will be different.
Seasonings – Salt and black pepper keep this recipe simple, but add any seasonings you would like.
Butter – you can use salted or unsalted butter but you may want to adjust the amount of salt you add yourself accordingly.
Garlic – use fresh garlic for the best flavor.
Fresh Chives – for garnish, if desired! You can also use other fresh herbs if you like. Rosemary and thyme are great options.
How to Make Juicy Pork Chops
First, preheat the broiler. Prep the pork chops by patting them dry with a paper towel, cutting hash marks, then seasoning generously with salt and pepper.
Heat butter on medium-high heat in a large skillet until melted, then add in the pork chops. Brown for 2-4 minutes until a golden crust has formed. Flip, sprinkle garlic on top and cook for an additional 2-4 minutes.
Dollop additional butter on top of each chop then transfer to the broiler and cook until the internal temperature is 140ºF.
Remove from the oven, baste in melted butter, then cover and rest for 2-4 minutes before serving hot and topped with chives.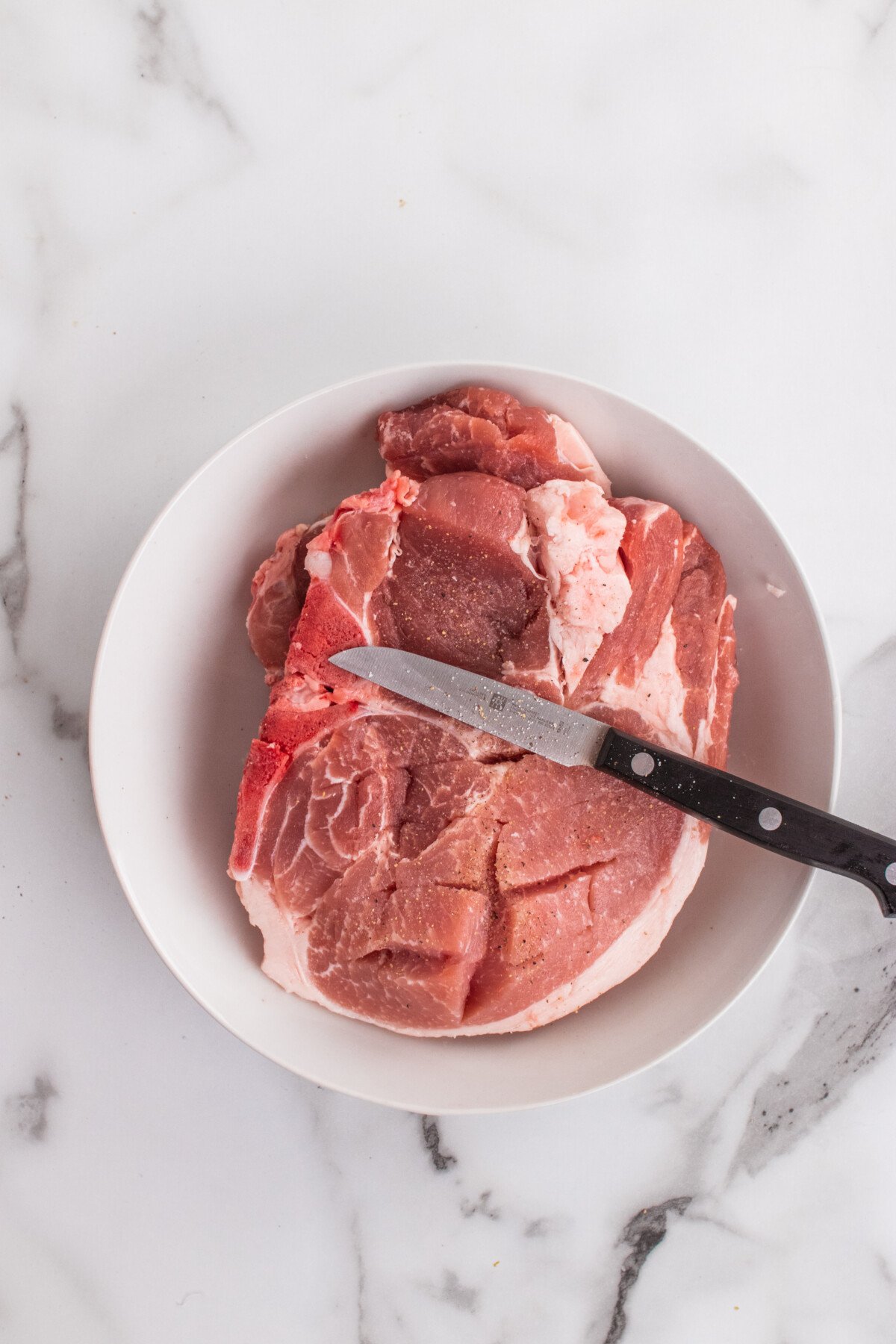 Girl Carnivore Expert Recipe Tips
Pat it dry. Before you cook the meat, pat off any excess moisture. This helps it get nice and crispy!
Score the meat. Cutting hash marks in the pork helps release some of the fat which results in a more tender texture. It also increases the surface area that's exposed to heat for a crispier crust. Give it a nice sear first.
Use a cast iron skillet. Cast iron conducts better heat, resulting in more even cooking and a better sear.
Use a meat thermometer. This is the best way to ensure you get the most tender and flavorful pork possible.
Let them rest. After the pork chops are cooked through, let them sit for a couple of minutes before slicing into them so the moisture can settle back in. This provides the best results for most types of meat.
Season your cast iron. Learning how to season a cast iron will help you in the long run with flavor and caring for your cookware.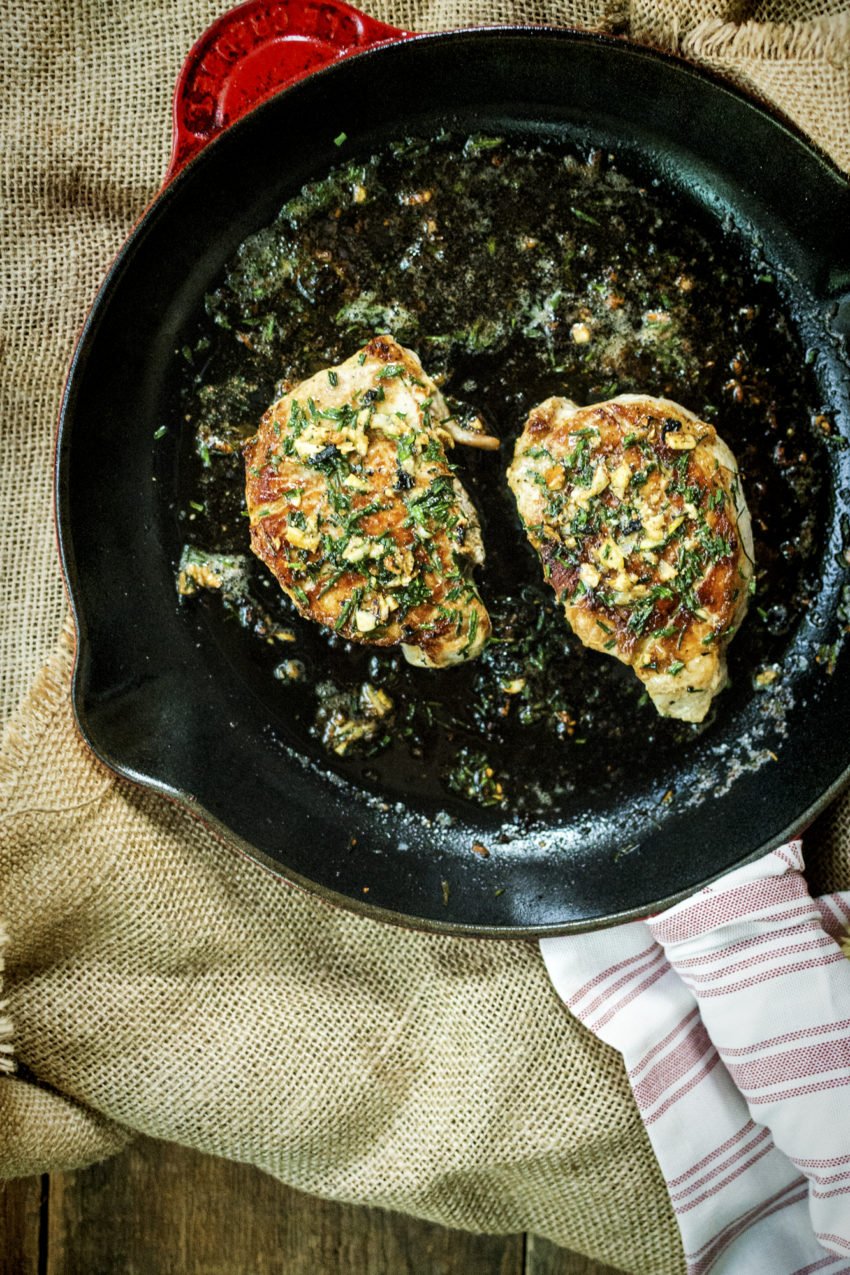 How to Serve Tender Pork Chops
Serve this weeknight quickie with mashed potatoes, spinach salad topped with bacon crumbles, a pile of roasted broccoli, green beans, and a glass of wine.
Now that's an easy meal with minimal effort! Want some starch? Add sweet potatoes to your perfect pork chops as a second side!
Leftovers and Reheating
Leftover cooked pork will last in an airtight container in the fridge for 3-4 days or in the freezer for 2-3 months. To reheat, warm on the stove over medium heat or in the oven at 350ºF until heated through.
Keep in mind that leftover pork won't be nearly as tender and moist as pork that has just been cooked.
Recipe FAQs
What kind of pork chops to use?
Any thick-cut pork chops you like! Boneless or bone-in will work for this recipe. Bone-in has more fat which can help protect against over-cooking, but as long as you're careful not to cook too long you can't go wrong with boneless pork either!
Keep in mind that bone-in pork chops usually require more cooking time so adjust accordingly!
How long does it take to cook 1-inch thick pork chops?
These pan-seared pork chops are ready in a total of 20 minutes! The initial sear takes just 2-4 minutes on each side. After that, you just stick the chops in the oven and broil them until they reach an internal temperature of 140ºF. This should take no more than 5 minutes!
Why are my pan-fried pork chops tough?
If your pork chops are tough, chances are they are overcooked. Since pork is a lean protein, it can dry out pretty darn quickly if it's cooked too long. To avoid that, I highly recommend using a meat thermometer to check the internal temperature. Once it's 140ºF, remove them from the oven right away! Remember, pork needs to be cooked to 145F, and as they rest the temp will rise.
If you have a little bit of extra time, you can soak the pork chops in a buttermilk brine before you cook them. This tenderizes the meat and adds moisture which means if you accidentally overcook them slightly, they are less likely to be dry.
Pan searing your bone-in or boneless pork chops is a delicious way to prepare dinner any night. The juicy chop is great paired with almost anything and even makes a beautiful display for special occasions. The best part of this recipe is that it's simple!
Add these easy pork chops to your family meal plan right away! Everyone from the kids to the grandparents will enjoy it. So fire up your hot pan and create this easy recipe. If you've tried it, be sure to rate the recipe card and drop a comment to help out the next reader.
Quick Thick Cut Pan Seared Pork Chops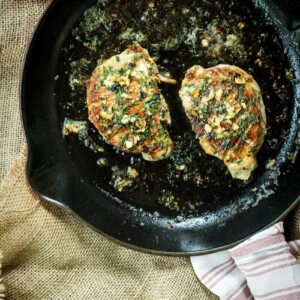 You're 30 minutes from amazing pork chops. Pan-seared and finished in the oven basted with fragrant herbs and butter.
Ingredients
2 – 4

1″ thick pork chops

salt and pepper

4

tbs

butter

2

cloves

garlic

minced

1

tbsp

fresh chives

minced
Instructions
Heat 2 tbs butter in a large skillet over medium-high heat, until melted, swirling to coat. Meanwhile, preheat the broiler.

Cut hash marks into the pork chops and season with salt and pepper.

In the prepped skillet, place the pork chops in gently to hot skillet and brown for 2 to 4 minutes.

Flip when a nice golden crust has formed, sprinkle the garlic over top and cook 2 to 4 minutes longer.

Dollop the remaining butter over top each chop and slice into the broiler to finish cooking until the pork temps at 140 degrees.

Remove from oven, baste in the melted butter. Cover and let rest for 2 to 4 minutes before sprinkling with the chives and serving hot.
Nutrition
Serving:
1
g
|
Calories:
829
kcal
|
Carbohydrates:
1
g
|
Protein:
87
g
|
Fat:
51
g
|
Saturated Fat:
24
g
|
Trans Fat:
1
g
|
Cholesterol:
330
mg
|
Sodium:
393
mg
|
Potassium:
1523
mg
|
Fiber:
1
g
|
Sugar:
1
g
|
Vitamin A:
781
IU
|
Vitamin C:
2
mg
|
Calcium:
42
mg
|
Iron:
2
mg