Looking for a quick low-carb side dish to pair with your favorite main course? This Brussel Sprout au Gratin recipe is a crowd-pleaser for any occasion, from the holiday table to a laid-back weekend dinner.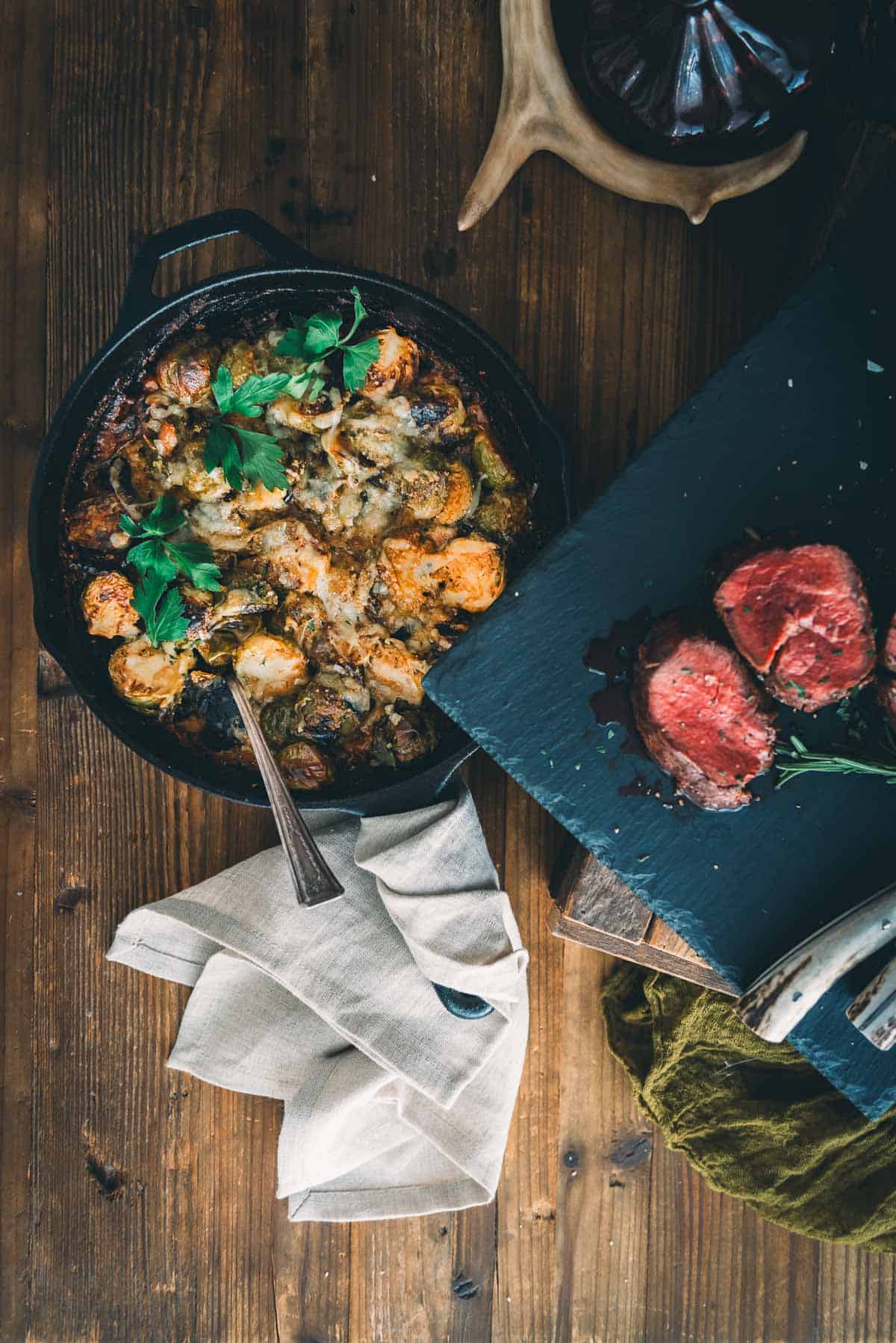 What's better than an easy side dish covered in cream sauce? The answer is nothing. This Brussel Sprout au Gratin recipe is an amazing side for holidays, and guess what? Even if you're not usually a fan of Brussels sprouts, you might become one after indulging in these au gratin Brussels. It's like cozy comfort food, mixing the melty cheese warmth with the down-to-earth deliciousness of Brussels sprouts.
For more cozy and creamy side dishes, check out these Creamed Leeks and this Steakhouse Creamed Spinach!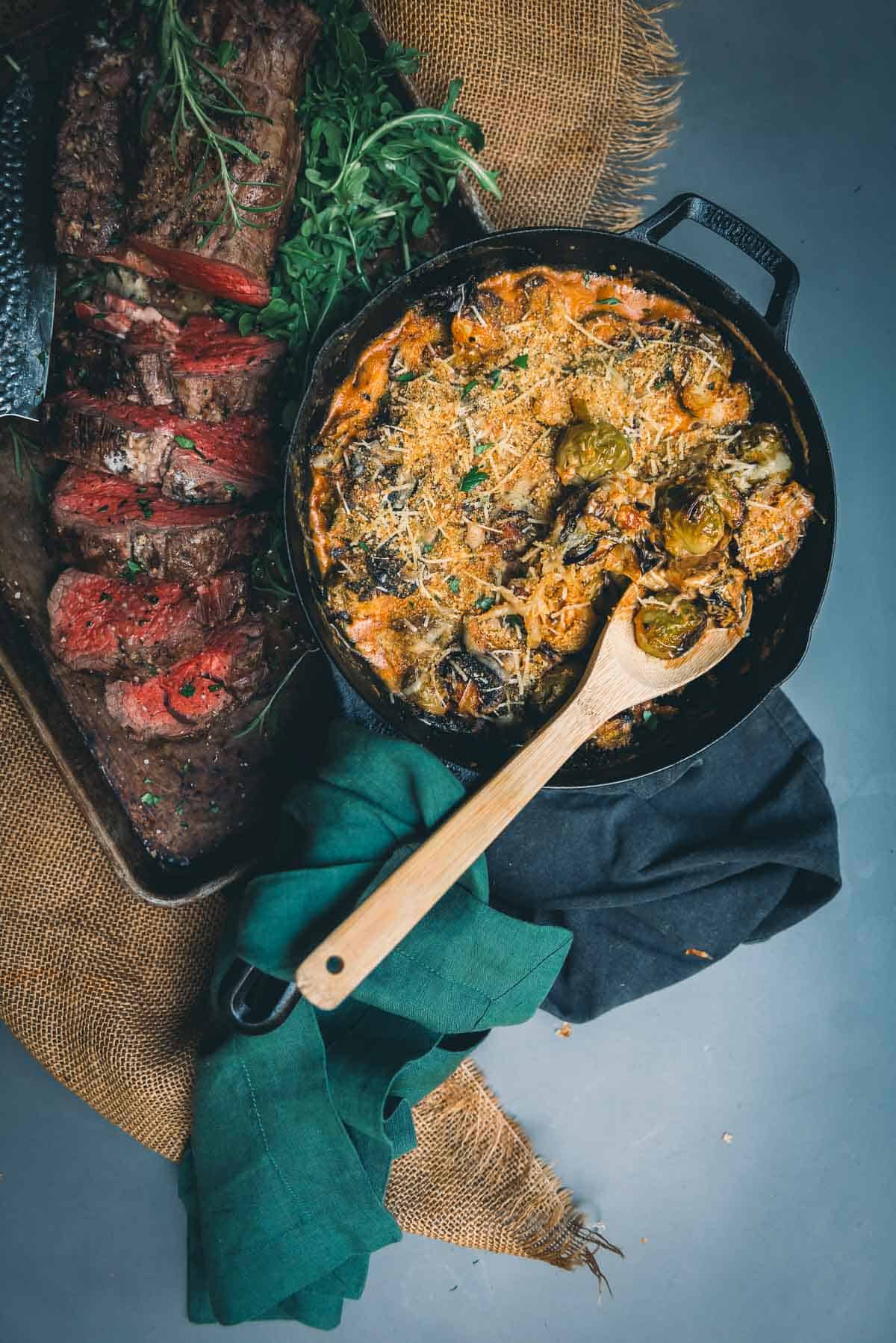 What Is Brussel Sprouts au Gratin?
This Brussels sprout au gratin recipe is our favorite way to take humble Brussels sprouts to new heights of indulgence. The cooking process begins by roasting the Brussels sprouts with pancetta and shallot for the ultimate flavor profile. Then, we make a delicious creamy sauce with heavy cream and cheese. The end result is wholesome vegetables tossed in a creamy cheese sauce that will make you rethink Brussels sprouts forever.
Although you can enjoy this cozy side dish any time of the year, they're a particularly nice touch at the Thanksgiving or Christmas table! Serve these creamy Brussels this holiday season and watch as they disappear!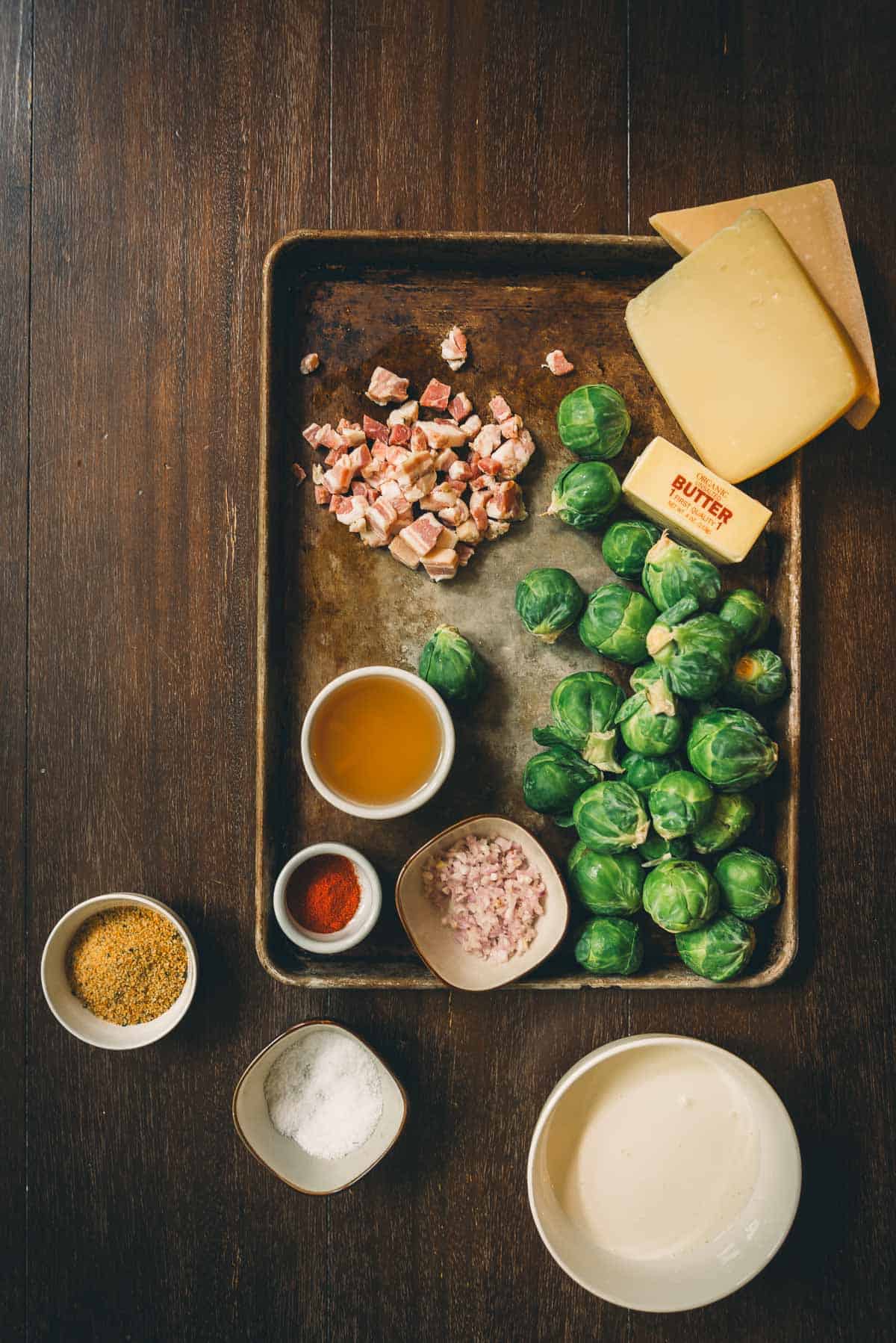 Brussels Sprouts Gratin Ingredients
Brussels Sprouts
Oil – Used to coat the Brussels sprouts before roasting, helping them achieve a beautiful, crispy texture.
Shallot
Pancetta – Brings a delightful smoky and salty flavor to the gratin.
Heavy cream – The key component for creating the creamy, rich texture of the sauce.
Paprika
Cayenne
Dried mustard
Thyme
Gruyere Cheese – Adds a creamy, nutty taste along with excellent melt-ability, making it perfect for a cheesy gratin.​
Parmesan cheese – Adds a sharp, savory note and enhances the gratin's overall cheesiness.
Pork Panko or regular panko bread crumbs – Pork panko bread crumbs are perfect for keeping things low-carb, but you can use regular panko bread crumbs if you're not worried about carbs.
How to Make Homemade Brussels Sprouts au Gratin
What we love about this recipe is that it works in the oven or on the grill – making it the perfect brussles sprouts recipe no matter how you're cooking!
Grilling Method:
First, fire up your grill to 400 degrees F.
While it's heating, prep the Brussels sprouts. Trim off the tough ends, and if needed, peel off any unruly outer leaves. Then, cut them in half or quarters, depending on their size.
Give your sprouts a good toss in oil and sprinkle a pinch of salt over them.
Now, grab a large cast iron skillet and load it up with the sprouts. Sprinkle in the pancetta and shallot, too.
Next, place that skillet on the cooler side of the grill. Let those sprouts get all roasted and slightly brown on the outside. It'll take about 15 minutes. Once they're ready, scoop them into a bowl.
In the same trusty cast iron skillet, whip up the cheese sauce. Pour the heavy cream into the pan, turn down the heat to low, and stir in the paprika, cayenne, dried mustard, and fresh thyme.
Let it gently simmer, allowing the heavy cream to thicken up.
Now, add in 6 oz of the Gruyere cheese bit by bit, stirring until it's all melty and happy.
Now, reunite the sprouts with the cheesy sauce. Give them a good coating.
Top it all off with a sprinkle of pork panko, the remaining 2 oz of Gruyere cheese, and some parmesan cheese.
Then, it goes back to the grill, on the cooler side of the grates. Close the lid and let it cook until the cheese is all melty and golden brown and the sauce is happily bubbling.
Once it's done, carefully take it off the grill and let it cool for about 5 minutes. Then, dig in!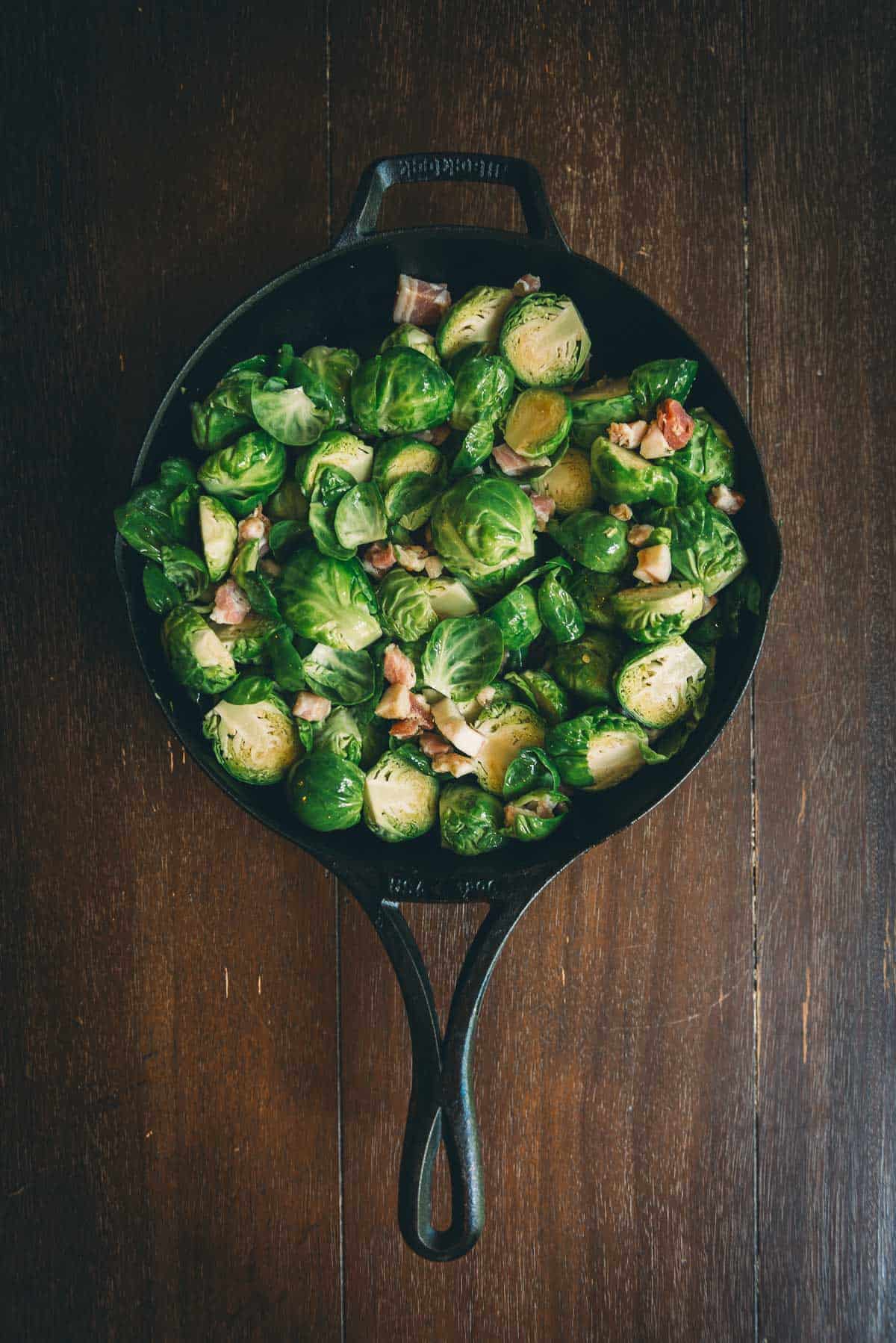 Oven Method:
If you'd rather use the oven, no problem! Just grab a baking sheet, line it with foil, and roast those Brussels sprouts as mentioned in the recipe card.
And hey, if you're feeling extra fancy, top it all off with some crispy onions. Enjoy!
Girl Carnivore Expert Recipe Tips
Don't forget to season your cast iron before using it to prevent it from rusting. Check out our How to Clean Cast Iron guide for more info.
After using your cast iron, you'll also want to clean it to protect the skillet's seasoned layering. Check out our How to Season Cast Iron guide to learn how.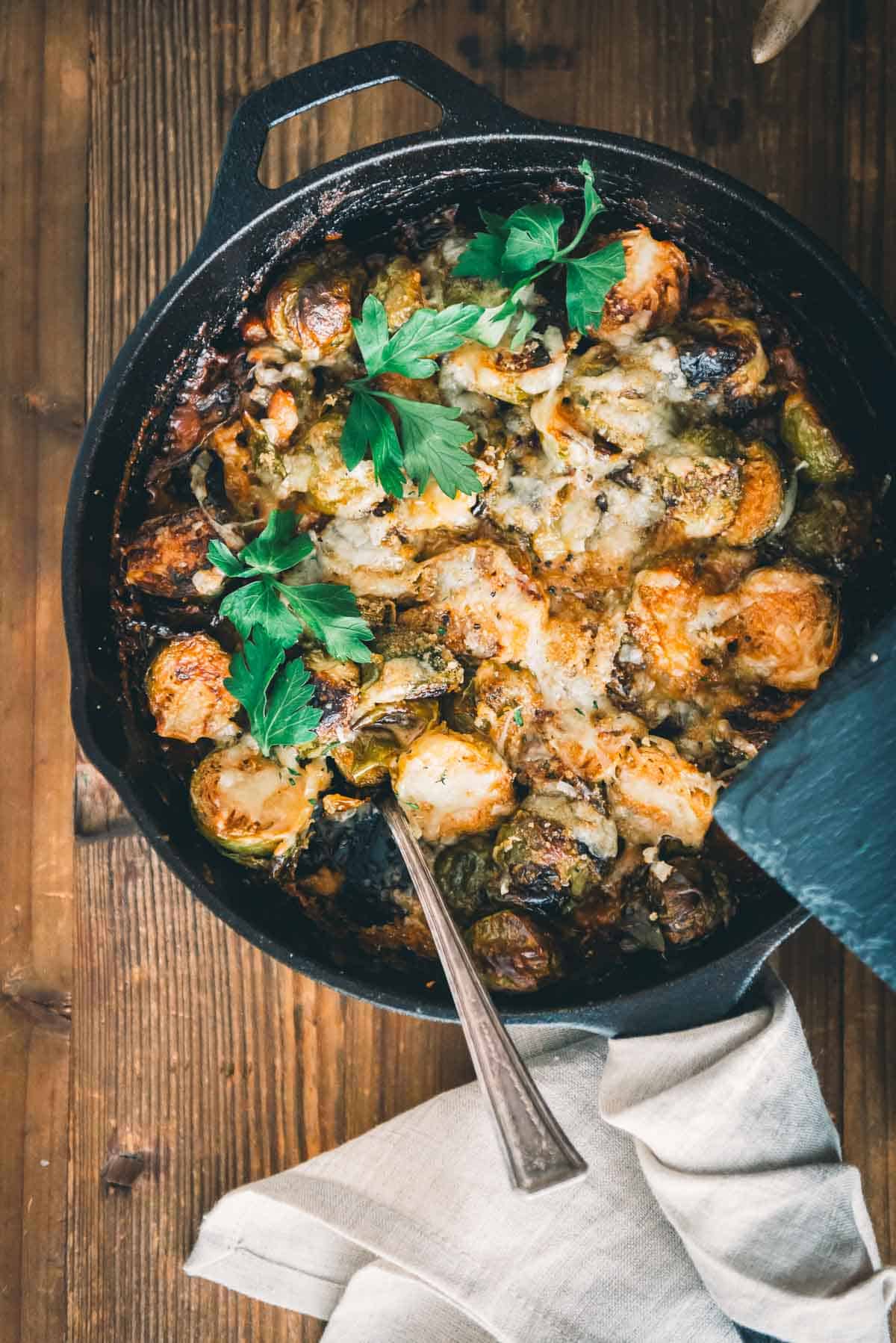 What to Serve With This Brussels Sprouts au Gratin
Serve these delicious Brussels alongside savory main courses like this Smoked Prime Rib. Or, if you're serving this side dish at the holiday table, serve it with classic holiday favorites like Roast Beef Tenderloin Recipe, Roast Turkey, Smoked Spiral Ham with Maple Bourbon Glaze, Keto Cranberry Sauce, and this Giblet Gravy Recipe!
Leftovers & Reheating
Store any leftover Brussel sprouts au gratin in an airtight container in the fridge for 2-3 days.
To reheat:
Microwave: Pop leftover Brussels sprouts in the microwave and reheat in 30-second intervals.
Oven: Preheat the oven to 350 degrees F and place Brussels on a baking sheet. Bake for at least 5 minutes.
Air Fryer: Place leftover Brussels sprouts in the air fryer basket and reheat at 375 degrees F for at least 5 minutes.
If you need help planning the perfect Thanksgiving menu, check out our How to Plan the Perfect Thanksgiving Menu guide!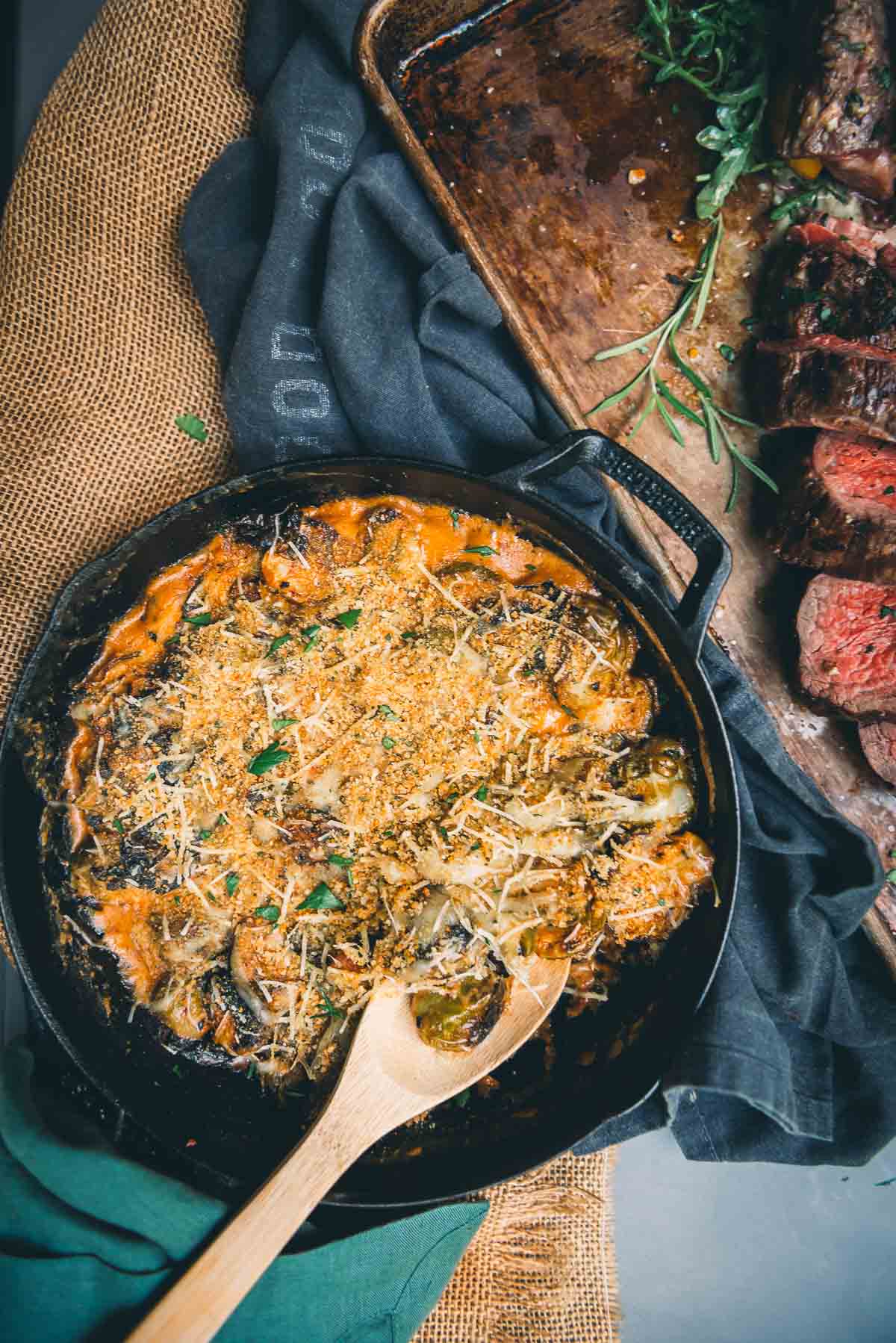 More amazing Side Dish recipes
With its cheesy, creamy goodness and that irresistible golden brown crisp on top, this cheesy Brussels sprouts au gratin is bound to steal the show at any dinner table. Whether it's a holiday feast or just a cozy night in, this Brussel sprout gratin is sure to bring smiles and seconds all around.
Save this recipe for later by clicking the ❤️ button on the recipe card. Did you know you can save all of your favorite recipes right to your own recipe index on GirlCarnivore to find them easier later on?
Have you tried this recipe? Do us a favor and rate the recipe card with the ⭐ ⭐ ⭐ ⭐ ⭐ and drop a comment to help out the next reader.
Brussels Au Gratin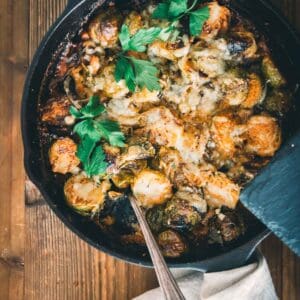 Creamy, irresistibly cheesy Brussels sprouts au gratin that will convert even sprout haters into lovers of this veggie side. An easy family favorite recipe for the holidays.
Ingredients
1

lbs

Brussels Sprouts

1

tbsp

Oil

4

oz

Pancetta

diced bacon works as well

1

Shallot

minced

1

cup

Heavy cream

1

tsp

Paprika

¼

tsp

Cayenne

½

tsp

Dried mustard

½

tsp

thyme

8

oz

Gruyere Cheese

divided

2

oz

Parmesan cheese

¼

cup

Pork Panko

or regular panko
Instructions
Caramalize the Brussels Sprouts
Preheat the grill to 400°F

Trim

1 lbs Brussels Sprouts

of the tough bottoms and any outer leaves if needed. Cut in half or quarters

Toss the brussels sprouts in the

1 tbsp Oil

and season with a pinch of salt.

Place in a large cast iron skillet. Add the

4 oz Pancetta

and

1 Shallot

.

Place the skillet on the cooler side of the grill and roast the sprouts until the outer layers are starting to brown, about 15 minutes.

Remove from the grill and spoon the Brussels sprouts into a bowl.
Make the cheese sauce
Meanwhile, in the same cast iron skillet, make the cheese sauce by adding the

1 cup Heavy cream

to the pan over low heat.

Stir in the

1 tsp Paprika

,

¼ tsp Cayenne

, and

½ tsp Dried mustard

. Add the fresh

½ tsp thyme

in.

Bring to a low simmer to allow the heavy cream to thicken.

Melt in 6 oz of the

8 oz Gruyere Cheese

, a little at a time, stirring to melt entirely.
Bake the brussels au gratin
Return the caramalized Brussels sprouts to the skillet and toss in the cheese sauce to combine.

Sprinkle the top with the

¼ cup Pork Panko

, remaining 2 oz

8 oz Gruyere Cheese

, and

2 oz Parmesan cheese

Return to the grill, on the coller side of the grill grates and cook, with the lid closed until the cheese has melted and is browned and the sauce is just bubbling.

Carefully remove from the grill and allow to cool 5 minutes before serving.
Notes
To make this brussels au gratin in the oven
Use a baking sheet, lined with foil to roast the brussels. Cook as otherwise directed in the recipe card. These are great topped with a handful of crispy onions.
Nutrition
Serving:
1
g
|
Calories:
283
kcal
|
Carbohydrates:
6
g
|
Protein:
13
g
|
Fat:
24
g
|
Saturated Fat:
12
g
|
Polyunsaturated Fat:
2
g
|
Monounsaturated Fat:
8
g
|
Trans Fat:
0.02
g
|
Cholesterol:
64
mg
|
Sodium:
359
mg
|
Potassium:
260
mg
|
Fiber:
2
g
|
Sugar:
2
g
|
Vitamin A:
1080
IU
|
Vitamin C:
39
mg
|
Calcium:
334
mg
|
Iron:
1
mg
Recipe FAQs
WHAT CAN I SUBSTITUTE FOR GRUYERE CHEESE?
​If you can't find Gruyere, Swiss cheese is a good alternative. It offers a similar nutty flavor and melts well. Some other options include Emmental or Comté.
CAN I USE FROZEN BRUSSELS SPROUTS FOR THIS RECIPE?
​While fresh Brussels sprouts are the best choice for this recipe, you can use frozen ones if you're in a pinch. Just make sure to thaw and drain them thoroughly before grilling.