Whether you are prepping for a camping trip or just want to stock the freezer with an easy grab and go breakfast, these make-ahead breakfast burritos are individually wrapped favorites every time!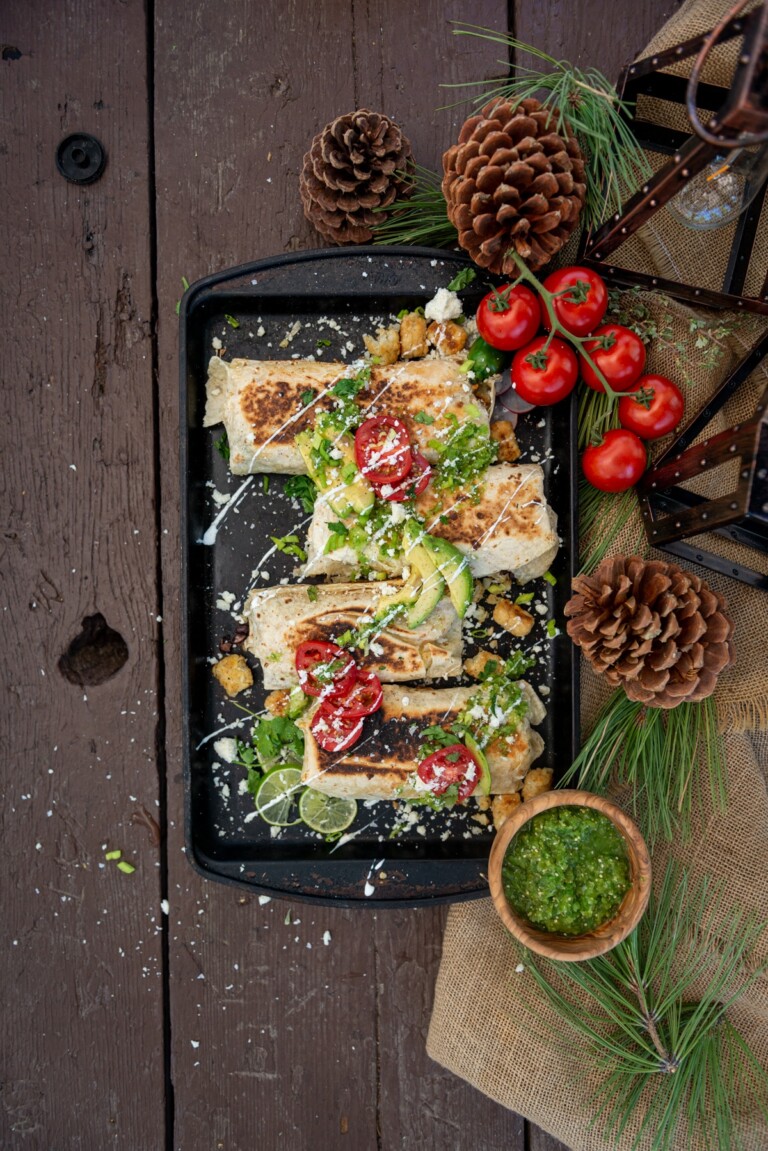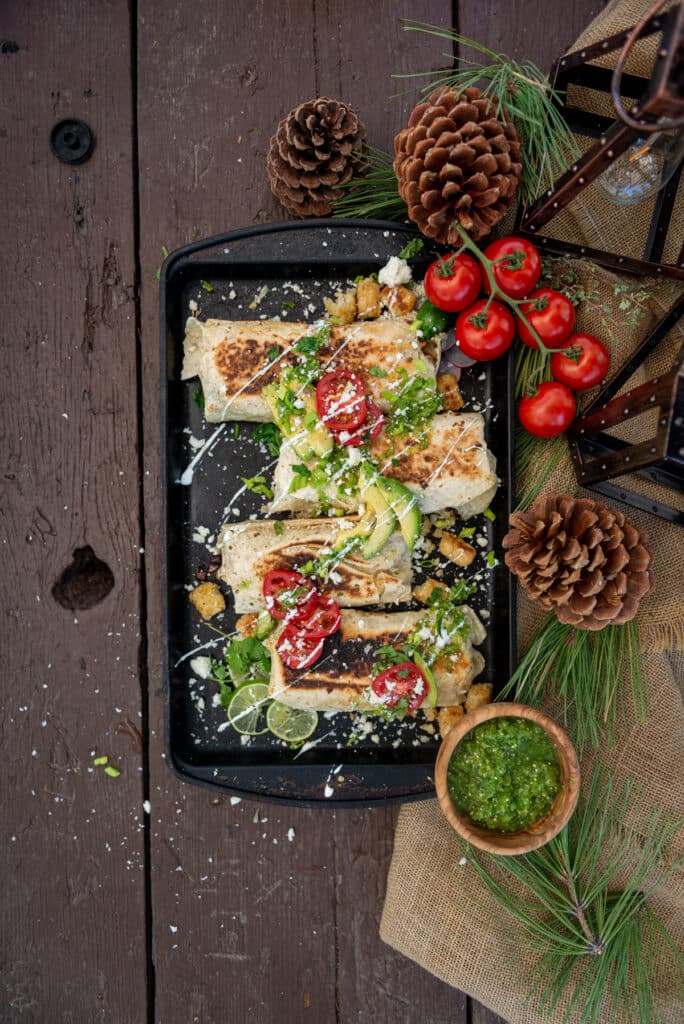 This post was sponsored by the Idaho Potato Commission. All thoughts and opinions are my own.
I'm not sure if it's the mountain air or sleeping in a tent, but camping makes me hungry! Luckily, the whole crew can fuel up with my favorite make ahead breakfast burritos.
See the Web Story for Camping Make-Ahead Breakfast Burrito here.
I love making these in big batches because they are perfect to freeze and pack for camping trips. Plus, they are huge. No one complains about being hungry til supper and for me, when camping, the fewer dishes the better.
Oh, and if you really want to stretch your dollar, you can use up leftovers as the meaty fillings! Pretty much my MO in all my camping recipes.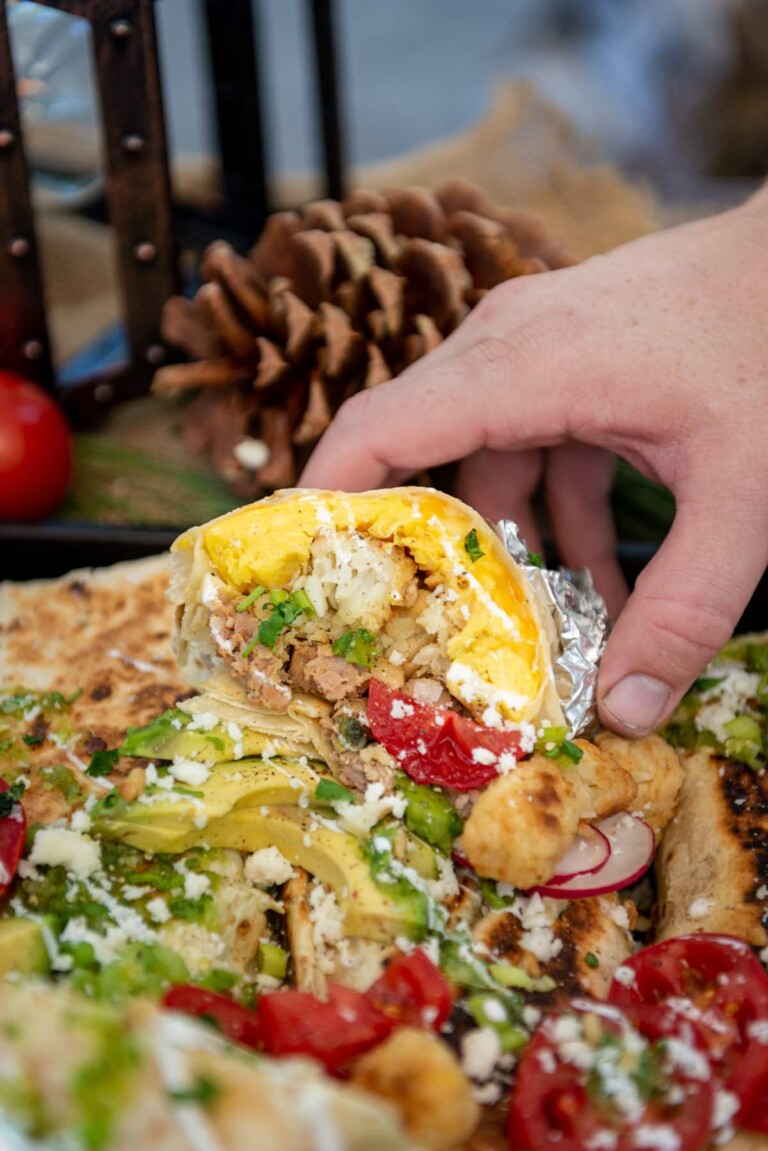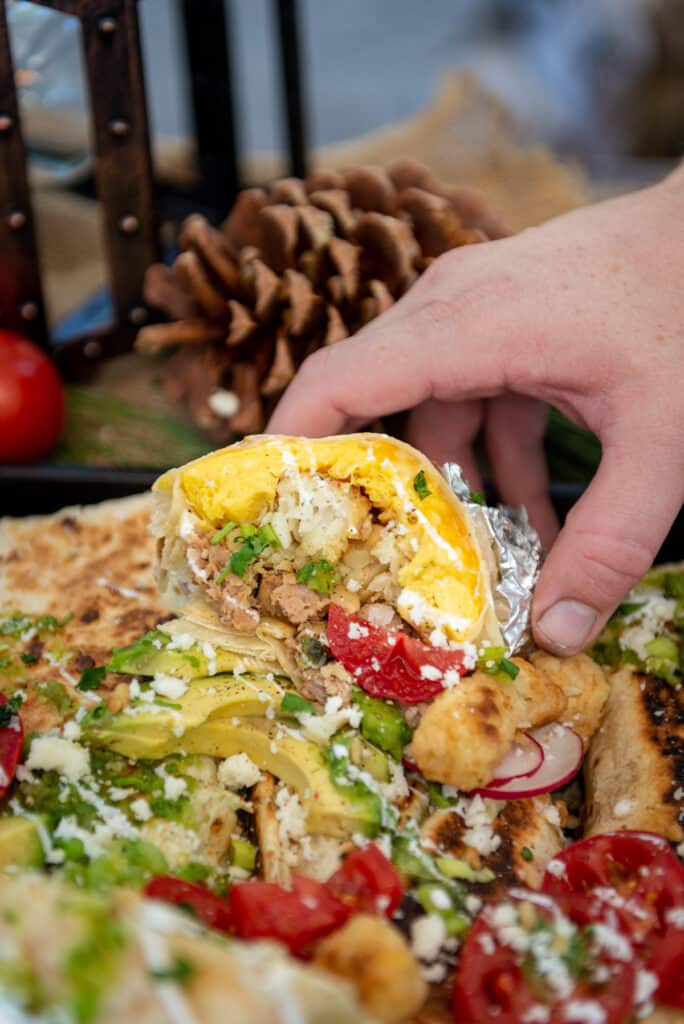 Tips for Making Burritos Ahead of Time
For quick success when making burritos it's important to cook and prep all of your fillings ahead of time. Once you start filling and rolling, you don't want to stop because you forgot an ingredient.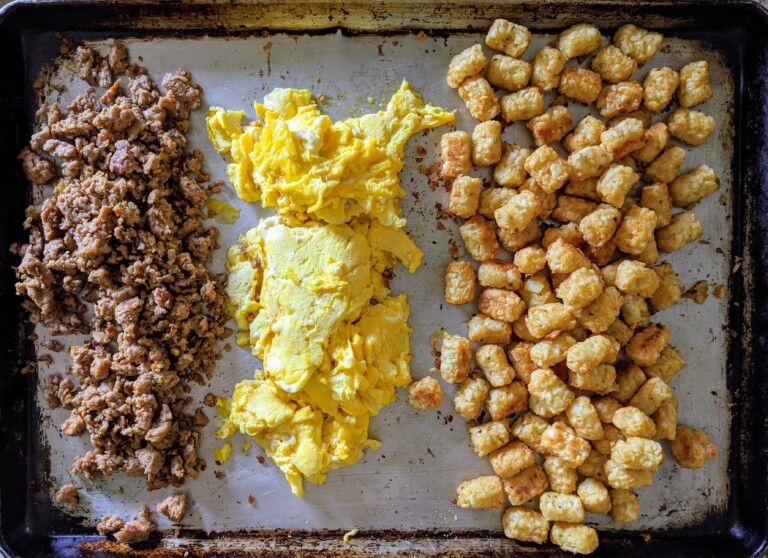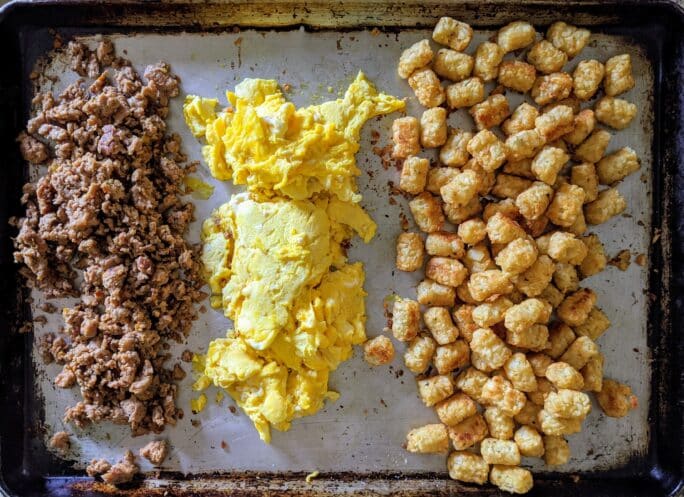 Have all the fillings prepped and a large clean work surface to lay out all of the burritos on and fill in one swoop, like an assembly line. Then you can wrap and store them, making quick work for this recipe and even easier reheating later.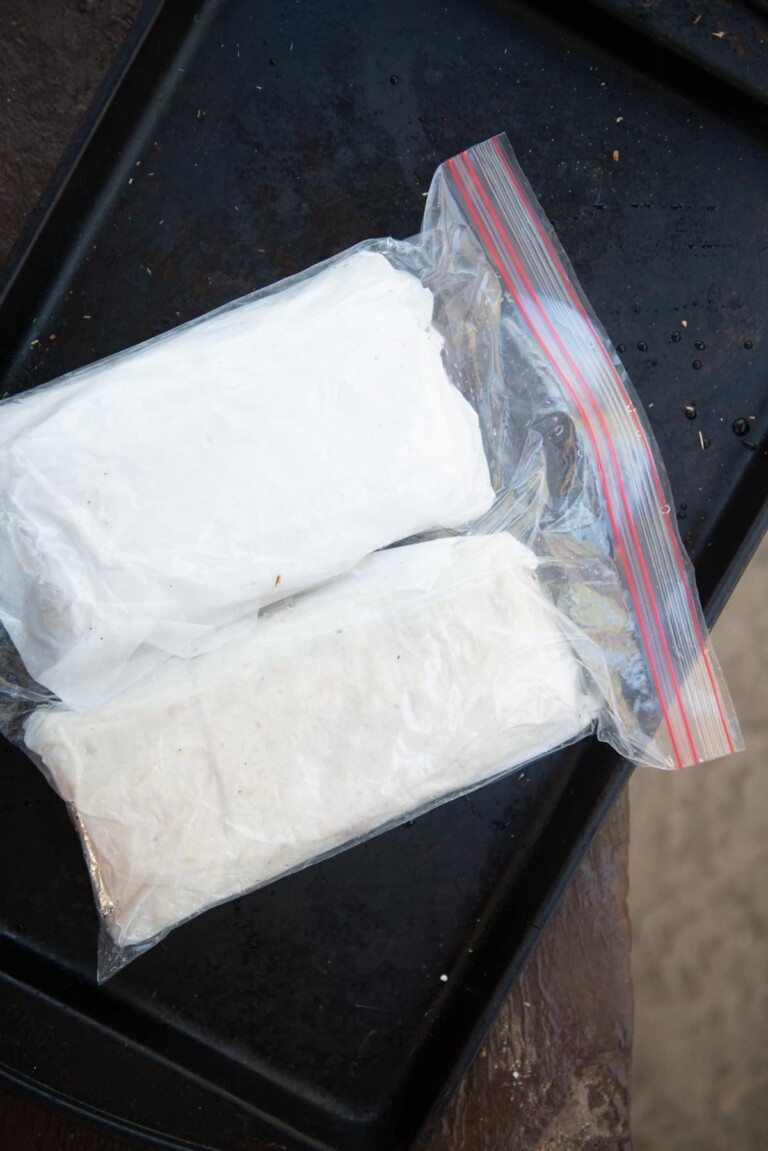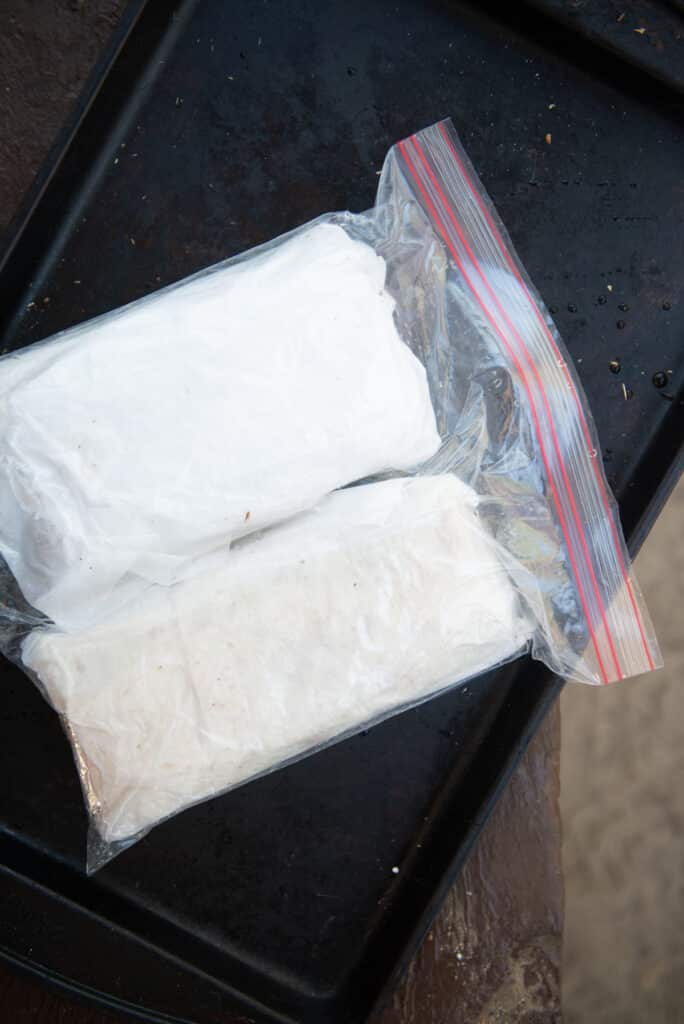 How to keep them from getting soggy
When prepping the burritos for freezing there are a few handy tricks to avoiding anything from getting soft over time.
Cook and cool everything completely before filling. This prevents steam from the hot foods creating moisture that would otherwise get trapped in.
Don't add salsas, or sauces, or pretty much anything that comes with a liquid or oil base. Because, over time, that will make things soggy.
Don't use fruits or veggies that will soften and release liquid. Like avocados. They just get mushy. Or tomato slices…. you get where I am going with this.
Wrap and store well. Any freezer burn, ice crystals, or thaw and freeze is never good when it comes to keeping a good texture in foods.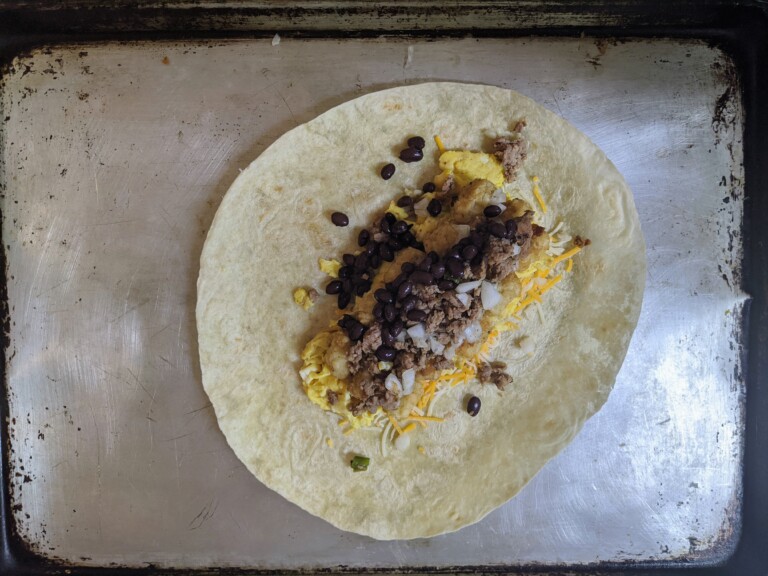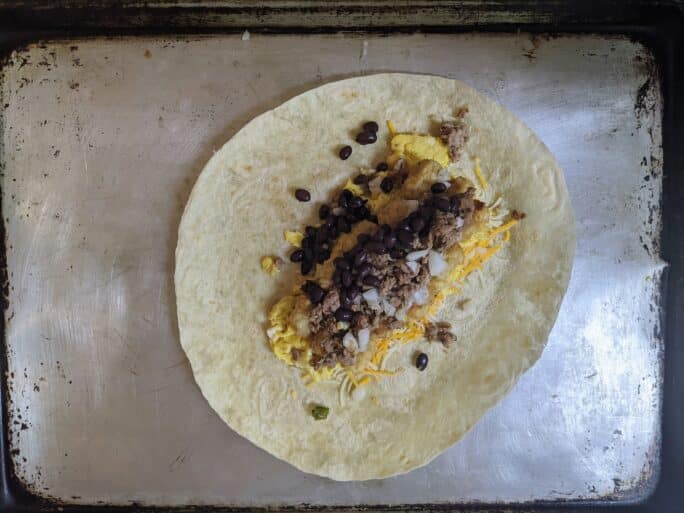 Freezing homemade burritos
Once you have prepped these burritos, tightly wrap them in parchment paper and store them in a resealable bag, with as much air removed as possible.
You can freeze burritos for up to 3 months. But if I am going to keep them that long, I also wrap them in foil to prevent ice crystals forming on them (which is another tip to prevent soggy burritos).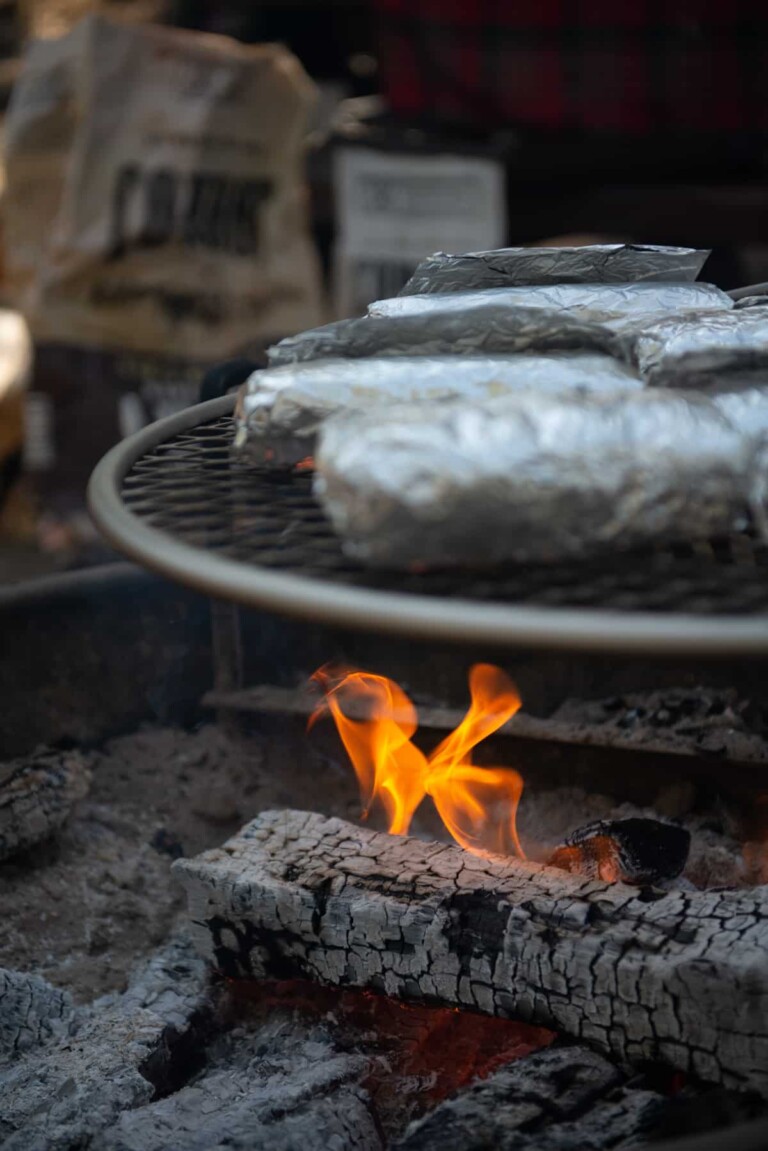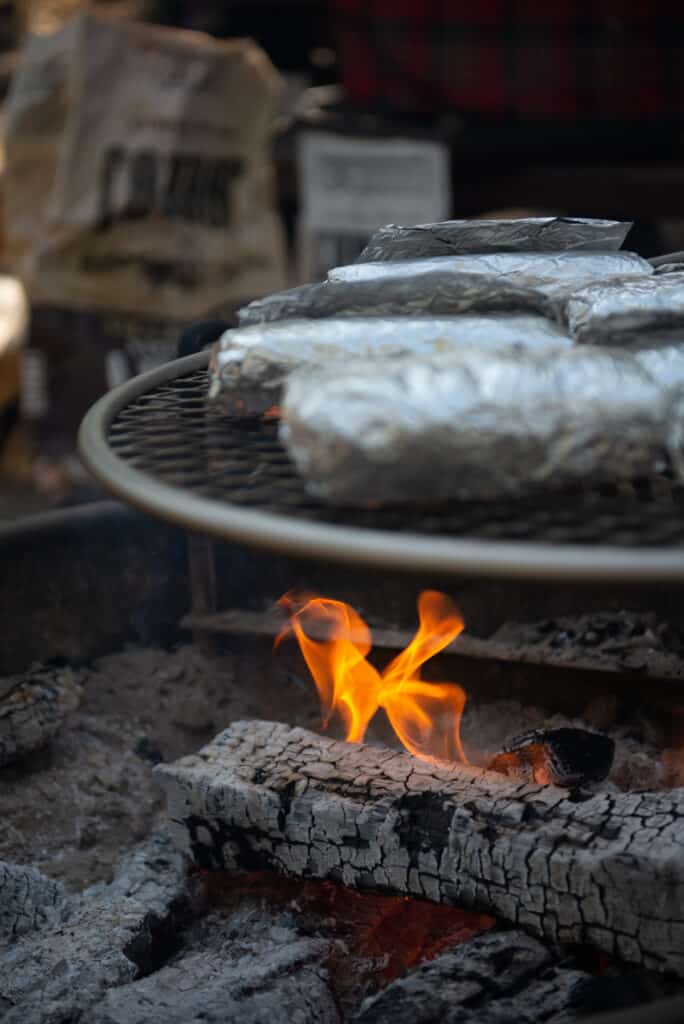 How to cook burritos on the campfire
When you are ready to reheat the burritos at camp, make sure you have a low and even fire going. A blazing fire looks pretty but Smokey the bear doesn't think that's safe, and nor does it create an ideal cooking environment.
Remove them from the baggie and parchment paper. (If you are at home, reheating these in the microwave, parchment paper is no big thing, but at a campfire, it's not the best way to re-heat anything that you don't want to catch on fire).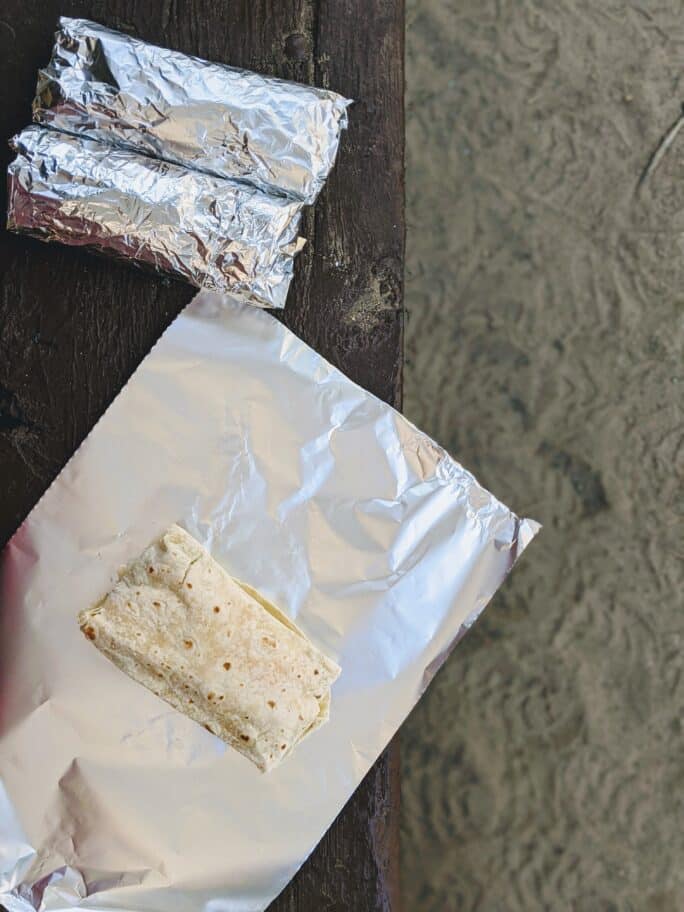 Rewrap the burritos tightly in aluminum foil before tossing them over the coals. You can toss the burritos right onto the side of the embers, if you have built an offset fire, making sure to rotate them for even cooking. Or place them on a grilling grate above the fire.
Just have someone standing by to rotate them every so often so the heat is hitting all the spots evenly. No one likes that random cold bite of burrito. No one.
Girl Carnivore Tip: If you don't have frozen tots on hand, use up leftovers as the potato filling – like these cast iron fries that are amazing as burrito filling.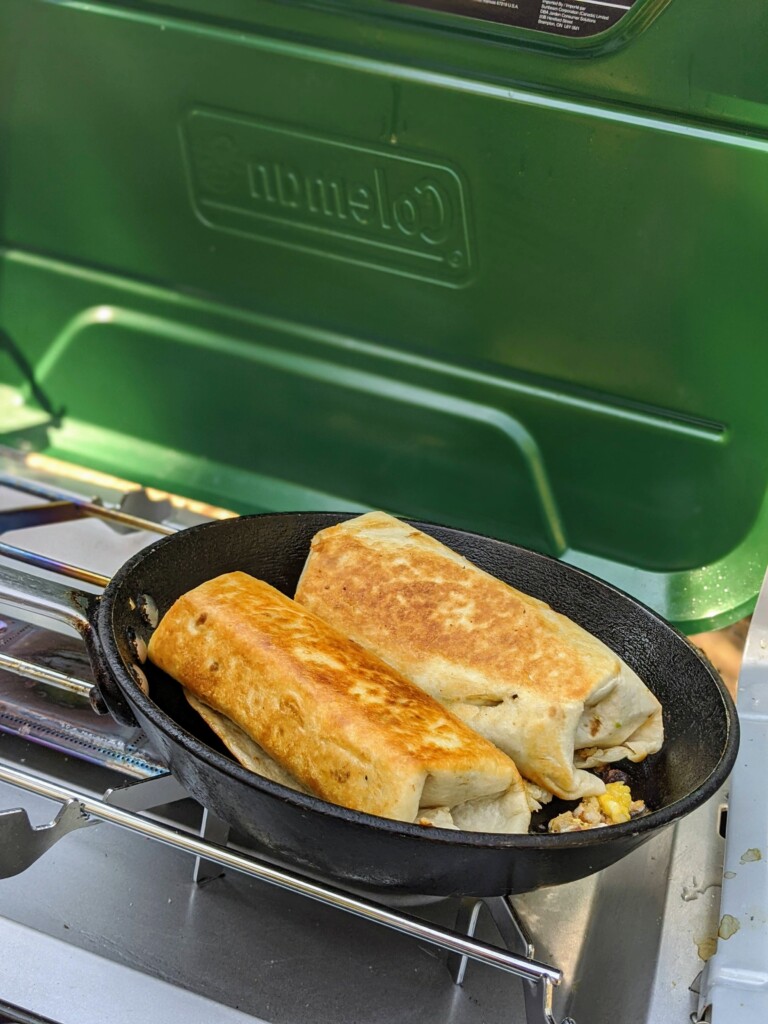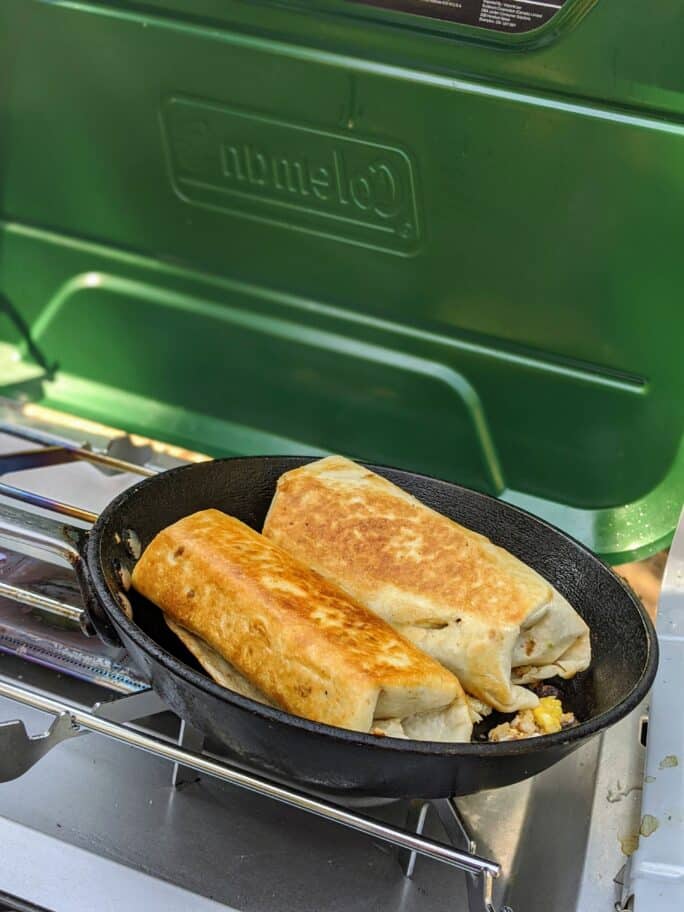 Can you cook these in the oven?
Not camping? No problem. These burritos are excellent cooked in a skillet on a regular range or in the oven.
To cook on a range, heat a skillet over medium-high heat with a bit of oil. Cook them until the filling is warmed through and the outside is crisped and golden all over.
For an oven, preheat the oven to 375 degrees and lay the burritos on a baking sheet. Cook 15 minutes, flip and then cook another 15 minutes until heated through.
Want more campfire recipes? Try some of my favorite recipes
If you've tried my these make-ahead breakfast burritos or any other recipe on GirlCarnivore.com please don't forget to rate the recipe and let me know where you found it in the comments below. I get inspired by your feedback and comments!
FOLLOW the adventure on Instagram @girlcarnivore as well as on Twitter and Facebook.
Make-Ahead Breakfast Burritos
This make-ahead recipe has everything set to cook over the campfire with hearty potato and egg filled burritos that are going to fuel you through any hike and all day long.
Ingredients
1

package frozen Idaho Crispy Potato Tots

12

eggs

scrambled

1

teaspoon

Egg Blend Seasoning

Salt and Pepper

1

teaspoon

butter

½

Onion

chopped

2

poblano Peppers

½

pound

sausage

8

large flour burrito shells

8

oz

Bacon

cooked until crispy and dried on paper towels

1 14

oz

jar black beans

drained and air-dried

20

slices

American cheese
For Serving
2 to 3

avocados

Tomatoes

sliced

Crema

Green and Red salsa

Hot Sauce
Instructions
Cook the Crispy Tots:
Preheat oven to 400 degrees or to what the directions on the packaged potatoes instruct.

Arrange the potato tots on a baking sheet in a single layer.

Bake until the potato tots are golden and crispy, shaking the tray gently, halfway through cooking time to rotate the tots.

When thoroughly crisped and golden on all sides, remove from oven and allow to cool completely.
Scramble the Eggs:
Whisk the eggs in a large bowl.

Preheat a large non-stick skillet over medium-high heat.

Pour the eggs in and allow curds to form.

Gently, using a rubber spatula, fold in the eggs, a little at a time as they form.

When the eggs are just set, still showing a glean of moisture, remove them from the heat and season with salt and pepper as desired.

Spoon the eggs onto a plate to prevent them from overcooking in the heat of the skillet and allow them to cool completely.
Toast the Poblano Pepper:
Using a flame from a gas range, or over a grill, toast the poblanos over high heat on all sides, rotating as each side begins to blacken and blister.

Place the peppers in foil and wrap.

Allow the peppers to sit for 5 minutes until cool.

By now, the skin will have softened and you can peel it off of the peppers, discarding it.

Chop the now peeled peppers, discarding the seeds, and set aside.
Cook the Sausage:
Add 1 teaspoon of butter to In the now empty skillet, sautee the onion until soft, about 4 minutes.

Add the sausage and cook, breaking up into small pieces and browning thoroughly all over, about 15 minutes.

Add the chopped poblano peppers.

Remove from heat and allow to cool completely.
Assemble the Burritos:
On a large clean work surface, arrange all of the tortillas out.

Place 2 slices of cheese down the center of each.

Arrange 12 crispy potato tots in the in rows of 3 on the center over the cheese.

Top with equal portions of eggs, beans, sausage and veggie mix, and bacon.

Carefully fold the edges a burrito up, over the filling, before rolling. Use your thumbs to hold in the filling as you roll.

Place seam side down to keep from opening up while you complete rolling all the burritos.
Wrap Burritos for Freezing:
Tightly wrap each burrito in parchment paper.

Then wrap each burrito in an additional layer of heavy-duty aluminum foil.

Line them all up on a baking sheet and allow them to freeze for 1 hour before storing in a resealable bag for up to a month.

Date the bag with a permanent marker for later use.

Place in the freezer until ready to use.
Cook the Burritos:
When ready to cook, preheat your grill or campfire for indirect heat. See note.

Place the burritos, in foil, directly on the coals on the cooler side of the campfire or on the cooler side of the grill.

Grill the burritos for about 30-35 minutes.

Rotate every 10 minutes, turning evenly on all sides to ensure even cooking until the burritos are warmed through and the cheese is melted.
Serve:
Serve by peeling back the foil and topping as desired.
Notes
This recipe works best if everything is cooked ahead of time and allowed to cool completely before assembling the burritos. This allows the liquids to evaporate or steam to cool, which would otherwise cause moisture to make the burritos soggy.
When cooking outside, the elements will be a factor for if the burritos need to heat longer before being enjoyed.
Indirect heat is when the fire is built to one side while the other side remains cooler. Do this by stacking the coals of a campfire to one side of the grill pit, or turning one burner to low or off on a gas grill.
Nutrition
Nutrition Facts
Make-Ahead Breakfast Burritos
Amount Per Serving (1 g)
Calories 673
Calories from Fat 387
% Daily Value*
Fat 43g66%
Cholesterol 271mg90%
Sodium 1412mg61%
Potassium 705mg20%
Carbohydrates 43g14%
Protein 29g58%
Vitamin A 875IU18%
Vitamin C 24mg29%
Calcium 550mg55%
Iron 5mg28%
* Percent Daily Values are based on a 2000 calorie diet. Nutrition information provided is an estimate. For specific health concerns, please put the recipe into your Dr recommended nutrition calculator.