This Turmeric Rubbed Reverse Seared New York Strip with Bok Choy is the recipe to step your steak game into the next level. Perfectly tender, smoky flavors and a hint of delicious ground herbs bring this healthy meal together in no time and taste like 5-star restaurants.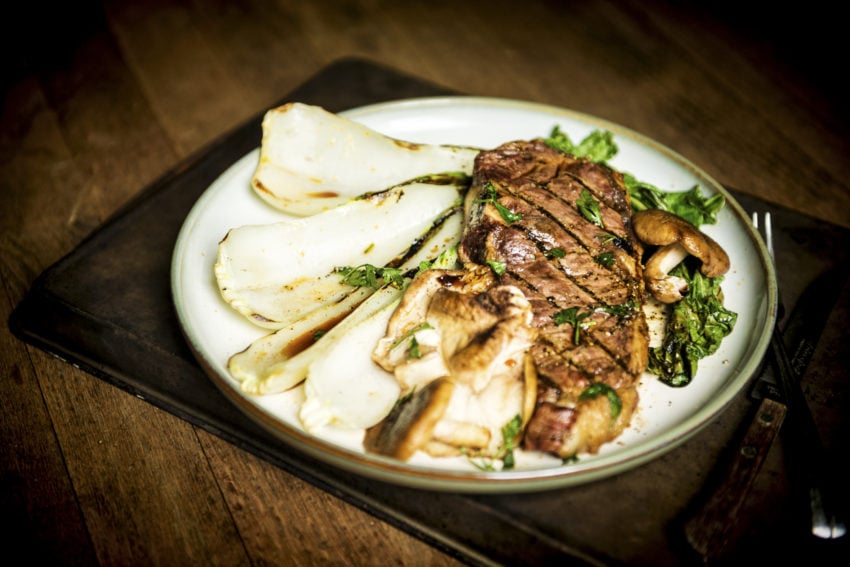 This Turmeric-Rubbed Reverse-Seared New York Strip post was sponsored by Saber Grills, but the tasty steak and my love of meat are, as always, all this Girl Carnivore's.
It's time to take that grill game up a level. All your friends come over every weekend and know that you are going to be tossing on brats and burgers. It's become the new standard, and you love the attention. Someone grabs a cooler filled with cold ones, and everyone is chatting it up as you man the grill.
But things are getting a little stale, and there's a new baby in town that has caught your eye. The kids have moved on to high school, and this grilling gig has become a part-time labor of love on the weekend with years of good use and gristle cleaned from the grates. It's time for Papa to upgrade the grill and finally get something that he can show off.
Oh, you haven't seen her yet? Well, let me introduce you to Saber, a division of Char-Broil's that is the luxury sedan for of the grilling scene.
Now that I have your attention, and you know you're ready to check it out, why shouldn't it come in a sexy smooth solid matte black finish. Something guaranteed to turn a few heads and age gracefully as you mature into a seasoned grilling expert. Black is a color every grill can wear.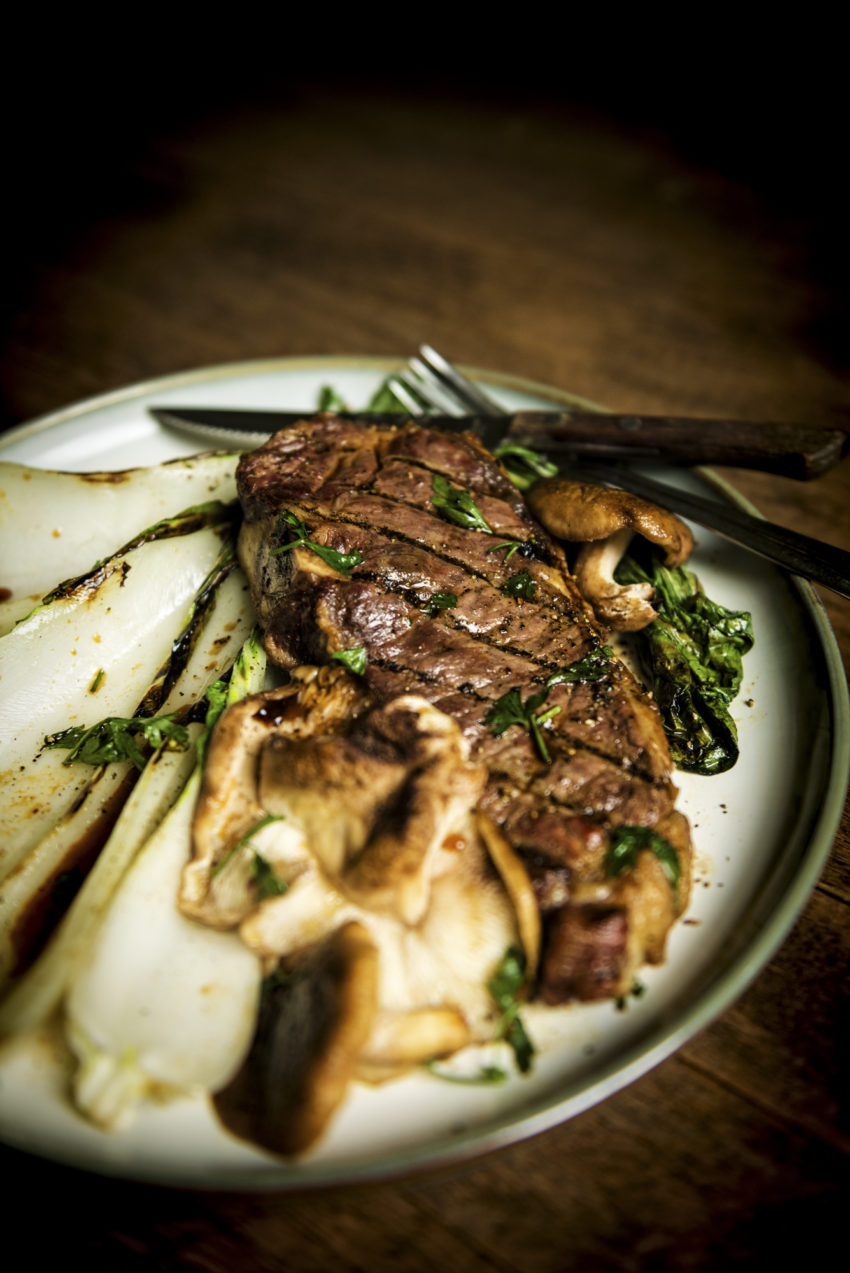 Imagine perfectly grilled steaks, juicy chicken, perfectly rare lamb, tender ribs… All tended and loved, grilled to perfection b your skilled hands.
That's right; I am checking out the new eye candy, the Saber Cast Black Series, their high-performance gas grills finished in a matte black powder-coated finish and commercial grade stainless steel. With their signature technology that minimizes flare-ups, reduces gas waste up to 70% and heats quick to 700 degrees, these grills are made for the love of food and with you in mind. Exactly what my new yard is going to need. Smooth and refined and designed with those ready for a long term relationship and a little luxury living in mind. The seasoned and established grill master.
Forget the new car; it's time to upgrade that spatula. This season passes down the loved barbecue to the next up and coming bbq star in your group and invest in yourself and your outdoor entertaining area with the latest model engineered for better barbecue that will have all your friends staring in pure lust at your better barbecue. You work hard. You've earned it.
Got your attention? Yeah, I thought so….
Cost is $1,099.
-A Marine Grade Cover ($125)
-Three Piece Stainless Steel Toolset ($40): https://www.sabergrills.com/product/5016/Saber-3Piece-Stainless-Tool-Set.aspx
-EZ Temp Digital Thermometer ($38): https://www.sabergrills.com/product/5064/Saber-EZ-Temp-Digital-Thermometer.aspx
The three runner-up prizes will be the Toolset & Thermometer combo.
Want some more amazing steak night recipes? Try my favorites:
If you've tried my Tumeric Rubbed Reverse Seared New York Strip with Bok Choy recipe, or any other recipe on GirlCarnivore.com please don't forget to rate the recipe and let me know where you found it in the comments below. I get inspired by your feedback and comments! You can also FOLLOW ME on Instagram @girlcarnivore as well as on Twitter and Facebook.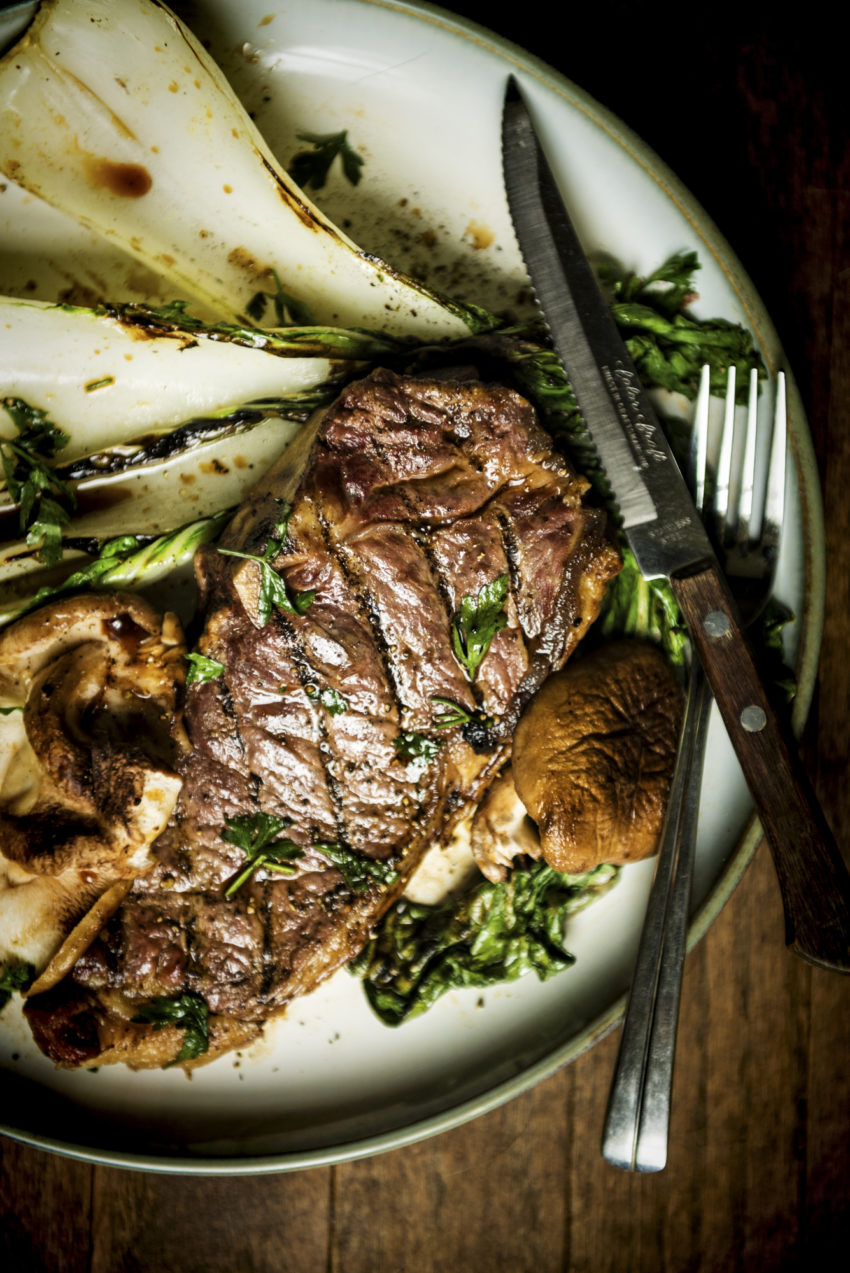 Reverse Seared New York Strip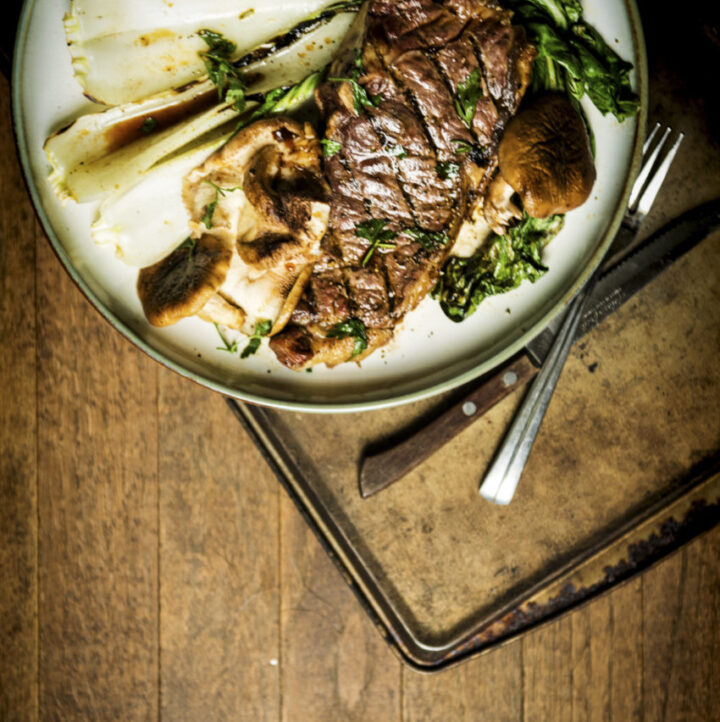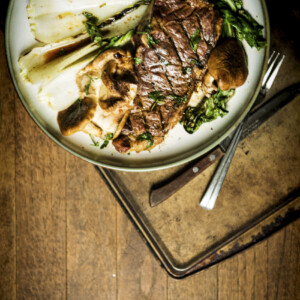 Make the best New York strip steak on a gas grill with this easy reverse sear method with a ton of flavor!
Ingredients
handful wood chips

2

Bone-In strip steaks

at least 1″ thick

salt and pepper

1

tsp

fresh ground turmeric

1/4

tsp

fresh ground ginger

1/4

tsp

fresh ground garlic

2

heads of bok choy

rinsed well and pulled from the core

1

tsp

cooking fat

1

pint

shiitake mushrooms

1

tsp

soy sauce

or coconut aminos
Instructions
30 minutes before grilling, remove the steaks from the fridge, pat them dry, and season them with a heavy salt. Arrange them on a wire rack and place them back in the fridge.

Clean and oil your grill grates and prep your grill, with all burners to high, with the lid closed.

Wrap the wood chips in foil and place to one side of the grill, allowing the smoke to start forming.

After 10 minutes of heating, reduce the temp of 2/3 of your grill to low, leaving one of the burners still on high, with the wood chips over it smoking.

Mix the turmeric, ginger, garlic and a pinch of pepper in a bowl.

Right before cooking, rub the steak with the ground turmeric mixture on both sides.

Have the grill hovering over 250 degrees. Place the steaks on the grill over the cool side and allow to "smoke" for about 15 minutes, flipping once.

Temp the steaks with an instant read thermometer for 10 degrees below your desired temperature.

When temped, quickly transfer the steaks to the smoking hot part of the grill and finish them off with beautiful sear marks, about 1 1/2 minutes per side, rotating 45 degrees halfway through each.

Meanwhile, grill the bok choy until just charred. In a grill safe pan, heat the oil until just smoking.

Add the mushrooms and saute. Add in the soy sauce and toss the bok choy in the pan with the mushrooms to coat.

Serve the bok choy on platters, with the steaks atop, and mushrooms over them.

Drizzle with the heated soy sauce and garnish as desired.
Nutrition
Serving:
1
g
|
Calories:
573
kcal
|
Carbohydrates:
11
g
|
Protein:
53
g
|
Fat:
35
g
|
Saturated Fat:
14
g
|
Polyunsaturated Fat:
2
g
|
Monounsaturated Fat:
15
g
|
Cholesterol:
181
mg
|
Sodium:
403
mg
|
Potassium:
1798
mg
|
Fiber:
5
g
|
Sugar:
5
g
|
Vitamin A:
18766
IU
|
Vitamin C:
189
mg
|
Calcium:
496
mg
|
Iron:
7
mg
See the Web Store for Turmeric Rubbed Reverse Seared New York Strip with Bok Choy