A perfect recipe for a summer night, grilled t-bone steaks with thyme mushrooms… yeah, you are on to something indeed.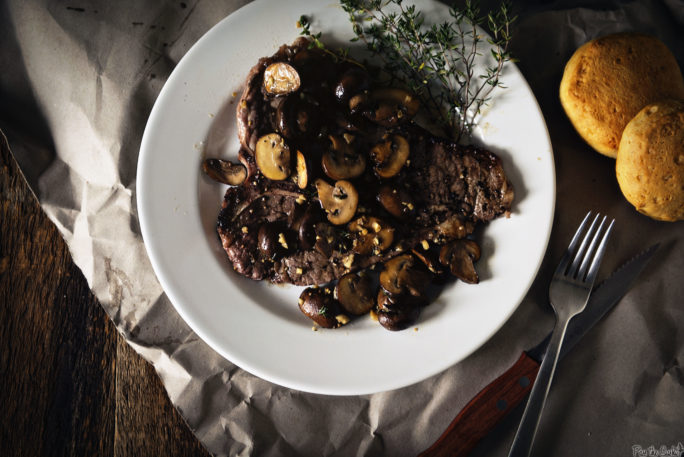 Sometimes it's as simple as lighting some charcoal and rubbing a well-cut steak down with minimal seasonings and letting the heat do all of the work. Add a few freshly sliced skillet cooked mushrooms to that perfectly chargrilled steak and yeah, you are on to something. A perfect recipe for a summer night, grilled t-bone steaks with thyme mushrooms… yeah, you are on to something indeed.
This grilled t-bone was seasoned with The Spice House Quebec Beef Spice – that's it. And that's really all it needed. There was no need for overly complicated sauces or marinades. This was a 10-minute sear, minor seasoning to bring out the flavor is really all the more you need. I was really happy with the flavors from The Spice House. (If you are a Girl Carnivore veteran, check out all of the rubs for pork and barbecue seasonings they have for meat!)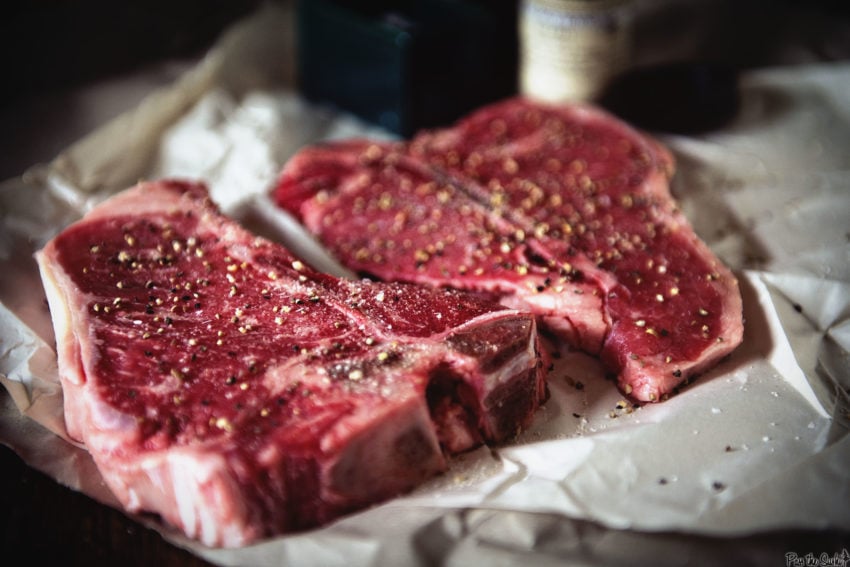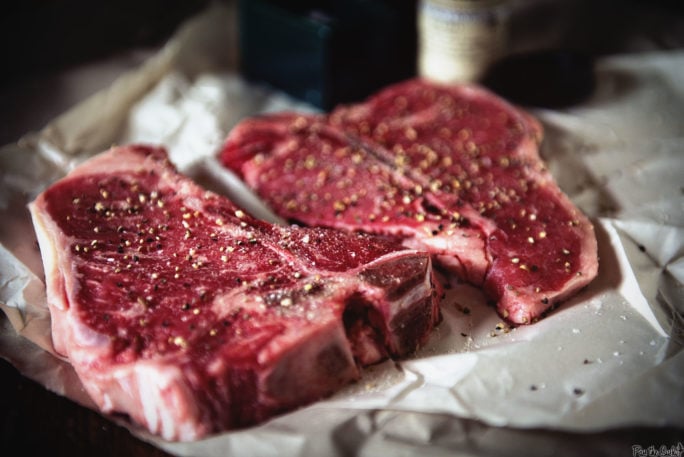 Have you ever wondered where you could get quality spices for all of your cooking and baking needs?

Look no further than The Spice House! The Spice House opened its doors back in 1957, and today has both a robust online business as well as 5 locations throughout Chicago & Milwaukee. They carry over 600 products from at least 50 different countries, including pure spices and herbs, spice blends, salts, and extracts and have caught the admiration of many home cooks across the country as well as some heavy hitters in the food world, including Alton Brown & Julia Child!

Alton Brown filmed his famous "Good Eats Fruitcake Episode" at their Evanston shop 15 years ago and recently had Patty and Tom on his Podcast – The AltonBrowncast Episode 23. The Spice House also happens to make 3 special blends for Alton, which you can find here. You know Alton Brown knows a good thing when he finds one! Many of Chicago's top chefs walk through The Spice House doors for inspiration, "secret ingredients" and all around quality spices. Julia Child once proclaimed The Spice House a "national treasure"!

Tom & Patty Erd took over Patty's parents business back in 1993 and have built The Spice House into what it is today…A resource for incredible spices and seasonings, as fresh as you can get them at an affordable price. They scour the world for the best ingredients and spices. From large farm collaboratives in exotic countries to boutique farmers who specialize in items not commercially produced, like one special connection they have with a friend's mother who just so happens to own a vanilla plantation in Tahiti, where only a limited amount of beans are produced and they're very…very expensive. "We have a really great connection with that farm, and we'll get maybe 20 pounds of Tahitian vanilla beans month".

That wouldn't work for huge spice company's but it works well for us says Patty. There is a reason vanilla is the second most expensive spice in the world…did you know it can take up to 8 years to harvest a vanilla bean start to finish?

To bring you the freshest ingredients possible The Spice House grinds and blends their spices and seasonings in small batches right in their stores which is why as you approach a store and walk through its doors you are greeted with an intoxicating aroma!

Many of their spices come in pretty glass jars, however you can also order many varieties in bags (as well as in salt-free versions), and let me tell you…you will be blown away by their pricing! Their gift boxes are both gorgeous and well thought out. The thought they put into their gift box packaging is something you really don't see these days. They include whole nutmegs, cinnamon sticks and more as packaging you can actually use! Their delivery is always quick as well, which has always impressed me. Take a few minutes and peruse their offerings and prepare to be impressed!

Once you try The Spice House…you just may fall in love with their quality, pricing and friendly service!
Looking for more reasons to fire up some charcoal? These will have you inspired!
If you've tried my Grilled T-Bone Steak with Thyme Mushrooms Recipe or any other recipe on GirlCarnivore.com please don't forget to rate the recipe and let me know where you found it in the comments below. I get inspired by your feedback and comments! You can also FOLLOW ME on Instagram @girlcarnivore as well as on  Twitter and Facebook.
Grilled T-Bone Steaks with Thyme Mushrooms
Ingredients
2

T-bone steaks

2 – 4

teas Quebec Beef Spice

1

tbs

olive oil

2

tbs

butter

divided

1

lbs

baby bella mushrooms

cleaned and thickly sliced

2

garlic cloves

minced

4 to 5

sprigs fresh thyme

removed from stems

¼

cup

chicken stock

salt and pepper
Instructions
Preheat a charcoal grill for indirect heat. Season the steaks liberally on both sides with the Quebec Beef Spice.

Heat a large skillet over medium heat and add olive oil and 1 tbs butter (if your grill is large enough, just use the indirect heat side to cook these a few minutes before you throw your steaks on). Swirl to coat the pan. Add the mushrooms, and cook, stirring often 10 to 15 minutes. Stir in the garlic and cook 2 minutes longer. Remove the mushrooms for the pan and reduce the heat to low. Sprinkle the thyme over the mushrooms Stir in the chicken stock and deglaze the pan. Add the remaining 1 tbs butter and melt. Stir the mushrooms back into the skillet and let the liquid thicken, 2 to 3 minutes. (Add a splash of brandy if you are feeling wild).

Meanwhile, grill the steaks 5 minutes each side. Remove from the grill and cover with foil to let rest for 5 minutes before serving with a heavy portion of mushrooms on top.
Check out the awesome creations from Spice House Products around the web today: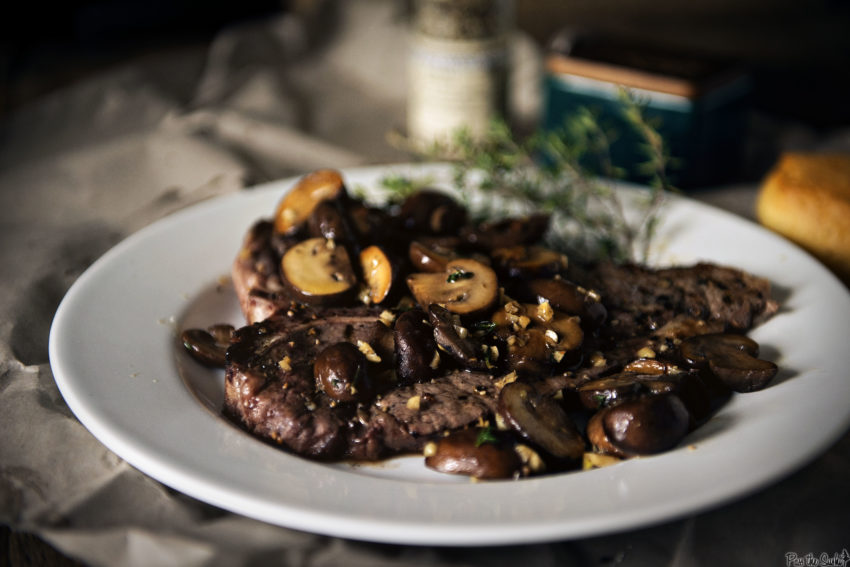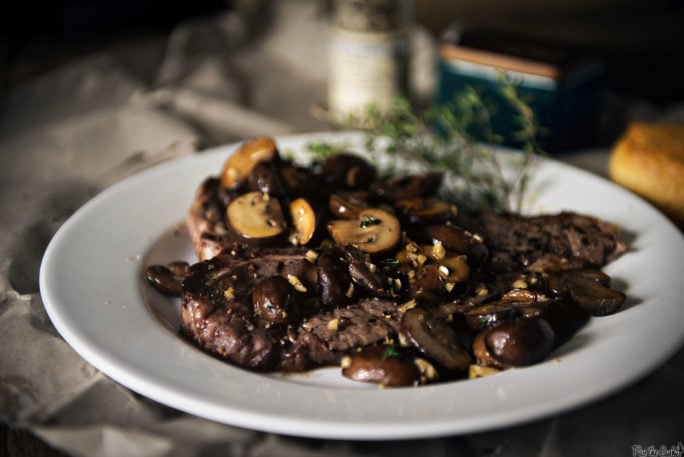 This is a sponsored post, and I was given a gift card for the spices I purchased, however the thoughts and opinions are my own.