We're dishing up a huge authentic crab cake sandwich recipe of tasty fresh lump crab meat, just like you'll find in Baltimore, Maryland. It's as simple as that. Fresh blue crabs, Old Bay, and minimal filler. If you've ever traveled to the eastern shore and enjoyed real Maryland crab cakes, you will know, nothing else compares.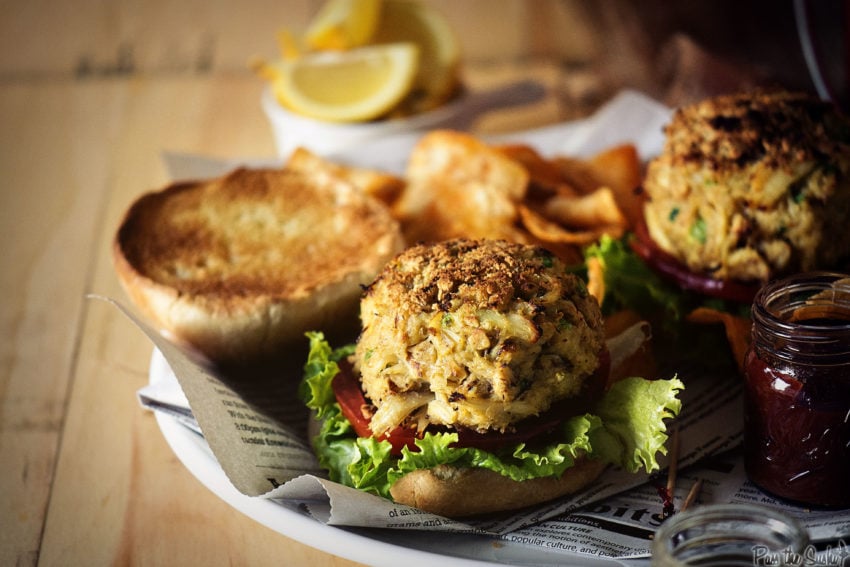 When it comes to real crab cakes, jumbo lump blue crab meat is the only way to go. For the best crab cake recipe, that's all it takes. But we're not talking just any crab, we're talking sweet blue crabs, right from the Eastern Shore.
Up and down the Chesapeake bay, you'll find shacks on the side of the road selling bushels of these native blue crabs. Start by steaming blue crabs and picking them, using their signature jumbo lump meat to make the perfect crab cake is about as authentic and delicious as you can get. The sweet meat is also perfect for succulent smoked crab imperial.
Maryland crab cakes are an easy recipe to make with fresh great ingredients. They shouldn't be heavily coated and fried to greasy balls of mush with stringy crab meat and lots of filler. Real Maryland crab cakes are light, delicious, and loaded with nothing but fresh crab meat!
Unlike their bigger cousins the snow crab or grilled king crab legs with huge chunks of meat, Maryland blue crabs produce smaller chunks of meat from their bodies. They are sweet, savory, and perfect for cooking with.
An authentic crab cake flakes apart with thick chunks of meat from the swimmer fins, back fin meat, and body of the crab. It's known as jumbo lump and lump crab meat and seasoned with Old Bay, a signature spice blend famous around Baltimore.
This recipe for a delicious crab cake sandwich is the real thing right from the East Coast. A quick and simple great recipe!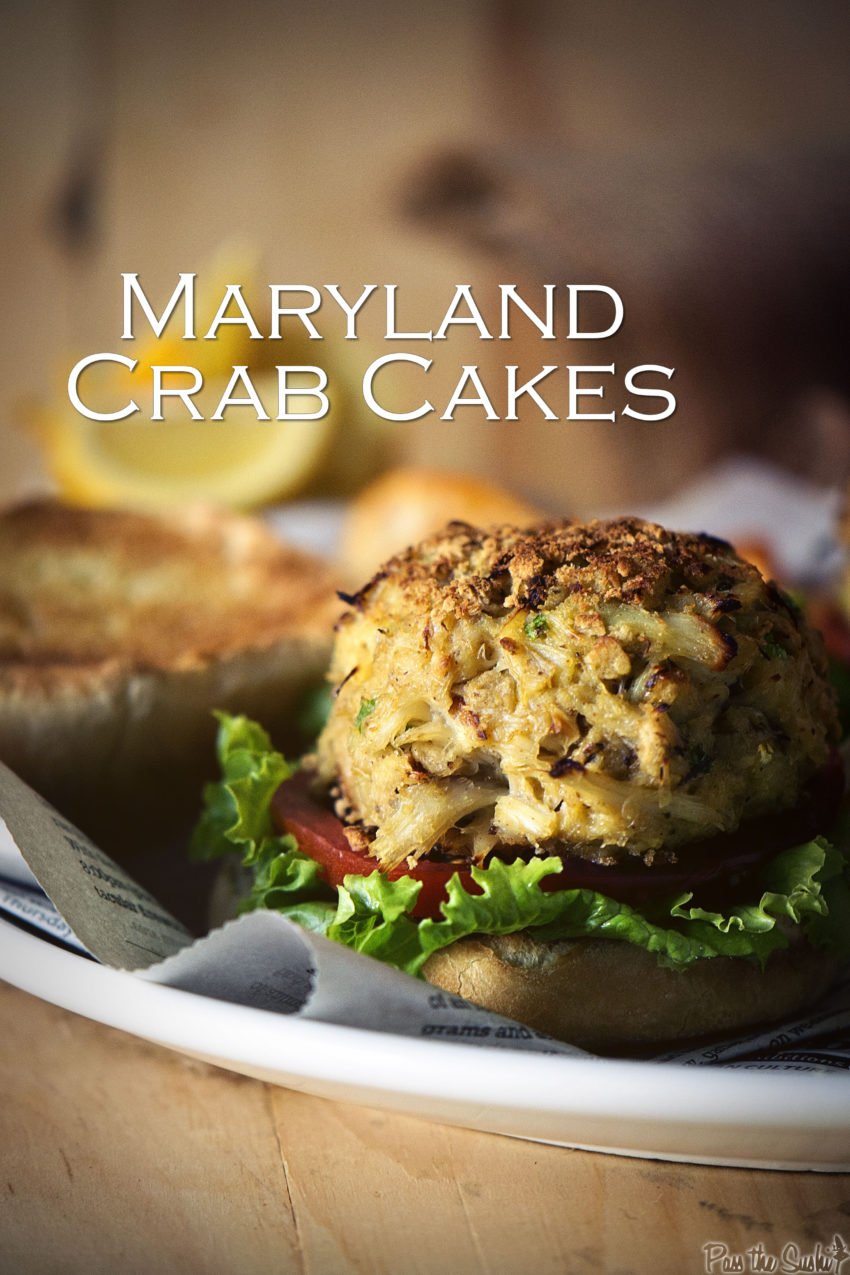 Ingredients you need:
Jumbo lump or lump crabmeat. Look for cans or jars in the cold meat and seafood area labeled jumbo lump crab meat
Milk – regular whole milk or 2% work for this recipe
Saltine crackers – look for low sodium or light sodium versions to mitigate the saltiness for the perfect binder. If needed panko makes an ok substitue
Scallions – green onions work to add the slight oniony flavor and a pop of freshness to the mix
Unsalted butter
Egg yolk – use the egg yolk from a single large egg
Mayo – real mayo or avocado mayo work for this recipe
Dijon mustard – Dijon mustard packs a little heat with the vinegar and is perfect for this recipe. Go for a smooth Dijon mustard and avoid overly grainy mustards, though as it can make people think they are chewing on pieces of shell
Hot sauce – Franks Red Hot, Tobasco sauce, or your favorite hot sauce all work. Avoid any with additional flavoring like buffalo or chipotle as it alters the flavor completely.
Old Bay seasoning – there is not a seafood blend that I have discovered as perfect for this recipe as authentic as this classic Baltimore blend.
Lemon wedges, tartar sauce, or cocktail sauce for serving
Make it a sandwich by serving on a bun with lettuce and tomato too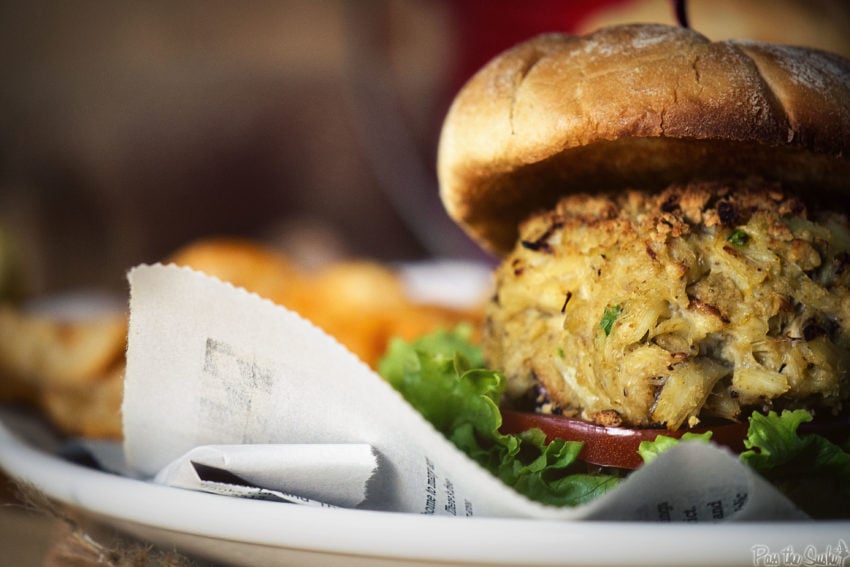 How to make a crab cake sandwich:
Altho this recipe is an Eastern Shore classic, it's easy to make! But, read through the instructions to calculate the chill time so that you don't find yourself in a pickle when dinner is ready to be served.
Soak the crab meat in the milk.
Drain the crabmeat from the milk using a fine mesh sieve and pat it dry.
Mix the other ingredients: Mix the minced scallions, butter, egg yolk, mayo, Dijon mustard, hot sauce, and Old Bay.
Make sure your crackers are crushed into fine bits and fold in 3 tablespoons of them to the wet mixture along with all of the crab meat.
Working with your hands, gently form into two large patties or balls. Then press the bottoms flat leaving the tops rounded.
Spread the remainder of the crushed saltine crackers onto a shallow plate and then press the bottom and roll the top in the crumbs to lightly coat.
Chill. Place the crab cakes onto a wire pan nestled over a small sheetpan or plate and put them in the fridge to chill. This helps the crabcake firm up and hold its shape while cooking under the broiler. These need to chill at least 1 hour but can stay in the fridge for up to 8 hours before cooking and serving them.
To cook adjust your oven racks to to the top slot, about 6 inches from the broiler and place the crab cakes in a greased skillet under the broiler. If you know your broiler is too close at the top level, or worry it's cooking too fast, set it to the top-middle slot.
The crab cakes cook until they reach an internal temperature of 140 degrees F and are golden brown on the outside. It's important not to walk away while these are under the heat of a broiler as some are hotter than others. A watchful eye while broiling anything is best.
Finally, when heated through, serve the crab cakes with a garnish of lemon, tarter sauce or cocktail sauce piled on a soft toasted bun with lettuce and tomato for the best crab cake sandwich!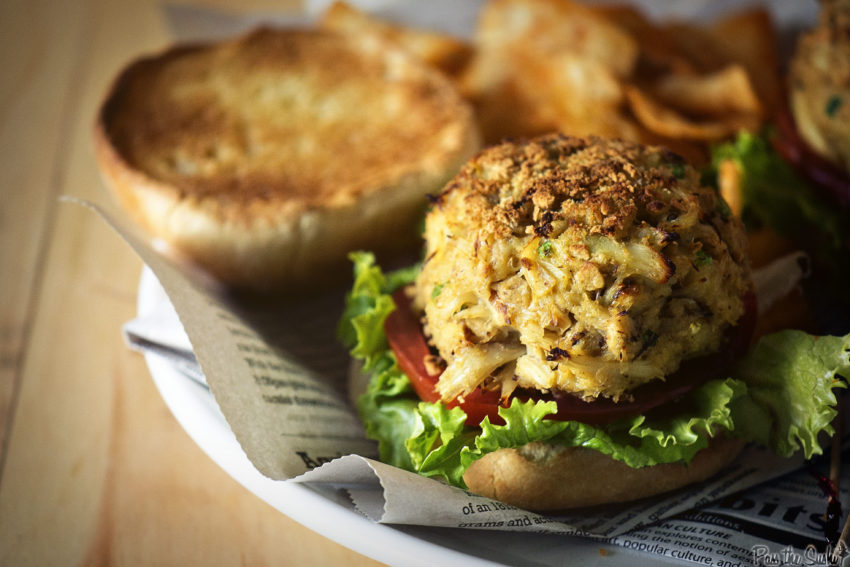 Storage Instructions
Once cooked, Maryland crab cakes can last in the fridge for up to 3 days, wrapped in plastic wrap.
To reheat, microwave on low or reheat in an oven preheated to 325 degrees F until heated through, about 15 minutes.
FAQs
What is lump crab meat?
Lump crab meat, or backfin crab meat, is the meat from the body of the crab. It's thicker and holds together. Lump crab comes from the main body, and jumbo lump comes from the back area, or the swimmer fins.
Is lump or claw meat better?
Both lump and claw meat are delicious. But for a crab cake, lump meat holds up and makes for flavorful bites of real cram meat where the claw is perfect for when you're picking crabs.
Is the crab meat already cooked?
Yes, whether your picking your own crabs or opening a can, the crabs have already been steamed, or boiled. It is already cooked and safe to eat.
As a rule of thumb, never eat raw crab meat.
Can you freeze crab cakes?
Absolutely! If you pick a bunch of crabs and want to whip up some crab cakes for later do it!
Form the crab cakes up until the chill step as the recipe states. Then, par freeze them for 1 to 2 hours in the fridge before storing in a container with the air removed for up to 3 months in the freezer.
To cook from frozen, simply pop the frozen crab cakes under the broiler as the recipe states. They just may take a minute or two longer to heat through.
What to serve with crab cakes?
Serve these with crispy golden french fries, salad, over light pasta, chips, hush puppies, corn on the cob, or sliced avocado.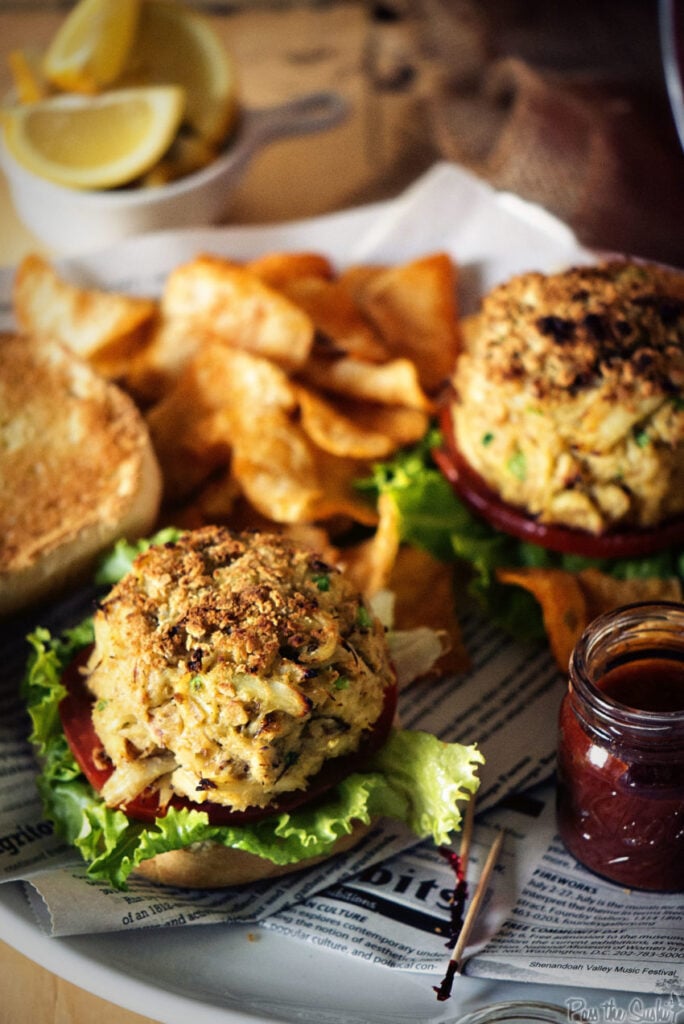 Looking to go all out and make this recipe with your own crabs? Right On!! 🦀🦀🦀🦀Start here to Steam Fresh Blue Crabs 🦀🦀🦀🦀
I usually buy blue crabs by the bushel so I have enough to enjoy all afternoon and can pick the rest to store leftover crab meat and use for recipes like this one and others.
And don't worry about having leftover crab meat. I've got you covered.
More recipes with leftover crab meat:
If you've tried my Maryland Crab Cake Sandwich or any other recipe on GirlCarnivore.com please don't forget to rate the recipe and let me know where you found it in the comments below. I get inspired by your feedback and comments! You can also FOLLOW ME on Instagram @girlcarnivore as well as on  Twitter and Facebook.
Maryland Crab Cake Sandwich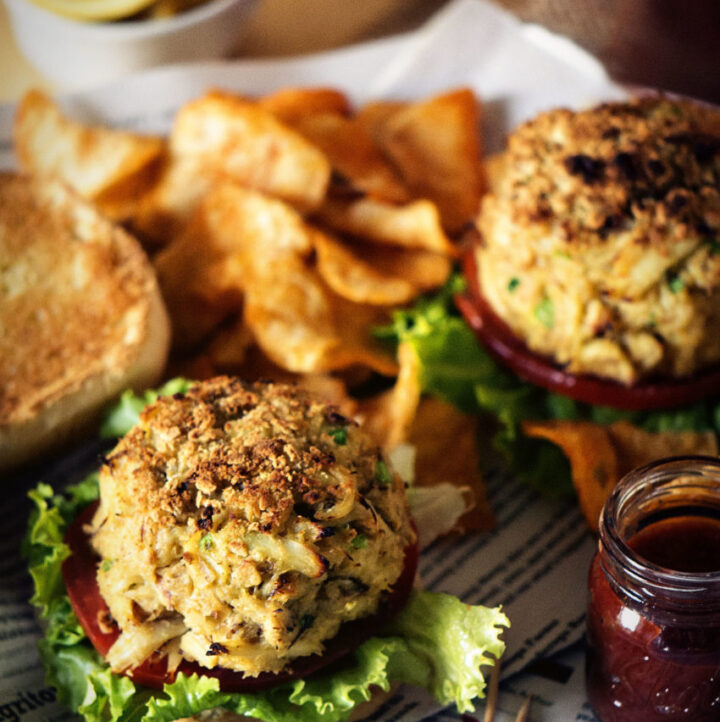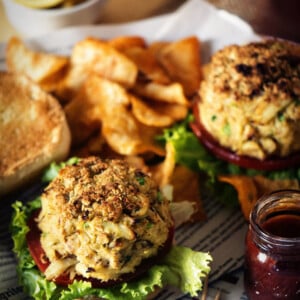 This simple crab cake recipe makes the most delicious Crab Cake Sandwich you have ever tasted!
Ingredients
For crab cakes
8

oz

lump crabmeat,

Picked over for any stray shells

1

cup

milk

7

or so saltine crackers

crushed into fine crumbs

2

scallions

minced

1

tbs

unsalted butter

melted, plus 1 tspn softened

1

large egg yolk

1

tbs

mayo

2

tspn

Dijon mustard

1

tspn

hot sauce

1/2

tspn

Old Bay seasoning
For Garnish
lemon wedges

tartar or cocktail sauce for serving

tarter sauce
For the Crab Cake Sandwich
1

tomato

sliced

Lettuce

2

buns

toasted
Instructions
Form the crab cakes
Combine the crabmeat and milk in a bowl and soak for 20 minutes in the fridge, making sure the crabmeat is submerged.

8 oz lump crabmeat,,

1 cup milk

Drain and press out excess liquid. Lay crab on a paper towel lined plate and pat dry.

Combine the scallions, butter, egg yolk, mayo, mustard, hot sauce, and Old Bay.

2 scallions,

1 tbs unsalted butter,

1 large egg yolk,

1 tbs mayo,

2 tspn Dijon mustard,

1 tspn hot sauce,

1/2 tspn Old Bay seasoning

Fold in 3 tbs of the crushed crackers and the crab meat.

Using your hands, form the mixture into 2 large portions in a ball shape.

Press gently to flatten the bottom and leave the topped domed.

Using a small plate, spread the rest of the cracker crumbs in an even layer.

Gently, press the crab cakes into the crumbs to coat the top and bottom.
Chill
Place the crab cakes on a wire rack over a baking sheet.

Gently cover with plastic wrap or foil

Place in the fridge for at least 1 hour and up to 8.
Cook the crab cakes
When ready to cook, preheat the broiler with the rack positioned about 6" away from the element. This is usually the top postition.

Grease an oven safe skillet or baking dish with the remaining 1 teas butter and place the crab cakes in the pan.

Slide the oven onto the upper rack, under the broiler.

Broil until golden brown on top, about 15 minutes under a watchful eye as broilers can differ from oven to oven).

Carefully remove from the oven and check that the crab is heated through and reached an internal temperature of 140F with an instant read thermometer.

Allow the crab cakes to cool 3 to 5 minutes before serving.
Serve the Crab Cake Sandwiches
Arrange crab cakes on over toasted buns with lettuce and tomatoes for a crab cake sandwich.

Serve with lemon wedges and tartar or cocktail sauce if desired.
Notes
It's hard to imagine these Maryland crab cakes not being served with crisp fries and malt vinegar. Otherwise, they are perfect atop a light fricassee salad, as an appetizer, or as the main course if you don't want a sandwich.
You can use fresh picked lump crab meat or canned crab meat as long as it's jumbo or lump crab meat. Make sure the label reads lump and not claw meat. Also, check to see that it says blue crab if you're going for authenticity. 
Altho I use canned crab meat from tin cans for some recipes, I find the crab for this in the seafood or meat department in plastic tubs. 
This recipe makes 2 generous crab cakes, however, you could use it to make 4 smaller crab cakes for an appetizer, if desired. 
From: Cooks Country Aug / Sept 2014 (and every single Eastern Shore native there ever was). 
Nutrition
Serving:
1
g
|
Calories:
344
kcal
|
Carbohydrates:
15
g
|
Protein:
28
g
|
Fat:
19
g
|
Saturated Fat:
8
g
|
Polyunsaturated Fat:
5
g
|
Monounsaturated Fat:
5
g
|
Trans Fat:
1
g
|
Cholesterol:
177
mg
|
Sodium:
1169
mg
|
Potassium:
480
mg
|
Fiber:
1
g
|
Sugar:
6
g
|
Vitamin A:
662
IU
|
Vitamin C:
11
mg
|
Calcium:
230
mg
|
Iron:
2
mg