Thanksgiving is a time to gather with loved ones, express gratitude, and indulge in delicious food. However, let's be real, hosting this special holiday can sometimes be overwhelming. To ensure a stress-free and drama-free celebration, it's crucial to plan well in advance.
We're breaking down Thanksgiving Dinner step-by-step, with helpful tips and practical steps on how to plan Thanksgiving menu like a pro, so you can focus on what truly matters – spending quality time with your loved ones while savoring your hard-earned meal.
Best Thanksgiving Menu Ideas
We love turkey recipes any way you slice them, but these are our favorite Thanksgiving Menu Ideas:
Perfect Thanksgiving Dinner Menu
Traditional Thanksgiving Dinner Menu
Grilled Thanksgiving Dinner Menu
Our Favorite Thanksgiving Turkey Recipes
It all starts with the perfect Thanksgiving Turkey Recipe.
Thanksgiving Planning Timeline
Countdown to Thanksgiving – take the stress out of planning Thanksgiving dinner with this easy timeline. Hint, start now. Check out our guide to the Thanksgiving essentials you need for all the tools and how to set the table.
Six Weeks Before Thanksgiving:
Determine your guest list: Decide on the number of guests you'll be hosting and finalize your guest list. This helps you know how much food to plan to buy.
Plan the menu: Start brainstorming ideas for dishes, taking into consideration dietary restrictions or preferences.
Assign cooking tasks: If you're not going to be preparing all the food yourself, delegate cooking tasks to family members or friends who are willing to help out. Make sure everyone knows what dish they are responsible for and coordinate timing so that everything is ready at once.
One Month Before Thanksgiving:
Create shopping lists: Compile comprehensive grocery lists based on your planned menu while considering pantry staples that need replenishing.
Order turkey or other main dish: Reserve your centerpiece protein early from a local butcher or supermarket to ensure availability.
Three Weeks Before Thanksgiving:
Stock up on non-perishables: Purchase canned goods, spices, baking supplies, and other non-perishable items required for your chosen recipes. Check your local market for good sales.
Two Weeks Before Thanksgiving:
Confirm RSVPs: Reach out to all invited guests who haven't responded yet to confirm their attendance.
Plan table settings and decor: Develop a vision for your table setup and decide whether you need additional linens or decorations.
One Week Before Thanksgiving:
Finalize grocery shopping list: Review your existing shopping list one last time before heading out to buy perishable ingredients like fresh produce.
Create a cooking schedule: Break down each recipe into manageable steps and determine cooking times for each dish. This will help you better manage your time on the big day.
Start thawing the turkey: If you purchased a frozen turkey, ensure it has enough time to defrost properly in the refrigerator. See our guide on how to thaw a turkey.
Two Days Before Thanksgiving:
Prepare make-ahead dishes: Begin making any side dishes or desserts that can be safely refrigerated until serving time. If you're in a pinch for time, you can even cook your turkey the day before Thanksgiving. We bake our apple pies the night before Thanksgiving.
Brine your turkey – we love a wet brine turkey or an easy dry brine turkey.
Place any dishes you made in advance in the fridge to thaw.
Do one last final grocery run for any last-minute items, fresh bread, or flowers you want.
Clean the house and set the table. Place the plates and cups upside down to make sure no dust or debris can soil them. The morning of Thanksgiving, simply flip them over.
Thanksgiving Day:
Set up serving stations with all the utensils you will need next to or atop the vessels.
Watch the parades – you can't miss Santa coming to town
Cook the turkey and the side dishes. Remember to give yourself 30 minutes for the turkey to rest before carving it.
Set out all the side dishes while the turkey rests, and enjoy the meal!
Girl Carnivore Pro Tip
Depending on how many guests you're planning for, you may want to cook two turkeys just to have leftovers. If this is the case, it's 100% ok to cook a turkey the day before.
THANKSGIVING SIDE DISH IDEAS
The turkey may be the star of the show, but we do love the indulgence of side dishes on Thanksgiving. And tehse are the recipes our table won't be without.
See More —>
Thanksgiving Shopping List
Get ahead and download our comprehensive shopping list — A detailed list of ingredients needed for the entire Thanksgiving meal, categorized by sections (meats, vegetables, spices, etc.).
Turkey Buying Tips
Plan on 1 1/2 pounds of turkey per person when ordering your bird! It sounds like a lot, but once you slice the meat from the whole turkey, it really isn't that much.
If you're ordering a turkey from a local farm or specialty butcher, call ahead to see how far in advance you need to order. Some places start orders as early as two months before. Find out when you can pick your fresh turkey up or if it will arrive frozen.
You can find whole turkeys frozen in bulk at most grocery stores in early November on so you can stock up. However, if you are looking for a particular turkey or a special cut to add to the menu, check out our favorite places to buy meat online and check their delivery timelines to see when you need to place your order.
What is served for a traditional Thanksgiving dinner?
Here are some of the traditional dishes served at Thanksgiving dinners in the United States:
Turkey – Typically the main centerpiece of the Thanksgiving meal. Roast turkey is seasoned, stuffed, and baked.
Stuffing/Dressing – Also called filling, bread stuffing or dressing is a savory mix of bread cubes, herbs, vegetables, broth, and seasonings. It can be stuffed into the turkey cavity before roasting.
Mashed potatoes – Mashed white potatoes are a staple side dish, often with gravy. Sweet potatoes or candied yams are also popular.
Cranberry sauce – Sauces made from fresh or frozen cranberries are a tangy accompaniment.
Gravy – A sauce made from the juices of the roasted turkey, thickened with flour or cornstarch.
Green bean casserole – Green beans with a creamy sauce, topped with fried onions and baked together into a casserole.
Roasted vegetables – Roasted potatoes, sweet potatoes, Brussels sprouts, carrots, parsnips, and /or turnips are often part of the meal.
Dinner rolls – Baked dinner rolls or biscuits are served with butter.
Pumpkin, apple or pecan pie with mountains of whipped cream on top.
Traditional Thanksgiving Menu Ideas
Turkey Cooking Tips and Techniques
Thaw frozen turkey for 3-4 days in the fridge before cooking.
Use a meat thermometer to ensure the internal temperature is 165°F in the thickest part of the thighs and breast.
Tent turkey with foil halfway through if the skin's browning too quickly.
Baste every time you check the turkey with pan juices, turkey stock, or melted butter for golden, juicy meat.
Let rest 30 minutes before carving for juicier meat.
Keep the gravy from getting clumpy by storing it in a coffee thermos. It may not be the prettiest Thanksgiving decoration, but your gravy staying piping hot and smooth for seconds and thirds is worth it.
Get exact roast times for different weights with ourTurkey Cooking Time Chart.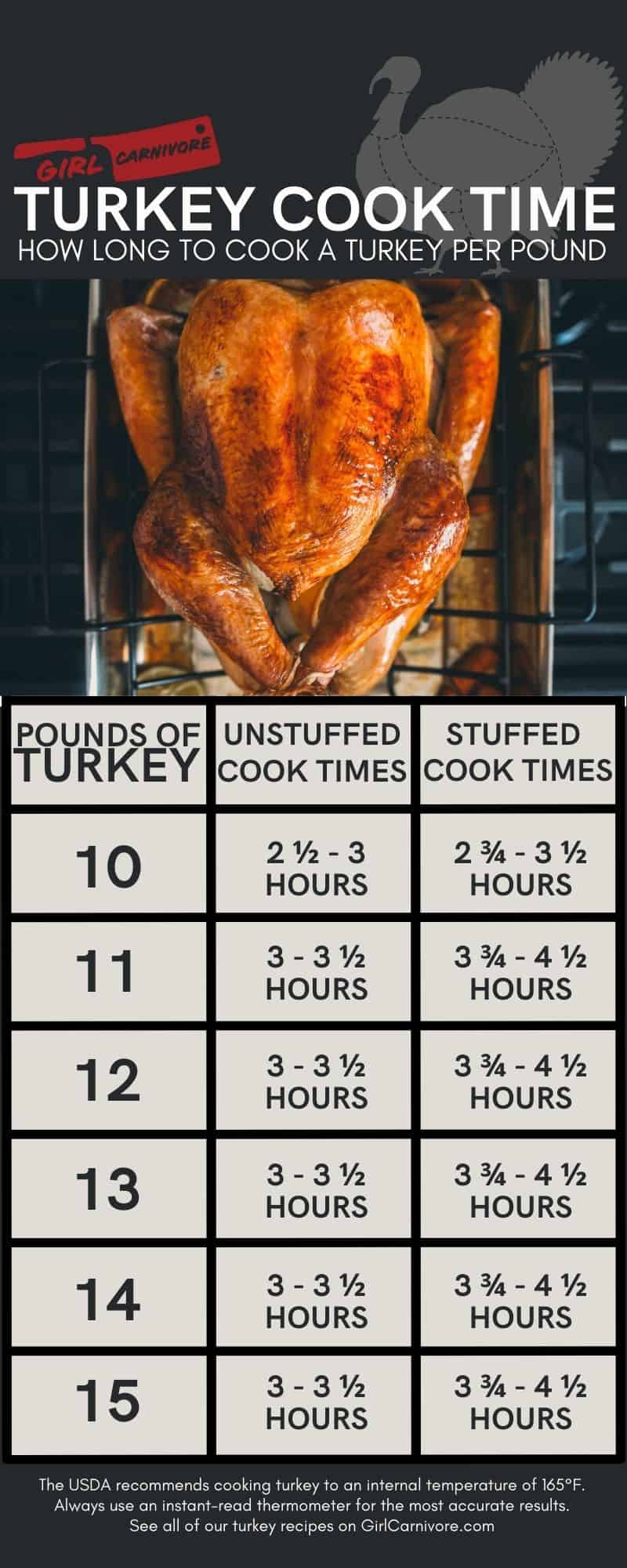 How much wine to buy?
Plan for 1 bottle of wine per person if serving throughout the meal. For just dinner, plan for 1 bottle per 3 guests. Or more, depending on your in-laws.
Offer a mix of red and white wines to pair with different dishes. Popular Thanksgiving wine varieties include Pinot Noir, Cabernet Sauvignon, Riesling, and Chardonnay.
Add a few extra bottles for pre-dinner cocktails and to offer seconds with dinner.
Chill an extra bottle of sparkling wine or champagne for celebratory pre-dinner toasts.
Remember wine for cooking! Get an extra bottle of white for the gravy, dressing, etc.
When is it too early to bust out the eggnog?
The moment Santa comes to town at the end of the Macy's Day Parade and Thanksgiving is in full swing; all bets are off.
Our Favorite Thanksgiving Cocktails:
Thanksgiving Recipes on the Grill
Take the feast outside and save room in the oven for pie (or smoke those too)
See more
Turkey Carving Tips
Carving the turkey into perfect slices is easier than you think. Follow these simple steps for success:
Let turkey rest 20-30 mins before carving to allow juices to set.
Remove leg quarters first by cutting between thigh and body.
Cut down along both sides of the breastbone to remove whole breasts.
Slice breasts crosswise into thin pieces.
Cut leg quarters into drumsticks and thighs.
Get our full step-by-step guide for how to carve a turkey like a pro!
VIDEO: How to carve a Thanksgiving Turkey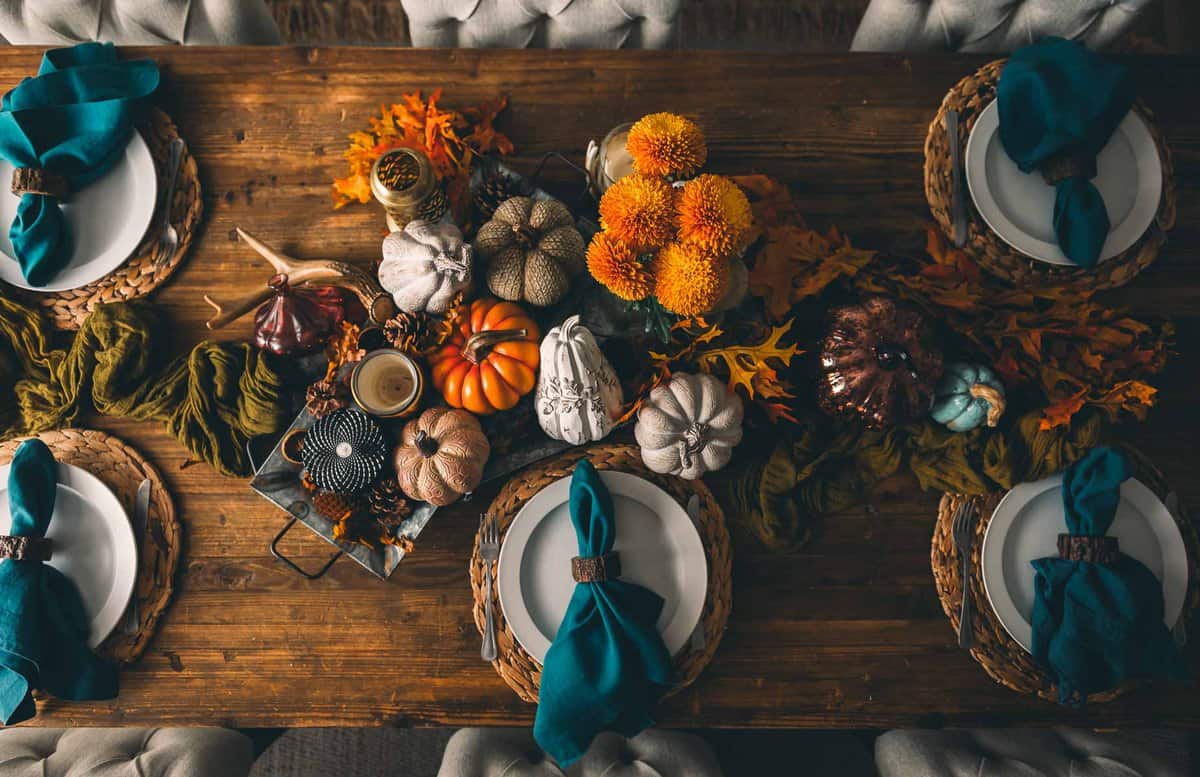 How to Set a Thanksgiving Table
Setting a beautiful Thanksgiving table can instantly impress guests before the first course is served. Follow our step-by-step guide to easily arrange plates, utensils, napkins, and glasses for an elegant holiday meal.
Why Set a Formal Table?
Although less common today, formal place settings add sophistication perfect for Thanksgiving. A properly set table creates a welcoming atmosphere and provides guests what they need in the right spot. It elevates an ordinary dinner to something special and makes the dinner you worked hard on seem that much more special.
Step-by-Step Instructions
Place the dinner plate in the center of the placemats. Nestle salad plate and soup bowl on top if serving those courses.
Put folded napkins to the left of the plates.
Arrange utensils on either side of the plates—forks on the left, knives/spoons on the right.
Set water and wine glasses above and to the right of the knives.
Add decorative touches like candles, salt/pepper, and name cards.
Utensil Placement Tips
Remember "outside in" – start with the salad fork furthest out since the first course. "Right for knife," – most use the knife in their dominant hand.
Common Mistakes
Overcrowding can make table cluttered. Minimize the height/width of items so guests can see each other. Plan courses ahead to ensure proper utensils.
With a perfectly set table, you're ready to serve an incredible Thanksgiving feast!
Shop our Thanksgiving Table
Check out all of our essenital Thanksgiving tools, plates, and table settings.
What to make with Leftover turkey?
When it comes to lefotvers, nothing goes to waste in the Girl Carnivore Meat Labs. We use the turkey carcass for homemade turkey stock or leftover turkey soup and love turning leftover turkey into easy weeknight maels.
Leftover Thanksgiving Recipes
Here are a few creative ways to use up that leftover turkey.
More great Thanksgiving Dinner Ideas
Show-Stopping Recipes
Savory Side Dishes

Sausage Stuffing
Roasted Vegetables

Thanksgiving Appetizer Ideas
Desserts
Thanksgiving Checklist
Here's a quick Thanksgiving checklist with timing for key tasks:
When to Order the Turkey?
Order fresh turkey from butcher 3-4 weeks before Thanksgiving.
When to do your Thanksgiving dinner shopping?
Shop for non-perishable ingredients 2 weeks before and buy fresh product, dairy and eggs about 1 week to 2 days ahead of time.
When to Brine the Turkey?
Brine the raw turkey 1 – 2 days ahead of time with a wet brine or dry brine.
When to cook the turkey?
Cook the turkey the morning of Thanksgiving while you're watching the parades.
When to cook the side dishes for Thanksgiving?
Prep the side dishes ahead of time and keep them warm in the oven while the turkey rests.
When to cook the Thanksgiving desserts?
Bake pies and desserts 1 to 2 days before.