Are you tired of serving dry and flavorless turkey on Thanksgiving? It's time you tried the technique of dry brining, a simple yet highly effective method to ensure a juicy, tender, and flavorful turkey every time. Say goodbye to hours of laborious wet brining and hello to the ease and delicious results of how to dry brine a turkey.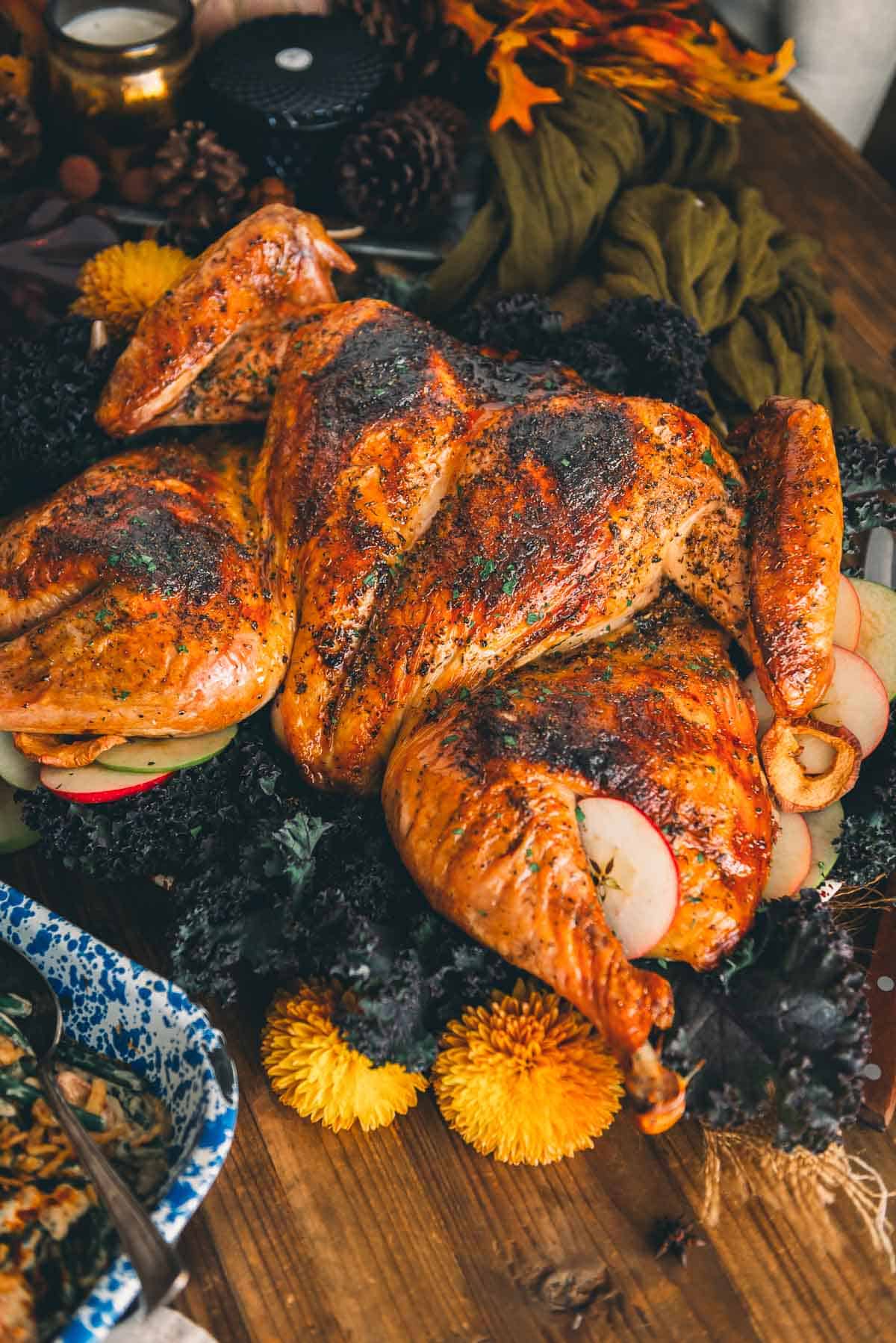 Need an easy Dry Brine recipe for your Thanksgiving turkey? You've come to the right place! This Dry Brine Turkey recipe is the best way to get perfectly moist turkey every single time!
Have you ever sunk your teeth into a dry turkey? It's not the best feeling. The meat dries out your mouth because of the lack of moisture, and you feel like no amount of chewing can make it better. If you've ever experienced that or even been the culprit behind it, it's time to start dry brining your turkey. Whether you're whipping up a Smoked Thanksgiving Turkey or simply trying to make your turkey recipes amazing, there's nothing that a good dry brining process can't fix.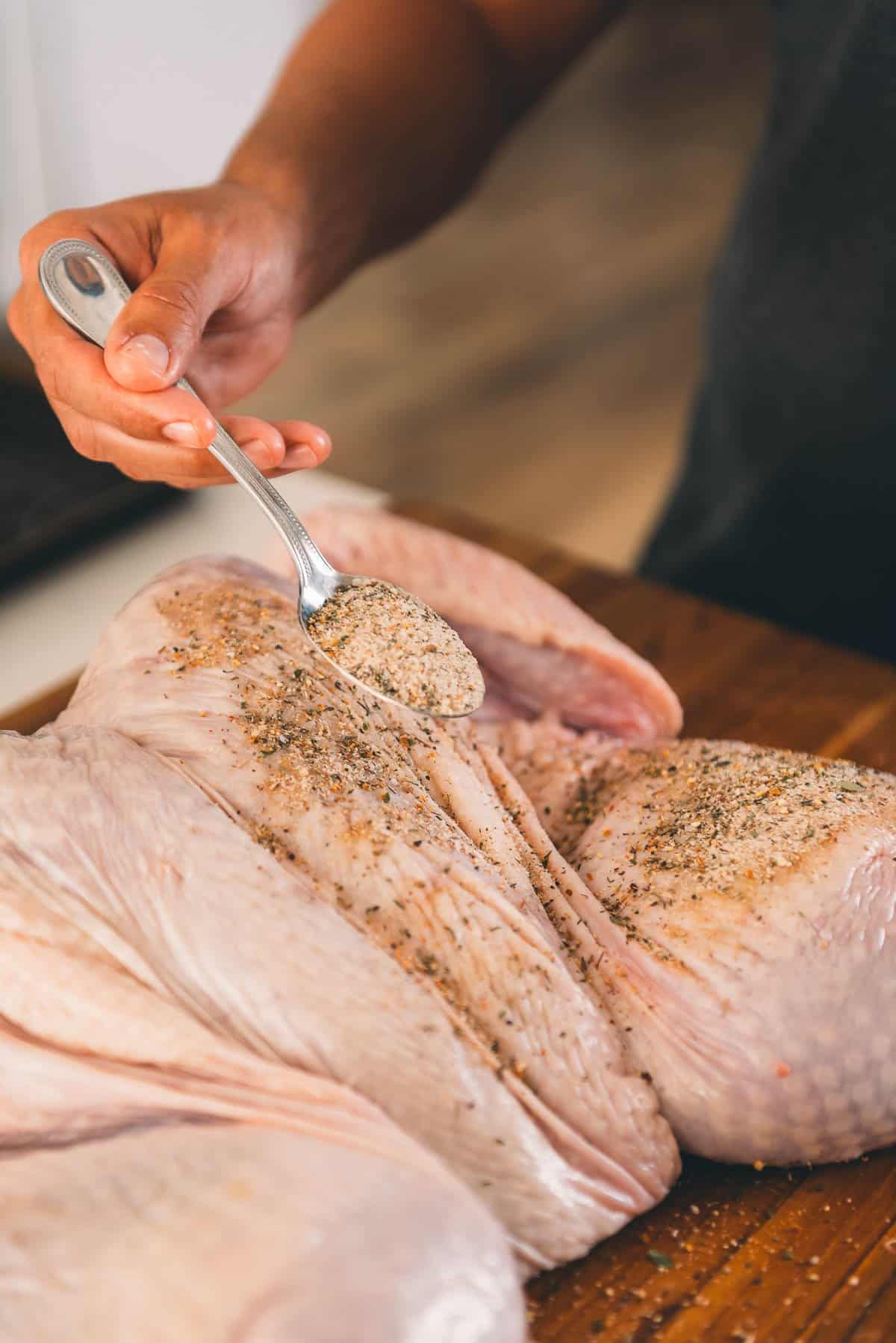 What is a dry brine?
Dry brining is a straightforward process of evenly sprinkling a salt mixture over the meat's surface and letting it rest in the refrigerator. During this time, the salt draws out moisture from the meat, which, in turn, combines with the salt and seasonings, resulting in a flavorful and moist environment that gets reabsorbed by the meat. In short, it's the fast and east way to juicy turkey.
A brine is a salt solution used to impart flavor and moisture to meat. A brine works through osmosis, a process in which the moisture from the inside of the bird comes to the surface to dilute the salt. Eventually, the concentrations of salt and water are equal on both sides, producing super flavorful and juicy meat.
Brining also works as a tenderizer, as the salt breaks down the muscle fibers in the meat. As a result, the meat becomes super tender and easy to eat.
This method is very similar to using a marinade, but marinades rely on acidity to break down the muscle proteins and add flavor, whereas brines rely on a salt mixture.
Wet brine vs. Dry Brine
A traditional Wet brine is where you soak the meat in a salt water solution for a number of hours. This solution usually consists of salt, cold water, and spices. A wet brine turkey recipe uses a brine bag filled with the salt solution and is then placed in the refrigerator for 12 to 24 hours.
Dry brining is a simpler process but still adds a ton of flavor. Dry brining is where you rub the surface of the meat down with a salt rub to bring out the meat's natural juices and add flavor. This method doesn't require any water, which produces a more intense flavor. In addition, the bird is left uncovered in the fridge, allowing the cold air to produce a nice golden-brown skin on the outside of the meat. For best results, dry brining usually takes around 24 to 48 hours for maximum flavor.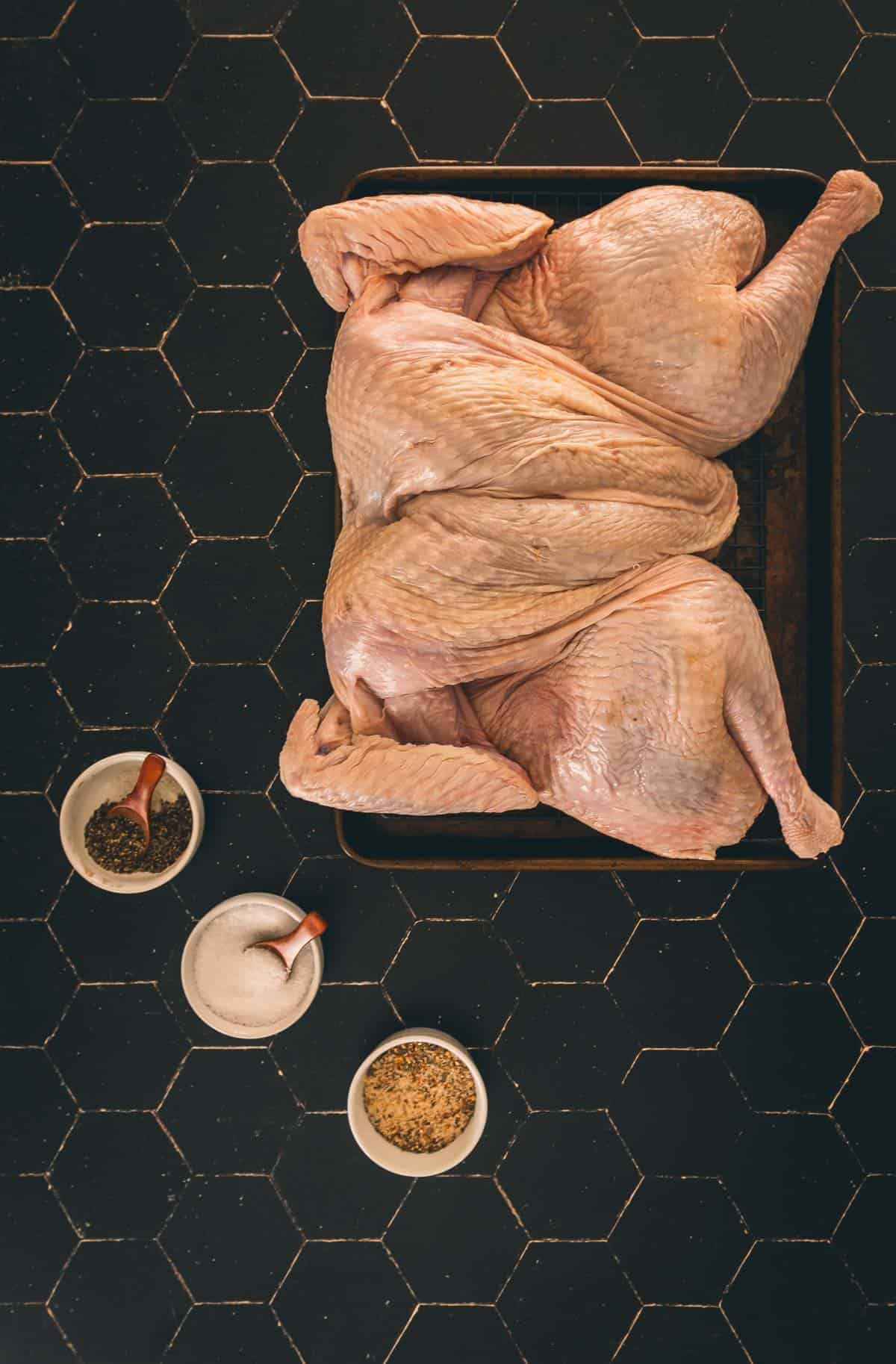 Ingredients for a Dry-Brined Turkey
This is a quick and easy recipe that you can easily adjust depending on how many pounds of turkey you have to cook.
12-14 pound fresh turkey – Its important to note not to dry brine Kosher turkeys, as they have already been heavily salted.
Kosher salt
Fresh Rosemary, thyme, sage (or poultry blend)
Lemon pepper (or use ground black pepper)
🍗🌿 How to Dry Brine a Turkey
This is the easiest way to get the best turkey on the table with minimal effort. We love dry brining all of our poultry, but when combined with the spatchcock method, we think it makes the most beautiful Thanksgiving feast.
For the best results, start with a thawed turkey. Is your turkey still frozen solid? Check out our guide on how to thaw a turkey.
Remove the bird from the package and set aside the giblets and neck. Then pat the bird dry with paper towels, making sure to get under the folds of the wings and legs and inside the cavity.
Combine the salt and remaining ingredients in a small bowl. Mix to combine.
Rub the outside of the turkey on all sides and under the skin liberally with the salt mixture.
Transfer the turkey to a wire rack over a rimmed baking sheet, breast side up, and refrigerate uncovered for 24 to 48 hours. The time air drying in the fridge helps create extra crispy skin and a juicy bird that everyone loves.
After 24 to 48 hours, you will notice the skin has dried out and gotten a hint of pink color to it. We don't rinse our bird after dry brining it because we want the best crispy golden skin. Once the bird has brined, the next step is to cook your turkey to perfection. We love a roast turkey or a smoked spatchcock turkey.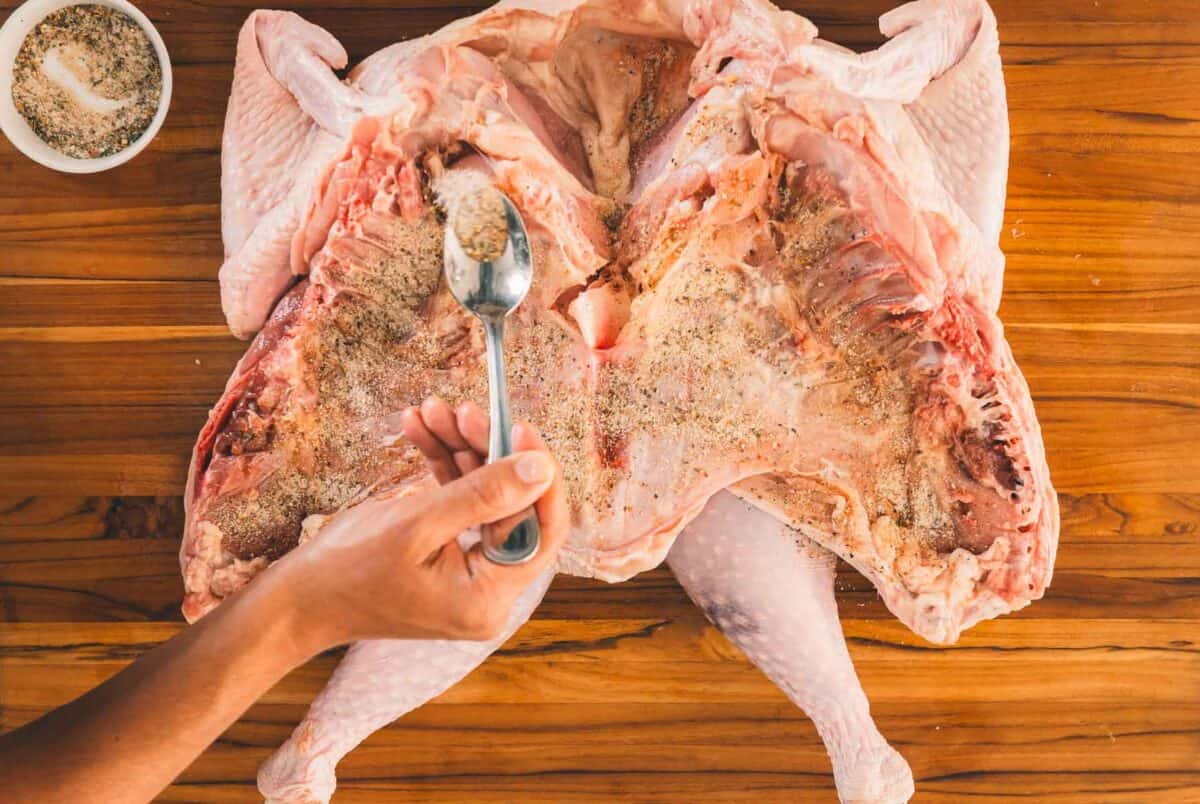 Girl Carnivore Expert Recipe Tip
Remember, no matter how you cook your turkey after you use a dry brine recipe, the internal temperature should reach 165°F in the breast meat and 170 degrees F in the dark meat with a meat thermometer, according to the USDA.
You can use dried herbs or fresh herbs for this recipe. We always like fresh herbs but for mixing the brine, dries herbs are a lot easier.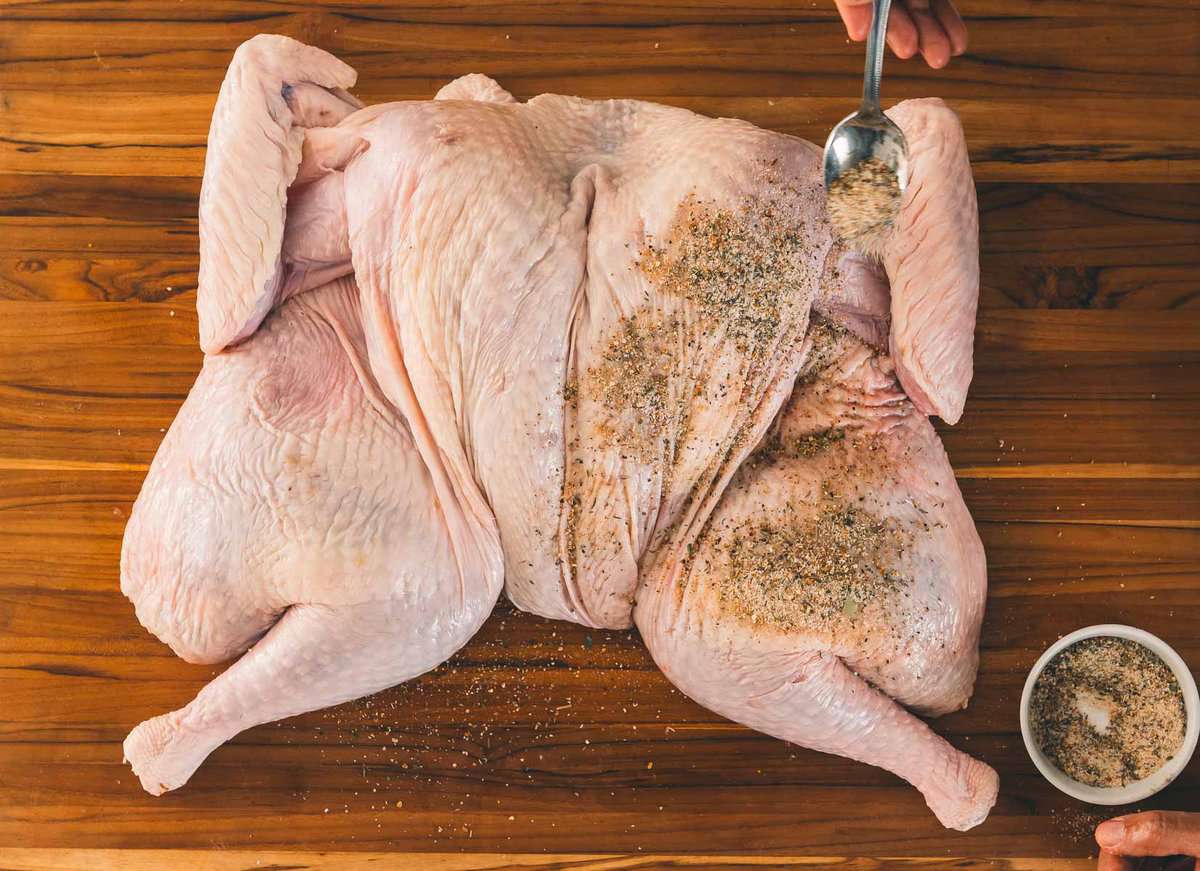 Watch: Dry Brine Your Turkey For Thanksgiving For The Perfect Bird!
Our best Thanksgiving turkey recipes
Preparing the perfect turkey for your holiday feast doesn't have to be a daunting task. In fact, with our simple and flavorful dry brine technique, it's easier than ever to serve a turkey that's moist, tender, and bursting with aromatic herbs and zesty lemon. Skip the hassle of wet brining and unlock the secret to a stress-free, delicious Thanksgiving centerpiece right here. All you need is a good dry brine recipe, and you can produce the most flavorful meat you've ever had!
Save this recipe for later by clicking the ❤️ button on the recipe card. Did you know you can save all of your favorite recipes right to your own recipe index on GirlCarnivore to find them easier later on?
Have you tried this recipe? Do us a favor and rate the recipe card with the ⭐ ⭐ ⭐ ⭐ ⭐ and drop a comment to help out the next reader.
Dry Brine for Turkey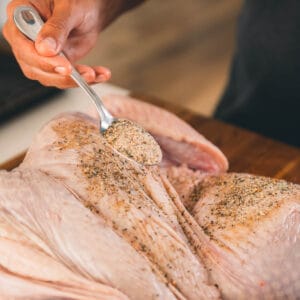 Our dry brine recipe for turkey is all about simplicity and superb flavor. In other words, minimum effort and ease to elevate your holiday turkey. With a mix of salt and herbs, it enhances the natural juiciness of the bird while infusing it with a mouthwatering flavor. Say goodbye to messy wet brines and hello to this easy, no-fuss dry brine recipe. Perfect for your Thanksgiving turkey or special occasions.
Ingredients
12-14

pound

fresh turkey

use fresh thawed turkey. Avoid Kosher turkeys

⅛

cup

Kosher salt

1

tbsp

Rosemary

1

tbsp

thyme

1

tbsp

sage

1

tsp

Lemon pepper

or ground black pepper and a hint of lemon zest
Instructions
Start with a thawed turkey that has been removed from its package. Make sure the neck and giblets are set aside.

Pat the turkey dry with paper towels over the entire surface of the skin and inside the cavity.

Combine the salt, rosemary, thyme, sage and lemon pepper in a bowl and mix to combine.

Using a spoon or your fingers, rub the outside of the turkey on all sides and under the skin liberally with the salt mixture.

Transfer the turkey to a wire rack over a rimmed baking sheet, breast side up.

Place the rack in refrigerate uncovered for 24 to 48 hours.

Remove the turkey from the frdige after 24 to 48 hours, and cook as desired.
Notes
This dry brine works for most turkey recipes, whether left a whole traditional turkey or spatchcocked to lay flat.
Fresh or dried herbs work for this recipe, but we find dried work easier for a brine.
We do not recommend rinsing the bird after it has dry brined.
Remember, no matter how you cook your turkey after you use a dry brine recipe, the internal temperature should reach 165°F in the breast meat and 170 degrees F in the dark meat with a meat thermometer, according to the USDA.
Now that you have a perfectly brined turkey, here are some more helpful turkey guides: How to Wet Brine a Turkey
See our roast turkey recipe for a classic Thanksgiving dinner, or view all of our favorite Thanksgiving Turkey Recipes.
Helpful FAQs
Can you use a dry brine on a frozen turkey?
Yes! Just make sure you thaw the turkey partially before adding the dry brine so you can remove any giblets from the cavity of the turkey. Check out our guide for learning How to Thaw a Turkey!
​CAN YOU USE A DRY BRINE AND A MARINADE?
No. You'd be better off choosing one or the other. If you prefer a marinade, try our flavorful chicken marinade!
WHAT OTHER BRINE INGREDIENTS CAN I USE?
Feel free to use any blend of dried herbs, fresh herbs, brown sugar, or citrus zest for a dry brine.
HOW CAN I MAKE SURE THE TURKEY HAS HAD ENOUGH TIME TO BRINE?
The entire process should take 24 to 48 hours. Anything within that time frame is fair game! We do not recommend brining a turkey for longer than that.
SHOULD I RINSE OFF THE SALT BRINE?
Nope! You don't want to remove any of those flavors that developed during the brining process. The only thing you should do is pat the whole turkey down with paper towels to remove excess moisture.