Thanksgiving may be our favorite holiday, as it is built around nothing more than great company and good food. But we know getting it all on the table in time can be a little stressful. We've been working on articles breaking down every step in the turkey process, from how to defrost a turkey to wet vs dry brines and of course, perfectly cooking it.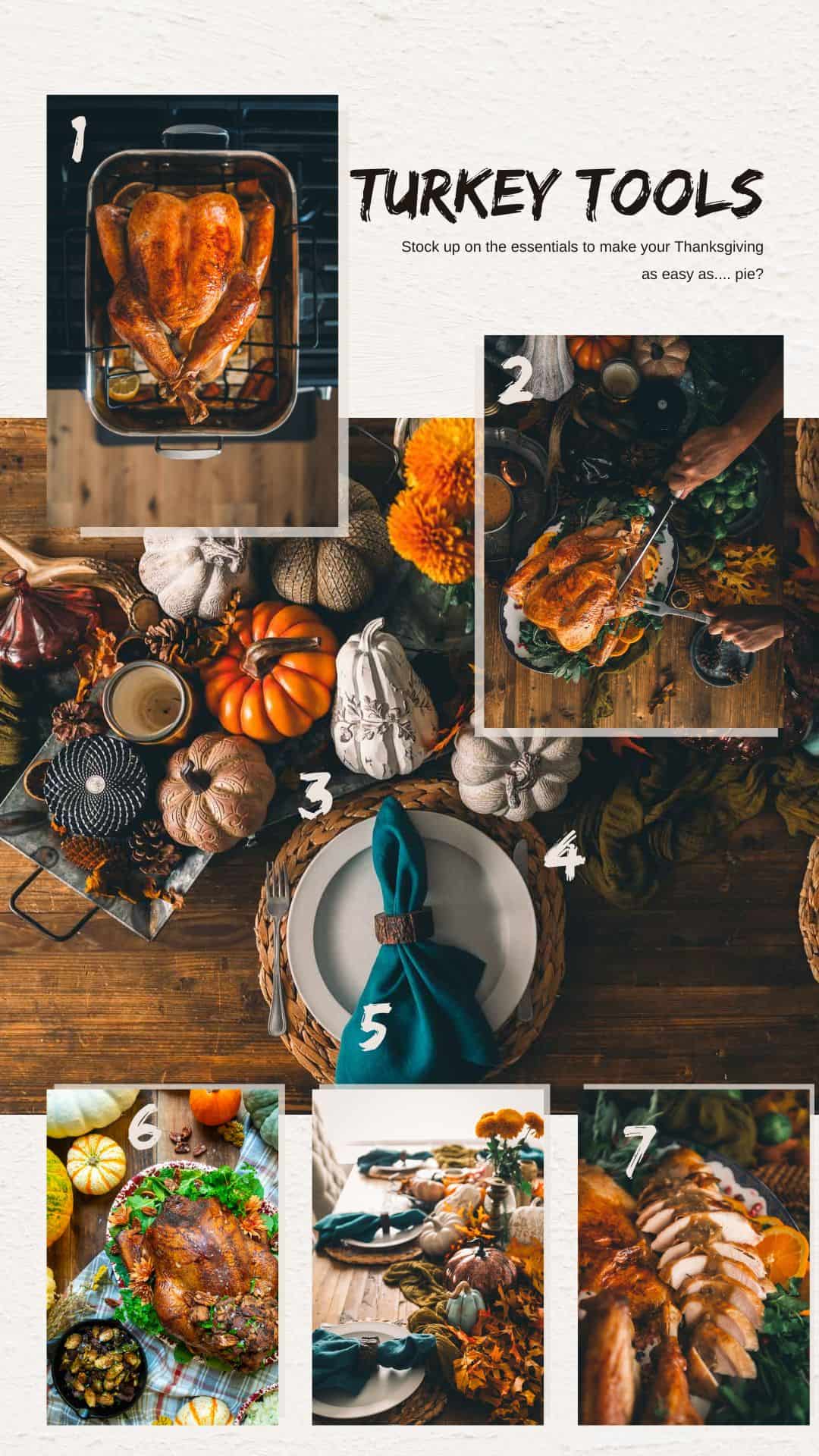 1. Anolon Pan with wire rack 2. Carving knives collected from travels 3. Ratan chargers 4. cheesecloth table runner (classy, we know) 5. Linen napkins 6. Crow Canyon Home Enamelware 7. Serving platter from Williams Sonoma
But we realized it doesn't stop there. Pulling off the perfect Thanksgiving meal requires some essential equipment and servingware. From roasting pans to carving knives, thermometers to serving plates, having the right tools can make all the difference.
We test-drove a lot of equipment to create our ideal Thanksgiving arsenal. Whether you're roasting or smoking the bird, we've got you covered. And we'll share our tips for spectacular presentation using serving platters, dishes, and more. Get started dusting off and gathering everything you need now and you'll be well on your way to Thanksgiving success.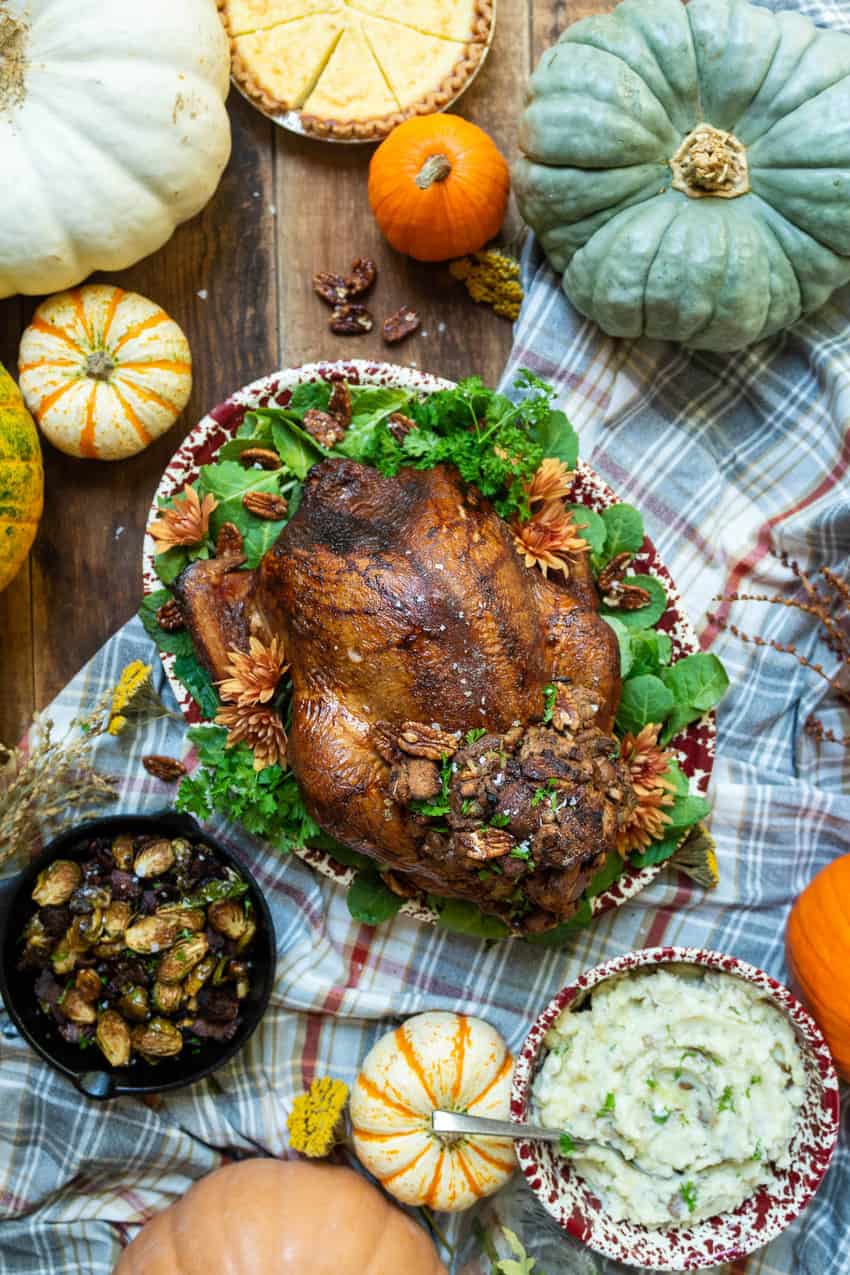 Prepping and Cooking the Turkey
Alright, this isn't really a tool, but it wouldn't be Thanksgiving without the bird. Did you know that if you're ordering your Turkey, the time to do it is… Now. One of our favorite online butcher shops, Porter Road, just opened up turkey pre-orders. Alternatively, check out our favorite places to buy meat online to see when you need to put your order in from them or call your local co-op or market to find out when you need to pre-order your fresh bird.
If you're buying a frozen bird and have the room in the freezer, you can buy it now. We've already spotted them on sale at our local grocery store. Just be sure you know how to thaw a turkey to give yourself plenty of time for it to defrost before cooking.
Now, onto the actual tools we use….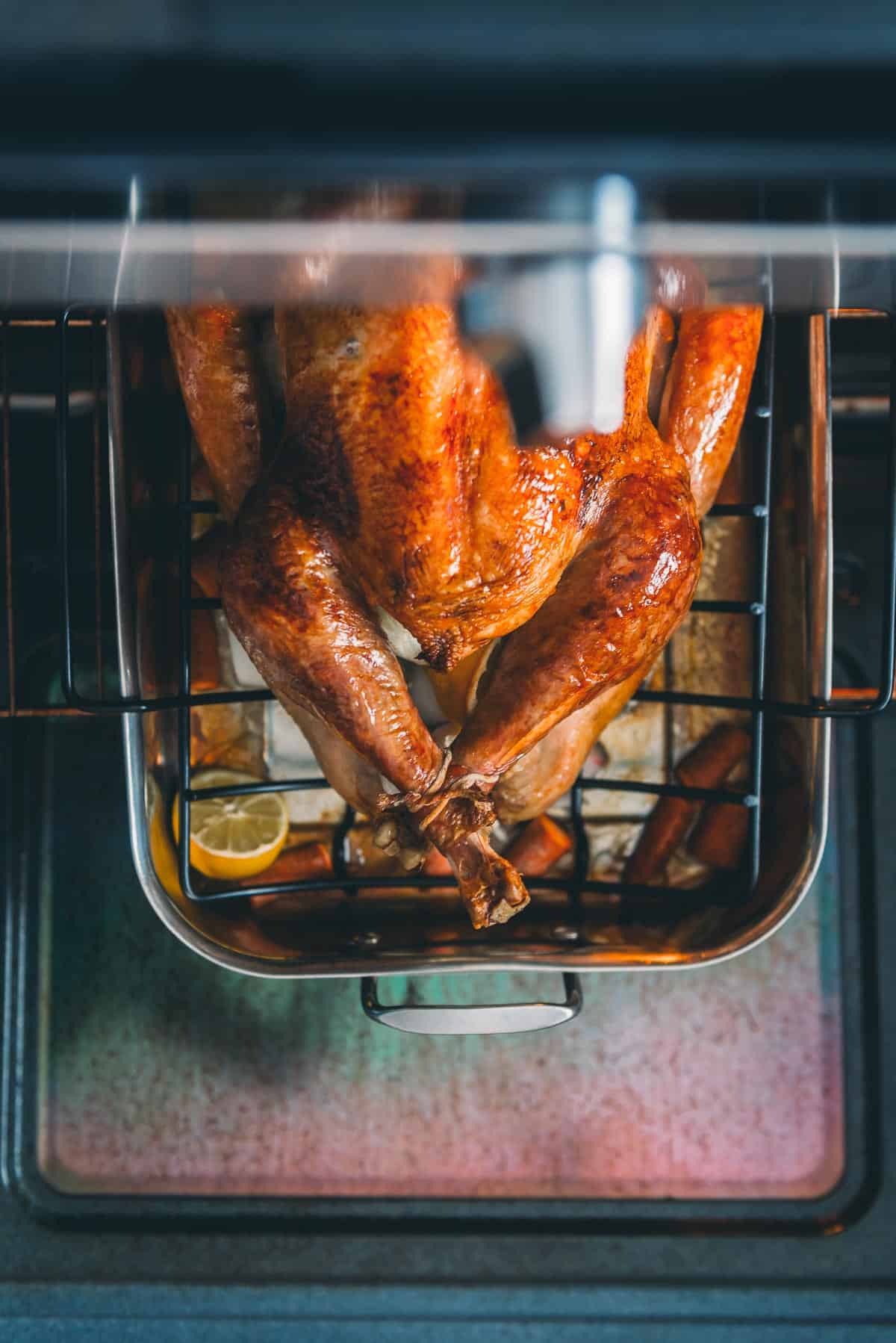 Roasted turkey
We tested wet brining a turkey this year and loved it for our classic roast turkey. But our biggest concern was how to store the turkey while brining it. These brining bags we ordered from Amazon we awesome. We will be using them for future projects.
We love our Anolon pan that comes with a wire rack to make getting up to a 15 lbs turkey in and out of the oven as easy as possible. We also recommend a good basting brush. We love one with interchangeable heads so we can easily always have one clean and sanitized.
A high quality digital meat thermometer is probably the most important tool for making sure you've cooked the turkey perfectly. This is one of those investments that's worth every penny if you love to cook. You can't buy our favorite brand on Amazon, so be sure you are going to the Thermapen website and watching for pre-holiday sales to buy yours.
If you're planning to learn how to spatchcock a turkey this year – one, yay – two, we highly recommend heavy duty kitchen sheers, mainly to make things as easy as possible and minimize the work.
Roasted Turkey Equipment
Quick links of our traditional turkey tools
Make the perfect Roast Turkey this year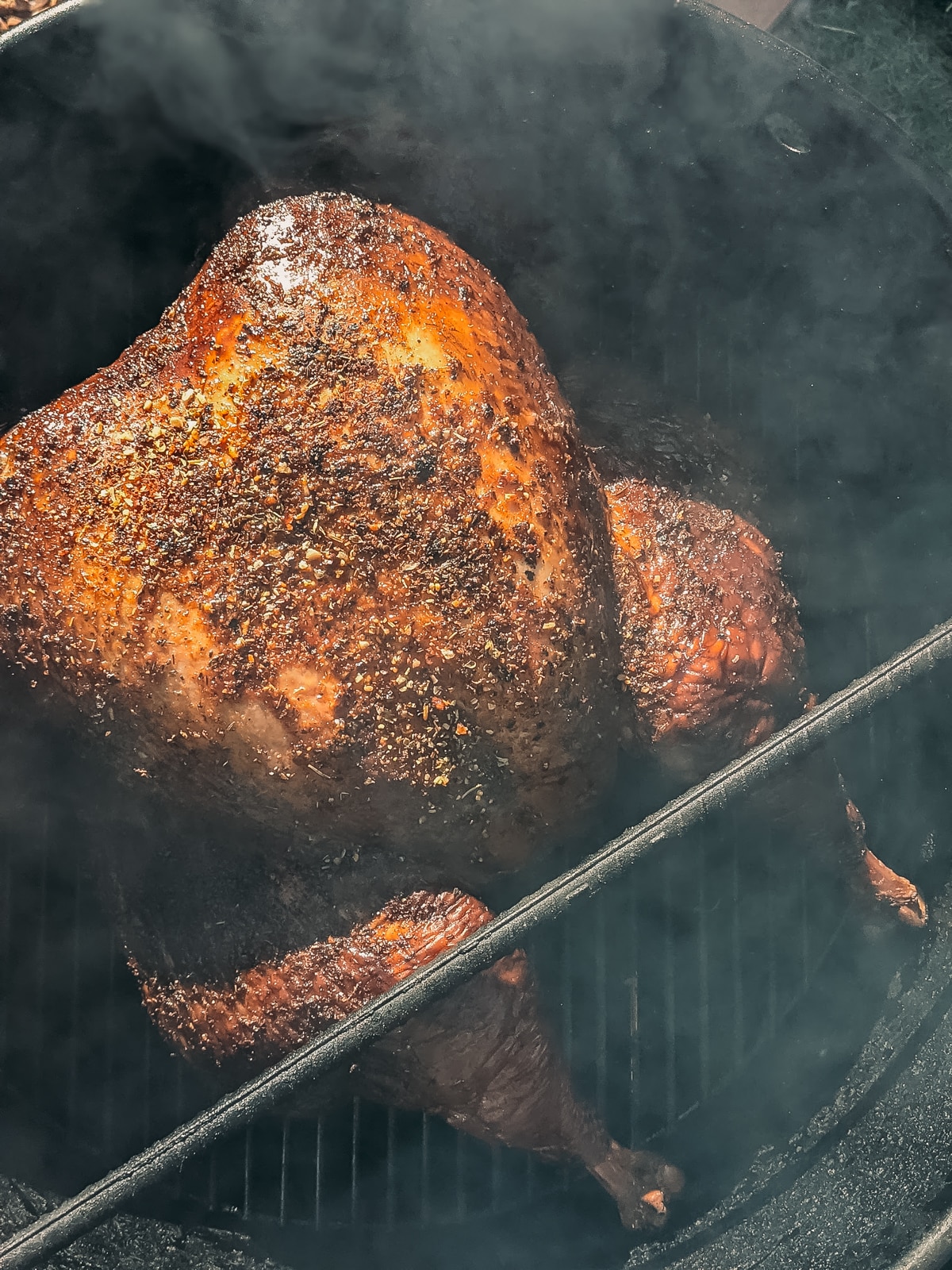 Smoked Turkey
If you're planning on smoking a turkey this year, check out our best grills of 2023 to see who made the cut. We love a variety of grills for different reasons when smoking turkey. To start, our Traeger pellet grill makes smoking a turkey easy. We fill it with Jack Daniel's charcoal pellets for that authentic char-grilled flavor.
If you have a drum smoker, kettle, or kamado style grill we love to use Cowboy hardwood lump charcoal in any charcoal grill as our fuel source. Check out our suggestions for the best wood to smoke turkey to level up your flavor choices. And remember, you can smoke on a gas grill. Just grab a smoker box and follow our tips.
Pro Tip
Don't forget to clean the grill grates and empty the ash can before smoking your bird for the best results.
Smoked Turkey Equipment
Quick links for our smoked turkey tools
And, of course, no matter if you're cooking indoors or out, we would be remiss if we didn't mention cast iron. Whether it's a $20 Lodge cast iron skillet or an enamel-coated Le Creuset pan, we cook all of our side dishes (and desserts) in cast iron. Once you learn how to season cast iron and how to clean cast iron, these become lifelong purchases.
Smoke the best Thanksgiving Turkey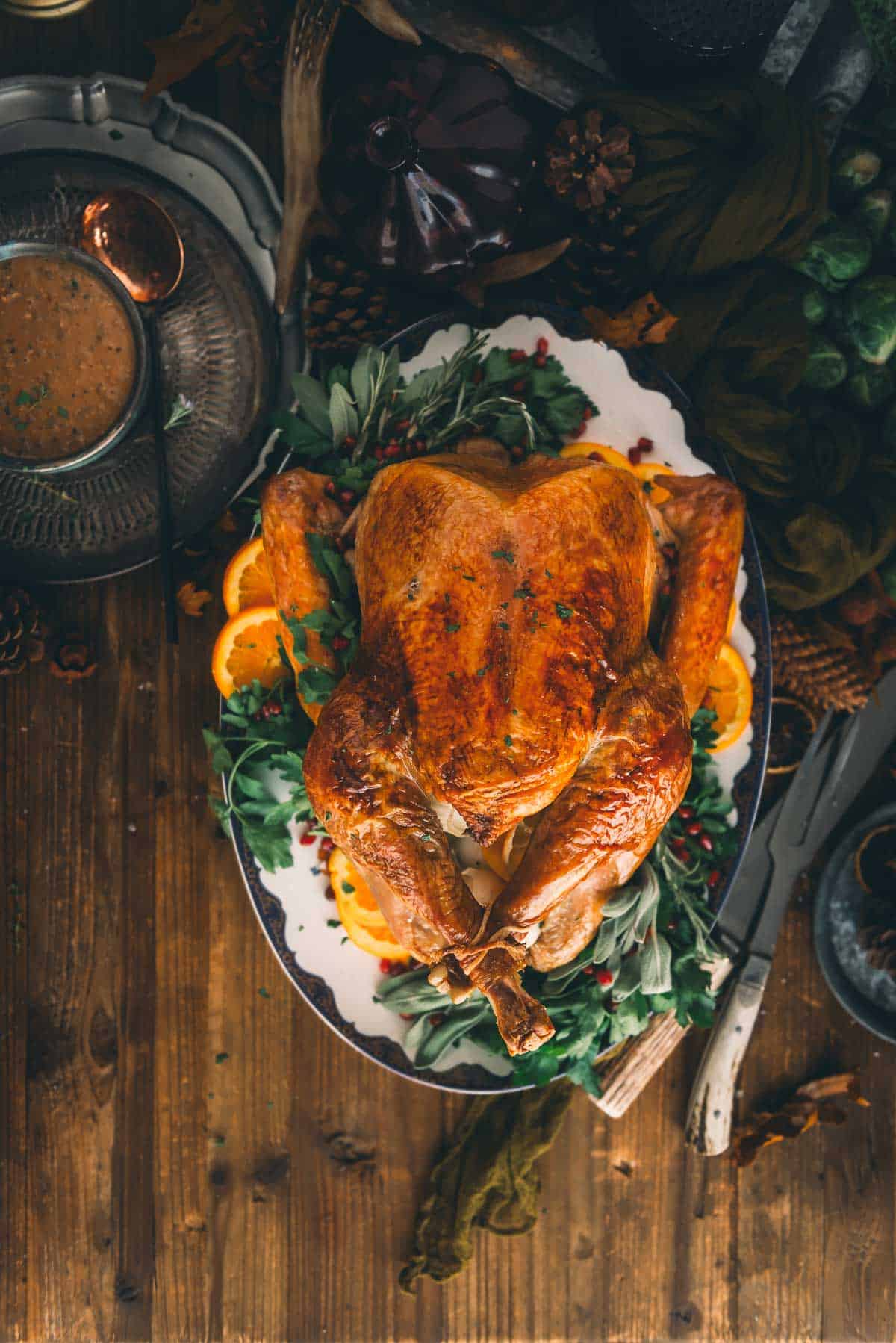 Serving Dishes
As much as we are not above walking through popular home goods stores, we do not believe in one-use dishes. Everything we keep in our cabinets needs to have multiple uses throughout the year. And where they may be cycled out for special occasions, it's all about how we use them that makes this little trick work.
You can see our Crow Canyon Home enamelware under our Smoked turkey or green bean casserole. Spot mini Lodge skillets all over our tables, holding everything from smoked brussels sprouts to deviled crab. We will often swap out classic ceramic serving platters with baking sheets lined with greens for garnish (spotted on our spatchcock turkey recipe) or use a durable cutting board with grooves for the final plating on our turkey and prime rib.
We love Barebones enamelware for serving dishes because they are durable enough for burgers on a camping trip and pretty enough to mix and match with a Williams Sonoma serving platter when plating the turkey and sides.
Our carving knives have been collected on our travels around the country.
Pro Tip
We only shop the clearance racks for those pieces.
Our favorite serving Dishes for Thanksgiving
Only invest in tools you can picture reusing throughout the year.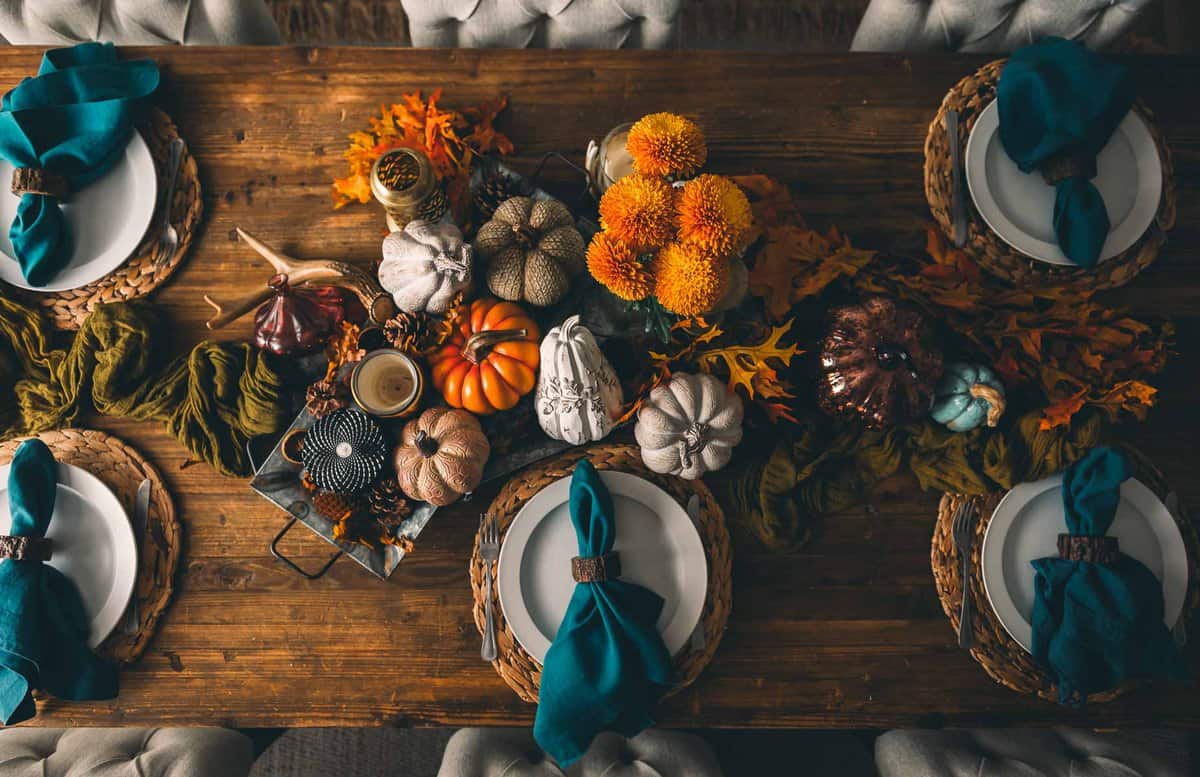 Setting the Table
Alright, slipping away from essentials and onto the fun stuff. Anyone who's dined with us know's that the table is half the fun. It's where we break bread and then hang out long after the leftovers are packed away, playing a board game or two.
We have a 6' rustic wooden table, that is home to most of the photos you see on the site. We scoured the internet to finally find it at Wallmart (don't judge). It's traveled from coast to coast and looks awesome.
Pair that rustic table with chairs from Pottery Barn (also clearance) or Wayfair.
Pro tip
When shopping for chairs, check the 'seat height.' We learned the hard way that not all chairs are the same height and had a kid's table situation happening for a little while with the height of the previously mentioned wooden table.
For linens, we scour those popular home goods stores knowing there will be spills and stains and it's not worth stressing over. Or we add texture with old scarves (check the $3 bin at Target) or cheesecloth table runners. Before a big meal, though, we do throw down a tablecloth just to make it easier to clean up the mess. We mix it up and elevate things with the washable linen napkins from Crate and Barrel for that finished touch.
Because we take so many photos, we often have a bit of Mad Hatter's tea party going on with forks, spoons, and knives, and we mix and match those with simple glasses from Ikea that we've had for years. They are so inexpensive; when one breaks, we don't fret over it.
To dress things up, we use Ratan or galvanized chargers, then stack a simple set of Crate and Barrel plates on top before adding fresh flowers from the market with a few seasonal pumpkins.
Pro Tip
But your own flowers and make the bouquets. We only spend about $20 and can make 3 to 4 bouquets for around the house. You may need to ask for greens from behind the counter, but most floral departments have them and will sell them to you.
With a couple of candles in the background, some low tunes on, and the food set out, this makes for the perfect ambiance for our rustic decor.
Our Rustic Thanksgiving Table
We love this look year-round for our cabin vibes. It's easy to dress up or down any time of year.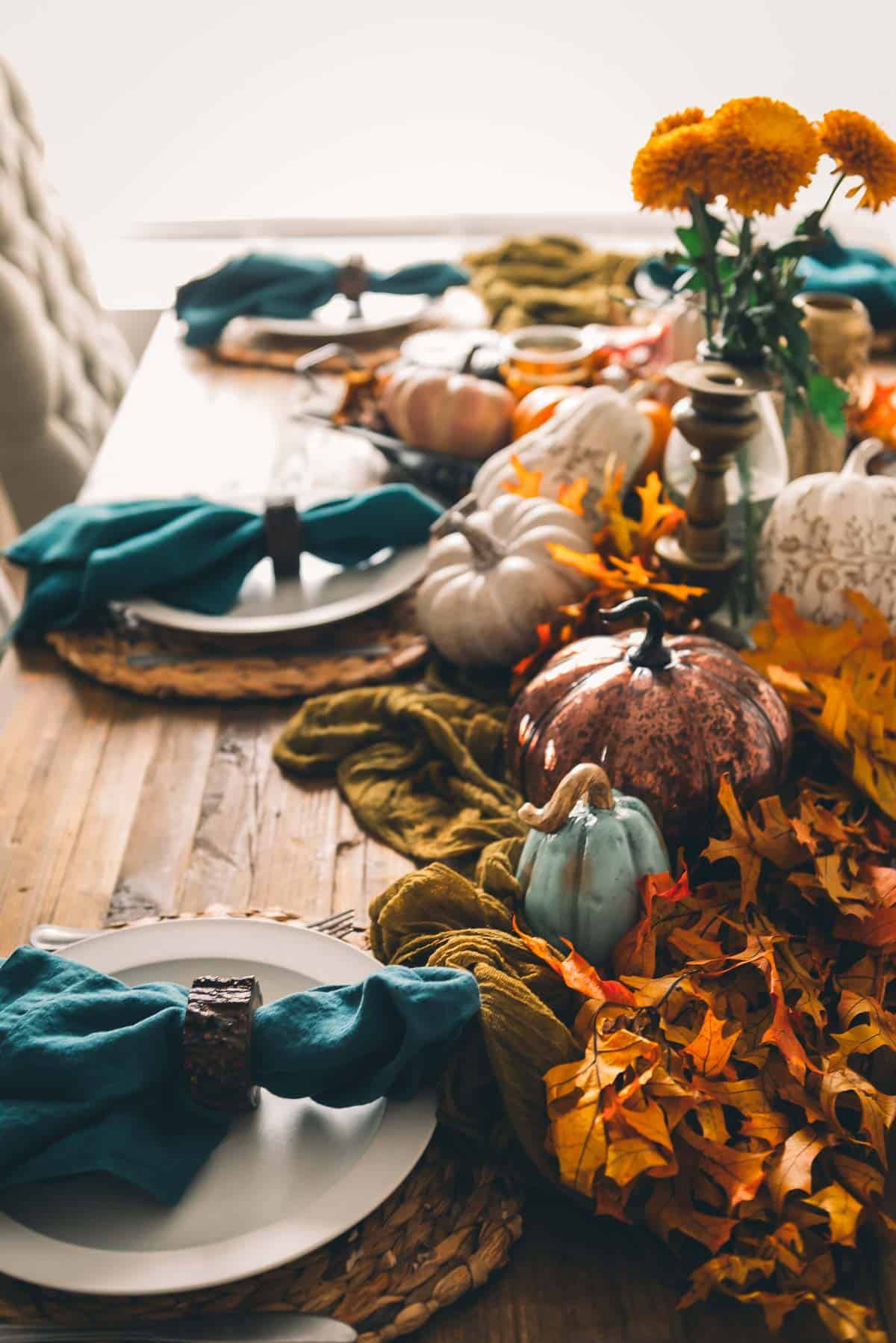 Helpful Thanksgiving Guides and HOw-tos
Did you find this article helpful? We're branching out and trying to answer more questions and create more helpful content for you. If this guide, or any of our recent how-to's or tutorials have been helpful we'd love your feedback.