When it comes to show-stopping tables, beautiful charcuterie boards have taken over this year and there's a reason why. They are easy to make, can be crafted out of just about anything, and have a bite everyone can enjoy. Today, I'm sharing my tips and tricks for how to make a charcuterie board worth Instagramming!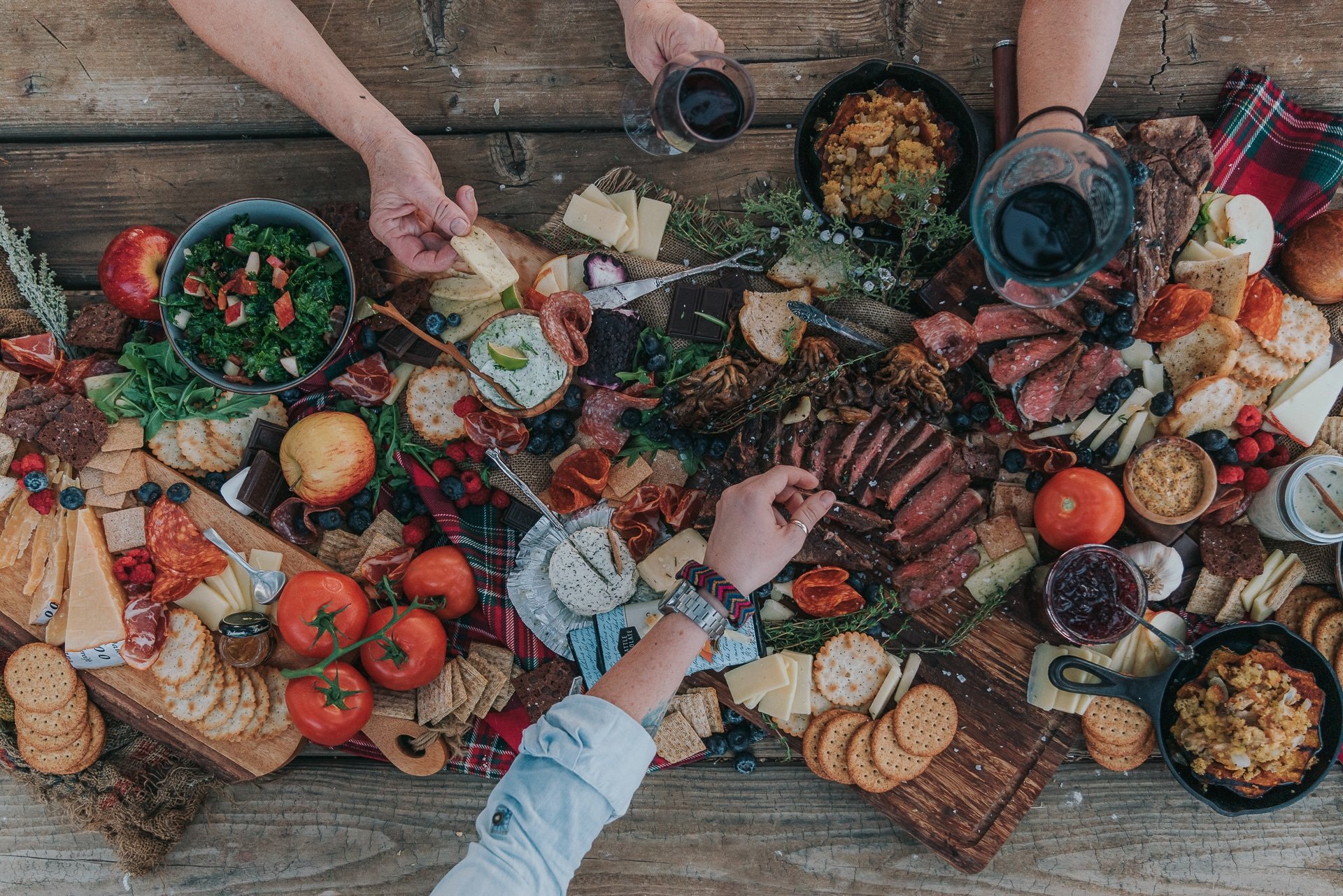 I originally published this post on GoRVing.com. Additional information has been added.
When it comes to making the perfect charcuterie board, knowing what you have on hand is a must! I've been making rave-worthy boards packed with cheese, meats, fruits, and more for events and parties for years and these are my go-to tips for building beautiful spreads with ease!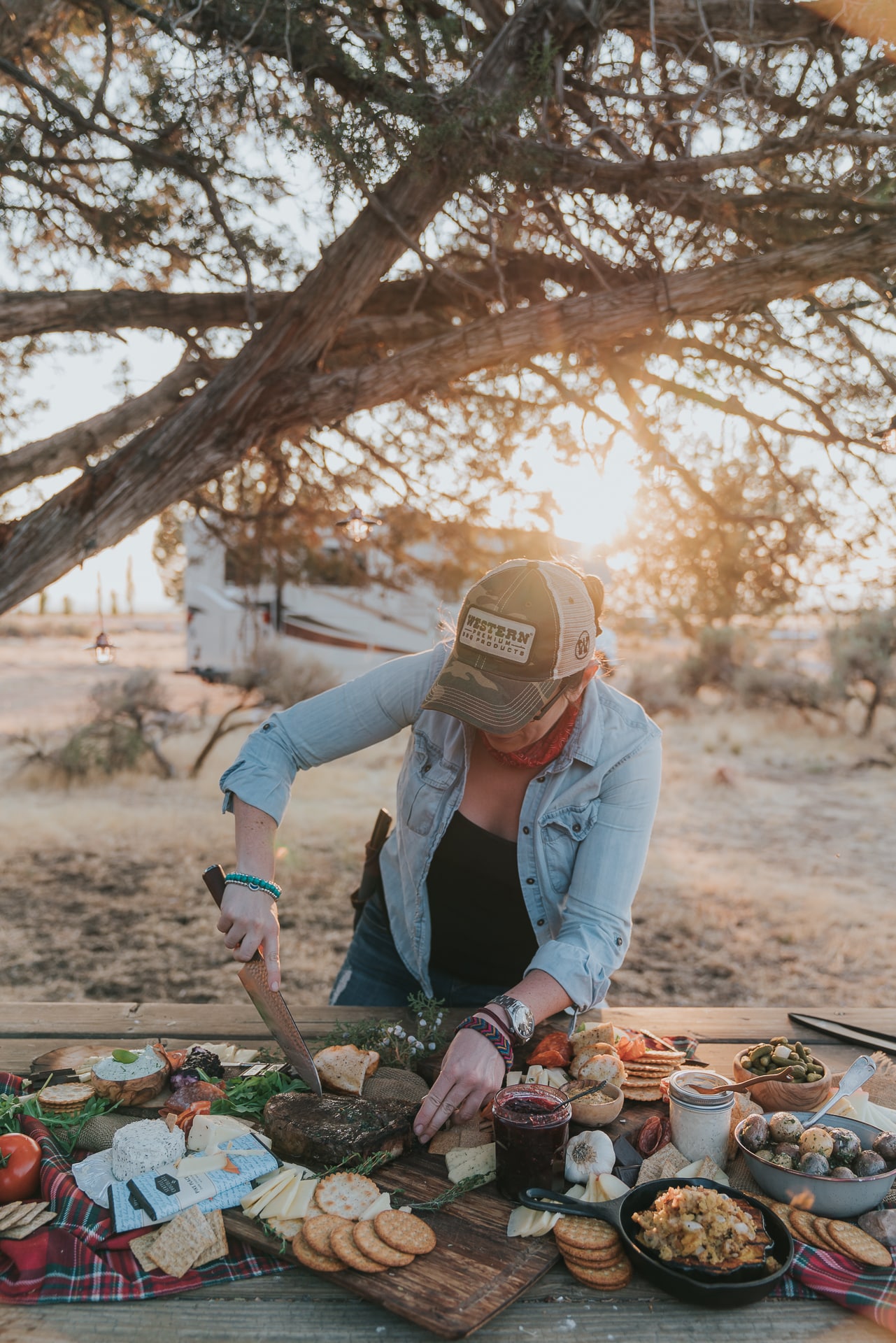 How to make a perfect charcuterie board
Plan your beautiful board ahead of time:
Plan: Writing out my menu ahead, and knowing exactly what goes with what dish, means that I already have all of my ingredients listed out.
Slice ahead: I will have all the cheese sliced and stored in airtight resealable bags, and then I do the same for the cured meats, so that when they are ready to go making assembly quick.
Store individually: Any jelly, jam, or honey will be ready to go in its own jar or a smaller resealable container for placing. Make sure to have a bowl or dish ready for each item, knives for each cheese, and spoons or picks for pickles, dips, and fruits.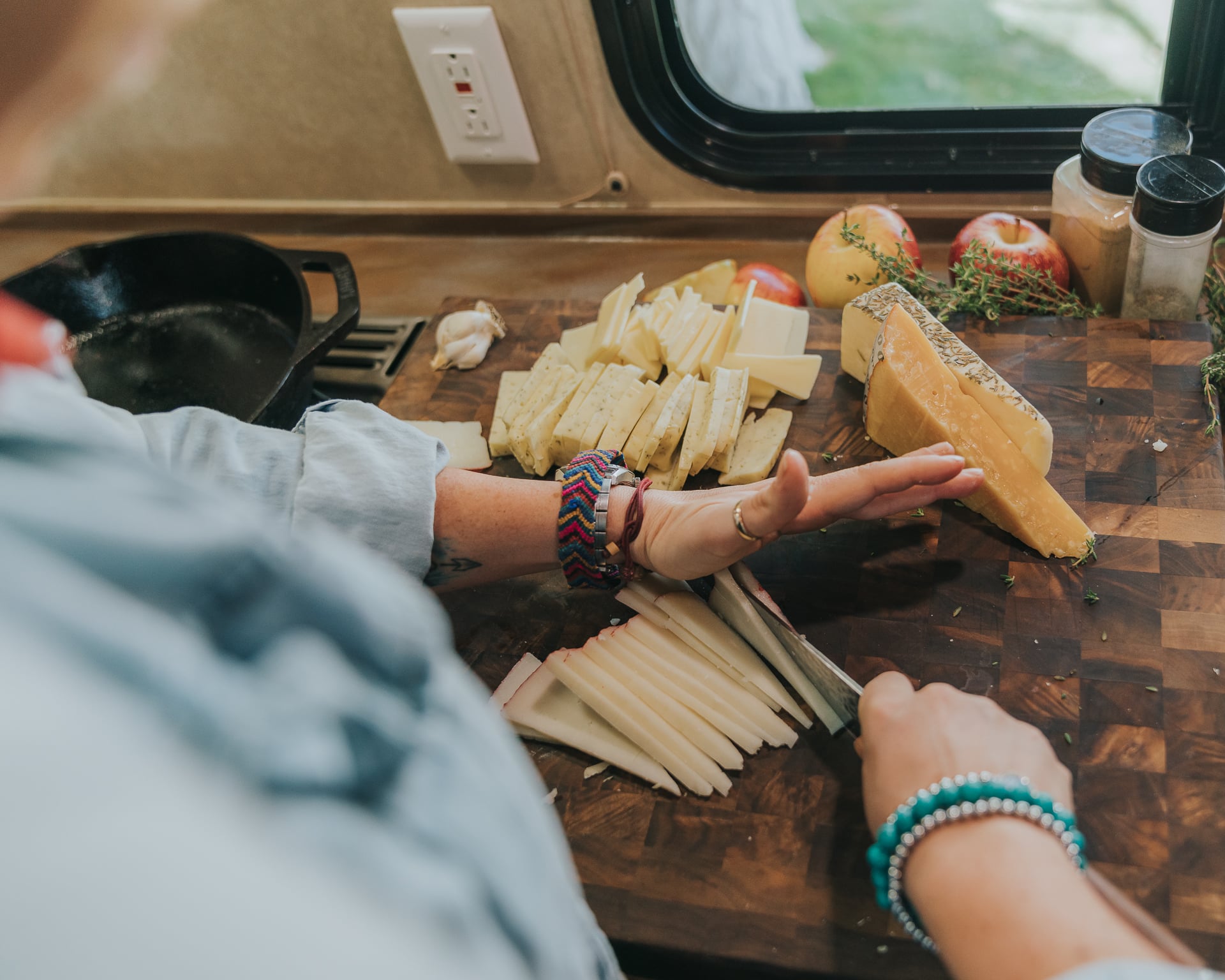 How to arrange a charcuterie board
Sure you can put anything on your board but there are a few things that I consider essential, cheese, cured meats, a vessel to transport (bread or cracker), a crisp garnish (pickled veggies or olives), and something spreadable (jam or honey).

GirlCarnivore Tip: Work in groups of 3 to build a fully fleshed out and abundant looking board, no matter how large or small your surface is.
Whatever you choose to put on your board, work in sets of three to build volume. 3 types of meat, 3 cheeses, 3 fruits, and so on. It's a quick way to mitigate choices and ensure the board looks full.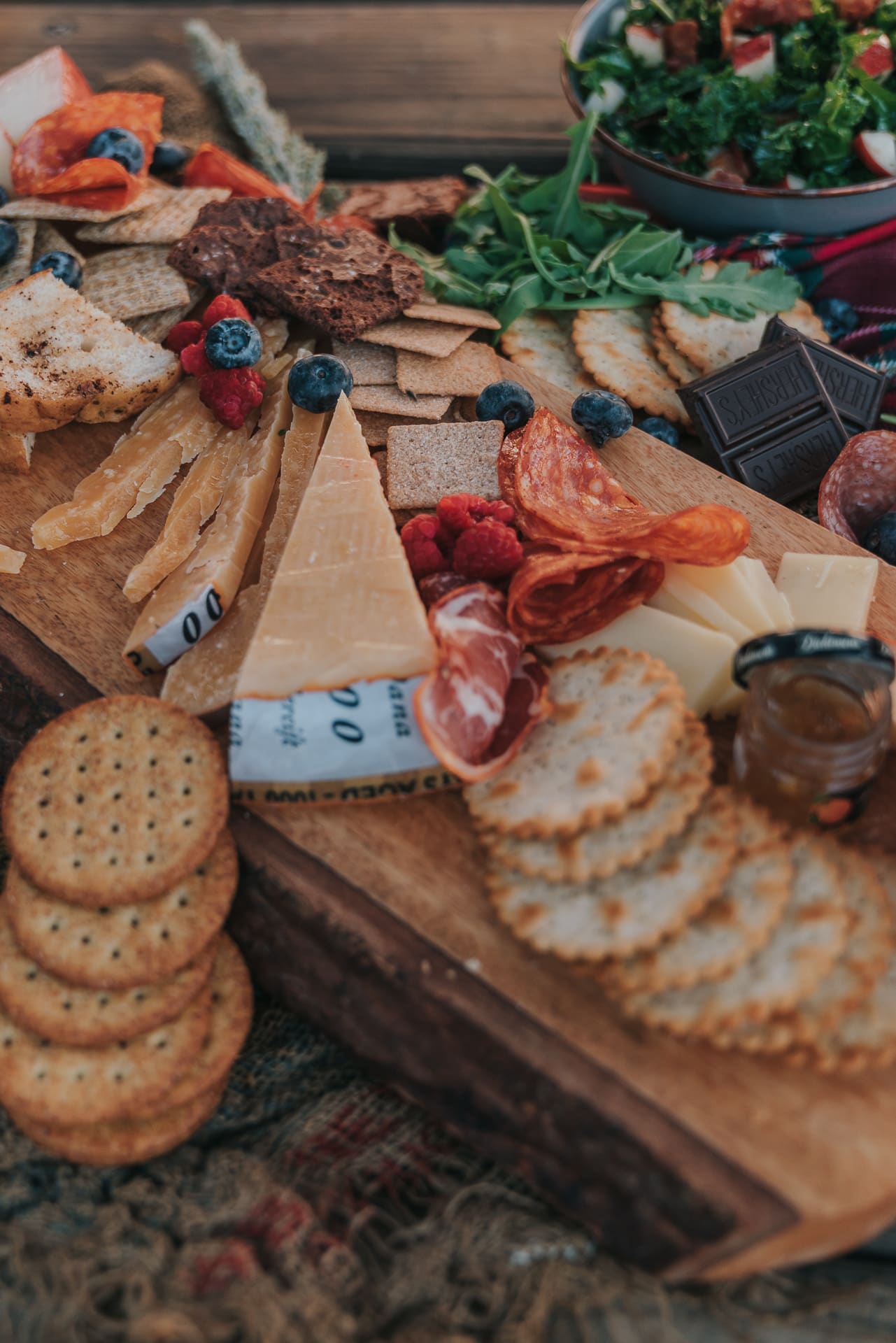 What to put on a charcuterie board
Cheese: a variety of sharp, mild, and something creamy. Also consider a trio of cow, goat, and lamb cheese. We are crushing on this smoked brie or smoked cream cheese in the center of our boards currently too.
Meats: sliced pepperoni, salami, prosciutto, basturma, chopped leftover chicken or beef, and even lunch meats are a great option here
Jelly, Jam, Honey – be bold and go with a spicy jelly as one of the 3.
Spinach or artichoke dip, tzatziki, or hummus (feeling bold, try a smoked crab imperial)
Crisp crackers, sliced baguette, grilled naan, and even pretzel chips are a great selection to use
Fruits and veggies, berries, sliced apples or pears, oranges mixed with roasted carrots, mushrooms, or pickled asparagus and gherkins
Something special like nuts, chocolates, or small cookies
Use up leftovers! Slice up whatever you have into small portions and add leftover grilled meats or veggies – go on and use them! Feeling feisty toss in a few Christmas deviled eggs too!
Once you have everything out on the counter, you are ready to build the board!
I make sure everything I am going to use is out and easy to grab. From there, assembling a photo-worthy board takes 15 minutes before we can toast and relax for the night!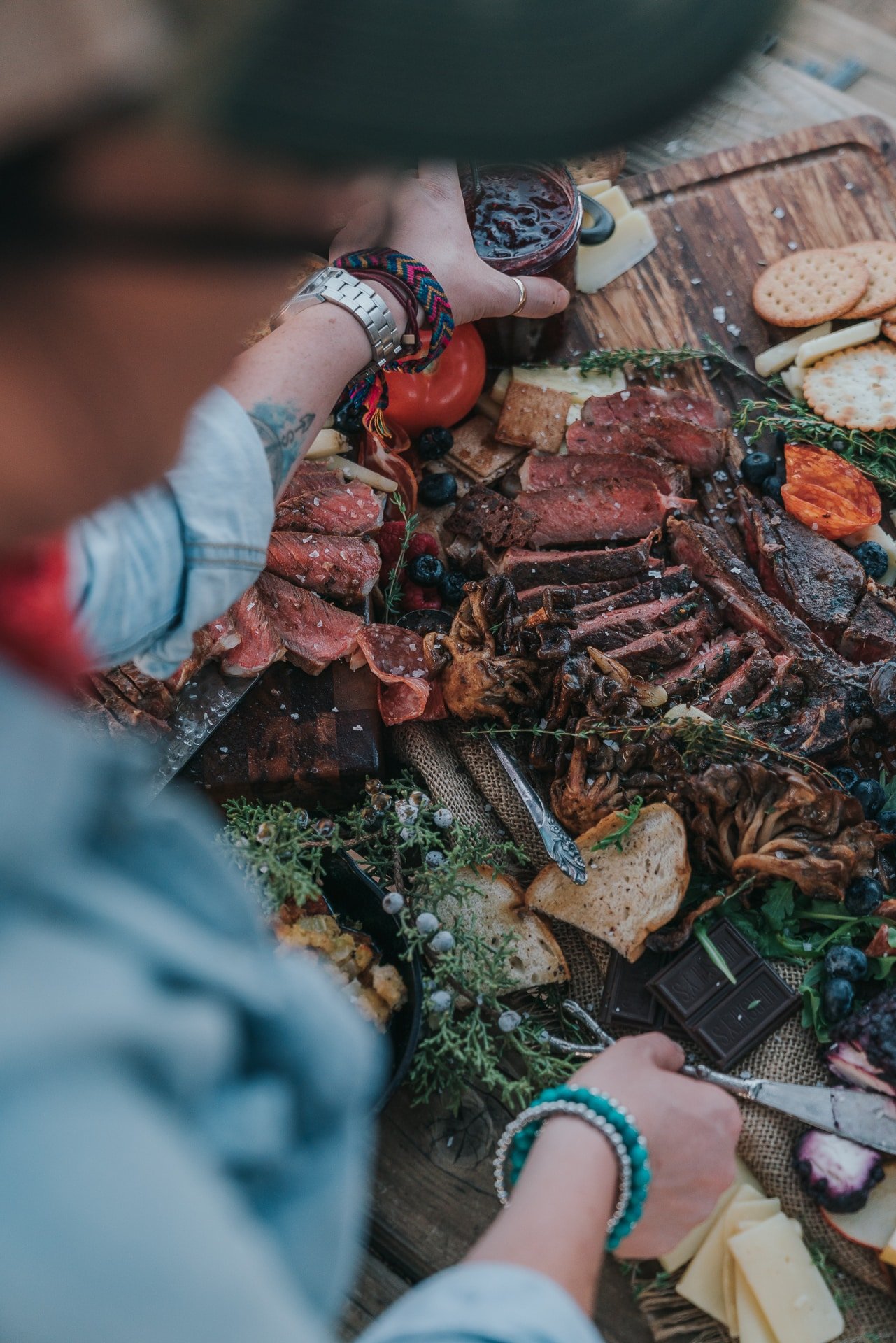 What you need to make the perfect charcuterie board:
Don't worry about too many things, because that can overdo it. Keep it simple and just make sure you have
Toothpicks
Utensils for serving
bowls for placing dips, jams, and more
Napkins
Plates
No really, that is all you need! You can style this up full-on magazine-worthy with individual dishes for everything or serve right out of the containers for easy cleanup. The level of creative investment here is all up to you.
If you happen to have some cutting boards, those are great to arrange things on as well, but once the food is down, no one will even notice what it's assembled on. I tossed a table cloth over the picnic table at our site and then foraged around for fallen sprigs and flowers to create a rustic-themed board for this one.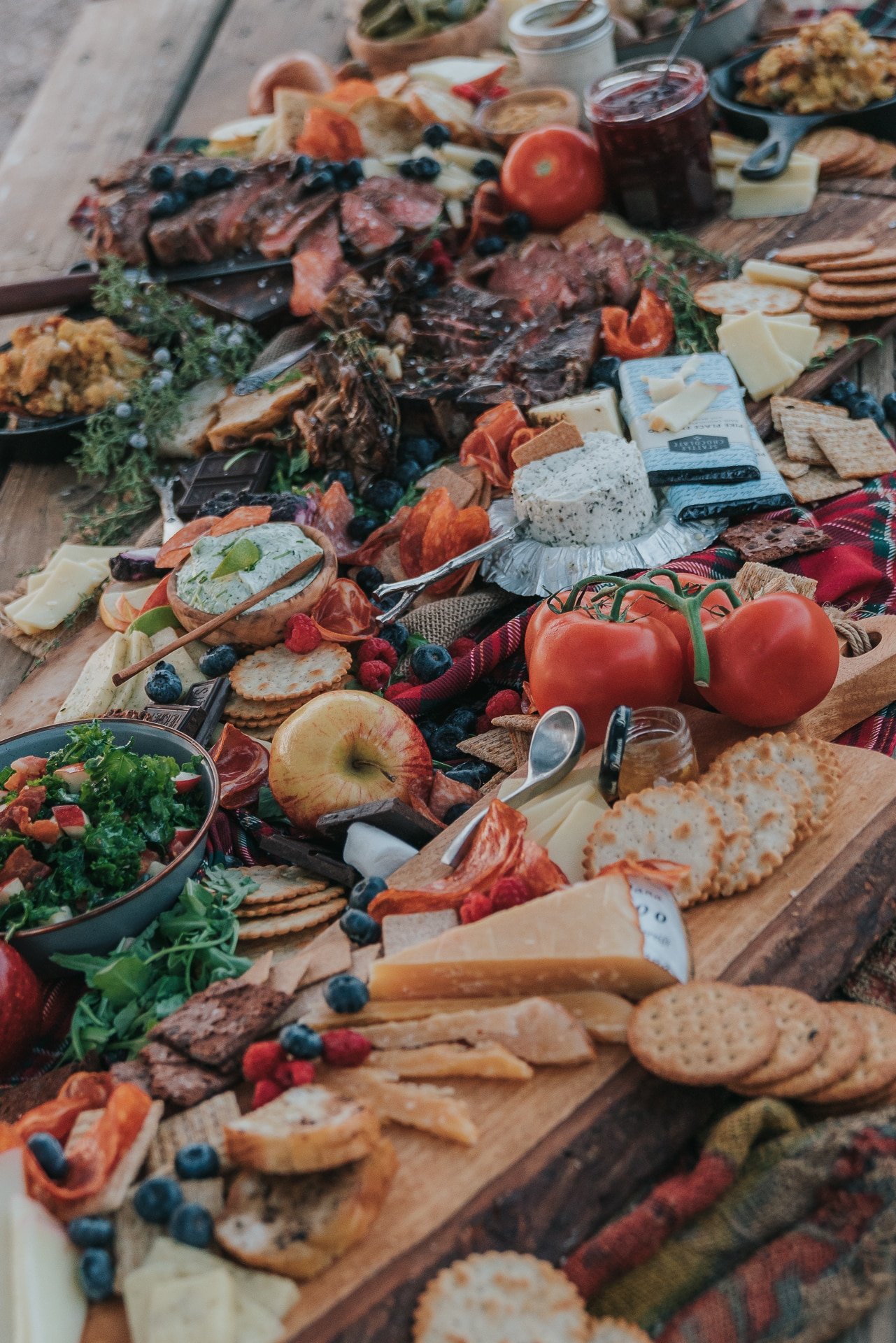 GirlCarnivore Tip: Look for fallen pinecones, sprigs, flowers, and other things that will make for fun decorations on your board.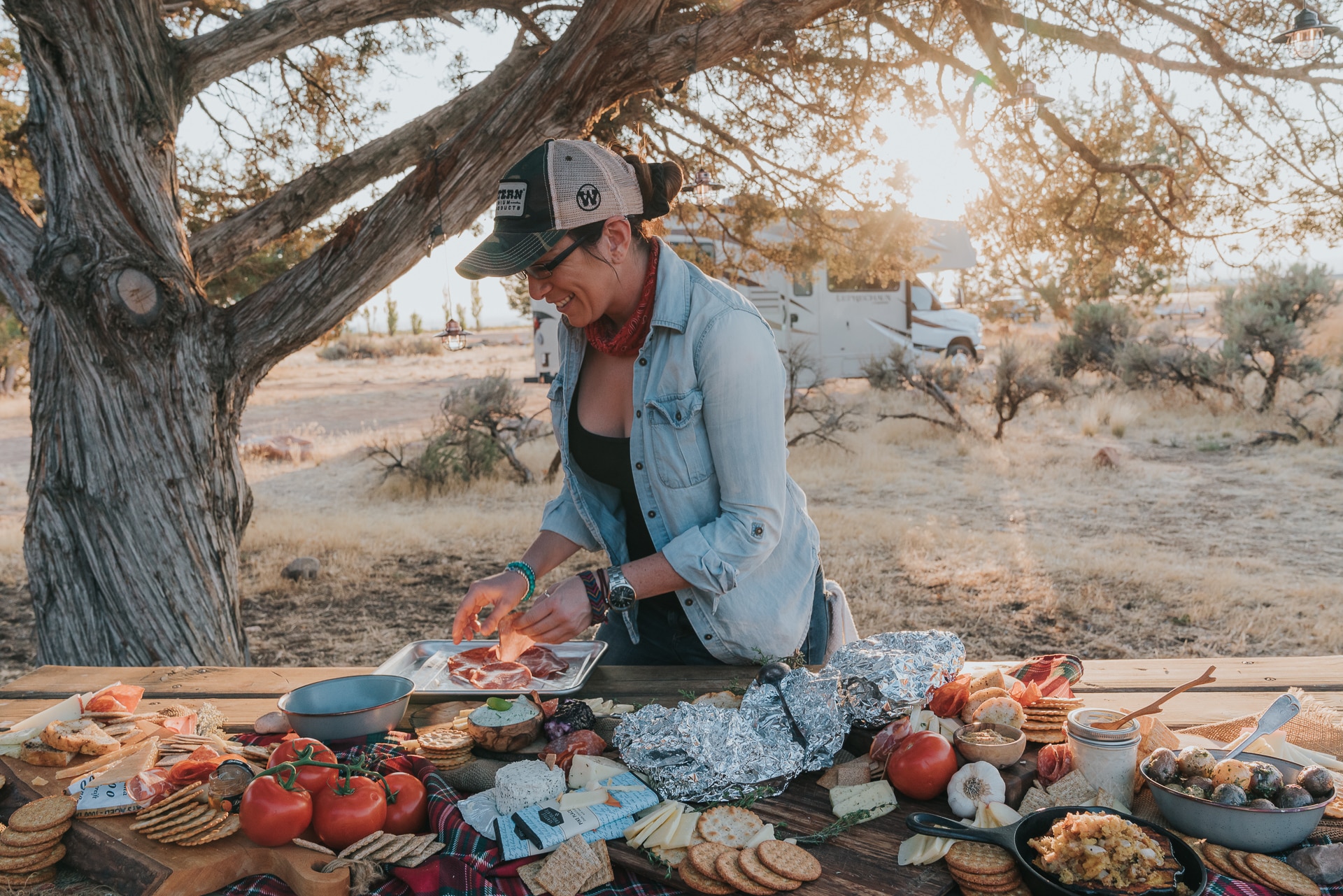 More tips and tricks for beautiful charcuterie boards
Use a board just big enough for everything to create a full look when you build your board. Using a tray that is too big can make things look sparse.
Find bowls of varying sizes to hold dips and jams
Stack plates and boards to add height and depth to the board while keeping it all in a tidy space.
Sneak in personal touches. Take the time to find out your guests favorite sweet or savory bite, and make sure that something is nestled in there for them to discover.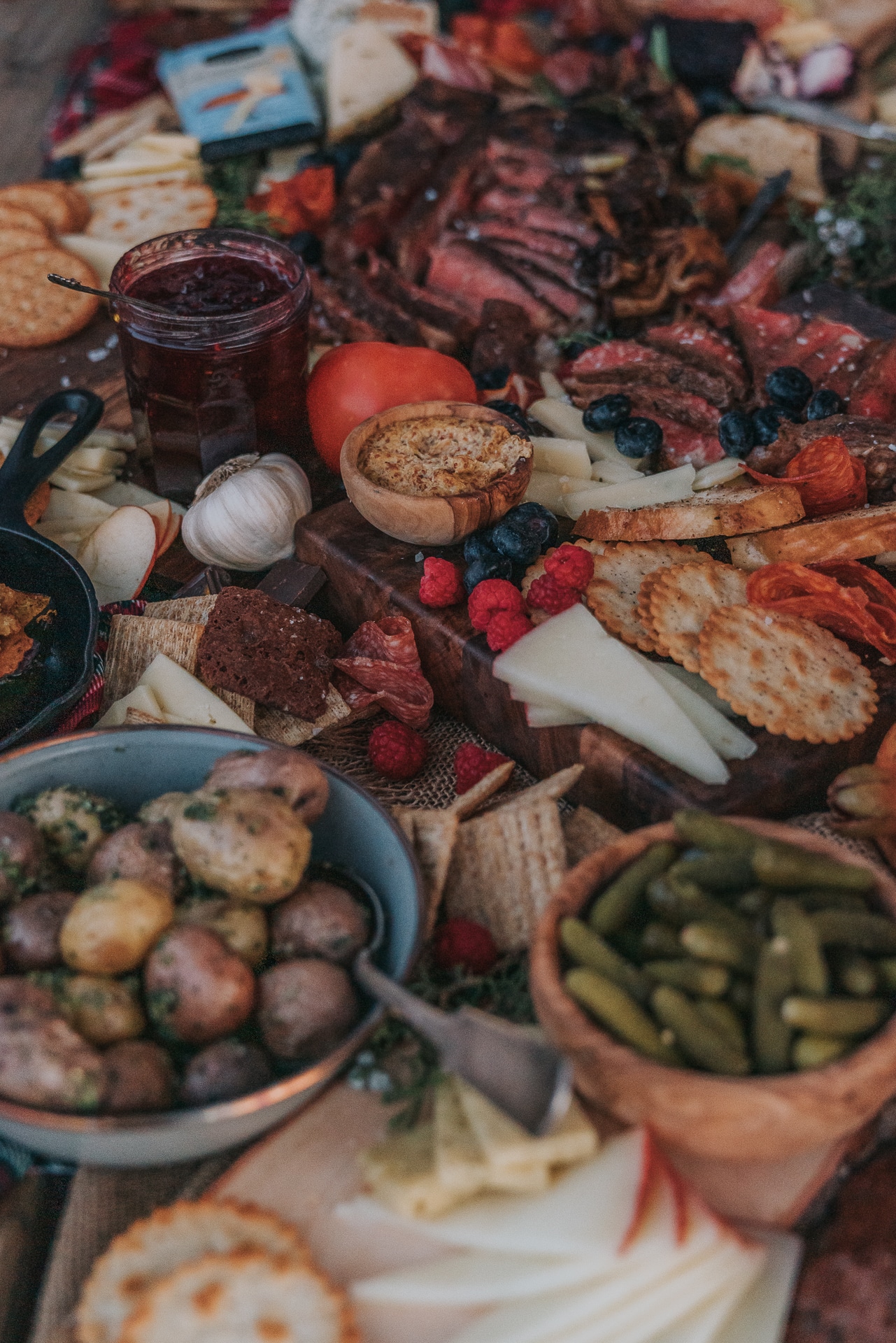 Pair up your favorite campfire cocktails and make ahead recipes and show off your perfect campfire charcuterie creations!
MORE DELICIOUS APPETIZERS TO TRY