Smoked Turkey with Candied Pecan and Apple Stuffing Recipe may be just the recipe you need to spice things up this holiday season!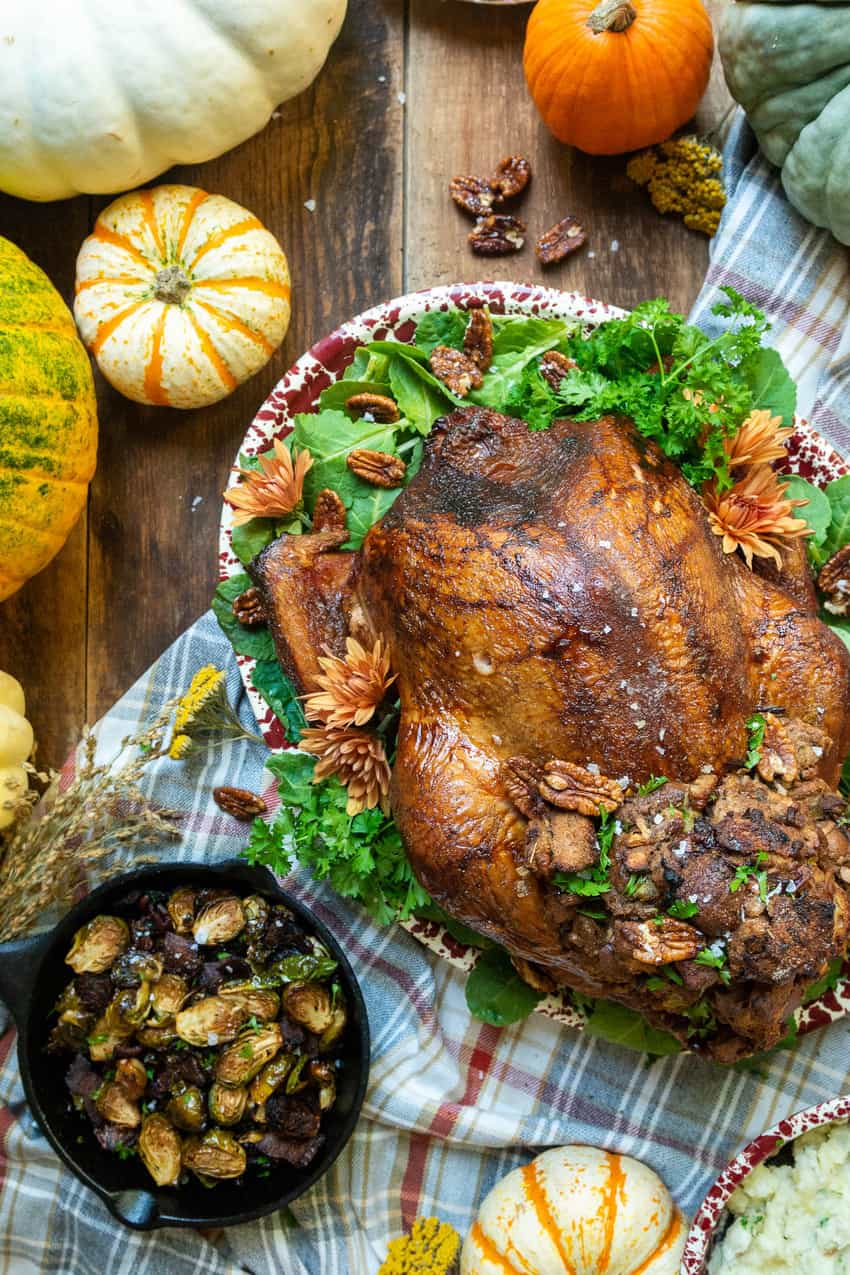 Smoked turkey is the best way to do turkey
Free up oven space and cut down on prep time with this Smoked Turkey spin this holiday season. (AKA, the only way I will cook a turkey ever again).
Yep, take the turkey out of the oven and inject it with some flavor. This recipe is going to give you all the bonus space of the oven and doesn't require a long brine.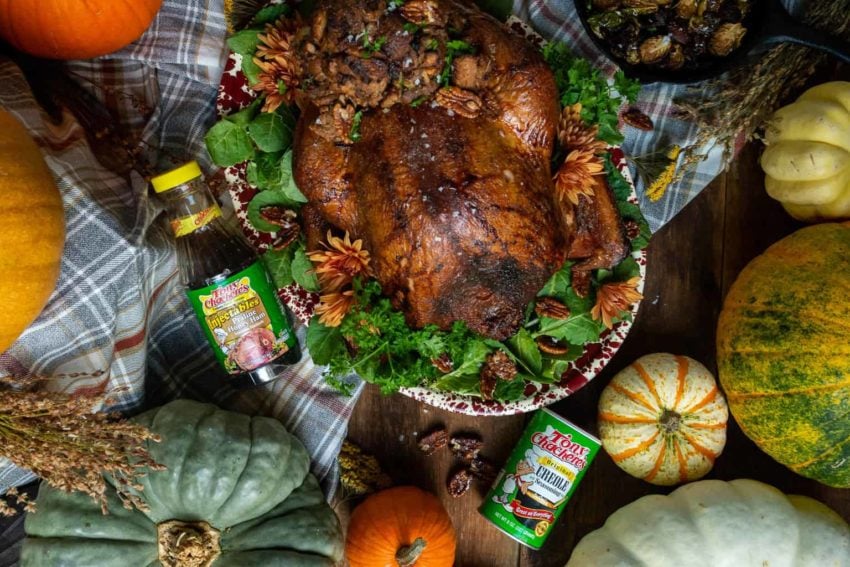 Break the mold and change the tradition by taking the turkey out of the oven and smoking it outside. But don't just stop there! Shock everyone with delicious new flavors infused from the inside with fun injectables and that layers of savory flavors. Are you curious yet? Good.
This is smoked turkey with candied pecan and apple stuffing.
How to make the best ever danged smoked turkey
Making a smoked turkey is not impossible and only advisable if you live in the woods and built your own smokehouse. First, I used Tony Chachere's® Praline Honey Ham Injectable Marinade. Sure, it said ham on the package, but the moment I had this in the meat lab and had my sights on Thanksgiving, I ran with the idea of pralines.
Smoked turkey cooking tips
Skip the brine time! Turkey loves a good brine. It soaks the meat, infusing flavor from within, but with the quick and easy injection instructions, the brine isn't needed!
Injecting the turkey added a whole new level of flavor as it cooked and guaranteed a moist bird. No one wants dry turkey.
Then, I add some spice to my quick and easy candied pecans with creole seasoning before making the stuffing and smoking the bird. It's really one of the easiest ways to cook a turkey.
Pop it in the smoker and let it work it's magic.
A turkey prepped in 15 minutes? Yeah, that happened.
How to smoke a turkey
Once you have your stuffing prepped and the turkey injected with the Praline Honey Ham Injectable Marinade, all you need to do is pop it in the smoker and let it go.
Make sure to prep your smoker always, and check the manufacturers directions for your model to make sure it's ready to go. If it's you're first time smoking a turkey or using the smoker, check ut my smoker 101 tips and also… maybe try this recipe a week or so before serving to friends just to make sure you know how your smoker works – they aren't all the same.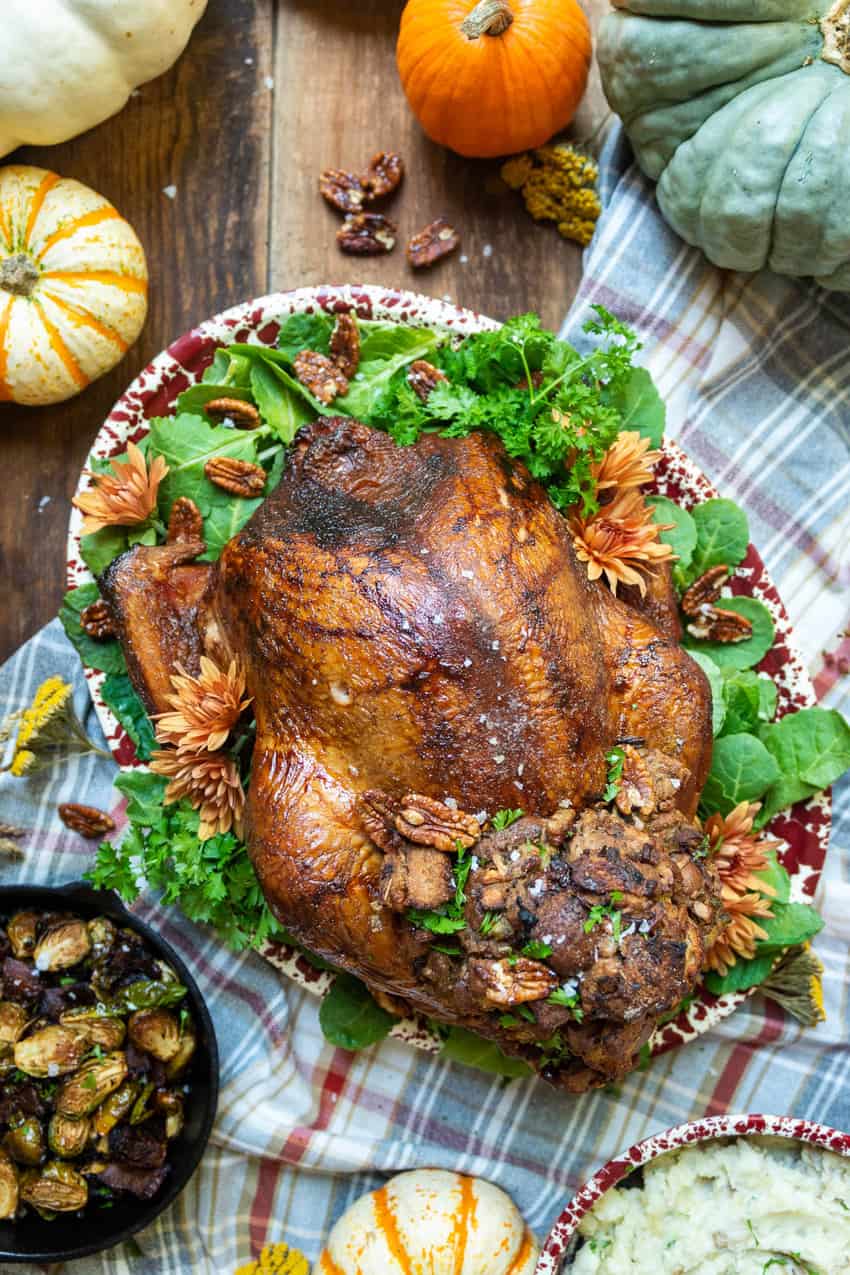 What temperature means it is done?
Smoke until the turkey temp's at 165-degrees F with an instant-read thermometer.
Seriously, it's that easy.
Girl Carnivore Tip: Brush the turkey a few times with oil and spice blend while it's smoking to keep the skin pretty and add a little extra spice.
The smoked turkey had a beautiful smoked hickory skin, the perfect smoked texture, and infusion of flavor. Also, smoking cooks the turkey safely while keeping it moist! No dry turkey here!
Just after 6 hours of smoking, this 16-pound turkey was ready to carve.
When to add your stuffing to smoked turkey
The stuffing, added halfway through, had just a hint of smoked flavor and was the perfect sweet and spicy combo to liven things up, but still to tradition.
Just follow the easy step-by-step directions below and send me your Thanksgiving Turkey Pics!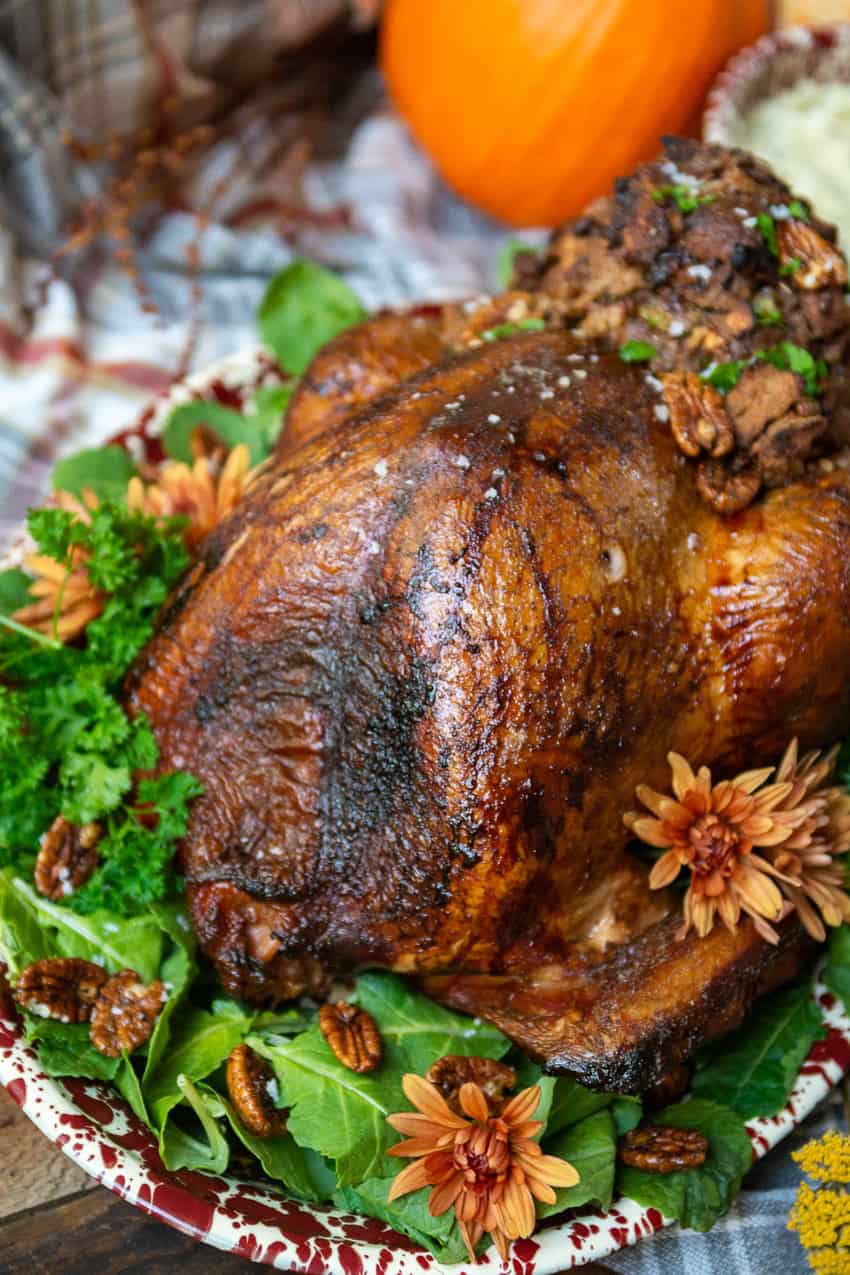 Tips for Smoking Turkey
Smoking a turkey is actually pretty simple. As long as your smoker is prepped, it is pretty much a "set it and forget it" scenario. Smoking the bird allows the turkey to cook low and slow. So worrying about all the moisture drying out too quickly is not really an issue.
What wood to use for smoking a bird?

My favorite answer is always what you have on hand, but if you are going to go shopping, I love pecan or other mild woods for smoking birds. I will use hickory, but give me cherry, apple and ALWAYS pecan first for poultry.

The sweet woods like the fruit and tree nut woods don't leave any sort of bitter notes. So, yes, you can still use a hickory or mesquite, but those are pretty intense. Especially after six hours or more in the smoke.
How to tell when my smoked turkey is done?

The safest answer here is to use a meat probe while cooking. Smoking is tough, cuz you don't want to be opening the lid over and over again. Using a meat probe that you can see outside of the grill while the turkey cooks is a great investment to make sure you don't overcook the bird.

I also always double-check with my Thermapen to make sure the turkey is cooked to a safe temp of 160 degrees F.

Make sure you plunge the thermometer deep into the thickest part of the thigh and not touch the bone. The thigh has more juiciness than the breast. If you poke into the breast, then there is a chance too much moisture will escape. Breasts have less fat and water so they end up drying out faster.
Can you smoke a turkey on a pellet grill?

Yes. You can smoke a turkey on a pellet grill, or an electric grill. Or any grill you happen to have. For pellet grills, I use pecan chips if I have them but will also use cherry or hickory if it's what's in. stock.
Want some leftover turkey ideas? Try some of my favorite recipes
If you've tried my Smoked Turkey with Candied Pecan and Apple Stuffing recipe, or any other recipe on GirlCarnivore.com please don't forget to rate the recipe and let me know where you found it in the comments below. I get inspired by your feedback and comments! You can also FOLLOW ME on Instagram @girlcarnivore as well as on Twitter and Facebook.
Smoked Turkey with Candied Pecan and Apple Stuffing
This smoked turkey recipe infuses timeless holiday flavors with candied pecan and apple stuffing and smoked flavor.
Ingredients
For the Quick Candied Pecans:
1

cup

whole pecans

4

tbsp

water

3

tbsp

brown sugar

1

teas Tony Chachere's Original Creole Seasoning
For the Apple Stuffing
1

loaf wheat bread

cut into ½″ cubes

2

tart apples

peeled, seeded and chopped

8

tbsp

butter

1 ½

white or yellow onion

diced

2

stalks celery

diced

4

cloves

garlic

minced

2

tbsp

fresh Parsley

chopped

1

tbsp

fresh Rosemary

chopped

1

teas fresh Thyme

removed from stem

½

cup

Quick Candied Pecans

chopped

fresh parsley for garnish
For the Smoked Turkey
1 12-17

lb

turkey

giblets removed and patted dry

4 – 6

oz

Tony Chachere's Praline Honey Ham Injectable Marinade

½

cup

vegetable or canola oil

1 – 2

tbsp

Tony Chachere's Original Creole Seasoning Apple Stuffing

Candied pralines

coarse salt and fresh minced parsley for garnish
Instructions
Make the Candied Pecans
Heat a large skillet over medium-high heat

Toast the pecans until just fragrant, 3 to 5 minutes, stirring as needed.

Meanwhile, combine the water, brown sugar andTony's Original Creole Seasoning in a small bowl.

Remove the pecans from heat and quickly pour the brown sugar blend over them. Toss to coat.

Pour out onto a wax paper lined baking sheet to cool.

The pecans can be prepped 2 days ahead of time and stored in an airtight container until ready to use.
Make the Apple Stuffing
Lay the bread out on two baking sheets in a single layer for 4 to 6 hours, allowing the bread to become stale.

In the same skillet you used for the pecans, heat the butter for the stuffing over medium heat. Swirl to coat the pan.

Sauté the apple, onion and celery until softened, 5 to 7 minutes.

Add the garlic, parsley, rosemary and thyme and cook 30 seconds longer.

Remove from heat and fold the apple and onion mix into a large bowl with the bread.

Add the chopped pecans and toss to make sure everything is thoroughly combined and the bread is all coated in butter. Season with a dash of Tony's Original Creole Seasoning  if necessary.

The stuffing can be prepped a day ahead of time and stored in a the refrigerator in an airtight container until ready to use.
Smoke the Turkey
Prep your electric smoker on the smoke setting. Use apple pellets if possible. See additional directions for traditional smoking.

When the smoker setting has warmed up, set the smoker to 200 to 225 degrees.

Pat the turkey thoroughly dry. Place into an aluminum pan or other rimmed pan.

Tuck the arms back behind the body and tie the legs together, leaving an opening for the cavity for later.

Pour the Tony's Praline Honey Ham Injectable Marinade into a measuring cup and fill the injector.

Plunge the injector into the turkey, about ½ – 1″ apart each time, pressing the injection into the turkey.

Place the pan with the turkey in the smoker and smoke for 3 hours.

After 3 hours, carefully remove the turkey. Using a baster, remove and reserve any drippings.

Stuff the turkey with the prepared Candied Pecan and Apple Stuffing.

Mix the vegetable oil and seasoning in a bowl and brush a quarter of it over the turkey.

Cook for an additional 3 hours, or until the turkey safely temps at 165 F, basting every 30 minutes with the remaining oil mix and remove the drippings as needed, being sure to reserve them for later.

When the turkey has reached an internal temp of 165, carefully remove from the smoker, cover and allow to rest for 25 to 30 minutes before carving.

Garnish with additional candied pecans and freshly minced parsley.

Meanwhile, make gravy from the reserved drippings and giblets, if desired.
Nutrition
Nutrition Facts
Smoked Turkey with Candied Pecan and Apple Stuffing
Amount Per Serving
Calories 918
Calories from Fat 477
% Daily Value*
Fat 53g82%
Cholesterol 325mg108%
Sodium 586mg25%
Potassium 1062mg30%
Carbohydrates 15g5%
Protein 92g184%
Vitamin A 650IU13%
Vitamin C 4.5mg5%
Calcium 75mg8%
Iron 4.2mg23%
* Percent Daily Values are based on a 2000 calorie diet.