Smoked Duck is an old fashioned holiday main. But given its modern fanciful restaurant creations, is it complicated to make at home? I decided to take on the challenge and demystify this delicious waterfowl. An endeavor I deemed completely worth it.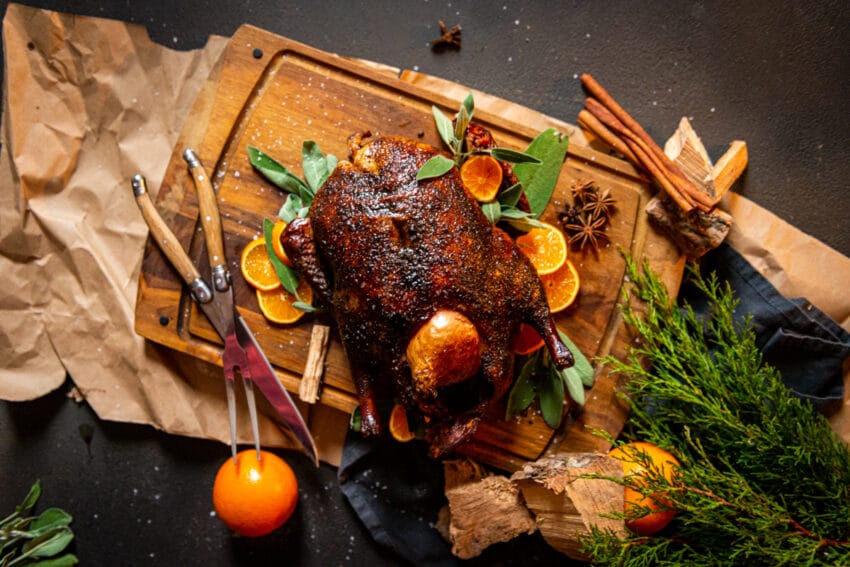 Making smoked duck is easy
This simple smoked duck is so easy anyone can make it and have amazing results – even if it's your first time working with the bird! It's rubbed in a delicious holiday spice blend, smoked over hickory, and glazed with a sweet boozy mixture. It's a picture-perfect holiday dinner and wonderfully tasty!
Duck is one of those proteins we aren't cooking enough. It's readily available, especially during the holiday season or winter months, and isn't break the bank expensive. Buying a whole bird isn't hard though not as readily available in bulk bins as Christmas Hams.
So here I have a recipe for you, even if it's your first time smoking one!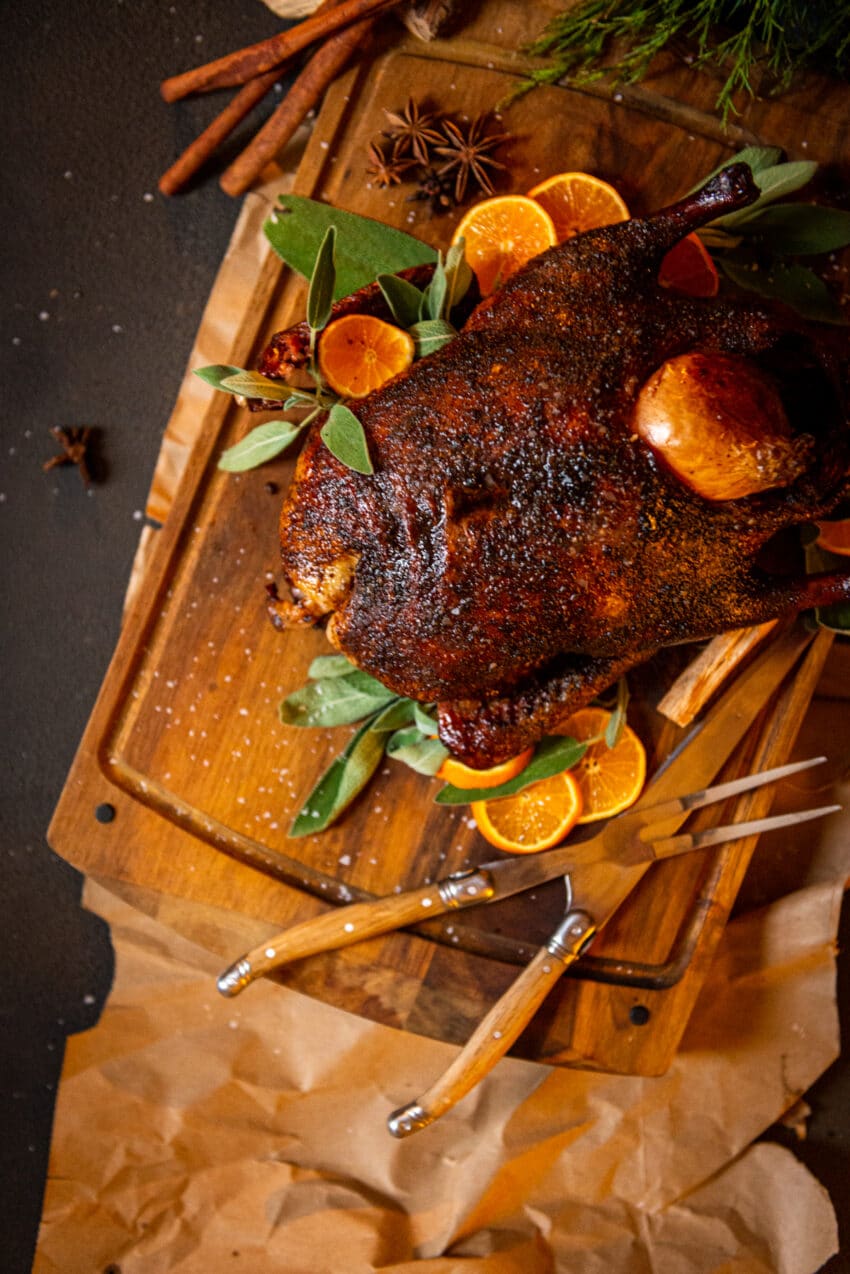 But where can I buy a whole duck?
Turns out, at the right time of year, just about anywhere. You can find them frozen at Walmart from Maple Leaf Farms or special order them from your local butcher. I have occasionally seen one or two hanging out near the whole chickens in a regular supermarket as well. Also, it is always worth asking, as sometimes they have them whole and in the frozen foods aisles. If you're looking for duck and cant find it at your local grocery store, check out our trusted list of where we order meat online.
Make sure you are buying a whole bird, not just the breasts. This recipe involves smoking the whole bird, and where duck breast is amazing, we recommend our pan-seared duck breast recipe.
Keep in mind that this is smaller than smoked turkey by several pounds, and even some whole smoked chickens and if you are looking to feed a big crowd, you will want to double this recipe up or consider an additional protein. When buying, think of it as you would buying a small chicken to feed your guests and plan accordingly.
An even more affordable way to enjoy roast duck
Ok, there is a secret tip on buying duck if you want to save a few bucks. If you have an Asian market handy, then oftentimes, you can find a "missing wing" duck. Those are like the Rack sale or the imperfect La Creuset pans… Big savings for minor issues.
In the case of duck, it isn't like a missing turkey wing. A missing duck wing is just something that is really not going to be missed. They are tiny and don't have much meat anyway.
Let's put it this way… You won't miss a missing wing on an imperfect duck, but you will find a way to save a ton of cash.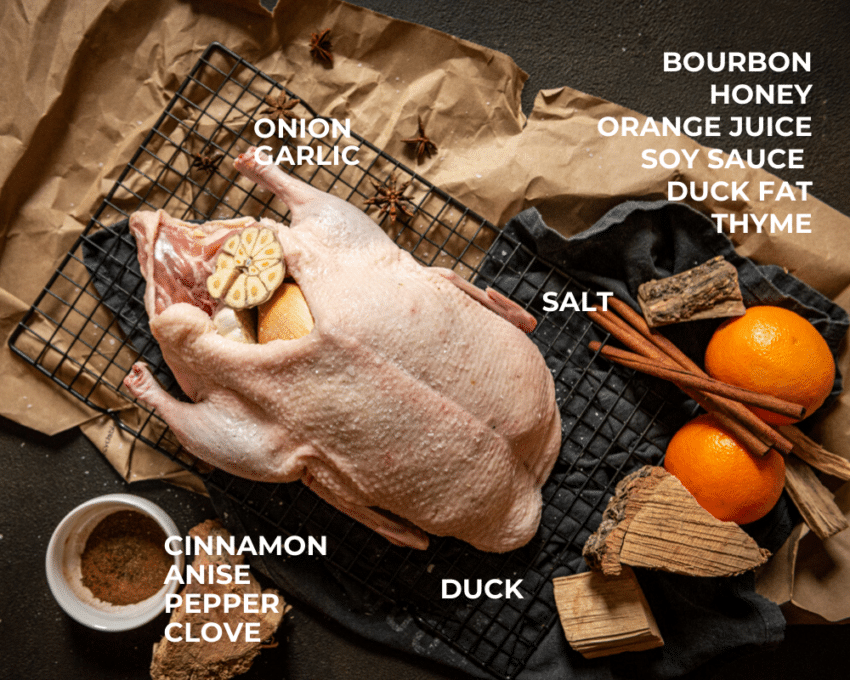 What you need for this smoked duck recipe:
This recipe was inspired by the entire ducks hanging at the Chinese market. They were so red and beautiful with a perfect glaze. I didn't have Chinese 5 spice on hand, so decided to create a holiday spice rub with pantry staples to coat the bird.
For the smoked duck
1 duck, about 5 pounds – if you can't find a fresh duck at your local grocery store, check out our guide on where to buy meat online. Hint, D'Artagnan is our favorite source.
Spices: kosher salt, cinnamon, black pepper, garlic powder, clove, and anise.
Onion and garlic

For the glaze:
Bourbon
Honey
Orange juice
Soy sauce
Duck fat
Thyme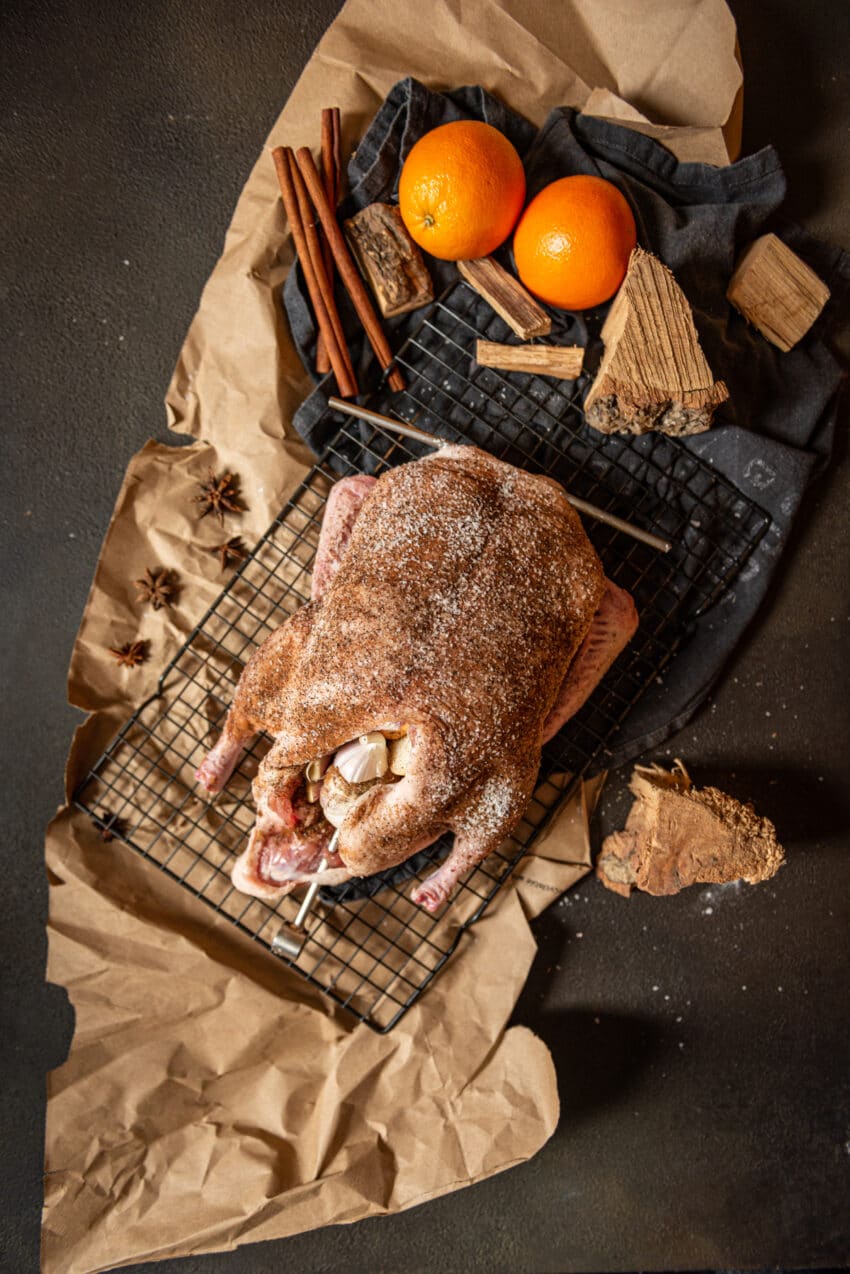 IMPORTANT TIPS FOR PREPPING THIS RECIPE
The first step is an important one. Make sure your bird is completely thawed. Much like a turkey, pull the bird several days ahead of time and store in the fridge so that the innards have no unexpected ice blocks lingering around.
Once thawed, make sure you thoroughly remove the neck and any other delicious treats the butcher may have left for you from inside the cavity. These are great for gravy, stocks, or feeding the cats, but they are not so great if you forget to remove them before smoking the bird.
Making sure the skin of the duck is completely dry will also go a long way to producing that perfect skin that it's known for. Pat it dry with paper towels over the entire outside and even inside the cavity of the duck. Make sure you are drying the space between the wings dry as well.
After drying the outside of the bird, I will roll up some leftover newspaper or paper grocery bags and wrap them in a few paper towels. I fill the body cavity with these and let the bird sit on a wire rack for an hour or so to dry completely.
Tips for smoking duck
By smoking the bird, I hang it over a low indirect fire in my cooker. I add thick wood chunks from Western to add that smoke flavor and help with the perfect color on the bird. We love cherry wood chunks for smoked duck. Cherry wood has a mild sweet aromatic flavor and adds a deep color to the duck meat.
If you are hanging the bird, be careful, as the color develops quickly. You will want to rotate it at least once to ensure you aren't overcooking one side or the other. But be cautious not to open the lid too often as it lets out the smoke.
Because duck is fatty, you will want to make sure there is a drip pan below the bird to catch drippings and prevent flare-ups.
Glazing your duck
To give this duck recipe the shiny glaze, crispy skin, and add some more flavor, I whipped up a glaze with additional duck fat, orange juice, soy, honey, and a little holiday brandy to simmer in a skillet over the smoker. Then just occasionally baste the top of the duck. I added thyme sprigs for that light additional aromatic.
Rending your duck fat
Duck is fattier than chicken – not like OMG so much fat, but not as lean and it tends to have a juicier (some would even say greasier) feel to the cooked meat. Getting the duck skin very dry so it will crisp up is a great way to render some of the fat and produce an amazing bite.
What to do with duck fat
Make sure to keep that rendered duck fat. You want that. It is valuable. You can make duck fat fried pommes frites. Put it this way, the reason they are called "French fries" is because true French fries are fried in duck fat.
So, take advantage of the pan drippings. Pour it off when it has cooled a bit or spoon it out after it solidifies. You can keep it in the freezer for a few months. Use when the occasion arises.
Look forward to the best French fries ever.
How to tell when duck is finished cooking
The meat is darker than chicken, and so it is harder to see visually when the bird is done cooking with the naked eye. As always, using an instant-read thermometer is the best and most accurate way to ensure that it has cooked to a safe temperature. Whole duck should be cooked to 170 degrees F safe internal temperature, according to the USDA.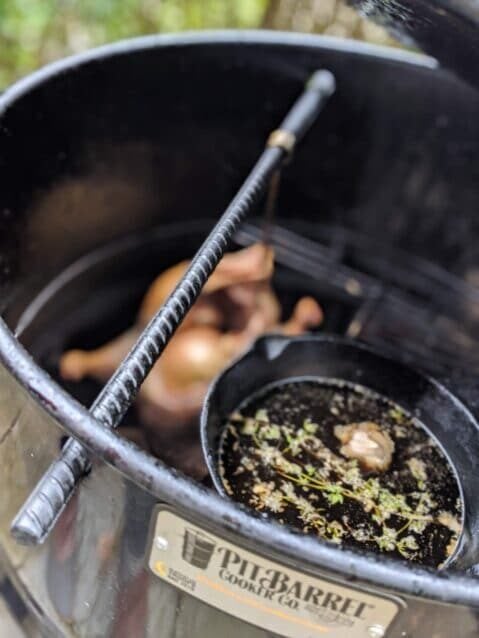 What to do with Leftover Duck
If you end up with any leftovers the smoked deliciousness goes amazingly with a fried egg and thinly shaved red onion with a tomato and red pepper aioli in the morning as a sandwich or as a fun fried rice addition. It also crisps up lovely on top of a flatbread or served with an orange vinaigrette over an arugula salad.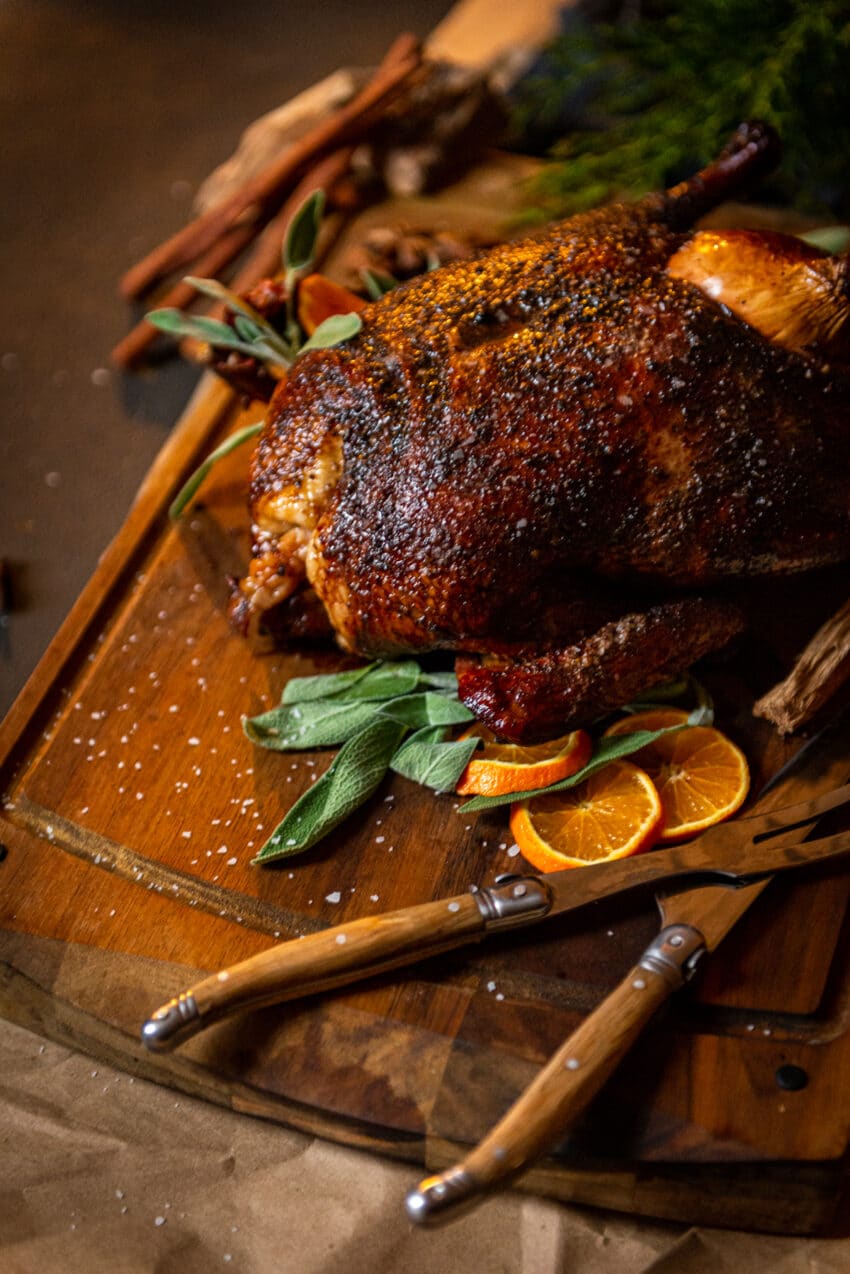 What to serve with smoked duck
Pair this absolutely delicious smoked duck recipe with
Roasted green beans
A salad of dark leafy greens
Keto Cranberry Sauce
MORE DELICIOUS HOLIDAY RECIPES
If you've tried this smoked duck recipe or any other recipe on GirlCarnivore.com please don't forget to rate the recipe and let me know where you found it in the comments below.
I get inspired by your feedback and comments! You can also join in on the adventures on Instagram @girlcarnivore, Twitter & Facebook.
Spice-Rubbed Smoked Duck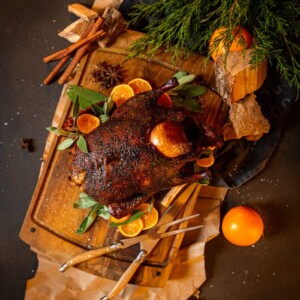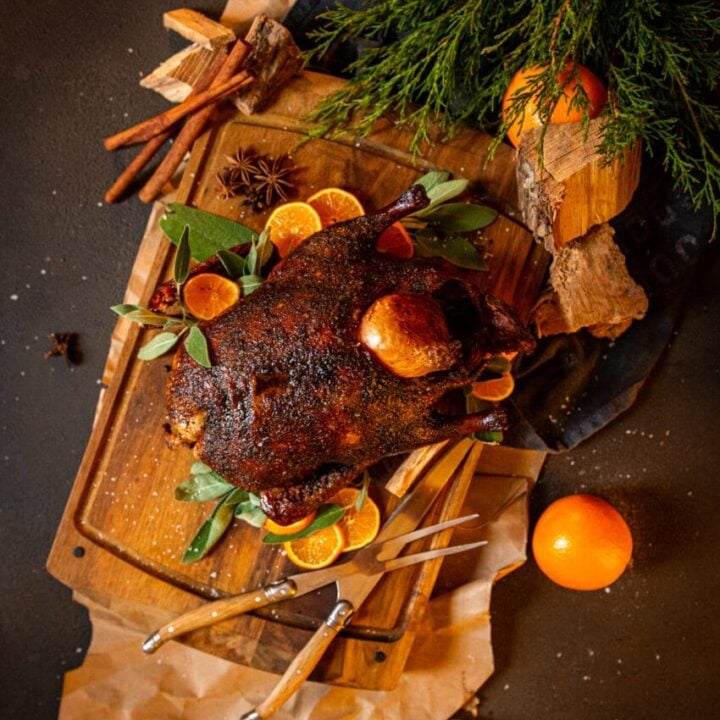 Smoked duck is a classic and this easy recipe infuses warm spices and a hint of smoke with a bourbon glaze for a perfect feast.
Ingredients
5

lbs

duck

1

onion

1

head

garlic

2

tbsp

salt

1

tsp

Cinnamon

1

tsp

Pepper

½

tsp

Garlic powder

¼

tsp

Clove

1

Star Anise pod
For the glaze
5

oz

Duck fat

4

tbsp

Orange juice

2

tbsp

Soy sauce

2

tbsp

honey

¼

cup

Brandy

Several fresh Thyme sprigs
Instructions
Dry the Duck:
Pat duck very dry and allow to sit exposed to air on a wire rack to dry out completely, about 1 hour.
Prep the Smoker:
Meanwhile, prep your smoker for indirect heat to hold a temp around 250 degrees.

Make sure to have a drip pan below the duck to catch any rendered fat.
Rub the Duck:
Blend the cinnamon, pepper, garlic powder, clove, and anise pods in a mortar and pestle until finely ground and mixed thoroughly.

Rub the bird with a liberal layer of salt, outside as well as inside the cavity, and under the skin, using your hands to pull back the skin and work the salt under it.

Rub the cinnamon mixture evenly all over the duck.

Slice the onion and garlic in half and place inside the cavity.

Prepare your duck, as needed for your smoker. If using hangers, hang appropriately according to your manufactures directions.

When ready to smoke, add your wood to the smoker and place the duck over the cooler side fo the grill.
Make the Glaze:
Place a small 6" cast iron skillet over the fire and melt the duck fat.

Whisk in the orange juice, soy sauce, honey, and brandy.

Add the tyme sprigs and any garlic cloves that may have escaped their duck to the orange juice and brancy mixture.
Smoke the Duck:
Smoke the duck for 2 to 2 ½ hours until the duck reaches a temp of 170 degrees with an instant-read thermometer, basting occasionally with hte brandy mixture.

Remove from the smoker, cover and rest for 10 minutes before serving.
Serve:
Garnish with fresh greenery and orange slices to serve.
Notes
I hang my poultry in my pit barrel cooker to smoke. I make sure not to hang the bird over any wood chunks and on the cooler side of the grill with a drip pan underneath to avoid unnecessary grease flare-ups.
I love using fruit woods for duck. I cherry being my top pick followed by an apple or even peach! However, this is a quick smoke, so don't skimp on the wood or you won't pick up as much of that savory smoked flavor as you would like.
Nutrition
Serving:
1
g
|
Calories:
1354
kcal
|
Carbohydrates:
8
g
|
Protein:
34
g
|
Fat:
129
g
|
Saturated Fat:
43
g
|
Cholesterol:
233
mg
|
Sodium:
2176
mg
|
Potassium:
653
mg
|
Fiber:
1
g
|
Sugar:
6
g
|
Vitamin A:
493
IU
|
Vitamin C:
14
mg
|
Calcium:
43
mg
|
Iron:
7
mg