Meaty, smoky, juicy, and tender, Smoked Turkey Legs aren't just a treat at fairs and events – you can get the same big smoky flavor of this meat-on-a-bone from your very own smoker. Easy and delish, channel your inner caveman and feast on these huge turkey legs today!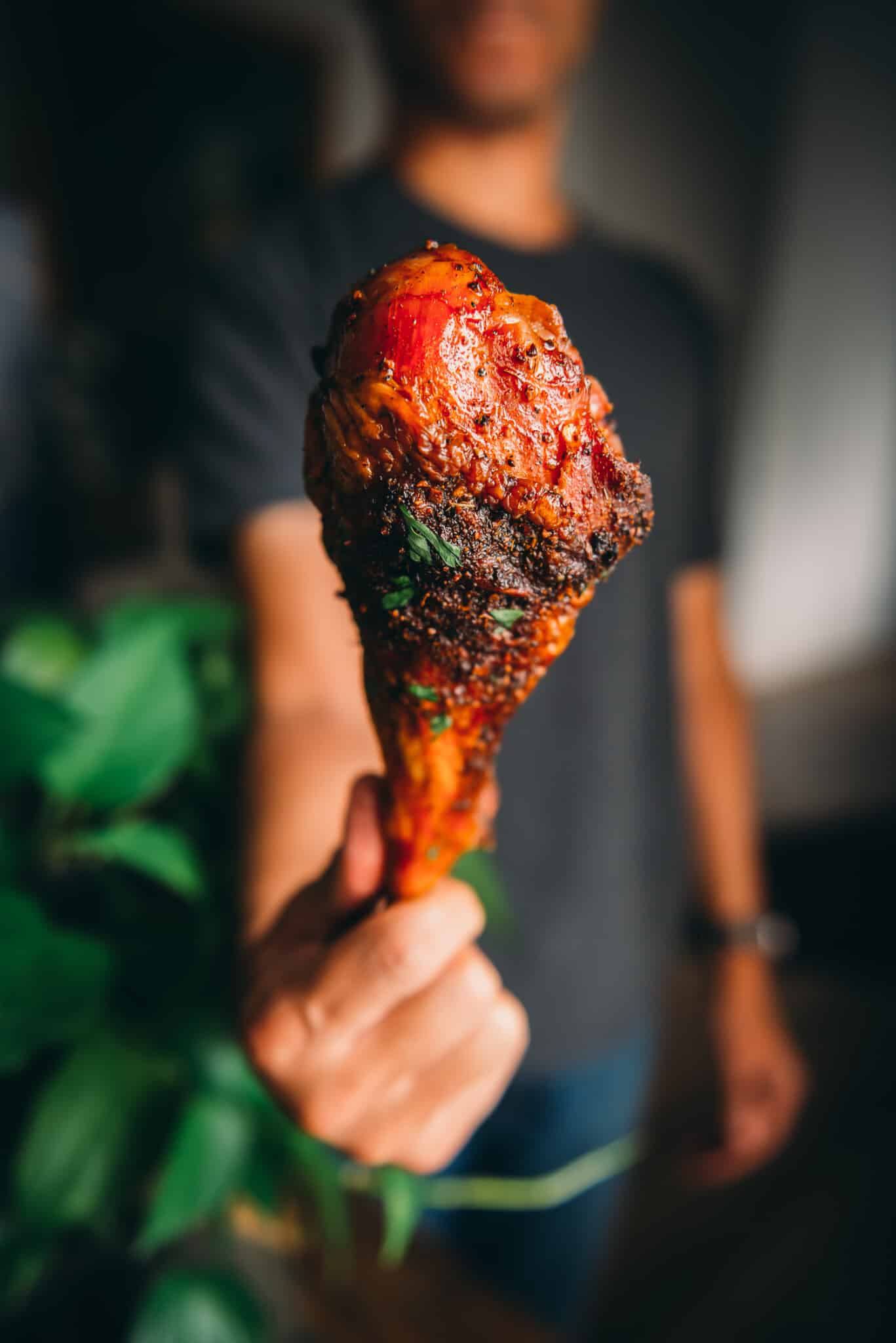 Who doesn't love gnawing on meat on a bone? Turkey legs are a special treat because they're so meaty and flavorful, but they're a seasonal treat usually only available at fairs, renaissance festivals, carnivals, theme parks, and so on. But no longer! Now, you can get the same amazing smoky flavor in this meat-on-a-bone right from your own backyard!
We love smoking turkey legs because they are so much faster than smoking a whole bird. And turkey drumsticks are so fun to eat – and with a built-in handle, you can just grab an end of the bone and start gnawing, like these Grilled Chicken Leg Quarters and Smoked Chicken Drumsticks. The dark meat is so flavorful and has a great smoky flavor; everyone else loves them, too.
And, with a quick, overnight brine, you can infuse flavor and juiciness into every bite. Hungry for flavorful smoked meat? Grab your turkey legs, and let's get cooking!
What Are Smoked Turkey Legs?
Smoked Turkey Legs are soaked in a simple wet brine, rubbed down with a maple bourbon dry rub, and smoked to perfection in a smoker. The wood chips impart a delicious smoky flavor to these legs, producing amusement-like goodness right at home!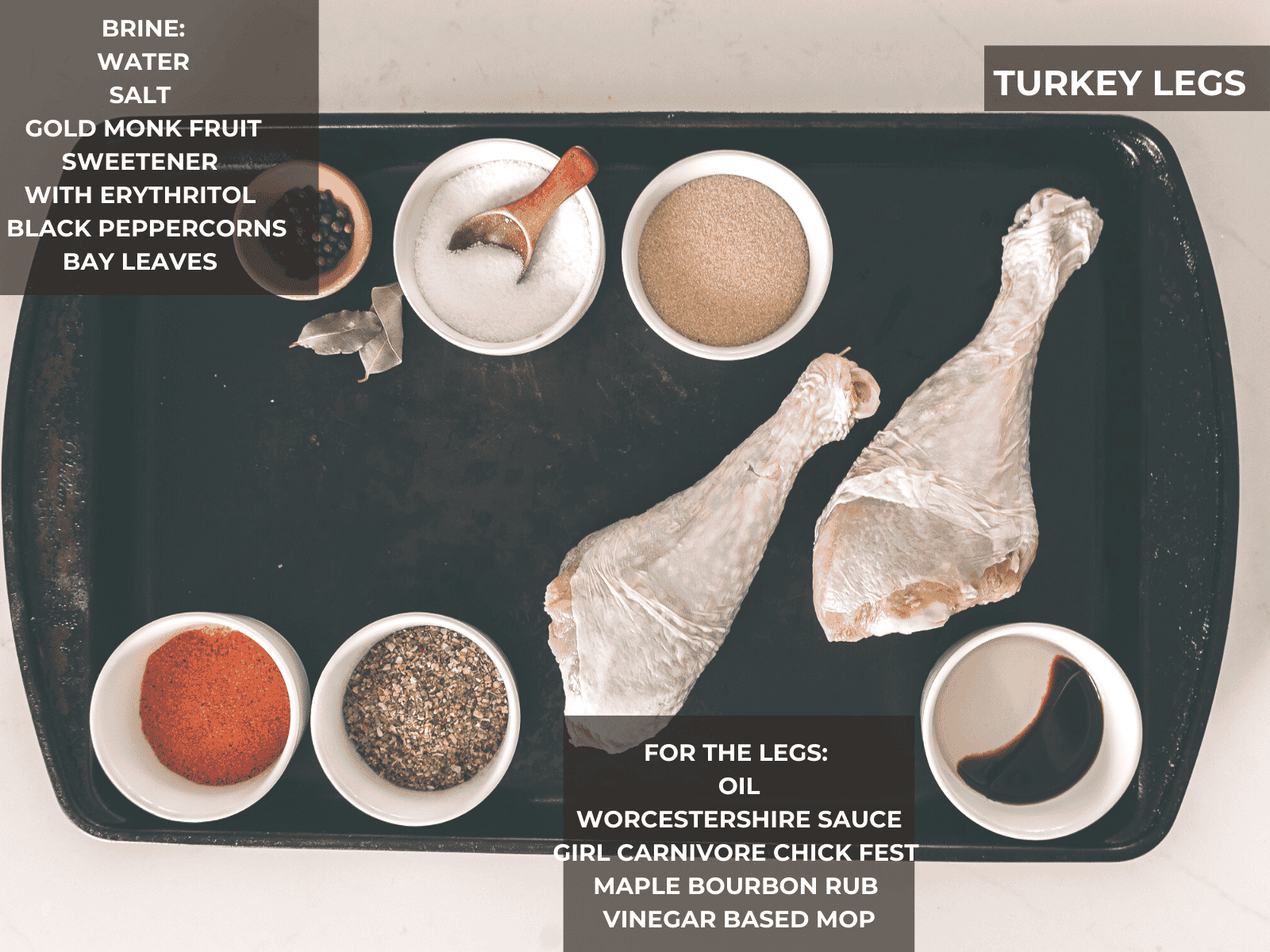 Smoked Turkey Leg Ingredients
There are two steps to this sugar-free Traeger Smoked Turkey Legs recipe: the brine and the dry rub. Be sure to check out our helpful guide on The Best Wood for Smoking Turkey before starting to make sure the hopper is full and you're set up for success.
FOR THE SIMPLE BRINE MIXTURE
Water
Kosher Salt
Erythritol – Or brown sugar (or dark brown sugar).
Black peppercorns
Bay leaves
FOR THE RUB:
Maple bourbon rub or your favorite BBQ chicken rub. Alternatively, smoked paprika, brown sugar, and a touch of chipotle chili powder make a great and easy blend with simple ingredients.
THE REST:
Turkey legs
Oil – Any neutral cooking oil will work
Worcestershire Sauce
Mop – The liquid you spritz the meat with when smoking to keep it moist. We love our vinegar-based BBQ sauce for this.
Resealable plastic bags – To hold the turkey legs while brining.
Smoker – We're using a Traeger pellet smoker for these smoked turkey legs, but any pellet, charcoal, or electric smoker will work.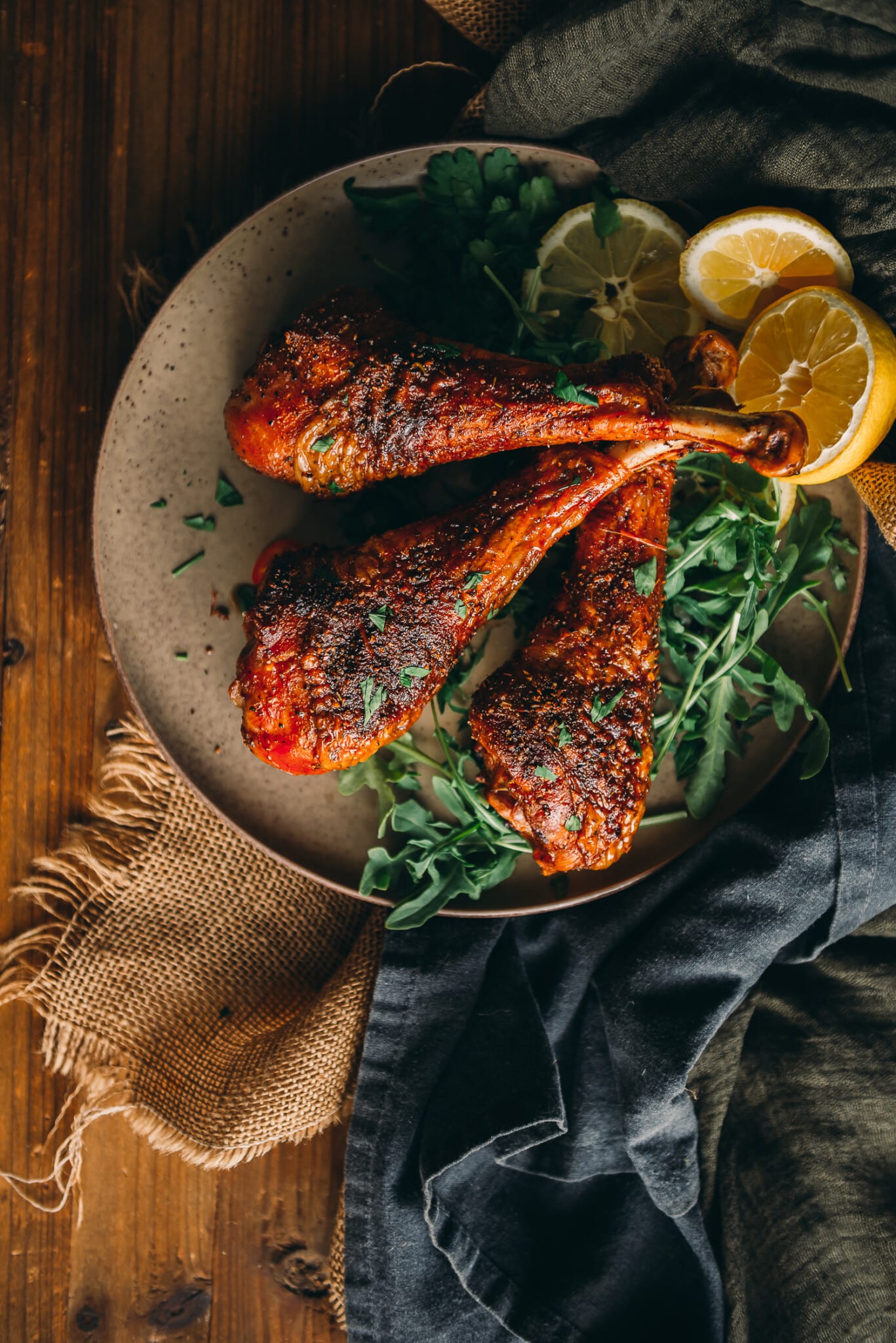 How to Make This Smoked Turkey Leg Recipe
Brine the turkey by boiling half of the water and adding salt, erythritol, black peppercorns, and bay leaves. Mix well with the remaining cold water and allow to cool for an hour.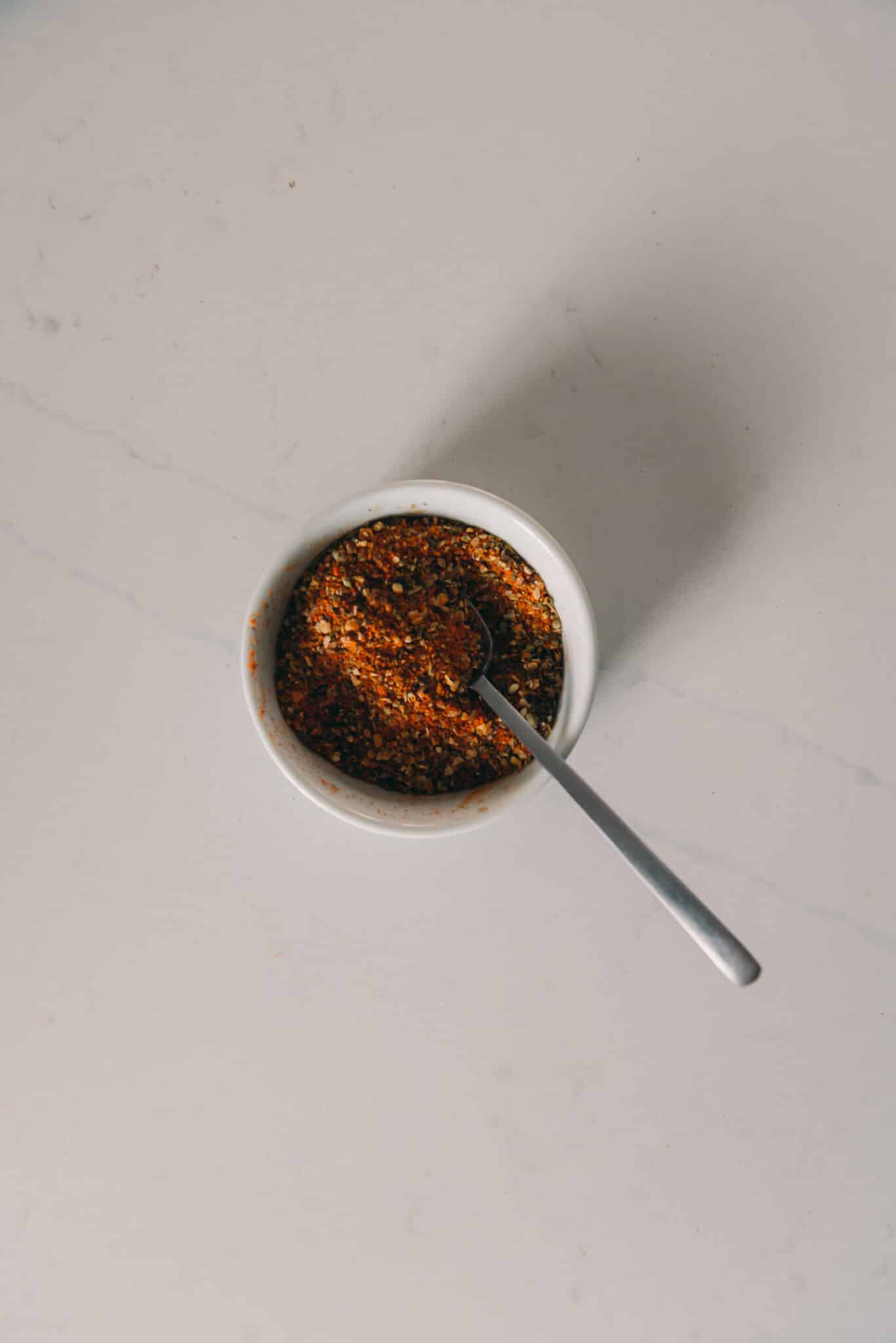 Add the turkey legs to the resealable bags and add the cooled brine solution. Refrigerate for 8-10 hours.
Remove the turkey legs from the brine and discard the brine. Pat the legs dry with a paper towel, arrange them on a wire rack, and let them dry for an hour.
Fold the skin back from the turkey drums.
Mix the oil and Worcestershire sauce and rub them all over the turkey legs.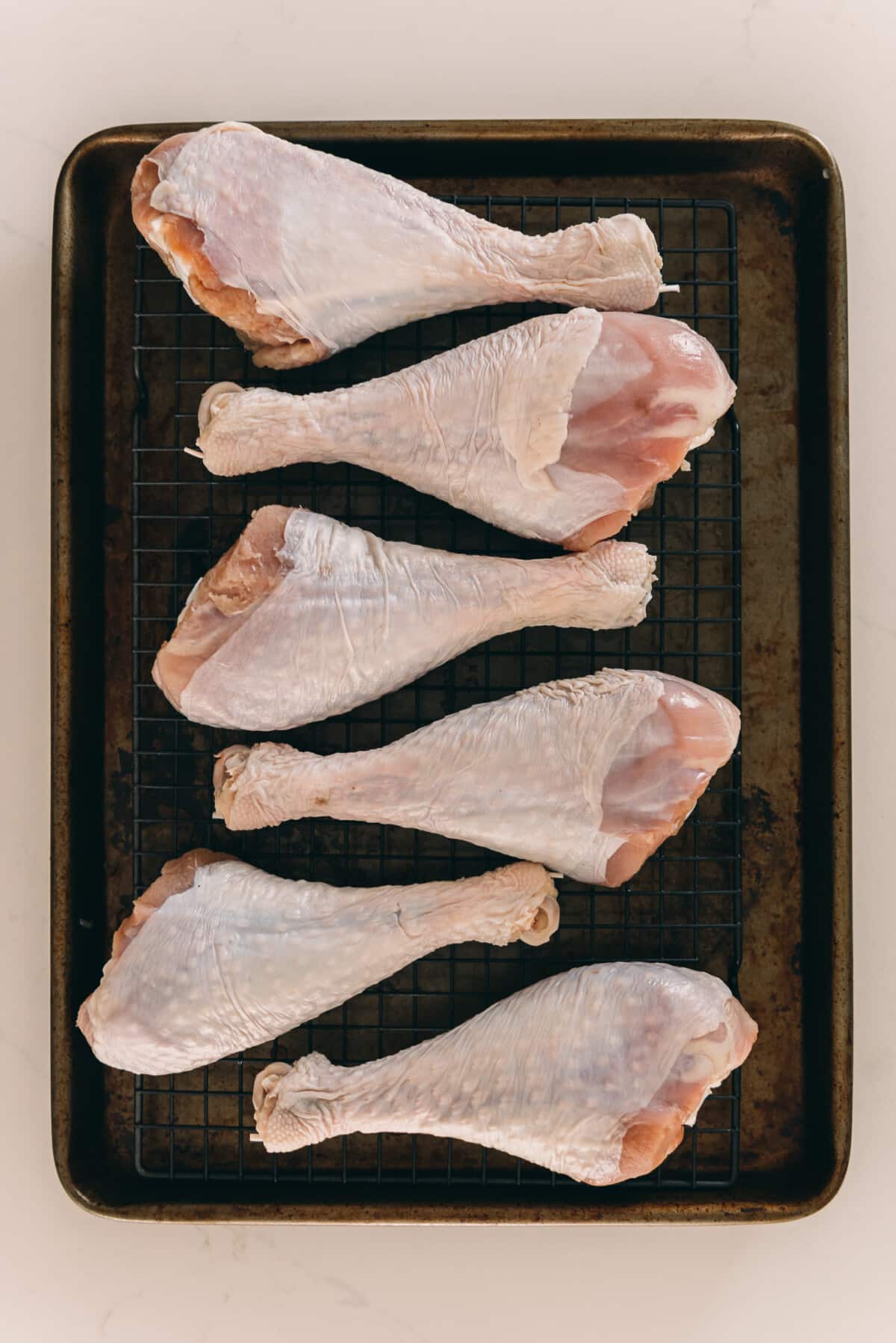 Season the legs with a mixture of the Girl Carnivore Chick Fest and maple bourbon rub. Fold the skin back up and season the skin as well.
Prepare the smoker temperature to 225-250F.
Smoke the turkey legs over indirect heat on the smoker until the internal temperature of the turkey reaches at least 175 degrees F with an instant-read thermometer, about 2 1/2 to 3 hours. Spritz the turkey legs every 30 to 45 minutes with my vinegar-based BBQ sauce or an apple juice and water blend to keep moisture in.
Let the turkey legs rest for 10 minutes before serving.
We love brushing these with our homemade keto BBQ sauce for serving.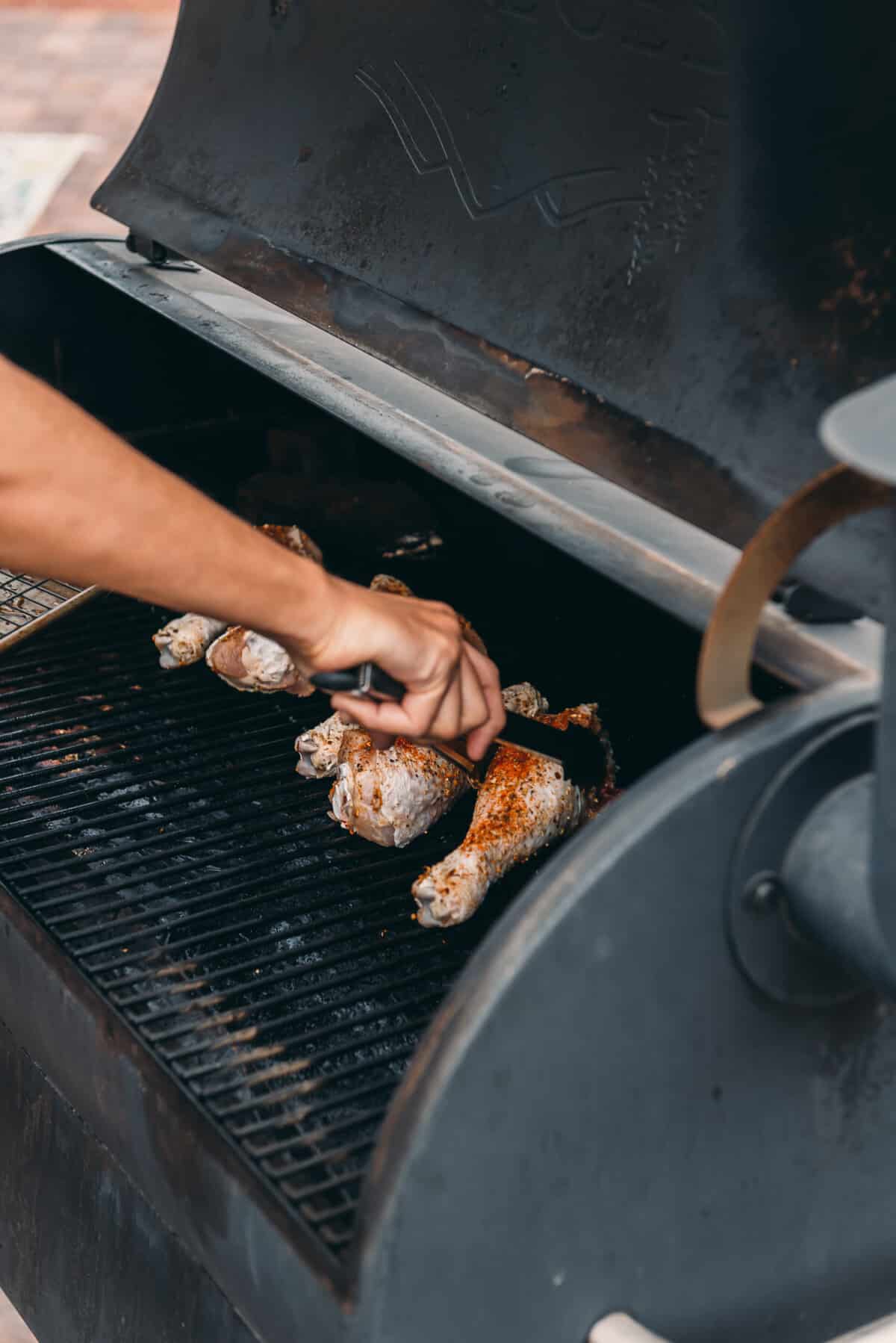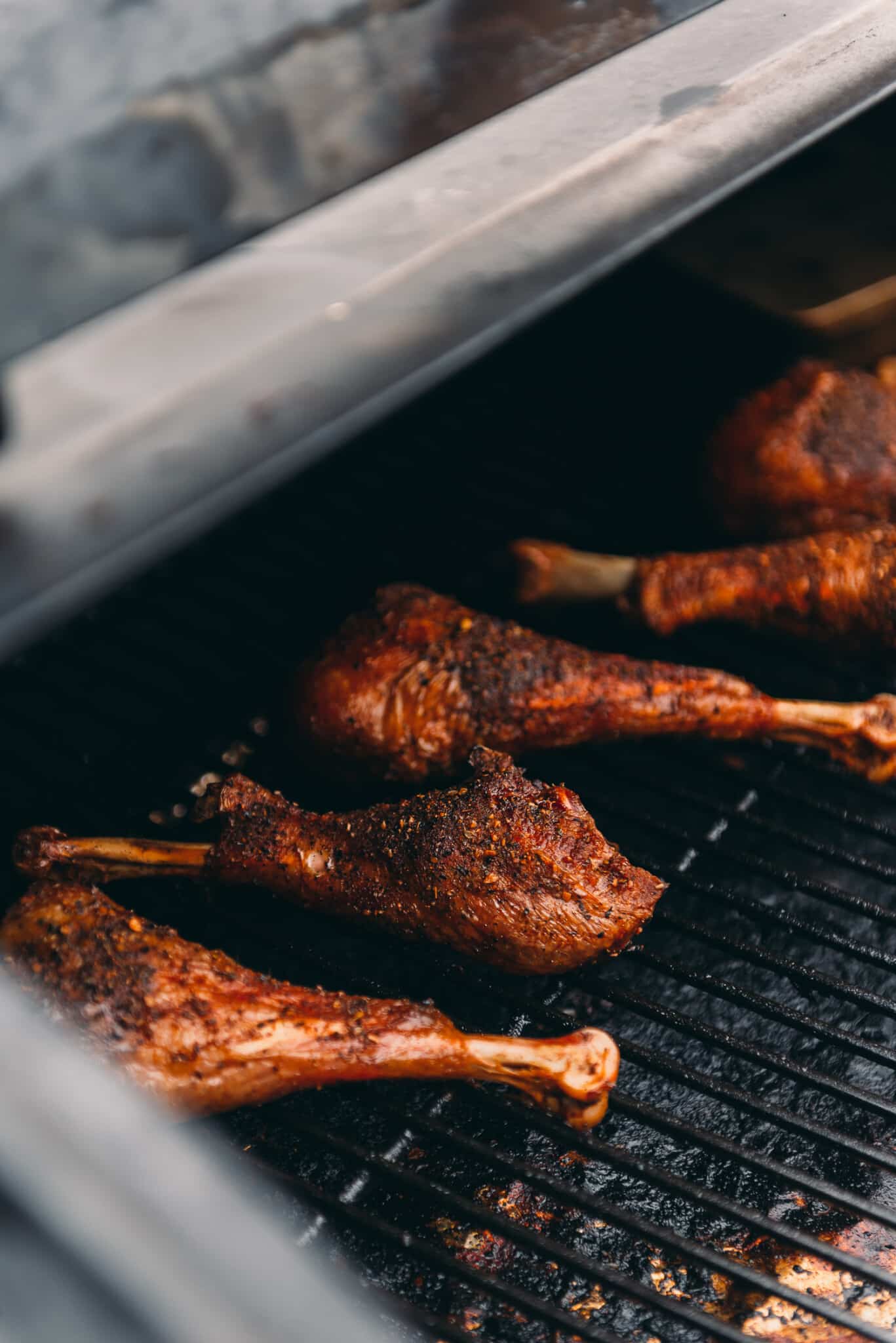 Girl Carnivore Expert Recipe Tips
How many turkey legs per person? Make sure you have enough for one leg per person – nobody wants to share a leg, trust us!
You can use your own rub on these turkey legs, but we love the sweet, spicy, smoky, and savory combination from Girl Carnivore Chick Fest and maple bourbon rubs.
Brine the turkey legs overnight the night before cooking so they have plenty of time.
Want them saucy? Top the legs with your favorite barbecue sauce for about 15 minutes before taking them off the smoker. We adore our keto BBQ sauce on these!
Yes, you can smoke on a gas grill. If using a gas grill, add flavor by filling a smoker box with wood chips. We love maple, pecan, or apple wood for this recipe.
If using a pellet smoker, add a smoker tube filled with extra pellets placed right on the grill grates for added smoky flavor.
If using a charcoal grill, add 1 to 2 wood chunks for a foil packet filled with wood chips directly to the charcoal. Pro-tip: Check out our guide to smoking wood for the perfect flavor pairings.
What to Serve With a Juicy Smoked Turkey Leg
We love smoking a big batch of giant turkey legs and taking them to potlucks and gatherings, but if you're making them at home and want delicious sides to go with them, check out tasty picks like Dutch oven mac and cheese, roasted veggies, or some fully-loaded fries.
You can also serve these with smoked brussels sprouts, easy cole slaw, and deep-fried macaroni and cheese.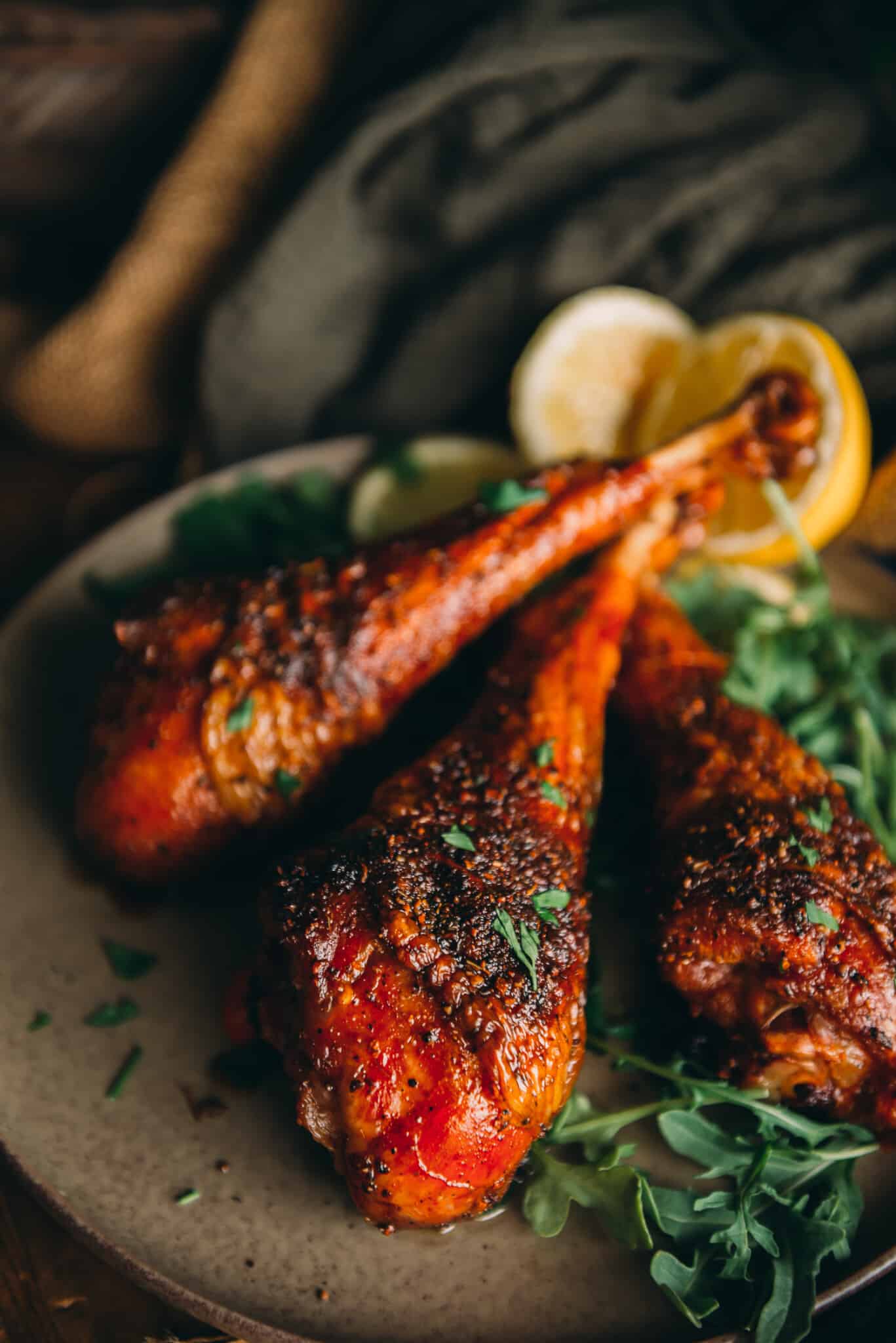 Leftovers & Reheating
Add any leftover Smoked Turkey Legs to a large airtight container or pop them into clean, resealable plastic bags and refrigerate them for 3-4 days. Wondering how to reheat smoked turkey legs? Cover them with foil and warm them in a low oven or microwave them until heated through. You can also cut off the meat and use it in recipes like sandwiches, chili, pastas, and more.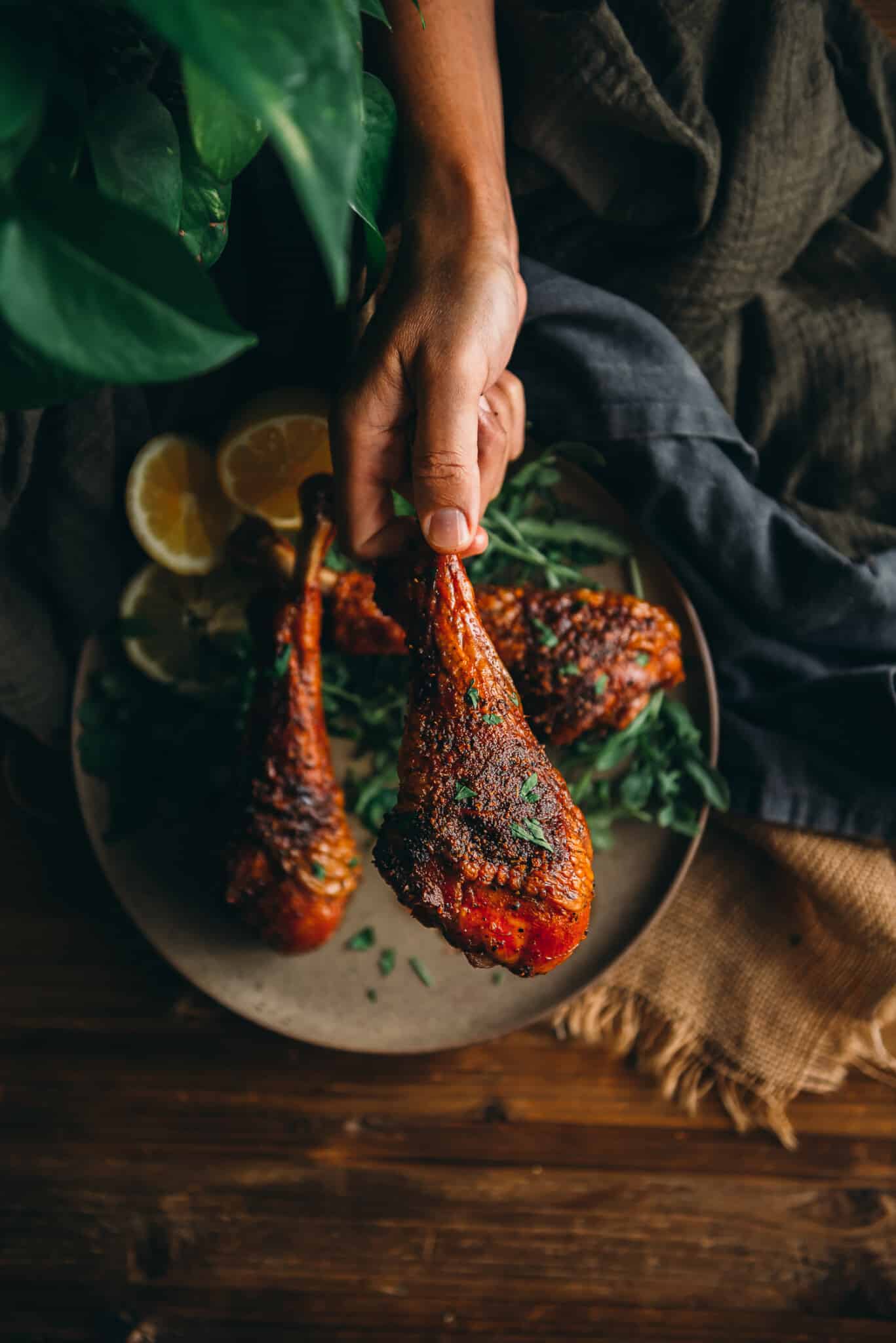 Recipe FAQs
How long does it take to smoke turkey legs?
There are a lot of factors in determining how long it takes to smoke turkey legs, including the weather, how big your smoker is, how hot and steady the temperature is, and how cold the legs are when you put them onto the smoker.
Smoked Turkey Legs should take about 2 ½-3 hours to get to an internal temperature of 165F when smoking at 225-250F. Where 165F is a perfectly safe internal temperature of the meat, we like taking turkey legs to 170F to 180F for more tender meat.
Come in parallel to the bone to get an accurate temperature of the meat. If the probe touches the bone, the reading can be inaccurate.
Are smoked turkey legs fully cooked?
Yes, they sure are! Use an instant-read meat thermometer to make sure the meat next to the bone (in the thickest part of the leg) is 165F. If the meat appears pink, but the temperature is at least 165F, then it is from the smoke and is safe to eat.
Now, if you're asking about the smoked turkey legs you can buy at the market and not this homemade recipe, we'd recommend reheating those to at least 145F internal to enjoy; they would have been already cooked as well.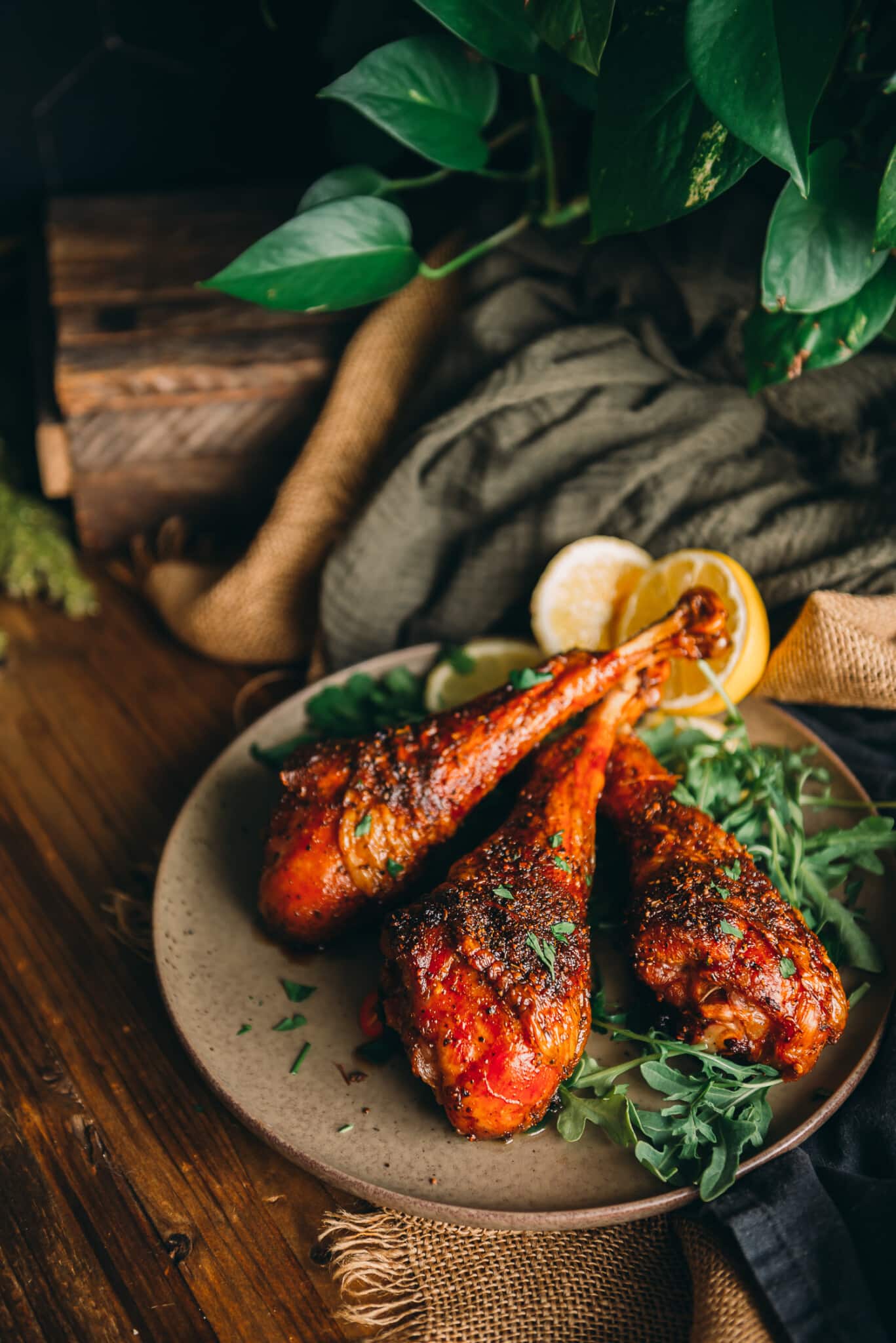 MORE SMOKED TURKEY RECIPES
Making your own smoked turkey legs has never been easier with this simple recipe! Whether you're cooking up a batch for a backyard barbecue, a game day feast, or just because you're craving that smoky goodness, these smoked turkey legs are perfect for igniting your inner primal animal. If you try this recipe, please rate the recipe card and leave a comment below to help out the next reader!
Smoked Turkey Legs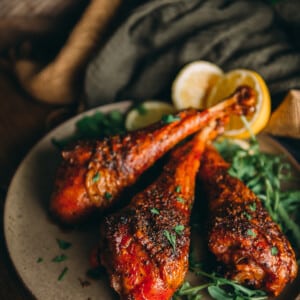 Smoked turkey legs are fun food, with a built in handle and tons of flavor. With this recipe, you can skip the theme park and make these at home in your own smoker or grill!
Ingredients
For the brine
8

cups

Water

½

cup

Salt

¼

cup

gold monkfruit sweetener with erythritol

2

tbsp

Black peppercorns

2

Bay leaves
For the turkey legs
5-6

lbs

Turkey Legs

1

tbsp

oil

1

tbsp

Worcestershire Sauce

2

tbsp

Girl Carnivore Chick Fest

or your favorite all purpose chicken blend

2

tbsp

Maple bourbon rub

or your favorite bbq blend for poultry

1

cup

vinegar based bbq sauce mop

or apple cider vinegar water mop mixuter
Instructions
Brine the turkey
Bring half the water to a boil

Remove from heat

Whisk in the brine ingredients and remaining cold water.

½ cup Salt,

¼ cup gold monkfruit sweetener with erythritol,

2 tbsp Black peppercorns,

2 Bay leaves

Allow the liquid to cool 1 hour.

When cool, pour the brine over the legs in resealable bags

Chill in the fridge overnight, 8 to 10 hours.
Prep the turkey legs
Remove the turkey legs from the brine. Discard the brine.

Pat the turkey dry, arrange on a wire rack and let dry for 1 hours.

Carefully fold the skin back from the turkey legs.

Mix the oil and Worcestershire and brush the turkey legs all over with the mix.

1 tbsp Worcestershire Sauce,

1 tbsp oil

Season the legs with half of the Girl Carnivore Chick Fest Poultry rub and Maple Bourbon rub.

2 tbsp Girl Carnivore Chick Fest,

2 tbsp Maple bourbon rub

Carefully fold the skin back up and season the outside of the skin as well.
Smoke the turkey legs
Preheat your smoker or grill for an even temp of 225 – 250 degrees F.

Place the turkey legs on the smoker and close the lid.

After 30 to 45 minutes, begin spritzing the turkey with the mop every 30 minutes.

1 cup vinegar based bbq sauce mop

Cook until the turkey legs reach 165F with an instant meat thermometer, about 2 ½ to 3 hours
Serve
Remove from the smoker and rest for 10 minutes before serving.
Notes
Plan for one turkey leg per person.
We recommend maple, pecan, or apple smoking wood chips or wood chunks for this recipe.
What is a mop? A mop is the liquid you use to brush or sprizt meat with while smoking. It helps keep moisture in the meat as it cooks. We love our vinegar based bbq sauce as a standard mop for most barbecue but a 50 / 50 mix of apple cider vinegar and water work too.
During the holiday season, I will do a ratio of apple cider, apple cider vinegar and water to spice things up.
Turkey meat is fully cooked at 165F, but we like to cook it to 170 to 180 to help the meat get a little more tender.
Unlike sliced turkey meat, turkey drums have lots of tendons that can feel like thin bones when eating. Just eat around them.
You don't have to brine the turkey, and we tested these with a dry brine as well. But, we found that a wet brine helps the dark meat to stay tender and juicy.
Nutrition
Serving:
1
g
|
Calories:
281
kcal
|
Carbohydrates:
2
g
|
Protein:
37
g
|
Fat:
13
g
|
Saturated Fat:
4
g
|
Polyunsaturated Fat:
3
g
|
Monounsaturated Fat:
4
g
|
Cholesterol:
134
mg
|
Sodium:
5809
mg
|
Potassium:
559
mg
|
Fiber:
1
g
|
Sugar:
0.1
g
|
Vitamin A:
18
IU
|
Vitamin C:
0.01
mg
|
Calcium:
52
mg
|
Iron:
4
mg