Dominoes potatoes doesn't mean copycat potatoes from the pizza place. Actually, Domino potatoes is a method of cooking sliced potatoes to get a cool browned domino pattern on the baked and roasted potato slices. Fancy, and oh so easy.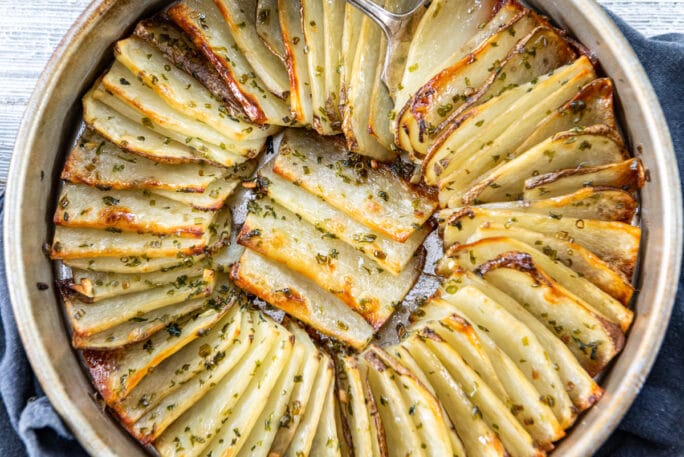 This recipe was created for the Idaho Potato Commission but all thoughts and opinions are my own.
The fine art of domino potatoes
Get fancy (but not fussy because, no, that is definitely not part of the recipe) with your roast potatoes. Dress up roasted potatoes by serving them as Dominoes Potatoes, where thin slices are fanned out, allowing each edge to get browned and crispy while the centers stay tender.
And of course, it just plain looks cool when you serve it. Really artsy, like that semester where you thought you would become a fine artist and wore a beret even when it was ridiculously hot out.
Because, the thing about potatoes is they are awesome, so versatile and tasty, but they can always benefit from some creative license. A bit of artistic vision.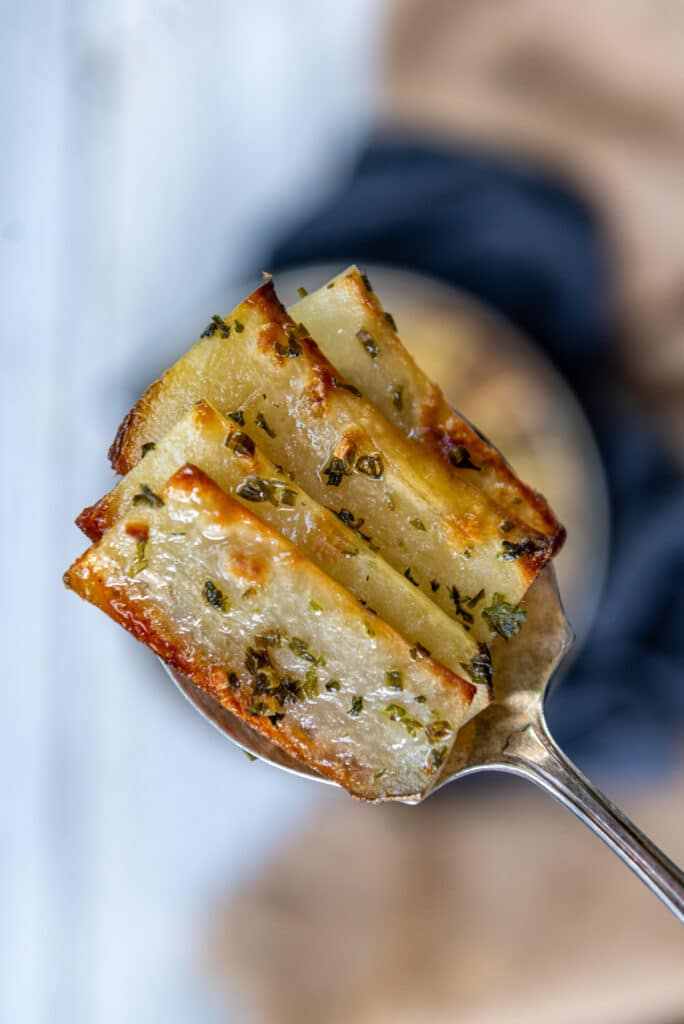 Mandolin sliced potatoes
This one does require a handy tool though….
A mandolin makes cutting your slices evenly easier, but I understand everyone's reluctance to use one. They can be a little intimidating and even trained professionals are known to have had accidents. (myself included)
If you don't have one, then you might have a food processor that can do potato slices too. Without a food processor, I can surmise that you either have mad knife prep skills, or you you really want to spend some time in the kitchen.
In any event, whatever works best for you is the way to go. Just make sure to get evenly sized slices, especially the width height. This makes sure your potatoes roast evenly. Which is the key to this recipe's success.
Also, while you want thin evenly cup potatoes, you want to make sure they are thicker than what you would slice for chips. Think something similar to the last time you did potatoes au gratin. That'ss the way to go.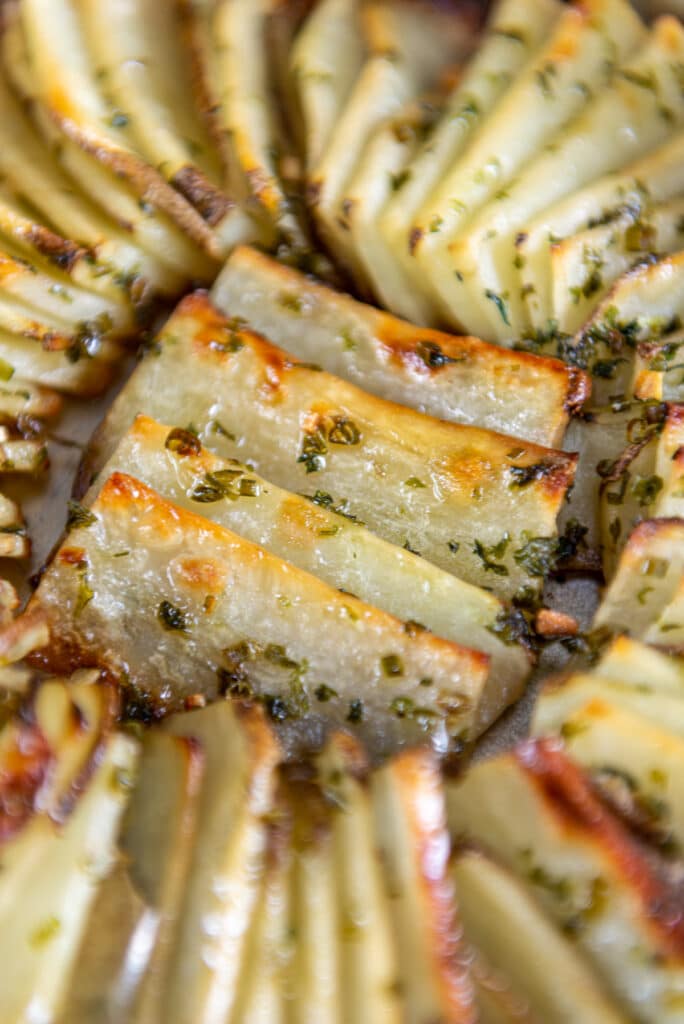 Why duck fat?
If you have never had potatoes fried or roasted in duck fat then this is your chance to experience the difference. Why duck? Because it is the closest thing to goose fat, which is hard to find. And because duck fat makes amazing fries.
Cooking potatoes in duck or goose fat goes back many centuries. Before chocolate and peanut butter ever came together in the old world as gifts from the new world, potatoes cooked in waterfowl fat was the food match made in heaven.
In France, if you cook potatoes in any other type of fat besides duck or goose fat, I am pretty sure you are asking to be deported.
Simply put, duck fat renders at a high temp to crisp things perfectly without leaving a burnt oil-y taste. Any time you can use animal fat in frying things just get a better flavor.
If you don't have duck fat on hand, any cooking fat will do. High-quality butter (melted and cooled) or beef tallow also work well to coat the potatoes while adding a smooth depth.
You can usually find duck fat at the grocery store but sometimes you have to ask where it is kept. It might be on the aisle with oils, or it might be somewhere in the meat department.
Tips for getting dominoes potatoes just right
When picking potatoes for this dish, make sure they are all about the same size. You want the slices to come out in even portions. Starting with evenly sized potatoes mitigates any additional trim work.
If you want more crisp on the edges, allow more of each potato to peak through, extending the fan from a ⅛" exposure to ¼". The more of each potato slice that isn't hidden under the next, the more that will crisp up.
If you can get the potato to exist somewhere between a hash brown, a potato chip, and a baked potato, the best qualities of each, then you win.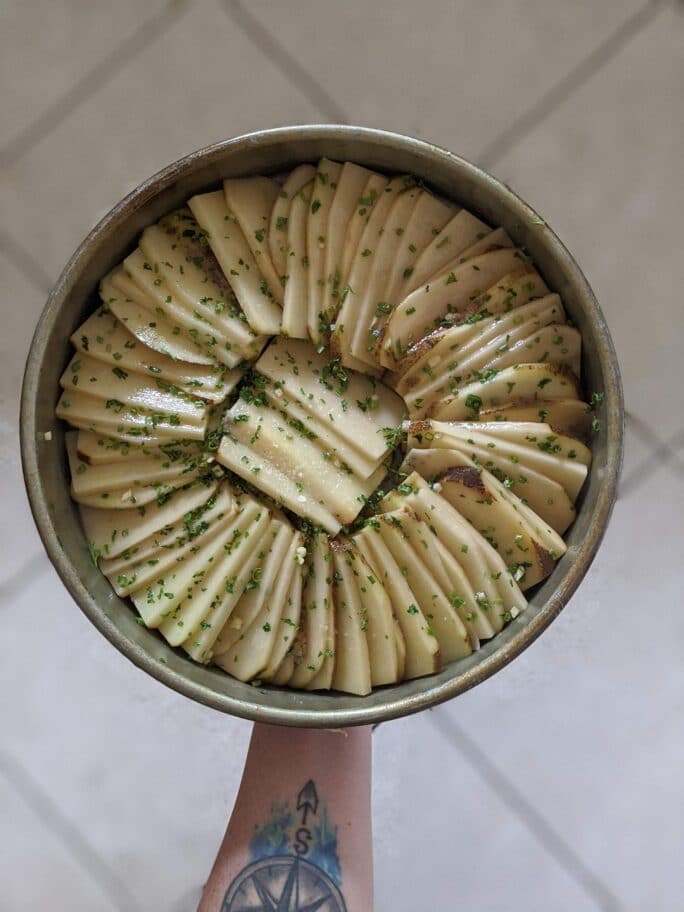 What to serve with domino'd potatoes
Dominoes potatoes are best served with a light cream sauce to spoon over top or with the addition of sprinkled asiago cheese melted in the last few moments of cooking to add one or more layers on after the potatoes have cooked and crisped through.
Borrow the saffron cream sauce from this salmon and cream sauce recipe if you need a good one to try.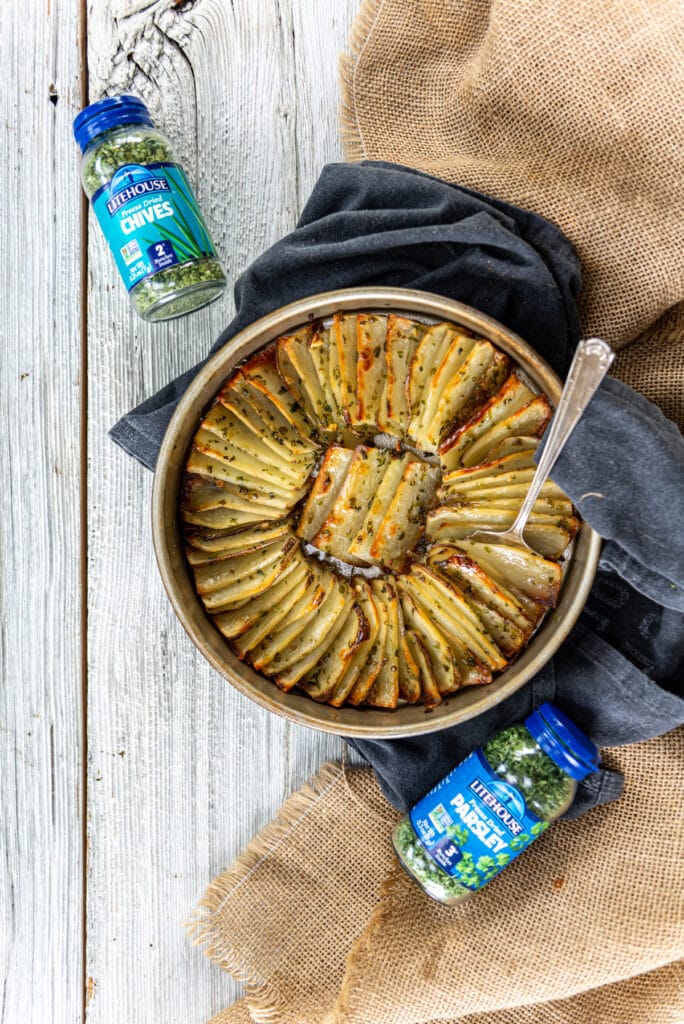 What about Litehouse herbs?
Their herb seasonings are fantastic because they are freeze-dried and don't contain any additives, gmo, or gluten. Perfect for keeping them on hand when you don't have fresh to add a ton of flavor!
Believe it or not, but gluten is one of those things that get snuck into foods like seasonings that people don't pay much attention to. With Litehouse, they freeze-dry the ingredient, and guess what? That is the only ingredient.
The process of freeze drying super concentrates the flavors. Yes, you could chop in your own garlic for example. But it won't be as "garlicy" because there is still a lot of water content. So this seasoning is worth seeking out.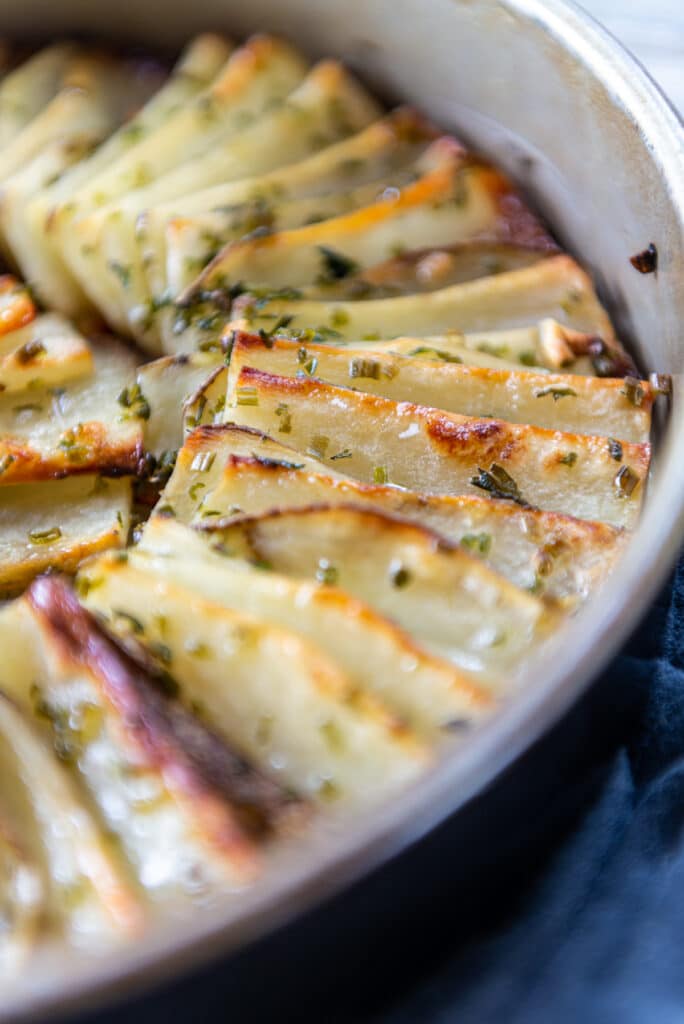 What to serve with dominoes potatoes
These go great with just about everything. If you are a meat and potatoes type, and I sincerely hope you are, then you might get a smile and a big appetite set up with any of meat dishes on this site.
Starting with steaks, what about New York strip and scallops? Surf and turf really is turf when you include a turf grown potato.
But steak can also mean ham steak… so try this cola cooked southern style ham steak. Feeling guilty that salad is not part of the equation? Then a steak salad bridges the gap. You can still enjoy your steak and domino potatoes… and salad.
Roasted Duck Fat Domino Potatoes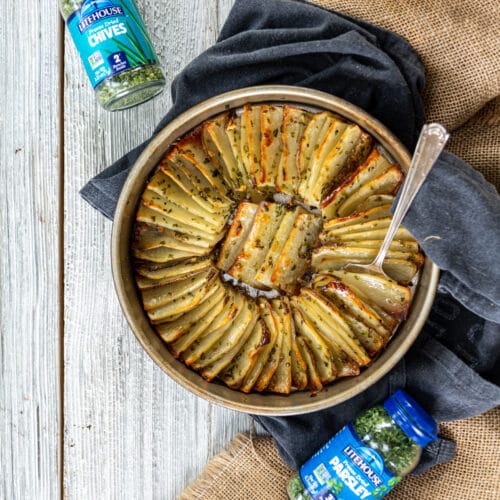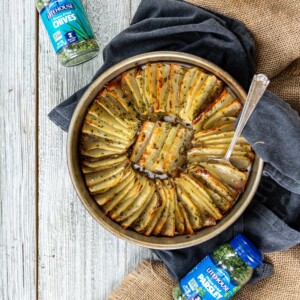 Step up the presentation game with these fun but rather un-fussy dominoes potatoes – coated in duck fat and raosted to crisp golden perfection.
Ingredients
6

Idaho Russet Potatoes washed

6

tbsp

duck fat

at room temperature

½

tsp

Litehouse Freeze Dried Garlic

1

tsp

Litehouse Freeze Dried Chives

½

tsp

Litehouse Freeze Dried Parsley

Salt and Pepper

to taste
Instructions
Prep the Potatoes:
Wash and dry the potatoes.

Slice the ends off of each potato and trim the skins off, about ⅛ inch on all sides, creating a rectangle shape.

At this point, make sure all of the potatoes are evenly sized, trimming as needed.
Slice the Potatoes:
Using a mandolin slicer with the guard, set to ⅛" thick, slice each potato.
Assemble:
Toss the potatoes into a bowl with duck fat, garlic, chive, and parsley.

Add a pinch of salt.

Using your hands, make sure both sides of each potato has been coated.
Bake:
Preheat the oven to 400 degrees F.

In an 8" round or square pan, assembled the potatoes, stacking as you would a row of fallen dominoes on their side. Allow the top of each to peak through before the next is placed in line. Each potato should have ⅛" exposed.

Repeat creating rows or a spiral if using a round pan until all the potatoes are nestled into place.

Spoon any remaining duck fat over the potatoes.

Sprinkle with salt.

Bake for 40 to 45 minutes, until the edges of the potatoes are golden and crispy and the centers are fork tender.

Remove from oven and cool 5 minutes.
Serve:
To serve, dish out portions with a serving spoon and sprinkle, if desired, additional parsley and chives on top for a pop of fresh color.
Notes
Where it won't significantly change the finished dish, this one is best roasted in a shallow pan. That way you aren't stacking the potatoes to tall while arranging them and making dishing them out easier. I used a shallow heavy-duty pie dish, but a small baking pan or tart tray would work great too. 
Nutrition
Serving:
1
g
|
Calories:
213
kcal
|
Carbohydrates:
29
g
|
Protein:
4
g
|
Fat:
10
g
|
Saturated Fat:
3
g
|
Cholesterol:
10
mg
|
Sodium:
8
mg
|
Potassium:
684
mg
|
Fiber:
2
g
|
Sugar:
1
g
|
Vitamin A:
421
IU
|
Vitamin C:
13
mg
|
Calcium:
26
mg
|
Iron:
1
mg