Want to take your Thanksgiving day preparation to the next level? This detailed guide will help you craft the perfect menu using your favorite Thanksgiving recipes so you can have an unforgettable holiday.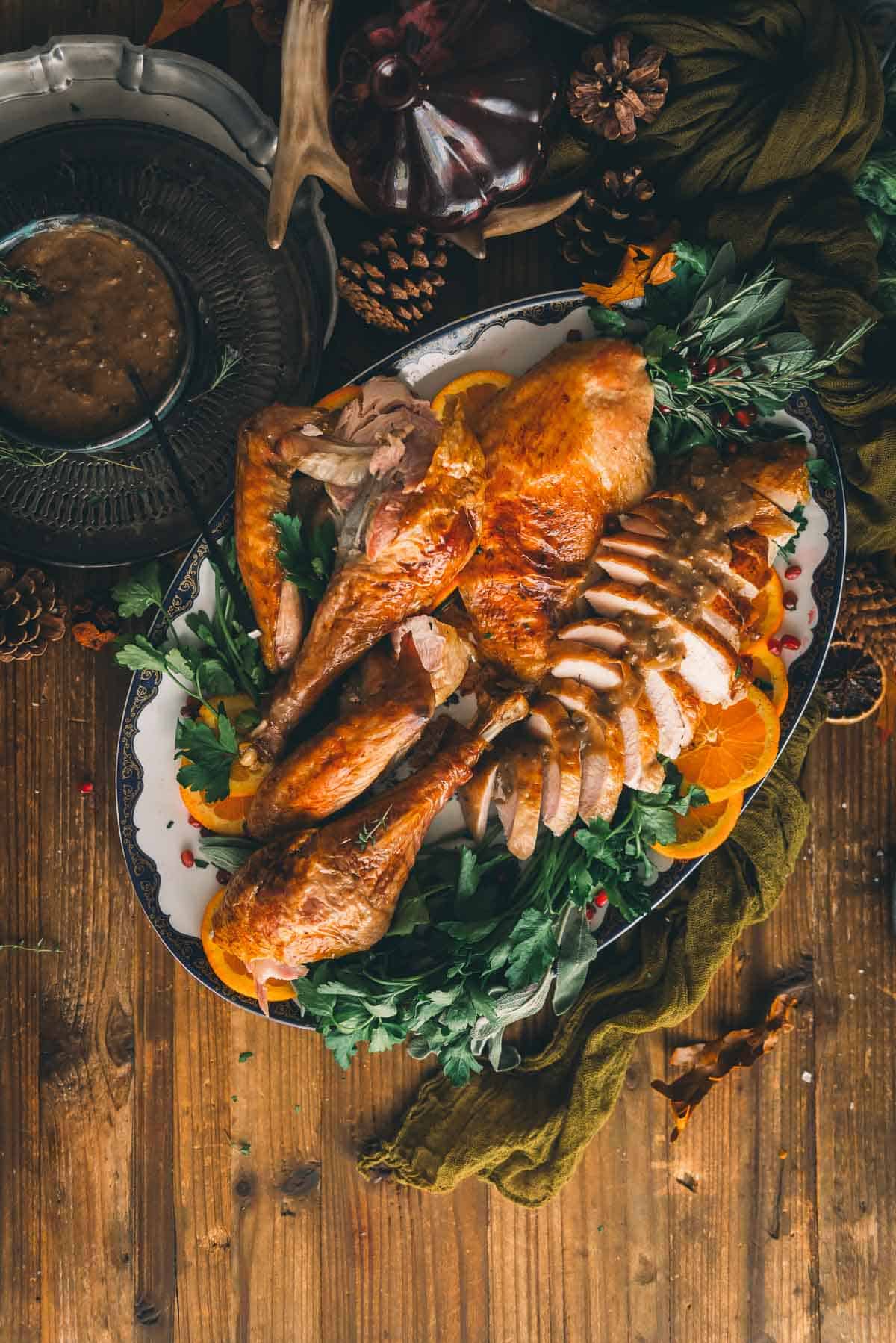 Start now to make sure the biggest feast of the year has everything in order. Looking for more details of all of our tools, serving dishes, and table settings? Check out our tested list of Thanksgiving essentials.
Step-By-Step: How to Plan a Traditional Thanksgiving Menu
Planning a classic Thanksgiving menu is no easy feat. It requires careful planning and preparation to make sure you and your guests enjoy the holiday feast! First, we'll start with the star of the show – the turkey. Then, we'll work our way down to desserts and leftovers. Hopefully, you'll have the perfect Thanksgiving dinner menu by the end of this post.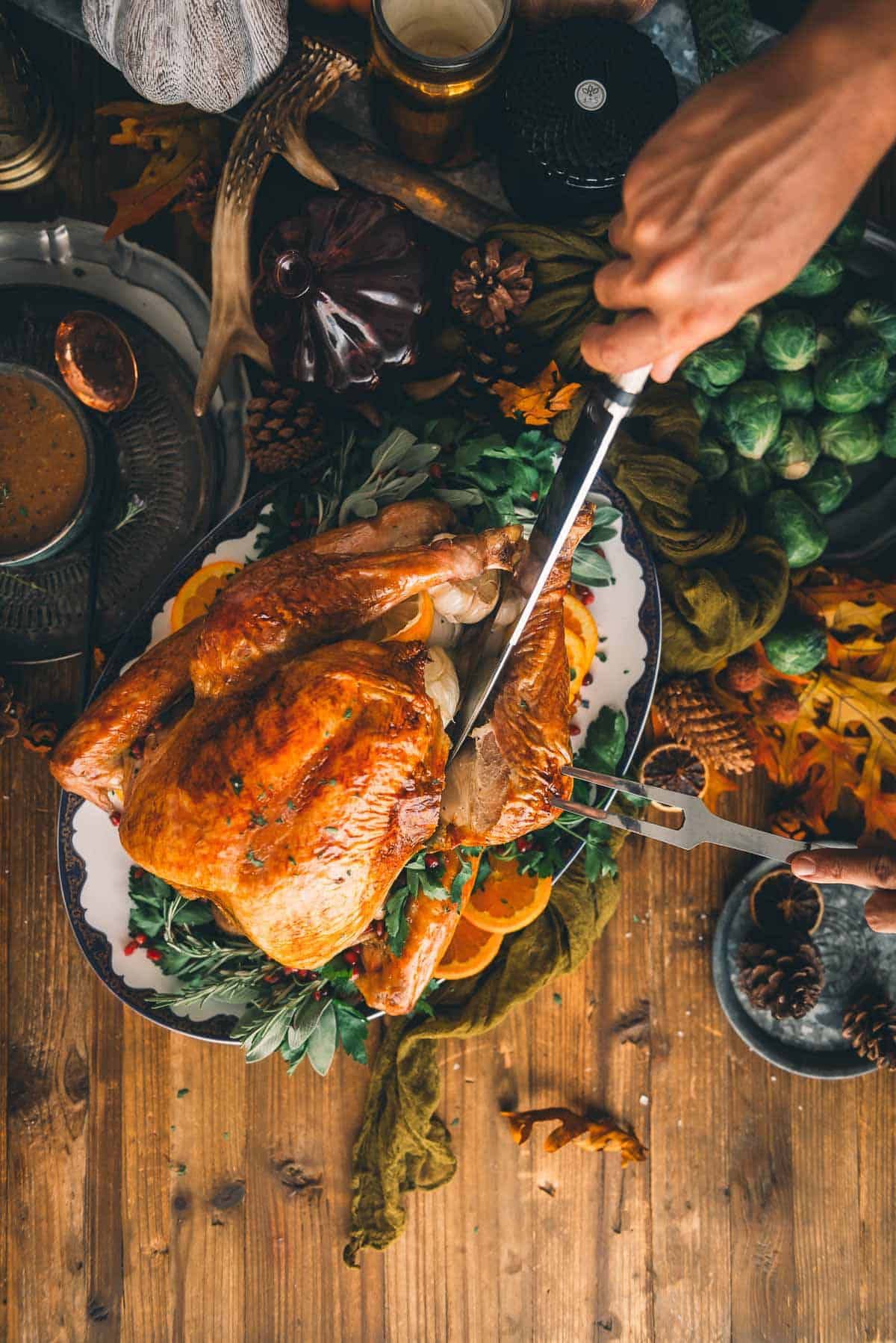 Traditional Thanksgiving Dinner Menu Idea
Traditional Thanksgiving Dishes are some of our favorites:
Roasted Turkey – The centerpiece, seasoned and stuffed for ultimate flavor.
Turkey Gravy – Rich sauce made from turkey drippings.
Bread Stuffing or Dressing – Savory, soaks up turkey juices and complements the meat.
Mashed Potatoes – Creamy potatoes, often served with turkey gravy.
Cranberry Sauce – Bright, tangy sauce provides contrast.
Green Bean Casserole – Green beans baked with creamy sauce and fried onions.
Roasted Vegetables – Potatoes, sweet potatoes, Brussels sprouts, and carrots add heartiness.
Dinner Rolls – Fresh baked rolls served with lots of butter.
Pumpkin, Apple, or Pecan Pie – all topped with whipped cream.
Smoked Thanksgiving Menu Idea
Cook Thanksgiving dinner on the grill with some of our favorites:
Smoked Thanksgiving Turkey – Use wood chips or chunks in a smoker box or right on the charcoal to give the turkey a delicious smoky flavor. Here are our suggestions for the best wood for smoked turkey.
Smoked Collard Greens – Slow-smoke collard greens in a big Dutch oven seasoned with bacon, onions, and pepper flakes.
Smoked Mac and Cheese – Make macaroni and cheese in a cast iron skillet on the grill for a smoky twist.
Smoked Maple Carrots – Toss carrot coins in maple syrup and smoke them on the grill until tender.
Smoked Brussels Sprouts – One of our favorite ways to cook Brussels sprouts on the grill with a delicious aioli dipping sauce.
Grilled Acorn Squash – Grill acorn squash for a beautiful festive side dish with vibrant color.
Smoked Stuffing – Prepare stuffing in a Dutch oven if you're not stuffing your bird for smoky, moist stuffing.
Smoked Apple Crumble Pie or Pumpkin Pie – Either pie can get a touch of smoke flavor from the grill.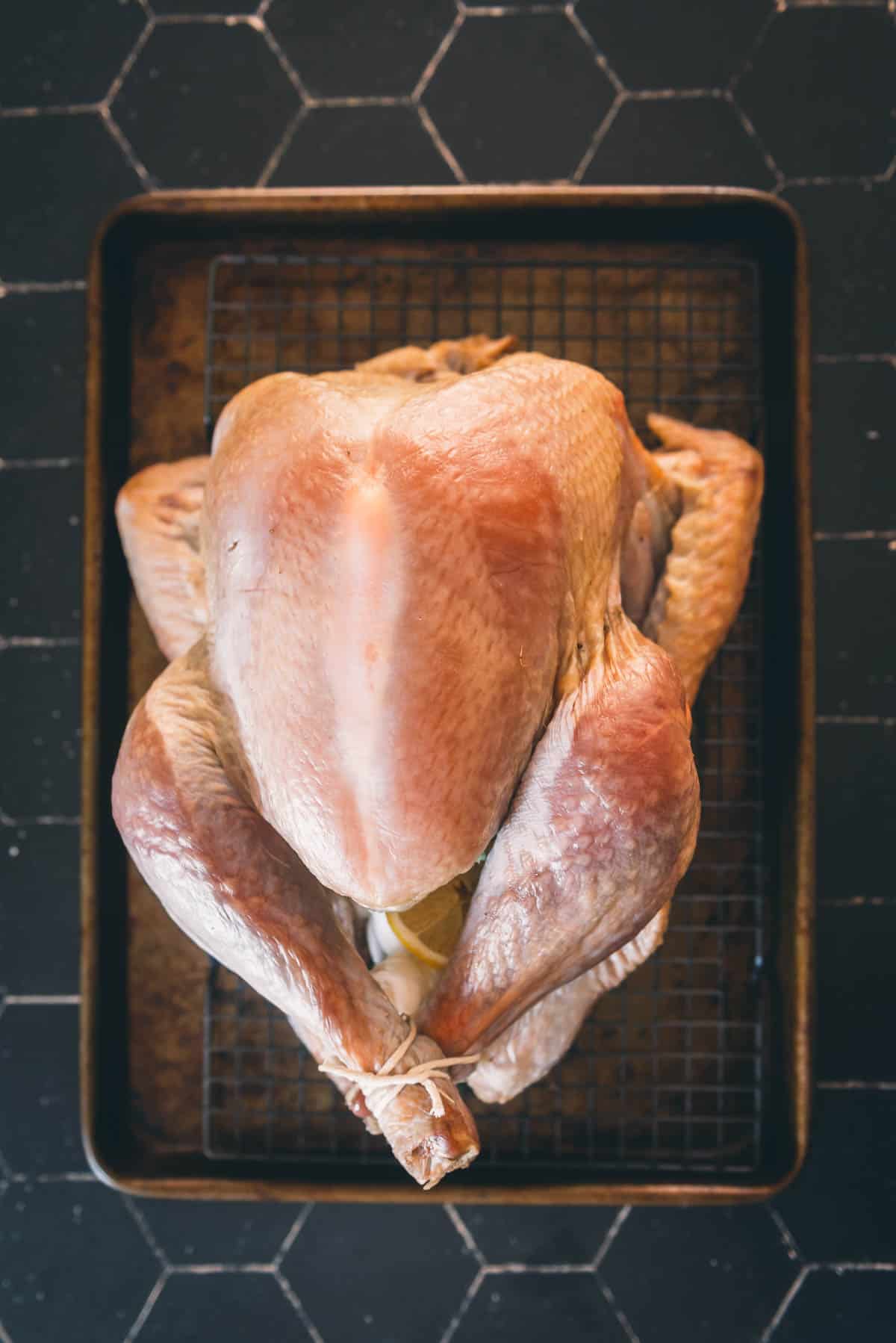 Buying a Turkey
If buying a fresh turkey, make sure you get it no more than two days before you plan on cooking it. On the other hand, buying a frozen turkey gives you a little more leeway, giving 1-4 days in advance, depending on the size of the turkey you bought. However, you will need to thaw the turkey before cooking it, so don't wait until the last minute.
Ordering Turkey Online
If you want to skip the grocery store mayhem, ordering a turkey online will be your best bet! Unsurprisingly, there are a ton of options online, allowing you to purchase a bird that fits your budget and preferences. Check out or favorite places to order meat online to order your bird.
Order your turkey 1 to 2 months in advance.
Finding the Right Size Turkey
In general, the best turkey size depends on how many guests you're serving. The ratio is about 1 1/2 pounds of turkey for every guest you have. So, if you're serving ten people, be prepared to purchase a 15-pound bird.
If you're serving more than ten people, we recommend getting a couple of turkeys and cooking them instead of getting a bird over 15 pounds. Anything larger than 15 pounds may not come to a safe internal temperature as quickly, causing it to dry out.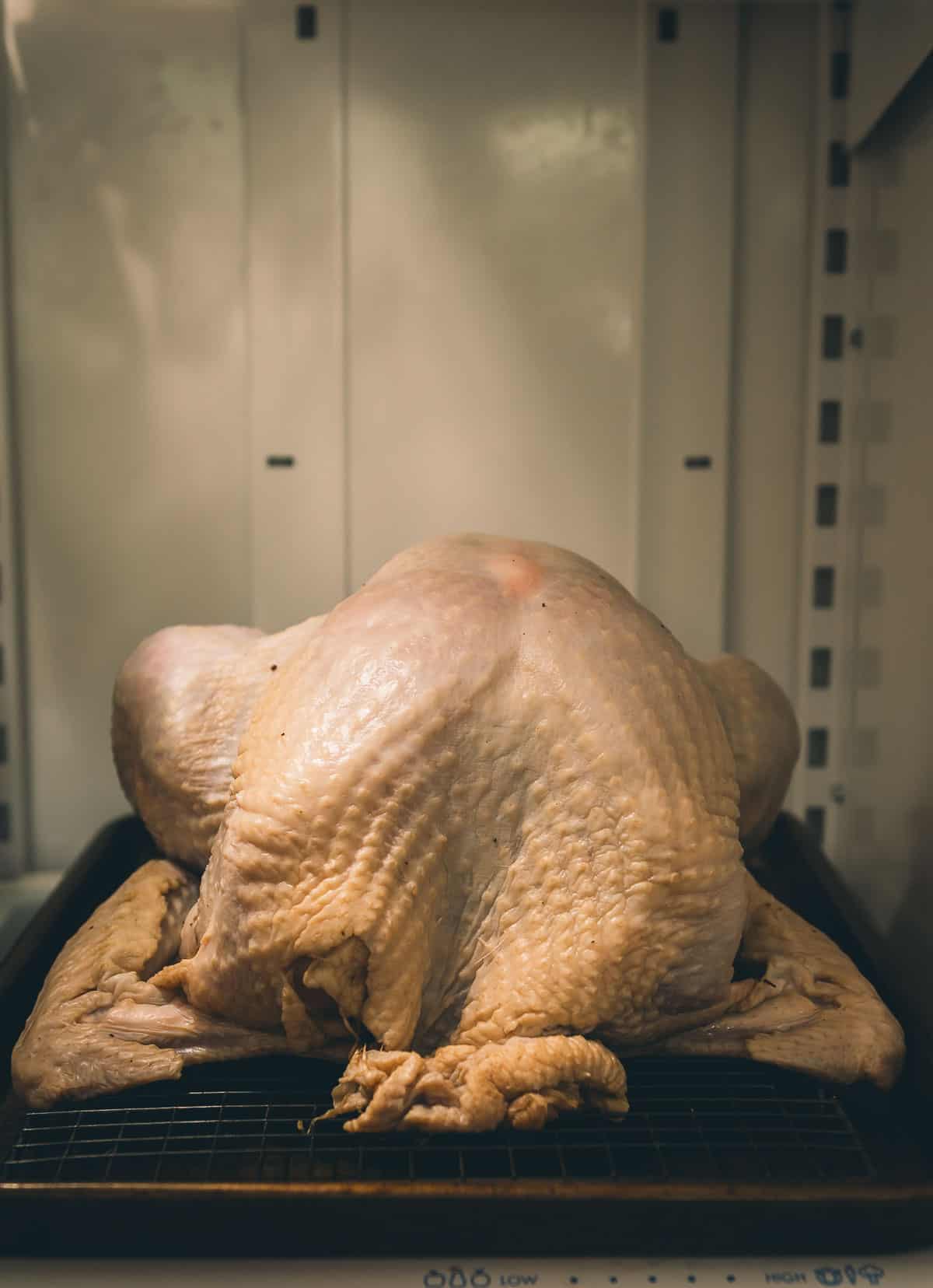 How Long Will Turkey Stay Fresh in the Fridge?
Fresh turkey will last in the fridge for 1-2 days.
Thaw the turkey
If you purchased a frozen turkey, make sure you know how to thaw a turkey.
We start thawing our turkey 4 days before we want to brine it. That means we start thawing our turkey on the Friday before Thanksgiving.
Once thawed, you need to decide if you will roast the turkey whole or learn how to spatchcock a turkey to lay it flat for faster, more even cooking.
Brine the Turkey
You also need to take brining into account when prepping for your Thanksgiving meal. Brining is a process where you infuse the turkey meat with flavor via a dry brine or wet turkey brine. A dry brine is where you rub seasonings all over the bird and let it air out in the fridge for 24-48 hours, adding even more time to the cooking process.
A wet brine is where you submerge the turkey in a container of cold water and spices for 12-24 hours, letting it rest in the fridge.
Both methods result in a juicy turkey with perfectly crispy skin. Whichever one you choose will affect the amount of time you need to prepare for your Thanksgiving meal.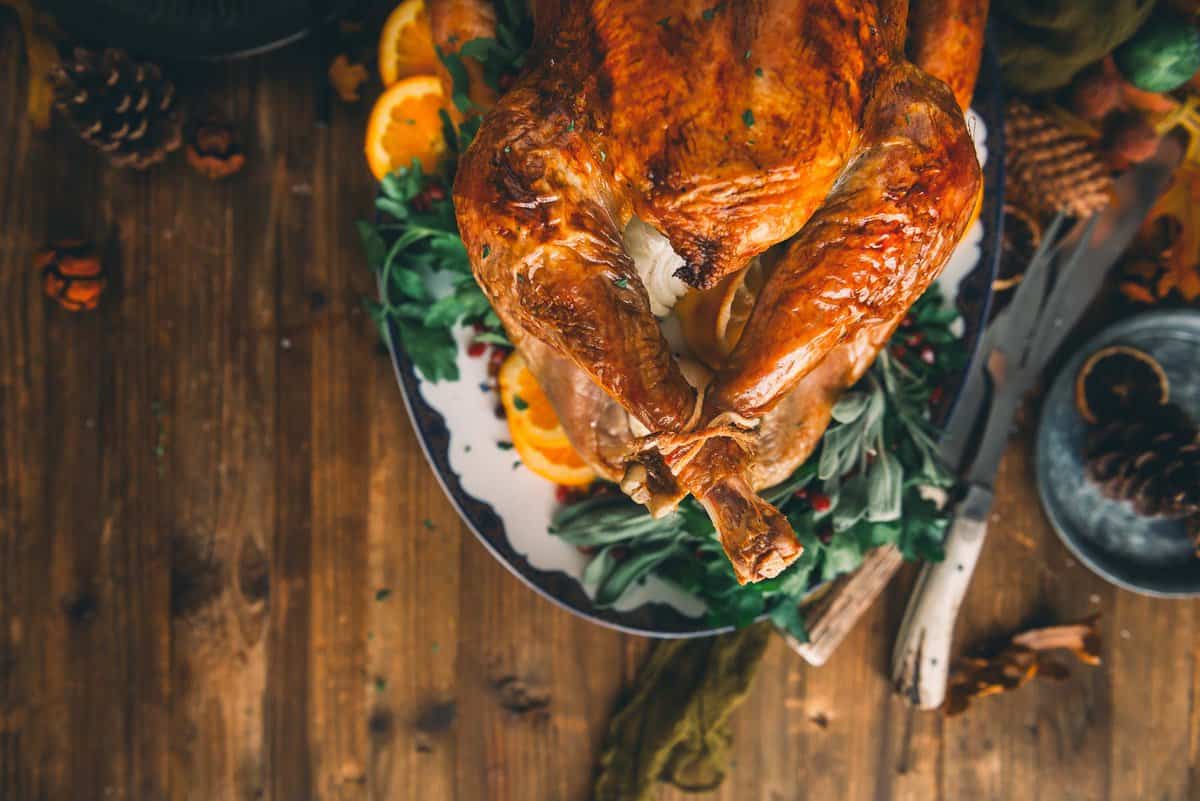 Cook the Thanksgiving Turkey
Once you've chosen the correct turkey size and prepped it via brining, it's time to cook it! You can use all kinds of cooking methods, from oven roasting to smoking. If you're looking for a traditional roasted turkey, try our Oven Roasted Turkey recipe or our Spatchcock Turkey.
If you want to whip out your smoker and infuse some smoky flavor into the turkey meat, our Smoked Thanksgiving Turkey, Smoked Spatchcock Turkey, and Traeger Smoked Turkey with Stuffing are the way to go!
Don't feel like cooking a whole turkey? Try our Smoked Turkey Breast recipe instead! This recipe is perfect for smaller crowds and people who don't care too much for dark meat.
If you've never tried spatchcocking before, this could be your year! Check out our How to Spatchcock a Turkey guide for more info!
To make sure your turkey is cooked and ready for serving, check out our Turkey Cooking Time guide.
Now that you've taken care of the important main dish, it's time to plan the rest of the feast for your Thanksgiving Menu ideas! Luckily, we've made the list pretty darned easy and in one spot for you.
Get the entire Thanksgiving Shopping List Download
Thanksgiving Side Dishes
Serving up some delicious Thanksgiving side dishes alongside your turkey main course is the perfect way to complete your holiday meal. First, we have the classics like sweet potato casserole, green bean casserole, and buttery mashed potatoes.
But if you want to jazz things up and make your holiday table a little interesting, try these Smoked Brussels Sprouts. And instead of creamy mashed potatoes, try some Domino Potatoes!
​Feel free to throw in some fluffy dinner rolls to complete the meal.
Thanksgiving Sauces
Making gravy from drippings, broth, or turkey neck and giblets is the perfect pairing for your turkey recipes this Thanksgiving. For turkey gravy, you use a chicken broth base. On the other hand, giblet gravy requires using the giblets and turkey neck found in the cavity of the bird to craft the perfect gravy.
We've already covered turkey gravy and giblet gravy, but what about cranberry sauce? You can always opt for the canned cranberry sauce from the grocery store. But if you have the extra time, make some homemade cranberry sauce with fresh cranberries! This Keto Cranberry Sauce is the perfect sauce for pairing with your juicy roast turkey and is super easy to make!
Thanksgiving Desserts
The Thanksgiving table wouldn't be complete without dessert. From pumpkin pie to chocolate pecan pie, there's no shortage of easy recipes to serve at the dinner table. If you want to stray from the basics and serve something a little more fancy, this Tart Cranberry Cherry Pie will do the trick! Plus, it's made with fresh cranberries, making it the perfect complement to cranberry sauce!
How to Prep Thanksgiving Dishes Beforehand
Leaving all your Thanksgiving dishes for the day of might be a little stressful. But don't worry! The beauty of Thanksgiving dishes is that they're super make-ahead friendly, so you can stress less and enjoy the holiday!
Cook Turkey a day ahead of time
While we're advocates for making the turkey the day of for maximum flavor, you can always make it ahead! Feel free to make it a day or two ahead of time, carve it up, and store it in the fridge until ready to eat. Then, reheat in the oven using this method:
Preheat the oven to 325 degrees F.
Simmer chicken broth on the stovetop.
Lay your turkey slices in a baking dish.
Cover the baking dish with a kitchen towel.
Pour the simmered chicken broth over the towel until just saturated but not too wet.
Cover the entire baking dish in foil and bake for 15 minutes or until the turkey pieces are heated.
Serve with your favorite Thanksgiving sides, sauces, and desserts, and enjoy!
Never carved a turkey before? Check out our How to Carve a Turkey guide.
​Make the Side dishes ahead of time
Sweet potato casserole, mashed potatoes, and green bean casserole are super easy make-ahead recipes that will make your life easier. You can make each of these recipes a day or two ahead of time to save on time!
You can also make dinner rolls a day or two ahead of time and heat them up in the oven. Even better, you can freeze the rolls for up to one month and bake them on the day of! Just remember to pull them out of the freezer and let them rise for 4-5 hours before baking.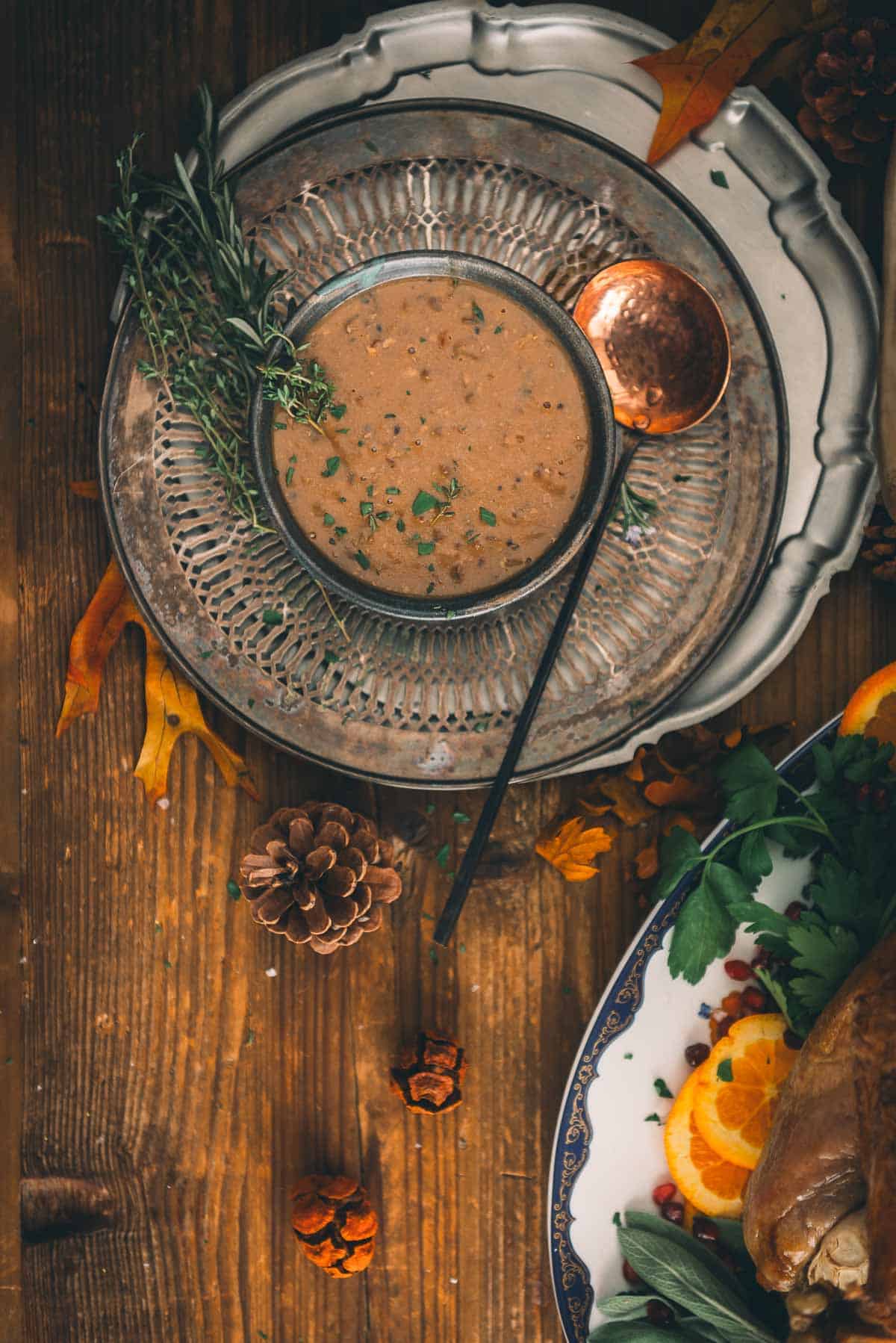 Make the sauces up to 3 months ahead of time
(Ok, you could make the gravy 6 months ahead of time, but who is really planning that far in advance?)
You can make turkey gravy ahead by using our Turkey Gravy recipe or our classic giblet gravy recipe! Store in an airtight container in the fridge for 3-4 days. Alternatively, you can freeze it up to 3 months before the big day, so feel free to make this recipe as early as you want!
Bake Desserts in advance
You can make pumpkin pie a month ahead of time and let it thaw in the fridge overnight. Then, let it come to room temperature before serving. Also, we are not above a Costco pumpkin pie. They have that recipe locked in.
Another great make-ahead dessert option is pecan pie. You can make pecan pie up to 3 months before Thanksgiving. Then, let it come to room temperature before serving.
We traditionally spend the night before Thanksgiving baking our apple pie. This one is best fresh. We reheat it while everyone is sitting and enjoy the Thanksgiving dinner so that its nice and warm when we serve it.
Use up the leftovers
Don't fret because Thanksgiving is over! Use these leftover turkey recipes to bring the magic of Thanksgiving back to life! This piling all the trimmings onto a sandwich is the perfect way to use up leftover turkey. This iconic hoagie uses leftover stuffings, shredded turkey, and cranberry sauce to form the perfect Thanksgiving revival.
This Leftover Turkey Sandwich takes leftover turkey, chops it up, and places it atop fluffy hoagie rolls with Colby jack cheese. YUM.
If you want to warm up on a cold day, try making some Leftover Turkey Soup or Turkey Chili!
Hopefully, these classic Thanksgiving recipes will help you craft the perfect holiday dinner for your family and friends this Thanksgiving! With holiday favorites like the juiciest roast turkey, sweet potato casserole, and cranberry sauce, you'll have a full menu for the big day!