When it comes to meals that will change how you cook, a smoked whole chicken is one of them. With juicy, tender meat and tons of flavor, smoking may be your new go-to method for whole chicken every time.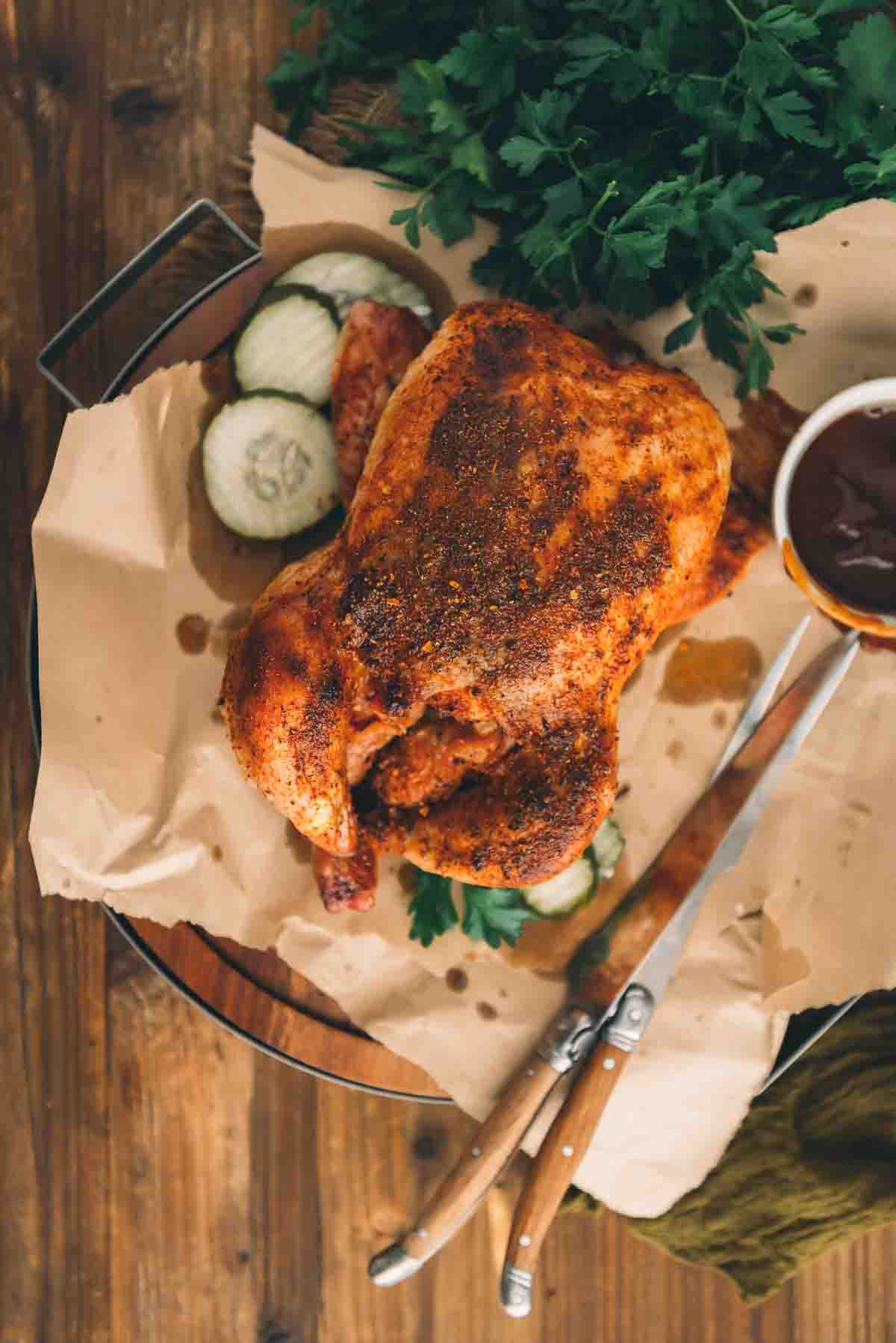 When it comes to the best way to cook a whole chicken, we're convinced it's on a smoker. A great way to cook an inexpensive protein, pop this on the Traeger grill for easy lunches and meal prep for the week. If you're smoking a whole chicken, just throw another on, and the leftovers will be gobbled up in days.
Where our smoked beer can chicken sits upright on a can of ale, this bird simply lays over a wire rack on a baking sheet on the pellet grill to cook—making it quicker and easier for when you just want something without too much work. We skip the sauce like on our smoked chicken thighs and keep it basic for this easy recipe. With a quick and straightforward seasoning blend from a pre-made rub and our favorite butter hack, this chicken is so delicious.
And because it's on a pellet smoker, you get a lighter smoke flavor when smoking chicken, which is perfect for making versatile leftover dishes from chilaquiles to chicken salad. If you want a more robust flavor, try grilled spatchcock chicken.
Ever since mastering smoking whole chickens on an electric smoker (back when that was the only one we had), we have made a tradition of breaking in every new grill with one. And continue to put them on the menu every week just because of how affordable and easy they are. It doesn't take up much space, so if you've got your grill preheated for 3-2-1 ribs or smoked pork loin, grab a small bird and pop it on as well.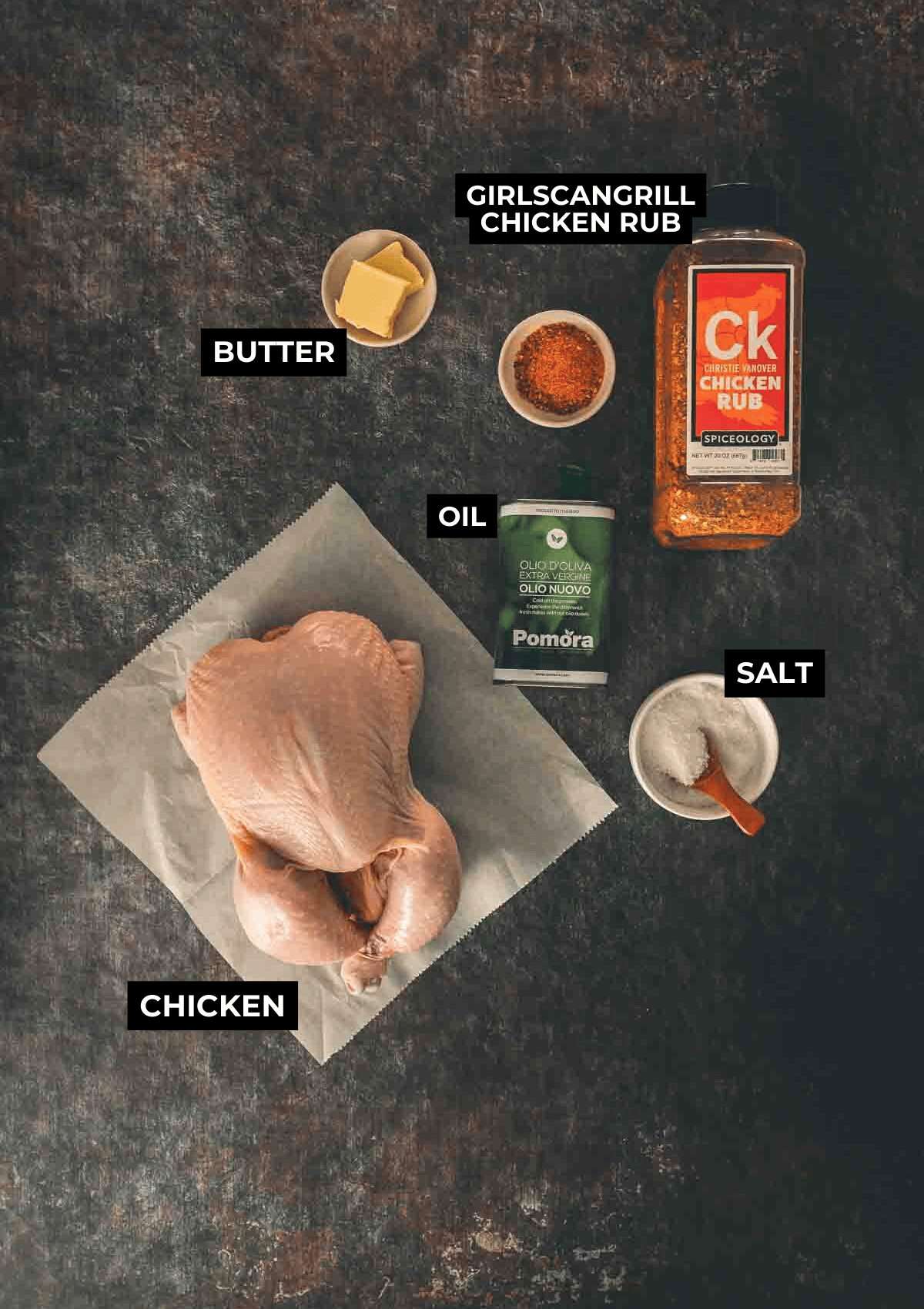 Ingredients
Whole chicken, make sure it's thawed completely. We've been testing where to order our chickens from, and if you're curious too, check out our list of places to order meat online.
Butter – always use unsalted when cooking
GirlsCanGrill Chicken Rub – or your favorite chicken bbq dry rub.
Kosher salt
Oil – we use avocado oil, but any neutral cooking oil will do
How to smoke a chicken
Start by patting the whole chicken dry with paper towels. Make sure to check the cavity for the neck and giblets and pat it dry as well.
With your fingers, find where the skin of the chicken breast meat lines up with the cavity and gently loosen the skin with your fingers or a spoon between the meat and the chicken skin. Don't pull too hard, just enough to slide the butter in and a little of the spice rub and coat the meat.
Then season the outside of the chicken liberally on all sides with the spice mixture and salt. Some will fall off when cooking, so put a good coating on the entire chicken. Be sure to rub seasoning in the cavity as well.
Place the bird on a wire rack set over a rimmed baking sheet, breasts side up. This makes transferring the smoked chicken and cleaning up easier. Tuck the chicken wing tips back behind the breasts and tie the legs with butcher's twine.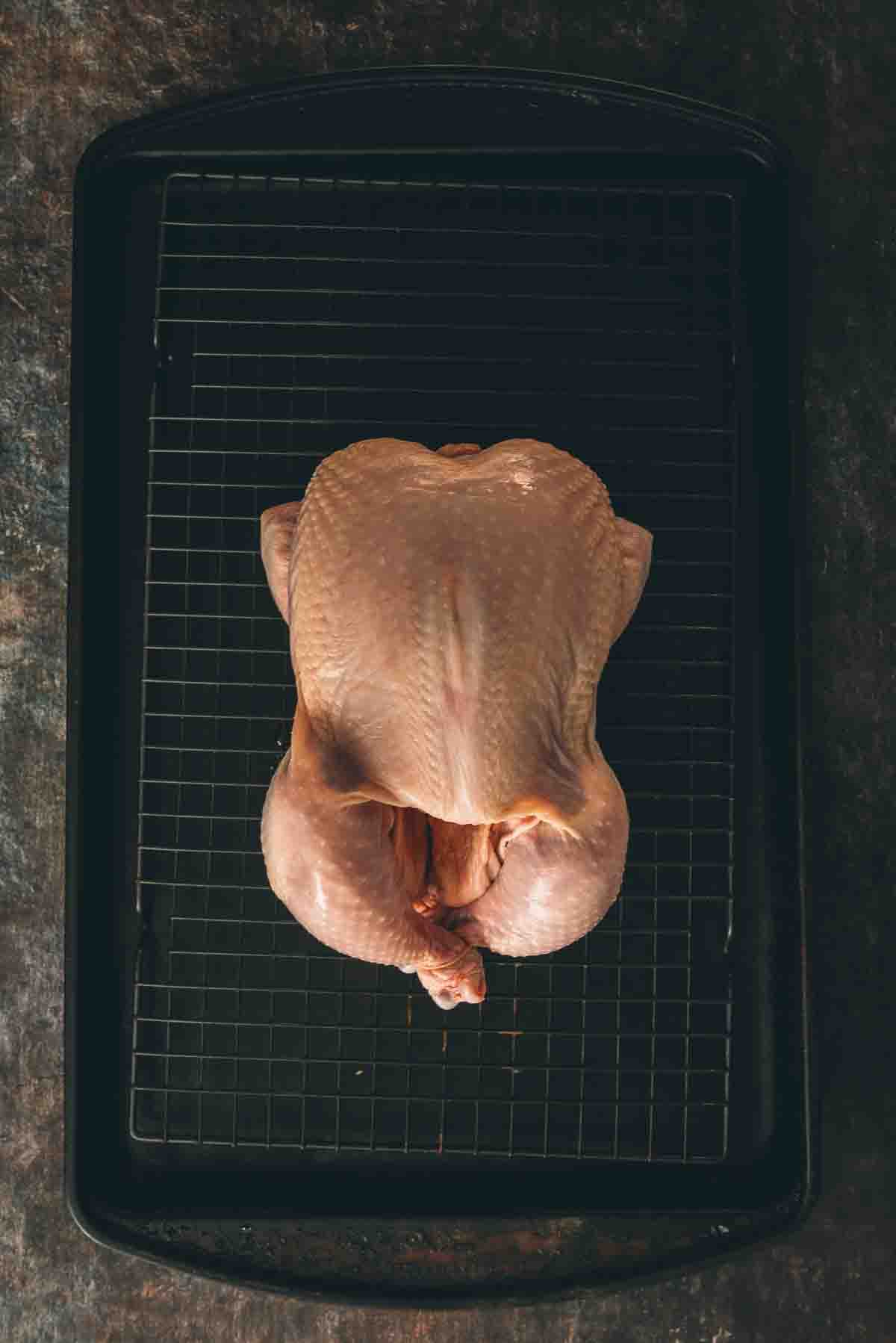 Next, prep your pellet smoker or grill for 325 degrees. And when the grill is maintaining heat, place the chicken on the wire rack and baking sheet directly onto the grill grates.
If using a traditional offset smoker, make sure the chicken is over the cooler side of the grill (indirect heat).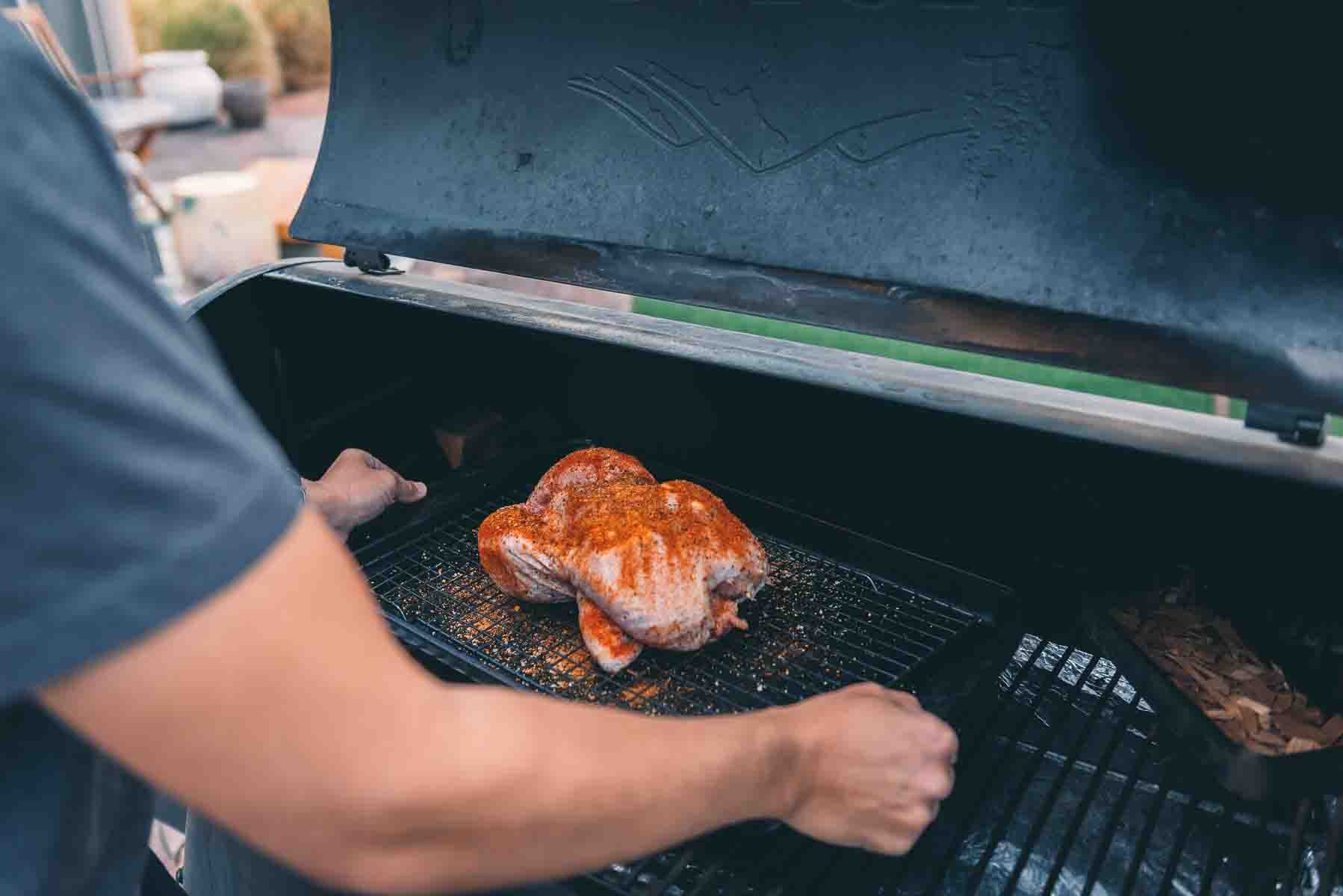 Smoke the chicken for about 1 to 1 1/2 hours until the internal temperature of the thickest part of the chicken reaches 160 degrees F and the dark meat (thighs and drums) reaches 170F. At about 30 minutes into cooking, baste the chicken with a few dabs of oil over. Repeat this every 15 to 20 minutes, until the
Carefully transfer the whole chicken and baking sheet from the grill and allow the bird to cool for 15 minutes. The internal temperature will continue to rise 5 to 10 degrees while the chicken rests.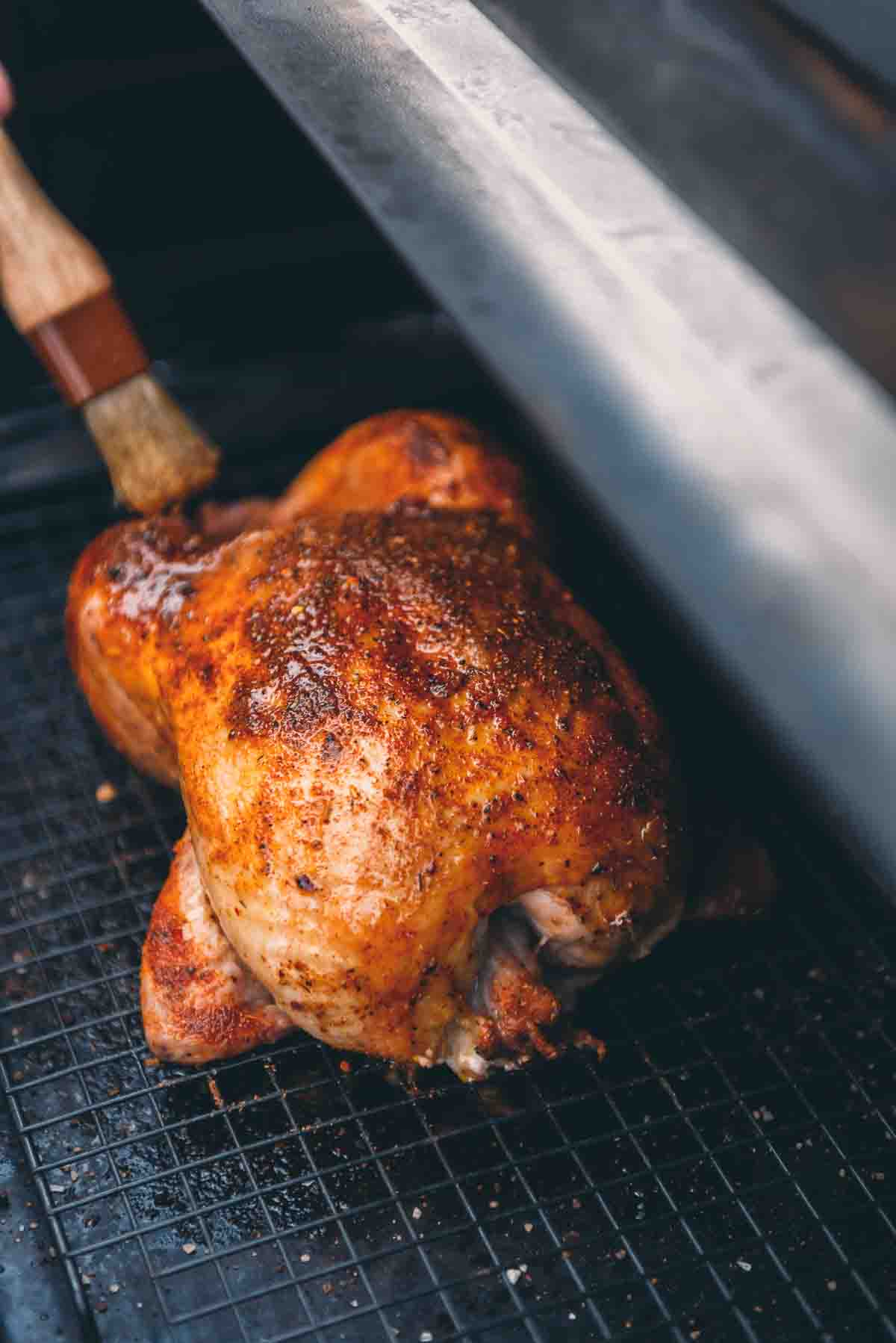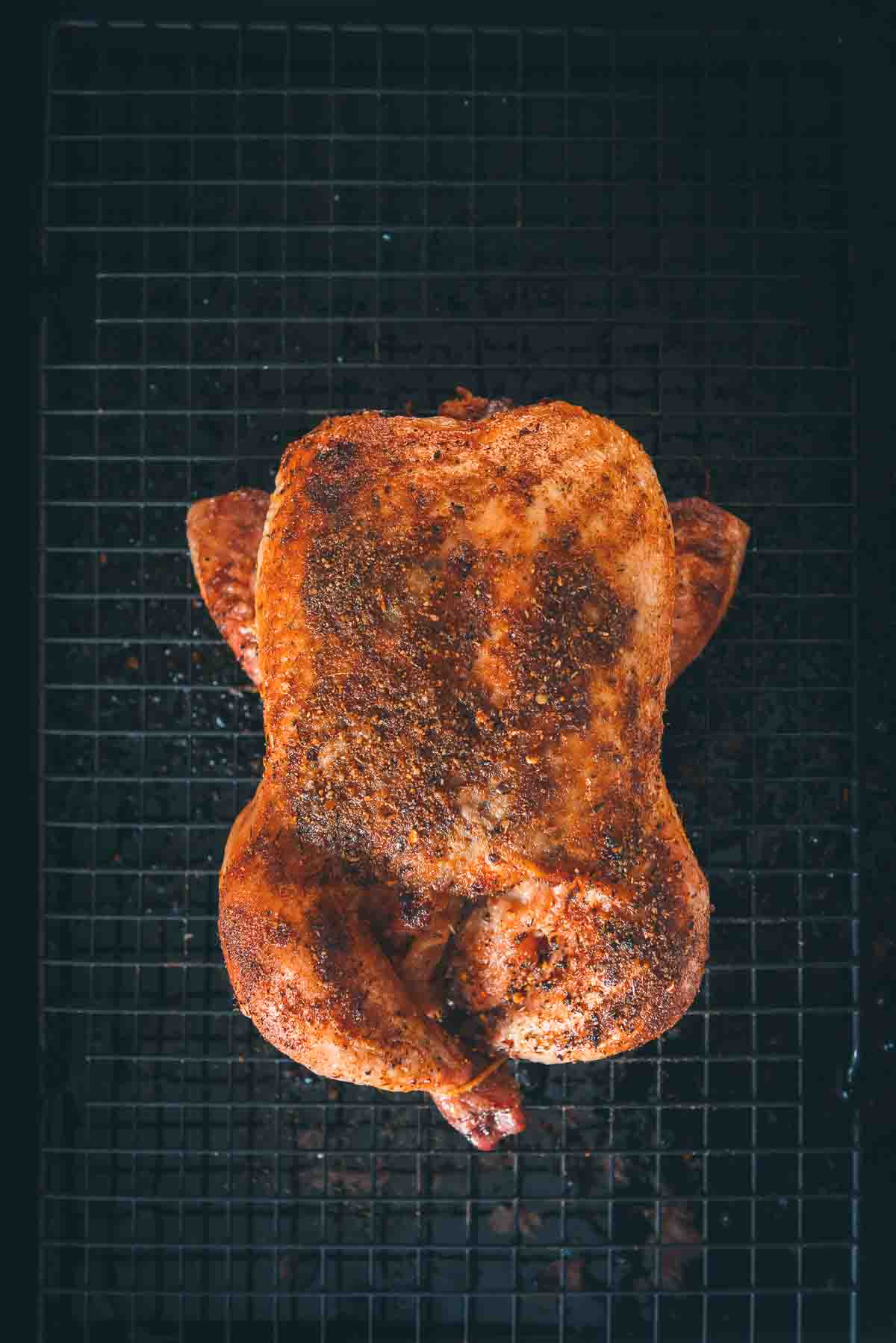 Finally, carve the chicken legs and thighs from the bird, then the wings and breast. Slice the breast into thin strips to serve with your favorite bbq sauce or our Alabama white sauce if desired.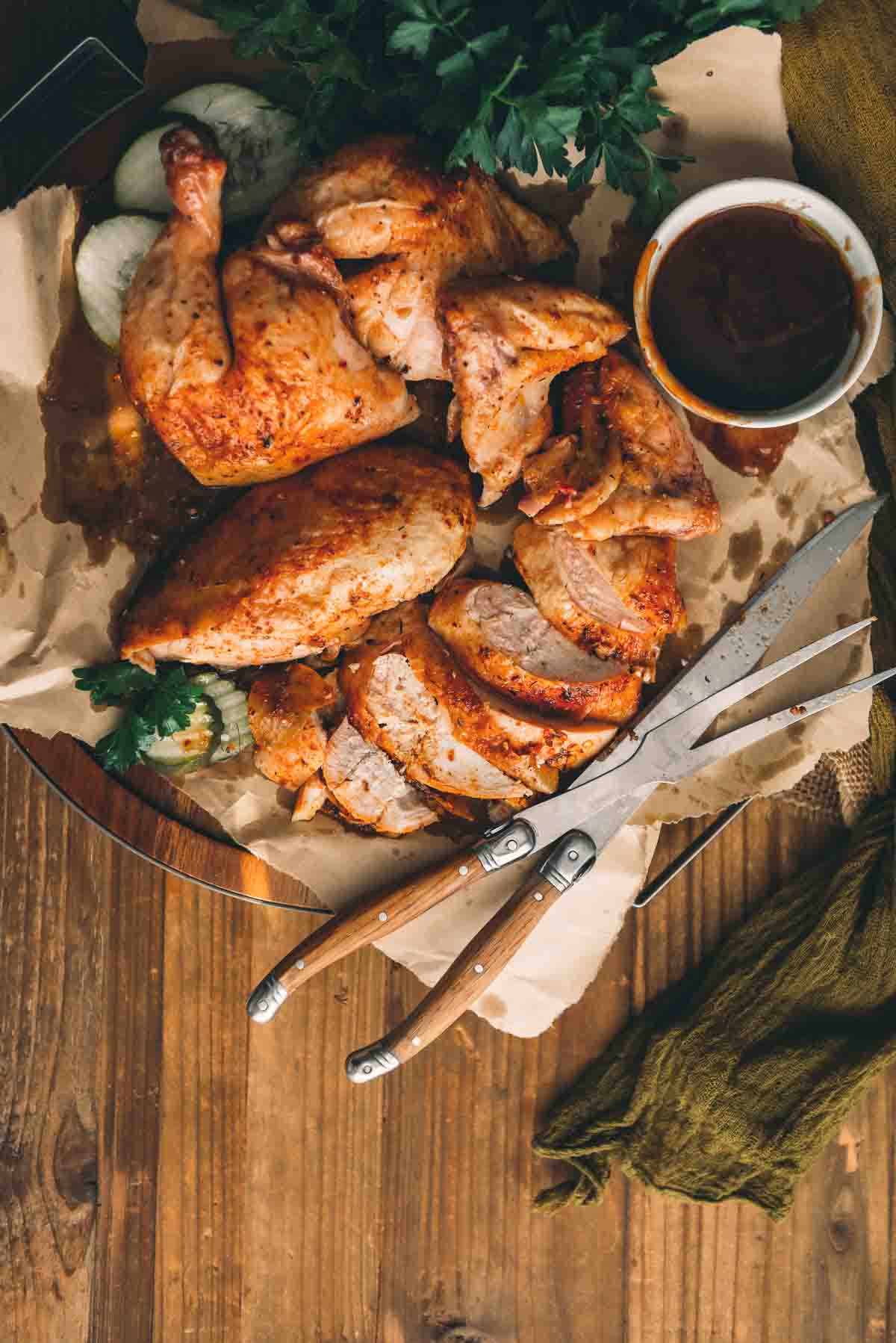 GirlCarnivore Pro Tip
You can smoke a Traeger whole chicken at a lower temp for a longer time for more smoke flavor. But we find smoking at 325 to 350 degrees gets the chicken cooked with just enough flavor and keeps the skin crispy enough for a good compromise.
For a bit more smoky flavor, we use hickory wood chips in a smoker box or hickory wood chunks directly on the grill grates of the Traeger smoker.
How to Store Leftovers and Reheating
Store leftover chicken in an airtight container or wrapped in foil in the fridge for up to 4 days. We carve our chicken for easier storage and leftovers and freeze the carcass to make chicken stock later on.
Only reheat what you need in portions in a preheated oven at 325F. Wrap leftovers tightly in foil and place in the oven for 5 to 10 minutes to reheat. If reheating thighs or chicken leg quarters, set the oven to broil for crispy skin, and reheat on a foil-lined baking sheet for 5 to 10 minutes, until heated through.
Leftover smoked chicken is amazing in Mexican Chicken Soup, on a big pile of nachos, in bbq sandwiches, enchiladas, chicken tinga stuffed poblanos, or even foil wrapper sandwiches.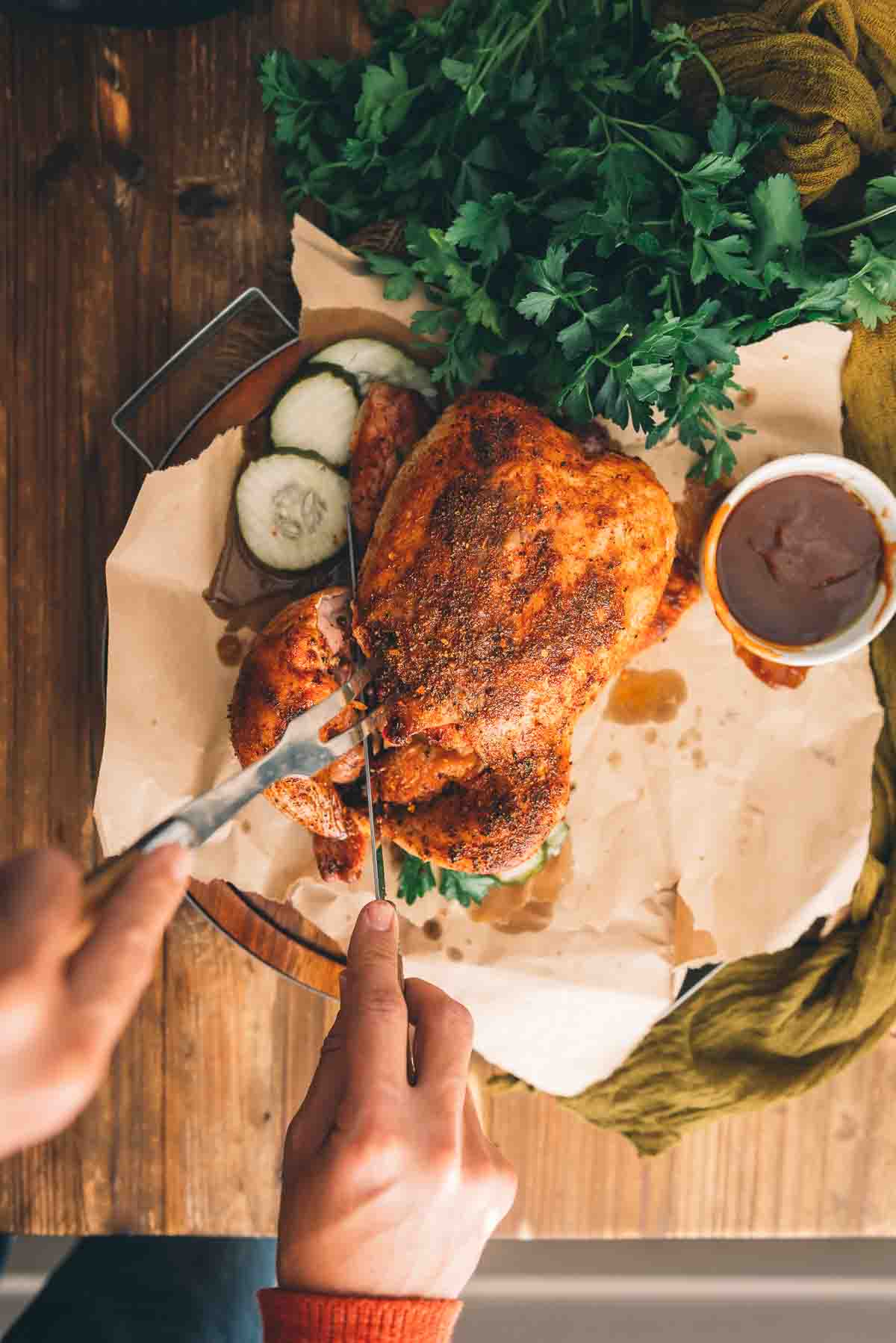 What to serve with smoked chicken
This Traeger smoked chicken recipe goes well with so many things. Almost any side dish or flavor profile works as a good pairing.
We love to serve whole bird with smoked brussels sprouts, rajas con crema, creamy dutch oven mac and cheese, or smoked corn on the cob. A light salad is always a wonderful side dish with this as well.
how long Does it take to smoke a whole chicken?
Smoking is always about internal temperature and not time, but a 4 to 6-pound chicken will cook in about 1 to 1 1/2 hours on a smoker, maintaining an even heat of 325 to 350 degrees F. Keep in mind, when grilling, altitude, wind, weather, and the airflow to the grill all affect cooking time and smoker temperature.
It's always best to use an instant read digital meat thermometer for the most accurate internal temp. Insert the probe into the thickest part of the breast and chicken quarters without touching the bone to check. White meat and dark meat cook differently, and we encourage rotating the bird at least once during the smoking process to help it evenly cook. If you know your grill has a hot spot, put the dark meat towards that side to help the white meat not to overcook or dry out.
More delicious smoked chicken recipes
Have you tried a whole smoked chicken recipe yet? What's your favorite dry spice rub or blend to use? If you made this recipe, please be sure to rate the recipe card and drop a comment below, letting us know what you served it with.
Smoked Whole Chicken Recipe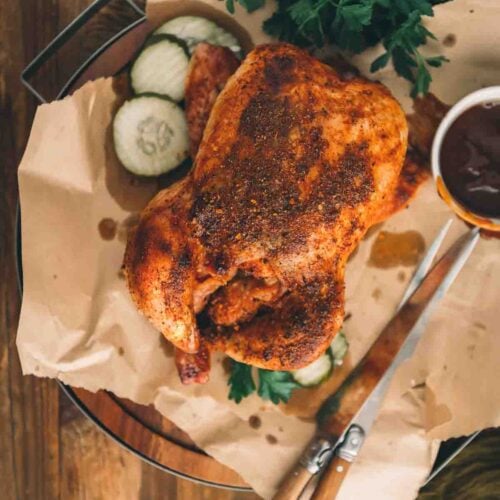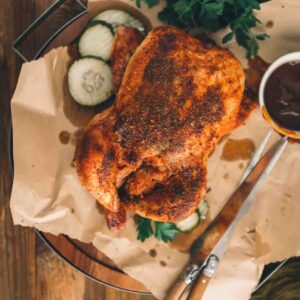 Want juicy, tender chicken every time? Smoke your bird! For a perfectly moist flavorful chicken, this is the best way to cook a whole chicken for easy meal prep or dinner.
Instructions
Prep the chicken
Remove the chicken from the packaging and dry it off very well with a paper towel. Remove the neck and any other items from the cavity and be sure to dry the cavity out well as well.

If needed, place a paper towel in the cavity for a few minutes to absorb and liquid.

Carefully lift up the skin on the breast from the bottom, using your fingers and loosen it. Place the butter under the skin as far as you can manage to get it.

Season the chicken liberally with the chicken rub and salt.

Place the chicken on a wire rack on top of a rimmed baking sheet.
Preheat the smoker
When ready to smoke, preheat the Traeger to 325 degrees F. Add wood chips in a smoker box or wood chunks in the hottest corner of your grill to add more smoke flavor.
Smoke the chicken
Place the bird, still on the wire rack and baking sheet, directly on the grill grates. Close the lid and smoke for 1 to 1 ½ hours.

At the 30 minute mark, baste the chicken with the oil, by gently dabbing it over the skin. Continue to baste every 15 to 20 minutes until the chicken breast reaches 160F and the thighs reach 170 degrees F with a digital meat thermometer.
Rest & serve
Carefully remove the baking sheet from the grill.

Allow the chicken to rest for 15 minutes. As it rests, it will rise another 5 degrees internaly due to carryover cooking.

Carve the chicken by slicing the legs and wings from the bird. Then remove the thighs and slice the breasts from the breast bone.

Serve with barbecue sauce if desired.
Notes
We use Jack Daniel's Charcoal pellets for this cook and hickory wood chunks.
This recipe works great on a barrel smoker or traditional offset smoker as well. Simply prep the grill to maintain an even heat of 325 degrees F and cook as instructed above. 
Nutrition
Serving:
1
g
|
Calories:
381
kcal
|
Carbohydrates:
0.01
g
|
Protein:
24
g
|
Fat:
31
g
|
Saturated Fat:
11
g
|
Polyunsaturated Fat:
6
g
|
Monounsaturated Fat:
13
g
|
Trans Fat:
0.4
g
|
Cholesterol:
115
mg
|
Sodium:
536
mg
|
Potassium:
242
mg
|
Sugar:
0.01
g
|
Vitamin A:
411
IU
|
Vitamin C:
2
mg
|
Calcium:
16
mg
|
Iron:
1
mg
Recipe FAQs
Best wood for smoking chicken
You can't top chicken paired with smoking wood like post oak or hickory for classic barbecue flavor. If you have a few flavors, consider mixing your smoking wood, add apple or pecan in for a subtle sweet flavor.
Whats the best temp to smoke a whole chicken?
For a true smoke, you want to keep the temp low, around 225. However, we find the skin gets a little gummy on smoked chicken that low. And who doesn't love crispy chicken skin? So, we smoke our whole chickens at 325 degrees F for the perfect smoke flavor and crispy skin.