Chicken soup doesn't need to be boring! Move over same-old chicken soup and say hello to this flavor-packed Mexican Chicken Soup. Loaded with veggies, lots of tender chicken, and a bright note from the limes, this soup is delicious! Don't forget the garnishes! With lots of avocado and crema, this soup will win you rave reviews!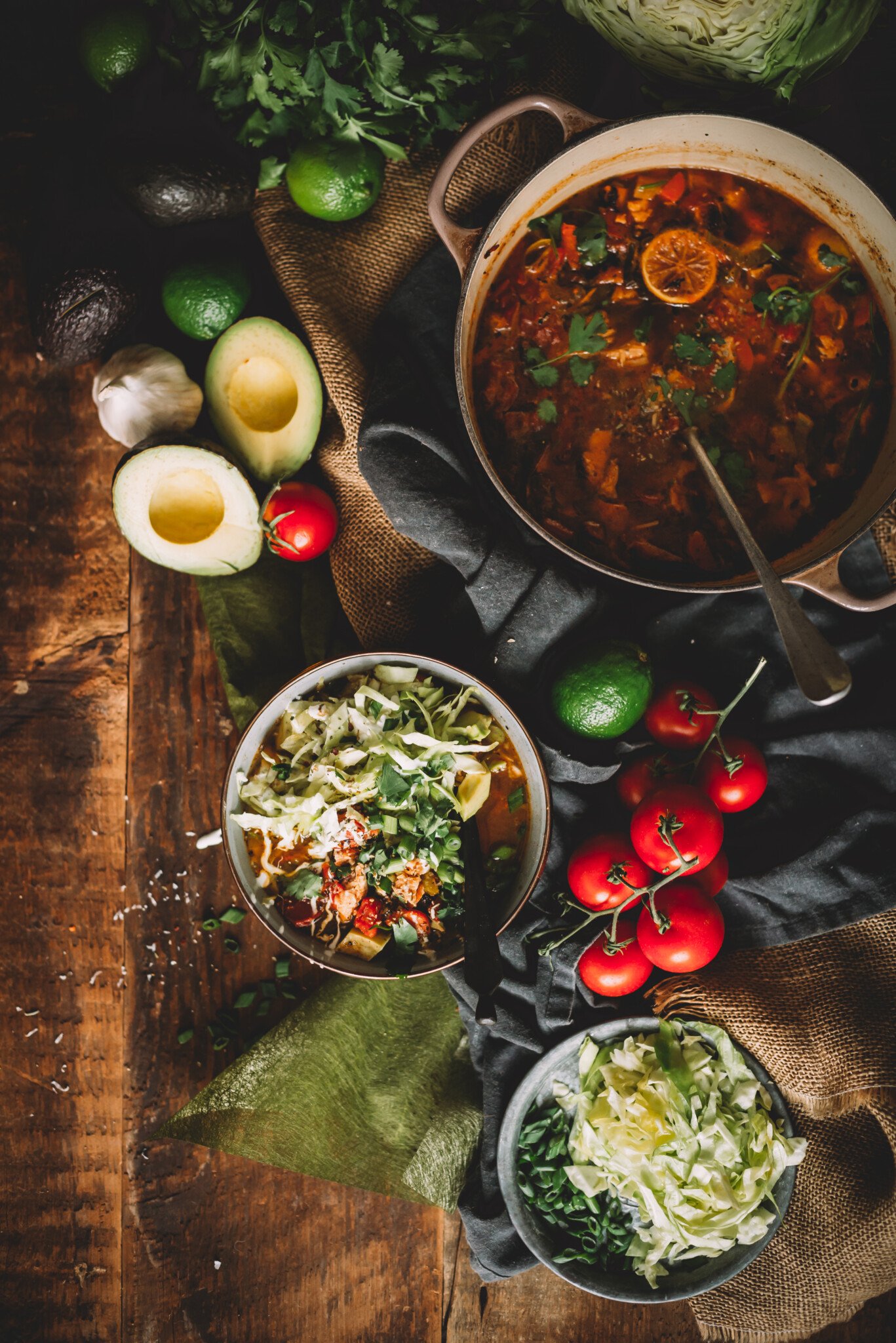 Using up leftovers is kind of my jam. And when not making chilaquiles with leftover chicken, this soup is my go-to recipe!
To jazz up the flavors in this easy chicken soup recipe, we're going to add loads of flavorful veggies, but it's what we add to the TOP of the soup that really makes it shine.
I'm pulling out all the flavor stops for you with this recipe; don't tell anyone how easy it is to make! And, just like any caldo de pollo recipe (chicken soup), this is a fun twist that's my version. It may not be exactly like your grandmother's famous soup, but give it a try – I bet you'll love it!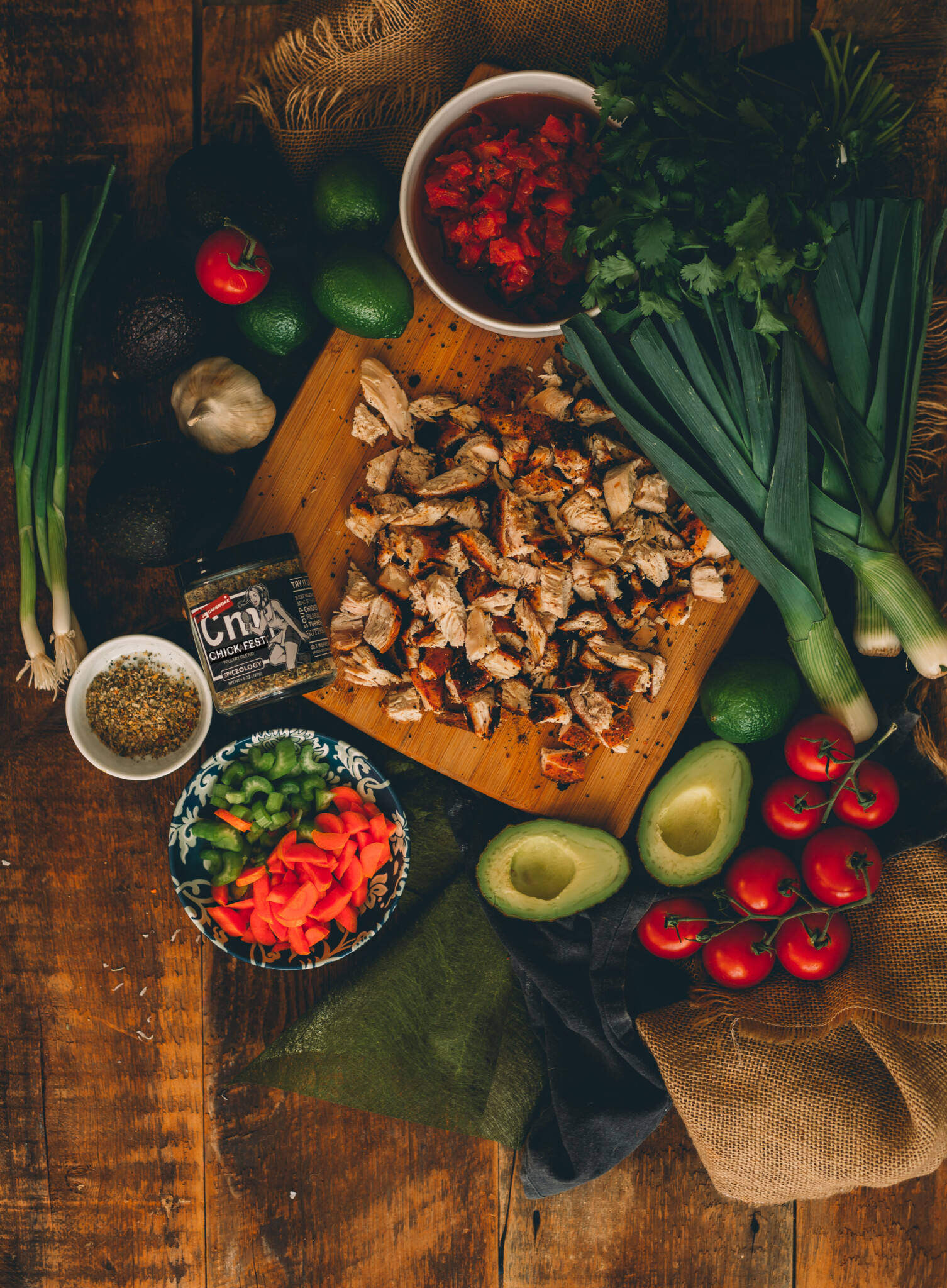 What You Need To Make Mexican Chicken Soup
Move over noodles and bland broth; there's a new soup in town! Here's what you'll need to make this easy Mexican chicken soup recipe.
For the soup:
Cooking oil – Olive or vegetable oil is fine.
Leeks – Rinse and chop the white part.
Celery 
Carrots
Garlic – Fresh garlic is best!
Girl Carnivore Chick Fest seasoning
Chicken broth or chicken stock – Use low or no sodium added to control the salt.
Chicken – Leftover rotisserie chicken, grilled chicken, smoked chicken quarters, smoked chicken thighs, whatever you've got!
Fire roasted diced tomatoes – 1 14-ounce can will do it.
Limes – You'll need the juice from 4 limes.
To garnish your soup:
Avocados – Count on 1 to 1 ½ avocados per bowlful
Shredded cabbage
Scallions – AKA green onions, just the green parts.
Fresh cilantro – Finely chopped
Crema
Lime zest – Just a pinch per bowlful!
How To Wash Leeks
Leeks grow in soft, sandy soil, and that dirt loves to get trapped inside the layers of a leek. Leeks need to be properly washed so that dirt is removed. You don't want to eat a soup that has improperly washed leeks in it. Here's how I do it:
Trim the root end from the leek and the top green part. You don't eat the green parts – they're tough and fibrous.
Slice the leek in half lengthwise, then lay the halves cut-side down on your cutting board and slice the leek into half-moons.
Pop the half-moons into a large strainer and set the strainer inside a (clean) sink half-filled with water.
Agitate the leeks with your hands, swishing them around to break up the half-moons and dislodge the dirt from inside the layers.
Lift the strainer and let the water drain.
Now, give them another good rinse with the water running, swishing the cut leeks around under the running water. 2-3 minutes should do the trick.
Have a close look at some of the leeks, inspecting for dirt. If there's still dirt, repeat the process.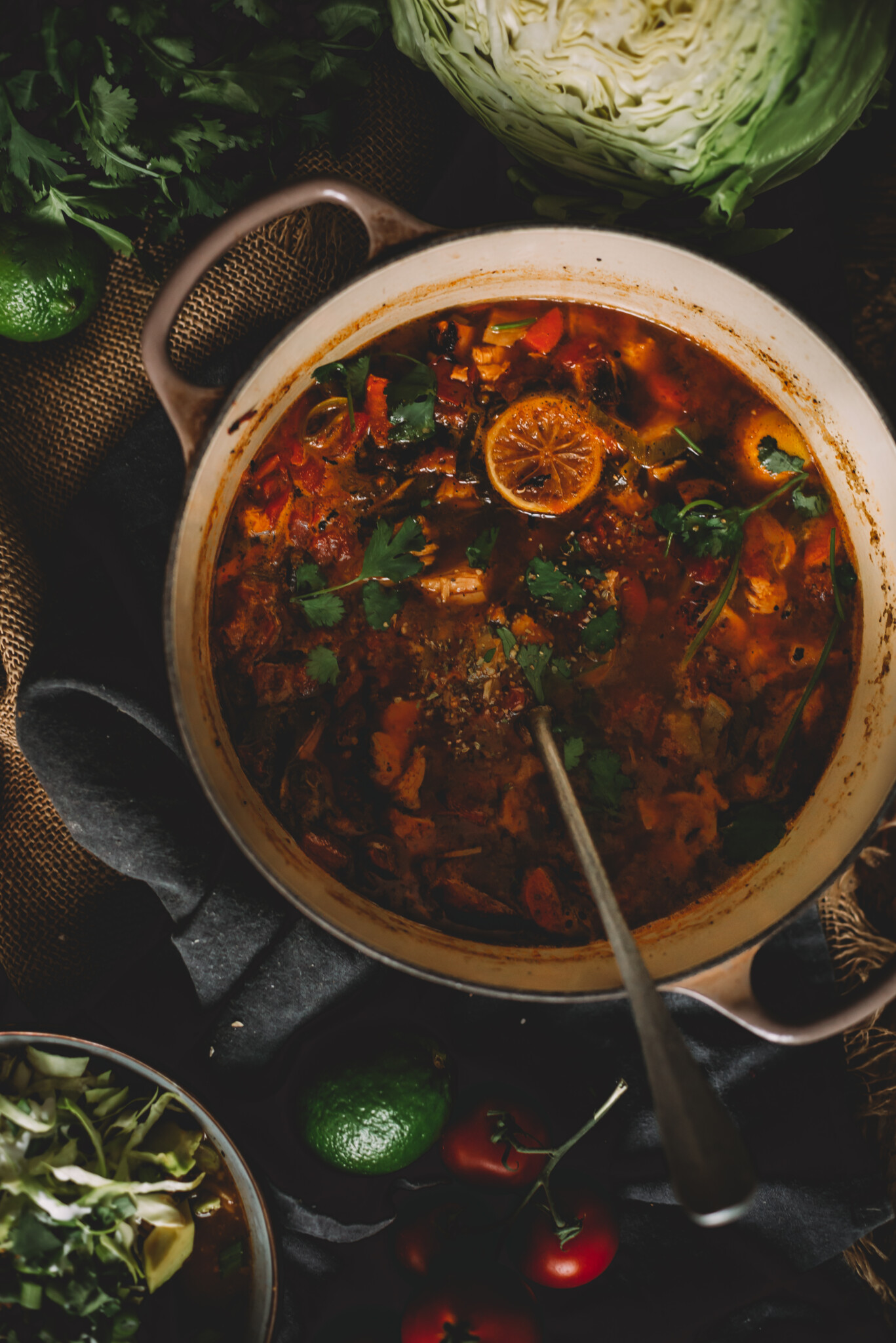 How To Make This Chicken Soup with Avocados
Start with a large Dutch oven and heat it over medium heat. When it's hot, add the oil.
Add the leeks, celery, and carrots to the hot oil and sautee until soft. Add the garlic and cook another 30 seconds.
Add the Girl Carnivore Chic Fest seasoning, then deglaze the Dutch oven with a splash of chicken broth.
Pour the remaining chicken broth, then add the leftover chicken and tomatoes. Bring to a boil.
Reduce the heat and cook at a bare simmer for 45-60 minutes.
Remove the Mexican soup with chicken from the heat and stir in the lime juice.
Ladle the soup into bowls and garnish with avocado, cabbage, cilantro, lime zest, and crema.
Recipe Tips
Don't burn the veggies in the cast iron.
Dutch ovens get hot slowly, but they retain that heat. Watch your pot isn't too hot – you want to saute the vegetables, not brown them.
Want a little more flavor? Deglaze with wine.
You can use a splash of dry white wine to deglaze the Dutch oven instead of broth. Don't worry; the alcohol will cook out.
Use Leftover Chicken
Using leftover chicken makes this soup recipe a snap – discard any bones, fat, or skin. Chopped or shredded chicken is what you want to add to the soup.
No leftover chicken?
Grill some chicken breasts or bake a boneless chicken breast or two in the oven or air fryer and use that.

Whole30 Version?
Omit the crema, and this soup is Whole 30 compliant. 
No crema?
Just use a dollop of sour cream.

How to keep the avocados from browning
To keep
the avocados from browning, cut and add them to the soup just before serving. Don't add the avocado to the soup pot, or it'll go mushy.
Add more heat.
Add a bit of hot sauce to add even more to this already flavor-packed soup.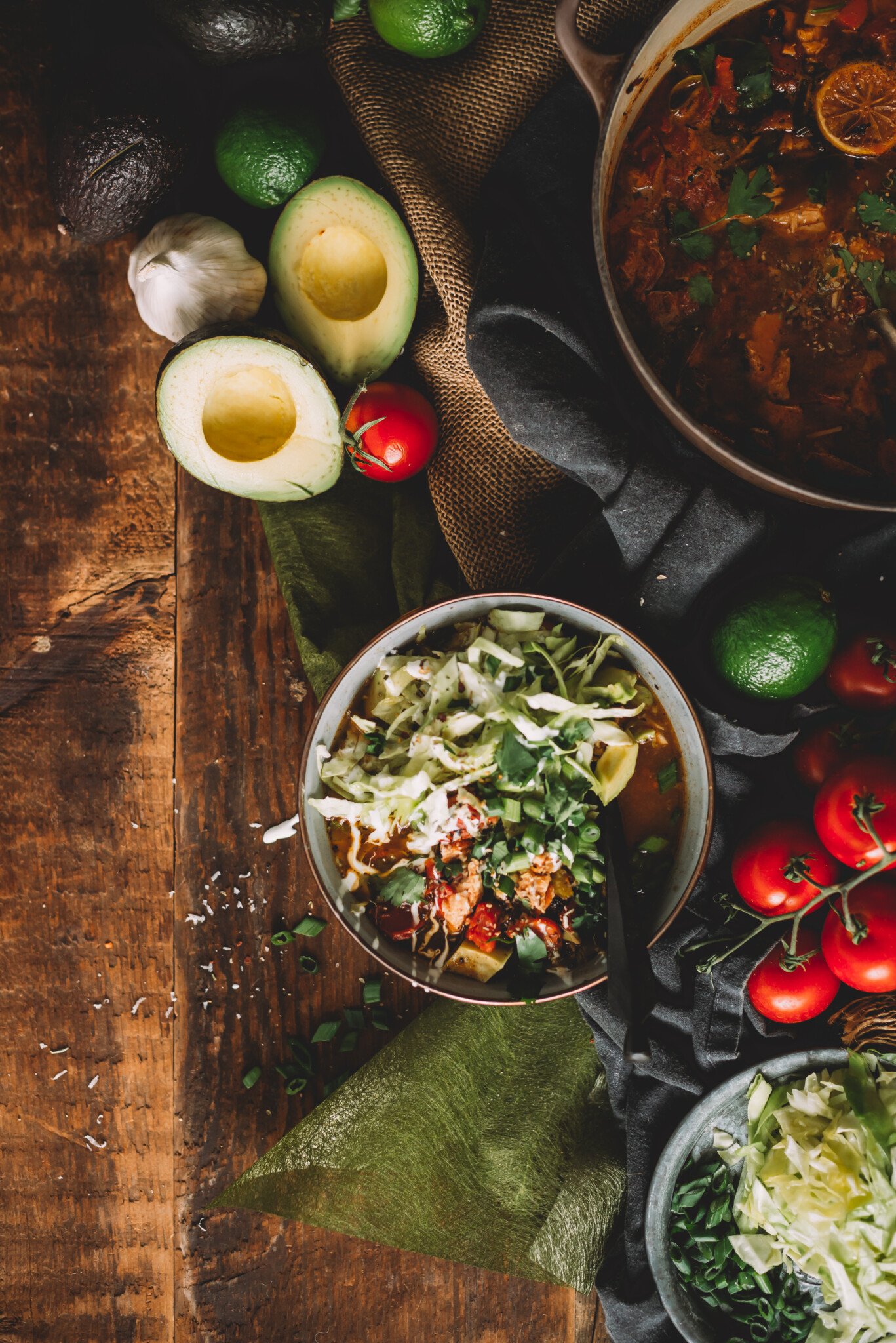 What To Serve With Mexican Chicken Soup
You don't need much else with this hearty homemade chicken soup. Perhaps a nice slice of crusty bread or a bowlful of tortilla chips, or serve a smaller portion of this soup as a prelude to a Mexican meal. I love serving it with carnitas, tacos, or when we have breakfast for dinner, chilaquiles.
But seriously, this soup is so good you can forget the rest of the meal. Curl up on the couch with a bowlful of this and forget about the rest of the world for a while.
How To Store Leftover Chicken Soup
This soup will keep for 4-5 days if stored in an airtight container in the fridge, and the leftovers also freeze for up to 3 months.
More Great Soup Recipes
Chicken Soup with Avocados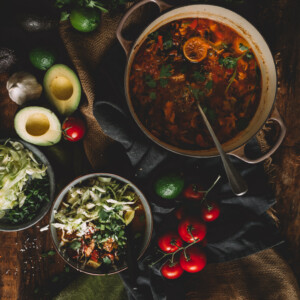 This recipe puts a spin on the classic with Mexican chicken soup, loaded with tender bites of leftover chicken, fresh vegetables, tons of avocado, and a splash of lime. It's a fun recipe that goes quick because everyone loves it!
Ingredients
For Soup
2

tbsp

cooking oil

2

Leeks

rinsed and chopped

2

Celery stalks

rinsed and chopped

2

Carrots

rinsed and chopped

Salt

to taste

4

cloves

Garlic

minced

2

tbsp

Girl Carnivore Chick Fest

4 – 6

cups

low sodium Chicken broth

2-3

cups

Leftover chicken

chopped into bite size pieces

14

oz

fire roasted Diced tomatoes

4

Limes

juiced
To serve
Avocado

1 – 1 ½ per bowl

Shredded cabbage

Scallions

sliced green parts only

Cilantro

chopped

Crema

Lime zest
Instructions
Saute veggies
Heat Dutch oven over medium heat.

Add oil

Add leeks, celery and carrots. Season with salt

2 Leeks,

2 Celery stalks,

2 Carrots,

Salt

Sautee 5 to 7 minutes.

Add garlic cook 30 seconds longer.

Add GirlCarnivore Chick Fest

2 tbsp Girl Carnivore Chick Fest

Deglaze with a splash of chicken broth
Add broth
Slowly add in the chicken broth, leftover chicken, and tomatoes

4 – 6 cups low sodium Chicken broth,

2-3 cups Leftover chicken,

14 oz fire roasted Diced tomatoes

Bring to a boil.
Simmer:
Reduce heat and let the soup cook over a low simmer 45 minutes to 1 hour.

Remove from heat and stir in the lime juice, stirring to combine.
Serve:
Allow the soup to rest for 5 to 10 minutes before serving.

Ladle into bowls and top with lots of chopped avocado, shredded cabbage, scallions, cilantro, and a drizzle of crema, if desired.

4 Limes,

Avocado,

Shredded cabbage,

Scallions,

Cilantro

Add a pinch of lime zest to finish and serve hot.
Notes
If not whole 30, you can use a splash of dry white wine to deglaze the dutch oven. The alcohol cooks out.
If keto, but not whole 30, feel free to add a splash of crema to this.
To keep the avocado from getting soft or mushy, add it only when serving the soup to individual bowls.
Serve with hot sauce if desired.
Nutrition
Serving:
1
g
|
Calories:
247
kcal
|
Carbohydrates:
21
g
|
Protein:
21
g
|
Fat:
11
g
|
Saturated Fat:
2
g
|
Polyunsaturated Fat:
3
g
|
Monounsaturated Fat:
5
g
|
Trans Fat:
1
g
|
Cholesterol:
35
mg
|
Sodium:
278
mg
|
Potassium:
634
mg
|
Fiber:
3
g
|
Sugar:
5
g
|
Vitamin A:
4209
IU
|
Vitamin C:
20
mg
|
Calcium:
98
mg
|
Iron:
3
mg