This post may contain affiliate links. Please read my disclosure policy
Ditch the sweets. Use leftovers to create these mouthwatering Smoked Chicken Chilaquiles, the perfect breakfast for the carnivores in your company.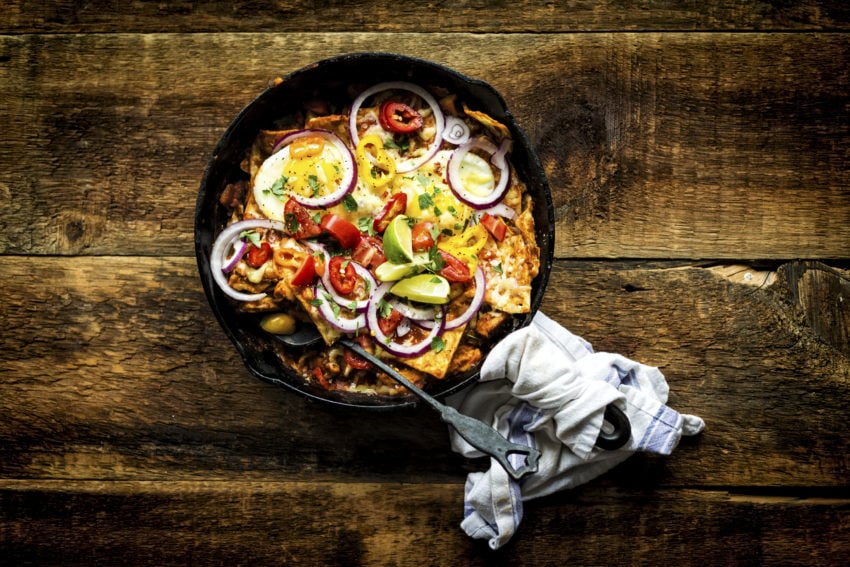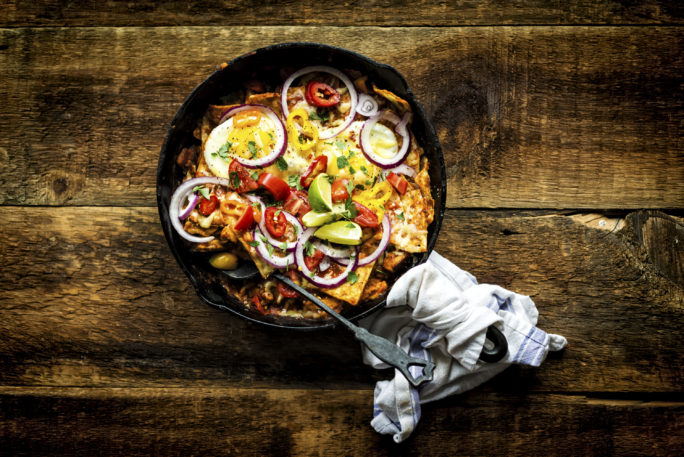 Is there anything quite as delicious as sitting around a freshly smoked chicken pulling hunks off to nibble on as the table is cleared and the night lingers on?
There isn't much more than that I can think of than enjoying good laughs and cold drinks as a meal turns into hours of good company.
There's even a bonus if we wake the next morning to find a few nibbles smuggled away for leftovers for the next day. Now, there ain't a damned thing wrong with cold chicken right off the bone.
Admit it, you've done it a time or two.
Seriously, if it's not your jive, we prolly should end this relationship right now…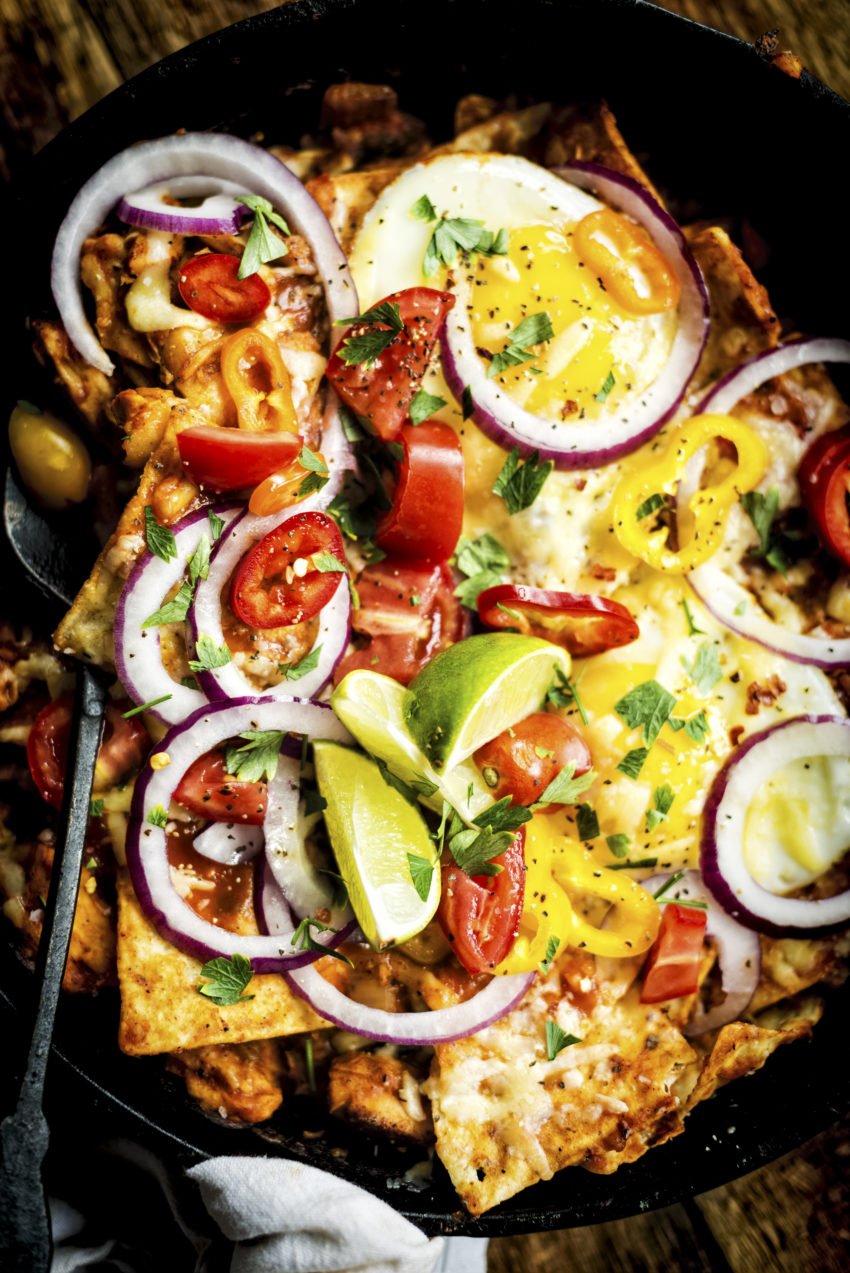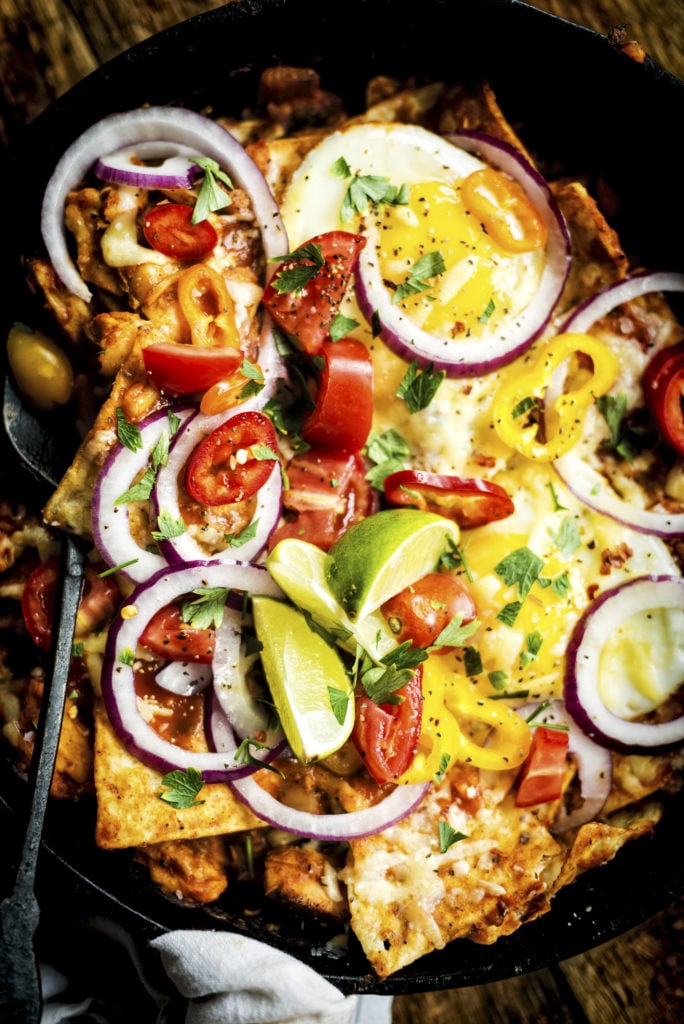 But, if you aren't looking to slather your morning in syrup and butter…. If you find yourself looking to whip up something that can quickly elevate the breakfast spread…
That's a little more than quickly pilfered cold nibbles and is guaranteed to hush even the crankiest early morning whine, use up the leftovers and build some base with Latin flavors.
Set the bar and set down this platter of Smoked Chicken Chilaquiles in front of the hungry guests at your table (even if it's just you. Not that I made this entire pan just for myself….
ok, I totally did. And then I took a fork to it. No shame).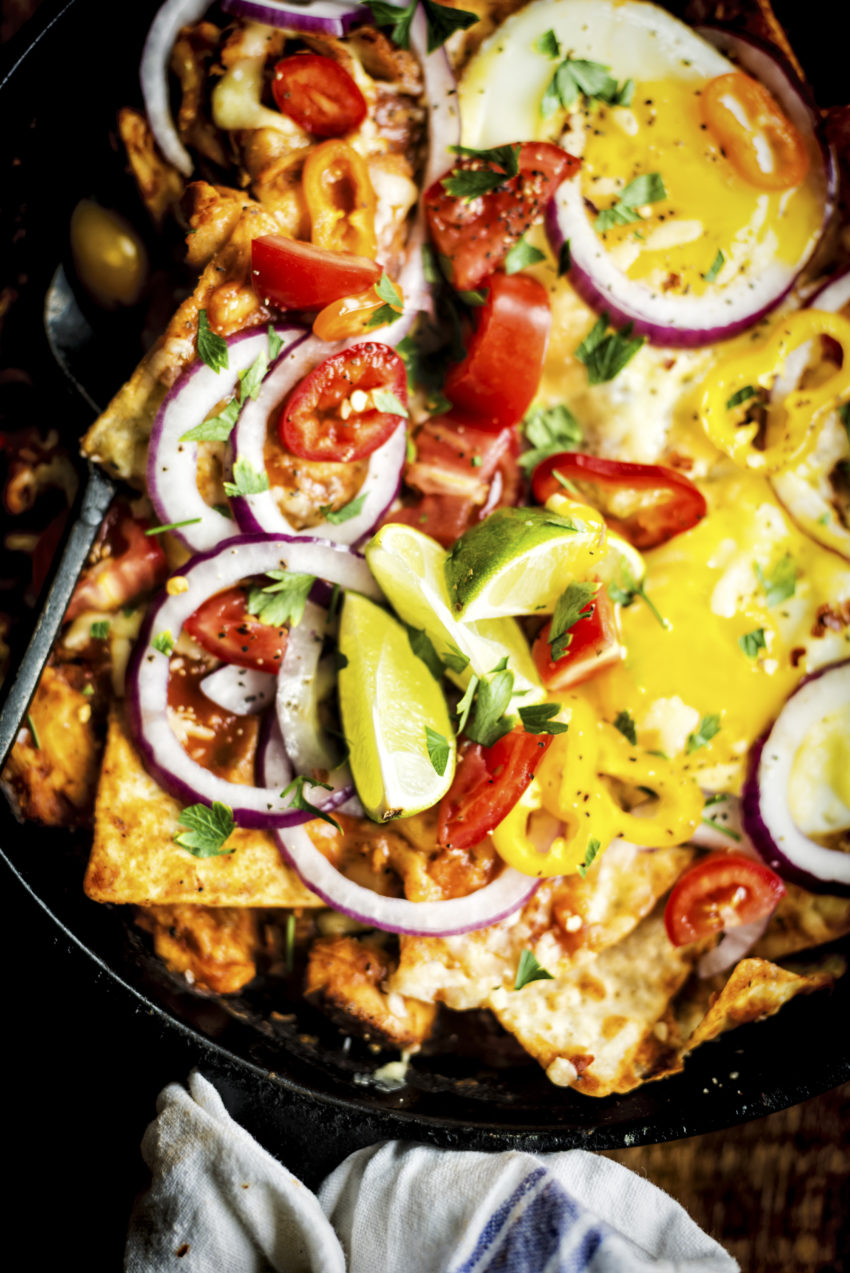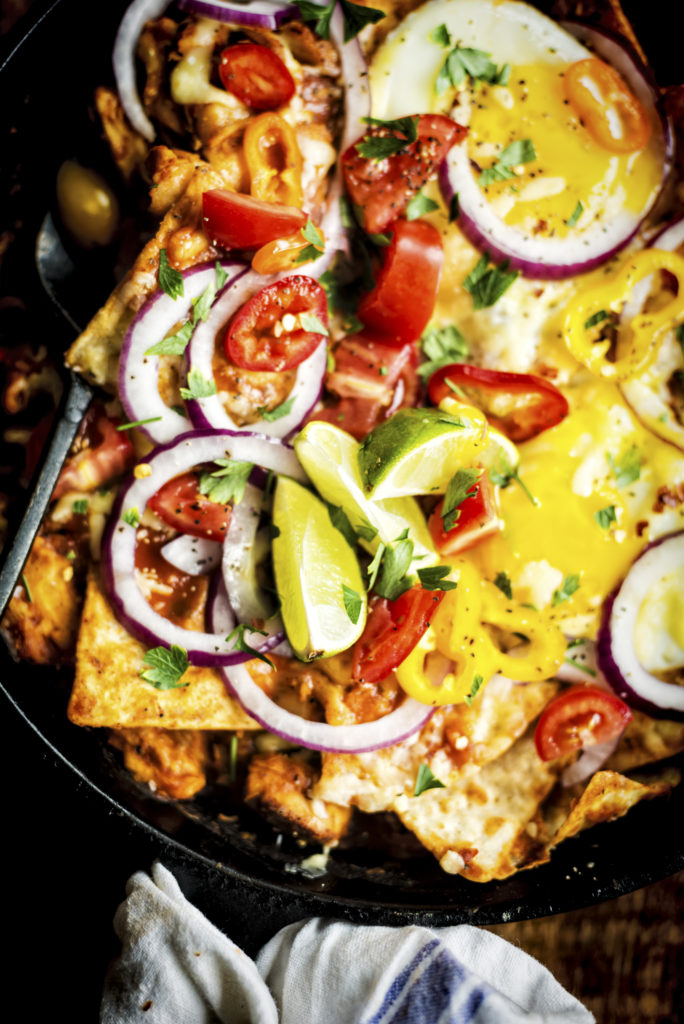 Need some pointers on smoking that first bird? Check out this Smoked Chicken 101 and be sure to check out the recipe archives for more inspiration on how to use up the leftovers from chicken – and every other juicy hunk of meat you can think of. Cuz, I kinda crush on using up the leftovers.
Twenty minutes to a breakfast worth not wasting plates on. Just grab a fork and dig in.
Besides, it's just fun to say Chilaquiles.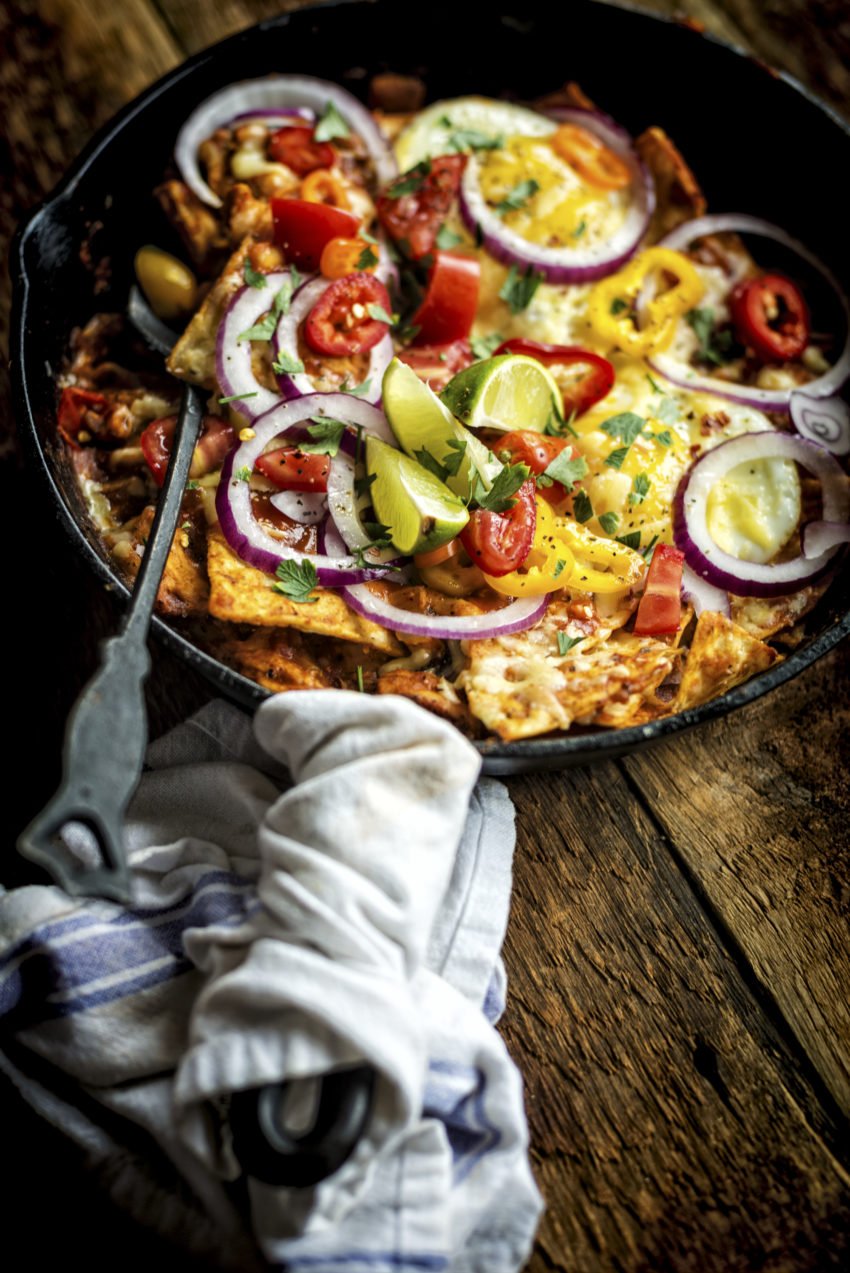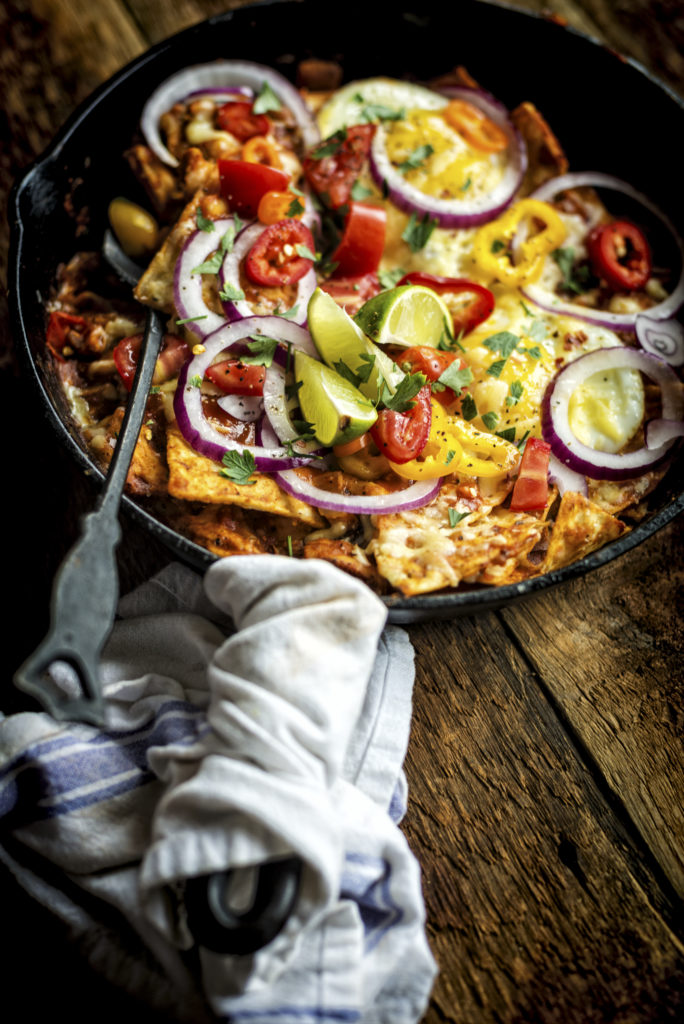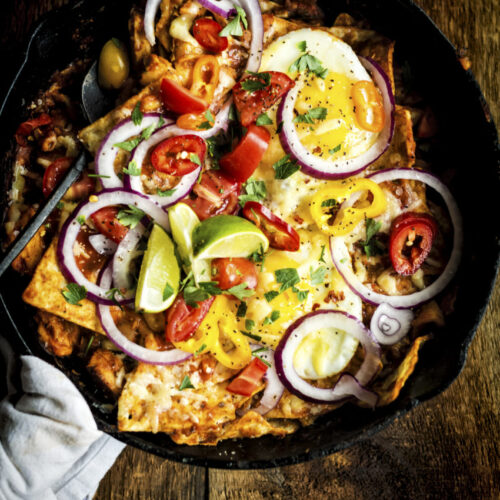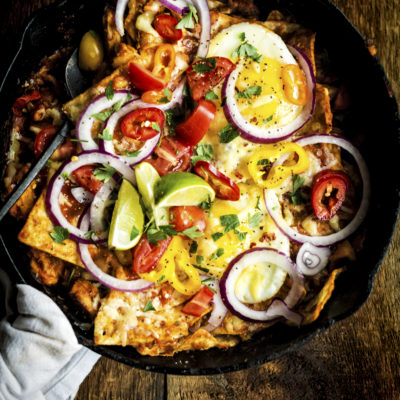 Ingredients
1

cup

Leftover smoked chicken

chopped

5 to 6

Tortillas

1 1/2

cup

Enchilada Sauce

3 to 4

eggs

1/2

cup

cheese

1/2

red onion

chopped

1/2

red pepper

chopped

handful cilantro
Instructions
In a large cast iron skillet, reheat the chicken. Stir in 1 cup of the enchilada sauce to coat and heat through.

Rip or chop the tortillas into wedges and dip them into the remaining enchilada sauce and add them to the chicken mixture. Spoon the remaining enchilada sauce over top. Season with salt and pepper to taste.

Make several little nooks into the tortilla and chicken mix and gently lay a cracked egg into each nook. Slide into the oven and bake until the eggs are set.

Top with cheese and cook a few minutes longer until the cheese melts.

Top with the peppers, onions, and cilantro.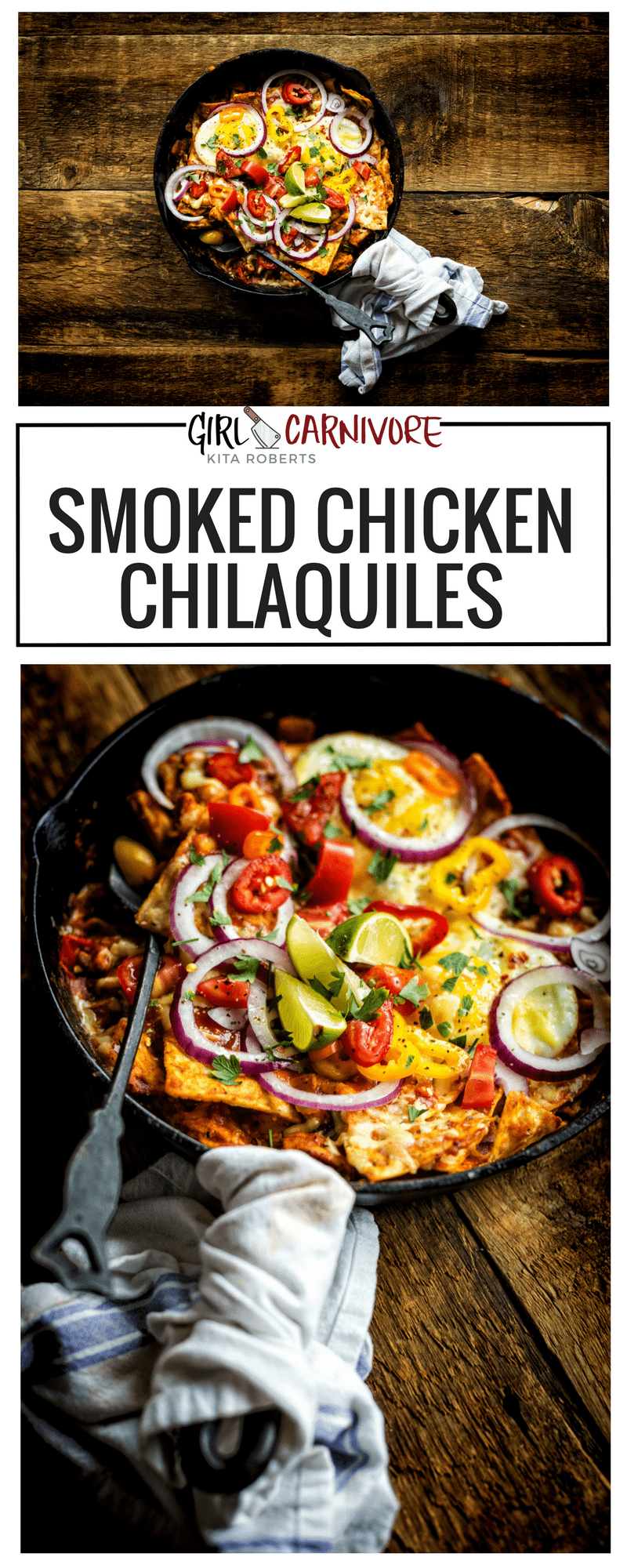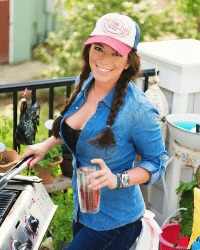 Hey, I'm Kita, the Meat Maven, outdoor junkie, campfire connoisseur, adventure-seeking and world traveled recipe developer and photographer behind GirlCarnivore.com. My mission is to break down savory eats and inspire you to get a little grit under your nails while having fun with your food. READ MORE