These Smoked Chicken Chilaquiles are the perfect way to use up leftover smoked chicken recipes! This classic Mexican breakfast is loaded with corn tortillas, enchilada sauce, perfectly fried eggs, tender chopped chicken, and cheese, all served in one skillet!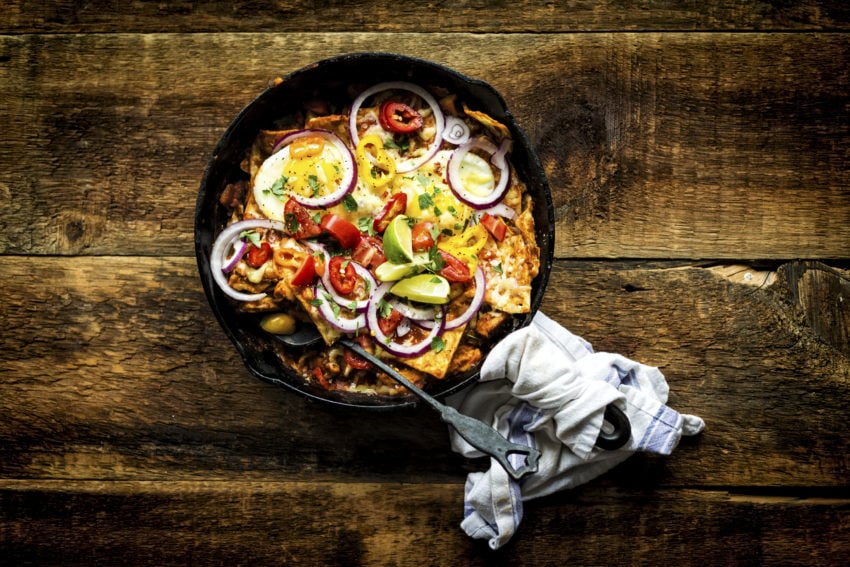 There's nothing quite as delicious as freshly smoked chicken. If you're left wondering what to do with leftover smoked chicken (especially smoked chicken thighs made in large batches), chilaquiles are the answer.
These quick Smoked Chicken Chilaquiles will quickly become a family favorite when you have leftover smoked chicken dishes. Ready in a total of 20 minutes, it's an easy chilaquiles recipe, loaded up with flavor, and a great brunch or breakfast!
Besides, it's just fun to say Chi-la-qui-les. But first,
What are Chilaquiles?
Chilaquiles are a traditional Mexican dish, a breakfast staple, and a savory brunch masterpiece. They're essentially breakfast nachos made up of meat and leftover tortilla drenched in enchilada sauce and topped with fried eggs.
Except, the 'nachos' aren't crispy. They are soft (but not soggy), coated in sauce (usually either a red enchilada or green enchilada sauce) before being topped with cheese, fried eggs, black beans, and other fixings, and for this recipe, shredded chicken. Then they are cooked to heat it all through and set the eggs.
It's a great way to use up leftover tortillas or even tortilla chips if it's what you have in the pantry.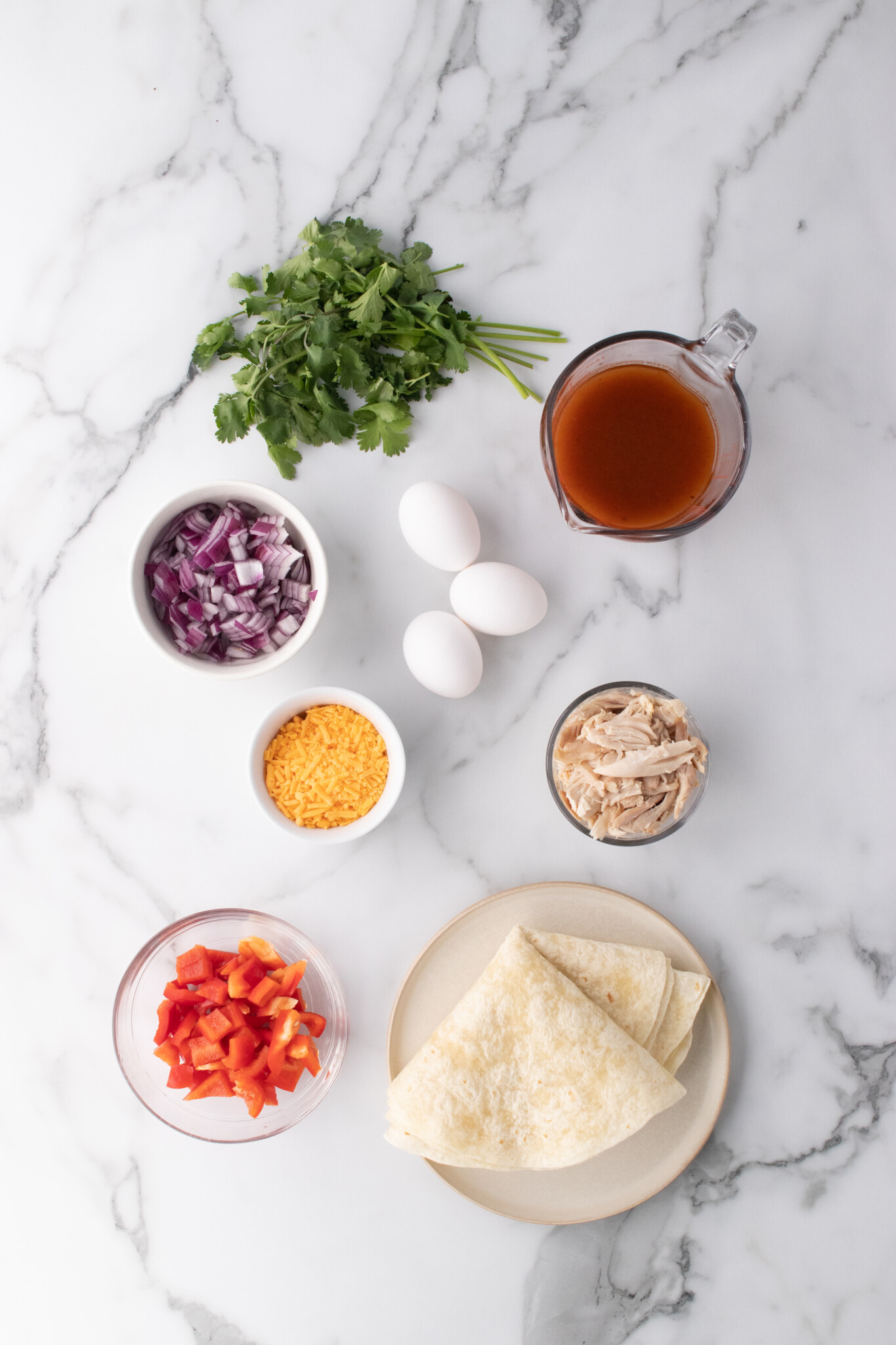 INGREDIENTS NEEDED
This chilaquiles recipe is packed with simple ingredients and so much flavor.
Chicken – Breakfast chilaquiles are perfect when you have leftover smoked chicken, but you could use store-bought rotisserie chicken too.
Tortillas – Corn tortillas provide the perfect texture and flavor for this chilaquiles recipe. Their texture holds up better than flour tortillas in the sauce.
Enchilada Sauce – For convenience, use canned enchilada sauce, but you could whip up a batch of homemade enchilada sauce if you're working with a little extra time. You could also make them with salsa verde for a totally different flavor combo! The salsa verde soaks into the tortillas in the same way, adding delicious flavor.
Eggs – you can add 3-4 eggs depending on how many people you're serving.
Cheese – use whatever cheese you like best! Try cheddar, mozzarella, pepper jack, cotija, or even a shredded Mexican blend of cheese.
Red Onion and Red Pepper – these aren't necessary, but if you have them on hand, it's always nice to add a little extra texture.
Fresh Cilantro – for serving.
How to Make Easy Skillet Chicken Chilaquiles
In a large cast-iron skillet, reheat the leftover chicken on medium-high heat. Stir in 1 cup of the enchilada sauce to coat and heat through.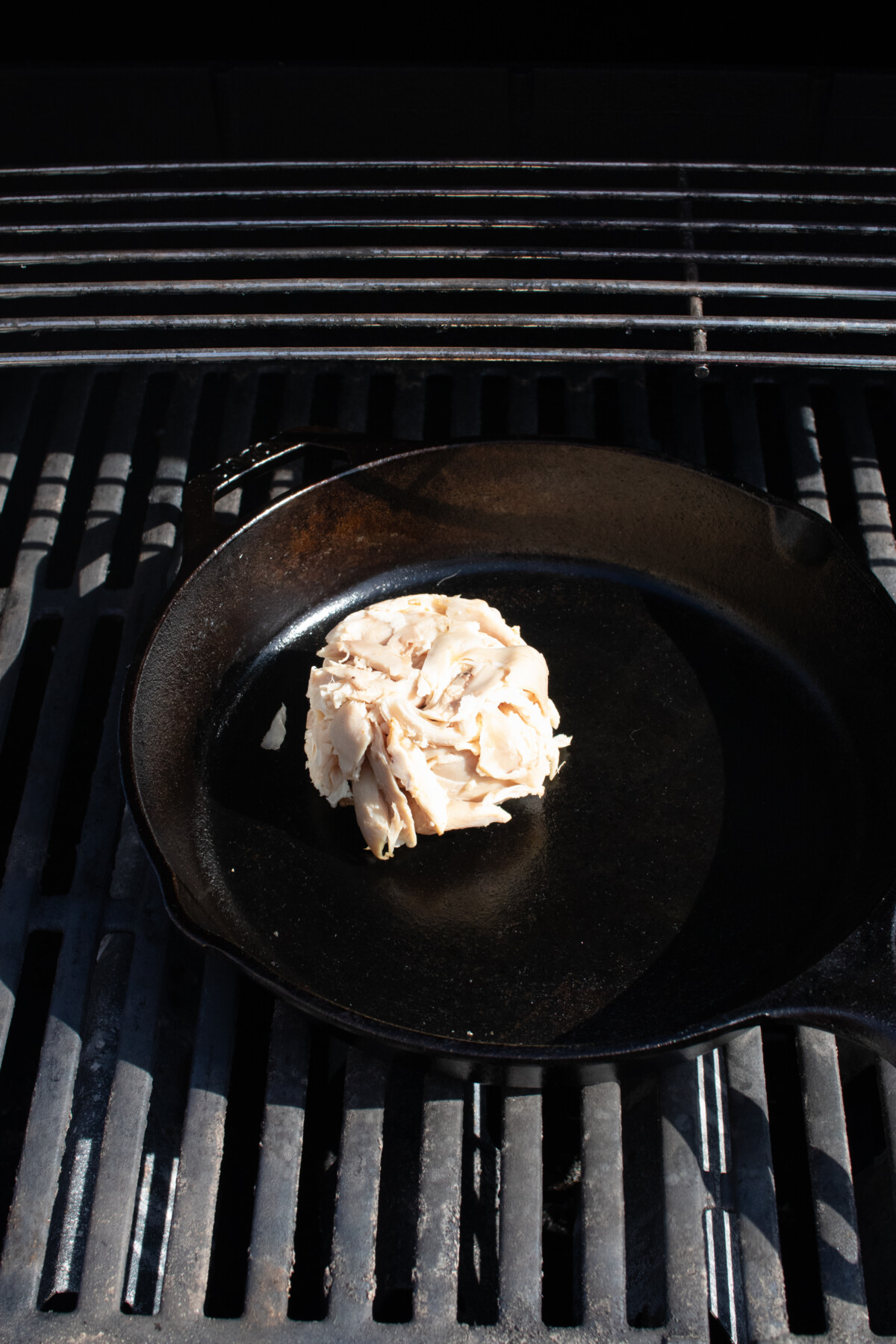 Tear or chop the tortillas into wedges and dip them into the remaining enchilada sauce.
Add the tortilla to the chicken mixture, then spoon the remaining enchilada sauce on top. Season to taste with salt and pepper.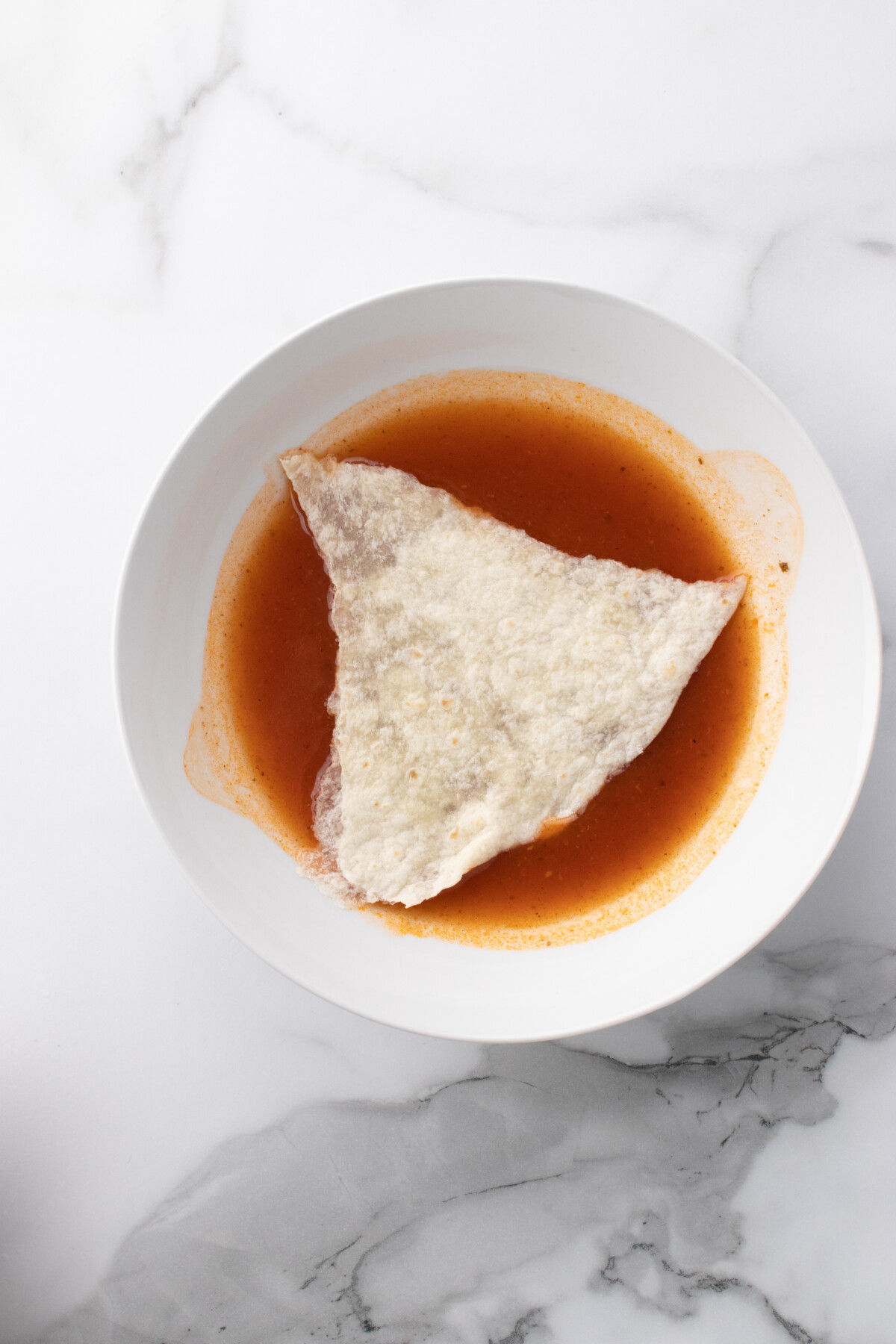 Make several nooks in the tortilla and chicken mix and lay a cracked egg in each nook. Place the skillet into the smoker or oven and cook at 350ºF until the eggs are just starting to set. You'll get a nice fried egg sitting in each golden brown space.
Top with cheese and cook until melted, then serve with peppers, red onions, and cilantro.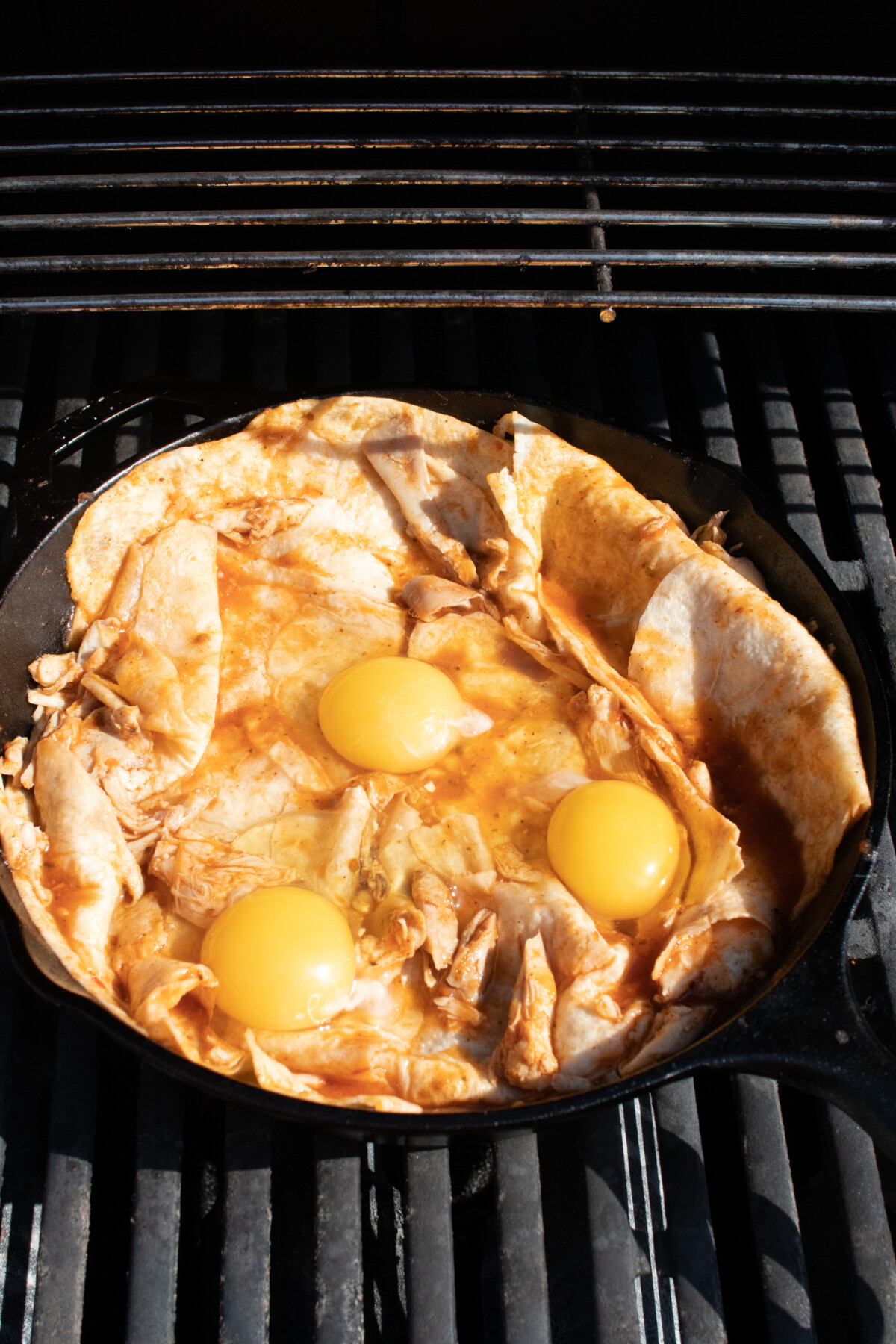 Girl Carnivore Expert Recipe Tips
Use a cast iron skillet
Using a cast iron skillet to make this classic Mexican dish allows the eggs and the corn tortilla chips to heat through evenly. If you don't have a cast iron skillet, a large saucepan will work fine. Monitor the eggs and sauce continuously to avoid burning or runny areas.
Coat the chicken with sauce
One of the best ways to get your extreme flavor for this dish is to coat the chicken in the sauce before adding it to the meal. This lets the chicken soak up any extra flavor, and you get as much of the sauce as possible in the dish.
Switch up your toppings
There are so many different toppings that can be added to this easy version of chilaquiles. Consider adding guajillo chiles, green onions, a little lime juice, salsa ranchero, jarred salsa verde, pinto beans, green salsa, queso fresco, tomatoes, and anything else you can think of. It's like an omelet, anything can be added, and it will taste amazing.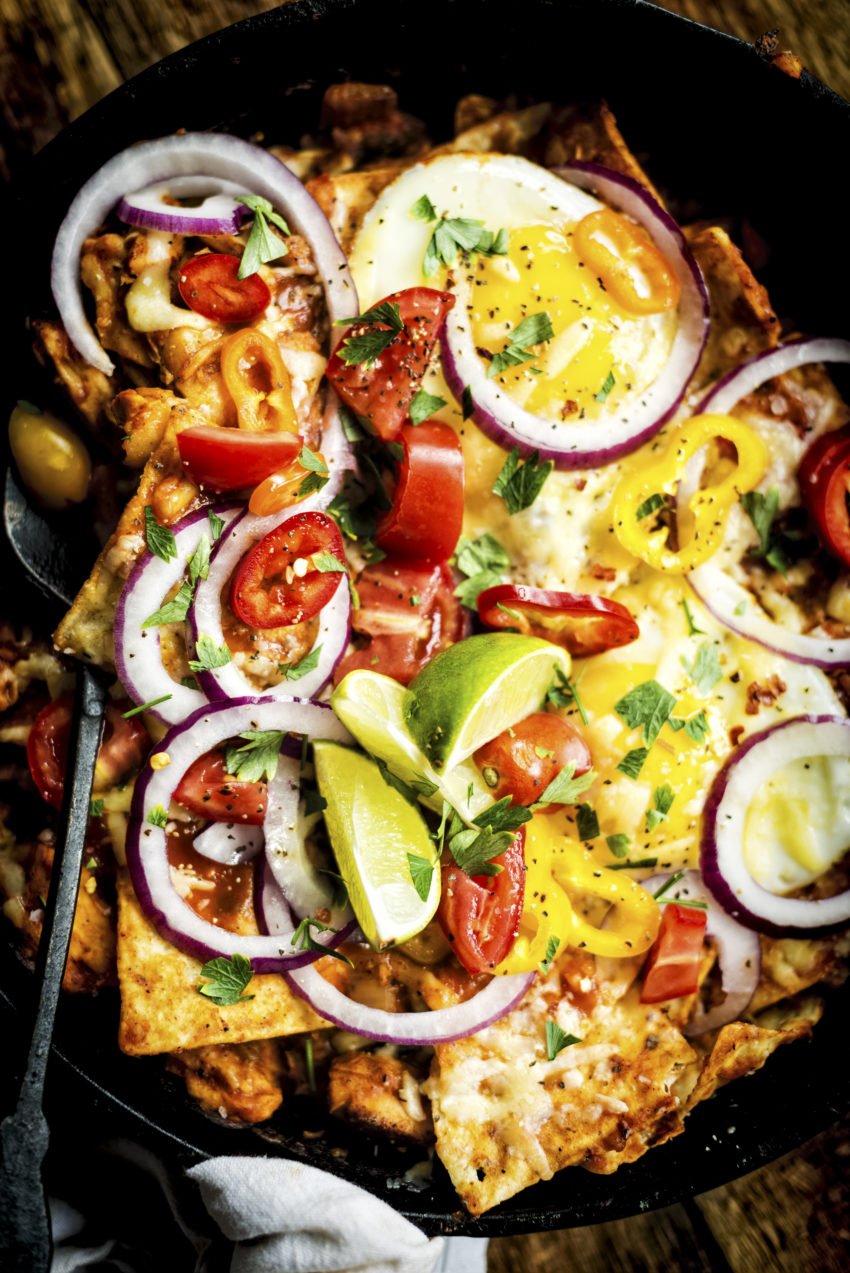 Leftovers & Reheating
How to store: The chilaquiles with eggs are definitely best right away. Leftovers are a little bit hard to manage since the tortillas can get soggy quickly, and you're using up leftover smoked chicken (which doesn't take kindly to being reheated too many times).
However, if you really do want to save your leftovers, wrap them in foil and store them in the fridge for a day or two.
To reheat, keep in the foil or transfer back to a cast-iron skillet with a fresh egg and bake at 350ºF for 15-20 minutes or until the egg has set.
What to Serve With Mexican Chilaquiles
Green chilaquiles are lovely served with chopped red pepper and red onion and a sprinkle of fresh chopped cilantro. They would also be delicious topped with crumbled cotija cheese, avocado slices, diced jalapeño, homemade cilantro chimichurri, refried beans, sour cream, or hot sauce for a kick of heat.
They also go great with lime wedges, much like the Grilled Chicken Chilaquiles Verde recipe.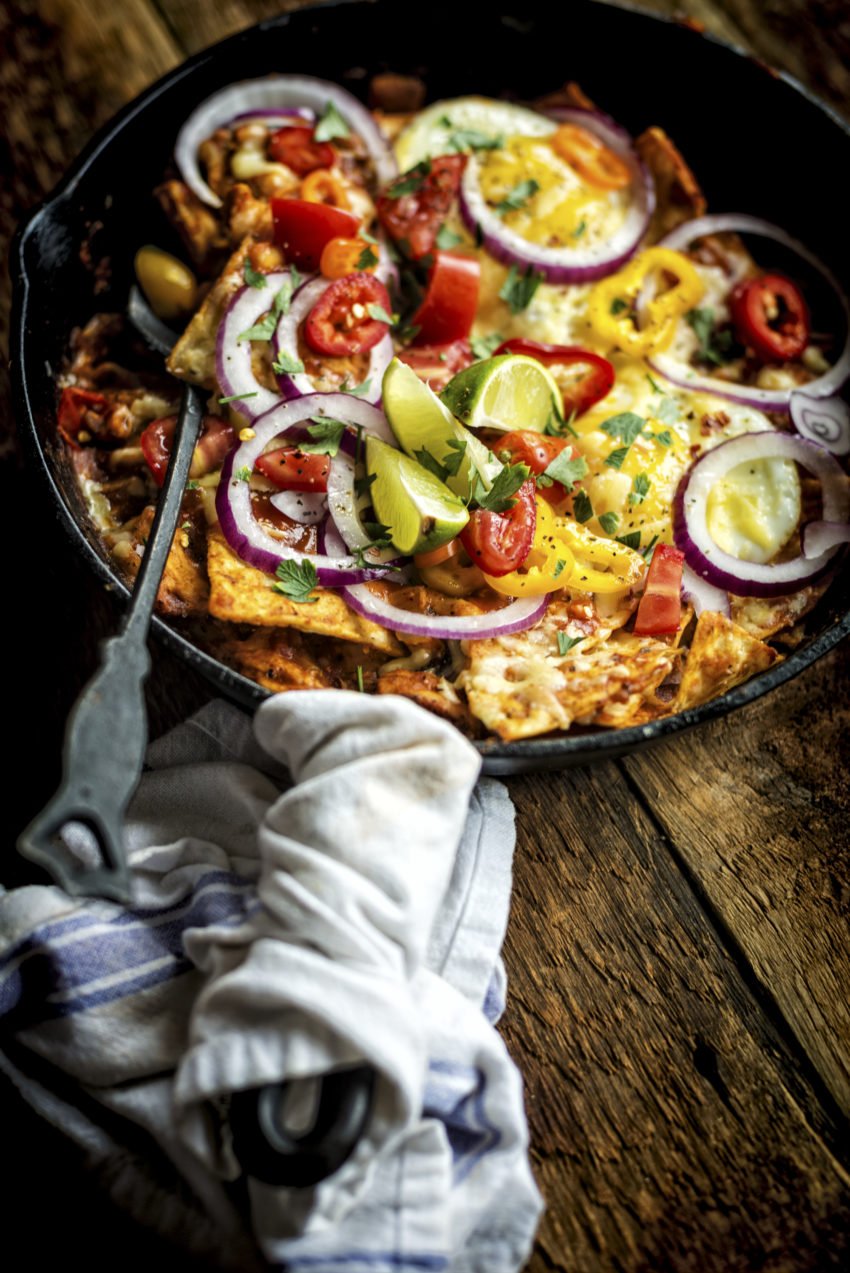 Recipe FAQs
Are chilaquiles supposed to be soggy?
Yes and no… There's really no way for chilaquiles not to be wet, as they are tossed in liquid. But they shouldn't be soggy, or mushy.
Using leftover tortillas or tortilla strips means they are slightly stale, like when you use leftover bread for French toast. The slightly dried-out exterior helps hold the shape and texture while allowing the liquid to coat.
You can curb the sogginess a tad by frying the tortillas in a little bit of oil before rolling them in red sauce. This helps them not soak up as much sauce, so they remain a little bit crunchy when they cook.
Another option is to swap the corn tortillas out for store-bought tortilla chips. They will still soften in the sauce, but their structure will hold up better than tortillas.
Are chilaquiles the same as enchiladas?
While they are made with the same or similar ingredients, they are not the same. Chilaquiles are much quicker to make because they are made with leftover ingredients, traditionally starting with leftover tortillas for a quick and easy breakfast recipe. Chilaquiles are also often served with fried eggs and tossed together in a pan, whereas enchiladas are not.
What's the meaning of chilaquiles?
Chilaquiles are strips of corn tortilla chips fried and tossed in red or green salsa. Toppings include crema, cheese, and onions.

More Delicious Leftover Chicken Recipes
Your first taste of chicken chilaquiles will make your mouth water. Store this easy chicken chilaquiles recipe away as one of your favorite dishes today.
Need some pointers on smoking that first bird? Check out this Smoked Chicken 101 and be sure to check out the leftover recipe archives for more inspiration on how to use up the leftover smoked chicken – and every other juicy hunk of meat you can think of. Cuz, I kinda crush on using up the leftovers.
If you've tried this luscious breakfast con huevos please rate the recipe below and let us know where you found it in the comments.

Smoked Chicken Chilaquiles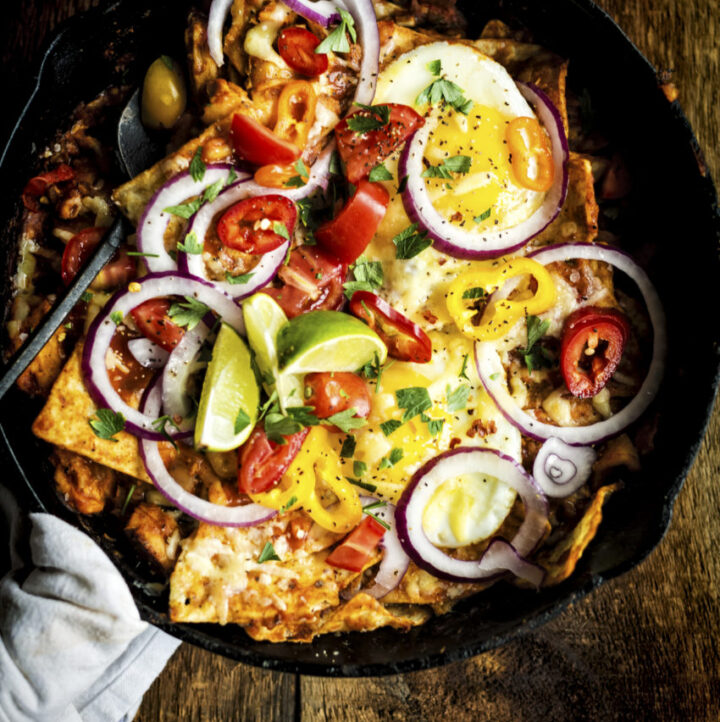 This easy brunch recipe uses up leftover smoked chicken for a favorite – chilaquiles! Toss the shredded chicken with leftover tortillas in an enchilada sauce, add eggs and top with all the things for a crazy good and easy to make recipe ready in 20 minutes!
Ingredients
For the Chilaquiles
1

cup

Leftover smoked chicken

chopped

5 to 6

Tortillas

1 1/2

cup

Enchilada Sauce

divided

3 to 4

eggs

1/2

cup

cheese
For toppings / Garnish
1/2

red onion

chopped

1/2

red pepper

chopped

fresh cilantro

chopped
Instructions
Make the chilaquiles
Preheat the smoker or oven to 350.

In a large preheated cast iron skillet, reheat the leftover smoked chicken.

1 cup Leftover smoked chicken

Stir in 1 cup of the enchilada sauce to coat and heat through.

1 1/2 cup Enchilada Sauce

Rip or chop the tortillas into wedges and dip them into the remaining enchilada sauce and add them to the chicken mixture.

Spoon the remaining enchilada sauce over top if needed (things are looking too dry) and season with salt and pepper to taste.

Using a large spoon, make several little nooks into the tortilla and chicken mix and gently lay a cracked egg into each nook.

Slide the skillet into the smoker or oven and cook until the eggs are just startign to set.

Carefully, top with cheese and cook a few minutes longer until the cheese melts and the eggs are cooked to your desired doneness.
Garnish and Serve
Top with the peppers, onions, and cilantro.

1/2 red onion,

1/2 red pepper,

fresh cilantro

Serve hot, scoop out portions with a fried egg and serve on indivusual platters.
Notes
If you want to master chilaquiles, take a few extra moments to fry the leftover tortillas in a bit of oil before rolling them in red sauce. Frying helps them not soak up as much sauce and remain a little crunchy when they cook.
Leftovers for this can be hard to manage as the tortillas will get soggy quickly. However, if you really want to enjoy them the next day, wrap them in foil and store in the fridge until then, and reheat in the foil (or back in the cast iron pan) with a fresh egg in an oven preheated to 350 degrees for 15-20 minutes or until the egg has set.
I use canned enchilada sauce found in the international section of my local market when I don't have homemade sauce on hand.
This recipe can be made in an oven or smoker.
Nutrition
Serving:
1
g
|
Calories:
132
kcal
|
Carbohydrates:
9
g
|
Protein:
7
g
|
Fat:
6
g
|
Saturated Fat:
3
g
|
Cholesterol:
25
mg
|
Sodium:
878
mg
|
Potassium:
90
mg
|
Fiber:
2
g
|
Sugar:
7
g
|
Vitamin A:
1225
IU
|
Vitamin C:
22
mg
|
Calcium:
105
mg
|
Iron:
0.8
mg