Leftover smoked chicken (or turkey) is the perfect excuse to make this Mexican breakfast! All you need is 20 minutes and a skillet for this perfect carnivore breakfast – Smoked Chicken Chilaquiles Recipe!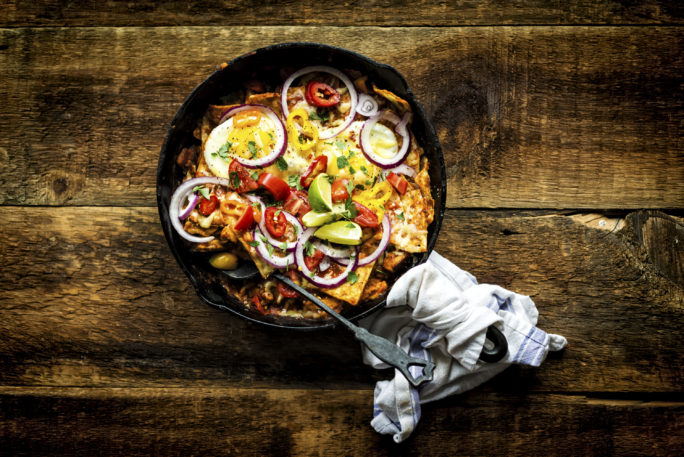 Is there anything quite as delicious as sitting around a freshly smoked chicken pulling hunks off to nibble on as the table is cleared and the night lingers on?
See the Web Store for Smoked Chicken Chilaquiles here.
There isn't much more than that I can think of than enjoying good laughs and cold drinks as a meal turns into hours of good company.

There's even a bonus if we wake the next morning to find a few nibbles smuggled away for leftovers for the next day. Now, there ain't a damned thing wrong with cold chicken right off the bone.

Admit it, you've done it a time or two.

Seriously, if it's not your jive, we prolly should end this relationship right now…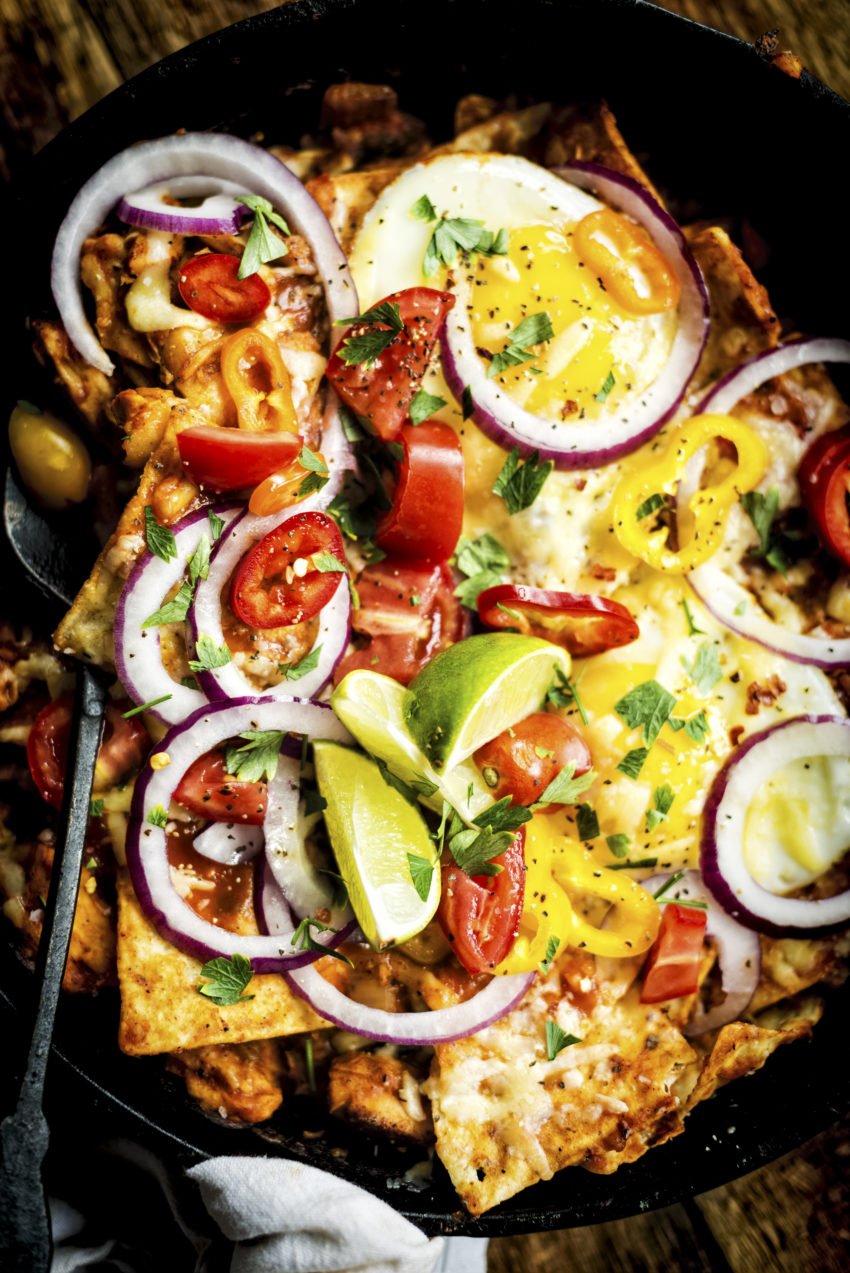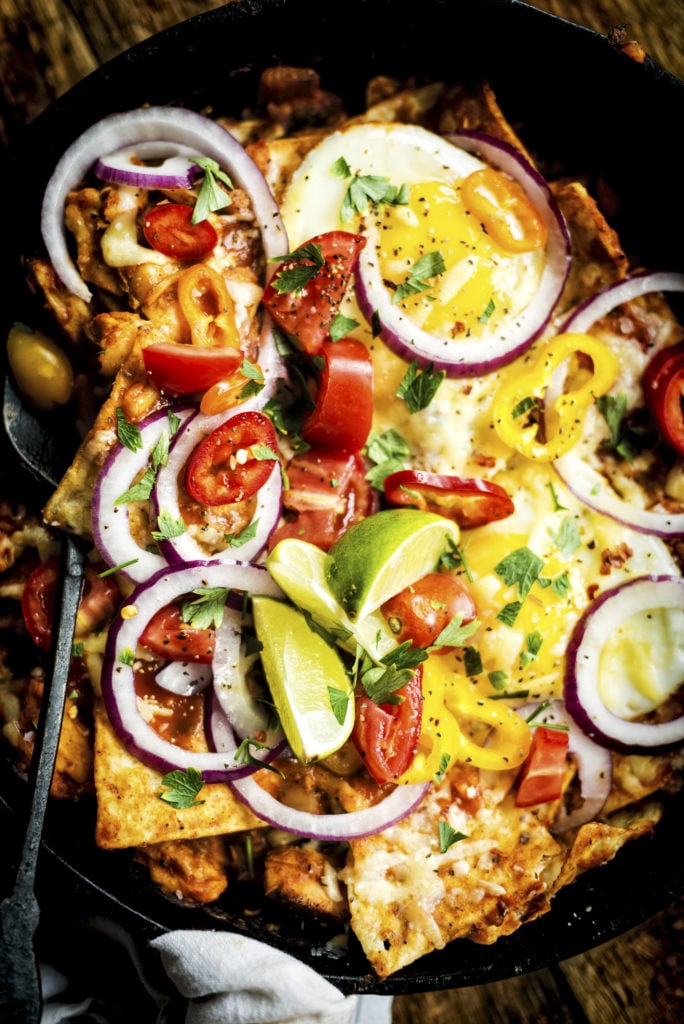 As much as I love smoking chickens though – I am often left wondering what to make with the leftovers?
This is one of my favorite quick ways to use smoked chicken in a totally savory and quick breakfast. Or I mix it up with this equally as impressive salsa verde version. Set the bar and set down this platter in front of the hungry guests at your table (even if it's just you. Not that I made this entire pan just for myself….)
(Ok, I totally did. And then I took a fork to it. No shame).
What are chilaquiles?
A classic Mexican breakfast staple, and the perfect way to use up yesterday's tortillas. You roll leftover meat and tortillas in enchilada sauce and cook them up in a pan with fried eggs on top. So, in short, chilaquiles are is a savory brunch masterpiece. Or, in other terms fork worthy breakfast nachos.
You can also make them with salsa verde for a totally different flavor combo!
What you need for this recipe: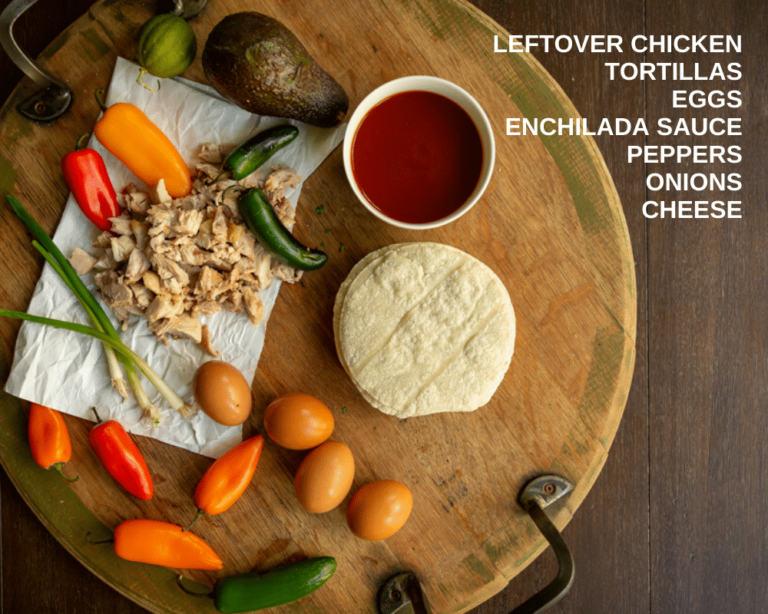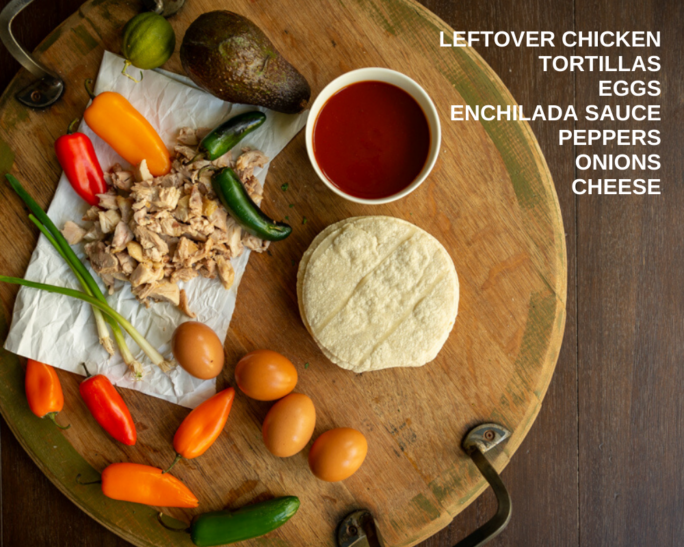 Leftover smoked chicken
Tortillas
Enchilada sauce
Onion and peppers – if you have them on hand
Cheese
Eggs
Fresh scallions, tomatoes, and cilantro to sprinkle over top
How to make these?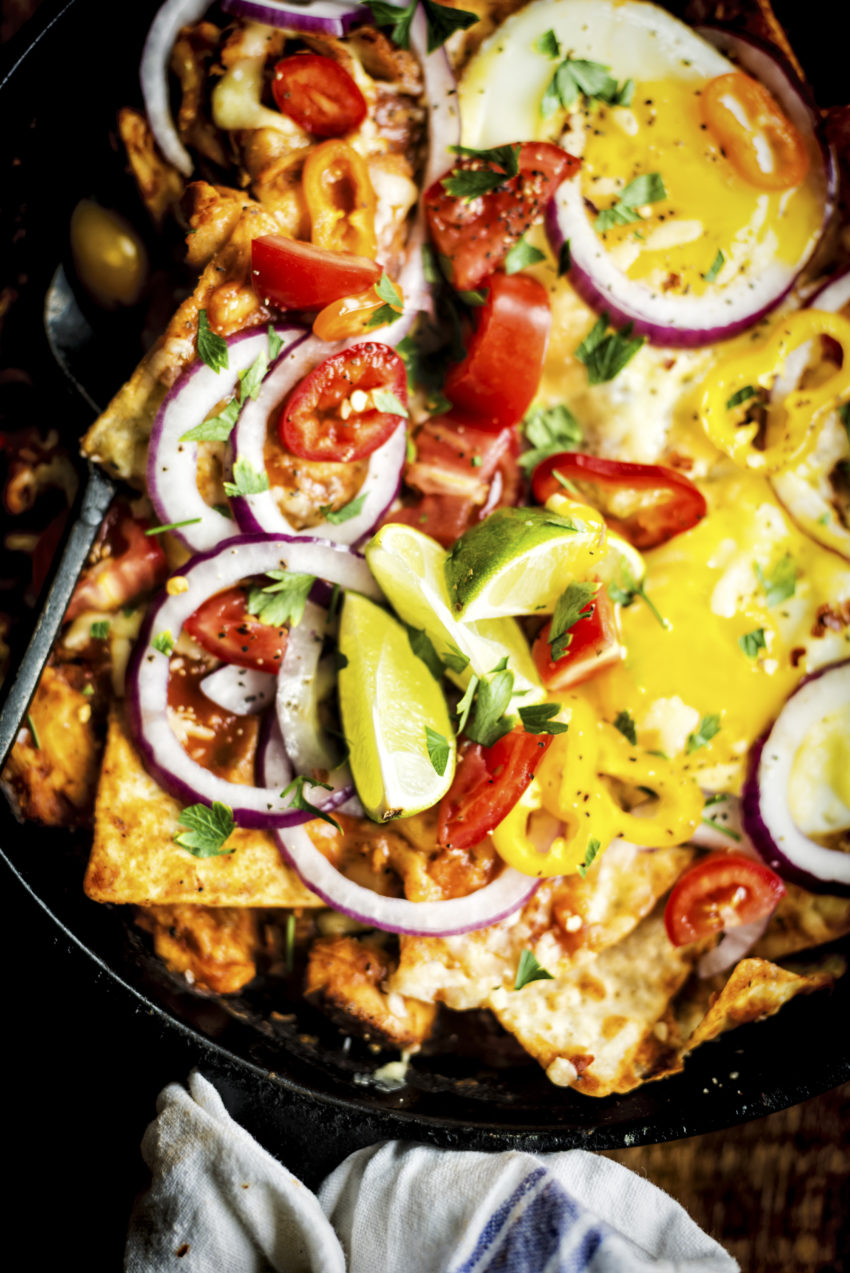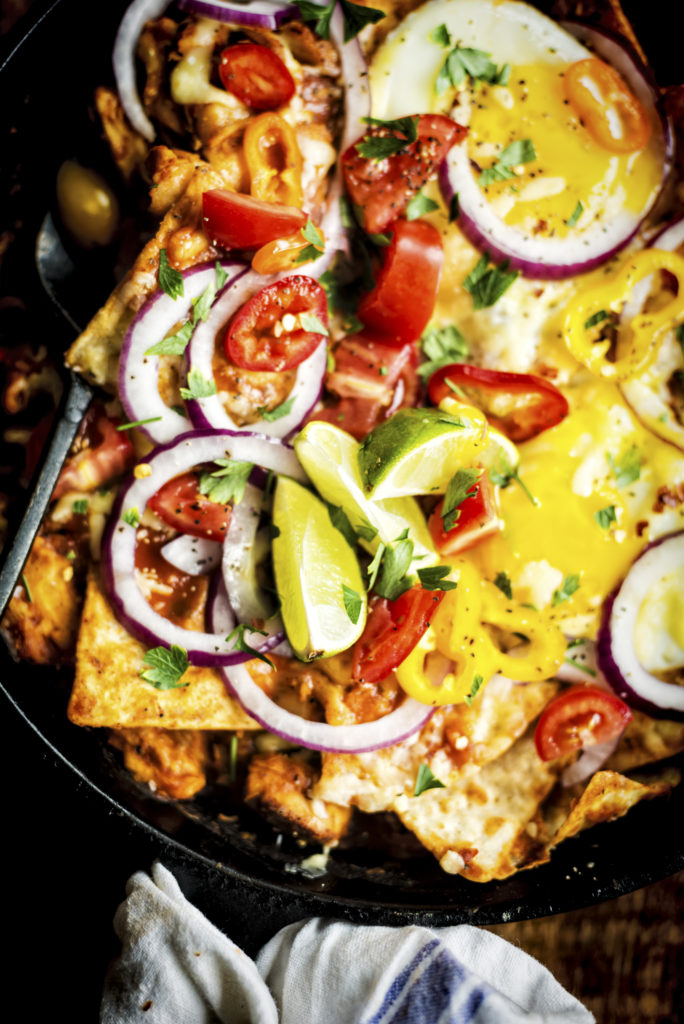 You'll want to start this recipe by turning the oven on and getting it ready to bake. Then in a big cast iron (or other oven safe skillet) roll the chicken in enchilada sauce. You then roll the cut tortillas in the sauce or spend a few extra minutes frying them beforehand in a bit of oil to make them a little more crunchy. Sautee the onions and peppers if you are going to add them.
Layer the tortillas and chicken with the onions and peppers in the skillet like sloppy nachos before sprinkling with cheese and cracking eggs on top. Bake the loaded skillet in the oven until the eggs have set, but the yolks are still runny! This will also toast up any tortillas that are peeking out.
You can top these with a colorful medley of chopped cilantro, red onion, and sliced tomatoes or go right to a bit of pico de gallo but make sure to serve them piping hot!
Add rinsed black or pinto beans for some extra flavor and protein or a slathering of refried beans as a base in the skillet to really take these over the edge!
Twenty minutes to a breakfast worth not wasting plates on. Just grab a fork and dig in.

Besides, it's just fun to say Chi-la-qui-les.
Need some pointers on smoking that first bird? Check out this Smoked Chicken 101 and be sure to check out the recipe archives for more inspiration on how to use up the leftovers smoked chicken – and every other juicy hunk of meat you can think of. Cuz, I kinda crush on using up the leftovers.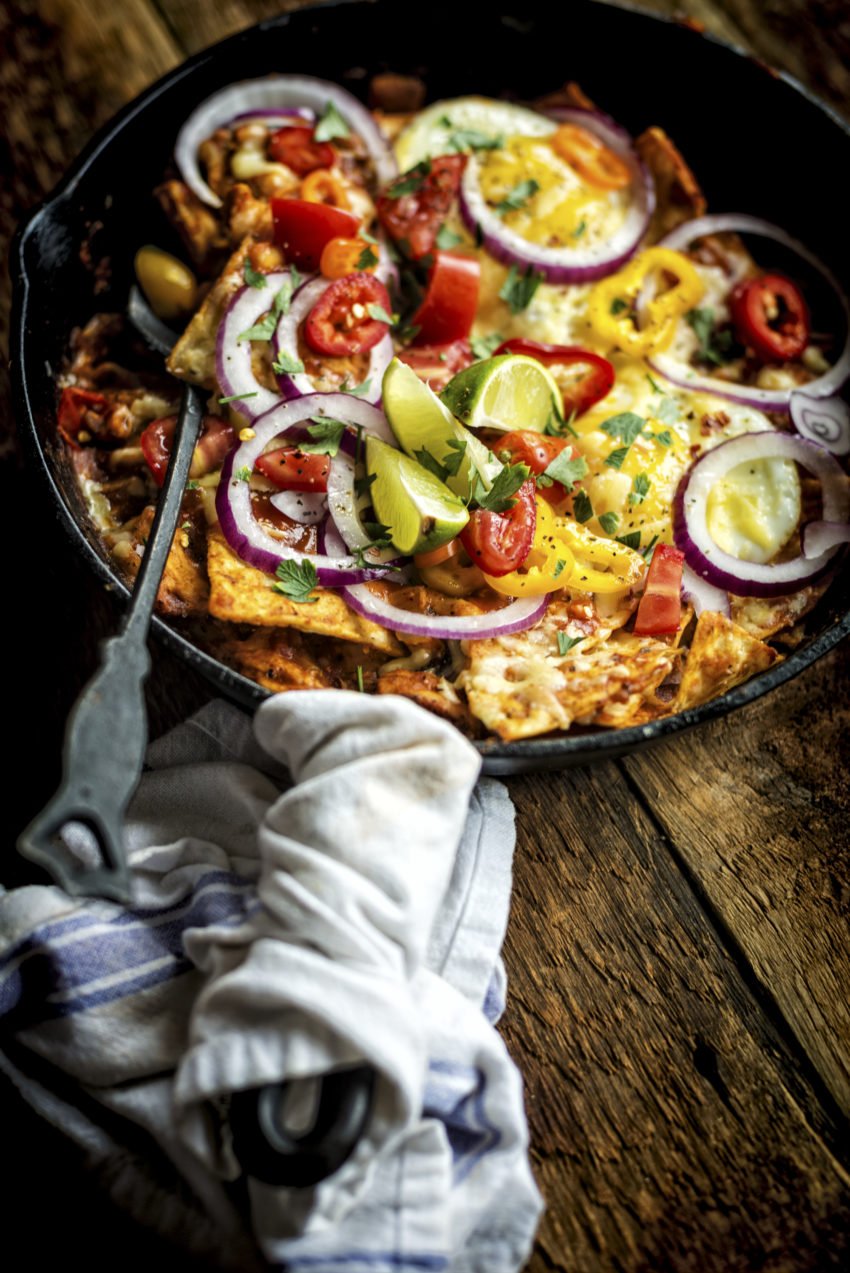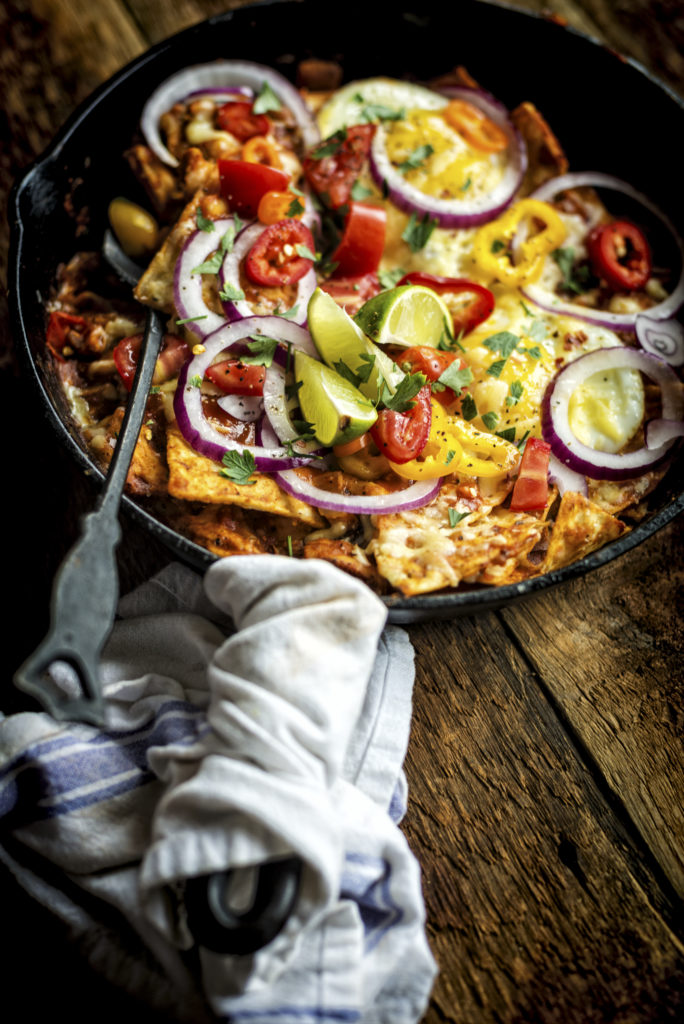 Want more recipes with leftover smoked chicken? Try some of these!
If you've tried my this luscious breakfast con huevos please rate the recipe below and let me know where you found it in the comments.
I get inspired by your feedback and comments! You can also join in on the adventures on Instagram @girlcarnivore, Twitter & Facebook.
Smoked Chicken Chilaquiles
Ingredients
1

cup

Leftover smoked chicken

chopped

5 to 6

Tortillas

1 ½

cup

Enchilada Sauce

3 to 4

eggs

½

cup

cheese

½

red onion

chopped

½

red pepper

chopped

handful cilantro
Instructions
In a large cast iron skillet, reheat the chicken. Stir in 1 cup of the enchilada sauce to coat and heat through.

Rip or chop the tortillas into wedges and dip them into the remaining enchilada sauce and add them to the chicken mixture.

Spoon the remaining enchilada sauce over top. Season with salt and pepper to taste. 

Make several little nooks into the tortilla and chicken mix and gently lay a cracked egg into each nook.

Slide the skillet into the oven and bake until the eggs are set. 

Top with cheese and cook a few minutes longer until the cheese melts.

Top with the peppers, onions, and cilantro.
Notes
If you want to master chilaquiles, take a few extra moments to fry the leftover tortillas in a bit of oil before rolling them in red sauce. Frying helps them not soak up as much sauce and remain a little crunchy when they cook. 
Leftovers for this can be hard to manage as the tortillas will get soggy quickly. However, if you really want to enjoy them the next day, wrap them in foil and store in the fridge until then and reheat in the foil (or back in the cast iron pan) with a fresh egg in an oven preheated to 350 degrees for 15-20 minutes or until the egg has set.
I use canned enchilada sauce found in the internation section of my local market when I don't have homemade sauce on hand. 
Nutrition
Nutrition Facts
Smoked Chicken Chilaquiles
Amount Per Serving (1 g)
Calories 132
Calories from Fat 54
% Daily Value*
Fat 6g9%
Cholesterol 25mg8%
Sodium 878mg38%
Potassium 90mg3%
Carbohydrates 9g3%
Protein 7g14%
Vitamin A 1225IU25%
Vitamin C 22mg27%
Calcium 105mg11%
Iron 0.8mg4%
* Percent Daily Values are based on a 2000 calorie diet. Nutrition information provided is an estimate. For specific health concerns, please put the recipe into your Dr recommended nutrition calculator.