You know what never get's old? Enchiladas. Why? Because they are 100% customizable. Especially the Fast and Easy Weeknight Chicken Enchiladas! Every single time. Picky eaters, add cheese to a few than count your blessings you aren't like them. Creative food snobs? Turn up the heat and wow them with your own red sauce or a seafood combo that they weren't expecting. There are red ones, green ones, beefy ones, and more. Really, you can have your enchilada any way you like it. Even if it is fast and easy.
It happens to the best of us from time to time.
Dinner tonight? Fast and Easy Weeknight Chicken Enchiladas!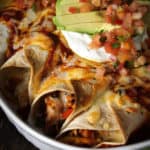 Weeknight Chicken Enchiladas
Ingredients
6

oz

rotisserie chicken

chopped

1

tbs

extra virgin olive oil

1/2

onion

minced

1

garlic clove

minced

1/2

red pepper

diced

1/2

cup

mushrooms

sliced then chopped

6

oz

cheddar cheese

4

flour tortillas

1

can or packet enchilada sauce

pico de gallo and sour cream for topping
Instructions
Spray a baking dish with non-stick spray. Preheat the oven to 400 degrees F.

In a large skillet heat the olive oil over medium heat. Add the onion, garlic, pepper and mushroom and cook until soft, about 5 to 7 minutes. Add the chicken and toss to combine. Add 4 tablespoons enchilada sauce and mix. Remove from heat.

Arrange the tortillas in the pan and divide the filling up between them. Top each with a little cheese and wrap snugly.

Pour the remaining enchilada sauce over the top of the enchiladas and sprinkle with remaining cheese.

Bake for 18-20 minutes, until cheese has melted and enchilada sauce is bubbling.

Top with fresh pico de gallo, a dollop of sour cream and avocado slices. Serve with rice, if desired.