Satiate every craving with this incredible smoked beef tenderloin. Perfect fork-tender beef with a rich medium-rare center and just a hint of heat and smoked flavor. It's the veritable way to take filet mignon to a whole new level while feeding a crowd. Want even more flavor? Top it with luscious crab imperial for a restaurant-level experience at home.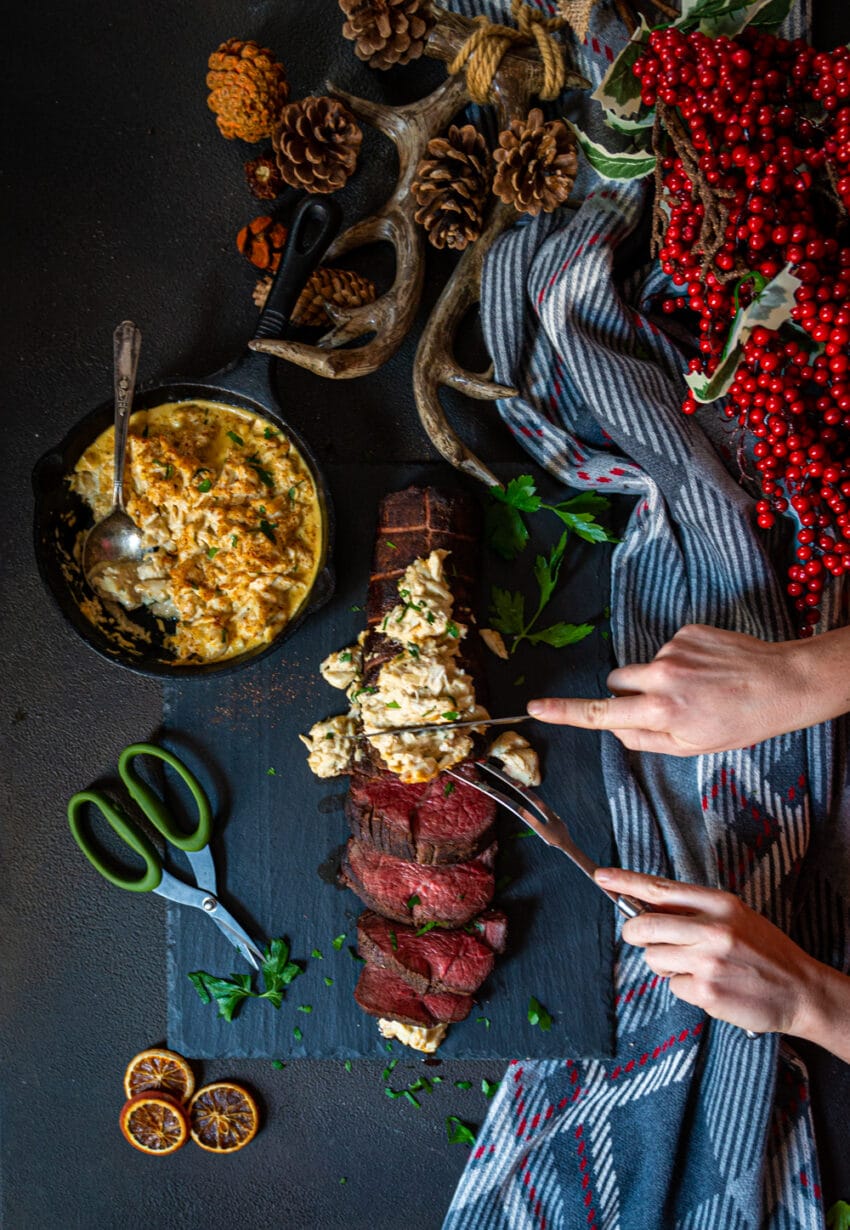 Smoked tenderloin is about as decadent a recipe as you can get. And where we love the simplicity of a grilled beef tenderloin, being the most tender cut, it picks up the smoke flavor with a short cook over coals and wood before being topped with a luscious crab imperial. Talk about holiday dinner done right.
This recipe works because it's an absolute showstopper meal perfect for guests or intimate date nights. The beautiful medium-rare pink all the way through the succulent slices is stunning..
Beef tenderloin has long been the dinner roast of choice, next to prime rib, with considerably less fat and cooking methodology required. And, where prime rib makes for amazing big slices with a lot of flavor from the rendered fat, this, can be cut with a fork. Literally.
Now, imagine that sliced with a smokey crab imperial laced with just a pinch of that southern Creole heat. It's not a huge kick, but enough that will have guests wondering just what the magic ingredient is.
While your guests are left wondering how many hours you spent in the kitchen, you can choose to tell them it was as easy as 3 ingredients and a bit of smoke, if you want. Or leave them to be mystified at your grilling mastery.
Intrigued? Let's get to planning that holiday menu!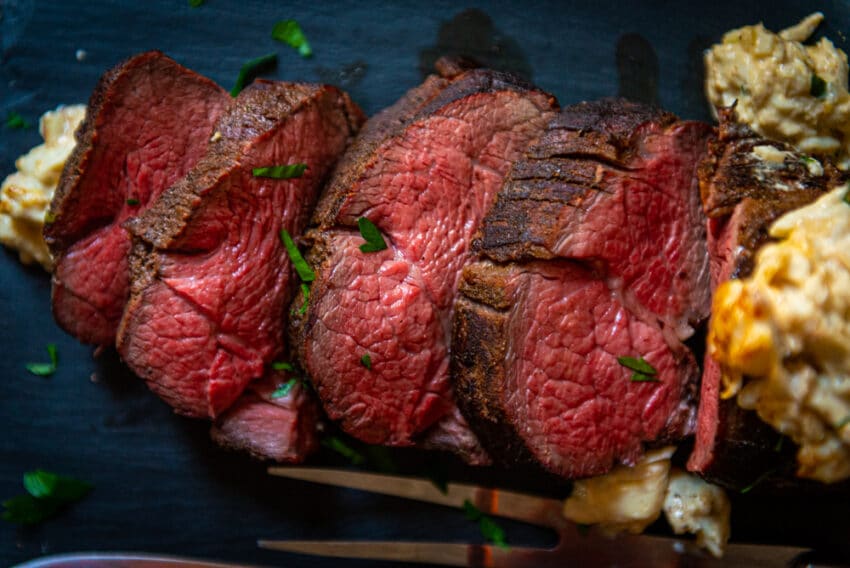 What you need to smoke a tenderloin:
When smoking roasts, I like to keep my flavors very simple. I want the meat to develop an aromatic smoked flavor and still have its deep umami flavor. For this one, I simply used:
Oil
Tony Chachere's BOLD Blend
Kiln Dried Hickory Chunks
How to make the best Smoked Beef Tenderloin
Make sure to build your fire for offset heat. We are gently slow cooking the tenderloin, not treating it like a steak for a high and fast cook. Once the embers are holding temperature, be ready to add wood chunks and the meat.
Tying (or trussing as the chefs call it) the tenderloin helps to retain the shape. There is often a thicker end and a thinner end (where you slice the filet mignon from).
Using butcher's twine and tying the big cut off every inch or so helps to maintain its slender figure for a pretty presentation when serving.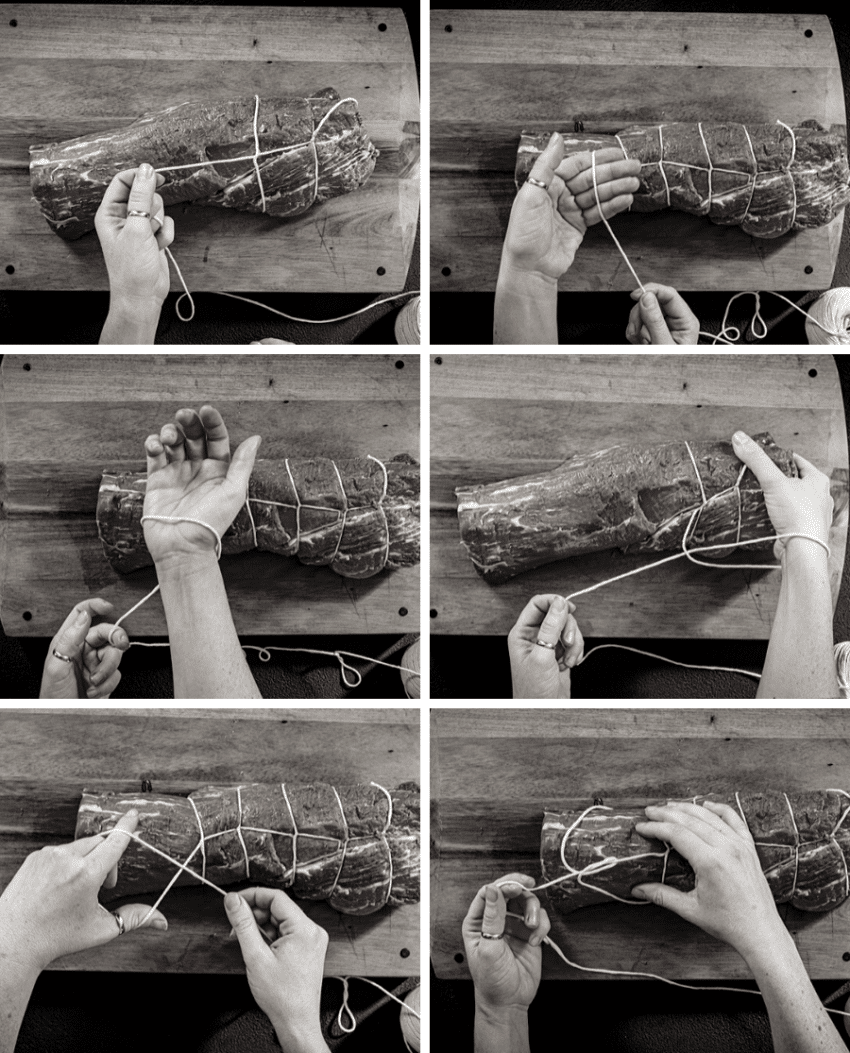 Once you have tied the meat, season it with olive oil and a simple dash of Creole seasoning. The meat already has incredible flavor, so we are just enhancing it with a bit of a kick.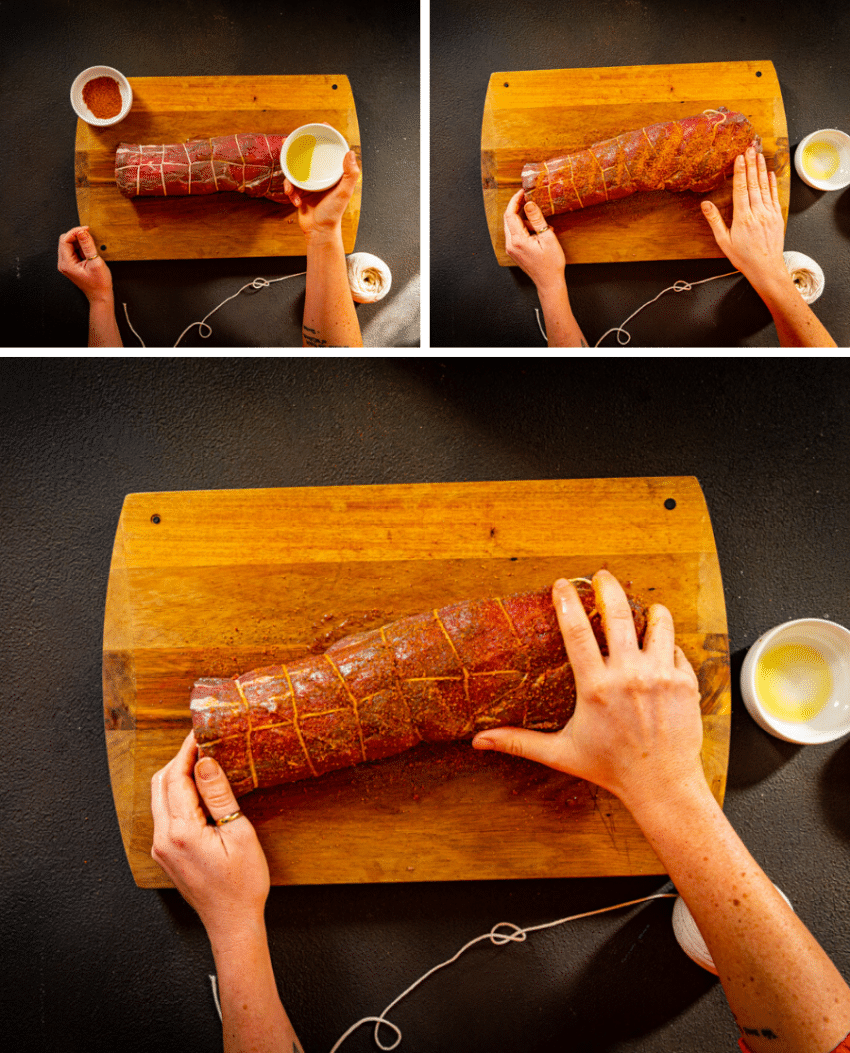 Using a digital thermometer is important for accurate cooking. When smoking, you want to keep the lid closed to keep the smoke in and avoid rising and lowering the heat. If you do a lot of smoking, invest in a probe that can be inserted into the meat while it's smoking with a reader you can see outside of the smoker.
Only smoke the tenderloin to 120-125. It will continue to cook when it is seared and then while it's resting.
After the smoke, you sear the meat, a technique known as reverse searing, to get that beautifully browned crust on the outside, double wrap it in foil, and allow it to rest for 10 minutes before slicing.
Resting the meat helps the juices to return to where they need to be and not rush out immediately as it's sliced. I also like the double wrap to retain any liquid that does accumulate. Hello, easy drippings to pour back atop the meat!
Recipe FAQs
Why is tenderloin so tender?
The tenderloin is from the loin section of the cow, between the ribs and sirloin, right past the mid-back. Because of where it is located, it's generally an underused muscle. It lacks connective tissue and doesn't get the heavy fat cap of a rib roast so it produces the gently sliced texture we look for in an incredible lean cut.
This is the cut that filet mignon steaks come from, which are famously tender. Because of this, it is also one of the most expensive cuts and is often for special occasions.
Due to its lean nature, it tends not to have as bold a flavor as richer cuts, like the ribeye or prime rib. However, this cut wins awards for not needing a knife when cooked properly and pairing well with classic toppings.
How to buy a whole tenderloin?
Buying a whole tenderloin can be tricky if it's not prime holiday season. If it is, check your local markets, they tend to put them on sale whole at great prices for Christmas and New Year's. Otherwise, calling your butcher ahead and asking for a tenderloin and the size you need is the best option. Most will offer options between choice and prime and this can add more than a few dollars per pound on an already expensive cut of meat.
When picking a grade, tenderloin is already the most tender cut, so if I trust my butcher, or know the meat source, I am ok with a 'choice' selection here, given that I am already paying for the best of the best.
What is a reverse sear and when do I use it?
Using a 'reverse sear' technique, we smoke the beef to an internal temperature of 120 degrees before rolling it across a hot cast iron griddle or grill grates to get an external crust and a 130 degrees F internal temperature of the meat before resting.
Reverse searing is a term used when meat is cooked low to achieve a certain internal temperature before applying high heat to create the exterior crust. It is the opposite of browning a roast before cooking, like in my beef wellington.
Both have their advantages, but in the case of smoking meat, it works great to allow the meat to absorb the rich smoke flavor and then lock in everything with the final sear.
I use the reverse sear method on large cuts of meat that I am cooking over live-fire or traditionally in an oven. I love it to finish a porterhouse right or in the case of a thick tomahawk ribeye, ensure that there is an even desired temperature through the entire cut.
Reverse searing can produce some of the most even color you can get from top to bottom (with the exception of sous vide – which I also finish with a sear).
What wood to use for smoking beef tenderloin:
For quick smokes, like this one, I rely on bold flavorful woods like hickory, oak, or mesquite. These are the best woods for beef with strong aromas that allow the flavor to infuse with the short cooking time for something like a beef tenderloin which we only smoke for about 1 hour to reach 120 degrees.
Using good chunks instead of chips will also help amp up the quick flavor.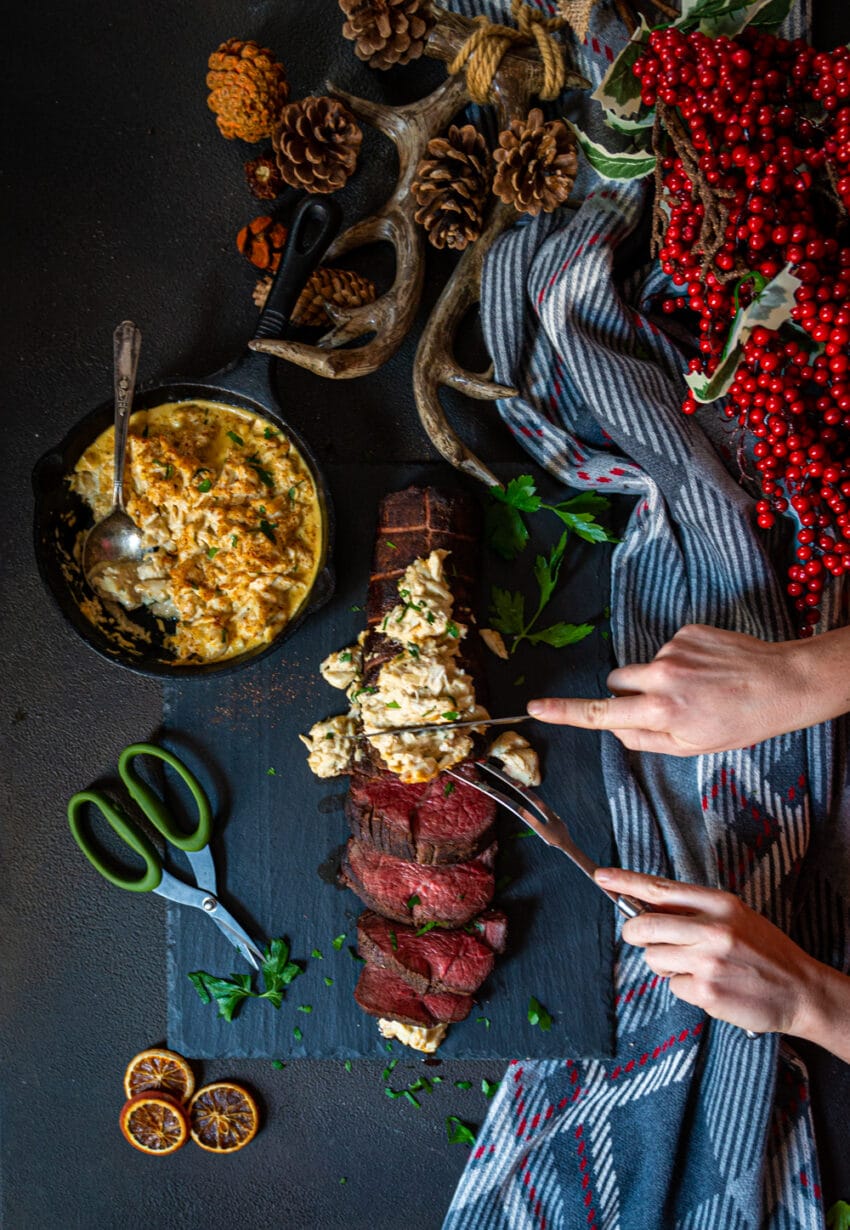 MORE SAVORY BEEF RECIPES YOU'LL LOVE
If you've tried my Smoked Tenderloin Recipe or any other recipe on GirlCarnivore.com please don't forget to rate the recipe and let me know where you found it in the comments below.
I get inspired by your feedback and comments! You can also join in on the adventures on Instagram @girlcarnivore, Twitter & Facebook.
Smoked Beef Tenderloin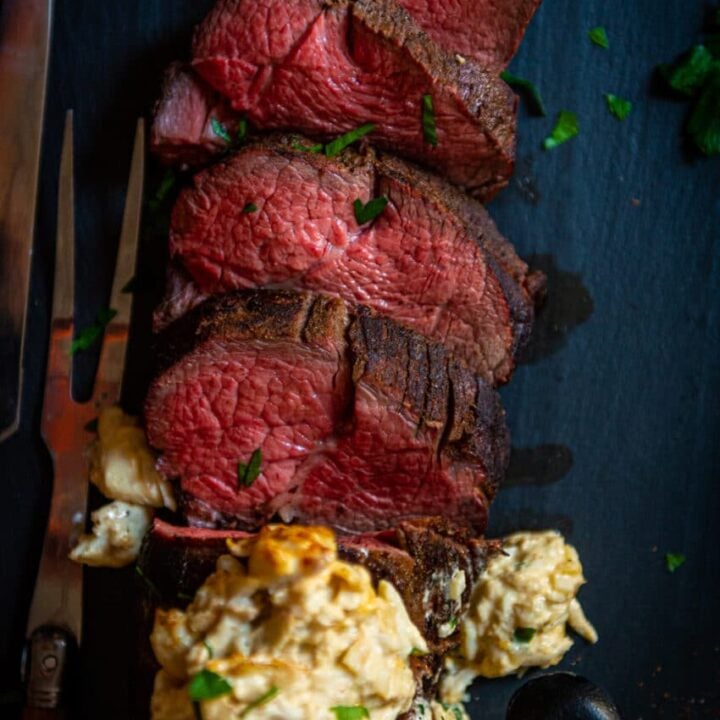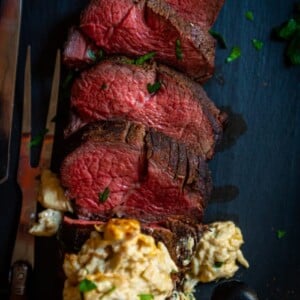 The no-fail method of gently smoking and then reverse searing beef tenderloin is an amazing way for rich umami flavor and perfect medium-rare slices. Bonus, it's about as simple a recipe as you could ask for!
Ingredients
1

beef tenderloin

2 to 3 lbs, trimmed and tied

2

tbsp

Olive oil

1

tbsp

Tony Chachere's Bold Blend
Instructions
Prep your Beef Tenderloin and Smoker
Prep your smoker for offset heat, building a fire to one side of the smoker and maintaining a temperature around 250.

Trim your tenderloin as needed and tie it off every 1" to 1 1/2" to help the beef maintain its shape while cooking.
Smoke
Rub with olive oil and then coat the entire tenderloin with an even coating of Tony Chachere's BOLD blend.

Place the beef on the cooler side of the grill.

Smoke the tenderloin in a smoker set to 250 – 300 for 1 hour until temp reads 120 with a digital thermometer.
Sear
Sear the beef evenly on all sides by either moving the beef to a preheated grill, or to a large griddle/skillet that has been heated over medium-high heat.

Rotate the beef to ensure even browning on all sides, 5 to 7 minutes per side.
Rest
Remove from heat and wrap with a double layer of foil and allow the beef to rest 10 minutes before slicing.
Serve
Slice into 1" thick portions and serve, top with rich crab imperial and serve with seasonal veggies.

Garnish with freshly minced parsley, if desired.
Notes
This smoked tenderloin goes beautifully with my smoked crab imprerial or paired with mushrooms sauteed in a red wine sauce. I also love simmering down onions from time to time just to keep things simple. But really, if I am going to spend the money for a tenderloin, I am willing to splurge for great crab too.
Slice the finished tenderloin into 1″ thick cuts for each person.
Wrap leftovers in a double layer of aluminum foil and reheat in the same foil low, at 300. You want to heat the steak without overcooking it. Store in fridge for 2 to 3 days.
This tenderloin was smoked it the Pit Barrel Cooker – but it will work in any style of smoker or grill you have set the the right temperature with wood chunks or chips.
Nutrition
Serving:
1
g
|
Calories:
75
kcal
|
Carbohydrates:
1
g
|
Protein:
6
g
|
Fat:
5
g
|
Saturated Fat:
1
g
|
Cholesterol:
18
mg
|
Sodium:
17
mg
|
Potassium:
120
mg
|
Fiber:
1
g
|
Sugar:
1
g
|
Vitamin A:
431
IU
|
Calcium:
8
mg
|
Iron:
1
mg