Take your waffle fries to the next level by loading them with a creamy jalapeno popper dip with spicy chorizo and cream cheese over grilled fries. The Best part is this recipe works at a campfire or on a traditional grill and can be made in individual packets or as a big platter!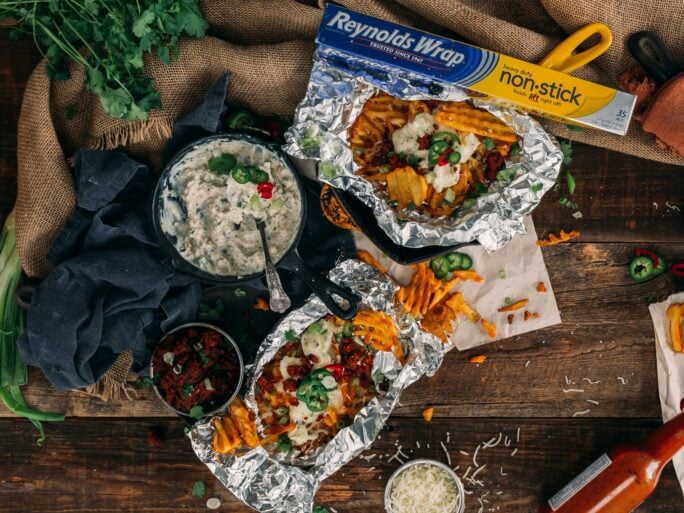 This post is sponsored by Reynolds Wrap®. All thoughts and opinions are my own.
I am a sucker for loaded jalapeno poppers. The kind wrapped in bacon and stuffed with fillings. I don't want a wimpy popper – I want layers of flavors and that surprise heat that pops up and gets you (see what I did there).

When we're talking about the restaurant favorite appetizer – and make it much more than just cream cheese shoved into a jalapeno, things get next-level good. See, what I think of as the jalapeno popper isn't just a simple bite, it's a blend of cream cheese to balance out the heat of jalapenos and the other items you are sneaking in – even if it's hidden inside meatballs.
Poppers in Foil? Heck yeah.
When I was dreaming up a happy hour around the grill, I wanted to take my favorite appetizer and wrap it in foil, put it on the grill and deliver portable smothered fries that acted as the perfect crisp vessel for that loaded flavor. Turns out, this recipe was just that. But…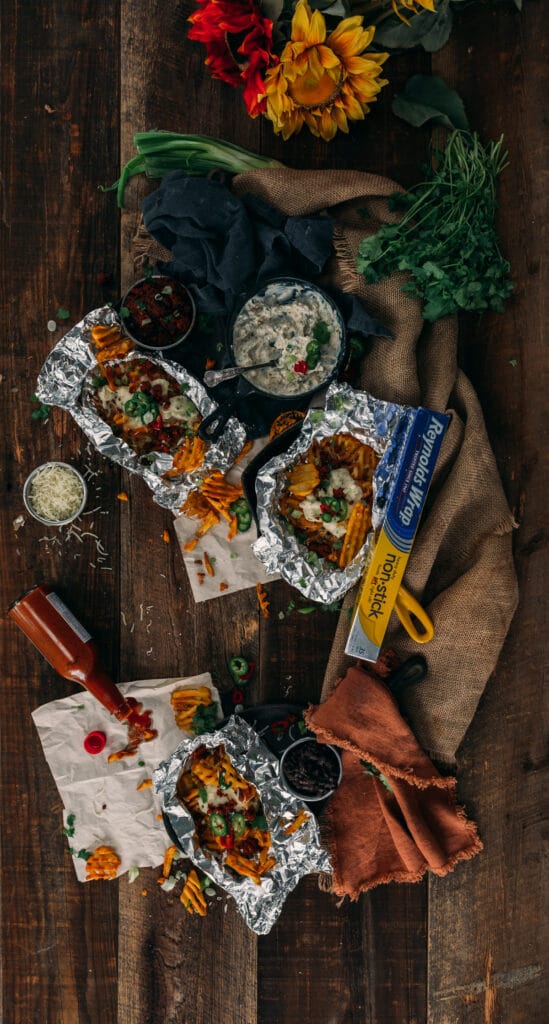 Let's be honest, Chorizo makes everything better.
Add chorizo to anything and it just gets better. Chorizo, a spicy pork sausage blend of ground pork, paprika, and garlic, is the secret ingredient to spicing up these fries.
Not only does the sausage add another layer of spice to the mix, but it also adds that fat and boosts the savory umami we get when we bite into it. In other words, it makes the melty cream cheese layer that much richer.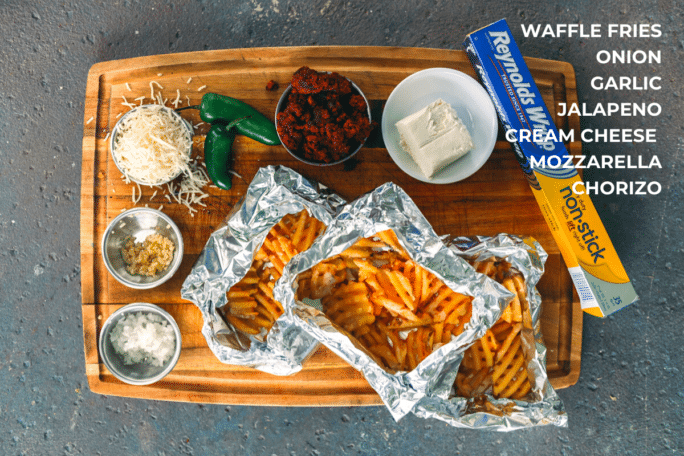 But, can you grill French fries?
We've all been there. Soggy fries. That is a hard no in my book. When it comes to good French fries, I want crispy fries. Every single time. I don't care if they are steak cut or shoestring, I want that hot crisp crunch. That to me is what makes them a fry. Here's where I whip out my favorite grilling tool – the foil!
To ensure our fries don't get soggy, we want to wrap them in Reynolds Wrap® Non-Stick Foil and toss them with a touch of butter before placing them over the heat.
Then, make sure there's a hole for the steam to escape. This helps to make sure the air in the packet isn't getting too moist from the fries as they cook from frozen.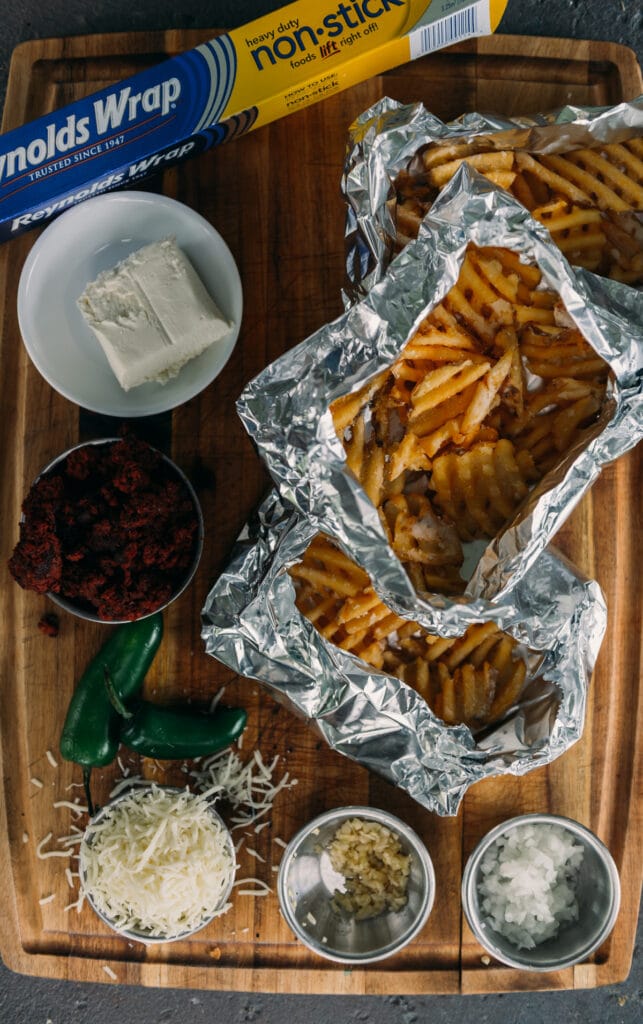 Don't Overcrowd the Foil
Not overcrowding the packets is also a huge factor for making crisp fries. You know how the instructions read to bake the fries in a single layer? That's because it's the air around the fries that is cooking them. Dividing the frozen fries evenly in each packet helps to minimize the crowding and helps even cooking.
You can use fresh cut potatoes to make your own fries as well – these work great! If you are cooking hand-cut wedges or fries, adjust your time to make sure they come out fork-tender.
Lastly, the cream cheese topping you whip up while the potato packets are working their magic doesn't go on until the things are perfectly crispy. Adding the sauce too soon and you just get a mushy starch pile, and no one wants that.
Whip the sauce up in a heat-safe cast iron pan and have it on indirect heat waiting until the fries are crispy.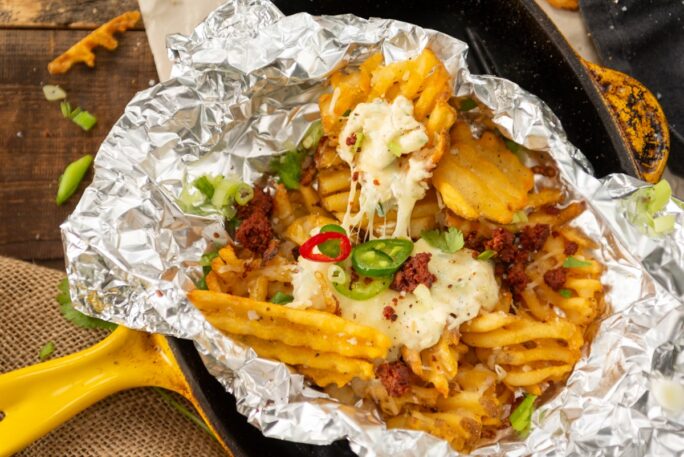 Pro Tip: Side matters! – nope that's not a typo – Did you know that the duller watermarked side of the foil is the side you want to touch the food? That's the side where the non-stick works and cheese peels easily off the foil. (Read, less cheese sticking to foil, more cheese in your mouth).
Oh! And in case you really want to wow – these are perfect packets for the next party too! You can portion out the fries and throw them on the grill!
And, once the sauce is made, there are no dishes to wash! This is a recipe I make over and over just because of how EASY it is!
I've talked about how I love partnering with Reynolds Wrap®, because I use it for everything in my kitchen, from storing ground beef for months so that it doesn't get freezer burn, cleaning my grill (oh, yeah, didn't know that one? A crumpled up ball of leftover foil is the perfect scraper for those grill grates!), adding smoke packets to my gas grill, to using it as my campfire skillet for breakfast (lunch, and dinner).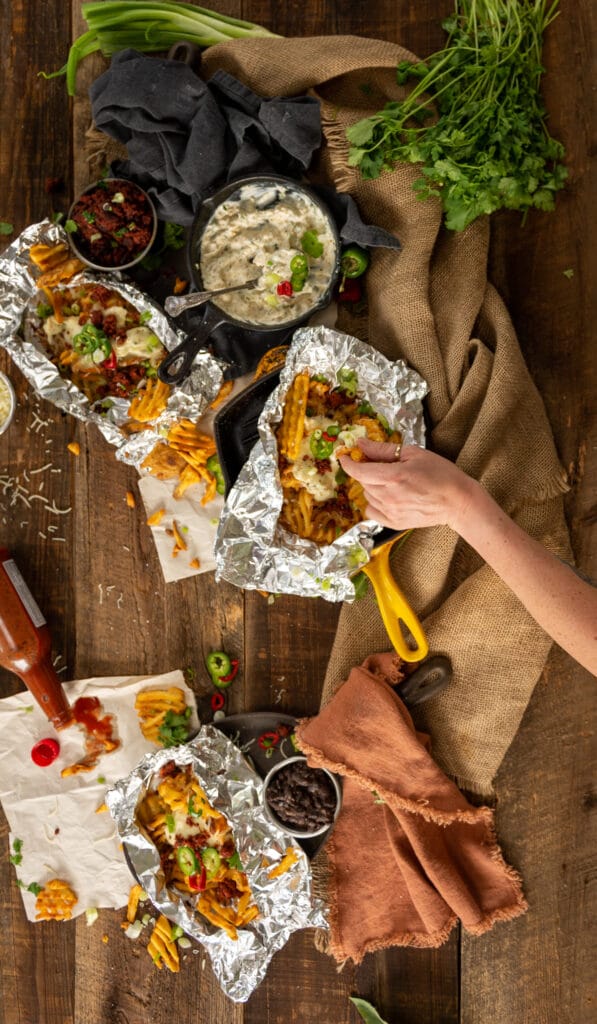 It's one of those things that I don't skimp on off-brand versions of (and I will totally own being the QUEEN of buying off-brand to save some pennies). I love that Reynolds Wrap® Foil has been a staple in my kitchen since I can remember cooking.
For me, when I am grilling, particularly if I am taking things out to a campsite, I love having my meals divided and wrapped in foil ready to be thrown over the fire. These fries are a perfect example of that.
The durable Reynolds Wrap® Non-Stick Foil holds up to my rugged adventures. And I can't beat that. And it's made in America (Louisville, KY), which goes a long way in my book too.
Want more crazy delicious camping recipe inspiration? Try some of my favorites!
If you've tried this easy campfire french fry recipe or any other recipe on GirlCarnivore.com please don't forget to rate the recipe and let me know where you found it in the comments below. I get inspired by your feedback and comments!
FOLLOW Along on Instagram @girlcarnivore as well as on Twitter and Facebook.
Grilled Jalapeno Popper Fries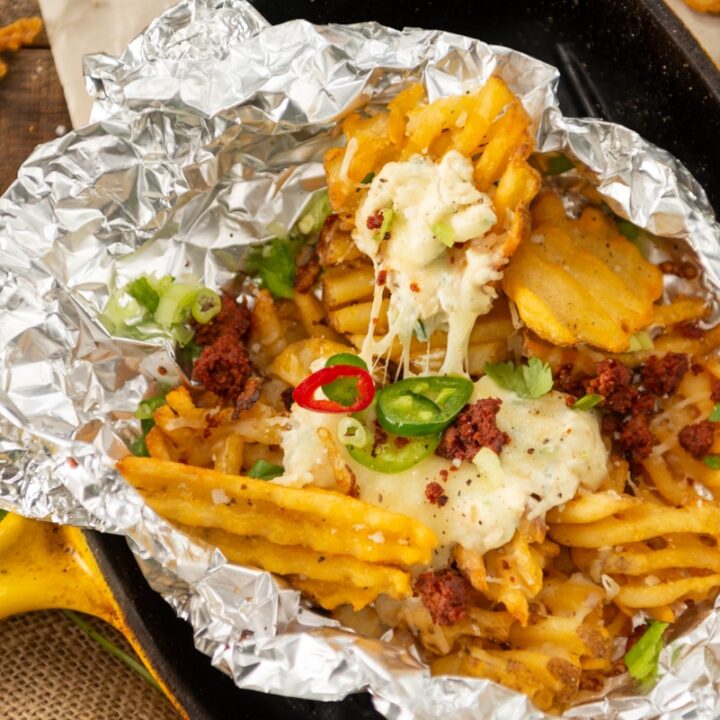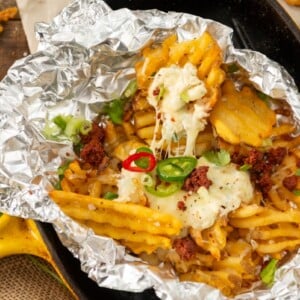 Loaded cheesy fries with a jalapeno popper and spicy chorizo punch all wrapped up in individual foil packets for delicious grilled packs and no cleanup!
Recommended Equipment
Reynolds Wrap® Non-Stick Foil

Grill or Campfire
Ingredients
2

tbsp

butter

melted and cooled

1 14

oz

bag frozen waffle fries
For the Creamy Popper Topping:
1

tbsp

oil

¼

Onion

minced

2

cloves

garlic

minced

1

Jalapeno

seeded, stemmed and minced

4

oz

Cream cheese

4

tbsp

sour cream

4

oz

Mozzarella

Pinch

of salt
Toppings:
Chorizo

cooked

Slices

jalapeno if desired
Instructions
Prep the Grill:
Preheat the grill for indirect heat. Regulate the heat for around 425 degrees by setting two of the burners to medium and keeping one completely off.
Make the foil packets:
Create 6 packets of foil by ripping off 4 9" long pieces of Reynolds Wrap® Non-Stick Foil.

In a large bowl, add the melted butter.

Toss the fries in the butter and using your hands, make sure they are all coated.

Divide the fries evenly into the foil packets, no more than a cup in each packet.

Carefully fold one long edge of the foil over the fries.

Repeat on the other long edge.

On the short edge, fold over twice, creating a bit of bulk, covering an inch of the fries as well.

Repeat with the remaining edge.

Pinch the corners together to create stability.
Grill the Fries:
Place the foil packs, with the open side up, on the cooler side of the grill.

Cover and grill for about 15 minutes.

Carefully, using heat resistant gloves, toss the fries in the foil packets.

Place back on the grill and cover. Cook an additional 15 minutes, until fries are cooked through, golden brown and crispy.

Meanwhile, make the creamy popper topping.
Make the Creamy Popper Topping:
Heat a small cast-iron skillet over the grill. Add the oil and swirl to coat the pan.

Add the onion and sauté until softened, 5 minutes.

Add the garlic and cook 30 seconds longer.

Add the jalapeno, mayo, sour cream, salt, and 2 tbsp shredded mozzarella.

Stir to combine. Transfer to the cooler side of the grill or cover and remove from heat.
Top the Fries:
When the fries are cooked, carefully sprinkle a layer of half of the remaining mozzarella cheese over each.

Using a tablespoon, dollop the creamy jalapeno popper topping over the fries.

Top each with the remaining mozzarella and the chorizo.

Cover and cook 3 to 5 minutes longer. The cheese will be thoroughly melted.

Using a flat spatula, carefully remove the foil packets from the grill to cool before serving.
Serve:
Serve the cheesy fries directly in the foil packets, on plates as the bottoms will be hot.

Garnish with sliced jalapeno, black beans, hot sauce (if you're feeling bold), and cilantro.
Notes
Drain the chorizo on paper towels to remove excess fat or oil before using it as a topping to prevent any soggy fries.
Measurements were included for the mozzarella cheese, it's about half of a small bag of pre-shredded cheese. But, to be honest, I usually add as much as I want when sprinkling directly on the fries.
Once you have added the creamy popper toppings, the fries won't hold up to being cooled and reheated. If you feel you may have leftovers, don't top the fries, wrap them in foil and reheat them later.
Nutrition
Serving:
1
g
|
Calories:
380
kcal
|
Carbohydrates:
24
g
|
Protein:
8
g
|
Fat:
29
g
|
Saturated Fat:
13
g
|
Cholesterol:
50
mg
|
Sodium:
567
mg
|
Potassium:
363
mg
|
Fiber:
3
g
|
Sugar:
1
g
|
Vitamin A:
575
IU
|
Vitamin C:
8
mg
|
Calcium:
131
mg
|
Iron:
1
mg