Ready to whip together a quick and easy dinner that still looks and tastes delicious? This pan-fried veal scallopini is tender, with a rich mushroom sauce, and is insanely easy to make! You'll have dinner on the table in 30 minutes.
This post is sponsored by Veal – Discover Delicious, funded by the Beef Farmers and Ranchers, but all opinions are my own.
What is Veal Scallopini?
Veal Scallopini is technically thin cuts of veal, from the leg, pounded thin. But the name has become synonymous with quick pan-seared veal dishes. Veal cutlets are used for many quick cooking dishes like veal saltimbocca, parmesan, piccata, and marsala. It's a great cut for these classic recipes because the meat picks up on the nuance of every flavor it's cooked with!
This recipe for veal scaloppini marsala is an authentic Italian-American classic dish consisting of veal cutlets doused in Marsala wine sauce. A great recipe to toss together on a busy weeknight when you don't feel like cooking but still want to serve something that looks and tastes like it took hours to prepare.
This pan-seared scaloppine alla marsala is cooked with butter, mushrooms, and capers and topped with parsley. Serve with arugula and a side of pasta, zoodles, or potatoes, and you've got dinner.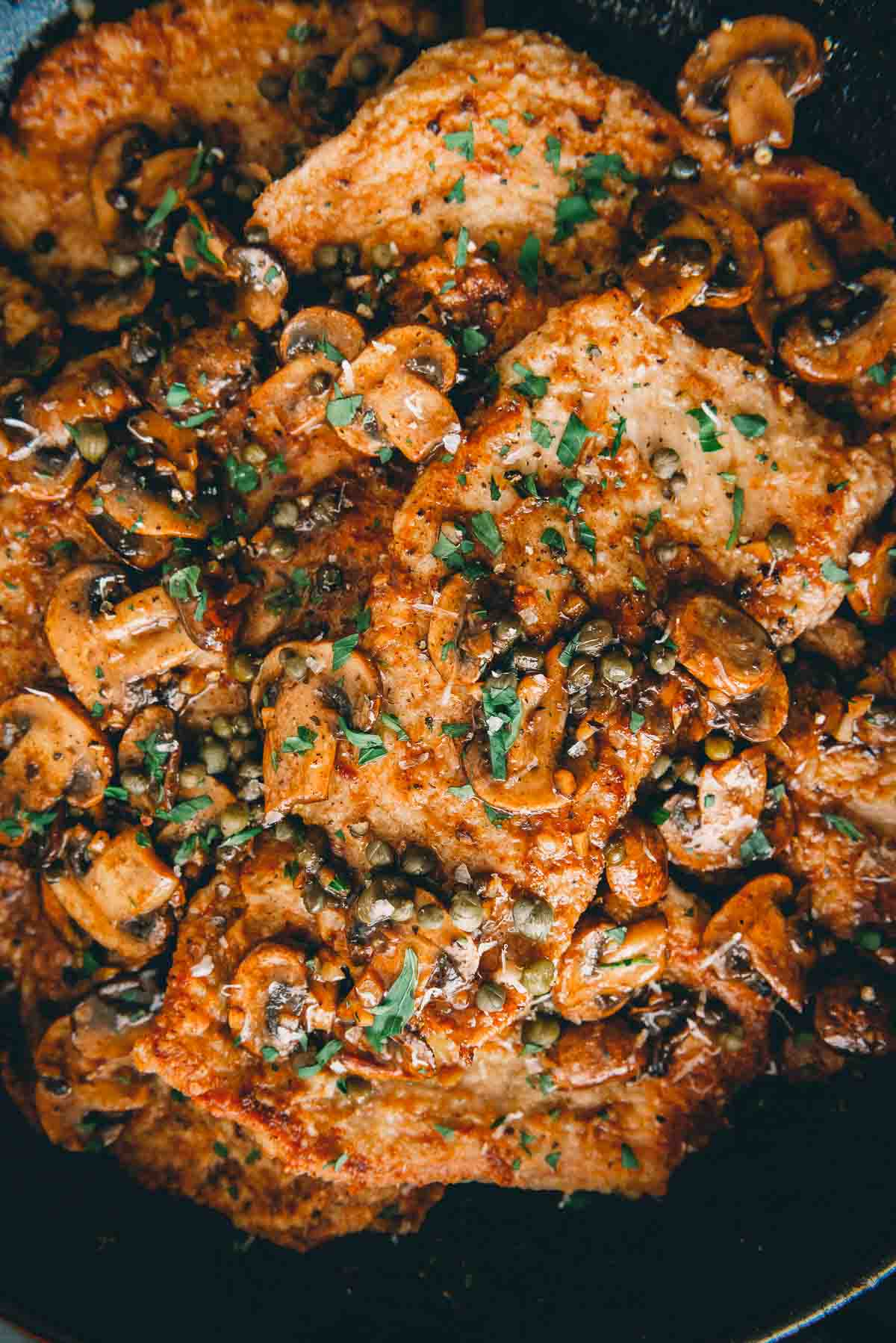 Why You'll Love Veal Scallopini
There are so many things to love about this delectably tender veal recipe. It tastes like it took hours to prepare, but in reality, it probably only takes 20-30 minutes. Plus, this meal is packed with tons of flavor.
The mushroom filled marsala wine sauce is enough to get you hooked on this dish. You'll feel like you're enjoying dinner at an upscale fancy Italian restaurant without leaving the comfort of your home! As far as easy dinner recipes go, this one tops the charts! It's such a simple recipe with virtually no cooking time and a ton of flavor because veal cutlets are ideal for picking up the flavors they are paired with. What's not to love?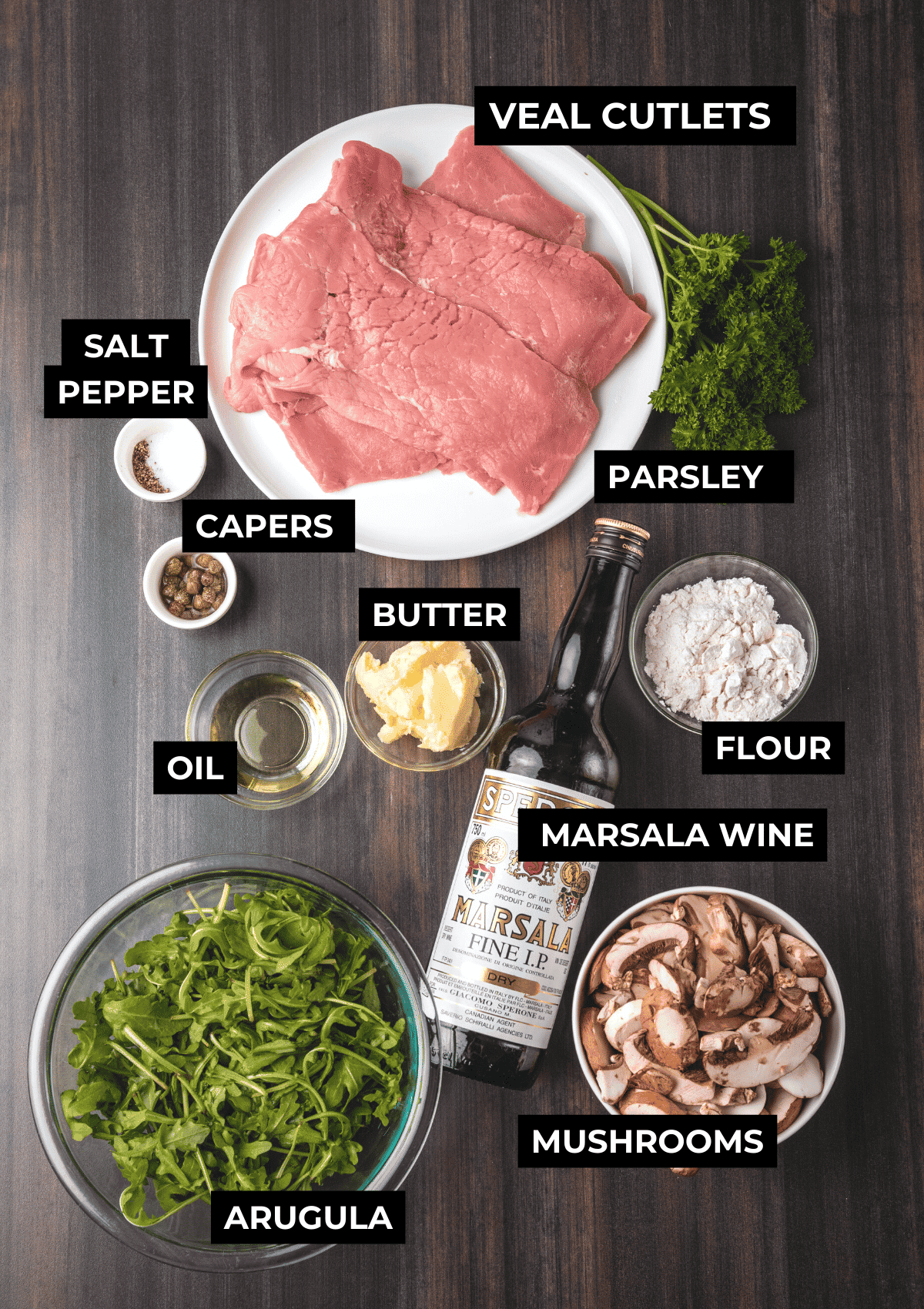 Veal Scallopini Ingredients
Veal Cutlets – thinly sliced, about 1/4″ thick
Flour
Kosher Salt
Ground Black Pepper
Butter – we always use unsalted butter
Olive Oil
Marsala Wine or your favorite white wine for cooking
2 cloves garlic
Mushrooms – we used baby bellas
Capers
To Serve:
How to Make Veal Scallopini
Once you've gathered all your ingredients, preheat your oven to 200 degrees F.
Next, grab a wire rack and place it over your baking sheet before you combine flour, salt, and pepper in a shallow dish.
Pat the veal dry with paper towels and then dredge the veal in the flour mixture, shaking off any excess flour.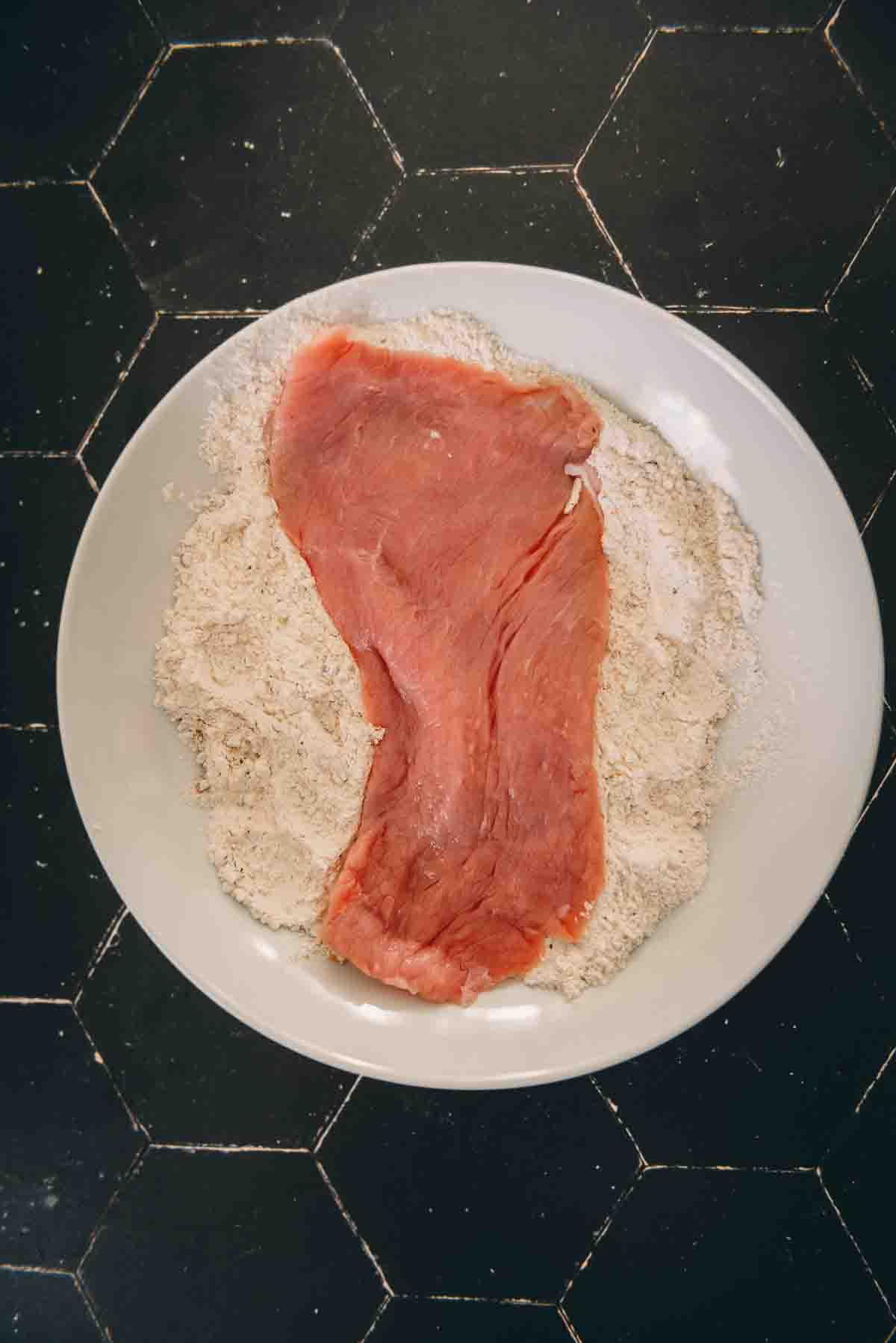 Next, heat your butter and oil in a large nonstick pan, or cast iron skillet over medium-high heat until the butter stops bubbling. That's your signal to add the cutlets. You want to add them into the large frying pan one at a time in a single layer to avoid an overly crowded pan.
Allow the cutlets to fry for about 2-3 minutes per side until they are a beautiful golden brown. Recommended cooking temperature for a veal cutlet is 140 degrees F, but they are thin and hard to test with an instant read thermometer. When they are golden brown on each side and move freely from the pan is a good sign they are cooked through.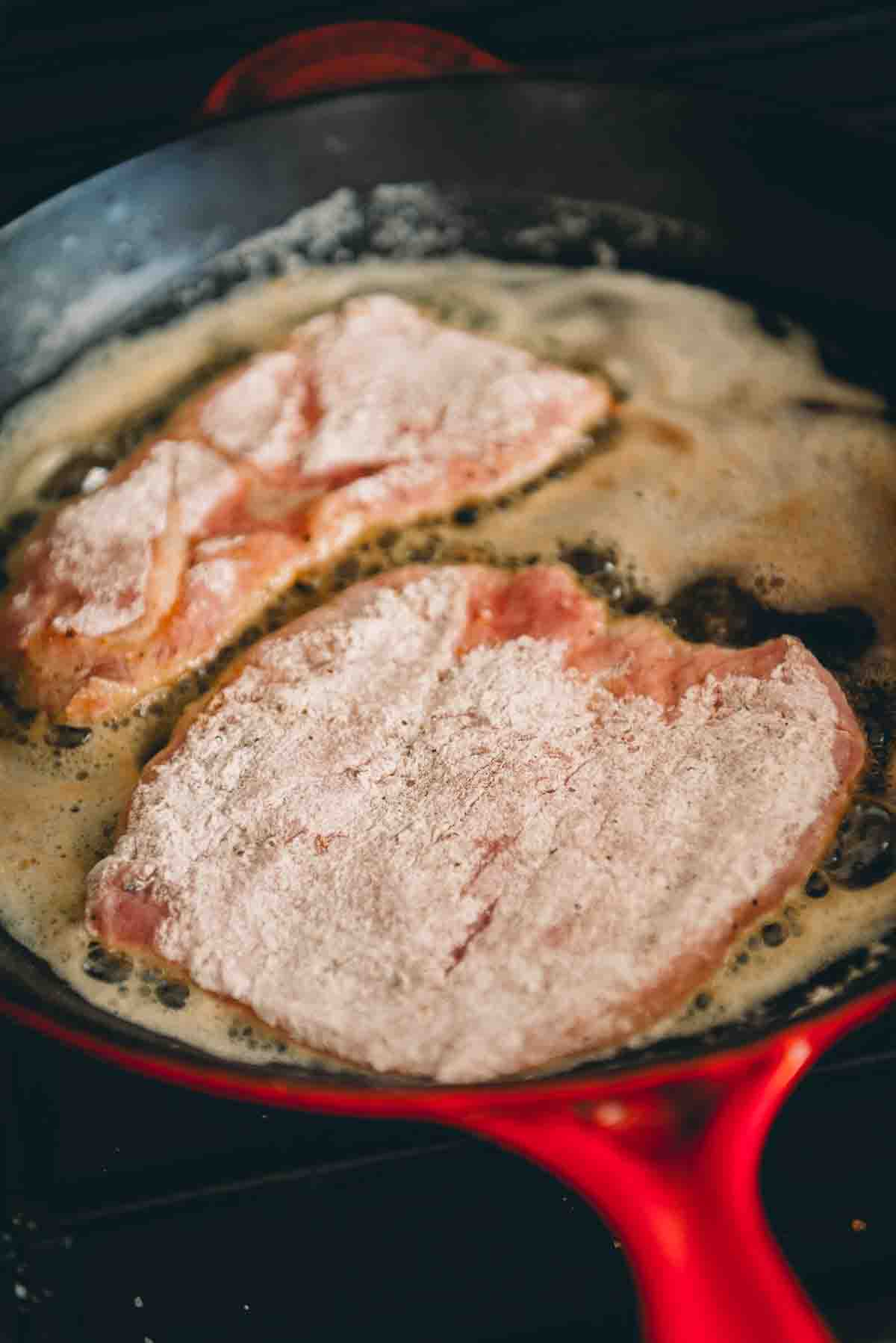 Place the cooked veal cutlet on the wire rack and repeat with all of the remaining cutlets until they are all cooked. Once all your veal is on the rack, slide the baking sheet into your preheated oven while you whip up the delicious sauce!
Now for the fun part, deglaze the hot skillet with the wine, scraping up any browned bits. Do this a little at a time, as the wine will steam up when it finally hits the pan.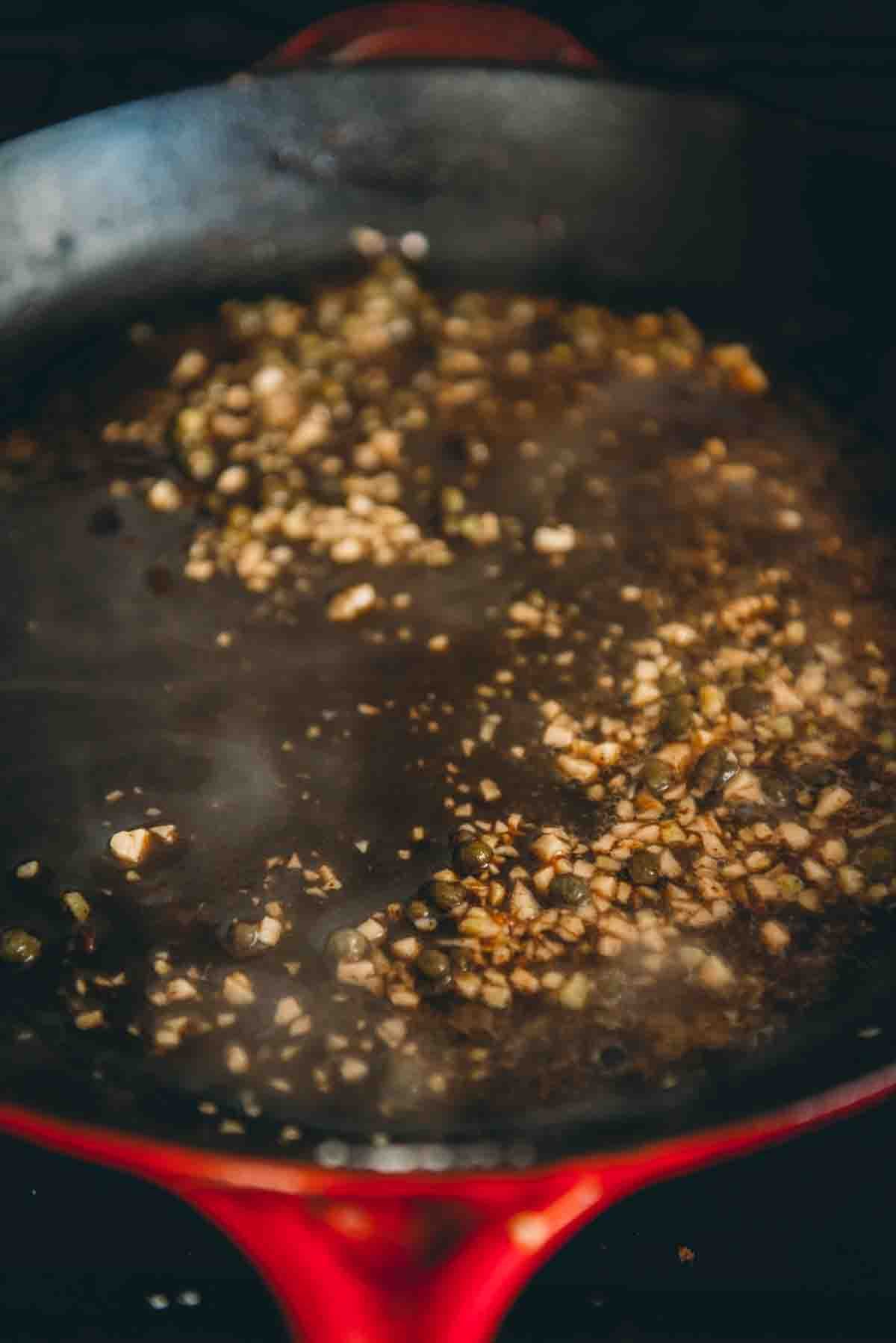 Then add the garlic, capers, and mushrooms and allow them to simmer until the mushrooms have sweated out all their liquid and start appearing browned. The liquid will have reduced dramatically in the skillet. You can thin a little with chicken broth if it's gotten too thick.
Once you've reached that point, remove your pan from the heat and stir in the remaining butter until it's melted and creamy all over the mushrooms. Voila, you've got your sauce!
Lastly, add a bed of arugula onto your serving platter, place veal scallopini on top, spoon on the masala sauce, and garnish with a sprinkle of parsley and pepper to taste! Dinner is ready!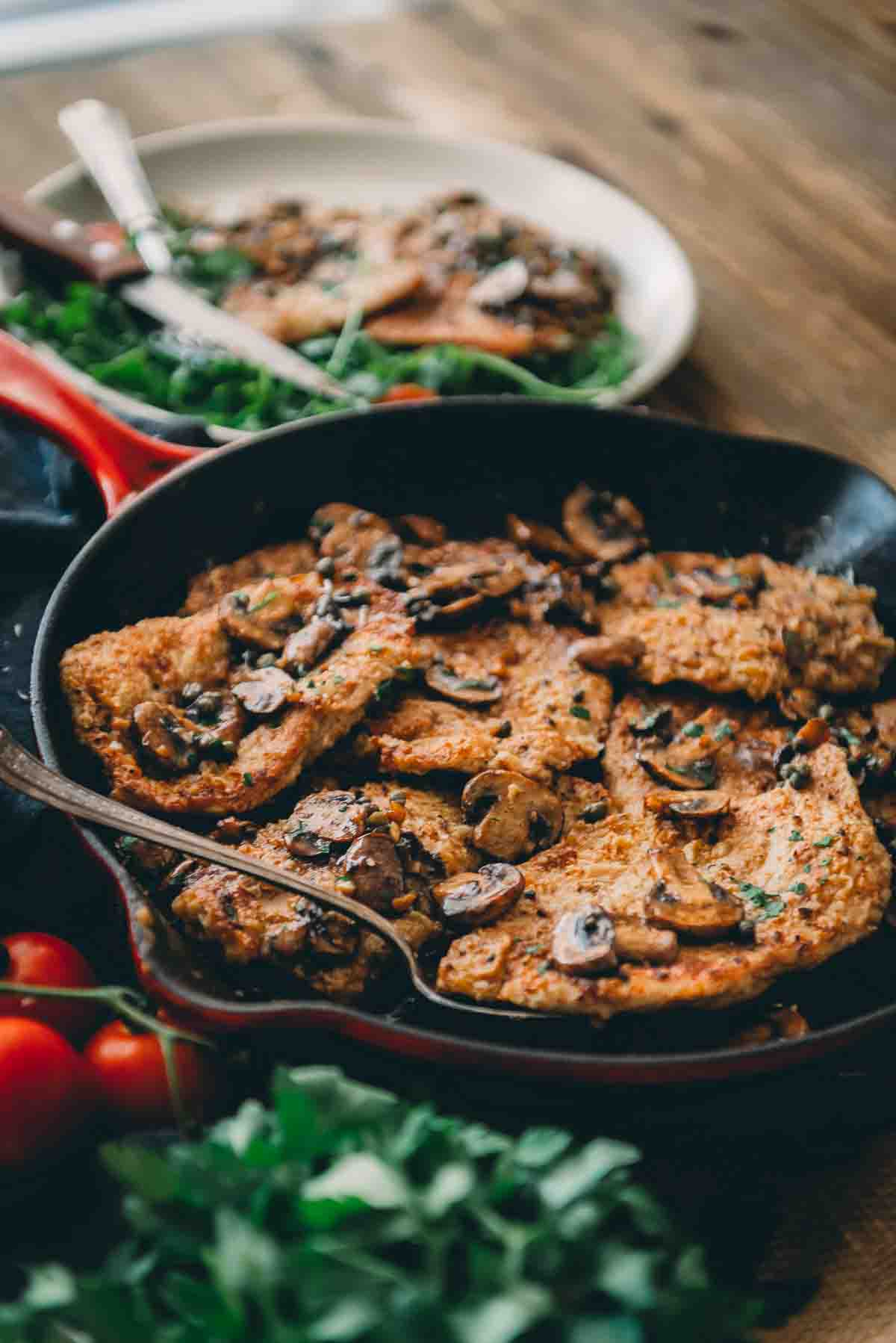 Girl Carnivore Expert Recipe Tips
You want even thin veal cutlets for this recipe. If the veal is more than a quarter inch thick, arrange it between two sheets of plastic wrap on a cutting board. Use a rolling pin or meat tenderizer to pound the veal into an even-thin slice.
As you make the sauce, the veal will continue to slowly heat in the oven; make sure to check the internal temp with an instant-read meat thermometer before serving to ensure that it has reached 145 degrees F.
LEFTOVERS/REHEATING
Got leftovers? You can easily store your excess veal scallopini in an airtight container to keep in the fridge for up to 3 days. Don't let that delicious sauce go to waste. If you have some leftovers, you can store your marsala sauce separately in the fridge.
Once you're ready to enjoy your leftovers, place your piece of veal on a baking sheet, cover with foil and reheat in the oven at about 300F for 15 minutes or until hot. Reheat your marsala sauce in the microwave, and enjoy!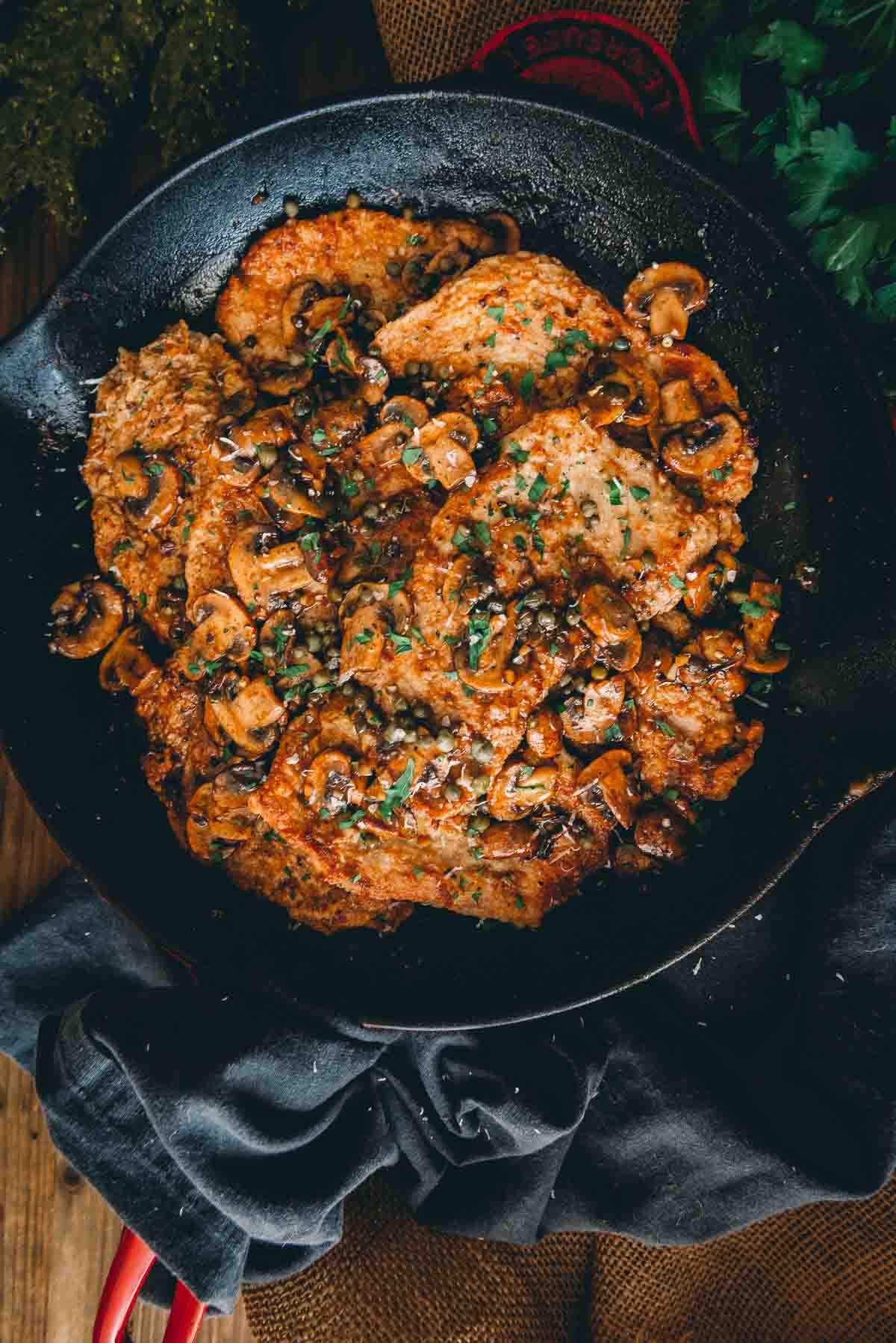 Recipe FAQs
What are veal cutlets?
Veal cutlets are thin slices of meat typically taken from the round hind quarter of the leg. Veal cutlets are best pan-fried because the meat is so thin and tender.
What is the difference between veal scallopini and veal cutlet?
They are essentially the same thing. A cutlet and scallopini are thin slices of meat, typically tenderized with a meat mallet. The thin slices of veal are then pan-fried to perfection then served with a delicious wine sauce.
What goes well with veal?
Looking for a tasty side dish? Veal can be served with a range of side dishes, like roasted vegetables, sauteed green beans, potatoes, and risotto! It's a decently versatile dish that goes well with many side dishes.

For Wine, pair this with a crisp clear white wine, like pinot grigio or sauvignon blanc.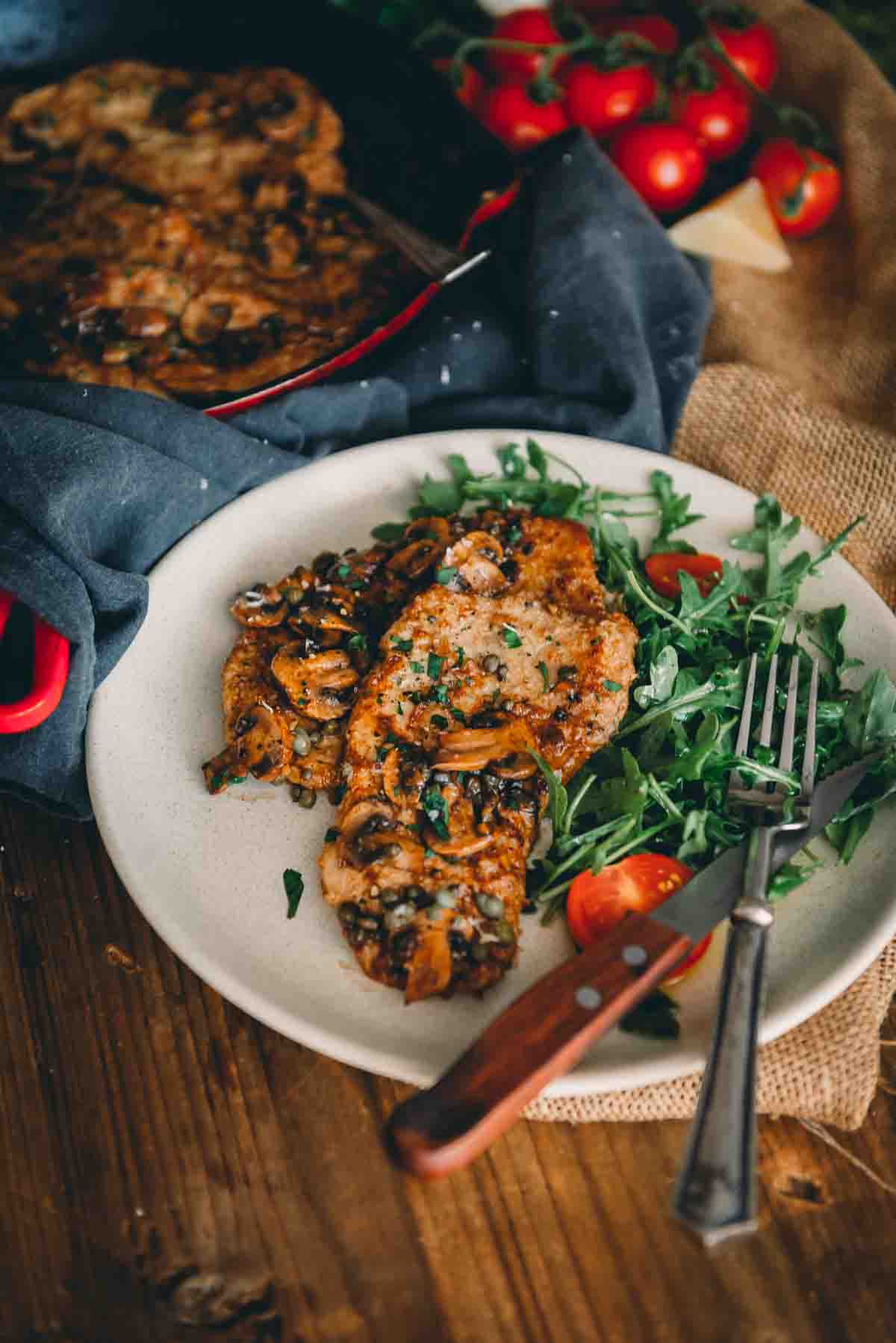 This veal scallopini recipe is an easy Italian dish perfect for those nights when you don't have time to spend hours in the kitchen. Next time you want a taste of authentic Italian cuisine without the steep price tag of eating out, this recipe is a real treat!
Save this recipe for later by clicking the ❤️ button on the recipe card. Did you know you can save all of your favorite recipes right to your own recipe index on GirlCarnivore to find them easier later on?
Have you tried this recipe? Do us a favor and rate the recipe card with the ⭐ ⭐ ⭐ ⭐ ⭐ and drop a comment to help out the next reader.
Veal Scallopini with Mushrooms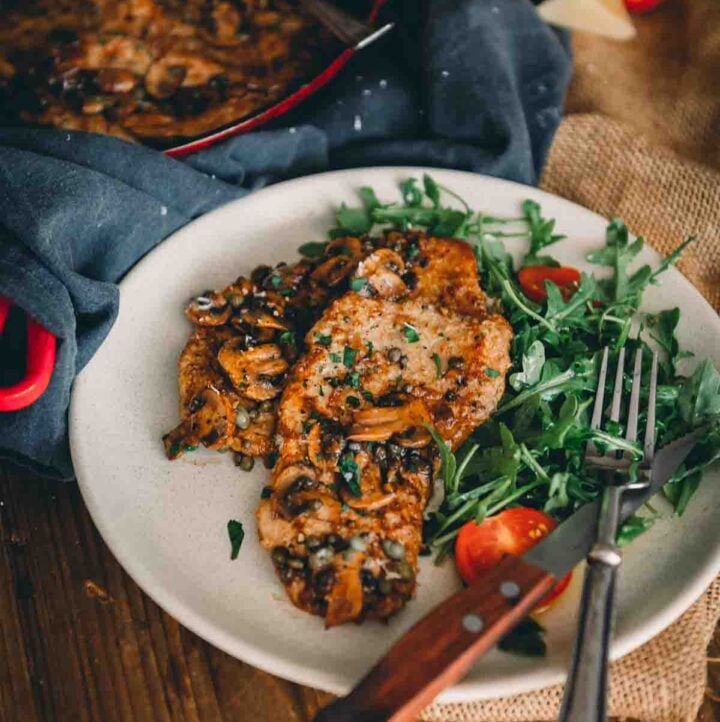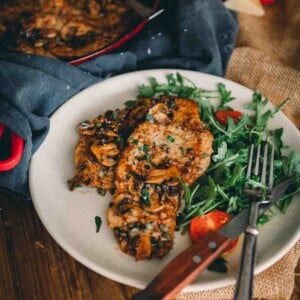 This easy veal scallopini recipe is amazing! With tender golden brown veal cutlets and a delicious marsala mushroom sauce, it's the best dinner for you can make in under an hour!
Ingredients
For the Pan Seared Veal:
2

lbs

Veal Cutlets

½

cup

Flour

1

tsp

kosher Salt

½

tsp

ground black Pepper

2

tbsp

Butter

2

tbsp

Oil
For the Marsala Sauce:
1/2

cup

Marsala wine

2

cups

Mushrooms

sliced thin

1

tbsp

Capers

2

tbsp

Butter
To Serve:
Fresh Parsley

minced

Arugula
Instructions
Prep the Veal Cutlets
Preheat oven to 200F

Place a wire rack over a baking sheet.

Whisk together flour, salt and pepper

Dredge veal cutlets in the flour mixture and shake off excess flour.
Pan Fry the Veal
Meanwhile, heat butter and oil in a large skillet over medium-high heat.

When the butter has stopped bubbling, add the cutlets, one at a time not to crowd the pan, and fry.

Pan fry the veal cutlets for about 2 to 2 minutes per side.

Place the cutlets on the wire rack and repeat until all the cutlets are cooked.

Place the wire rack in the preheated oven.
Make the Marsala Sauce
Deglaze the pan with the wine, scraping up any browned bits.

Add in the capers and the mushrooms and simmer until the mushrooms have sweated out their liquid and started to brown.

Remove from heat. Stir in the butter and capers until the butter has melted
Serve:
Remove the veal from the oven and plate over arugula

Spoon the masala sauce over top of the cutlets

Garnish with a sprinkle of parsley and salt and pepper to taste.
Notes
Make sure your veal cutlets are pounded thin and are even size. Trim them if needed. This will help to make sure they all cook evenly!
If you don't like wine, you can use chicken broth as a substitute for the marsala wine.
Nutrition
Serving:
1
g
|
Calories:
355
kcal
|
Carbohydrates:
11
g
|
Protein:
33
g
|
Fat:
17
g
|
Saturated Fat:
7
g
|
Polyunsaturated Fat:
2
g
|
Monounsaturated Fat:
7
g
|
Trans Fat:
0.3
g
|
Cholesterol:
138
mg
|
Sodium:
545
mg
|
Potassium:
589
mg
|
Fiber:
0.3
g
|
Sugar:
2
g
|
Vitamin A:
234
IU
|
Calcium:
14
mg
|
Iron:
2
mg
🎥 Watch: How to make this recipe