Whether you are looking for a great appetizer or a perfectly easy main dish, these mojo pork tenderloin bites are my go-to quick and easy snack! They are so easy to cook in foil packets and are ready in under 30 minutes. So simple you can't beat it!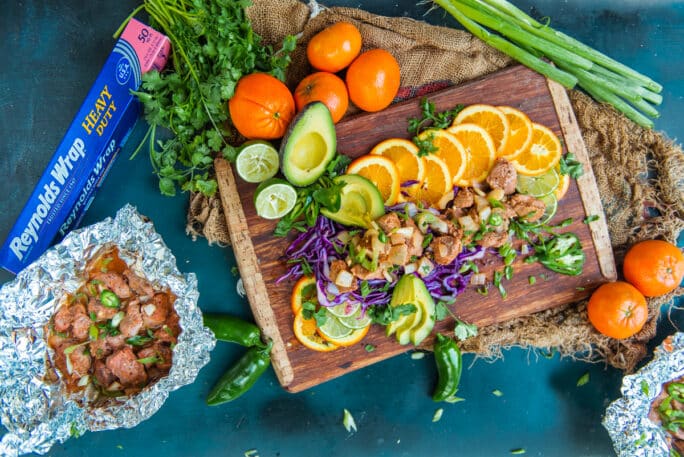 One of my favorite things to do is whip up a quick and easy meal, especially while camping! And this recipe for bbq pork bites is one of those quick and easy meals that can be made in an easy foil packet on the grill, campfire, or in the oven (because some nights you just don't want to deal with clean up).
The pork is marinated in a honey garlic citrus blend before being grilled. It's amazing right out of the packet, as a sandwich filling or over rice! It looks great (and tastes great) in a pineapple bowl if you really want to have some fun too.
What you need for mojo bbq pork bites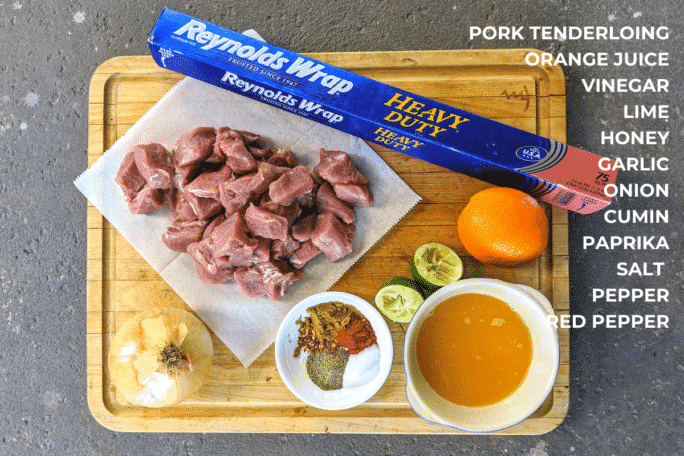 This recipe sounds fancy, but all it takes is a pork tenderloin trimmed of the silverskin and cut into cubes.
For the mojo marinade, you need
orange juice
vinegar
lime
honey
garlic
onion
Spices: cumin, paprika, salt, pepper, and red pepper flakes
Girl Carnivore Pro Tip – Chop evenly: The key to making sure everything cooks evenly is to cut the pork into equal bites. Really, that's the hardest part. Once it's chopped, all you need to do is toss it all together.
What's Mojo?
Where mojo could mean a lot of things, this recipe is inspired by my travels through Cuba. With it's citrus, herb, and garlic infusion, this mojo – pronounced Moh-ho – sauce is a blend of fresh island flavors, like freshly squeezed orange juice, a little heat from the red pepper flakes, and some personal favorites to play on that salty, sweet, sour combo like honey, garlic, and paprika just to keep things zesty.
How to make foil wrapped pork tenderloin bites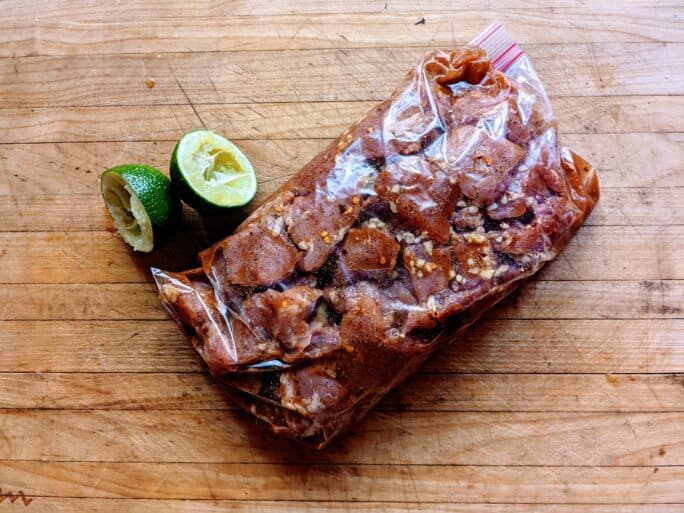 First, make the marinade. Lock in the flavors with these bites by whipping up the mojo marinade and letting the pork absorb the flavors in a resealable bag. Simply pour all the marinade ingredients over the pork and let the flavors work their magic.
This step can be done ahead of time, up to 4 hours, and left in the cooler or fridge until ready to cook.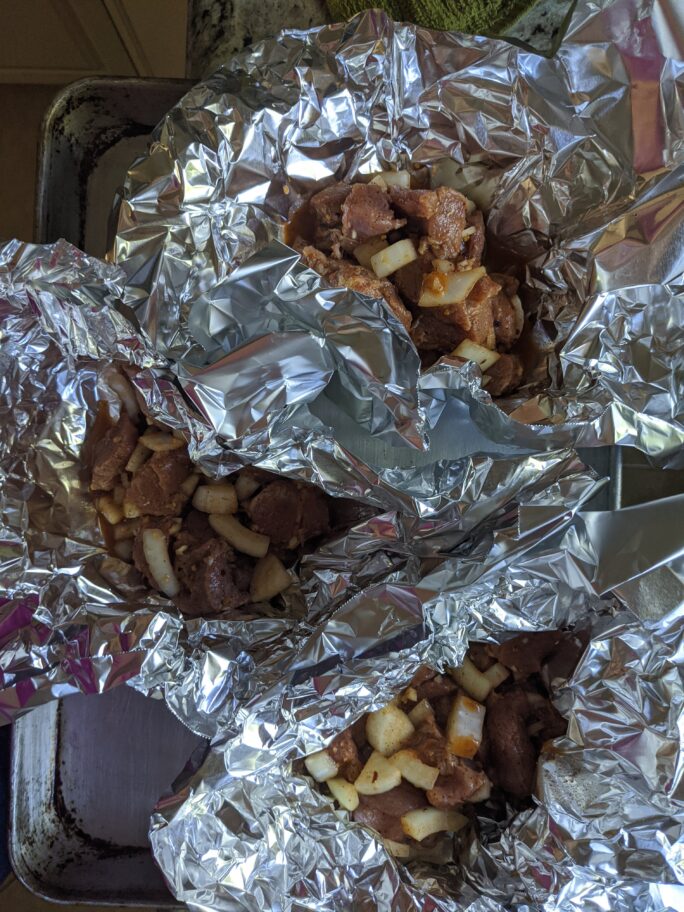 Next, make the foil packet: When you are finally ready for dinner – toss the contents of the bag into a 12-inch piece of foil that has been cupped in the middle using Heavy Duty Foil (check out this great tutorial from Girls Can Grill on how to make a perfect foil bowl).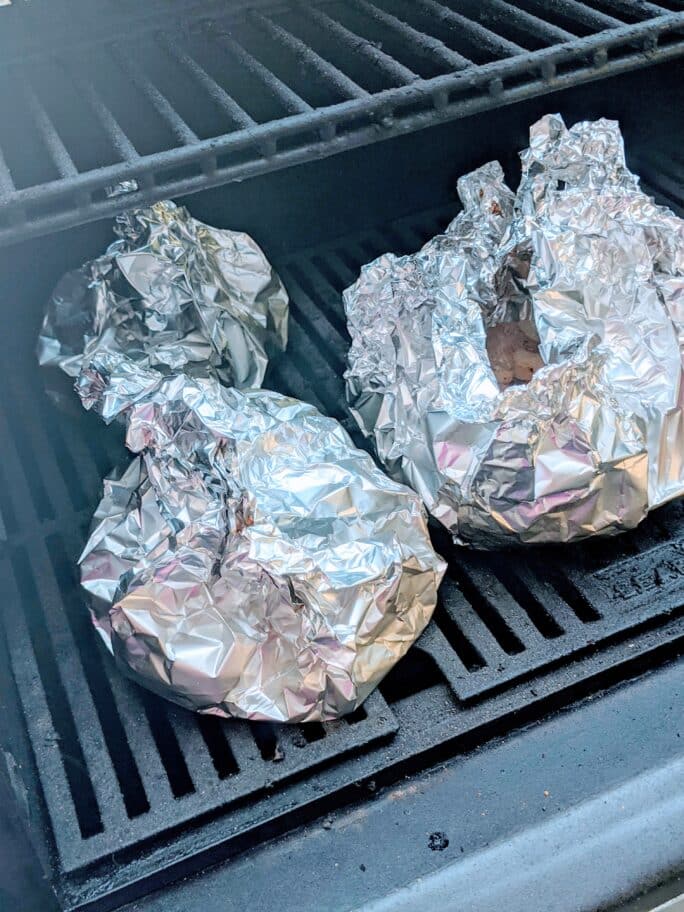 Finally, Grill: let the packets grill over indirect heat for 15 minutes before opening up the foil to allow for some caramelization, but be careful the foil will be hot.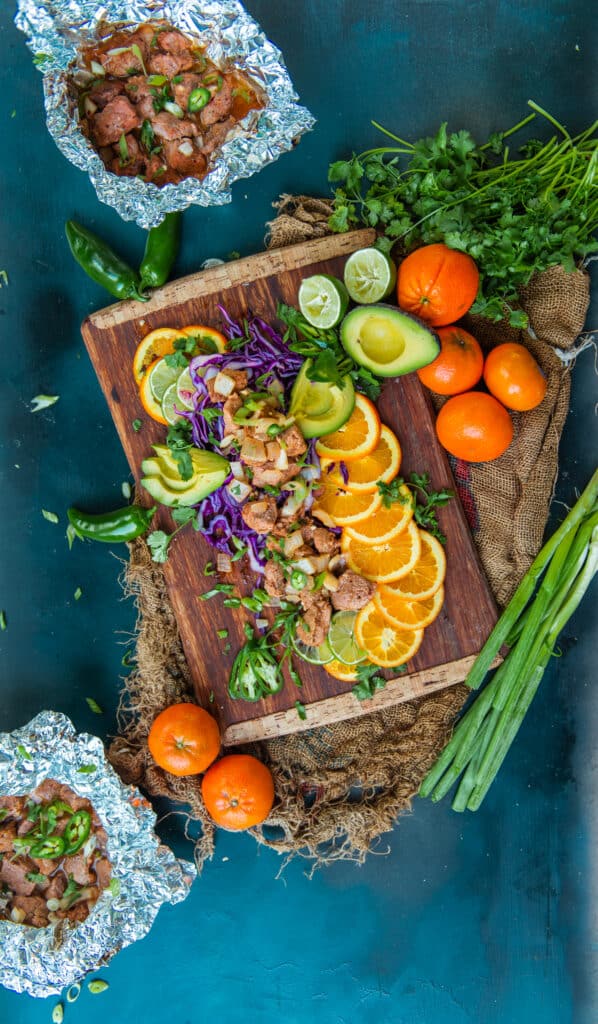 No fancy equipment needed
This whole recipe can be made in a resealable bag and then poured into the foil packet for cooking – meaning no dishes for cleanup!
When grilling, I like to make simple foil packets out of aluminum foil. I always have it in my camp gear because – one) you never know what the camp grill at the base will look like when you get there, and two) I am pretty sure there is nothing that can't be grilled over fire in foil.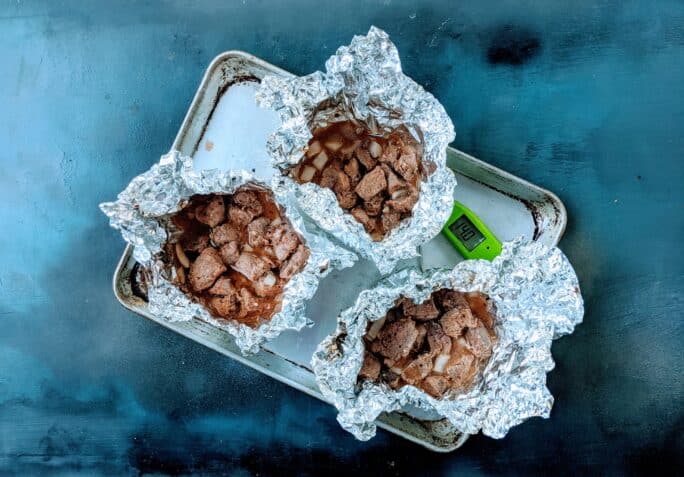 But really, can you cook pork in foil?
Yes. You can cook just about anything in foil (like amazing grilled cheese or loaded breakfast chilaquiles). But pork – especially tenderloin is perfect in foil.
The tin foil allows the heat to radiate through creating a moist environment to keep everything tender making cleanup a breeze.
If you are using a traditional grill, you could make this recipe in a cast-iron skillet covered with foil.
Why tenderloin makes perfect bites:
Pork tenderloin cooks quickly. You could use shoulder or country-style ribs here, but it does extend the cooking time. For the fat to render and the shoulder to become tender, you need to cook slower on lower heat. If it's what you have on hand, it's a great substitute for the tenderloin.
The pork tenderloin is the be-all and end-all for quick pork dinners. From pan-seared skillet meals to whole campfire tenderloins, it packs a ton of delicious flavor while cooking in under 30 minutes to a desired 145 degrees.
By cutting the tenderloin into bite-sized pieces, we are making sure every bite is smothered in the mojo sauce.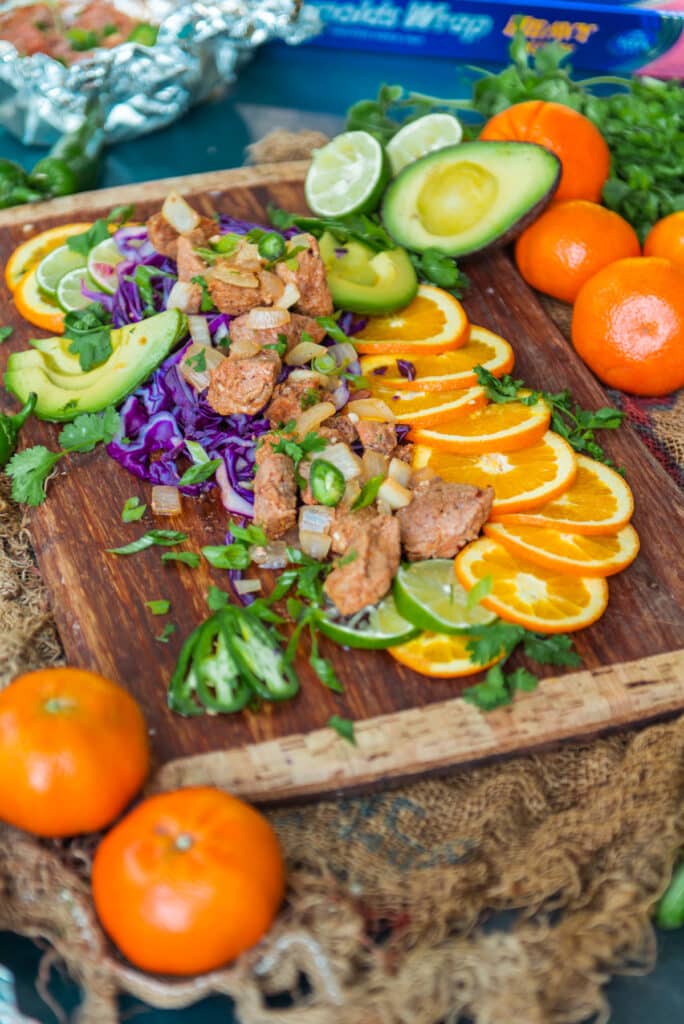 What to serve with it:
Round out these pork bites by serving them with make-ahead rice (or this saffron cauliflower rice), picadillo, a quick jalapeno slaw or if you really want brownie points, serve them over top of loaded campfire fries or creamy smoked mac and cheese. 
Want more delicious inspiration? Try some of my favorite recipes
If you've tried this easy foil wrapped mojo pork recipe or any other recipe on GirlCarnivore.com please don't forget to rate the recipe and let me know where you found it in the comments below. I get inspired by your feedback and comments!
FOLLOW Along on Instagram @girlcarnivore as well as on Twitter and Facebook.
Mojo Marinated Honey Garlic Pork Tenderloin Bites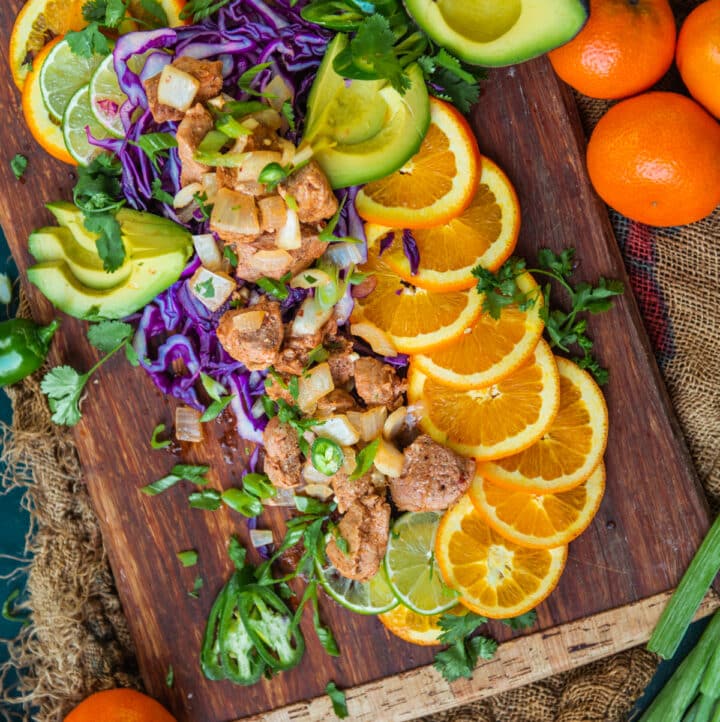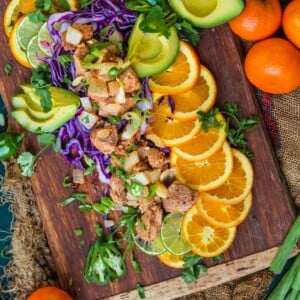 Pork tenderloin makes dinner easy with a fast garlic and citrus marinade inspired by Cuban mojo flavors all wrapped in foil packets and grilled to perfection on a campfire or traditional grill in under 20 minutes!
Recommended Equipment
Reynolds Wrap® Heavy Duty Foil
Ingredients
For the Mojo Marinade
½

cup

Orange juice

1

tbsp

White Vinegar

1

Lime

juiced

1

tbsp

Honey

3

Garlic cloves

minced

1

tbsp

Cumin

1

tbsp

Paprika

1

tsp

Salt

½

tsp

Red Pepper Flakes

1

tsp

black pepper
For the Pork Bites
½

Onion

chopped

1

lb

Pork Tenderloin

cut into even 1" cubes
Instructions
Make the Marinade
Pour the orange juice, white vinegar, lime juice, and honey into a resealable gallon size bag.

Add the garlic, cumin, paprika, salt, red pepper flakes, and black pepper.

Seal well and shake to combine.
Prep the Pork
If needed, remove any silverskin from the tenderloin.

Cut the pork into 1 inch cubes.

Add the cut pork and onion to the marinade, making sure to seal well.
Marinate
Let the pork marinate for 4 to 8 hours in the fridge or in a cooler on ice.
Prep the Grill
When ready to grill, prep the grill for indirect grilling, around 375 to 400 degrees.

Pour the tenderloin into 4 foil packets, folding up the edges to seal in the juices.

Pinch the tops shut.
Grill
Place the foil packets over the grill and allow to cook for 10 minutes in the foil packets.

Carefully open the packets, rotating if needed based on your heat source, and allow the pork to cook 10 minutes longer.

Check that the pork bites temp to 145 degrees with an instant read thermometer, and remove from heat. Otherwise, cook 5 minutes longer or until they temp properly.
Serve
Remove the pork bites, in their packets from the grill once they reach 145 degrees.

Allow the pork to cool in the packets for 5 minutes.

Serve with toothpicks as an appetizer or as individual portions with desired sides if using as a main dish.
Notes
Use caution when opening foil packets as steam accumulates in each. They can be hot, wearing heat-resistant gloves is recommended.
Oven-Baked Instructions: 
Follow the recipe as instructed through wrapping the pork in foil.
Heat the oven to 375 and place the foil packet with the marinated pork tenderloin bites inside on a baking sheet for ease and safety. 
Cook the pork bites until they reach 145 degrees internally, about 20 minutes, rotating the packets halfway through cooktime. 
Leftovers? 
Store any extra in an airtight container in a refrigerator for up to 4 days. Toss them into breakfast the next day for a serious upgrade. 
Nutrition
Serving:
1
g
|
Calories:
193
kcal
|
Carbohydrates:
13
g
|
Protein:
25
g
|
Fat:
5
g
|
Saturated Fat:
1
g
|
Cholesterol:
74
mg
|
Sodium:
650
mg
|
Potassium:
619
mg
|
Fiber:
2
g
|
Sugar:
8
g
|
Vitamin A:
992
IU
|
Vitamin C:
22
mg
|
Calcium:
41
mg
|
Iron:
3
mg