This is one of those crafty little foil packs that you toss right onto the fire while camping. Loaded with yellow potatoes, onions, mushrooms, and of course, garlicky buttery beef, it's a classic steak and potatoes combo that everyone loves!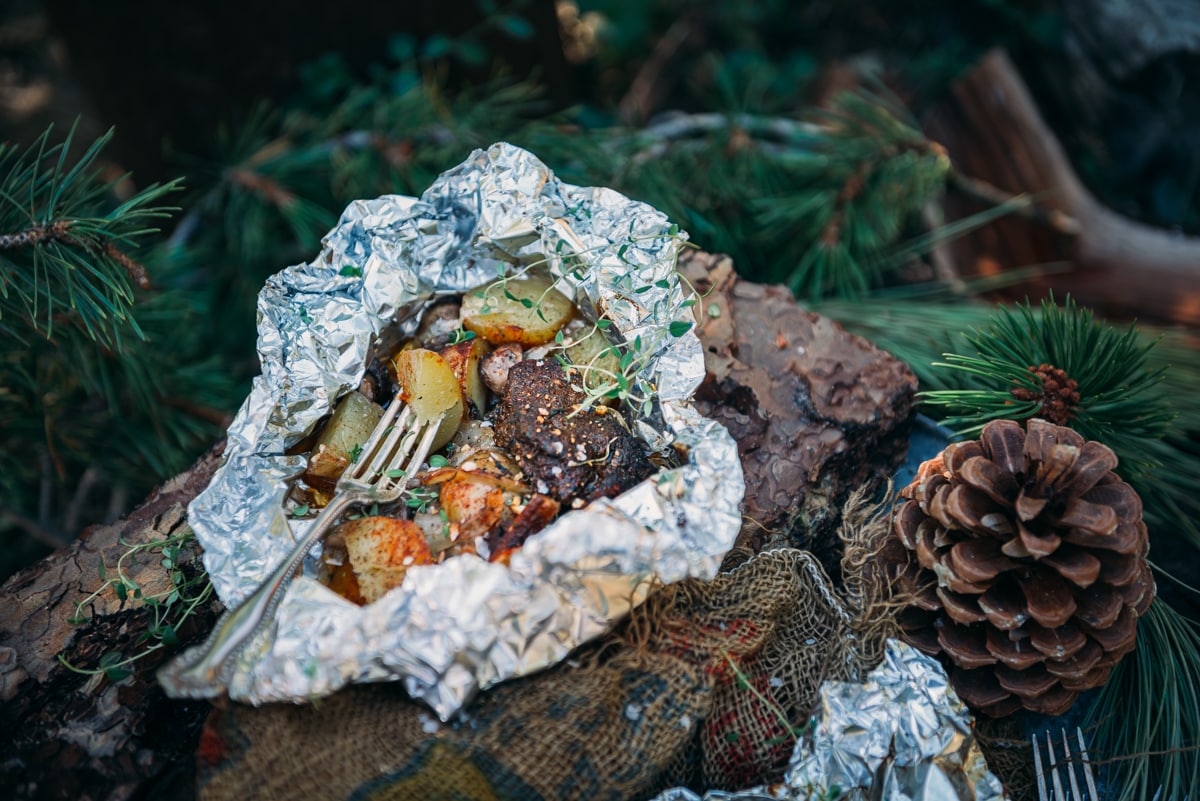 This post was sponsored by the Idaho Potato Commission. All thoughts and opinions are my own.
Anyone who knew anyone that was a Boy Scout knew the versatility of foil-wrapped campfire meals. Well, heck, let's just shorten that to the power of tin foil. I am pretty sure it became a be all end all for cooking anything over live fire (so much so that I realized I had an archive of recipes for just that).
And now that I camp as much as possible, I am still a sucker for make-ahead foil packets for camping. I love the ease of tossing things together and knowing I can pop them over the fire when everyone is ready for supper. Minimizing prep and clean up while at camp.
Bonus, you can customize each one, if you have picky eaters. Not saying I know anyone like this, just giving a gentle reminder of how handy individually wrapped meals can be….
Ingredients Needed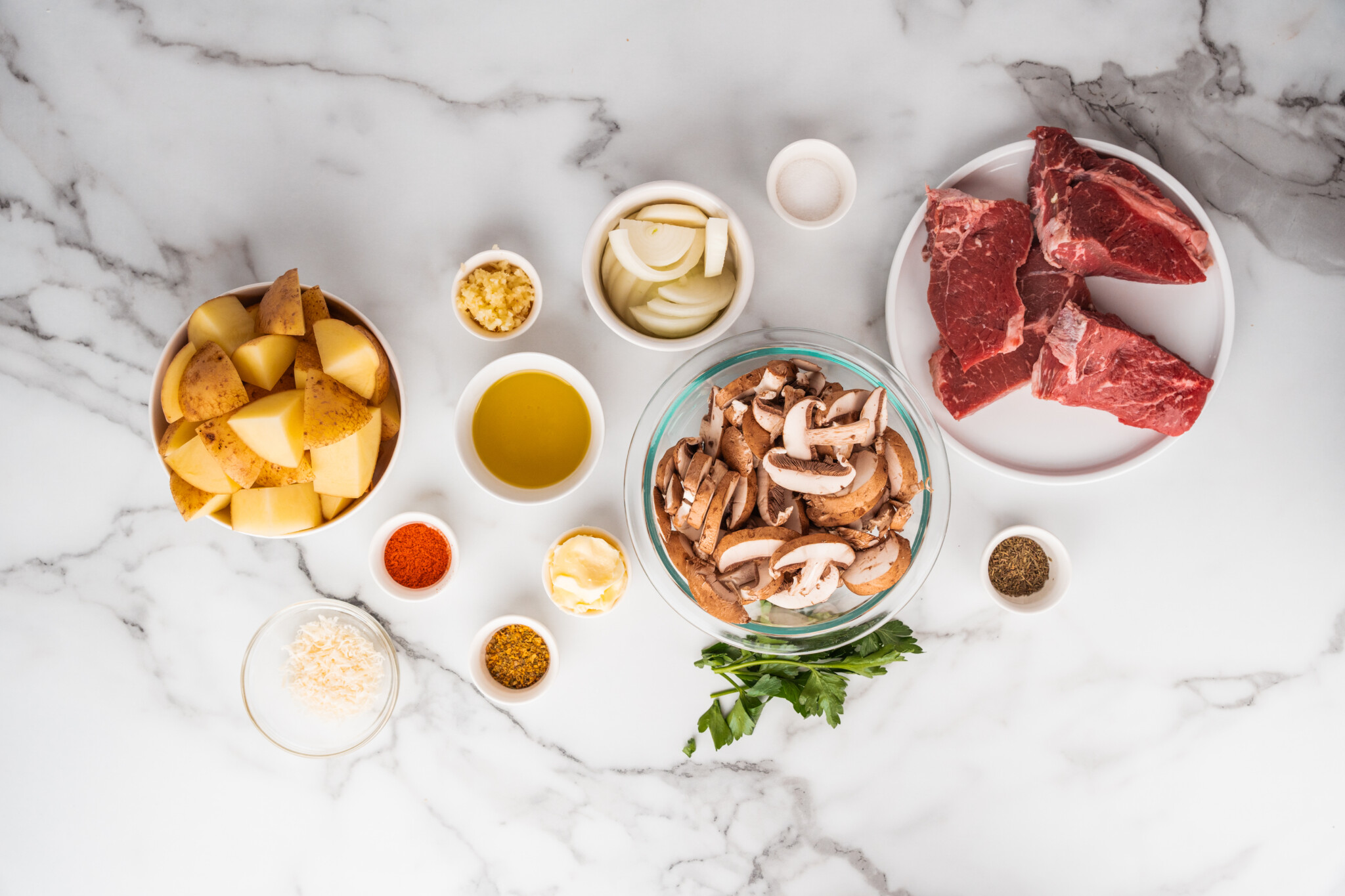 Idaho Dutch Yellow potatoes – these are tender little potatoes that are perfect for the foil cook and won't get mushy
Onion
Mushrooms
Garlic
Cooking oil – whatever your favorite cooking oil is
Salt
Thyme
Paprika – bonus points if you use smoked paprika
Steak Seasoning
Sirloin steak – this lean steak is perfect for these foil packets. If you cant find sirloin steaks, try a London broil instead.
Butter
Parmesan cheese
Parsley
How to make these steak and potatoes foil packets
Start by prepping all the filling. Mix the chopped potatoes, mushrooms, and onions in a bowl together. Toss them in oil and then season them with the spices.
Then arrange the potato filling onto foil sheets, about 12 inches long so that you can fold them up.
Place the steaks on top of the potatoes and top with a pat of butter. This melts into the foil pack as the cook keeping things moist.
Fold up the foil around the steak and potatoes.
Place the foil packets on the grill grate or campfire and cook until the potatoes are fork tender and the steak is cooked to your desired temp. 135F for medium rare.
Tips on how to make foil camping packs
Here are a few tips for making and cooking hobo packets on the campfire.
Prep ahead of time. prep all of the filling ahead of time. Chop whatever needs chopping, oiled, tossed or trim anything so that it's ready to be divided evenly.
Chop evenly. If using potatoes, or any other vegetable, it's important to cut them into even portions. Uneven sizes cause variations in cooking time, so making sure that everything is cut to about the same size is key for even cooking.
Cut even strips of heavy-duty aluminum foil. Yep, splurge on the heavy-duty stuff. Nothing is more frustrating than the foil tearing when you are transferring it or cooking it.
Divide evenly. Once you have everything prepped and the foil ready to go, it's easy to divide the ingredients into each portion for every person in the center of the foil sheets.
Don't over stuff. Much like a burrito, there is such a thing as too much stuffing. Make sure you have more room to fold up the sides and edges than you do filling taking up space on the foil.
Seal well. When you fold the edges up, seal them by folding them down over each other, pinching well. Make sure both ends and the top is sealed by folding the foil down over itself a few times and pinching with your fingers.
Place in cold storage. Once the foil packets are prepped, you can store them in a refrigerator or well-chilled cooler until ready to use. Never store raw meat above 32 degrees F.
Now that you have prepped everything like a boss, it's ready to be tossed over the coals! That easy.
Yep, that easy.
The key to foil packets is keeping things wet enough while cooking – as the moisture in the air keeps the steak juicy and the potatoes from drying out. If you substitute oil or butter, make sure you are accommodating for it elsewhere.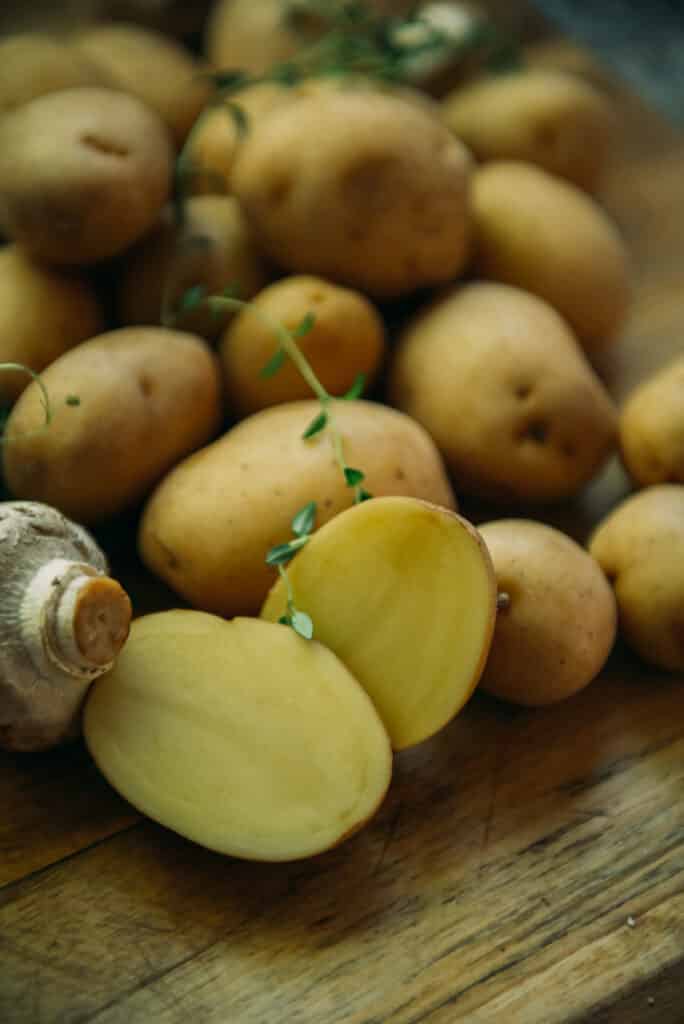 How long do you leave these foil packets on the fire?
There is no one right answer to how long to cook your packets on the fire. Every fire burns a little differently, so the skill here is building a fire, and then making sure the coals are burning evenly and not flaring up.
Shovel the coals to one side of the fire, creating indirect heat, and arrange the packets on the edge of the heat on a grate over the coals.
Cook for about 30 to 45 minutes, rotating often, over indirect heat, until the potatoes are fork-tender and the steak temps at 135 degrees F. This prevents the bottoms of the each from burning and to ensure even cooking.
Girl Carnivore Tip: the steak may cook faster than the potatoes. There's no harm in adding it a little later in cook time, especially if you prefer a rare steak.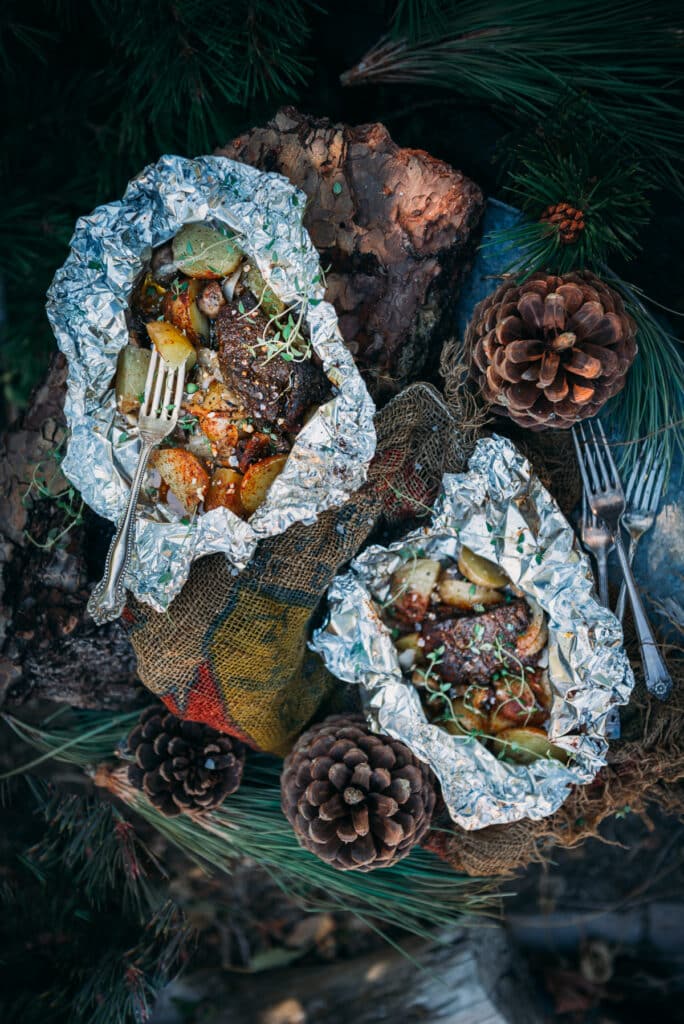 Foil Packets in the Oven?
Wondering if you can cook these just as well in the oven? If you aren't cooking over the campfire, or maybe calling it a night inside the RV, these foil packets are also perfect in the oven.
Follow the instructions for prep and wrapping them in the foil. Place them on a baking sheet and cook the packets at 350 degrees for about 35 minutes, or until the potatoes are fork-tender.
More camping recipes you'll love
If you've tried my these fun steak and potato packets or any other recipe on GirlCarnivore.com please don't forget to rate the recipe and let me know where you found it in the comments below. I get inspired by your feedback and comments!
You can also FOLLOW ME on Instagram @girlcarnivore as well as on Twitter and Facebook.
Garlic Steak and Potato Foil Hobo Packs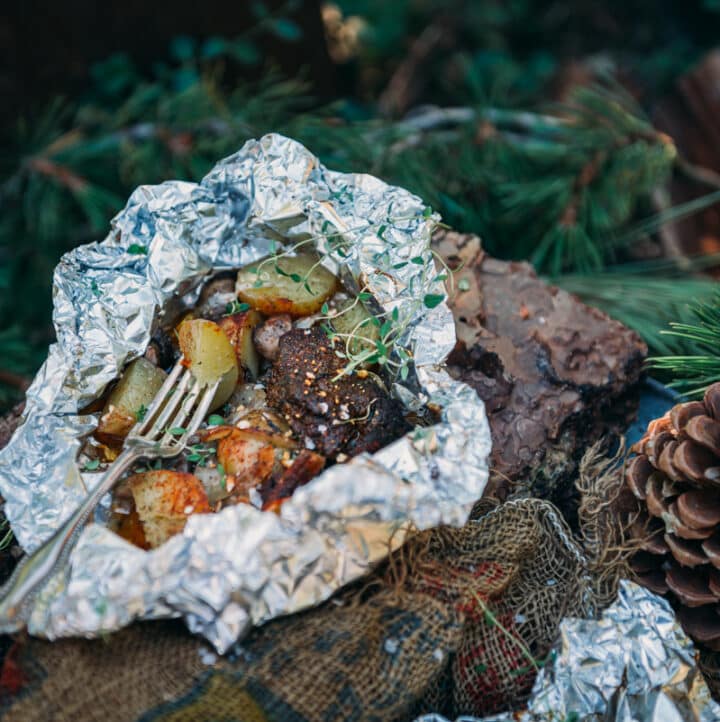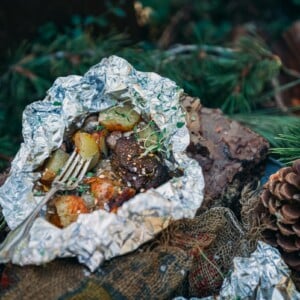 Whether you make these foil packets ahead of time, or right before tossing them on the coals, they are a perfect quick and easy campfire recipe that is loaded with potatoes and buttery garlic steak!
Ingredients
1

lbs

Idaho Dutch Yellow potatoes

cut into equal portions, halved or quartered

1

Onion

sliced thin

1-

pint

mushrooms

sliced

4

cloves

Garlic

4

tbsp

cooking oil

2

tsp

salt

1

tsp

thyme

1

tsp

Paprika

1

tsp

Steak Seasoning

12

oz

sirloin steak

divided into 4 3oz portions

2

tbsp

butter

divided

1

tbsp

Parmesan cheese

grated

Freshly minced parsley

for garnish
Instructions
Prep the campfire:
Preap a campfire for low heat.

Build a fire and shovel the coals to the center, maintaining a low and even heat for cooking with glowing red embers.
Prep the potatoes:
Place the cut potatoes, onion, and mushrooms in a large bowl.

Add the garlic.

Drizzle the cooking oil over top and toss to coat everything.

Add the salt, thyme, paprika, and umami blend to the bowl and toss again.
Assemble the packets:
Arrange 4 12" sections of heavy-duty aluminum foil on a clean work surface.

Divide the potato mixture evenly between each packet.

Place beef over top of each.

Top each steak with a plat of butter.

Fold the foil up on the edges, crimping to securely seal the package.
Grill the packets:
Place each foil packet around the edge of the fire, and cook about 35-40 minutes, rotating as needed to evenly cook.

Cook until potatoes are fork-tender and steak is cooked through to at least 135 degrees F. The onions and mushrooms will soften in the juices.
Serve:
Serve each hobo packet as it's own plate, unfolding the foil and allowing the steam to escape.

Season with parmesan cheese and garnish with fresh thyme and parsley.
Notes
Make sure your potatoes are cut in equal portions as that helps them to cook evenly.
Use dried garlic in place of fresh if it's what you have on hand. 1 teaspoon will do, divided between each packet.
For this recipe, I used my Umami spice blend,

substitute shiitake mushroom powder, or Togarashi seasoning for extra bold flavor. 
Nutrition
Serving:
1
g
|
Calories:
426
kcal
|
Carbohydrates:
28
g
|
Protein:
26
g
|
Fat:
25
g
|
Saturated Fat:
6
g
|
Cholesterol:
68
mg
|
Sodium:
1297
mg
|
Potassium:
1210
mg
|
Fiber:
4
g
|
Sugar:
5
g
|
Vitamin A:
474
IU
|
Vitamin C:
28
mg
|
Calcium:
73
mg
|
Iron:
3
mg