Make the ultimate grilled cheese for breakfast with a hearty filling of eggs, leftover burgers, sauteed onions, and of course, lots of cheese – and make them all in individual foil packets for perfectly toasted truly grilled cheese.
This post is sponsored by Reynolds Wrap®. All thoughts and opinions are my own.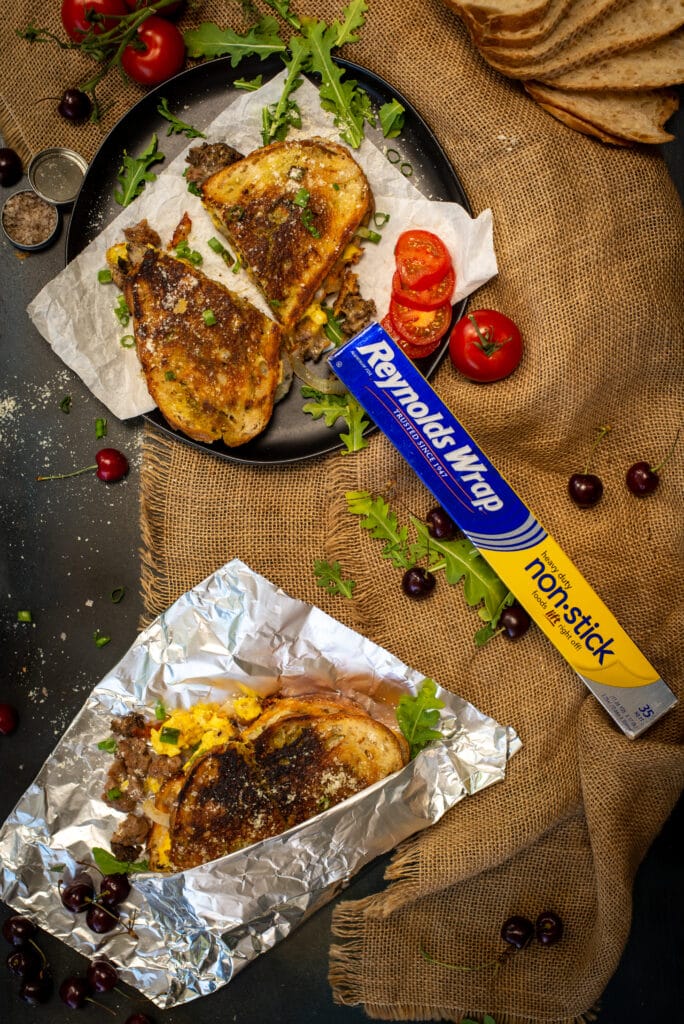 You know those moments when all you want is the comfort of childhood favorites – like, oh, I don't know, grilled cheese?
Yeah, those moments.
But you are also cooking outside on a grill – or even over the campfire – and have some burgers from last night's meal that you want to use up…
Let me introduce you to this treat – in which we prove that you can toast a grilled cheese in foil, and make an epic sandwich all without making a mess thanks to Reynolds Wrap® Non-Stick Foil.
Oh, and did I mention, it's a perfect way to use up leftover cheeseburger patties? Because who doesn't want a cheeseburger for breakfast?
Not a fan of burgers… or don't have any, sure cooked sausage works great here too, but it's not as fun to say.
Grilled cheese in foil?
Yep, you read that right. Perfect to make ahead and toss over the campfire or the grill. Wrapping the sandwich in a protective double layer of foil lets it toast evenly, with some rotating, while keeping the filling contained between those two hearty outer layers of bread.
How cool is this! You can put one on a grill or directly over the coals and get a melty hot sandwich in 20 minutes that comes in its own worry-free disposable wrapper.
The trick for the perfect foil-wrapped sandwich is the double layer of foil. This acts as both an insulator for the heat and a protective layer to avoid burns. And when you use Reynolds Wrap® Non-Stick Foil, all the melty filling doesn't get stuck to the foil and dry out making clean up easier.
So yes, you can toast a sandwich in foil, and it's crazy fun and just as delicious as that panini press getting dusty in the pantry.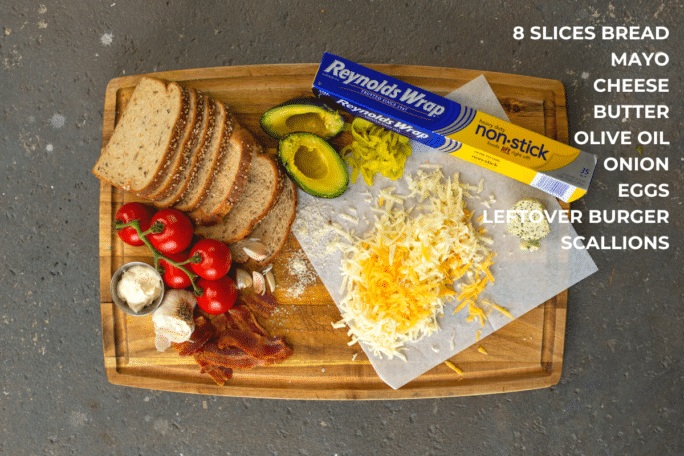 Next level grilled cheese
Not only does this grilled cheese have a duo of amazing cheese, but it is also loaded with scrambled eggs and a crumbled leftover cheeseburger patty from the previous nights' meal – because making use of leftovers is a thing here, and no one complains when there's a bonus cheeseburger in their breakfast blend.
Make sure to pile on great fillings, like sauteed onions and peppers, herbaceous spreads, and whatever else floats your boat – but keep in mind that the liquid in each of these things will cause the bread to get soft as it cooks.
Perfect Bread for Grilled Cheese
Leftover bread is perfect for these. Why? Because the stale bread won't absorb as much moisture from the filling while it's wrapped and grilling. It will remain firm and hearty without getting soggy.
Sadly, thin white bread will get soggy – and no one wants that. Pick a hearty thick-cut sourdough or rustic loaf. Trust me, they make better sandwiches anyway.
And, as you are working through the leftovers, like last day of camping, ain't nothing coming home sort of cleanout, set the bread out in a safe place or in your oven on a wire rack the night before and allow it to get stale.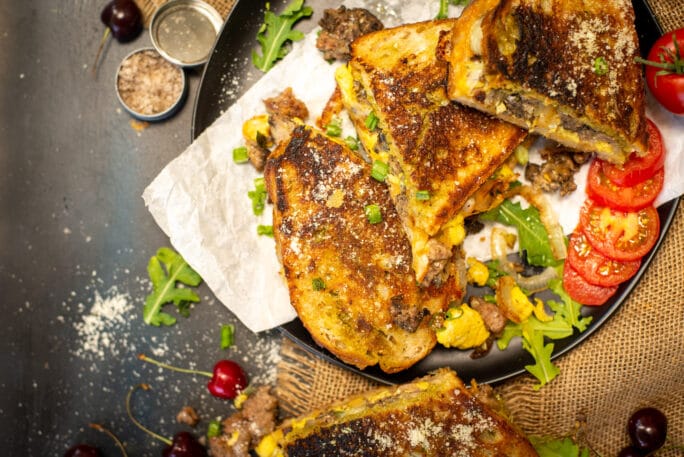 Forget butter use mayo.
For that perfect toasted golden brown edge to edge bite, you want to toss out the butter and use mayo. Mayo works to help the bread toast with a rich and yet perfectly crisp outer golden layer.
Have a mayo hater in the house? Don't even tell them (unless there is an allergy involved, and then you know, safety first). No one will ever guess that you substituted one for the other as they marvel over your grilled sandwich mastery.
Can you make these foil-wrapped sandwiches ahead of time?
No. and Yes….
I don't want to lie to you. You use thin white bread, and load it with all these fillings, wrap it in foil and expect it to not be a little squishy the next day, that isn't going to happen. But, if you use hearty stale bread and minimize the liquid in the filling, then yes, you can make these ahead of time.
Much like my other campfire chicken sandwich, wrap the sandwiches tightly in foil the night before and store them safely chilled until ready to grill.
Ultimate Breakfast Grilled Cheese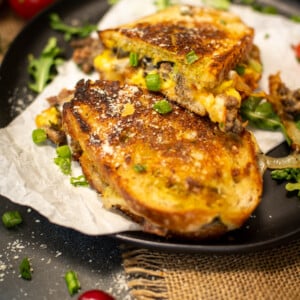 This ultimate grilled cheese is loaded with egg, cheeseburger, and a duo of cheeses before being cooked over the campfire or on the grill!
Recommended Equipment
Reynolds Wrap® Non-Stick Foil

Grill or Campfire
Ingredients
8

slices

of bread

2

tbsp

Mayo

2

tbsp

Parmesan cheese

4

oz

Havarti cheese

shredded

4

oz

Colby cheese

shredded

4

oz

Monterey Jack cheese

shredded

2

tbsp

butter

divided

1/2

Onion

sliced thin

1

tsp

salt

8

Eggs

1

tbsp

milk

2

Scallions

minced
Instructions
Prep the Grill:
Preheat the grill for indirect heat around 400 degrees.
Saute the Onions:
Place a cast-iron skillet on the grill to preheat and add 1 tbsp butter. Swirl to coat the pan.

Add the onions and salt.

Allow the onions to saute, stirring as needed, until they are soft and starting to get lightly golden brown.

Remove the onions from the skillet and set aside.
Scramble the Eggs:
In the same skillet, add another tablespoon of butter, if needed to grease the pan.

Whisk the eggs in a small bowl and add 1 tbsp milk.

Pour into the hot skillet and, using a wooden spoon, gently fold the eggs, pulling from the bottom, to scramble.

Fold in the Over Easy spice blend.

Remove the skillet from heat just as they are starting to set and continue to gently stir.

Transfer the eggs to a bowl and set aside.

Season with salt if desired and sprinkle in chopped scallions.
Reheat the leftover cheeseburger:
In the same skillet, toss in the leftover burger patty and, break into tiny chunks.

Keep over the heat just long enough to warm.

Remove from heat.
Assemble the Sandwich:
Toss the cheese together in a bowl.

Coat one side of each slice of bread with a light smear of mayo.

Sprinkle with parmesan cheese.

Tear off a sheet of Reynolds Wrap® Non-Stick Foil 3x the size of the slice and arrange the slice, mayo side down.

Sprinkle 1/8th of the cheese blend onto the bread.

Top with ¼ of the scrambled eggs, ¼ of the leftover burger, and ¼ of the sauteed onions.

Place another 1/8th of the cheese on top and the remaining slice of bread and sprinkle with a bit of parmesan cheese.

Fold the foil around the sandwich, from the top down and bottom overhang up, folding the overhanging edges on the sides securely under the sandwich as well.
Grill:
Place the sandwiches on the cooler side of the preheated grill and cook about 15 to 20 minutes per side, until golden brown, rotating every 5 to 7 minutes so no side gets too hot.
Serve:
When the sandwiches are toasted to a golden brown and the cheese has melted through, remove from the grill.

Allow to cool 5 minutes, or until the foil can be handled.

Carefully peel back the foil and enjoy.
Notes
Using stale bread really helps things to not get soggy. Place slices of bread on a single layer on a wire rack the night before for the best results.
How to prep for indirect heat:
For a gas grill turn 1 burner to high and 2 to low while preheating. When ready to cook, turn the highest burner to medium and turn the other two off if needed to maintain a hot grill.
For a charcoal grill or live fire, carefully arrange the hot coals to one side of the grill or firepit.
Short on plates? Carefully unfold the foil and don't even bother with plates.
Nutrition
Serving:
1
g
|
Calories:
766
kcal
|
Carbohydrates:
32
g
|
Protein:
43
g
|
Fat:
52
g
|
Saturated Fat:
26
g
|
Cholesterol:
440
mg
|
Sodium:
1693
mg
|
Potassium:
414
mg
|
Fiber:
3
g
|
Sugar:
5
g
|
Vitamin A:
1457
IU
|
Vitamin C:
2
mg
|
Calcium:
746
mg
|
Iron:
5
mg