Level up your favorite camping recipes with these Campfire Potatoes! Made with Idaho potato wedges, onions, butter, cheese, and bacon crumbles, wrapped in foil, and cooked over an open fire, this simple side dish will be the perfect addition to any main course!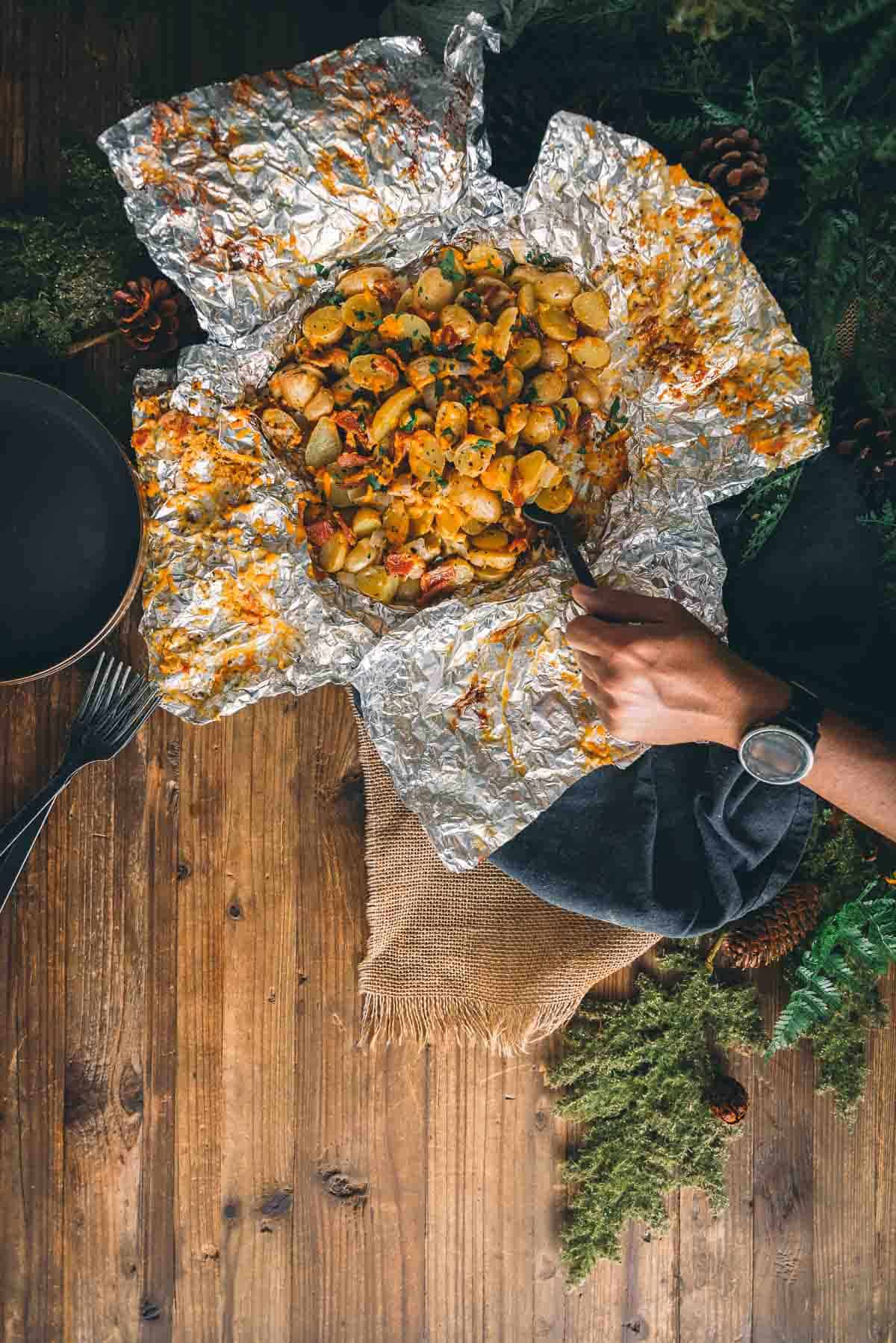 This recipe was developed for the Idaho Potato Council. All thoughts and opinions are my own.
What better way to enjoy the great outdoors than by making one of our favorite side dishes for camping, aka loaded Campfire Potatoes? Whether paired with a juicy tomahawk steak or leveling up your campfire steak and potato foil packs, this easy side dish topped with cheese will become your new best friend when planning camping meals. Alright, now it's time to get cozy because we're about to share all our tasty secrets to making this delicious side dish recipe!
What Are Campfire Potatoes?
Campfire Potatoes are a camping-friendly method for making the perfect side dish to pair with any main course. What makes them a great campfire recipe is they're wrapped in foil, making this a super easy dish to clean up and prepare! No need to whip out multiple dishes to make this meal! Of course, you can also make these on a traditional grill or even in the oven. But, everything cooked over a campfire is better.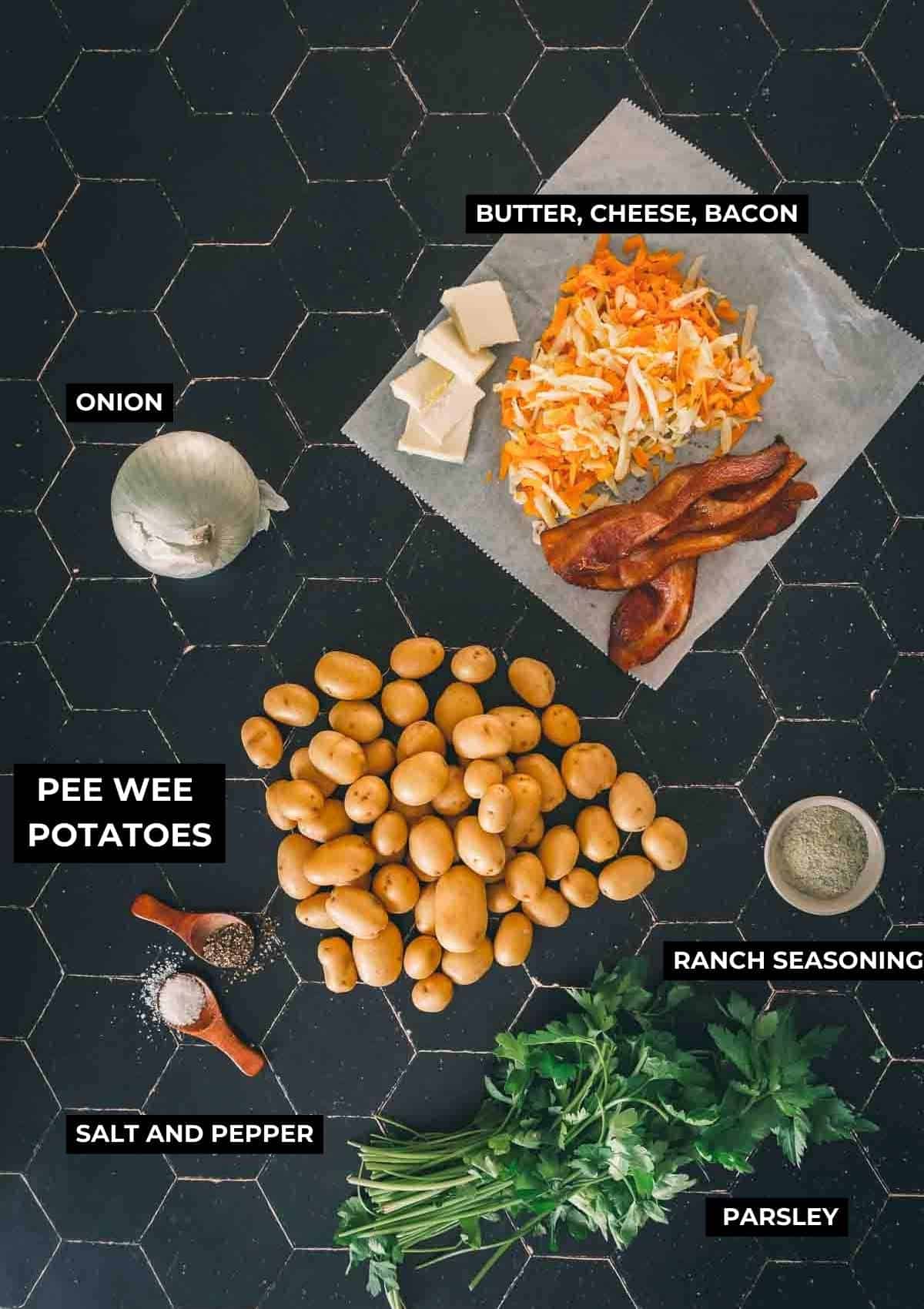 Campfire Potato Ingredients
Pee-Wee Yellow Potatoes – our new favorite potato crush – they are soft and buttery like Yukon potatoes but smaller and great in dishes like our garnachas or even campfire frittatas.
Ranch Seasoning Packet or Girl Carnivore Over Easy or your favorite Italian herb spice blend
Onions – white or yellow
Unsalted Butter
Bacon – cooked and chopped
Shredded Cheese – Use Colby Jack, shredded cheddar cheese or your favorite melting cheese
Parsley
Salt and pepper for seasoning.
How to Make this camping recipe
Prep the Campfire
Start by preparing your charcoal grill or setting up a two-zone fire, with one side for direct heat and the other for indirect heat. Now, here's the secret: wait until the flames have disappeared, and you're left with those hot, glowing embers. That's the sweet spot for a safe and successful campfire cooking session.
Prep the Potatoes
Wash, dry, and slice those potatoes, then toss them in a bowl with oil and ranch seasoning. Don't forget to add the onion for extra flavor.
Next, lay out a large sheet of heavy-duty foil, pour the potatoes in the center, and top them with butter, crumbled bacon, and cheese.
Then, fold the foil to seal it up, then lay out another sheet of foil for double protection. Finally, place the foil-wrapped potatoes seam-side down, fold again, and you're all set! We do the double fold so that things are less likely to break or spill out. Alternatively, if you're using heavy duty aluminum foil, one layer, with the seam folded shut may do the trick.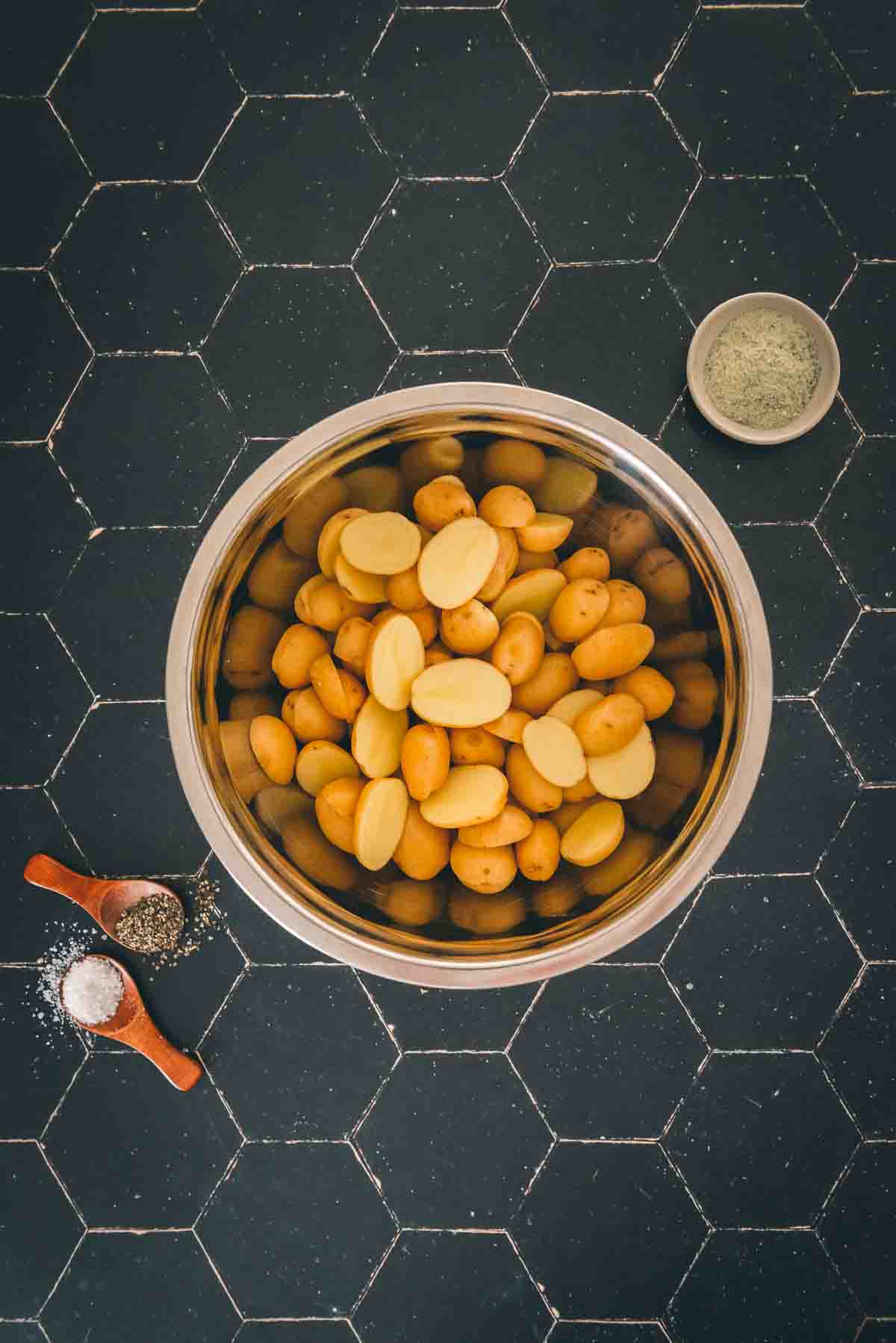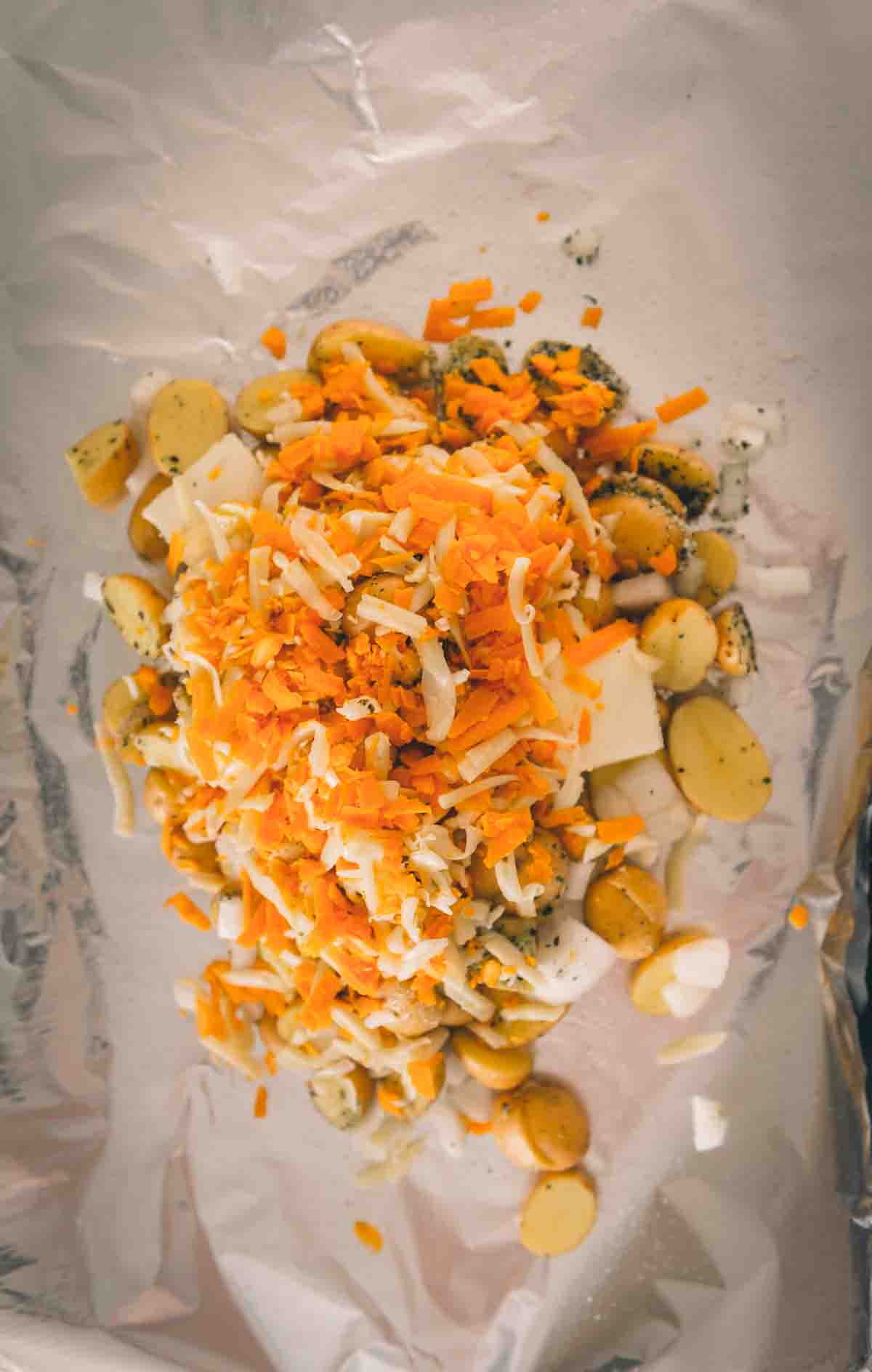 Grill the Potato Foil Packs
Place that foil packet on the grill grate over the preheated campfire and let the potatoes cook for 30 to 45 minutes, flipping them once halfway through.
Once done, carefully remove the foil pack and let it cool for 5 minutes before unveiling the deliciousness. Just remember to be cautious when opening it, as the steam inside will be hot.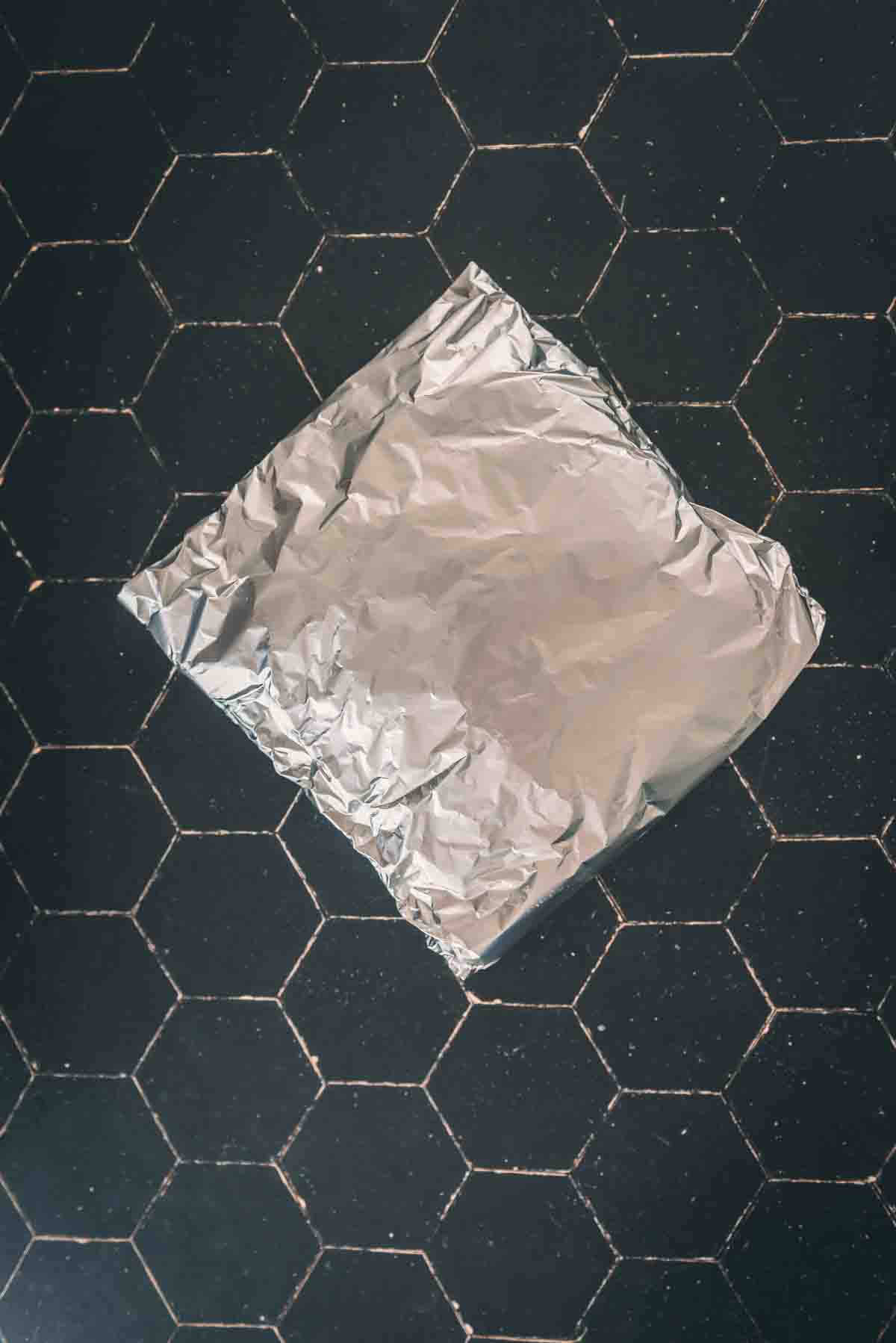 Serve
The last thing you're going to do is garnish your potatoes with minced parsley and spoon out individual portions for everyone to enjoy!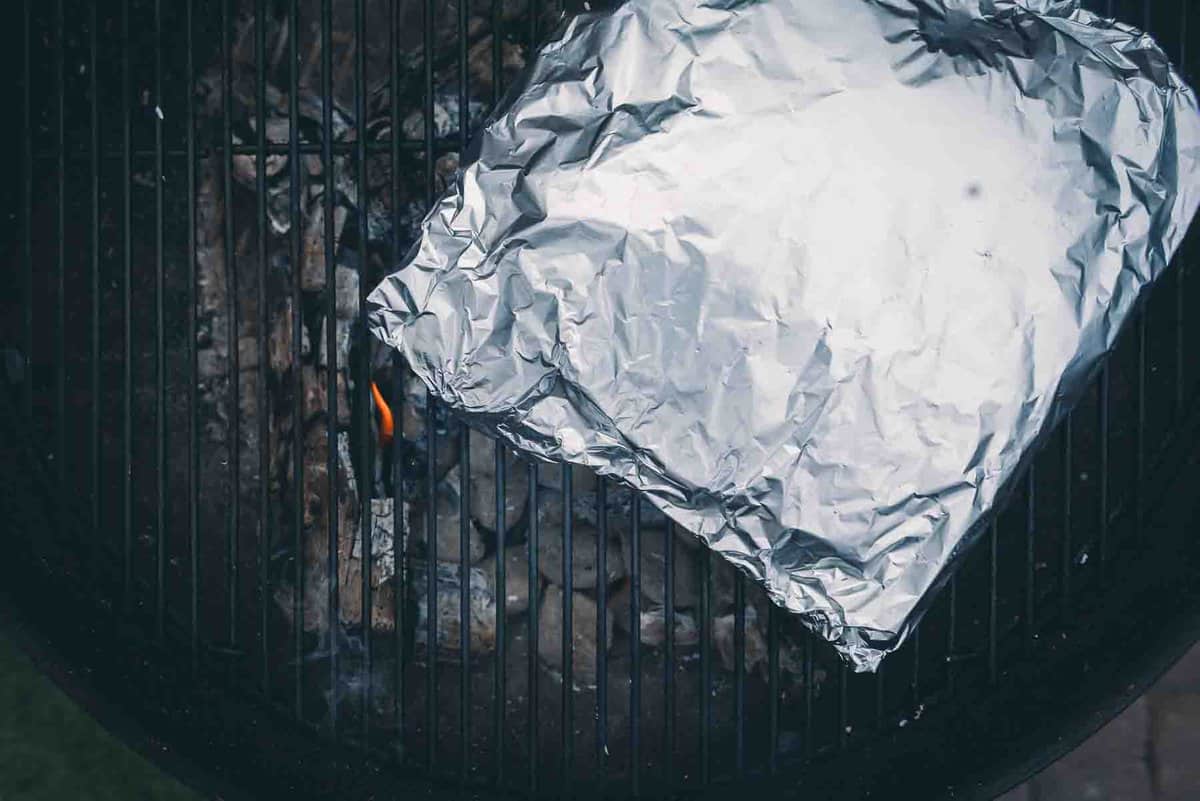 Girl Carnivore Expert recipe tip
Add a dollop of our sour cream and a sprinkle of green onions to the top of the potatoes!
Pre-cut foil squares beforehand so you don't have to do it later!
You can divide these into smaller foil packs for individual servings.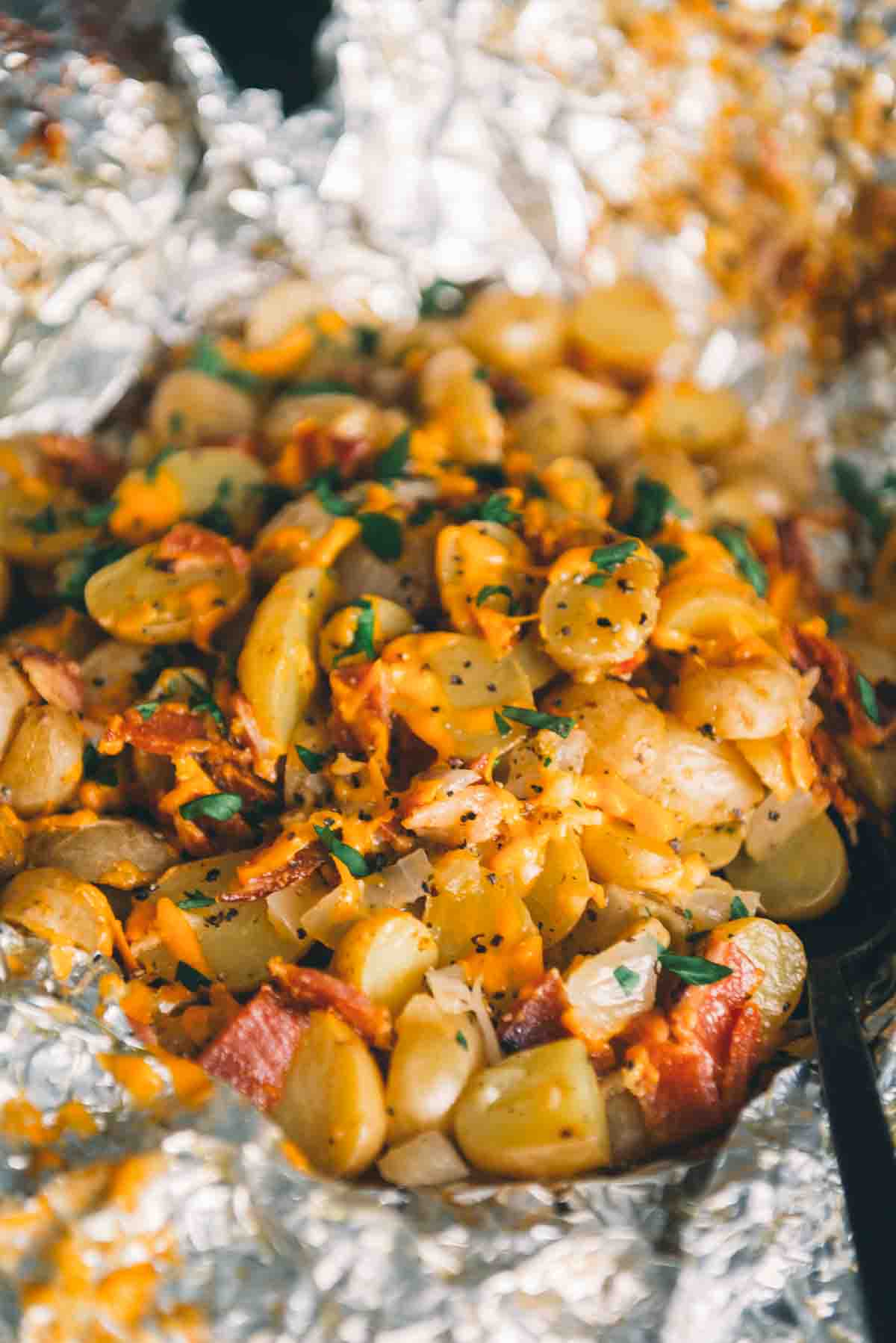 What to Serve With these cheesy Potatoes
Want to keep things simple? Serve these cheesy campfire potatoes with other foil packet recipes like these whiskey brats or carne asada nachos! If you're cooking up a huge buffet for everyone, why not whip up some delicious grilled steak kabobs or Moroccan lamb pizza?
Leftovers & Reheating
Store any leftovers in an airtight container in the fridge or in a well-insulated camp cooler for 3-4 days.
To reheat, place your campfire potatoes in a skillet over a camp store or wrap them in aluminum foil again and reheat them over the campfire until heated through.
Alternatively, you can reheat them on a baking sheet in the oven at 350 degrees F for 15-20 minutes or until heated through. You can also heat up your potatoes in the microwave, but they might not crisp up as much!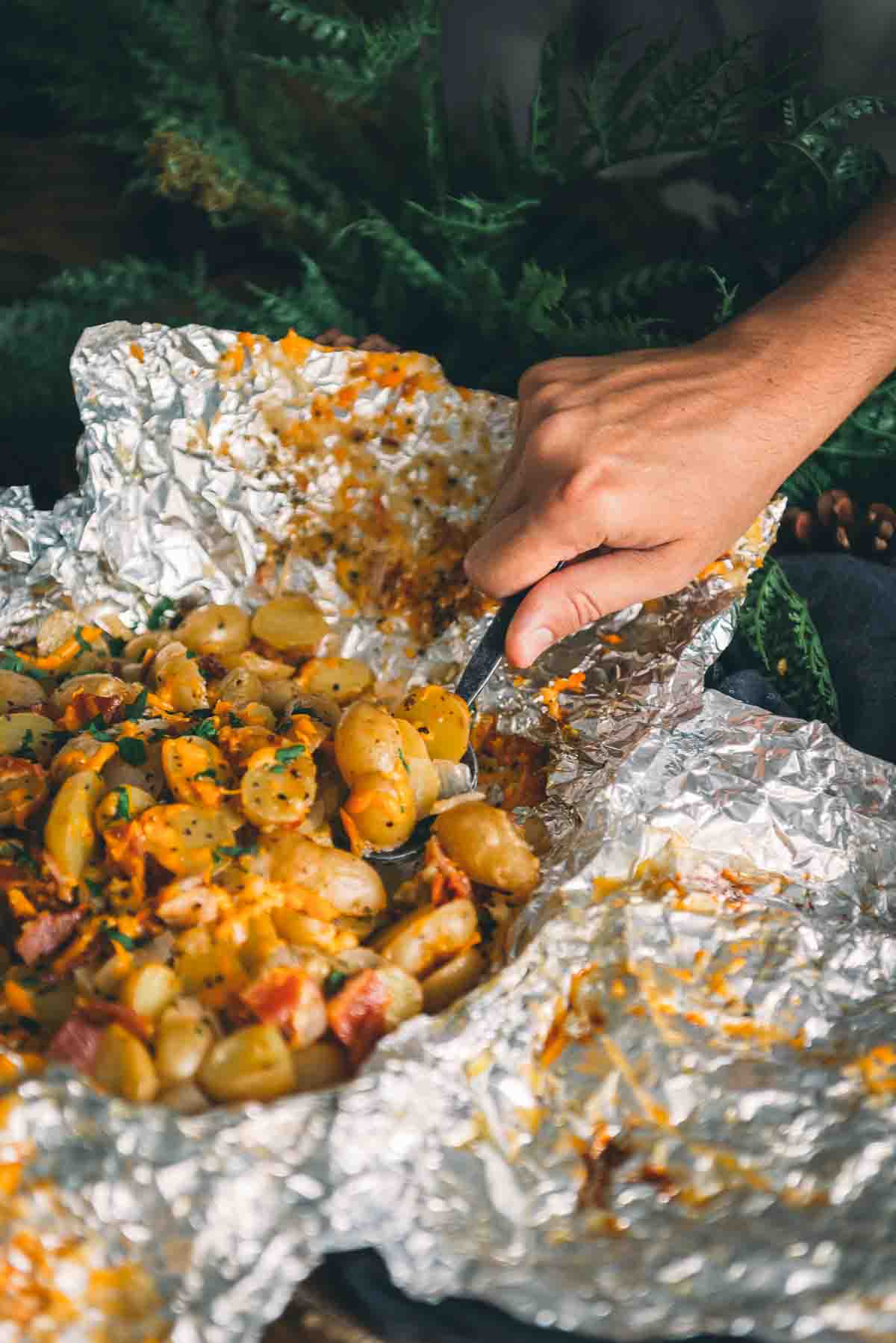 Recipe FAQs
Can I use any type of potato for this recipe?
You can use Yukon gold or red potatoes instead, but they are more waxy and not as buttery as the pee-wee potatoes!
Can I use a gas grill instead of a charcoal grill?
Yes! Just set up your gas grill normally and let it build up indirect heat. Then, follow the recipe by placing your foil pack potatoes on top and cooking until done! Easy peasy!
How do I keep my potatoes from sticking to the foil?
Rub the potato foil packet with a little bit of olive oil or spray with cooking spray to prevent the potatoes from sticking. The oil also acts as a natural moisture bubble to keep the potatoes from drying out! The melted cheese will stick a bit, but that's just part of cooking with foil over a campfire.
Can I add other seasonings besides ranch?
Absolutely! You can add any kind of simple seasoning you like, from sweet to salty to spicy! The choice is up to you! We recommend GirlsCanGrill PK pork rub for a barbecue twist or even Garlic Junkie for a burst of garlic flavor.
More easy camping foil pack recipes
Your next camping trip wouldn't be complete without these easy foil packet potatoes! This great recipe is the perfect addition to your campfire recipes and has easy clean up! What could be better? Trust us; your taste buds will enjoy the cheesy, buttery goodness in every single bite! Also, if you've tried this recipe, please rate the recipe card and leave a comment below to help out the next reader!
Campfire Potatoes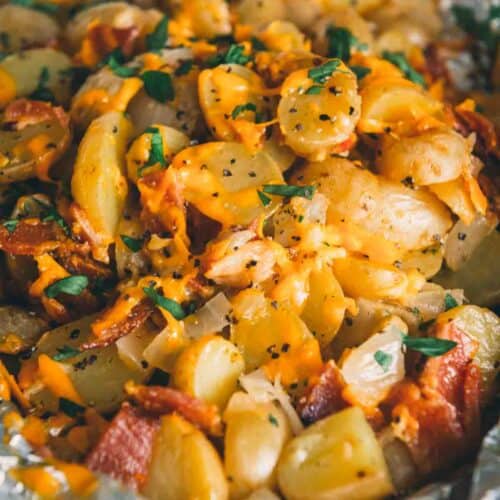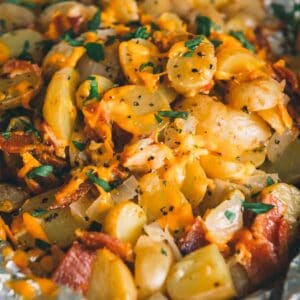 Indulge in the smoky goodness of campfire potatoes. 🌭🔥 This easy foil-wrapped recipe features tender pee wee potatoes, crispy bacon, and melted cheese. Enjoy a satisfying and delicious meal that's perfect for camping or any outdoor gathering.
Ingredients
1 ½

lbs

Idaho® Pee-Wee Potatoes

sliced into in half. If using Regular Yukon potatoes, slice them into even-portioned wedges.

1

tbsp

Ranch seasoning packet

or Girl Carnivore Over Easy Spice blend

½

onion Onion

diced

4

tbsp

Butter

¼

cup

Bacon

cooked and chopped

½

cup

Shredded cheese

Colby jack or cheddar

2

tbsp

Parsley

freshly minced
Instructions
Prep the potatoes
Wash, dry, and slice the Idaho® Pee-Wee Potatoes.

Toss potatoes in a large bowl and add the Ranch seasoning. Toss to coat.

Add the onion and mix again to combine.

Arrange a large sheet of heavy-duty foil on a clean work surface, about 20" long.

Pour the potatoes into the center of the foil and top with the dollops of butter, crumbled bacon, and cheese.

Fold the foil packet over the potatoes, repeating on the other side and folding the edges up to seal.

Lay out another sheet of foil.

Place the foil-wrapped potatoes seam-side down in the center and fold again, creating a double layer of foil.
Grill the potatoes
Place the foil packet on a grill grate over a preheated campfire and cook for 30 to 45 minutes, flipping once halfway through the cooking time, until the potatoes are fork-tender.

Carefully remove the foil pack from the grill and allow it to cool for 5 minutes before folding it open at the seams.

Garnish with minced parsley and serve by spooning out individual portions and enjoy.
Notes
Use caution when opening it as the steam is hot. Some cheese will stick to the aluminum foil. If desired, you can add even more cheese immediately after opening for more melty goodness.
Nutrition
Serving:
1
g
|
Calories:
141
kcal
|
Carbohydrates:
13
g
|
Protein:
3
g
|
Fat:
8
g
|
Saturated Fat:
4
g
|
Polyunsaturated Fat:
1
g
|
Monounsaturated Fat:
3
g
|
Trans Fat:
0.2
g
|
Cholesterol:
20
mg
|
Sodium:
228
mg
|
Potassium:
316
mg
|
Fiber:
2
g
|
Sugar:
1
g
|
Vitamin A:
249
IU
|
Vitamin C:
15
mg
|
Calcium:
40
mg
|
Iron:
1
mg