Whole 30 Enchilada Stuffed Smoked Poblanos – that's right. Smokey delicious enchilada stuffed poblano peppers. I just took your taco night up a serious notch.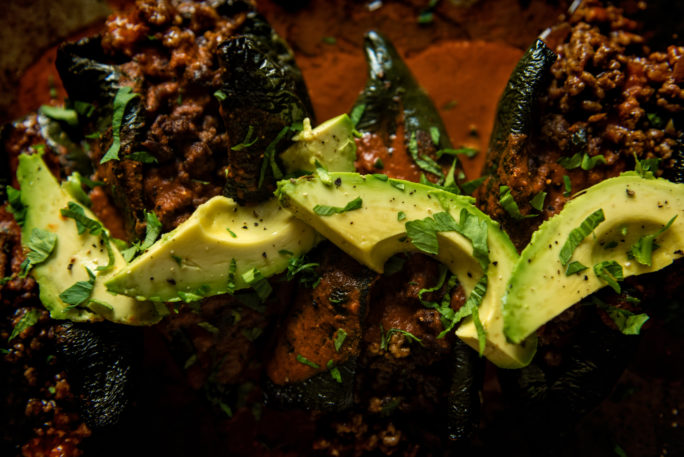 Side note – are you a soft or hard shell kinda taco eater?
Taco night. Pretty much the only meal on the whole planet besides a platter of straight bacon that we can all agree on, right?
It's my happy place, my go to, and the meal that is the fastest way to my heart (ok, it's right up there with brisket, burgers, and a serious grilled piece of meat too…. so maybe I just love to eat), but no one else in my neck of the woods loves a kick ass Mexican inspired meal as much as I do, so my chances for extra guac are few and far between.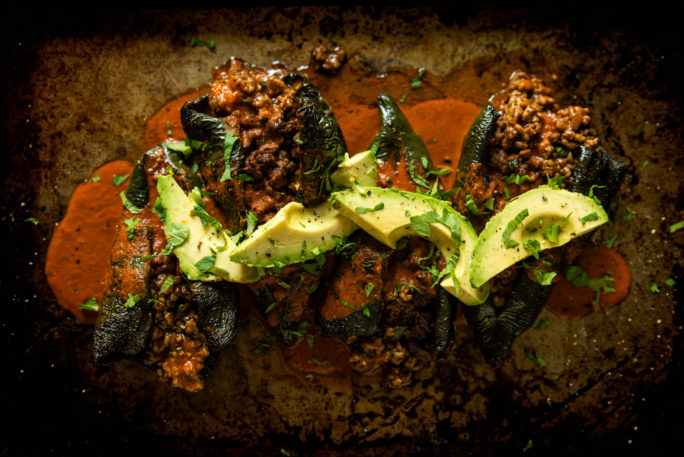 It doesn't take much to get me excited, but spotting some fresh looking poblanos at my local market got me inspired to bring out some serious flavors and construct a little fiesta all for myself.
We all know I've been hardcore crushing on the Whole30 trend. Which means, no crunchy delicious shells for this girl, pretty much the saddest news ever, but I persevered. I whipped up a batch of my favorite red sauce, browned some 90% lean beef with a little onion and garlic, whipped up a down and dirty red sauce, and finished these bad little boys off with a little smoke action trying to pull out some serious game elevating flavors since I knew I would be missing that crunch.
The Enchilada Stuffed Smoked Poblanos didn't disappoint. Paired up with fresh avocado, cilantro, and saffron infused cauliflower rice, it was kind of on. Throw in some plantain chips and this whole meal really takes the guilt out of eating healthy.
Just curious.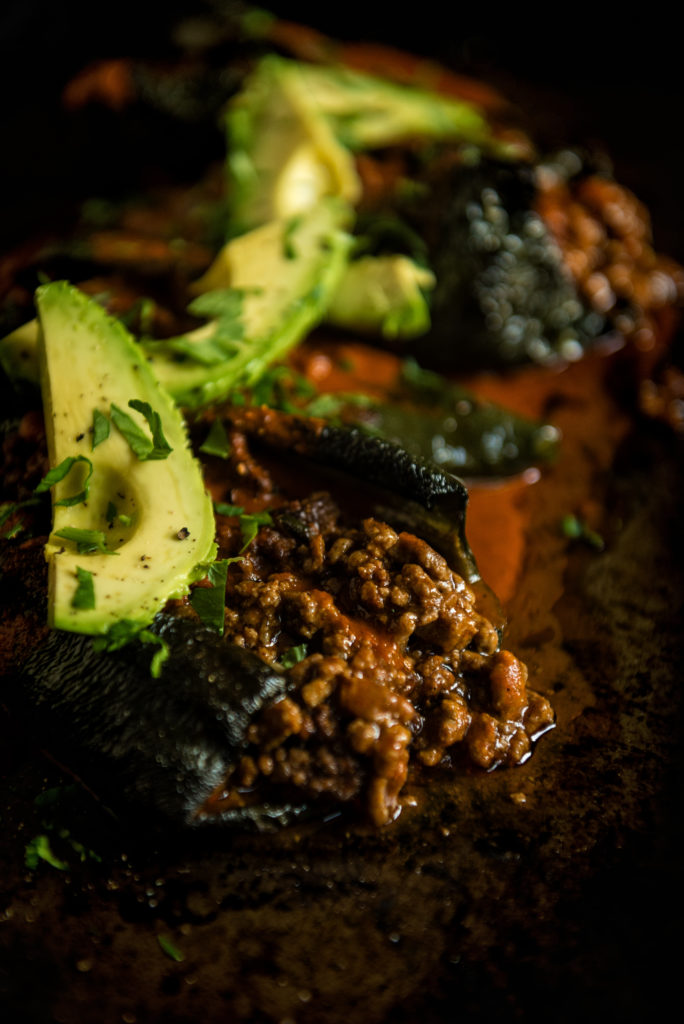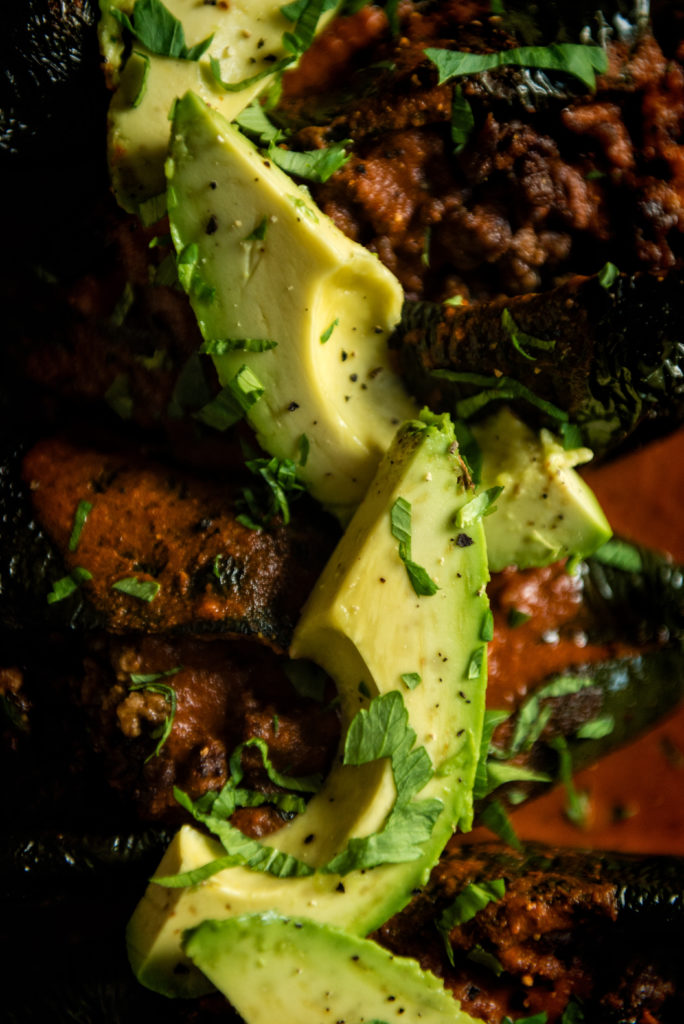 Enchilada Stuffed Smoked Poblanos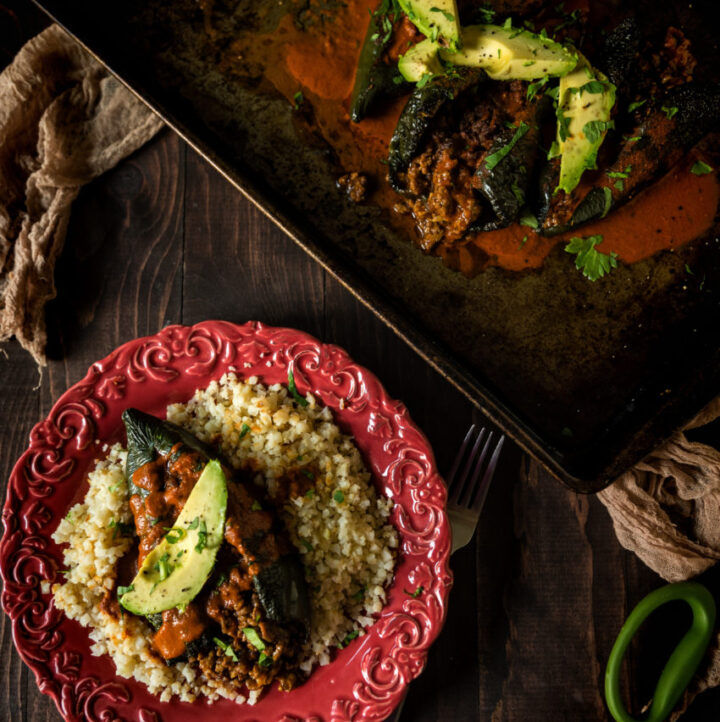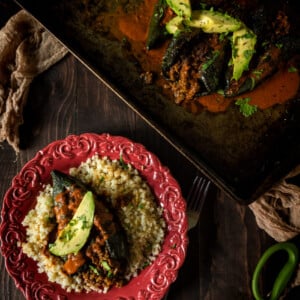 This is one of those recipes that has a ton of flavors, and sounds super fancy when you serve it. But it's actually easy and totally whole 30 approved – making it a great healthy meal!
Ingredients
2

tbs

olive oil

4 to 6

Poblano Peppers

stems removed, tops removed and diced, split 3/4 down the middle on one side and seeded

1/2

onion

chopped

2

garlic cloves

salt and pepper

1

teas cumin

1

teas paprika

1/2

teas oregano

1/4

teas ancho chili powder

1 1/2

lbs

lean ground beef

Homemade Enchilada Sauce

Avocado

Cilantro
Instructions
Prep your smoker and get it holding ready to hold at 225.

Meanwhile, in a large pan, saute onion and diced poblanos til soft, about 5 to 7 minutes and then add the garlic.

Cook for 30 seconds before seasoning with salt and pepper and stirring in the cumin, paprika, oregano and chili powder.

Stir in 1/2 t0 3/4 cup of the prepared enchilada sauce, enough to coat all of the meat.

Stuff the peppers evenly with the meat and arrange in a wire basket for easy handling while smoking.

Smoke for an hour and half to two hours until poblanos are soft and cooked through.

Arrange poblanos as desired with additional sauce for topping along with fresh cilantro, avocados and paired with cauliflower rice, and jicama or plantain chips.
Nutrition
Serving:
1
g
|
Calories:
219
kcal
|
Carbohydrates:
5
g
|
Protein:
25
g
|
Fat:
11
g
|
Saturated Fat:
3
g
|
Cholesterol:
70
mg
|
Sodium:
78
mg
|
Potassium:
545
mg
|
Fiber:
2
g
|
Sugar:
2
g
|
Vitamin A:
376
IU
|
Vitamin C:
65
mg
|
Calcium:
22
mg
|
Iron:
3
mg