Can stuffed peppers in a slow cooker be delicious? Your damn right they can – and these are one of my go-to recipes for feeding a crowd. Easy prep and crazy good flavor win with these slow cooker Italian Stuffed Peppers every time!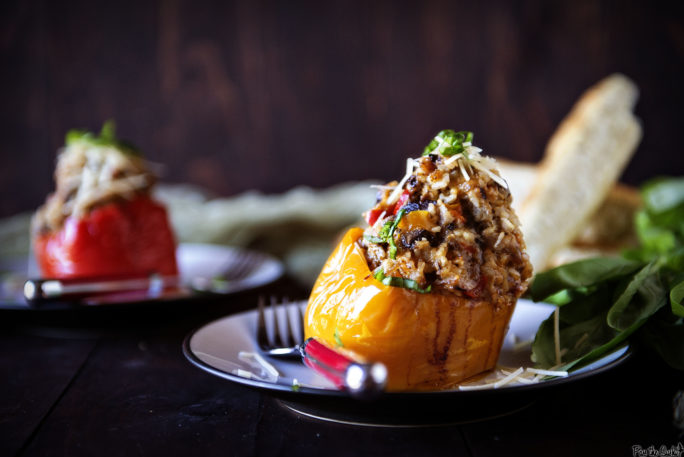 Stuffed peppers aren't exactly a call to bring sexy back.
But at the end of the day, who cares how elegantly you have arranged your serving platter when in reality the fast-paced and hungry herd about to descend upon your kitchen won't even notice that extra perfect chiffonade of basil on top.  Because these are that kind of good.
Like, why aren't stuffed peppers on the menu more often that kind of good.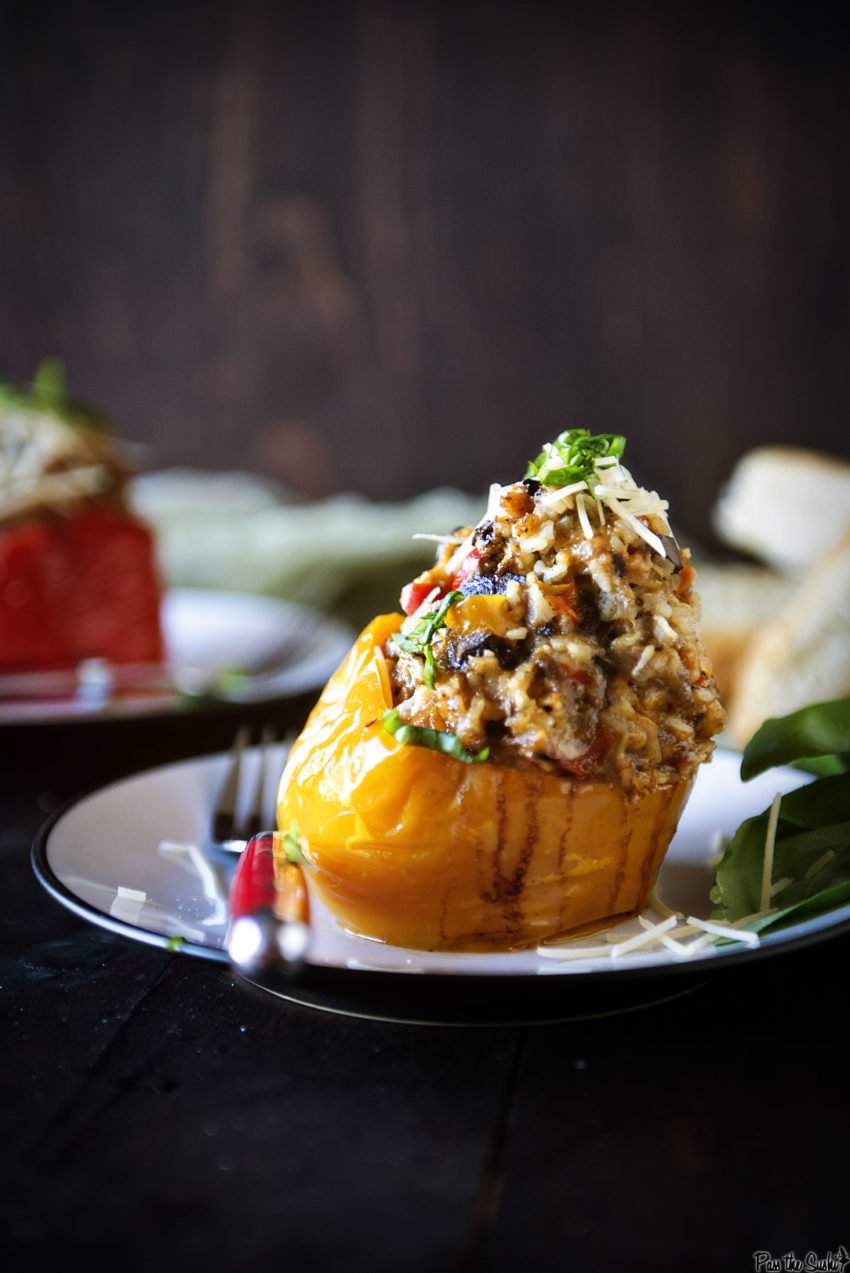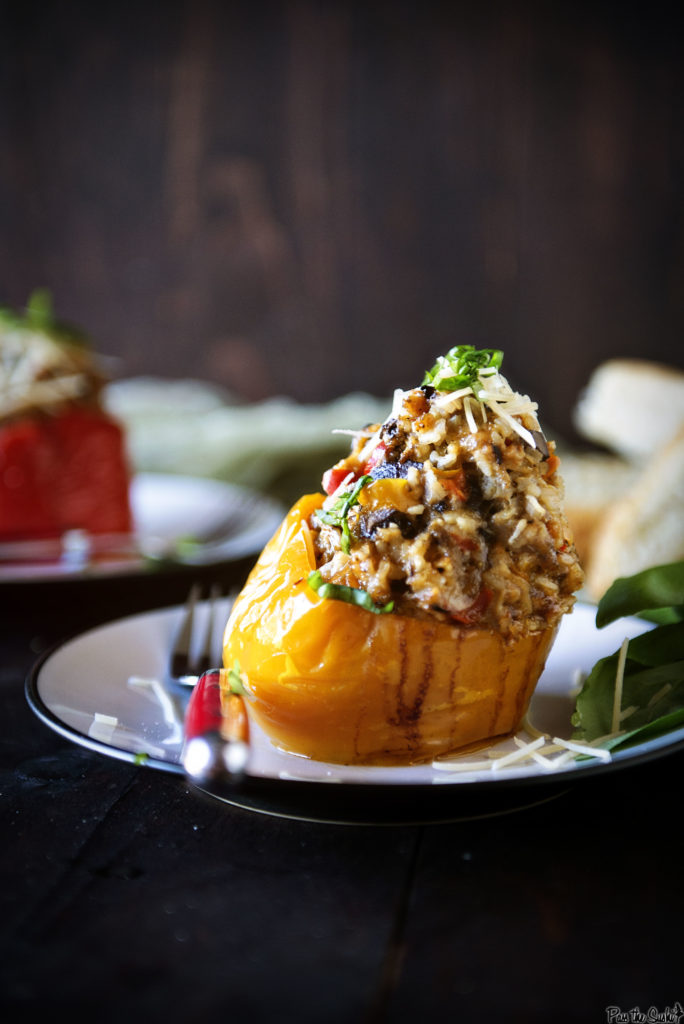 Forget plating and garnish. Forget about sexy food. Screw Ina and her table arrangements.
These Slow Cooker Italian Stuffed Peppers are for your tastebuds, and it's not judging based on looks. As a matter of fact, one bite of these stuffed peppers and you won't care how pretty they aren't.
Indulge on a wild messy side, and forget for a moment about your inner perfectionist.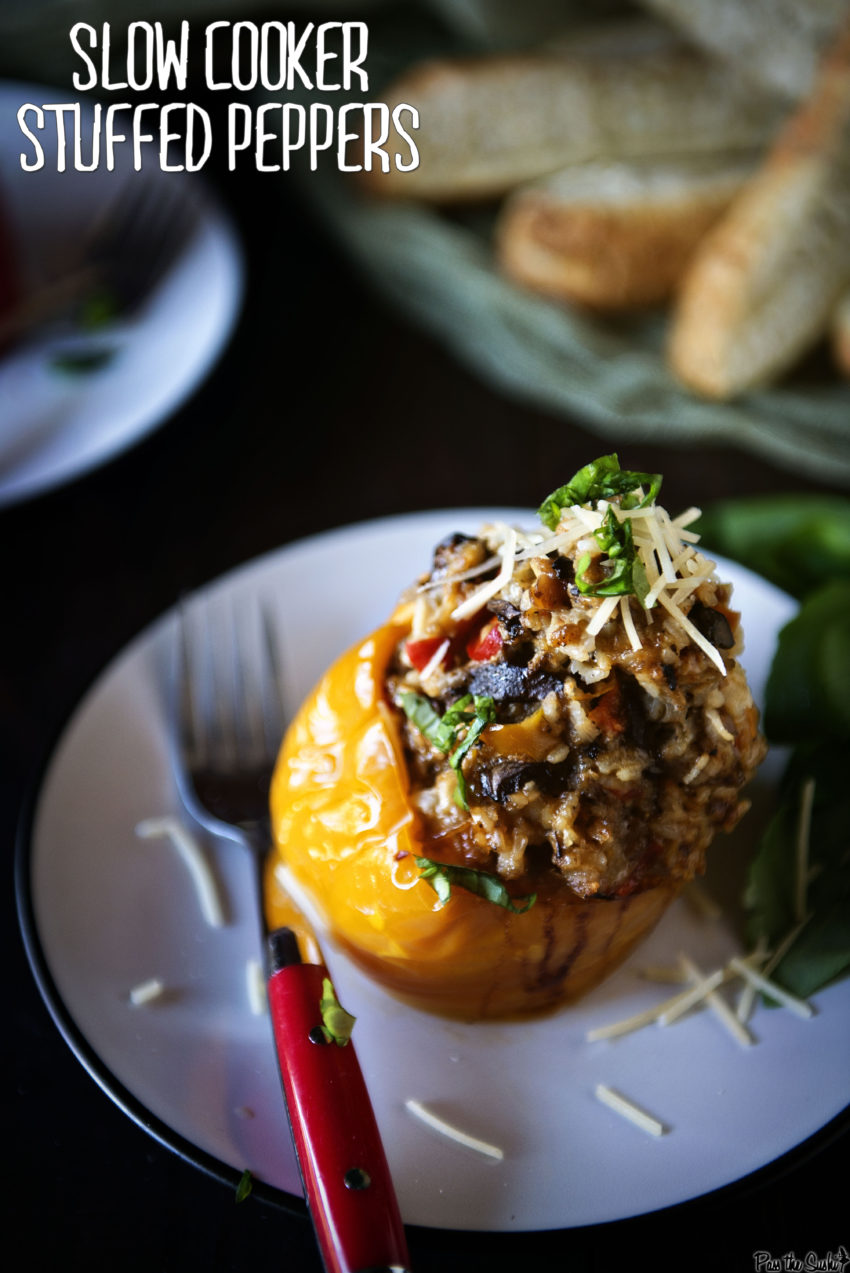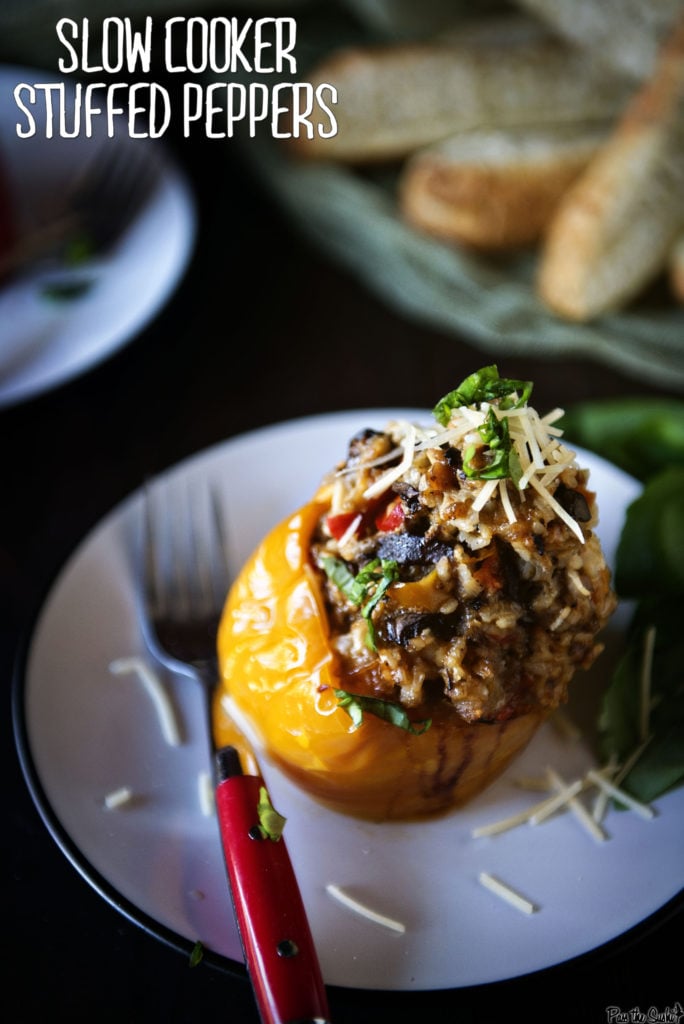 Back To The Old Country With Italian Stuffed Peppers
I am pretty sure before there was an internet and before everyone carried around a camera with a gazillion pixel resolution then great cuisine was much more about how something tastes rather than how it looks.
Stuffed bell peppers are one of those old timey recipes that was popular with our grandmother's mothers. And then going back centuries and centuries of grandma's before that.
And the recipe traveled particularly well because it was just so damn tasty. Stuffed peppers are still popular from India to Spain, from Italy to Guatemala. Germany to Mexico. (In case you're curious about those flavors you should totally try these whole 30 approved enchilada stuffed peppers)
Naturally, every place has its own take on what to pack into the pepper. But meat and rice seem pretty consistent. I like the Italian style because it uses seasoned pork (how can you go wrong with seasoned pork) and rice and bread. So they are particularly hearty.
The Bread Makes A Difference
If you only have some plain white loaf bread handy then that's fine, but if you can get a loaf of Italian style bread or a French baguette then more power to you. Those style breads shred up nicely and have a bit more chew to them. But they also help bind everything together better as well.
Stuffed peppers are a vessel for flavors so you want them all rowing in the same direction and the bread helps do that.
The Perfect Rice For Stuffed Peppers
Like the bread, you may just use whatever rice you have handy. But if you want to get more Italian about it, then I strongly recommend the short grain starchy Arborio rice. This rice is the go to grain for authentic risotto.
It is literally named after the place in Italy that specializes in growing it so you know they take it seriously. And since it's already cooked in this recipe, it's probably going to add a whole new level of flavor and creaminess to the finished recipe – like this oven-roasted fall risotto.
It makes a great rice for stuffed peppers because it is so starchy. All that extra starch helps thicken the natural sauciness that results from the cooking juices of the meat filling and pepper blending together.
It is sort of like creating its very own gravy during the baking.
Italian Sausage Made Easy
Most times you can find Italian sausage in the market's meat aisle. Sometimes you might have to ask for it at the butcher counter. If both those options fail to produce, then never fear. Making your own Italian style sausage is as easy saying "prego". (You're Welcome)
All you need is ground pork, then add a bit of oregano, some red pepper flakes, some black pepper, onion and garlic powder, and a bit of fennel. There you go.
The Best Peppers For Stuffed Peppers
When you go looking for bell peppers these days, you will see a range of colors and sizes. No more are the under ripe big green bells your only option. Those work nicely and I don't want to discourage using them one bit but why not also go with the bright red and yellow bells or even those trippy multicolored ones?
Those pretty colors! You might want to take a gazillion pixel picture of them when you pull them from the oven!
Remember to remove the spongy pith and seeds out from the peppers before you stuff them too. They tend to add bitter flavor notes you can do without. 
Other Pepper Dishes To Try
If you enjoy the Italian style stuffed peppers then you definitely might like a few of my other peppery meat dishes. Check these out too:
If you've tried my Slow Cooker Italian Stuffed Peppers recipe or any other recipe on GirlCarnivore.com please don't forget to rate the recipe and let me know where you found it in the comments below. I get inspired by your feedback and comments! You can also FOLLOW ME on Instagram @girlcarnivore as well as on Twitter and Facebook.
Slow Cooker Italian Stuffed Peppers
These slow cooker stuffed peppers are loaded with classic Italian flavors and the perfect meal to make ahead and impress guests for supper.
Ingredients
1

onion

minced

6

garlic cloves

minced

1

tbs

extra-virgin olive oil

1

tbsp

tomato paste

¼

teas red pepper flakes

4

peppers

large and varied – yellow, orange, red

1

slice

good white bread

torn into pieces

¼

cup

whole milk

12

oz

Italian sausage

removed from casing

1

small zucchini

seeded and cut into ¼″ pieces

¾

cup

shredded Monterey Jack cheese

¾

cup

cooked rice

¼

cup

grated Parmesan cheese

salt and pepper

2

tbsp

fresh basil

minced
Instructions
In a microwave safe bowl, microwave the onion, oil, tomato paste and red pepper flakes, about 5 minutes, stirring often.

Cut ½″ top off each pepper, removing the seeds and stems. Chop the tops up fine and reserve.

In a large bowl, mash the bread with the milk and the back of a fork until combined. Mix in the onion mixture and chipped pepper tops.

Add the sausage, zucchini, Monterey Jack cheese, rice, Parmesan, and season well with salt and pepper. Mix the filling well by hand and pack into the cored peppers.

Pour ⅓ cup water into your slow cooker and arrange the stuffed peppers upright so that they will remain standing while cooking. Cover and cook about 4 to 6 hours on low, until the peppers are tender.

Pick up the peppers carefully with tongs, and use a slotted spoon underneath to transfer to plates.

Serve with fresh Parmesan cheese and basil on top.
Nutrition
Nutrition Facts
Slow Cooker Italian Stuffed Peppers
Amount Per Serving (1 g)
Calories 223
Calories from Fat 144
% Daily Value*
Fat 16g25%
Cholesterol 36mg12%
Sodium 381mg17%
Potassium 276mg8%
Carbohydrates 10g3%
Protein 9g18%
Vitamin A 325IU7%
Vitamin C 51mg62%
Calcium 66mg7%
Iron 0.9mg5%
* Percent Daily Values are based on a 2000 calorie diet.