Want a fun spin on an air fried snack food? These potato-filled taquitos use up leftover mashed potatoes wrapped in corn tortillas then conveniently air fry for that crispy crunch!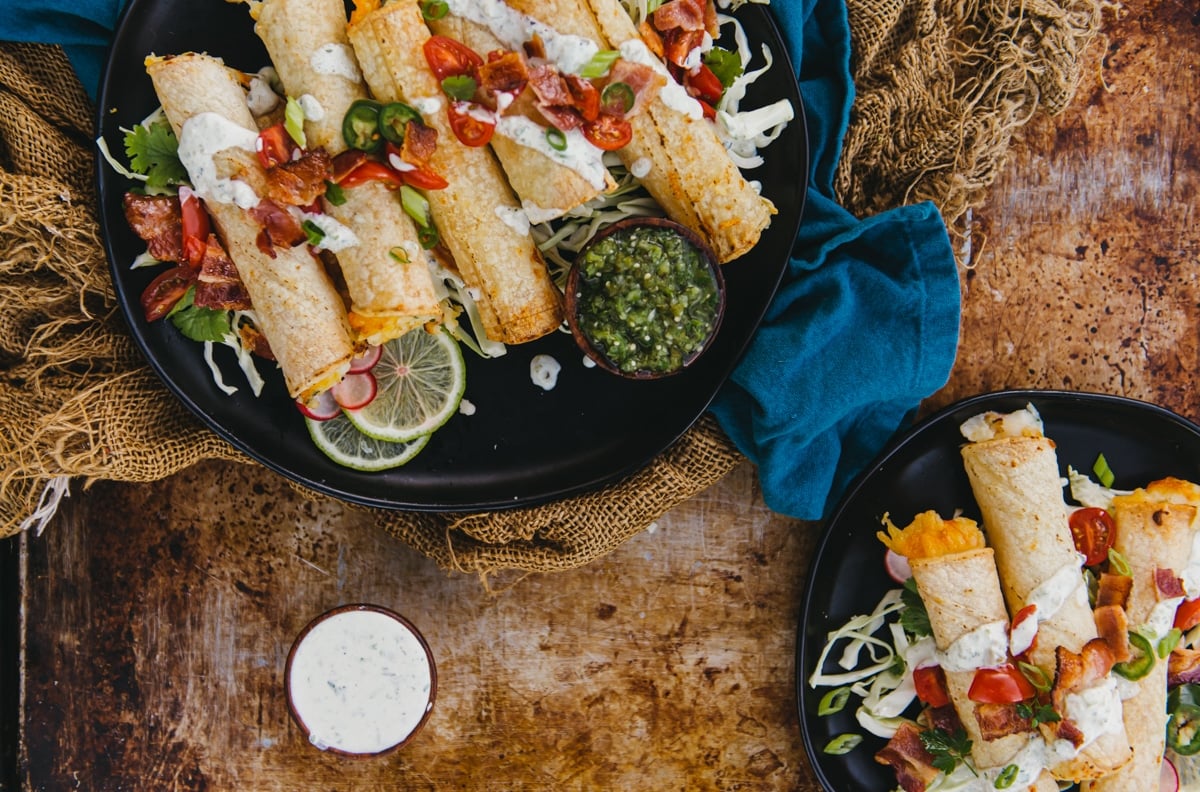 This recipe was developed for the Idaho Potato Council. All thoughts and opinions are my own.
Super Easy Air Fryer Cheesy Potato Taquitos
Air fryer cheese and potato taquitos work as a snack or you can serve as a side or even a main course. With the convenience of an air fryer, you are not looking at a complex meal to make either.
Just for the record…
An air fryer means never having to say "That splatter of grease could've taken out my eyeball".
It also means getting to cooking temperature quickly. And no lengthy clean up. Oh yeah, and no worrying about what to do with the cooking oil because you live too far away to conveniently drop it off with the folks that would convert it to biodiesel.
Seriously, an air fryer is just one of those things you need to have if you don't have one already. You can even make air fryer chuck roast! The best crispy pickle brined chicken wings, the best Dino Nuggets Air Fryer so much more!
I was not a fan of them at first, to be perfectly honest. But once you learn how to master them, then it really is a great kitchen tool to make room for. And now, I am pretty much like 'fry all the things'.
Using An Air Fryer For Taquitos
The key to using an air fryer for any food, not just these taquitos, is never overcrowd the cooking space. The "frying" is done by air. I guess you could call it a "convection fryer" but I am not sure those would ever sell as well.
"Air fryer" has a ring to it.
But you need that air to circulate completely around your taquitos. Otherwise, you end up with some parts soggy.
When it comes to frying taquitos, soggy is the enemy of enjoying them to their fullest. Soggy taquitos tend to fall apart. You don't want to eat mashed potatoes covered in a bit of soggy corn tortilla. You want a nice crunchy corn tortilla shell filled with perfectly textured mashed potatoes!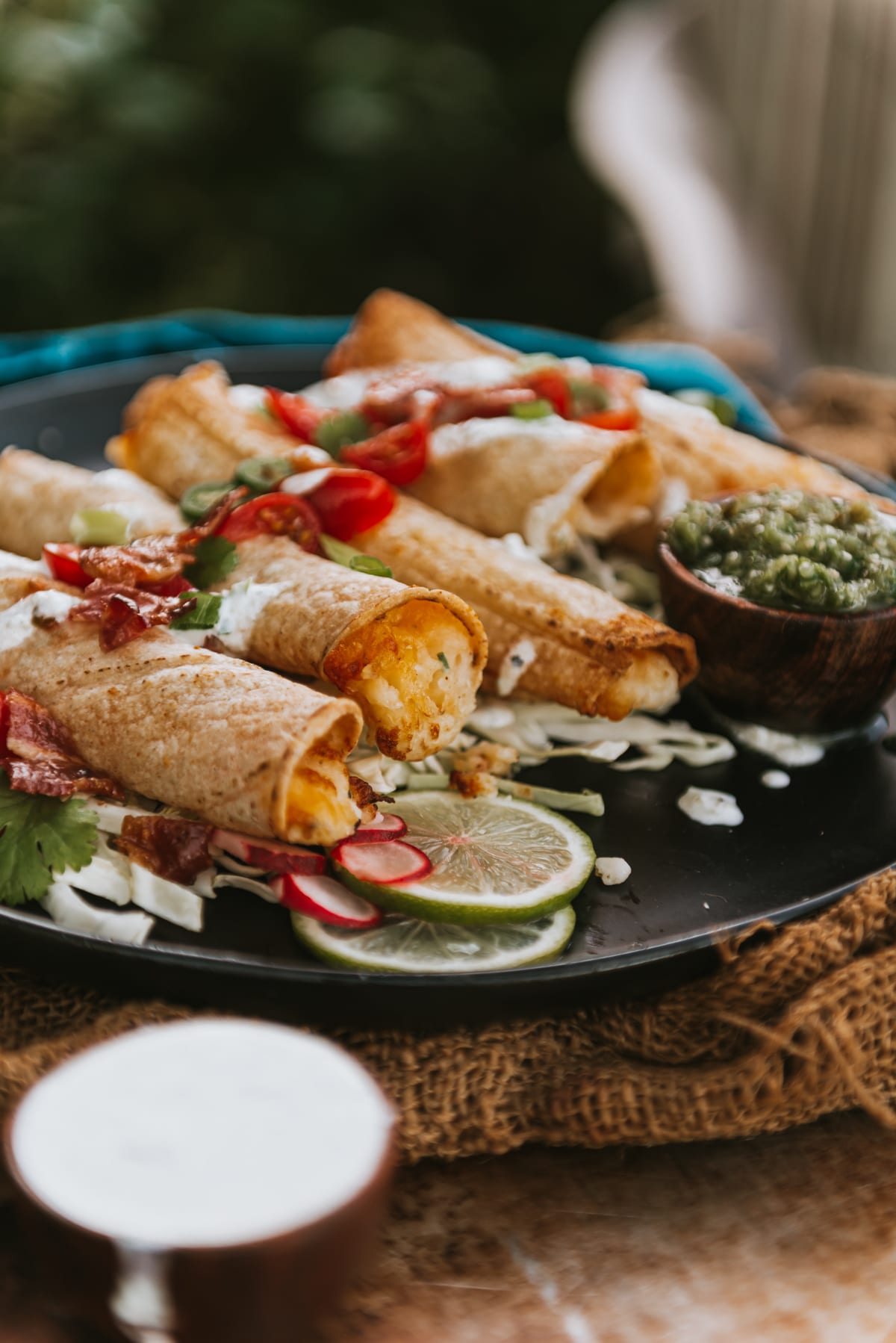 Rolling Taquitos So The Filling Stays Inside
Like all great things in life, there is usually a simple hack that makes it go much more smoothly than it would otherwise.
In the case of taquitos, you definitely need to know how to roll them without breaking the corn tortilla before you even get it into the air fryer.
Lightly steam the tortillas in a microwave by wrapping them in a damp paper towel and heating for about twenty seconds. This will make the tortillas pliable enough. Make sure to keep them covered. Don't try to do too many at one time. It is easy and quick to heat up more and keep them just moist enough to be workable.
Don't try and overstuff them and leave a little space at both ends. Hot food expands and the extra bit of crunch of the ends adds to the overall enjoyment.
Use a toothpick or two to hold them together after you roll them. You can leave the toothpicks in while you air fry the taquitos. It will also help you keep them evenly spaced in the fryer.
Mexican Crema vs Sour Cream
Crema Mexican style sour cream is slightly different than regular sour cream and I recommend trying to use it. However, no worries if you can't find it in your market because regular sour cream works too.
Actually, Mexican crema is more like French Creme Fraiche. It is a little thinner than that so it is much less thick than typical American style sour cream. It mixes very nicely with the lime juice and makes a perfect sauce for mashed potato taquitos.
Because I am pretty sure sour cream was invented for mashed potatoes served in any style and in any language.
If you have a Mexican "mercado" handy then check it out! Crema is a staple and you will find many other great things on the shelves as well. It wouldn't surprise me if you found freshly made corn tortillas there either… and all the great cheeses too.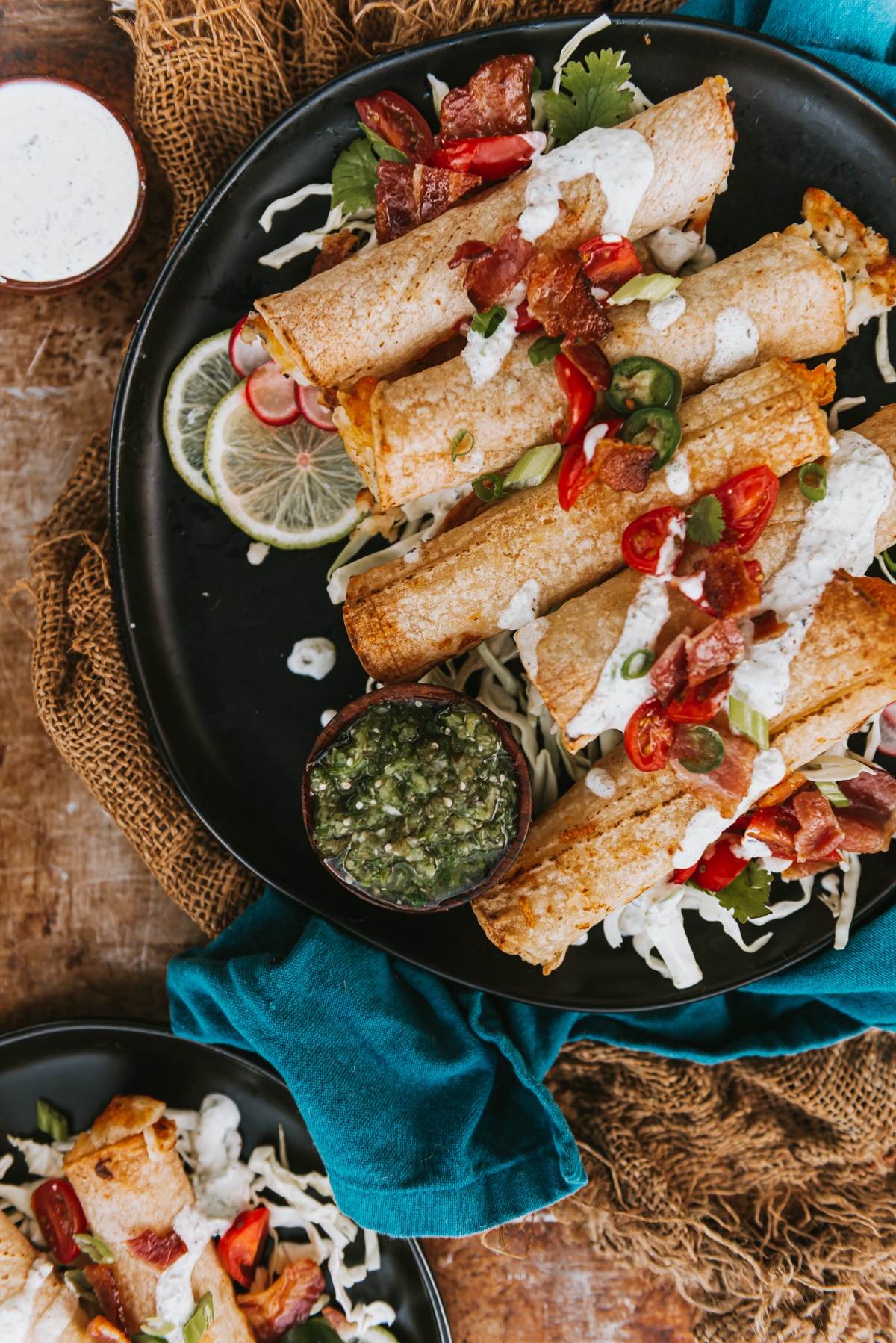 What Mexican Cheese Is Best For Air Fried Taquitos?
You can find several types of Mexican cheeses in most markets these days. You can also find shredded blends of popular Mexican cheeses.
I recommend cotija cheese. It has a nice crumble to it. The flavor is briny and a bit nutty similar to feta. (Feta works as a substitute if you can't find cotija by the way).
Oaxaca style cheese melts nicely and you can use it too. I recommend shredding it into very thin and fine pieces on a cheese grater. Mixing cotija and Oaxaca works great too if you want to get fancy about it.
What Can I Serve with Potato Taquitos?
If you want to keep it a bit Latin inspired and want some suggestions for things to serve with your taquitos, then I humbly offer some of my faves…
Air Fryer Cheesy Potato Taquitos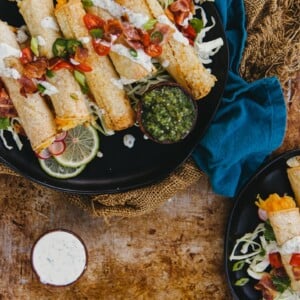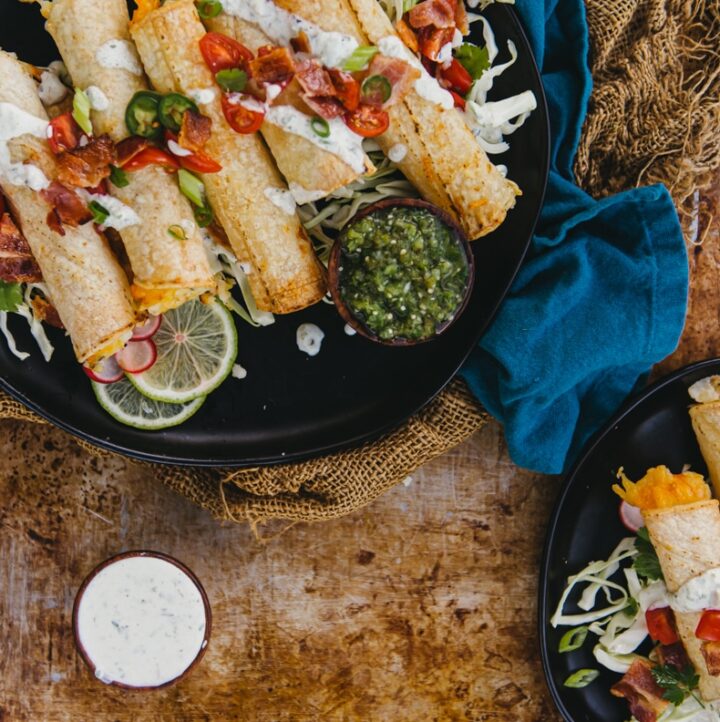 Want a fun spin fried snack food? These potato-filled taquitos use up leftover mashed potatoes wrapped in corn tortillas and air fried for that crunch!
Ingredients
For the Taquitos:
Oil for brushing

4

oz

Mexican Cheese blend

shredded

10

Corn Tortillas
For the Crema:
½

cup

Sour Cream

or Crema

Juice from ½ Lime

1

tsp

fresh minced Cilantro
Garnish:
¼

cup

Crumbled Bacon

cooked

Fresh Cilantro

Salsa
Instructions
Prep the Fryer
Prep your air fryer and work station according to yuor manufacturers instructions.
Assemble the Taquitos
Moisten enough paper towels to wrap around tortillas.

Working in batches of 4, heat the tortillas, wrapped in the barely damp paper towels in the microwave until pliable. Keep them wrapped as you work to prevent them from drying out and becoming brittle.

Sprinkle a little cheese in the center of each tortilla.

With a piping bag, or by hand, spread a layer of potatoes down the center of each tortilla, no thicker than ½".

Carefully roll up the tortilla and brush with oil.

Place in the air fryer basket.

Repeat with the next 3 and place all in the basket, seam side down, not touching on another.

Set the air fryer to 390 and cook for 7 to 9 minutes, until tortillas are crispy.

Some potato and cheese filling will fall out. Carefully wipe out the excess filling and repeat until all taquitos are made.
To make the crema:
Stir the sour cream, lime juice and cilantro in a small bowl.

If you want a little spice, add a dash or two of hot sauce.

Cover and store in the refrigerator until ready to use.
Serve
Serve the taquitos hot with crema and salsa to dip in.

Garnish with radishes, pico and other toppings if desired.
Notes
Mix half or more of a minced jalapeno to the mashed potatoes to add a little extra zing.
To Oven Bake:
No air fryer no problem.
To make this recipe in a traditional oven, follow the instructions for filling and rolling the tortillas. Preheat the oven to 400 degrees.
Place the taquitos about an inch apart on a baking sheet lined with parchment paper.
Bake for 15-20 minutes until the taquitos are crispy, potato filling is hot all the way through and cheese is melted.
Nutrition
Serving:
1
g
|
Calories:
430
kcal
|
Carbohydrates:
55
g
|
Protein:
17
g
|
Fat:
17
g
|
Saturated Fat:
9
g
|
Cholesterol:
52
mg
|
Sodium:
493
mg
|
Potassium:
515
mg
|
Fiber:
6
g
|
Sugar:
3
g
|
Vitamin A:
366
IU
|
Vitamin C:
25
mg
|
Calcium:
279
mg
|
Iron:
1
mg