Tender and meaty Mexican Birria, or birria de res, is a must-try no matter where you live. Packed with incredible flavor from the chilis, this traditional Mexican meat stew simmers low and slow for hours to coax out every bit of savoriness. You don't have to be a culinary wiz to make this recipe – try it, and impress everyone!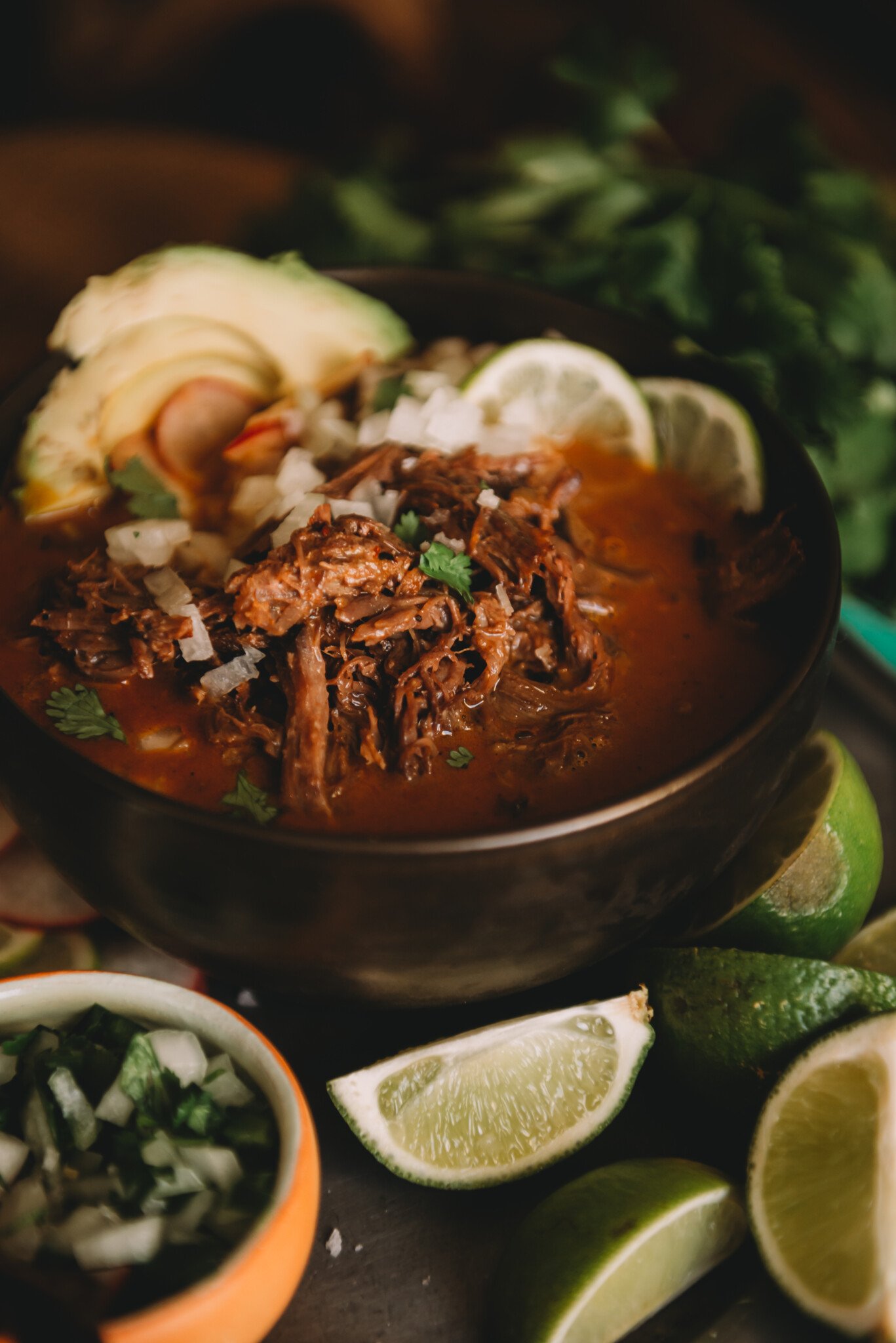 There's some argument about the actual meaning of the name birria; some say it is a Spanish word that refers to immaterial things without value. That could be because it is traditionally made with tough and inexpensive goat meat, or in our case, a very tough and inexpensive joint of meat.
Hailing from the state of Jalisco, Mexican Birria is a labor of love. The beef cooks in a broth flavored with a variety of chili peppers and other savory ingredients.
When cooked, it's mind-blowingly good! The best part is that it makes a fair bit so you can enjoy the seasoned beef birria for leftovers or better yet, make my favorite recipe, quesabirria tacos! 
What Kind of Meat Do You Use for Birria?
Traditionally made with tough cuts of goat meat or lamb meat, I'm making this version a bit more accessible. I recommend using beef neck. You'll have to go to a butcher to get this cut, and ask for a 4-5 pound piece. 
Beef neck is one of the affordable cuts of meat with a large bone. The bone adds incredible flavor, and all the fat and connective tissue break down as it braises to create amazingly tender meat in a flavorful broth. This cut begs to be braised low and slow and packs tons of flavor.
If you're having trouble finding beef neck, you can use any pot roast cut of beef like a beef chuck roast, rump, beef cheeks, or even a fatty piece of brisket, or any tough cut of meat ideal for braising for this authentic birria recipe. We order meat online from Porter Road.
However, we love the depth the beef bones add to this consume de birria. Beef shank and beef oxtail will also work, and you can even use beef stew meat but reduce the cooking time. We put the pressure cooker to work for a quick and easy birria recipe, but for the most authentic flavor, this version is still king.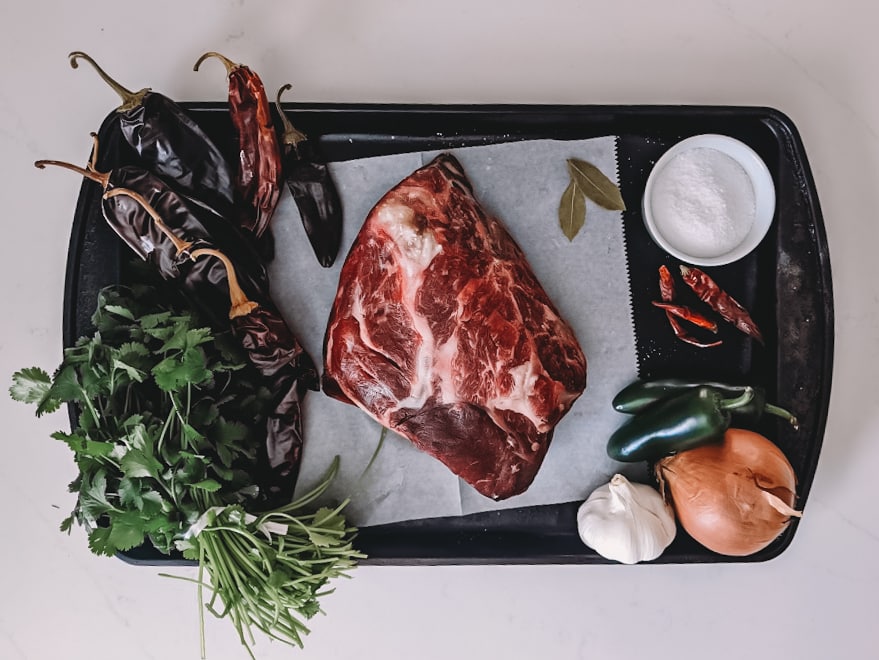 What You Need To Make Birria in a Dutch Oven
I love using my Dutch oven to braise beef. It has a heavy bottom and sears just as well as simmers.
For the chili paste:
New Mexico chiles – Also called hatch chiles, look for dried chiles. These are spicy but not overly so.
Guajillo chiles – Very popular in Mexican cuisine. Guajillo peppers are bold and mild to medium in spice level and you can find them with dried types of chiles in your grocery store.
Arbol chilis – Also known as chiles de arbol, these small chilis are very spicy.
Water – Or an equal measure of beef broth.
Vinegar
Cumin – Dried cumin is what you'll need.
For the beef birria:
Beef neck – Look for a 4-5 pound piece. Are you having trouble finding beef neck? See our list trusted sources for buying meat online.
Oil – Neutral flavored vegetable or peanut oil is fine.
Red wine – Anything you can drink will work in this recipe!
Onion – Fresh yellow or white onion.
Garlic – Bring on the fresh garlic!
Bay leaves – Dried.
Oregano – Dried. Use Mexican oregano if you have it or can find it.
Cumin – Yes, more cumin. Cumin adds SO much flavor!
Thyme – Dried thyme is fine.
Paprika – More flavor!
Ancho chili powder – You can find dried and ground ancho chili powder in most large stores, and you could also pop whole dried ancho chiles into the Dutch oven.
Freshly ground black pepper and kosher salt
Garnishes for your birria stew:
Onion – Finely diced white or sweet onion adds crunch and a fresh pop of flavor.
Cilantro – Fresh cilantro is a must with beef birria.
Jalapeno – Like it spicy? Pass the fresh jalapeno! Slice it or dice it finely.
Radish – Yup, radishes. They add a lovely crunch that adds some texture to this Mexican beef stew recipe.
Lime – A squeeze of fresh lime juice will brighten up all the flavors.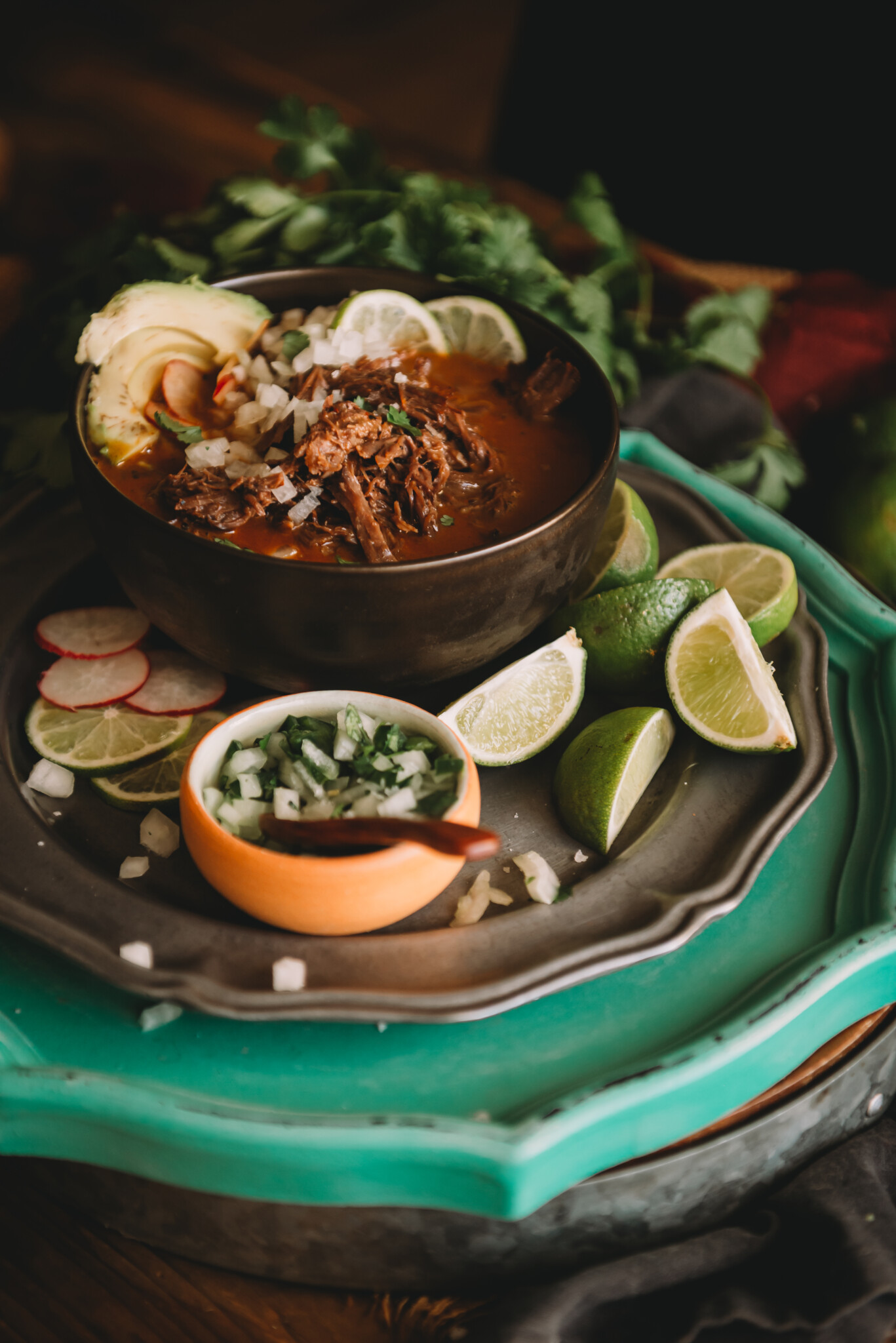 How to Make This Beef Birria Recipe
It's not hard, but there are a few steps. Start the birria meat cooking early in the day, so it has time to braise before dinner.
For the chili paste:
Toast the chilis and then remove the seeds and stems. Then, rehydrate the chilis in boiling water for about 30 minutes.
Strain the chilis, then pulse in a food processor along with vinegar and salt. Add a bit of oil or water as needed to make a smooth paste. Set this aside for later.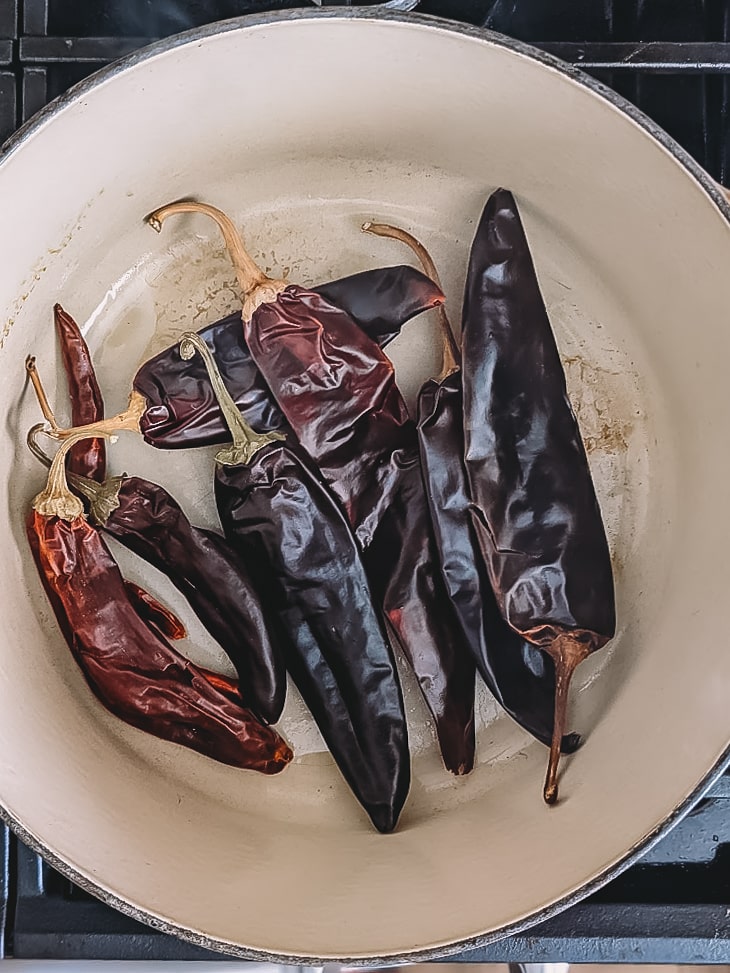 For the birria beef:
Season the beef on all sides with salt and heat a cast iron Dutch oven over medium-high heat. Add oil to the Dutch oven and brown the beef on all sides.
Remove the beef and deglaze the pan with the red wine. Save a few sips for yourself!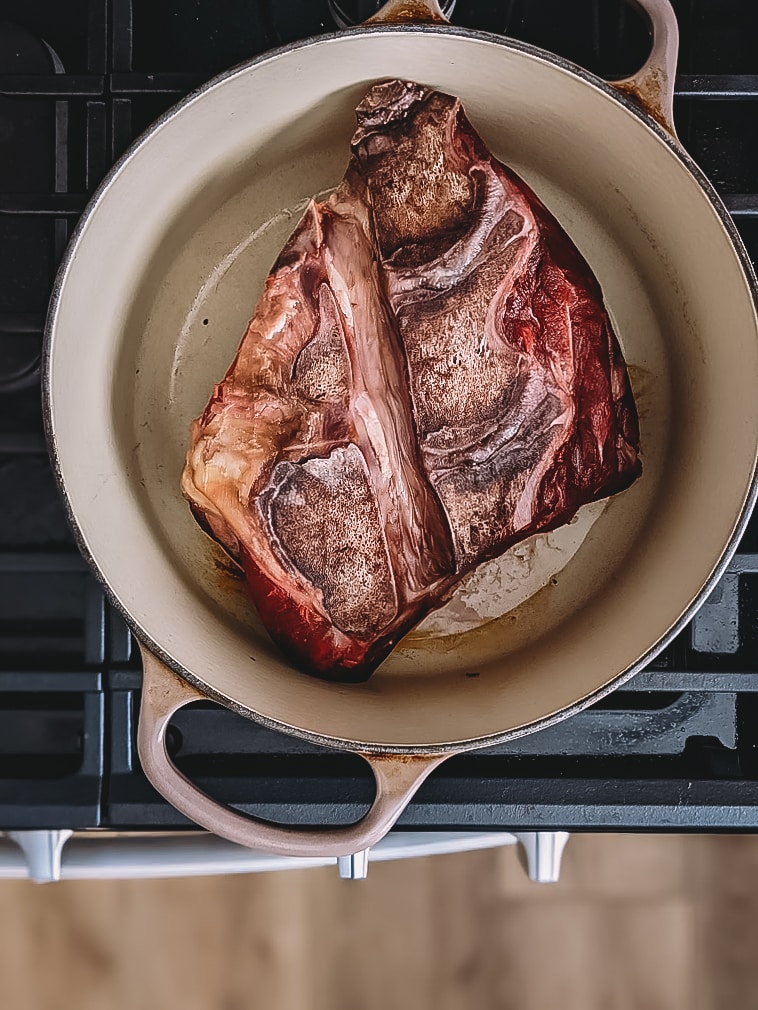 Add the onion, bay leaf, garlic, cumin, thyme, paprika, and a pinch of salt to the reduced wine, then stir in the chili paste.
Set the beef into the Dutch oven and add water to barely cover the beef. Bring to a boil, then turn the heat down and simmer for 4-5 hours or until the beef shreds easily with a fork. Set the beef aside to cool.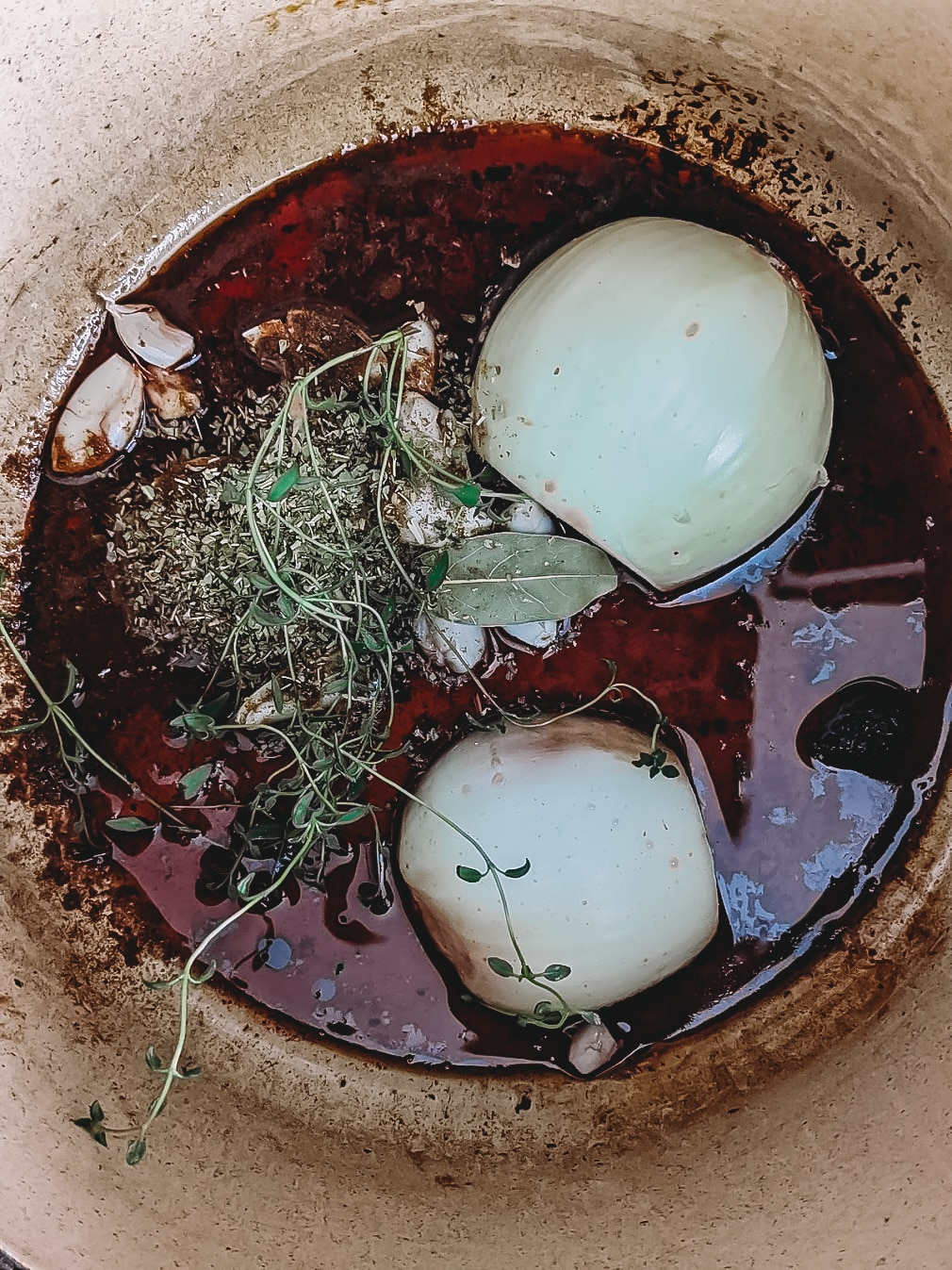 Strain the liquid through a fine-mesh sieve and discard the solids. Watch for chunks of beef that may have broken off the main piece. Add any wayward chunks to the beef to cool.
Return the liquid to the Dutch oven and simmer to reduce and thicken.
Meanwhile, shred the beef and discard the bones.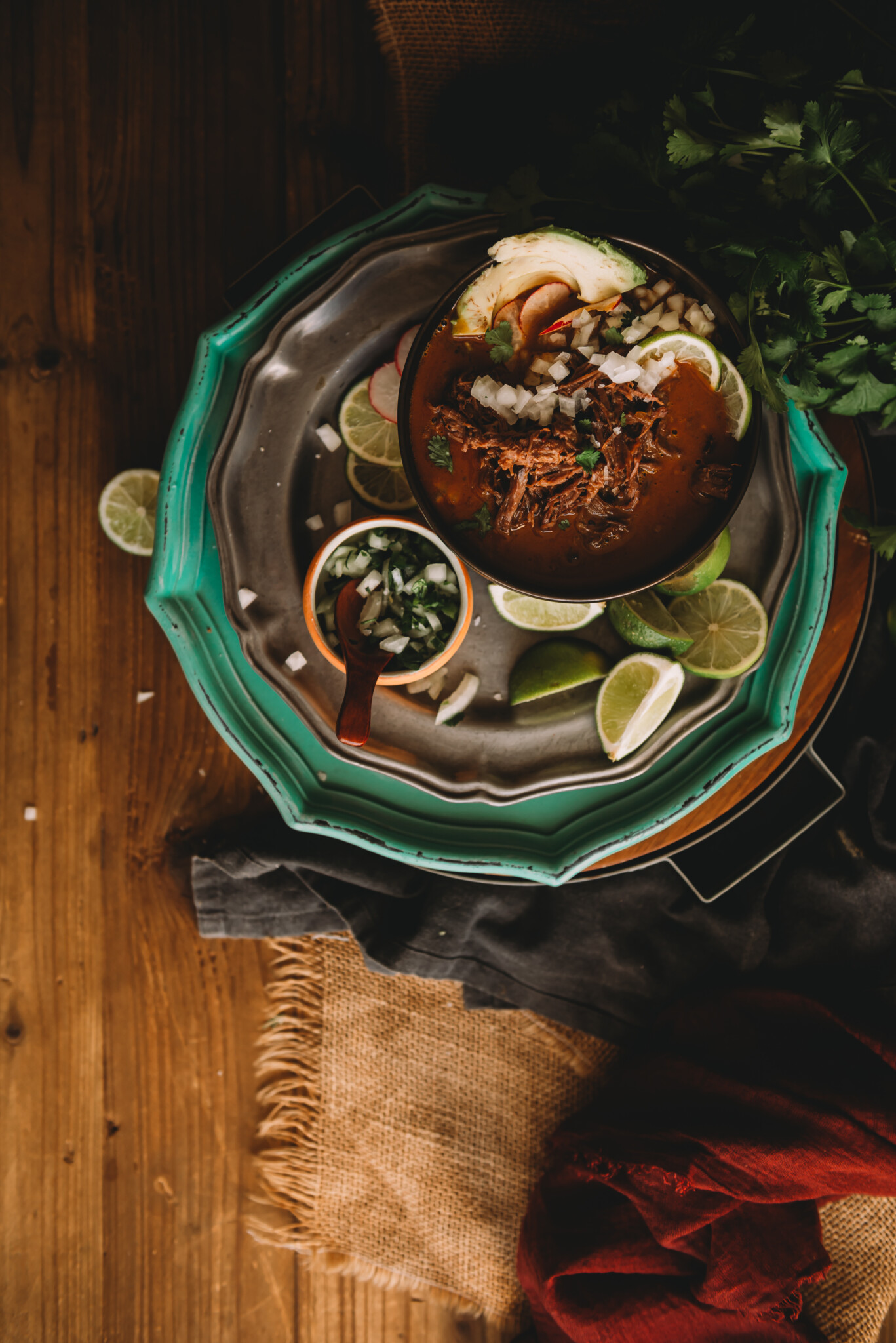 How To Serve Beef Birria
This birria is a traditional preparation for stew and should be served in a bowl with chili-infused braising liquid. Add a sizeable portion of shredded meat and top it with the sauce. Then, top your birria with chopped onions, cilantro, jalapeno, and a squeeze of lime juice.
To make it a Mexican cuisine feast, serve the birria stew with fresh warm corn tortillas on the side and pico or your favorite salsa and fresh chips.
What to do with Leftover Homemade Birria
Birria is all the rage right now. Use your leftover shredded beef and sauce for birria tacos, or extra cheesy quesabirria tacos with the consome de birria as a dipping sauce, and nachos. There's so much you can do with the tender and flavorful meat!
Recipe FAQs & Tips
Plan ahead: Birria takes a few hours to make. Be patient. This beef birria recipe is NOT a quick dish. The beef takes hours to break down and become tender.
Pro Tip: I start this dish the day before. I braise the beef, then chill it and the sauce. I shred it the next day when it is cool enough to handle.
Can you substitute other chilies? Yes! You can mix and match the dried chilis. Experiment to give a good balance of flavor. I also like to include dried chipotles, dried anchos, and fruity dried poblano chilis.
Make it spicier. If you'd like your birria spicy or spicier, add a good pinch of chipotle powder to the sauce when reducing it.
Fresh toppings are essential. The garnishes accentuate the flavor of this easy birria recipe, so don't skimp on them! Serve birria with all your favorites!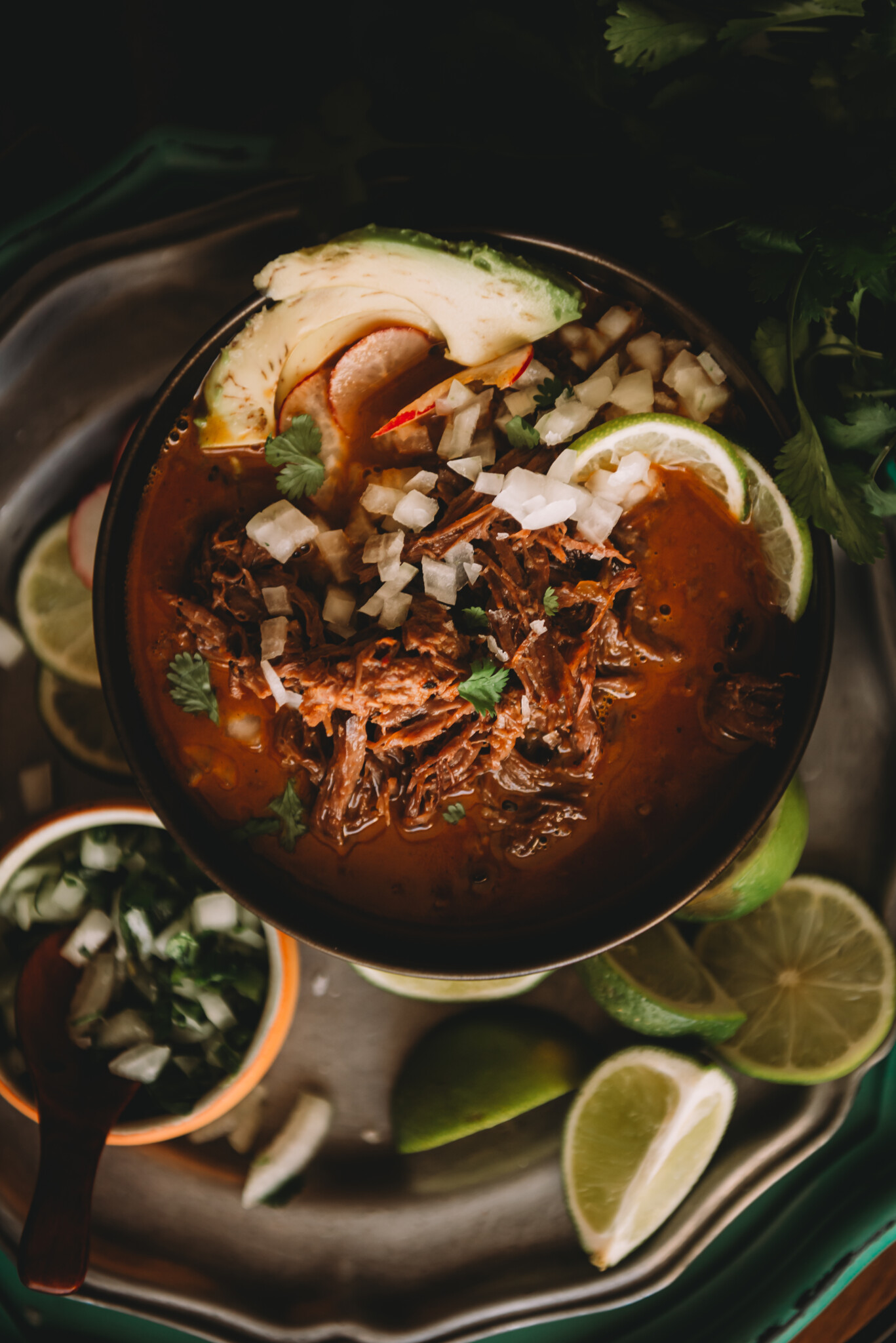 Can I Freeze Beef Birria?
Yes, you can! Chill any leftover birria meat and freeze portions of it packed in sauce in an airtight container or freezer-safe plastic bag for up to 3 months.
Is Beef Birria Easy?
Yes, this is an easy recipe; it just takes time. The chili paste is the most complicated part of this great recipe, but it can even be made a day or two ahead of time. Or you can substitute canned chipotle chiles in adobo sauce, but IMO the flavor isn't the same.
After that, all you do is season and sear the beef, then add the remaining ingredients. Simple!
More DELICIOUS braised BEEF RECIPES!
Dutch Oven Mexican Birria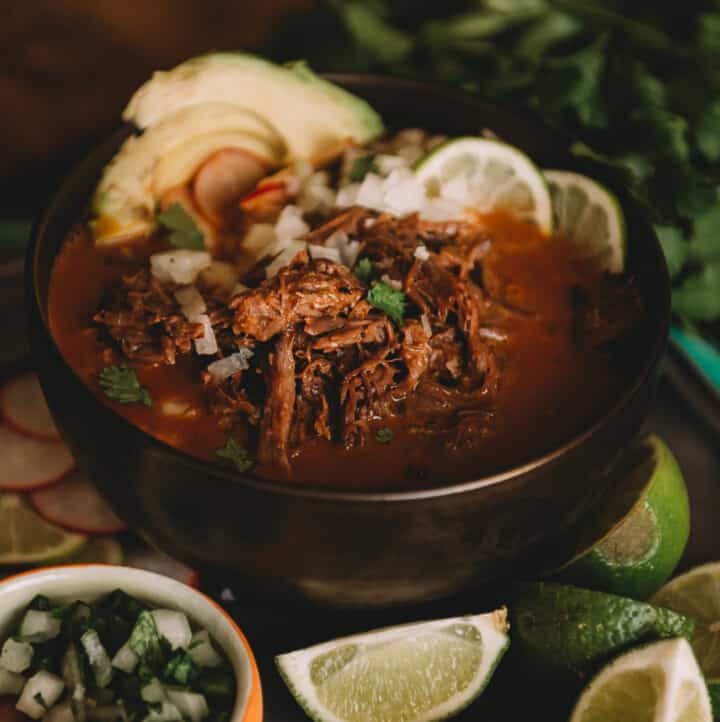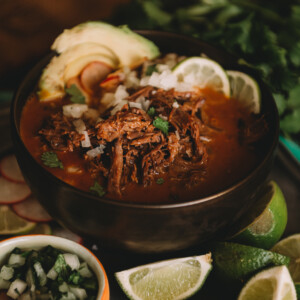 Slow simmered beef neck shreds into tender bites perfect for classic birria or to be used for delicious quesabirria tacos!
Ingredients
For the chili paste:
4 – 5

New Mexico Chilies

4 – 5

Guaillo Chilies

3 – 4

Arbol Chilies

2 – 3

cups

Water

1

tbsp

Vinegar

Salt

to taste

1

tbsp

Cumin

1/4

cup

water
For the birria
4.5

lbs

Beef neck

2

tbsp

Salt

2

tbsp

oil

¼

cup

red wine

1

Onion

4 – 6

Garlic cloves

2

Bay leaves

1

tbsp

Cumin

1

tbsp

Oregano

1

tsp

Thyme

or 3 sprigs fresh thyme

1

tsp

Paprika

1

tsp

Ancho chili powder

3 – 4

tbsp

Chili paste

1

qt

Water*
Garnish
onion

minced

Cilantro

chopped

Jalapeno

stemmed, seeded and minced or sliced into rings

Radish

sliced into thin slivers

Lime

sliced into wedges
Instructions
Make the chili paste
Preheat a large Dutch oven over low heat and add the chilies to toast them.

4 – 5 New Mexico Chilies,

3 – 4 Arbol Chilies,

4 – 5 Guaillo Chilies

Toast the chilies, turning as needed for 1 to 2 munutes.

In a small pot, bring the water to a boil.

Rehydrate the chilies by pouring the boiling water over them in a large bowl.

Allow to sit for 30 minutes.

Strain the chilies with a mesh strainer. Discard the liquid.

Place chiles in a food processor with vinegar.

Pulse until smooth, adding a tablespoon of oil and a tablespoon of water as needed to make a maste like texutre.

Scrape down sides s needed to make sure things are smooth.

Set aside until ready to use or store in an airtight container in the fridge.
Brown the beef
Season the beef with salt liberally on all sides.

4.5 lbs Beef neck,

2 tbsp Salt

Preheat a the Dutch oven over medium high heat and add oil to coat the pan.

Place the beef, in the heated pot and sear, 2 to 4 minutes to brown.

Flip and repeat, browning on all sides
Deglaze the pan
Reduce the heat to medium and slowely add the wine.

Using a wooden spoon, scrape up any browned bits as the wine cooks down.

Add onion, garlic, bay leaves, and spices to the pot.

1 Onion,

4 – 6 Garlic cloves,

2 Bay leaves,

1 tbsp Cumin,

1 tbsp Oregano,

1 tsp Thyme,

1 tsp Paprika,

1 tsp Ancho chili powder

Add the chili paste and stir to combine.
Make the birria
Place the beef neck in the Dutch oven and add water to just cover. *See notes below if using beef stock.

Bring to a boil then reduce heat to a gentle simmer.

Cover with the lid slightly adjar while the liquid simmers.

Allow the beef neck to simmer 4 to 5 hours until the beef temps at 205F and shreds easily with a fork, adding more liquid as needed to cover the beef.
Strain the liquid
Carefully remove the beef neck from the Dutch oven. Set aside.

Strain the liquid through a fine mesh sieve into a clean bowl and discard solids.

Return the liquid back to the Dutch oven and simmer over medium heat to reduce by 1/4.

Taste the broth, and if disired add more chili paste, ancho chili powder, cumin, or salt.
Shred the beef neck
Meanwhile, using two forks, shred the beef neck. Discard bones or any fatty bites.

Return the shredded meat to the broth.
Serve
Ladel hot shredded meat and broth into bowls.

Serve as a stew with desired garnishes.

onion,

Cilantro,

Jalapeno,

Radish,

Lime
Notes
For a richer stock, use a 1:1 ratio of water and low sodium beef stock.
Skip the chili paste and substitute with chipotle chiles in adobo sauce.
Start this dish the day before to simmer and then shred. Allow to cool completely before storing in the fridge until ready to use.
Reheat in a Dutch oven over low heat to serve hot.
Nutrition
Serving:
1
g
|
Calories:
273
kcal
|
Carbohydrates:
9
g
|
Protein:
35
g
|
Fat:
10
g
|
Saturated Fat:
2
g
|
Polyunsaturated Fat:
1
g
|
Monounsaturated Fat:
5
g
|
Trans Fat:
1
g
|
Cholesterol:
60
mg
|
Sodium:
1867
mg
|
Potassium:
765
mg
|
Fiber:
1
g
|
Sugar:
3
g
|
Vitamin A:
683
IU
|
Vitamin C:
5
mg
|
Calcium:
81
mg
|
Iron:
5
mg