Stuffed pepper recipes get a makeover in this fun mac and cheese version with brats all cooked over the campfire!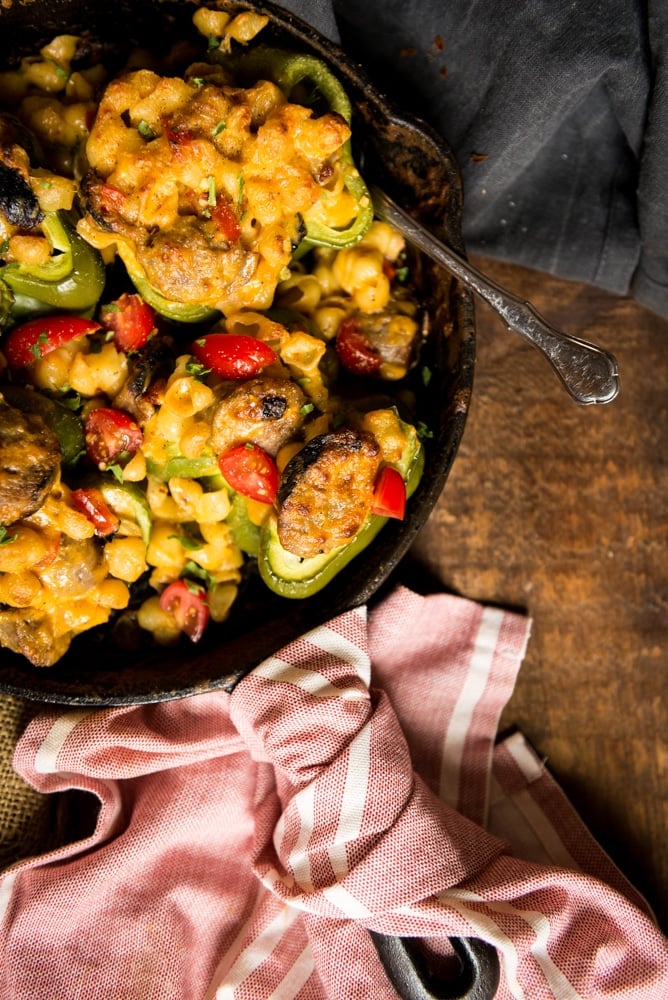 A few weeks ago I hitched up a 32″ Minnie Winnie and set out on an adventure through the mountains of western Virginia, one of my favorite places on earth. Having hiked and camped the mountains a hundred times, living life in an RV was pure luxury, but I still made it a point to cook over livefire every night.
These stuffed peppers are one of my easy go-to 'you made that over a campfire?' recipes that I love to recreate with whatever I have on hand on the last day of camping.
Can you use cast iron over a campfire?
For starters, yes. Cast iron is the only thing I use in my kitchen and on the road. It's heavy-duty and holds heat while evenly distributing it. Cast iron can take the beating in my rugged kitchen and doesn't take a whole lot of time to clean up.
It's also perfect for cooking over campfires. You can place your cast iron skillets and Dutch ovens directly over the coals, on a grate, or (in the case of the Dutch oven) hang over the fire for optimal temperature control.
A good cast iron skillet is a multi-use tool. It can fry the bacon and eggs in the morning and bake a cobbler at night. You can deep fry in one (with tall sides) and finish the best steaks. If I had one tool to keep in my kitchen at all times, next to a quality knife, my cast iron skillet is a must. A good 10″ one is the perfect piece for every collection.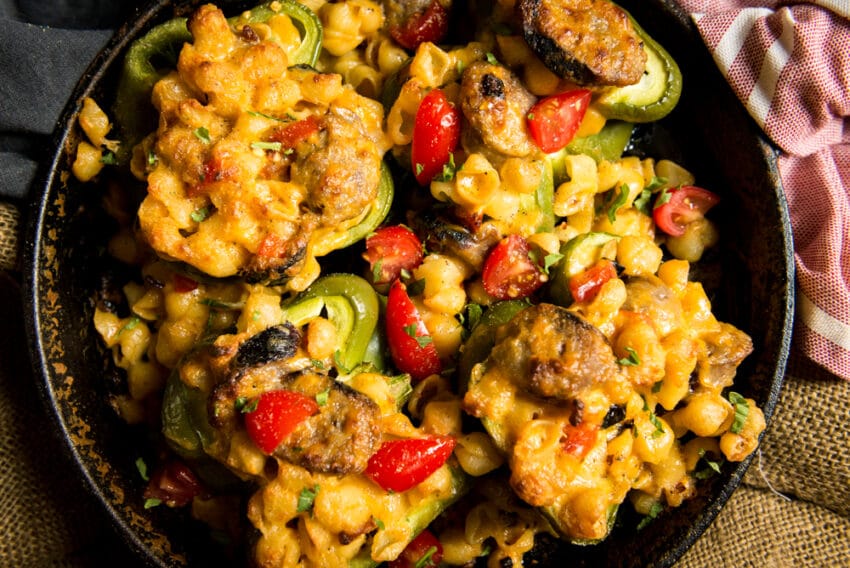 How to boil water over a campfire
The first thing you're going to want to prep for this dish is the pasta. You could pop inside your cozy RV and get that all prepped and ready on the range. BUT, if you're feeling brave, and patient, boiling water over a campfire is actually kind of easy.
A heavy-duty big pot works great for this, as long as it's oven safe and you have a few heat resistant gloves nearby. For safety, give yourself some room too. Make sure you have a safe space around the fire. The last thing anyone needs is to spill boiling water.
These instructions are for a campfire with a level grate secured atop the already established fire.
For cooking, fill the pot 1/2 full with water and add salt. Bring to a boil, with the lid on, directly over the flame of a hot fire. If you're just boiling the water for coffee, ignore that mention of salt.
I put a heavy-duty lid on because I am terribly impatient and watching the bubbles drives me nuts. I make sure that I keep a pair of heat resistant gloves nearby to remind me not to forget and reach in with my hand to touch the lid.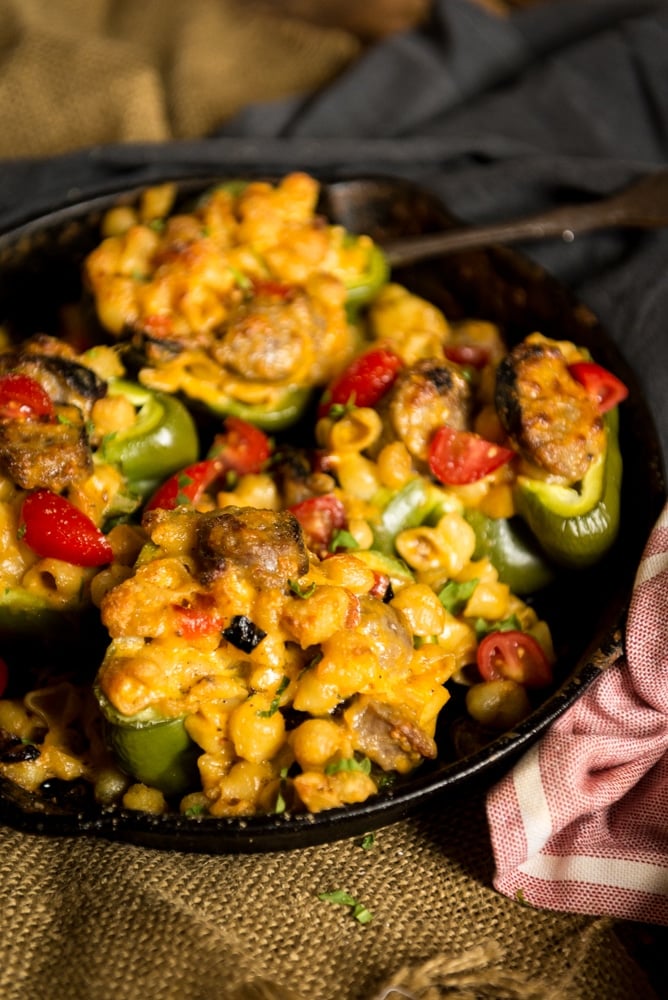 How to cook brats over a campfire
Brats are one of my go-to camping ingredients. They are easy, and after a long day, way more satisfying than a hot dog. Plus, I can slice them up and add them to anything.
Arrange the brats on a level stable cooking grate over an established fire. Make sure that it's not raging, or you will sear the outsides, leaving the insides raw. And no one likes a charred brat on one end while the other is cold. I rotate my brats while cooking, working back to forward, making sure each gets a turn over the center of the heat source.
Allow the brats to cook over the fire, often rotating for even cooking until the internal temperature reaches 160 degrees. (Yes, an instant-read thermometer is part of my travel cooking kit).
Another option for brats is to toss them right into that cast iron skillet mentioned above for more even heat control. This campfire stuffed peppers can be made with the brats over the fire or right in the skillet.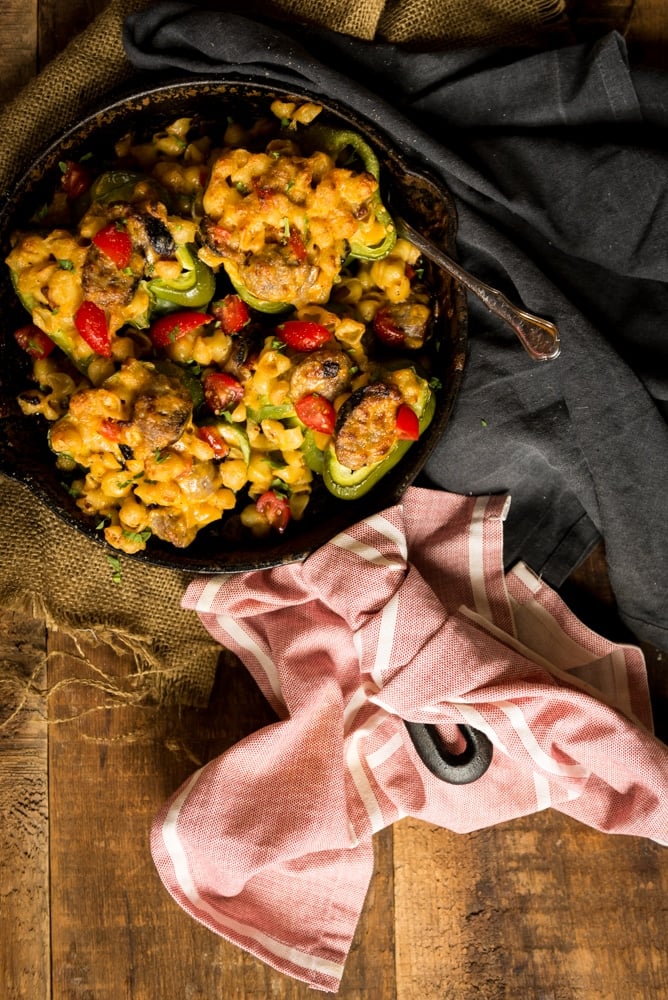 Want more camping recipe inspiration? Try some of my favorites:
If you've tried my Campfire Mac and Cheese Stuffed Peppers Recipe or any other recipe on GirlCarnivore.com please don't forget to rate the recipe and let me know where you found it in the comments below. I get inspired by your feedback and comments! You can also FOLLOW ME on Instagram @girlcarnivore as well as on Twitter and Facebook.
Campfire Mac and Cheese Stuffed Peppers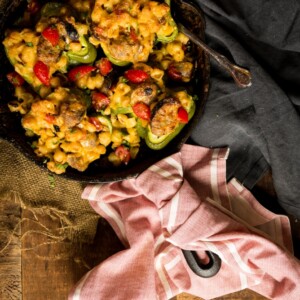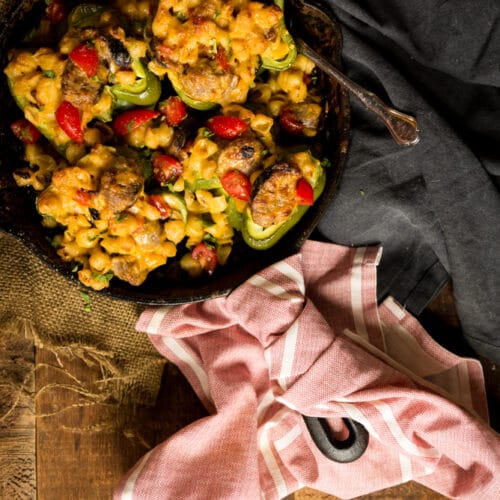 Stuffed pepper recipes get a makeover in this fun mac and cheese version with brats all cooked over the campfire!
Ingredients
8

oz

uncooked pasta

small to medium shells is my go-to choice

16

oz

cheddar and Colby cheese

cut into 1/4″ cubes

2

tbsp

yellow mustard

1

tsp

red pepper flakes

1 8

oz

can evaporate milk

salt and pepper

1

tbsp

olive oil

1

lbs

brats

1/2

onion

chopped

1

red pepper

seeded and chopped

4

large bell peppers

cut in half, from the top to bottom, with the seeds removed
Instructions
In a large oven-safe pot, bring the water to a boil with salt.

Add the pasta and cook until al dente.

Carefully drain the pasta and set aside.

In the meantime, preheat a large cast-iron skillet.

Add the olive oil and cook the brats, browning evenly as you rotate them every so often.

For the last 7 to 10 minutes, add the chopped onion and pepper, and allow them to sautee down.

Remove the brats from the fire and allow to cool 5 minutes, before slicing.

In the same skillet with the onions and peppers, add the mustard and red pepper flakes. Stir to coat.

Whisk in the evaporated milk.

A little at a time, whisk in the cheese until completely melted.

Add the sliced brats to the pot with the cooked pasta and pour the cheese sauce over top.

Stir to combine.

In the now-empty skillet, carefully nestle the pepper halves in place. (I can usually fit 4 to 5 halves snuggly in each skillet)

Spoon in hearty portions of mac and cheese, pressing to fill.

Cover with aluminum foil and cook over offset heat for 35 to 40 minutes, until the peppers are softened and cooked through.

Repeat with the remaining pepper halves, as needed.

Allow the peppers to cool 5 minutes before serving.
Notes
This recipe can be made in a standard kitchen as well.
Follow the instructions and boil the water and cook the sausage and onions on the range top while finishing in the oven at 400 degrees for 15 to 20 minutes.
The Mac and cheese can be made up to 3 days ahead and stored in an airtight container in the refrigerator.
Nutrition
Serving:
1
g
|
Calories:
666
kcal
|
Carbohydrates:
37
g
|
Protein:
31
g
|
Fat:
44
g
|
Saturated Fat:
20
g
|
Polyunsaturated Fat:
20
g
|
Trans Fat:
1
g
|
Cholesterol:
116
mg
|
Sodium:
1048
mg
|
Fiber:
2
g
|
Sugar:
4
g