White Chicken Chili is a perfect hearty dish begging to be simmered in a cast-iron Dutch oven. With a thick creamy base, beans, and peppers, it's a mild blend of spice and pulled chicken to feed the family over the campfire or at home. This version has charred corn and sliced jalapenos for a little extra pop that everyone loves!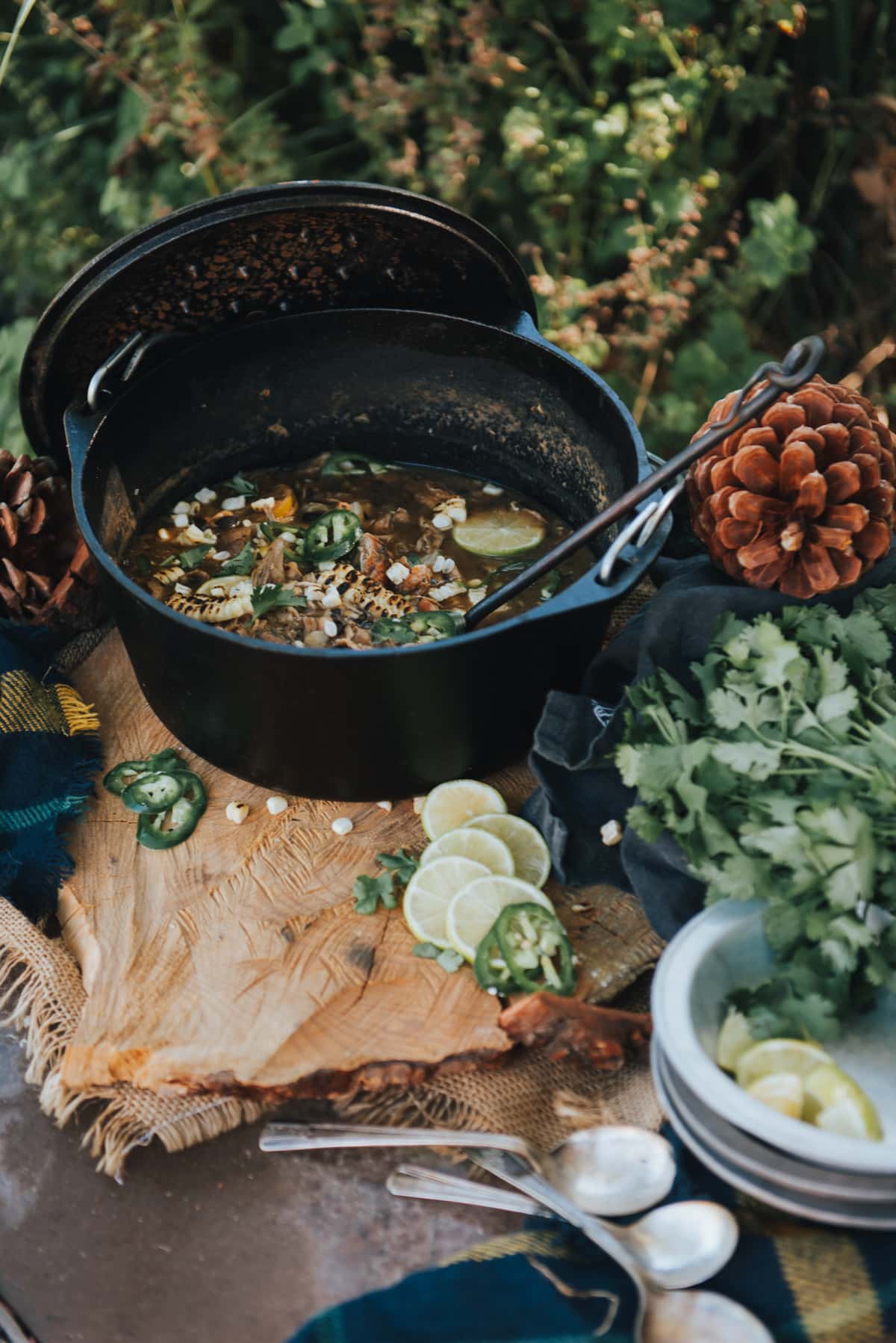 Creamy, thick, comforting, and incredibly hearty. Is there a perfect recipe for a chilly night around the campfire? This white chicken chili is just that with a bit of heat, but not too much, and the perfect balance and blend of flavors.
It's a go-to in big batches for long camp trips, as it's easy to make ahead and warm as needed. I've never known a camper to turn this down after a long day exploring the trails.
If you don't have a campfire built, it can be made on a traditional range or camp stove and is perfect even if you aren't getting somewhere off-grid but just want a comforting meal at home.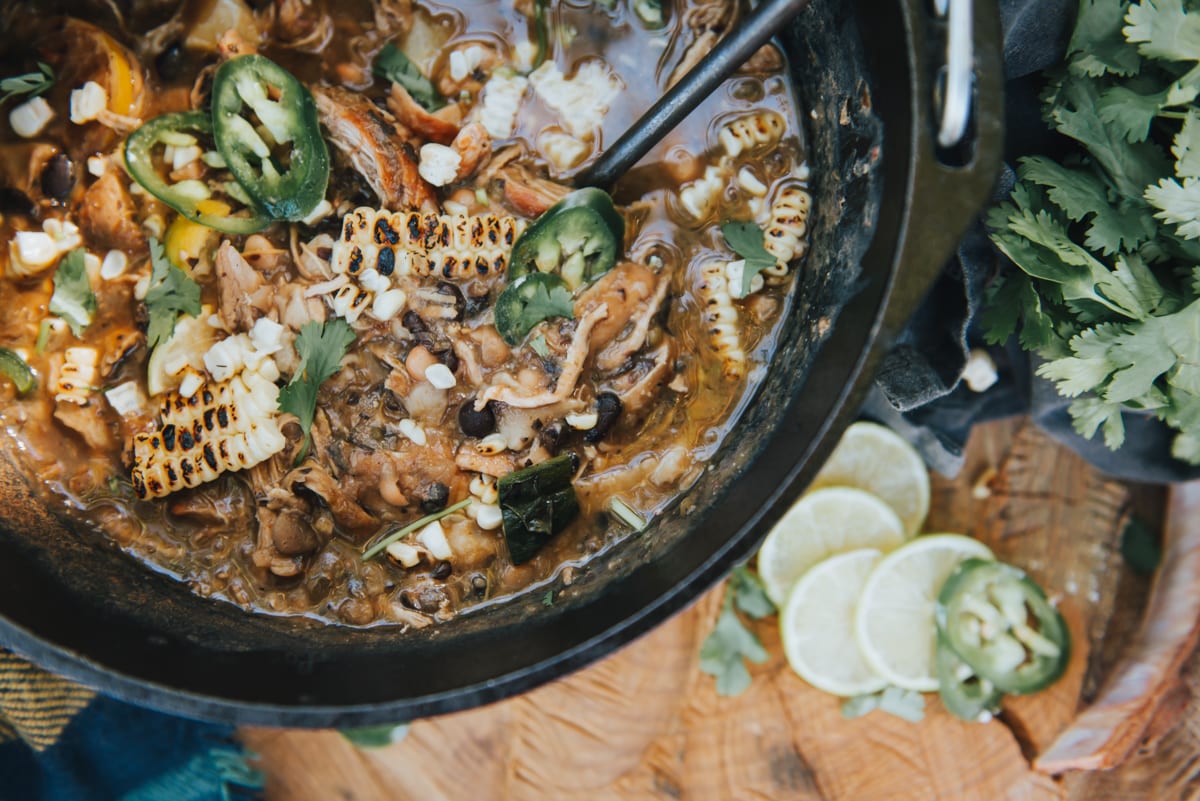 What is White Chicken Chili?
Much like your traditional chili, white chicken chili mixes proteins and vegetables with your favorite toppings. This recipe calls for poblano peppers, boneless skinless chicken breast, onions, poblanos, garlic, cumin, taco seasoning, salt, lime juice, chicken broth, white northern beans, black beans, canned chopped green peppers, and tortillas for thickening.
You can spice it up with hot sauce or chili powder if you like, but I keep it mild and add jalapenos at the end for my own kick.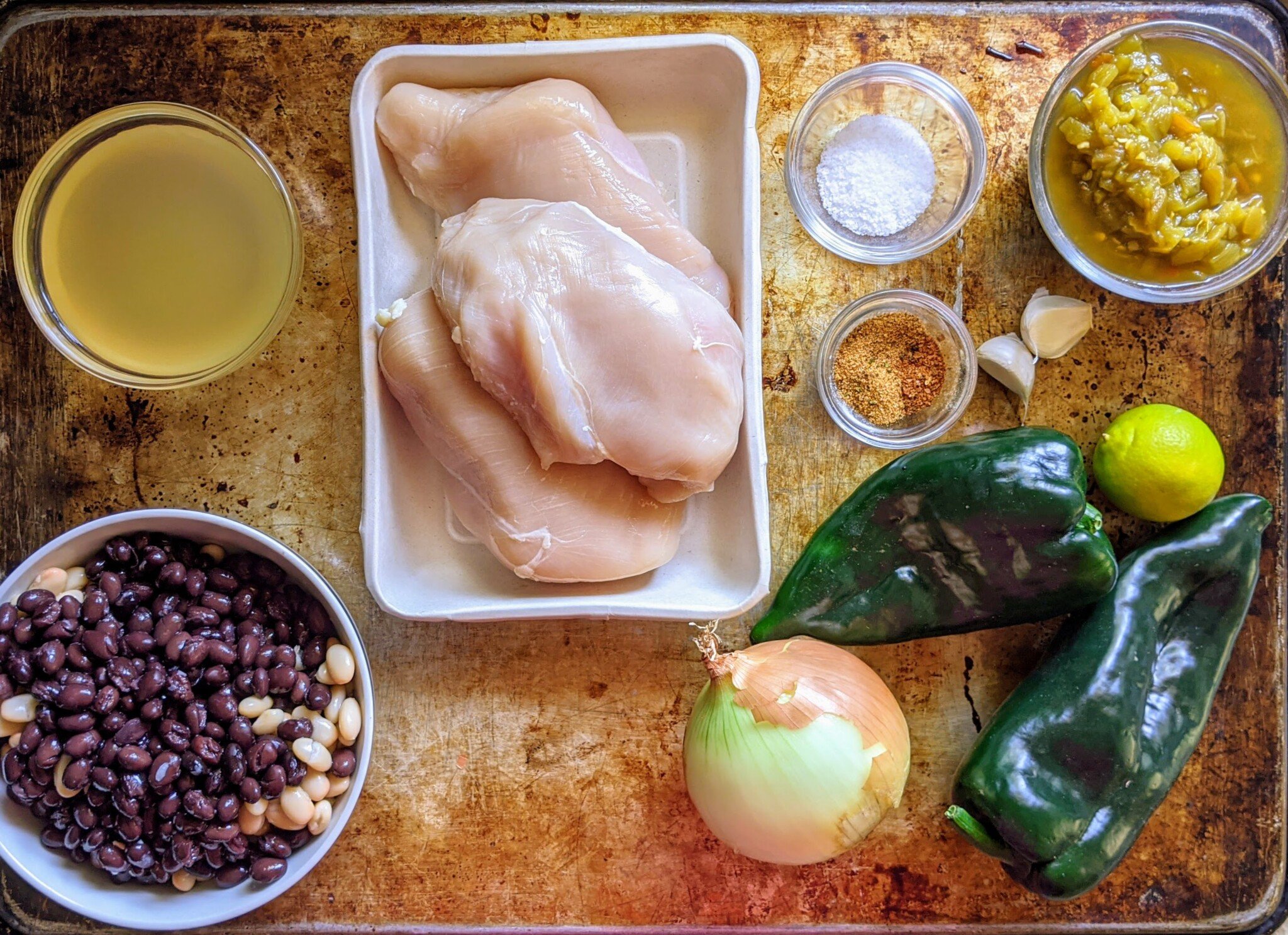 Ingredients for Delicious White Chicken Chili Recipe
poblanos
canola oil or olive oil
chicken breast
salt
taco seasoning
cumin
​onion
garlic
chicken broth
lime
black beans
great northern beans
green chilies
flour tortillas
Topping options:
avocado
jalapeno pepper
grilled corn
sour cream
fresh cilantro
sliced lime
Monterey jack cheese
tortilla strips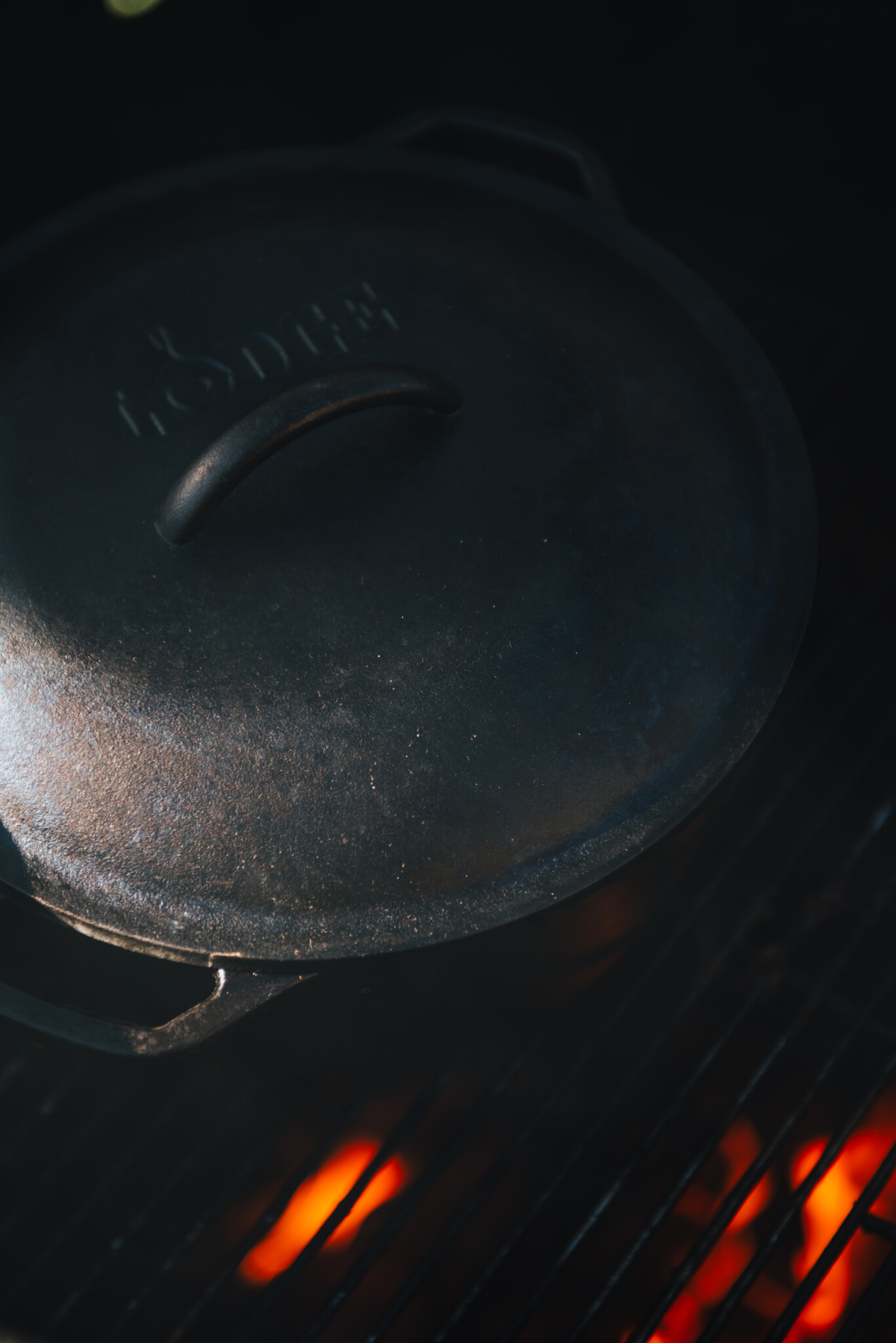 How to Make Flavorful White Chicken Chili
This is an easy recipe, even if you're cooking over fire. You start by roasting some poblanos to create a rich flavor and remove the outer skin.
Then preheat your Dutch oven over the coals and brown the chicken on all sides while sauteeing the onion. Finally, you start tossing it all together, the garlic, roasted chopped peppers, and spices to coat it all.
Carefully whisk in the broth, and deglaze the pan. Which simply means scraping up any bits that were stuck to the bottom before adding the remaining ingredients and bringing them to a simmer.
A quick shredding of the chicken outside of the stew and a puree at the end thickens the base and makes everything creamy without adding any dairy. Toss the shredded chicken back in, and then serve with all the toppings you want.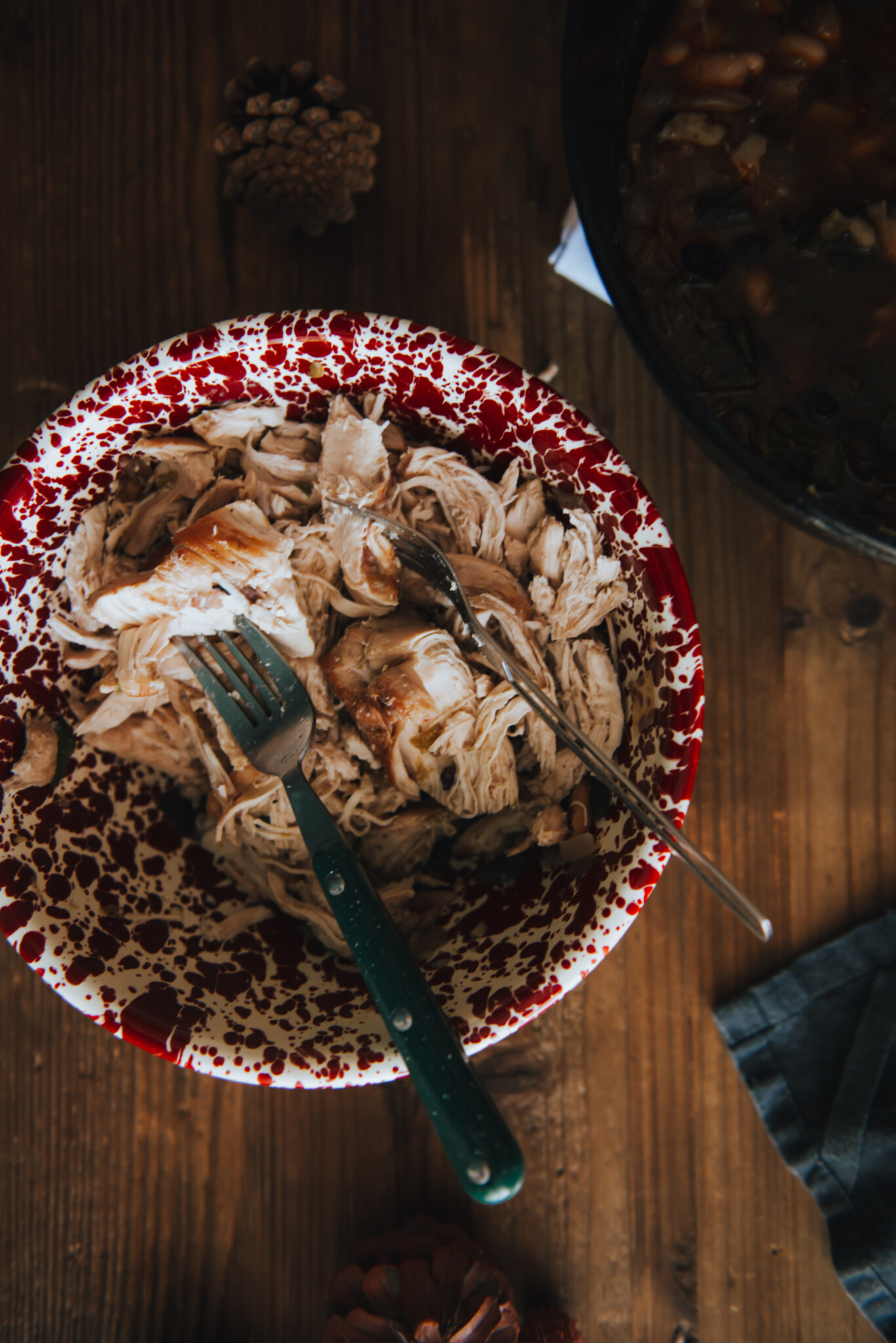 Girl Carnivore Expert Recipe Tips
Deglaze!
Deglazing works when a small amount of liquid is added to the pan, and the steam created helps the built-on stuff come loose. That built-on 'stuff' is usually pretty tasty at this stage and is a great flavor base, but using the steam method later for cleaning burnt-on stuff – aka not tasty – is also a pro trick. Tuck that one away to woo someone with your mad kitchen skills someday.
Thicken your chili
Make the white chicken chili thicker by blending the bean-heavy stew with an immersion blender. To add extra thickness, add a few tortillas to the stew to simmer before blending. If you don't have an immersion blender, use a food processor or traditional blender with the lid securely in place. You can even place a towel over top for safety.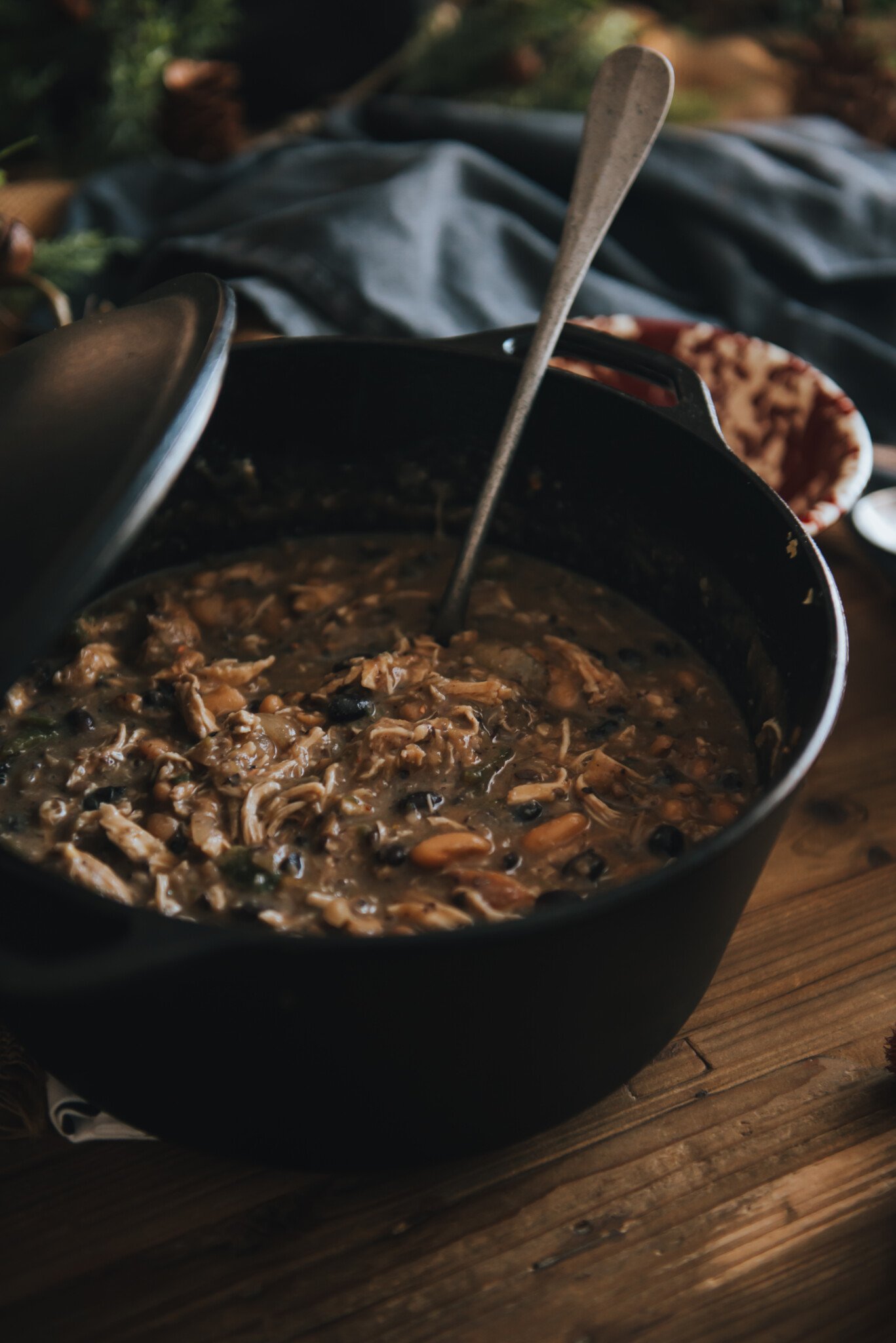 What to serve with white chicken chili
Serve your white chili with tortilla chips or crusty bread! It will also go well with a homemade cilantro chimichurri sauce! Toss out some crackers or soft tortillas for dipping, and you're all set. Many people like to top their chili with cream cheese, sour cream, avocados, or more spice! Add whatever you like to the top.If you are at the campsite, pair your chicken chili with a tasty sandwich like the campfire grilled chicken panini.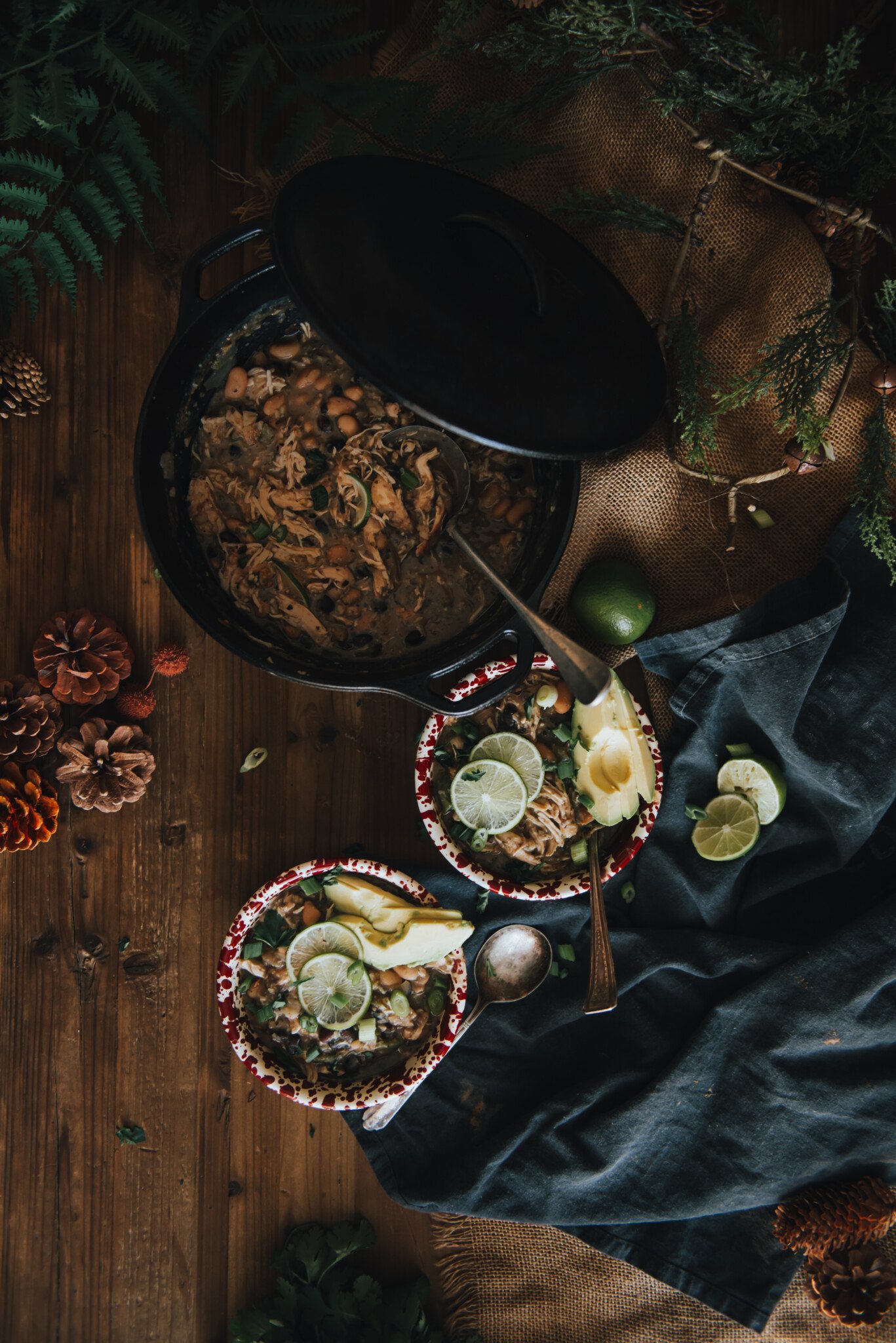 Leftovers and Reheating
If you have leftover chicken, smoked chicken quarters, or smoked chicken thighs, they will all work in place of the fresh chicken breast in the recipe. Or put a twist on these savory camping tacos using your cooked chicken.
Chilis are best when they are able to simmer low and slow, letting the layers of flavors mingle. There is truth to 'chili is better on day two.' Make this in the morning at camp or even before getting to camp for more flavor ahead of time. Just store everything an airtight container.
This recipe freezes well! Make ahead and freeze leftovers in airtight resealable bags or containers for up to 3 months. Reheat by thawing the stew and adding it to a pot over low heat.
Put single portions in each freezer packet so that you have access to easy pre-portioned meals for busy days. A bowl of chili is never a bad leftover meal!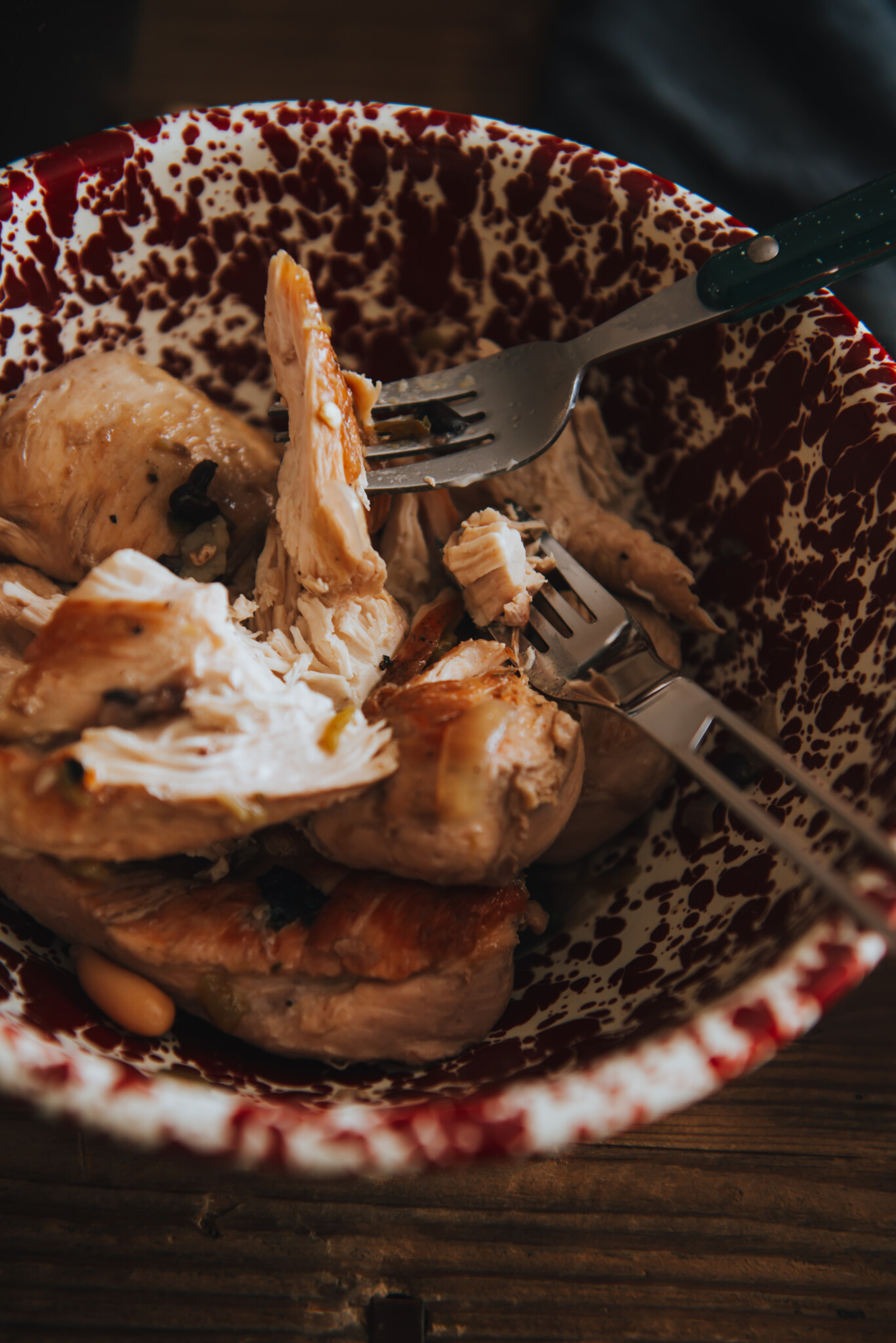 Recipe FAQs
Can I use a slow cooker? 
If you don't have a Dutch oven, try using a slow cooker or crock pot. Follow the recipe as directed, browning the chicken and sauteing the onion. Pop all of the ingredients into the slow cooker and set it to low for 5 to 6 hours or until the chicken shreds easily with a fork. Remove the chicken and blend the stew and shred the chicken, following the recipe below.
​What is the difference between great northern beans and cannellini beans?
The two beans are very similar. They are both medium-sized beans that are white in color. Their texture and size is a little different. The cannellini bean is a bit heartier, while the great northern is a bit more tender.  Other great beans for this recipe include white kidney beans!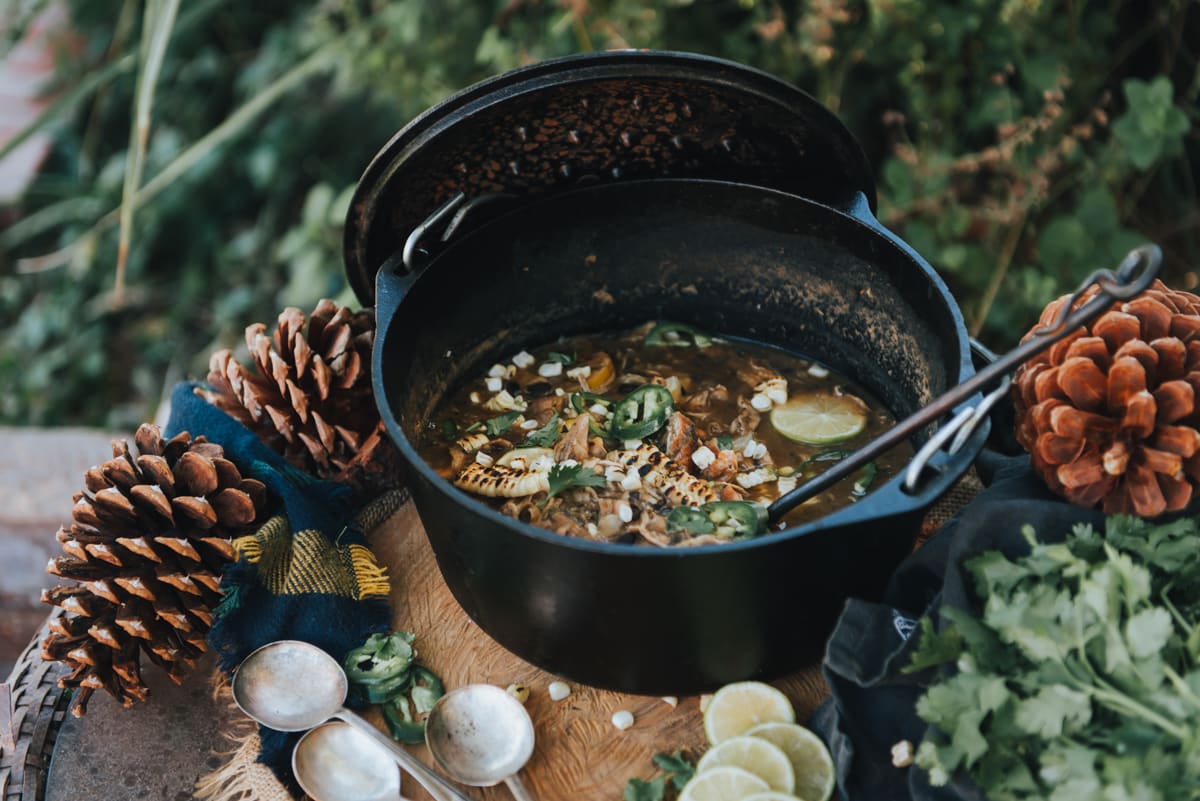 More epic camping recipes
Want more savory recipe inspiration? Try some of my favorites!
If you're a big fan of slow cooker recipes, this recipe is for you. This will easily be the best white chicken chili recipe you come across. With hearty beans, tender chicken, and tons of flavor, it warms the soul on those cool nights around the campfire.
​Making chili is a great way to bond with family and friends any time of year. The mixing of flavors and array of toppings make for great conversation and food under any circumstance. Grab this recipe to have on hand for camping or for those cold winter nights. And if you've tried it, be sure to rate the recipe card and drop a comment to help the next guy.
Dutch Oven White Chicken Chili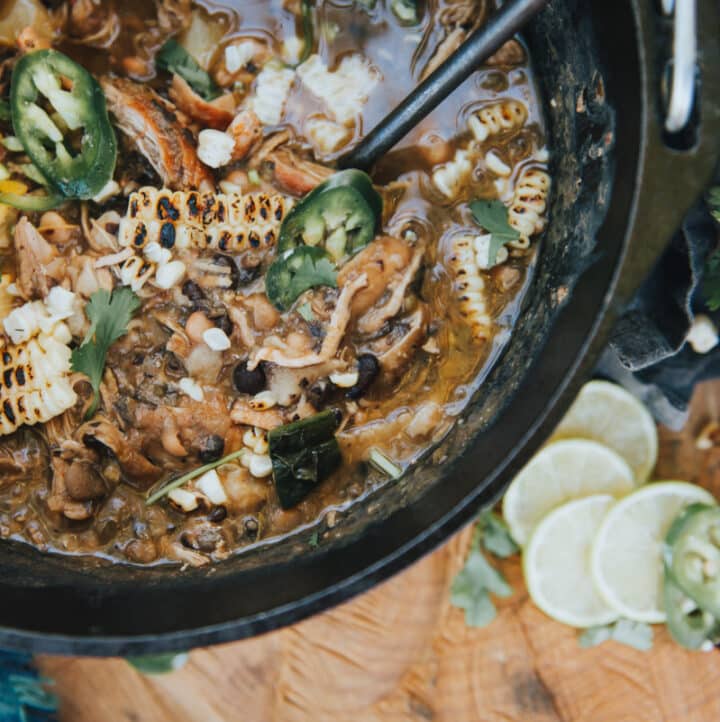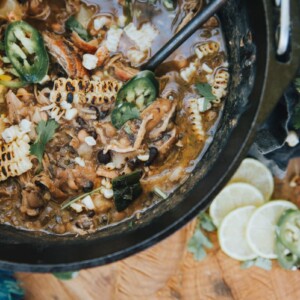 This chicken chili is easily made in a Dutch oven while camping or ahead of time with just a few simple ingredients like roasted pobalnos, broth, and beans. Adjust the heat to your taste and see our tips for thickenig below.
Ingredients
2

poblanos

1

tbsp

canola oil

1.5

lbs

chicken breast

boneless skinless

1

tsp

salt

1

tsp

taco seasoning

1

tsp

cumin

½

onion

2

cloves

garlic

3

cups

chicken broth

1

lime

1 14

oz

can black beans

drained and rinsed

1 14

oz

can great northern beans

drained and rinsed

8

oz

can green chiles

2

flour tortillas

torn into thin strips
For Toppings:
Avocado

Jalapeno

Grilled corn

Sour Cream

Cilantro

Sliced lime
Instructions
Roast the Poblanos
Roast the poblanos until the skin has blistered all over.

Wrap in foil and allow to steam for 5 minutes.

Carefully remove the foil and peel back the charred skin. Discard.

Chop the roasted poblanos and set aside.
Prep the Dutch Oven
Heat the Dutch oven over the cooler side of the fire, or medium heat.

Add the oil and allow to coat the pan.
Cook the Chicken
Add the chicken and brown on one side, about 4 minutes.

Add the onion and flip the chicken to brown on the other side 4 minutes longer while the onion softens.

Add in the chopped roasted poblanos, garlic, taco seasoning and cumin. Stir to combine.
Deglaze and Add the Liquid
Deglaze the pan, if needed with a splash of broth scraping up any browned bits

Slowely pour the remaining broth into the Dutch oven.

Add the juice from the lime.

Add the beans, green chiles, and tortilla strips.
Boil
Bring to a slow boil and let simmer for 45 minutes.
Blend
Remove the chicken from the pot.

With an immersion blender, or working with a food processor, pulse half of the broth to thicken.

Shred the chicken and return it to the pot.
Serve
Allow the chicken chili to cool for 5 minutes before serving.

When ready to serve, ladle into bowls and serve with desired toppings and garnish
Notes
Boneless skinless chicken thighs work great for this recipe too.
Store leftovers after cooled in airtight resaleable containers in the refrigerator for up to 4 days. 
Reheat individual portions a small pan over low or in the microwave in bursts until heated through. 
To cut carbs, omit the tortillas. 
To cut more carbs, half the beans and replace them with mushrooms. 
Nutrition
Serving:
1
g
|
Calories:
268
kcal
|
Carbohydrates:
29
g
|
Protein:
27
g
|
Fat:
5
g
|
Saturated Fat:
1
g
|
Polyunsaturated Fat:
1
g
|
Monounsaturated Fat:
2
g
|
Trans Fat:
1
g
|
Cholesterol:
54
mg
|
Sodium:
1085
mg
|
Potassium:
857
mg
|
Fiber:
8
g
|
Sugar:
1
g
|
Vitamin A:
184
IU
|
Vitamin C:
46
mg
|
Calcium:
86
mg
|
Iron:
3
mg
This recipe was originally published in the Winter Edition 2021 of Girl Camper Magazine.