This spicy garlic butter shrimp recipe is delicious in a cast iron pan while camping and so easy it has become classic even when we're not camping. Just a few ingredients are all you need for this incredibly simple but crazy delicious recipe. Serve these butter shrimp as a standalone dish with crusty bread (to sop up all the garlic butter), as a topping for steak, or folding into pasta for scampi.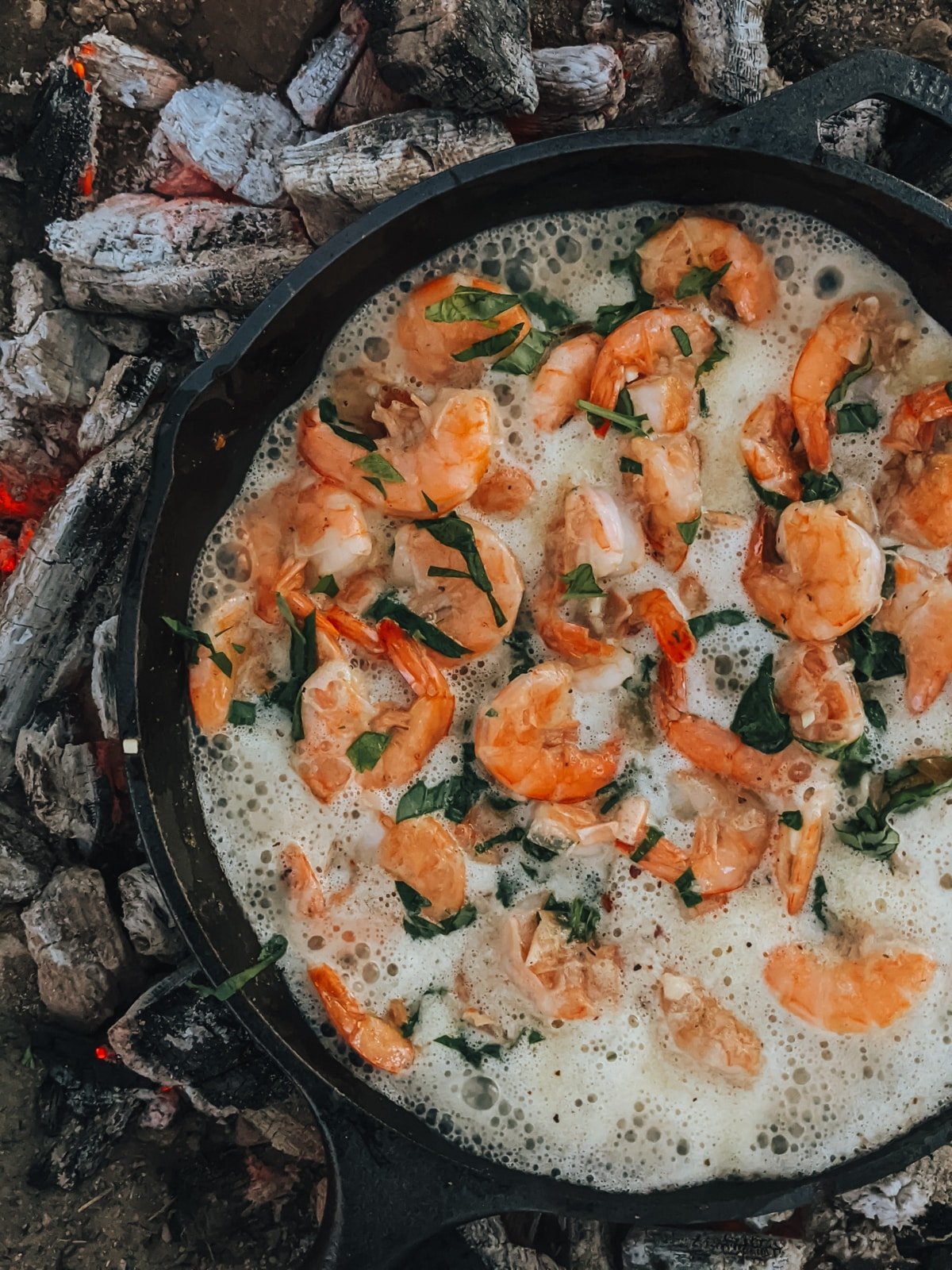 Portions of this post were originally published on GoRVing.com. Additional information has been added.
When I'm outside, I love cooking real food, but nothing that requires a ton of prep work. I often bring minimal ingredients to save room on space when camping and want each to have a variety of purposes.
Garlic, butter, and parsley are go-to pantry staples that help in a variety of ways so they are always in my fridge (or camp cooler) ready to be used.
This crazy easy recipe has no prep time, uses fresh shrimp, a large skillet, and cooks in just a few minutes. It's one of the most easy meals you can make and packs a LOT of punch!
You'll be scooping up the rich garlic butter shrimp right from the pan and dipping crusty bread into the mouthwatering sauce! Feeling bold, try an even spicier version of this shrimp recipe!
Hands down, this is one of the easiest recipes I make when camping, and everyone thinks it's restaurant-worthy! But you don't have to make it only when camping,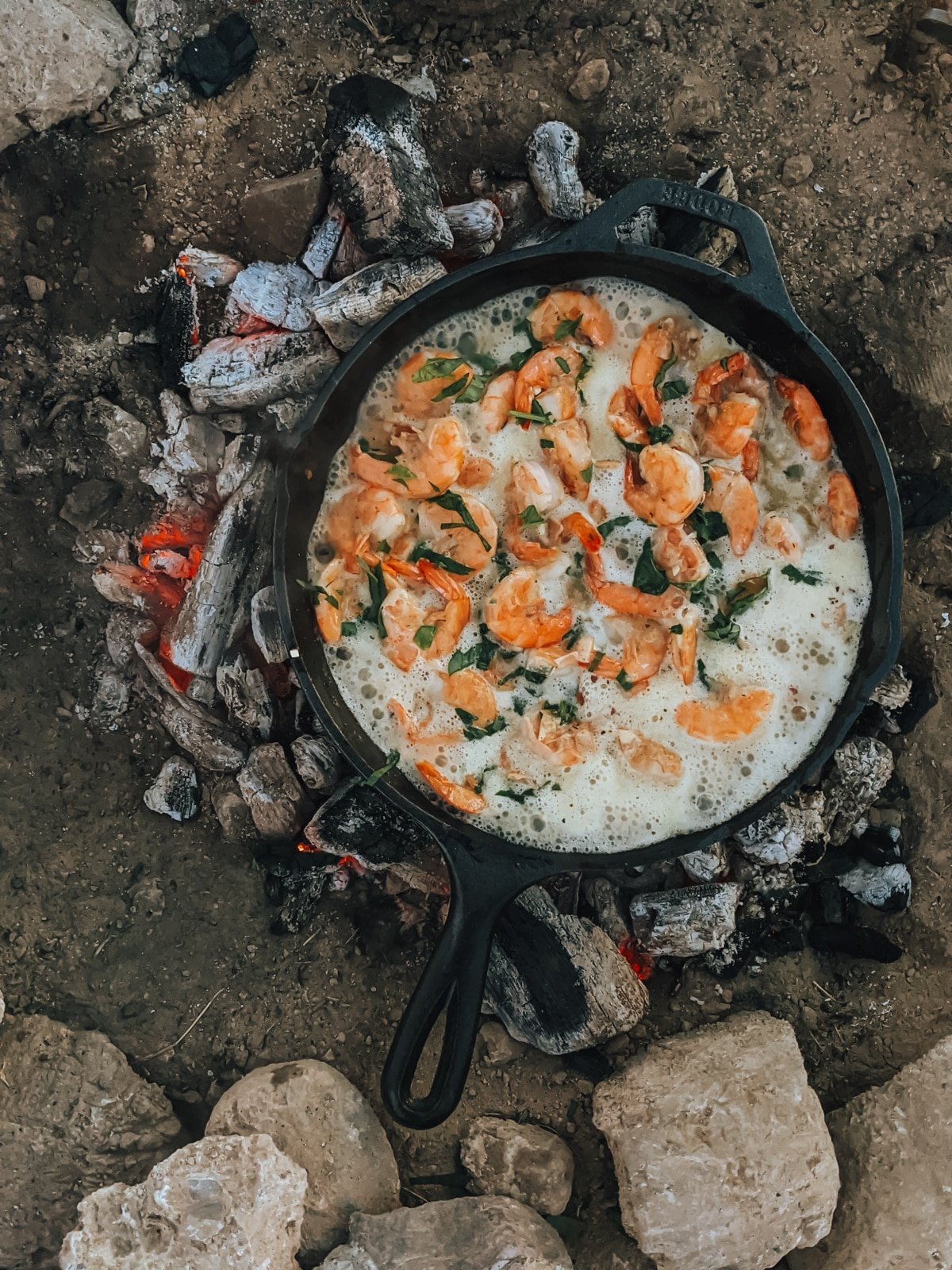 What you need to make this recipe
Extra Large or Large Shrimp, thawed and deveined. We like them with shells on so that the butter stays trapped in the shell as they cook making for extra flavor.
Unsalted butter. It's important that it's not salted butter to control the flavors
Garlic. Freeze-dried garlic or fresh
Pink Peppercorn Lemon Seasoning, or lemon pepper seasoning
Red pepper flakes, or hot sauce
Salt
To Garnish: Lemon and Italian parsley, or fresh basil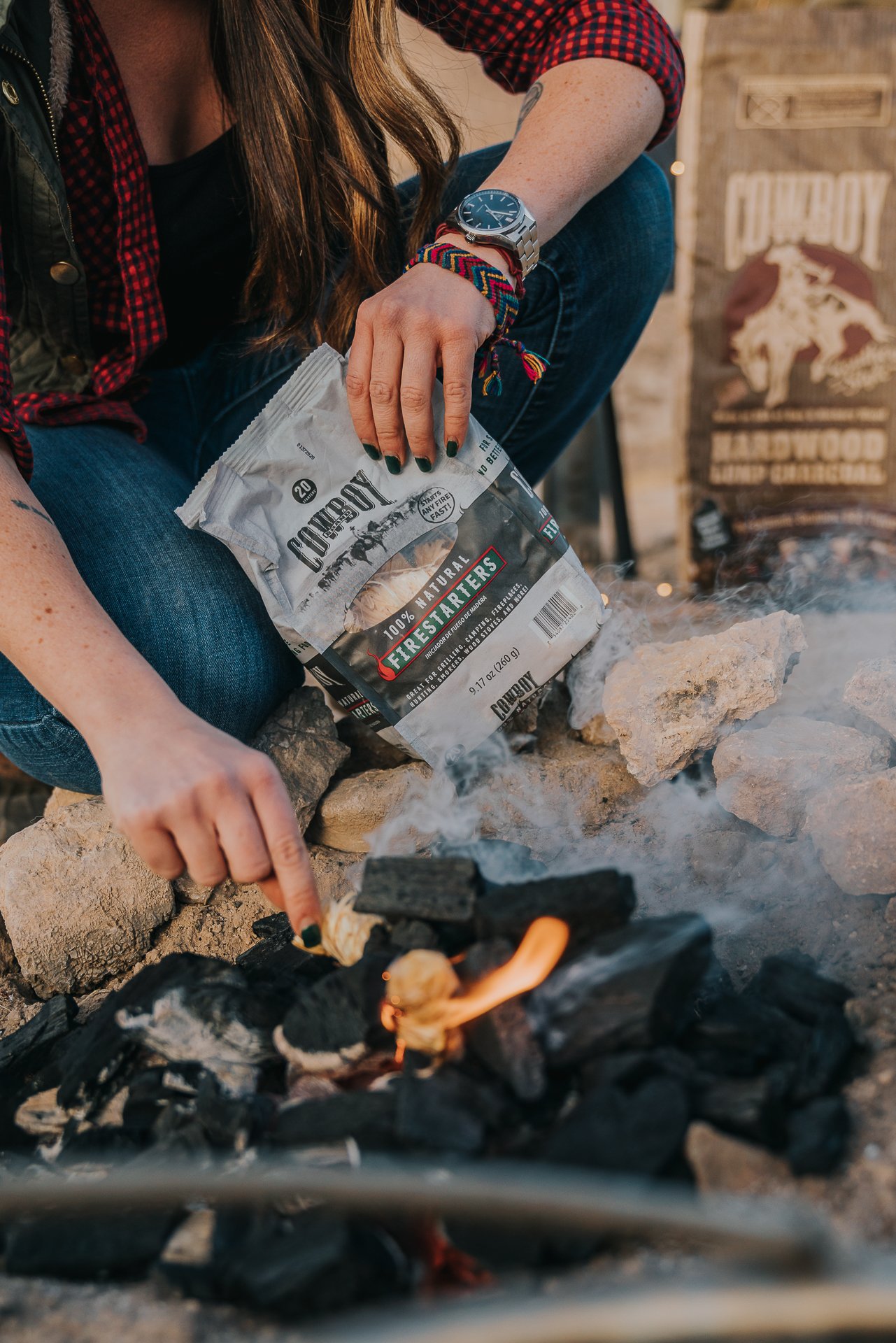 How to make garlic butter shrimp
If cooking over a fire, first light your coals and build a fire. Allow the fire to grow steady and an even bed of embers to form before cooking.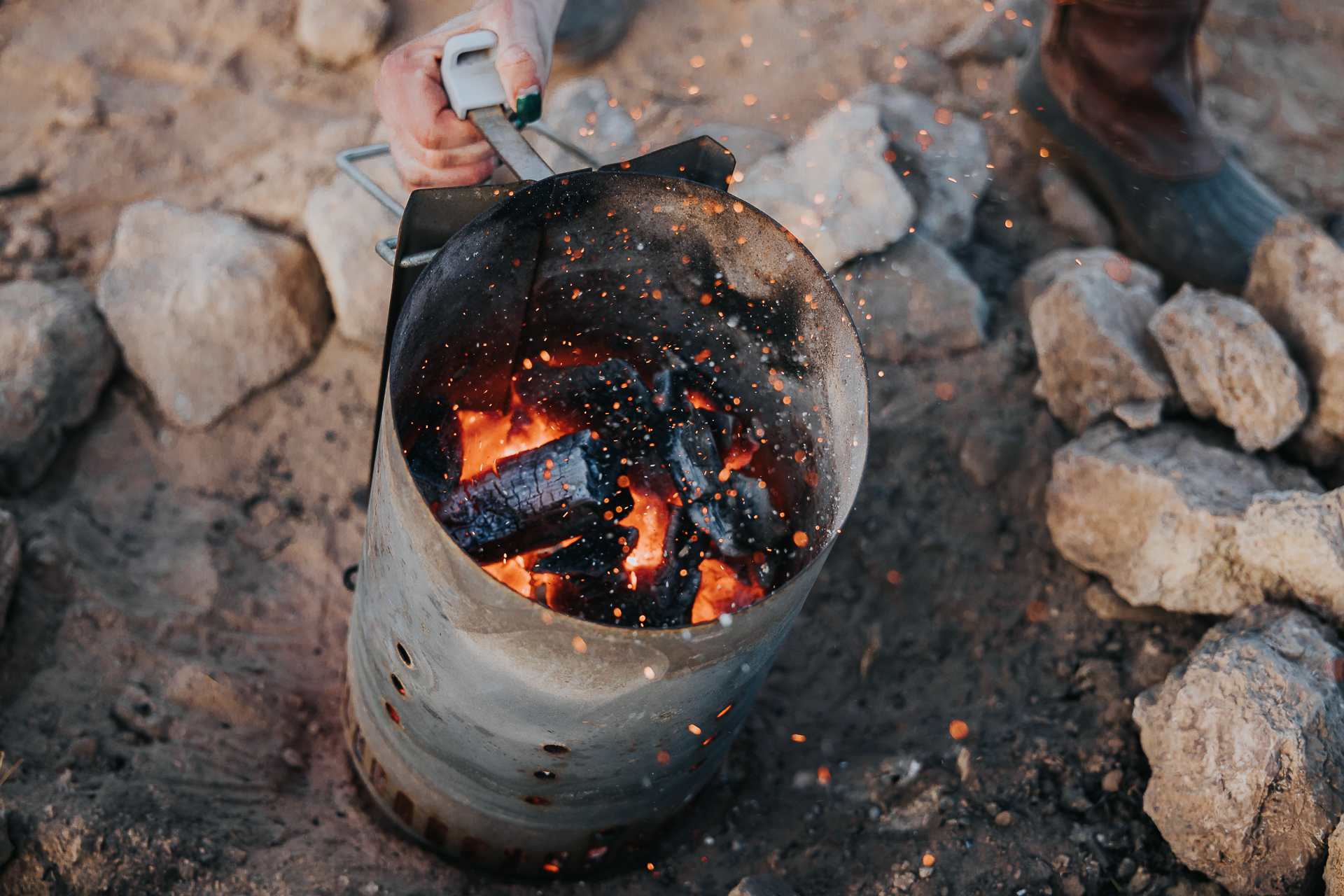 Start by thawing the shrimp and patting them dry.
Next, heat your cast iron pan over medium-high heat and add the garlic to toast and then the butter.
Swirl the butter to melt. If the butter immediately turns brown, your pan was too hot, and everything will taste burnt. Stop and start again with a clean pan.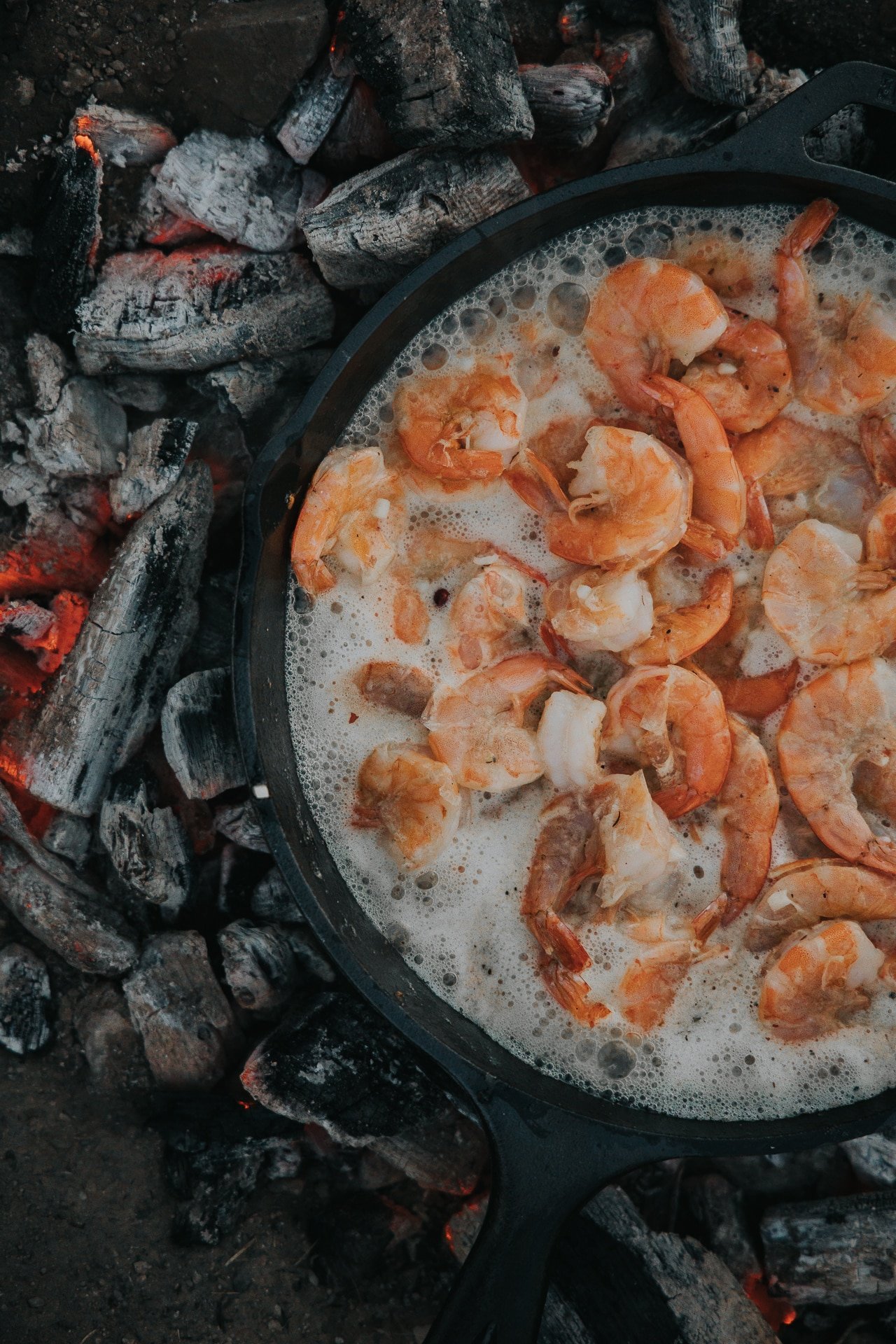 When the melted butter is no longer frothing, add in the shrimp and sprinkle the spices in.
The shrimp cooks quickly! Make sure to turn them over once they turn opaque and stir occasionally to make sure they have all cooked evenly.
Once the butter shrimp have cooked so they are bright pink on both sides, remove the pan from the heat and garnish with the fresh parsley and squeeze fresh lemon juice over top if you're feeling fancy.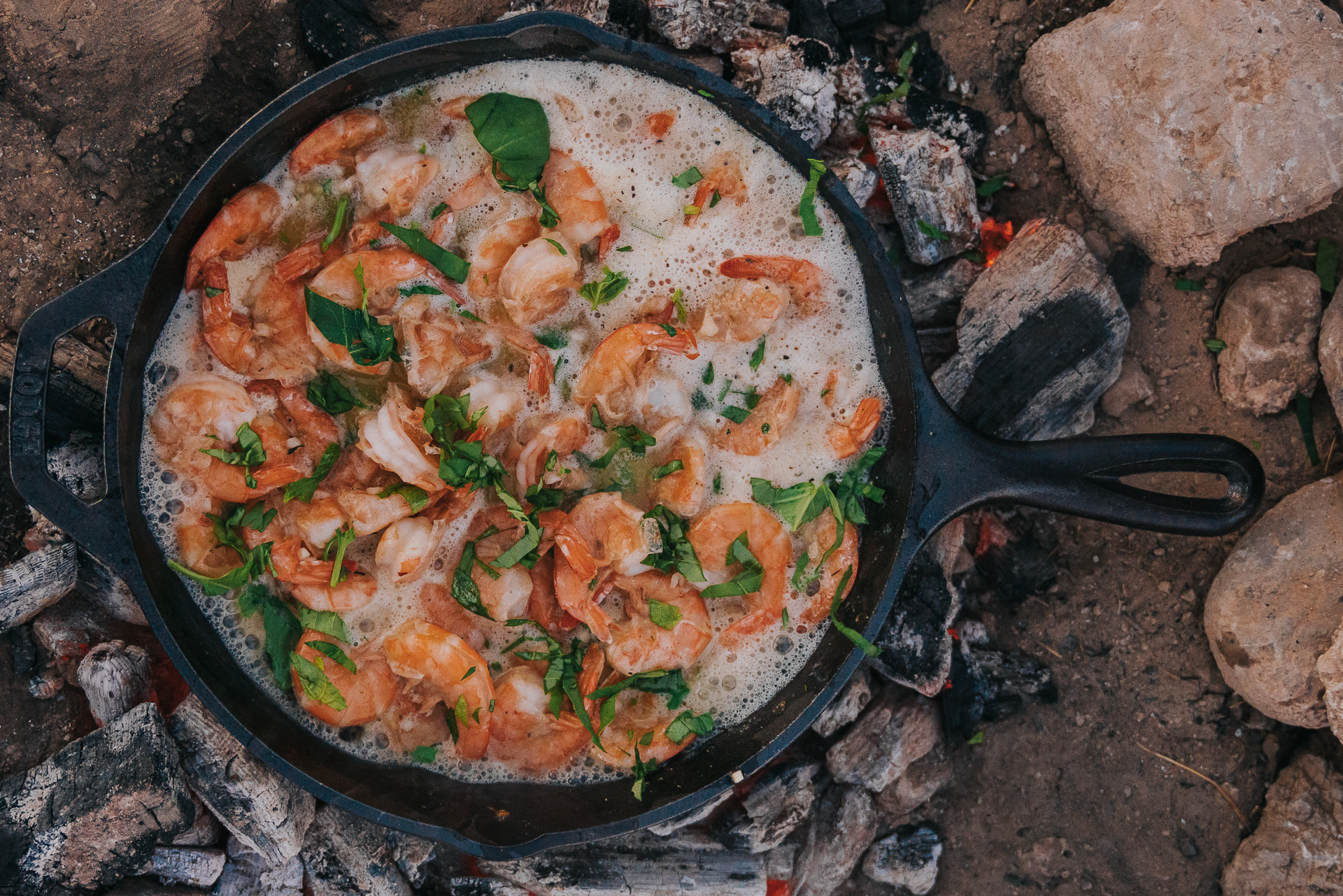 Toast some bread over your fire to give an additional vehicle for the delicious garlic butter sauce!
This recipe works over a propane grill, inside on the range top, or over traditional coals. We love cast iron skillets for the ease of clean-up and even heat. If using anything else, make sure it's fire resistant.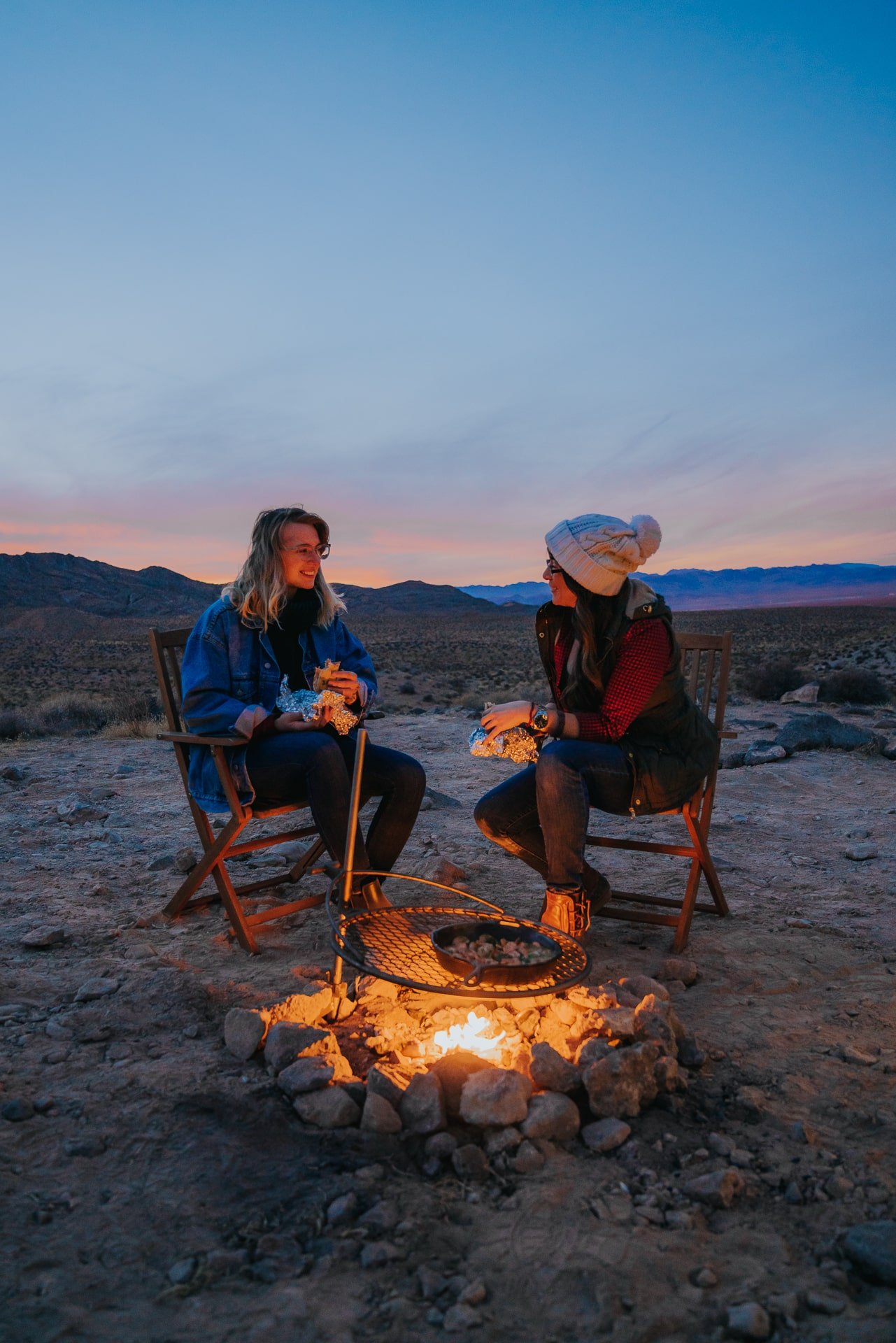 Recipe FAQs
Fresh or Frozen Shrimp:
Both work for this recipe. Just make sure that the raw shrimp are deveined and thawed before cooking.

Unless you're buying shrimp off the boat fresh, the shrimp you buy thawed at the seafood counter have most likely already been frozen and thawed. Keeping frozen shrimp on hand allows you to whip this easy recipe up whenever you want.

Cooks note: you can use pre-cooked shrimp for this recipe. Follow the recipe exactly, only decreasing the time the shrimp are cooking in the butter to not overcook the shrimp. However, we feel starting with raw shrimp deepens the overall flavor of this dish.

How to quickly thaw shrimp
Fill a large bowl with cold water and place the shrimp in a bag in the water. Rotate the bag every few minutes and shake the shrimp loose to make sure they are all thawing evenly. They thaw in under 30 minutes.
What size shrimp?
Check the label on the bag to determine the size of the shrimp. If you're serving this as a main dish, I would go for large or extra-large shrimp. They will be labeled large with the number 31/40 or 26/30 on the bag. That number is a rough estimate of how many shrimp to expect per pound.

Keep the jumbo shrimp for bbq skewers and small shrimp for stirfry.
How many shrimp per person:
3 oz is the standard serving size for shrimp, whether they are small or colossal. However, that can be hard to guess especially with as easy as it is to snack on these.

We recommend doubling down and serving at least 6 to 8 oz garlicky shrimp per person.
How to store leftovers
There won't be any. But… if there are, store in an airtight container for up to 3 days in the fridge.
To reheat.
When reheating shrimp, they can become rubbery in the microwave. Cover in a microwave-safe bowl and reheat JUST until the shrimp are reheated, in 10 to 15-second burst, flipping the buttery shrimp to make sure they reheat evenly. The butter will reheat faster than the shrimp, use caution.

Consider reheating in a small skillet over medium-low heat for 5 to 7 minutes until heated through.
How to serve garlic butter shrimp
Around my campfire, this recipe is perfect as the main course as is just right from the cast iron skillet. A crusty baguette slices and toasted makes a great vessel for scooping up more garlicky butter sauce!
These buttery shrimp also work as a great topping over steak, pair it with pasta for shrimp scampi, or keep it keto by serving it over cauliflower rice or zoodles.
More camping recipes you need to try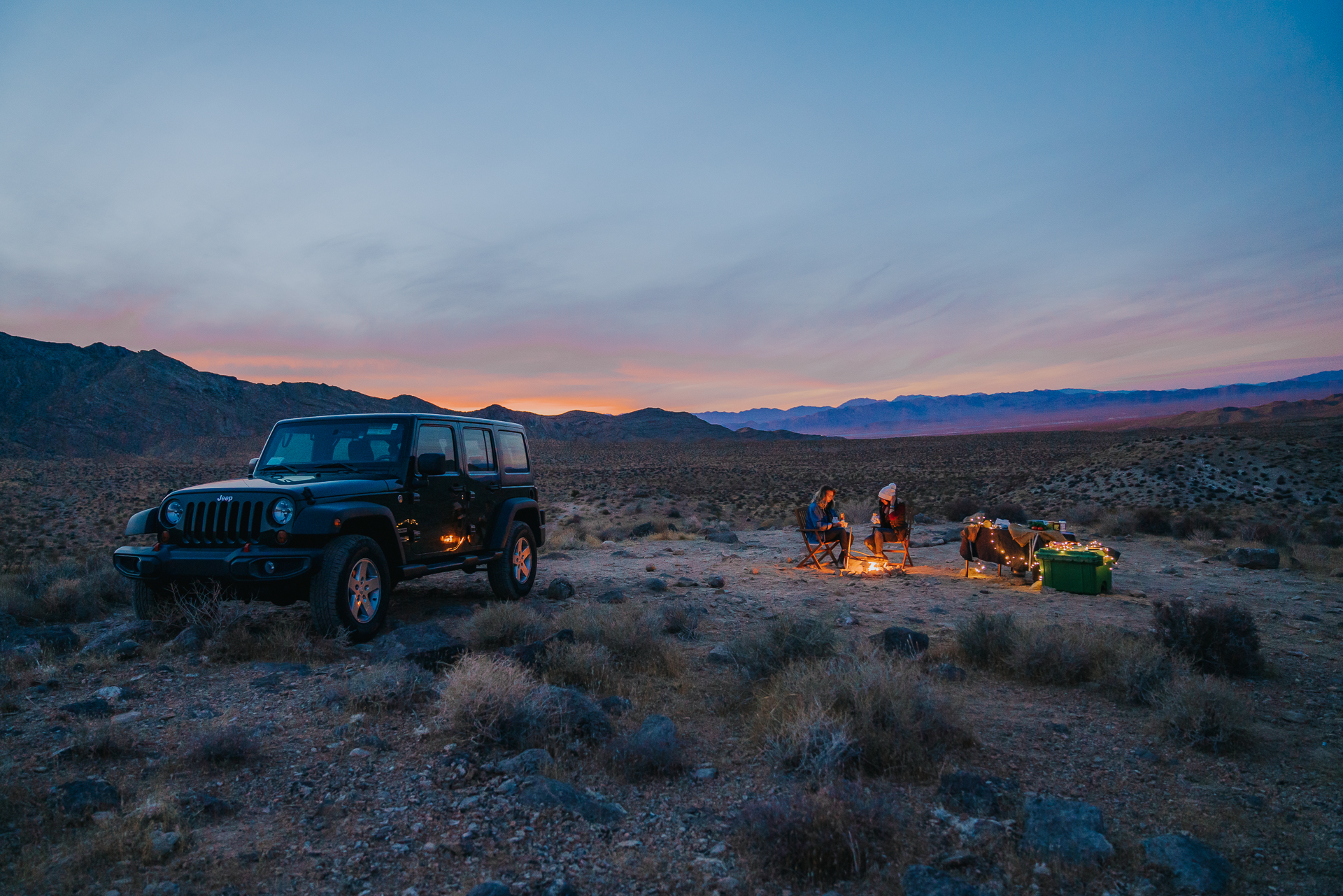 Garlic Butter Shrimp
This easy recipe quickly sautees shrimp in a garlic butter sauce in a cast iron pan. A 15 minute meal from start to finish and one that never has any leftoves. What's not to love about shrimp smouthered in a zesty garlic butter sauce? Nothing.
Equipment
10-12″ Cast Iron Skillet or other oven safe skillet
Ingredients
To Serve
Lemon

Fresh Parsley or basil
Instructions
Preheat the Pan
Heat a cast-iron skillet over direct heat until just smoking.

Remove and slide to indirect heat.

Carefully add the garlic to the pan and toast for 30 seconds until fragrant.

Add the butter to the pan, and with long tongs, or a wooden spoon, swirl to coat.

1 tablespoon freeze-dried garlic
Cook the Shrimp
Add the shrimp and spices to the skillet. If using hot sauce, add a few dashes now.

1 lbs shrimp,

1 teaspoon Girl Carnivore Over Easy Spice Blend,

1 teaspoon Pink Peppercorn Lemon Seasoning,

1 teaspoon Red pepper flakes,

½ teaspoon salt

Cook for 2 to 3 minutes, as the shrimp turn pink, flip and cook for another 3 to 4 minutes, shuffling as needed to make sure none become more overexposed to heat than others.
Garnish and Serve
Remove the skillet from the heat, sprinkle the parsley on top, and squeeze a lemon wedge over top to add a bright fresh acidity to the dish.

Fresh Parsley or basil,

Lemon

Serve immediately. Allow everyone to serve directly from the garlicky butter-drenched skillet.

Peel the shells from the shrimp as you eat them hot.

Spoon more spicy garlicky butter over the top as desired.
Notes
This dish is easily doubled for a bigger crowd. If doubling, use two 10″ cast iron pans or one larger 14″ cast iron pan.
Serve this with toasted crusted bread to sop up any extra garlic butter.
For an additional spicy kick, add 1 teaspoon of red pepper flakes.
Fresh garlic works great if you have it on hand to substitute the freeze-dried garlic. Remove the peel and mince finely. 
This recipe was designed as a camping recipe, however, it will work on a traditional range or grill as well. 
Leftovers keep for 2 to 3 days in an airtight container in the fridge. Reheat in a small pan over low heat. However, use caution as shrimp can become rubbery if overcooked. Microwaving is not advised.
This recipe is keto-friendly. To make it whole 30 use ghee and read the spice labels to make sure no sugar is added.
Nutrition
Serving:
1
g
|
Calories:
308
kcal
|
Carbohydrates:
3
g
|
Protein:
24
g
|
Fat:
23
g
|
Saturated Fat:
15
g
|
Polyunsaturated Fat:
1
g
|
Monounsaturated Fat:
6
g
|
Trans Fat:
1
g
|
Cholesterol:
243
mg
|
Sodium:
336
mg
|
Potassium:
352
mg
|
Fiber:
1
g
|
Sugar:
1
g
|
Vitamin A:
723
IU
|
Vitamin C:
1
mg
|
Calcium:
103
mg
|
Iron:
1
mg
Save this recipe
Sign up to save all your favorite recipes!
Yay, you saved!
Images for this post were taken by the ever-talented duo of Forged From the Wild.