Charcoal Grilled Pork Roast: Get on down to your market, gab with the butcher and get to lighting those coals. It's a good day for grilling.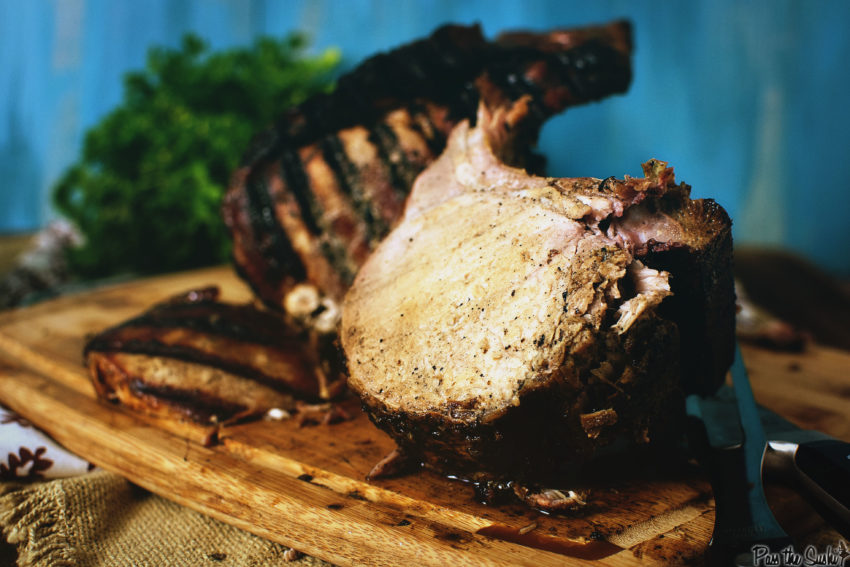 When it comes to a decadent roast with tons of flavor, the mighty pork roast does not get enough love! This inexpensive cut is begging to take center stage. When grilled, the meat is incredibly flavorful, tender, and juicy, and is an excellent pork recipe!

Sure, this isn't a smoked prime rib, or fancy smoked beef tenderloin, but this delicious grilled pork loin recipe is a lean cut of meat that's simple and affordable. And makes the entire family want to sit down not just for special occasions, but to a classic Sunday dinner. It's also a great cut to test your skills with on a new grill as you learn the ins and outs from controlling airflow, to how much charcoal to use. When you've mastered this one, be sure to try our bacon wrapped pork tenderloin to impress the next time!
The Cut
A bone-in pork roast is cut from the loin, or the back of the pig. They are more commonly sold as boneless pork loin roast (or just pork loins), rack of pork, or sliced into pork chops, and like all 'loins' are lean and tender. Always use caution not to overcook and dry out this cut when grilling.
Ingredients:
Not only is this an easy recipe, it only uses a few pantry staples.
Bone in pork roast, if you can't find this at your local market, ask the butcher to order it for you or check out our recommended places to order meat online.
Salt and pepper – we always use kosher salt and freshly ground black pepper
Olive oil
Fresh Herbs: fresh rosemary, thyme, and parsley
Garlic cloves
How to make a grilled pork roast
Where a lot of our roast recipes can be intimidating in steps, this large cut of meat is as straightforward as it gets!

Start by removing the roast from the package and patting it dry with paper towels. If it has a visible silverskin or any unsightly bits, take the time to carefully trim and remove those now with a sharp knife. We recommend this flexible filet knife when trimming meat.

Then simply, liberally rub it with oil and season it with salt and pepper. Allow it to rest at room temperature for about a half hour to while you prep the grill.

Next, prep the grill for a 2-zone fire (aka indirect heat, with a cool zone and a hot zone, where the coals are stacked to one side of the grill). The trick to this recipe is maintaining heat throughout the cook, so be prepared to refill the coals if needed.

Once your coals are about 70% ashed over, they are ready to go. If you want to add wood chunks for smoking, add it now and wait until the smoke is clean to add the meat. We recommend hickory wood, oak or apple wood for this pork roast.

Clean and oil your grill grate to prevent unnecessary sticking.

The next step is to mix the minced herbs in a small bowl and apply them to the roast, creating an herb crust.

And then place the roast on the cooler side (indirect heat side) of the grill, away from the open flame, and close the lid. You want to check the roast often but also keep the lid closed as much as possible. Every time you open the lid, you let air in which affects the temperature. Be sure to flip the roast occasionally to avoid too much heat on any one side.

Cook the pork roast until it the internal temperature reaches 140 degrees F with an instant read meat thermometer inserted away from the bone at the thickest part of the roast. Then carefully remove the roast from the grill and allow it to rest, tented with aluminum foil, for 10 minutes before slicing and serving.
You can serve thick slices with your favorite bbq sauce, a pan sage gravy, or even with a delicious compound butter to really jazz it up!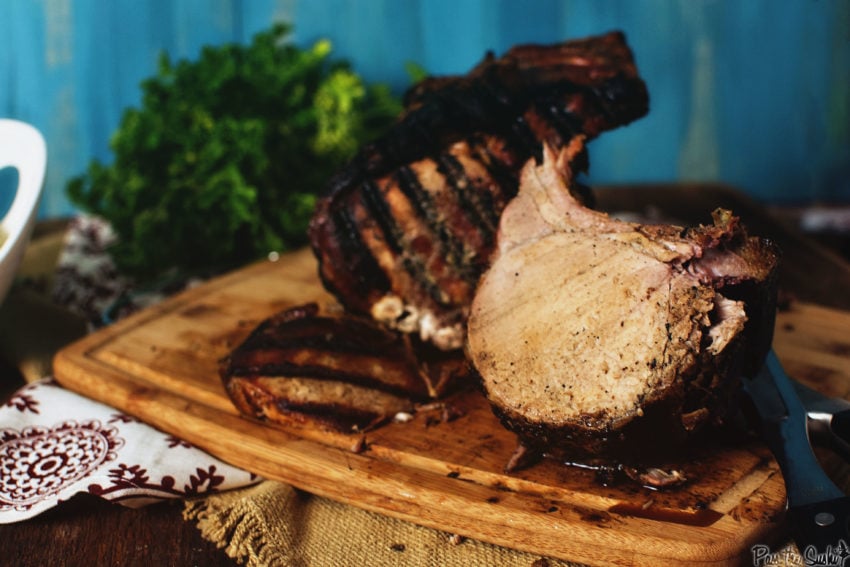 Should you try a Grilled Pork Roast?
Grilling a pork roast isn't for everyone. But if you want to give this recipe a try, the subtle smoke gives an incredible flavor from charcoal is a perfect pairing for pork, and the grill makes quick work of this roast.
A pork roast is cheap, like $40 less than the prime rib I picked up last week cheap. And it's resilient. What better could you ask for when giving big roasts on the grill a go for the first time?
Expert Tips
Don't overcook your pork roast. You just don't want to over cook pork, in general. 145 degrees F, please.

Now some folks panic if they see the lightest shade of pink on pork. Don't freak. Cooked medium rare to medium is just fine. (Meaning, a bit of pinkish color still is ok to eat – the USDA has determined that pork is safe at 145 degrees F). If cooked to well done the pork loses flavor, moisture, and the enjoyment of eating it.

So if it is the right temp internally you don't have to worry. Go by the temp, not the color. Trust your instant-read digital thermometer. It is the friend that won't let you mess up a good thing.
Pork Roasts are a cheaper and easier cut of meat. Pork is not just the other white meat. It is the go to for making stress free roasts.

They cook faster than beef or lamb. Pork is not only cheaper than beef or lamb, it also tends to have less fat than beef or lamb. But, bite for bite, it can be more moist and flavorful regardless.
How long to cook pork roast on a charcoal grill?
The cook time your roast takes to reach 140 degrees F will vary based on the size of the roast and the temperature of the grill. As a general rule, aim for about 25 minutes per pound on a grill holding around 325 to 350 degrees F. Our bone in 5 pound roast took about 2 1/2 hours to cook through.
The Best Pork Cuts For Roasts
We love a bone in rack of pork when it comes to this grilling recipe. But, when it comes to pork roasts in general, there are a couple cuts you can choose from. Overall, look for a nice fat layer to melt and keep the meat moist while it cooks.

If you can't find a bone in pork roast, you can usually find a decent round of loin (aka, pork loin) or belly in the meat aisle. If not, then just ask the butcher. Chances are likely they are prepping some up right then and there.

A lot also depends on how long you plan on taking the meal to cook. Leg and loin roast a bit faster.

Watch out though, the faster it cooks, the more you need to be concerned about overcooking the meat. Like so many things in life, there is always a trade off for convenience, right?
What to serve with your grilled pork roast
Roasts go great with:
Reheating / Leftovers
Carefully wrap leftovers in foil (the bones will poke through, so you may just want to cut the meat from the bones at this point) or a resealable air-tight container and store in the fridge for up to 4 days.

To reheat, wrap the roast in foil and place in an oven preheated to 325 degrees F. A full roast will take about 45 minute to reheat but individual slices (how we recommend reheating to prevent the meat from drying out), will take about 15 to 20 minutes.
MORE DELICIOUS Pork ROAST RECIPES
If you've tried my Charcoal Grilled Pork Roast Recipe or any other recipe on GirlCarnivore.com please don't forget to rate the recipe and let me know where you found it in the comments below. I get inspired by your feedback and comments! You can also FOLLOW ME on Instagram @girlcarnivore as well as on Twitter and Facebook.
Charcoal Grilled Pork Roast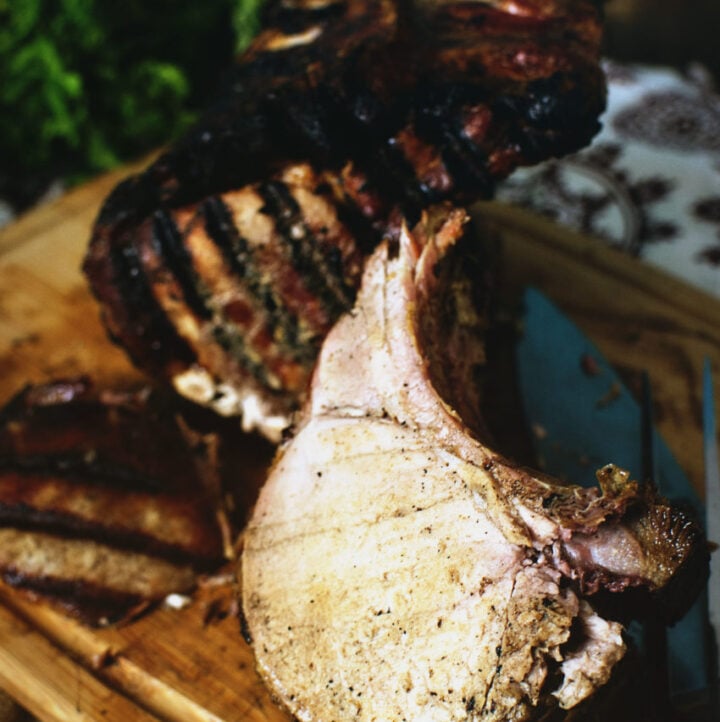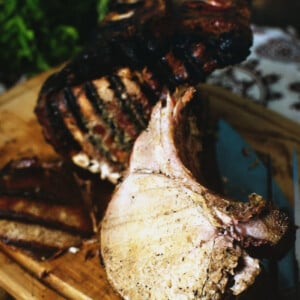 These big pork roasts can be intimidating to toss on the grill – but once you try it the char-grilled flavor is absolutely amazing and you realize it's not that complicated at all.
Ingredients
5

lbs

pork roast

olive oil

1

tbsp

salt

1

tsp

pepper

1

tbsp

rosemary

removed from stem and minced

1

tbsp

thyme

removed from stem and minced

1

tbsp

parsley

minced

3

garlic cloves

minced
Instructions
Prep the roast
Pat the roast dry with paper towels and trim, if needed.

Coat the roast with oil and season with salt and pepper.
Prep the grill
Prep your grill for a 2-zone fire by arranging lit charcoal to one side of the grill. Add the grill grates and clean and oil them.
Add the herb crust:
Mix the minced herbs and garlic in a small bowl

Gently pat the herb mixture evely all over the meat, coating as best you can.
Grill the pork roast:
Place the roast on the grill, on the cooler side of the grill, and close the lid. Check on the roast every so often, flipping to get even seat marks all over – but allowing the bones to take the brunt of the heat by facing them towards the hotter side of the grill, so that the meat doesn't dry out.

Cook until the pork roast registers 140 with a digital thermometer.

Remove the pork roast from grill and cover with foil to rest.

Allow it to rest for 10 minutes before slicing and serving.
Serve:
Slice the pork roast along the bones to make individual servings and serve hot.
Notes
For pork rosts, each bone is about 2 servings. However, that's hard to guess when having company, so plan for one 'bone' per guest and expect leftovers.
Nutrition
Serving:
1
g
|
Calories:
252
kcal
|
Carbohydrates:
1
g
|
Protein:
42
g
|
Fat:
8
g
|
Saturated Fat:
2
g
|
Polyunsaturated Fat:
1
g
|
Monounsaturated Fat:
3
g
|
Cholesterol:
119
mg
|
Sodium:
674
mg
|
Potassium:
719
mg
|
Fiber:
0.2
g
|
Sugar:
0.01
g
|
Vitamin A:
62
IU
|
Vitamin C:
2
mg
|
Calcium:
17
mg
|
Iron:
1
mg