Thick, succulent double-cut pork chops make for an incredibly tasty dish. Grab your cast iron skillet and the ingredients to make these amazing pan-seared Double-Cut Cast Iron Pork Chops. We pair them with Rajas Con Crema and smoked cabbage recipe for a Southwest-inspired meal.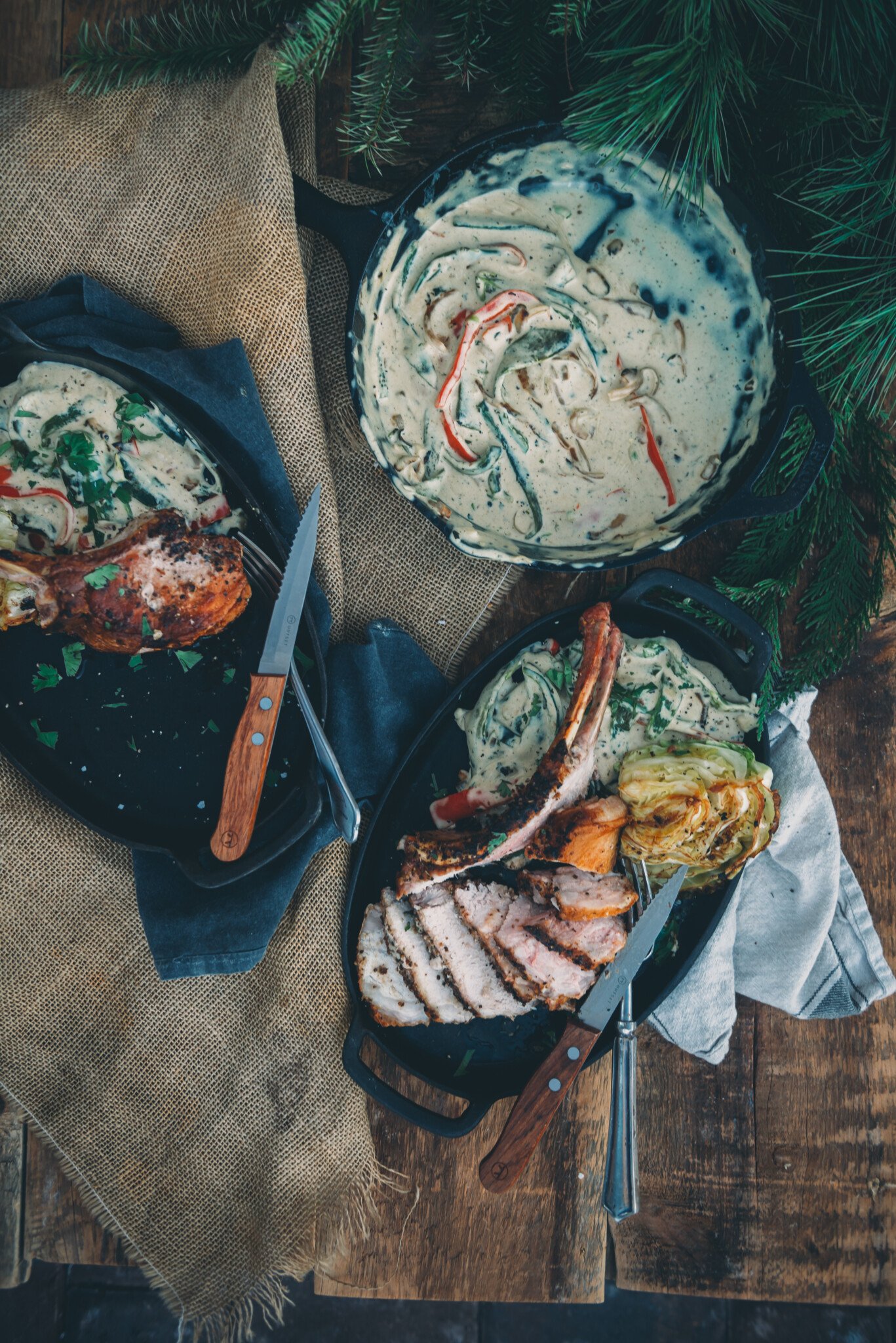 Big, meaty chops are the star of this dish, and with mildly-spiced rajas con cream on the side along with roasted cabbage, it's a hearty meal that's bursting with flavor. I'm a big fan of chops, especially pork chops, and when you pan-sear the pork chops, you lock in all that amazing flavor and caramelize a delicious crust on the outside.
The cabbage can roast right in the pan with the chops, and while it cooks, you can make the rajas con crema. Or better yet, for even more flavor, check out our smoked cabbage recipe.
Grab your skillet, and let's get cooking!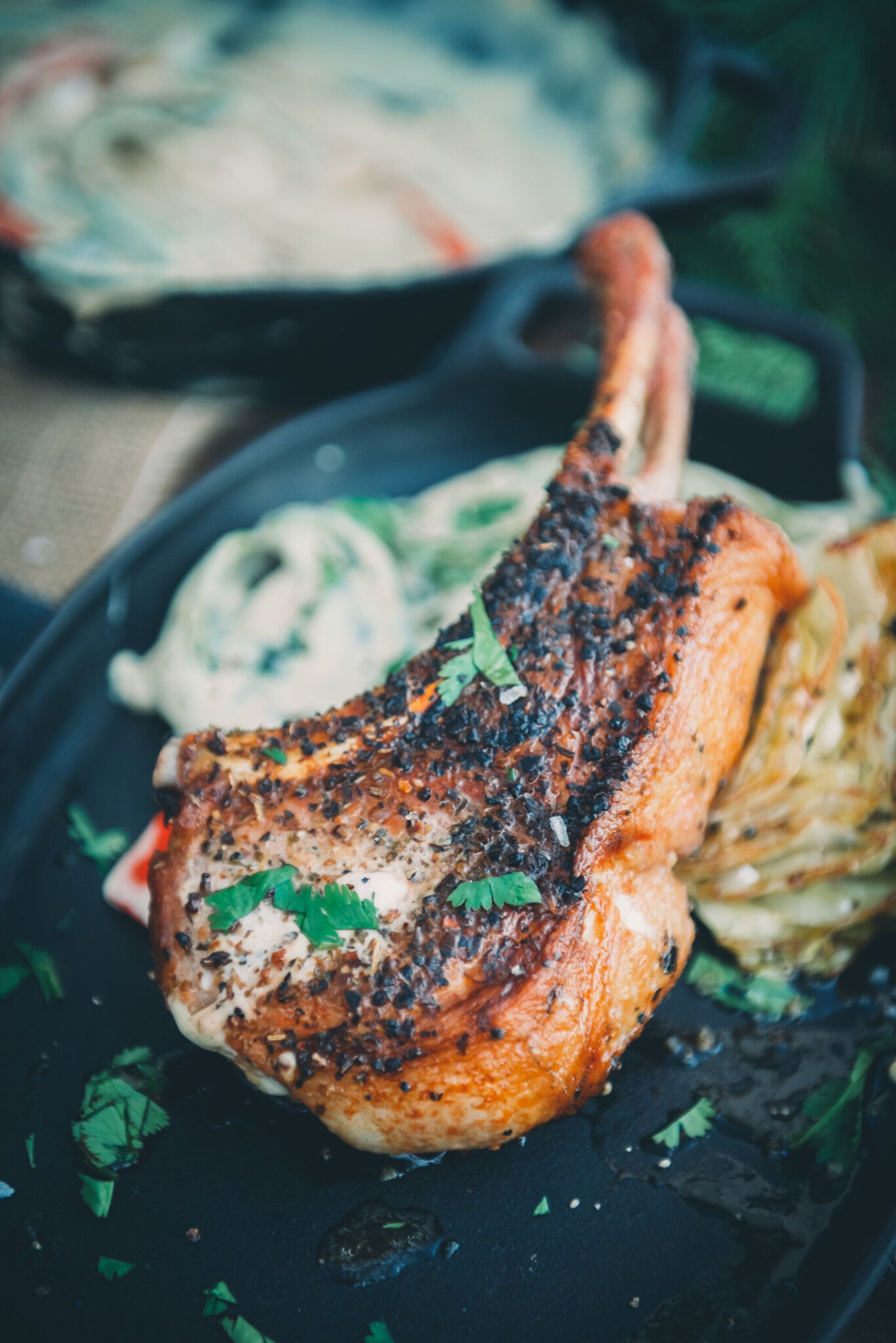 What Are Double-Cut Pork Chops?
A double-cut pork chop is a thick chop with two bones. Cut from the ribs, these meaty chops aren't cut twice, but instead, they have two bones. They're twice as thick as a normal chop which makes them tastier.
I prefer double-cut pork chops because they don't easily dry out – we've all had dried-out pork chops, and they're no good! Moist and tender, these are by far my favorites, and they make perfect pork chops.
You can get double-cut chops from your butcher or buy a pork loin with the rib bones on and butcher it yourself.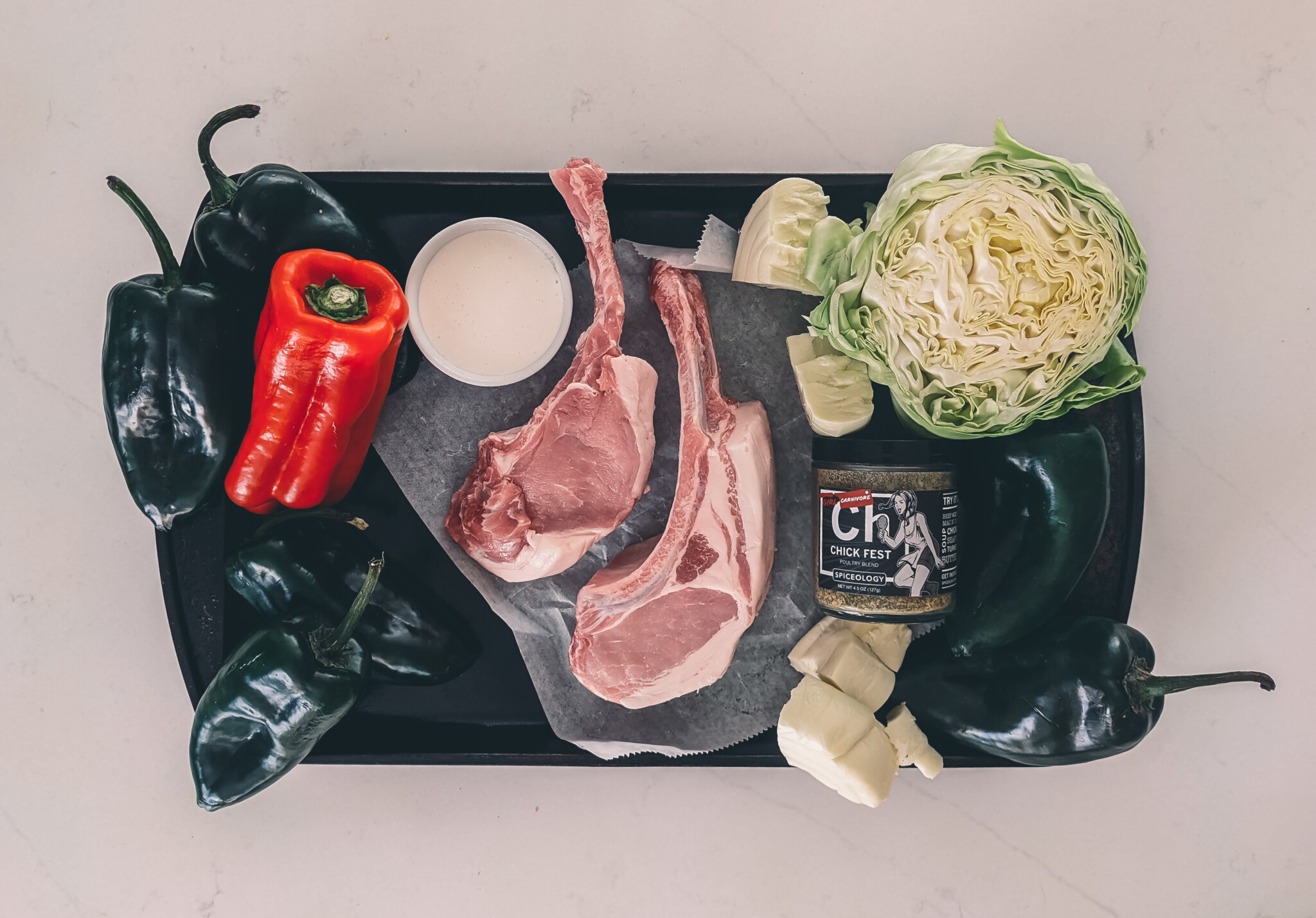 What You'll Need
This meal has three parts, but the ingredients are common and shouldn't be hard to find.
For the double-cut pork chops
Double-cut pork chops – Get them about 2-inches thick, about a pound each.
Oil – Regular cooking oil is fine, or use olive oil.
For the roasted cabbage
Cabbage – Get a small, whole green cabbage.
Oil
For the rajas con crema
How to Make Double-Cut Cast Iron Skillet Pork Chops
Preheat your oven to 425-F and get a cast-iron skillet heating on the stovetop on medium-high heat. You want it nice and hot but not quite smoking.
Rub the thick-cut pork chops with oil, then season them with salt and my favorite Girl Carnivore Chick Fest Seasoning.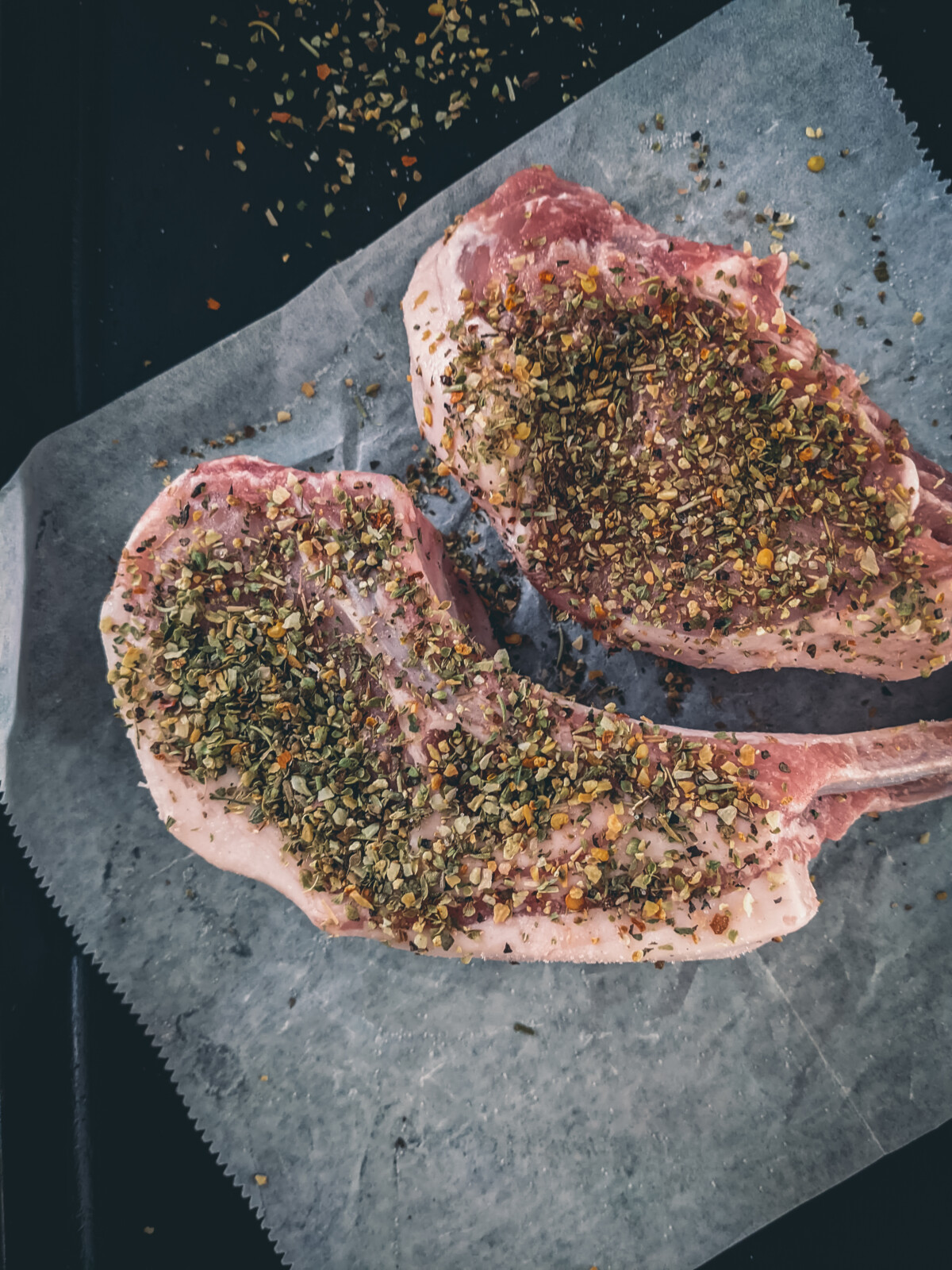 Sear the bone-in pork chops on both sides, and don't forget to sear the fat on the sides, too! Fat is flavor!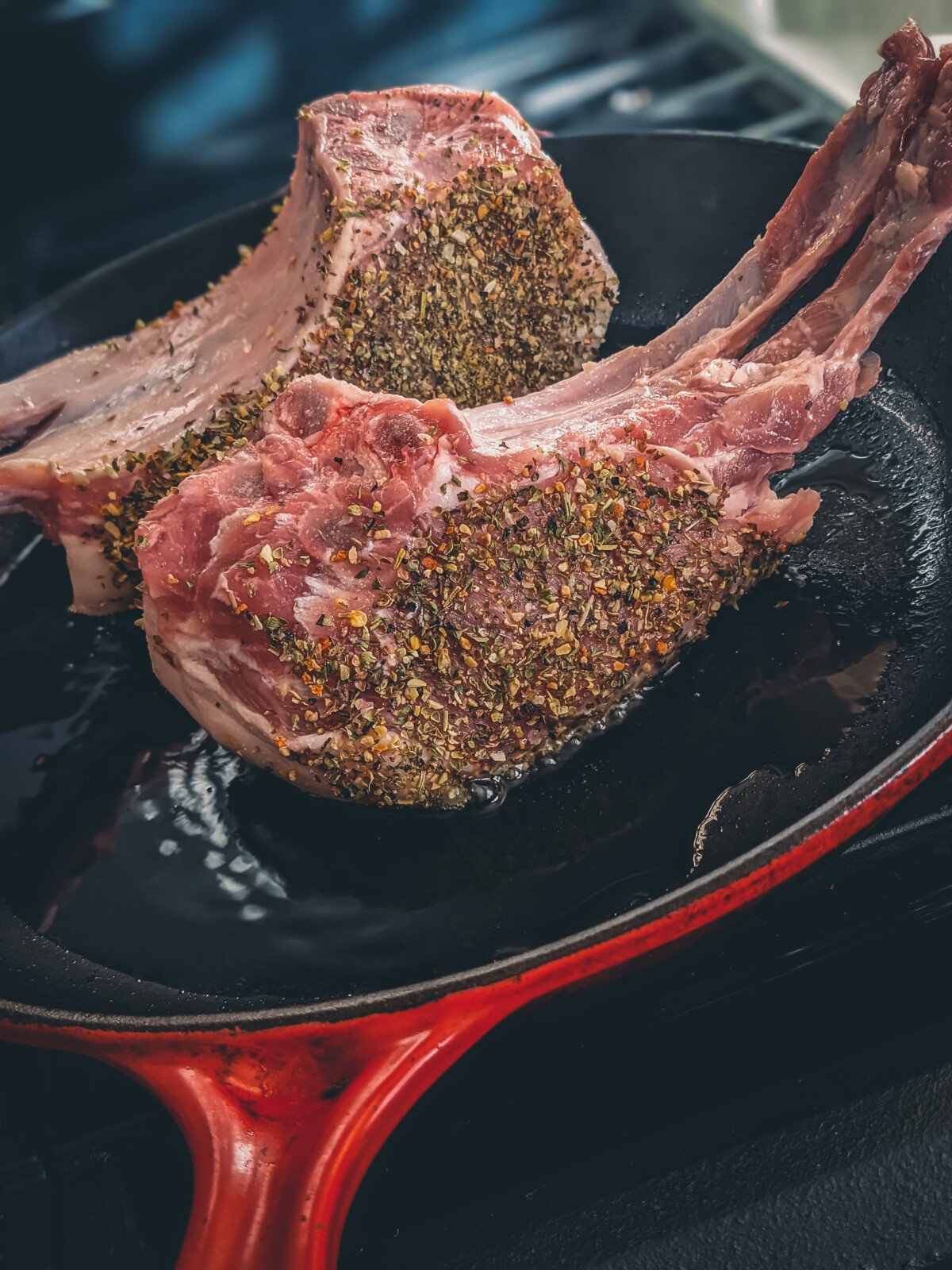 Meanwhile, core and cut the cabbage into wedges. Rub the cabbage wedges with oil and season with salt. Pop them into the same pan as the chops or cook them on a sheet pan.
Finish the chops in the oven, cooking them to 140° F, and let them rest to 145°F to serve.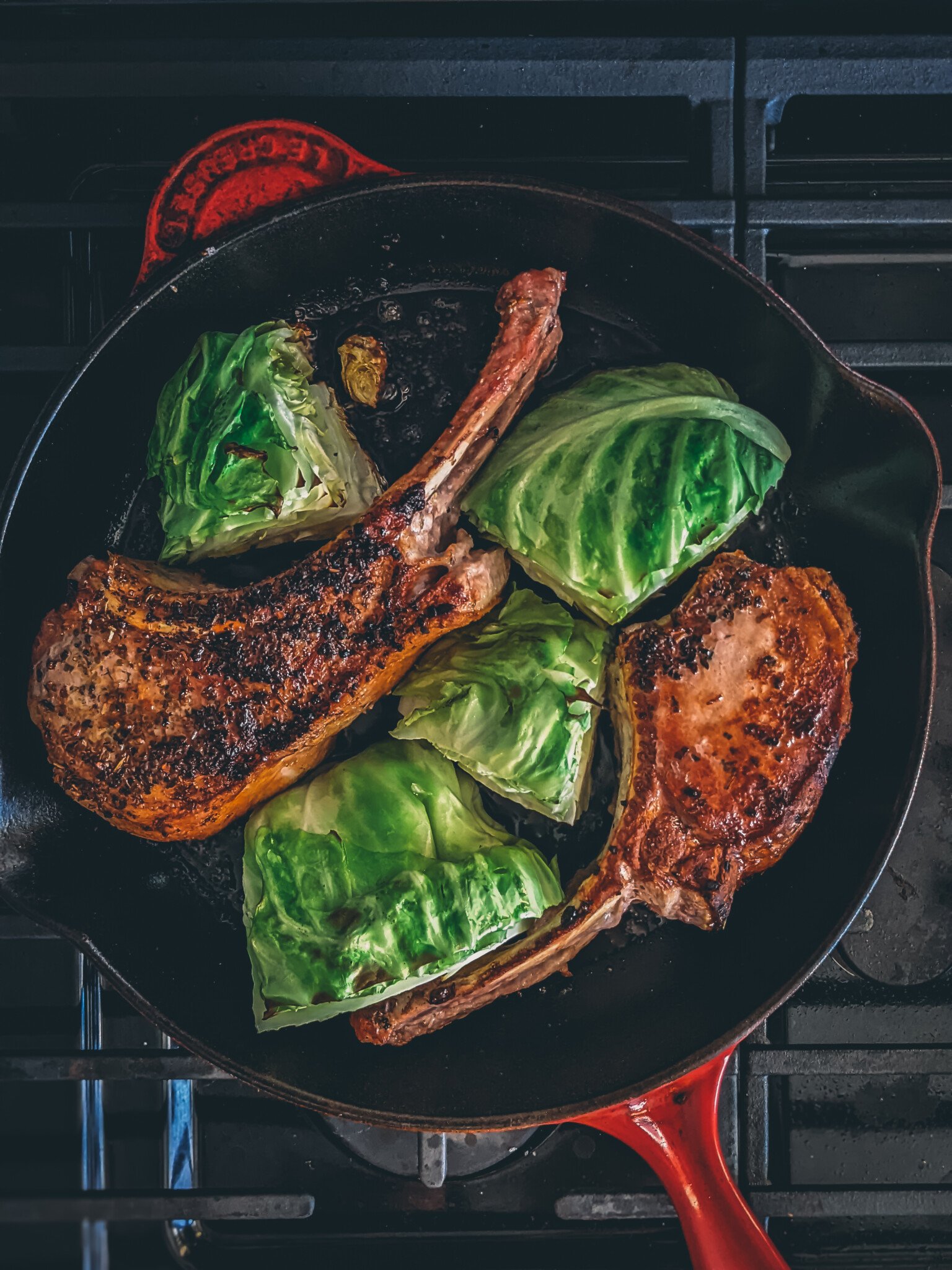 While they're cooking, make the Rajas Con Crema.
Once everything is ready, slice the chops, grab a fork, and dig in!
Recipe FAQs & Tips
Can this be made with thinner chops?
Yes, tho, depending on how thin, you may not need to finish cooking the pork in the oven.
If you're using thinner chops (1-bone or boneless), start the cabbage roasting ahead of time, or your pan-seared pork chops will be done before the cabbage is.
Cook pork to 145° F
Pork is safe to eat at 145° F, but it'll still have a blush of pink at that temperature. Don't be afraid of pinkish pork – it'll be awesome! Trust me! Use a good digital meat thermometer to get an accurate internal temperature. Don't overcook pork chops, or they'll dry out.
Can this be made with boneless chops?
You can use thick boneless pork chops but watch they don't overcook. Check out this recipe for perfect thick-cut pan-seared pork chops.
What to pair with pork chops?
We show this dish paired with our favorite roasted cabbage and rajas con crema, but it goes great with creamy mac and cheese, smoked brussels sprouts, deep fried cauliflower, or pork and beans.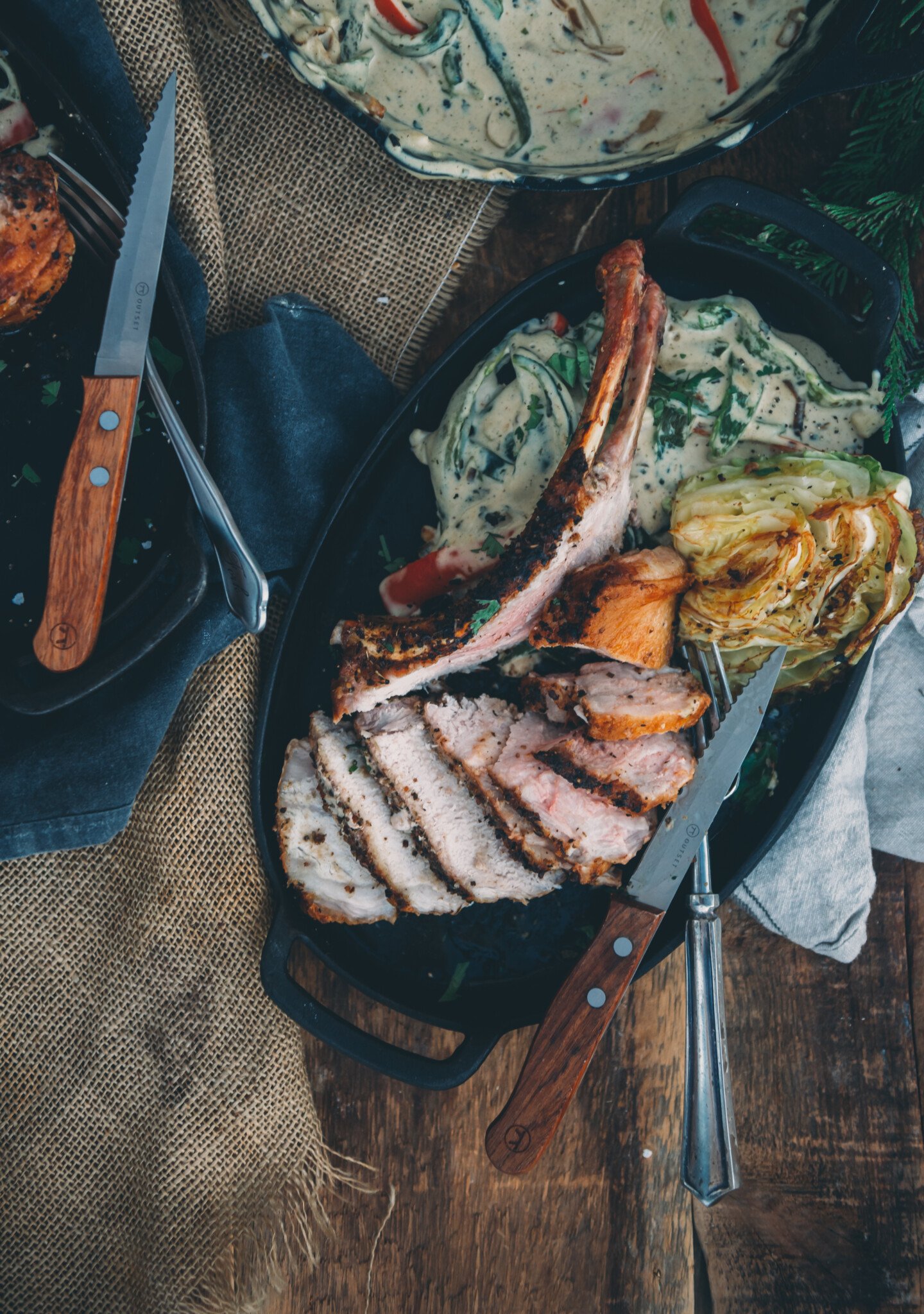 Storage Instructions
All the components of this dish will keep well in the fridge. Package them in airtight containers and store them in the fridge for 4-5 days. You can freeze any leftover pan-fried pork chops, but the crema and cabbage won't freeze and thaw well.
More delicious Pork Chop recipes
Double-Cut Cast Iron Pork Chops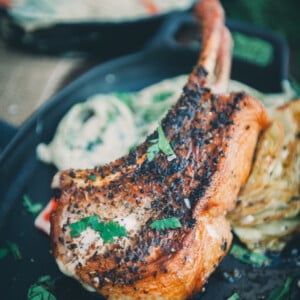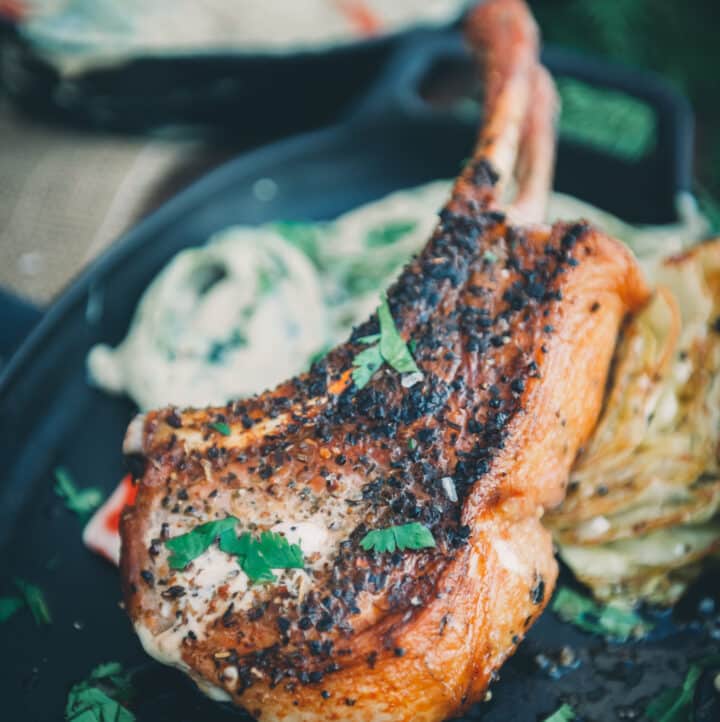 Double cut pan seared pork chops cooked in a cast iron skillet are perfect every time.
We paired them with roasted cabbage and rajas con crema but they are aamzing with a variety of side dishes.
Ingredients
For the double cut pork chops
2

double cut pork chops

about a pound each bones frenched about 2" thick

1

tbsp

oil

tsp

Salt

1

tbsp

butter
For the roasted cabbage
1

head cabbage

core removed cut into wedges

1

tbsp

oil

1

tsp

salt
For the rajas con crema
Instructions
Season the pork
Preheat the oven to 425F

Pat the pork dry and trim the bones if needed.

Rub the pork with oil and season all sides liberally with salt and GirlCarnivore Chick Fest rub.

1 tbsp oil,

tsp Salt,

1 tbsp Girl carnivore Chick fest seasoning
Sear the chops
Preheat a cast iron skillet over medium heat until its almost smoking.

Add a little oil to the pan to coat.

Gently place the pork in the skillet, searing the fat cap on the side first if left on. Otherwise, place pork chops into pan.

Allow the pork chop to rest in the cast iron pan without moving until a golden brown crust has formed, 2 to 5 minutes.

Flip and sear the other side for 1 minute.
Finish cooking in the oven
Carefully slide the cast iron skillet into the oven and allow the chops to cook for another 15-20 minutes until they are 140 degrees° F with an instant thermometer.

Remove the skillet from the oven and the chops from the skillet.

Put a little butter over each chop, tent with foil and rest.
Make roasted cabbage and sides
Rub cabbage with oil and season with salt

1 head cabbage,

1 tbsp oil,

1 tsp salt

Place the cabbage on a foil lined sheet pan, or if the skillet with chops is large enough, in the sao pan.

Roast for 20-25 minutes, flipping the cut wedge side once halfway though cook time, until the cabbage is fork tender and the edges are golden brown and caramazlied.

*If using thinner chops, start roasting this ahead of time.

Remove from heat and rest 5 minutes.
Serve
Slice from meat of the pork chops from the bone and then slice against the grain into thin strips.

Serve with the roasted cabbage and rajas con crema or other desired sides.
Notes
Cook time will vary depending on the thickness of the chops. Be sure to use an instant-read thermometer to check for an internal temp of 140 before letting the chops rest to 145 and serving.
Pork is safe to eat at 145° F and may have a pink hue.
Recipe nutrition is a complimentary estimate and does not calculate sides.
Nutrition
Serving:
1
g
|
Calories:
253
kcal
|
Carbohydrates:
14
g
|
Protein:
17
g
|
Fat:
15
g
|
Saturated Fat:
4
g
|
Polyunsaturated Fat:
3
g
|
Monounsaturated Fat:
7
g
|
Trans Fat:
1
g
|
Cholesterol:
52
mg
|
Sodium:
678
mg
|
Potassium:
647
mg
|
Fiber:
6
g
|
Sugar:
7
g
|
Vitamin A:
317
IU
|
Vitamin C:
83
mg
|
Calcium:
107
mg
|
Iron:
2
mg