Pork chops always seem to be on sale at the market. So, naturally, it is time for shake and bake pork chops to get added to the menu. This recipe is one the whole family will enjoy, and it's a great recipe to have on hand for quick and easy meals.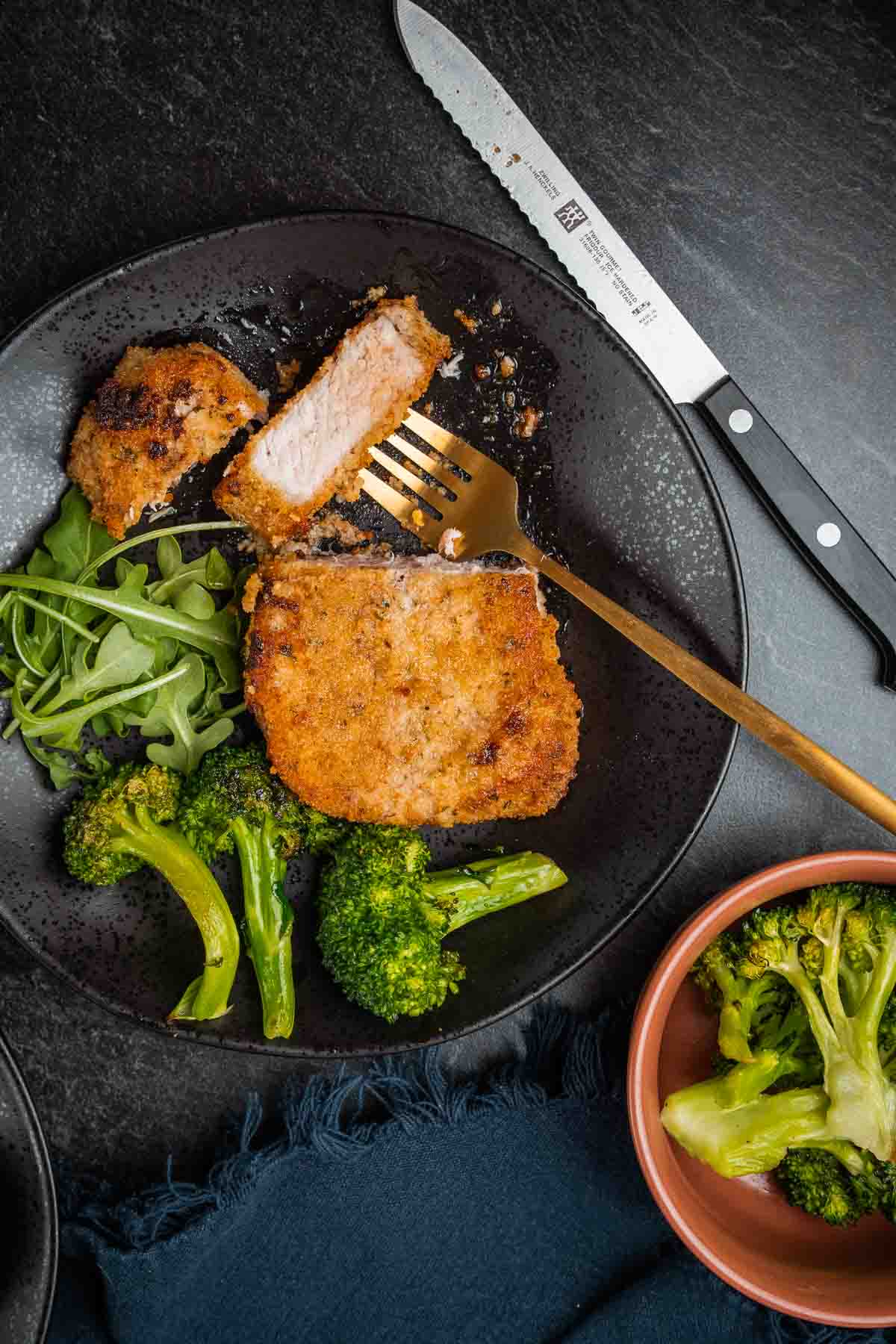 Juicy pork chops are a delicious meal to have on hand any day of the week. For the best results, follow the instructions below and add this recipe to your easy recipes list for quick pork chop recipes!
The Cut: Boneless pork chops
Boneless pork chops are a fantastic option when you want rib-cut meat without the excess fat. Boneless chops are trimmed off the bone, and excess fat is removed so they are ready to cook. This makes them great pork recipes for quick weeknight dinners. There are so many ways to cook them, including pan-seared pork chops. Boneless chops are also often thinner and cook faster than bone-in pork chops, making them a great choice for busy weeknights.
What Are Shake and Bake Pork Chops?
Remember the commercial? "It's shake and bake, and I helped!" Growing up, shake-and-bake meals were constantly on the menu. It's so simple and always tastes amazing. BBQ chicken, breaded pork chops, you name it. It's an easy and quick weeknight dinner idea. The thing is, shake and bake isn't really that hard on your own. It makes for easy cleanup and delicious pork chops everyone loves.
Whip up an old-fashioned weeknight meal, like these oven-fried pork chops, over crispy skillet stuffing. Serve a salad on the side, and bam, dinner is on the table. Feeling nostalgic, just like air fryer shake and bake chicken this recipe works in an air fryer too.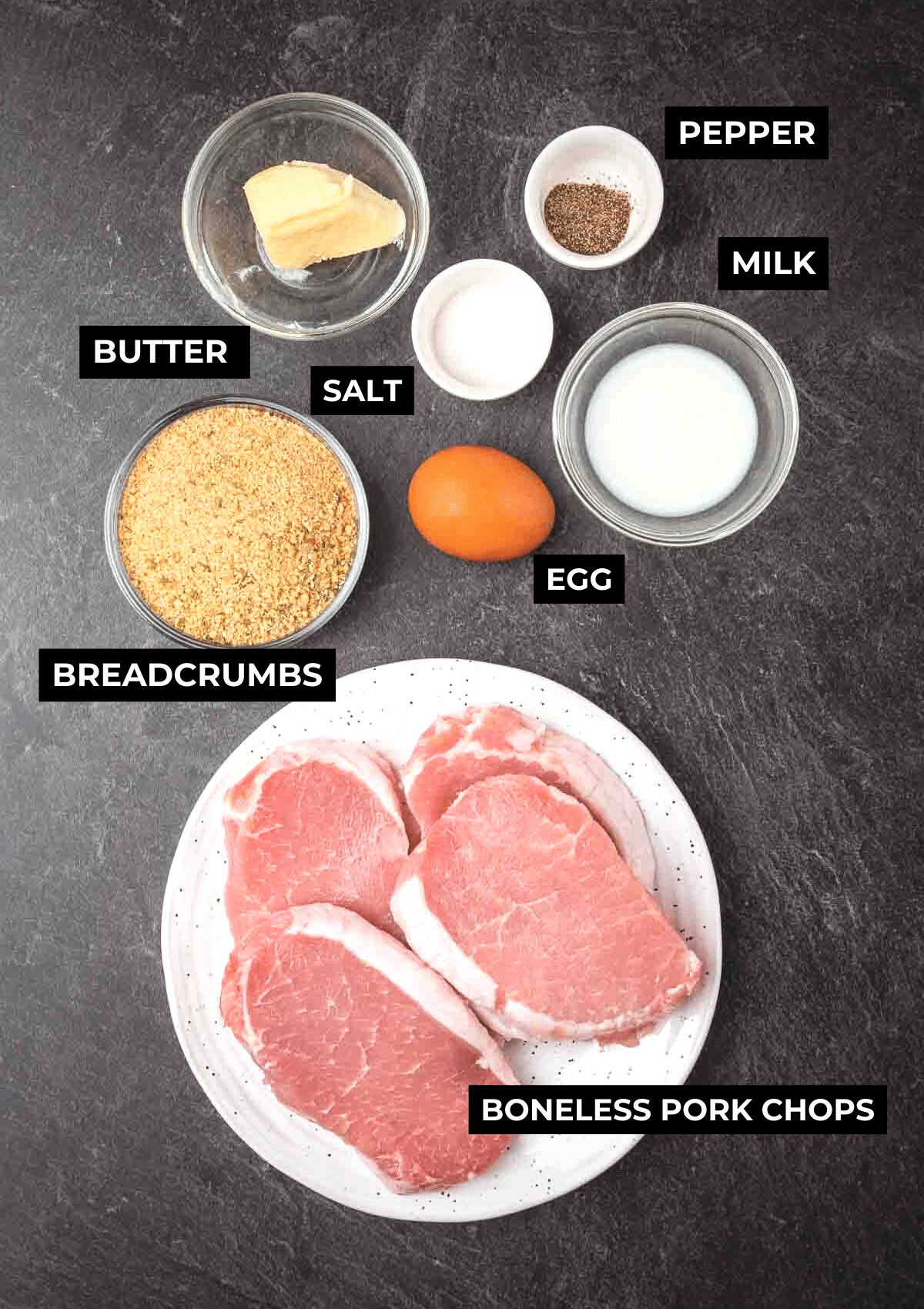 Shake n Bake Pork Chops Ingredients
Boneless Pork Loin Chops (about 3/4″ thick, trimmed)
Egg
Milk
Salt and Pepper – use kosher salt and freshly ground black pepper when cooking
Bread crumbs with herbs – to keep it keto, use Pork Panko
Butter – use unsalted butter when cooking
How to Make Shake and Bake Pork Chops
Start by preheating your oven to 425 degrees F.
Swirl the butter in a large baking dish to coat the bottom. You may not need to use both tablespoons, just enough to coat your pan.
Whisk the egg and milk in a large bowl.
Pour your breadcrumbs into another shallow dish.
Season the pork with some salt and pepper.
Dip each pork chop into the egg wash, letting the excess drain off before placing it in the breadcrumb dish. Press the pork chop in the breadcrumbs to coat it evenly.
Lay your pork chops on a prepared baking sheet.
Bake the chops for 20 to 25 minutes. Flip them once halfway through the cooking time. The pork chops are finished when they reach an internal temperature of 145 F with an instant-read thermometer.
Let the chops rest for 5 minutes before serving with your favorite sides.
If you don't want to use butter in the pan, olive oil works just as well.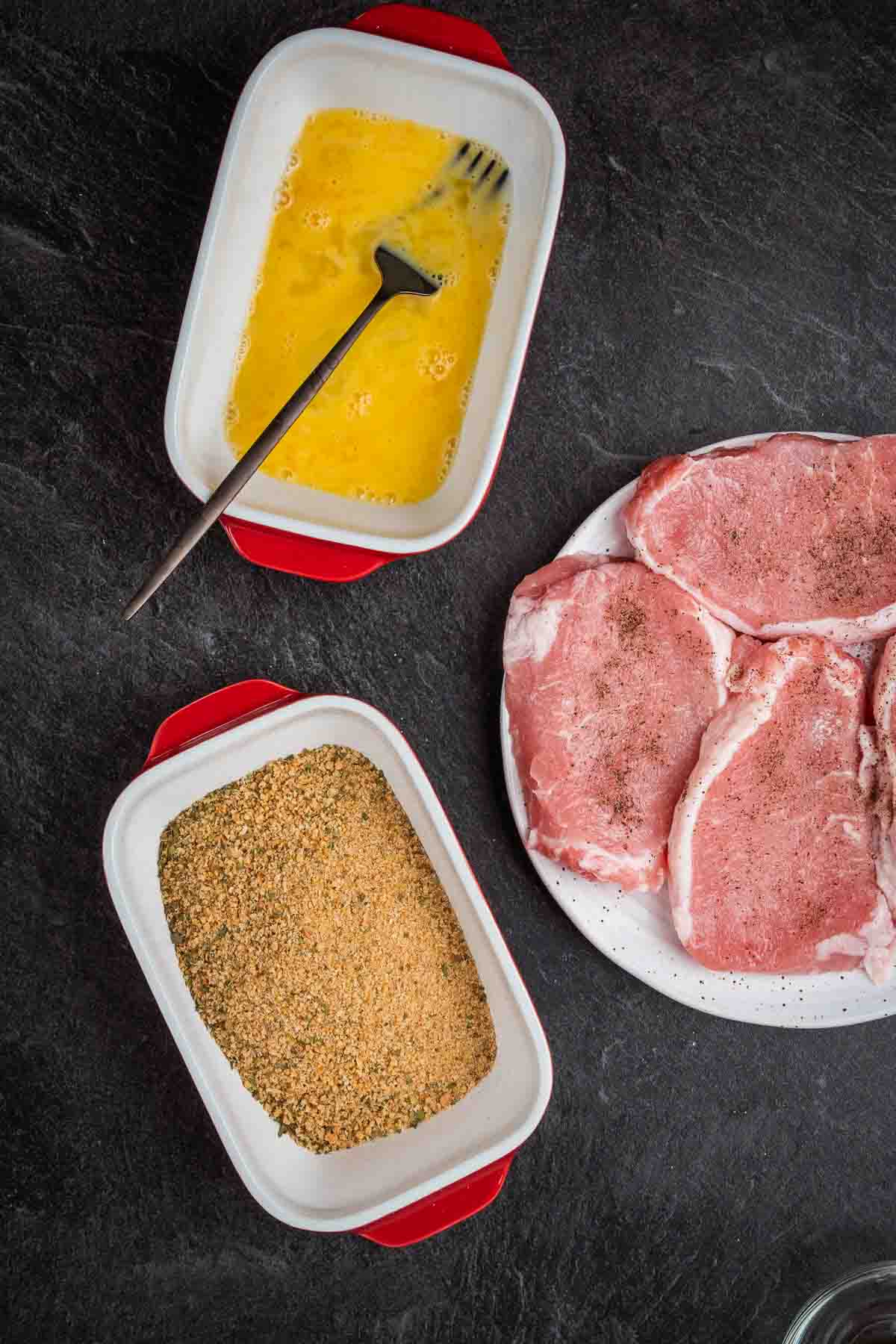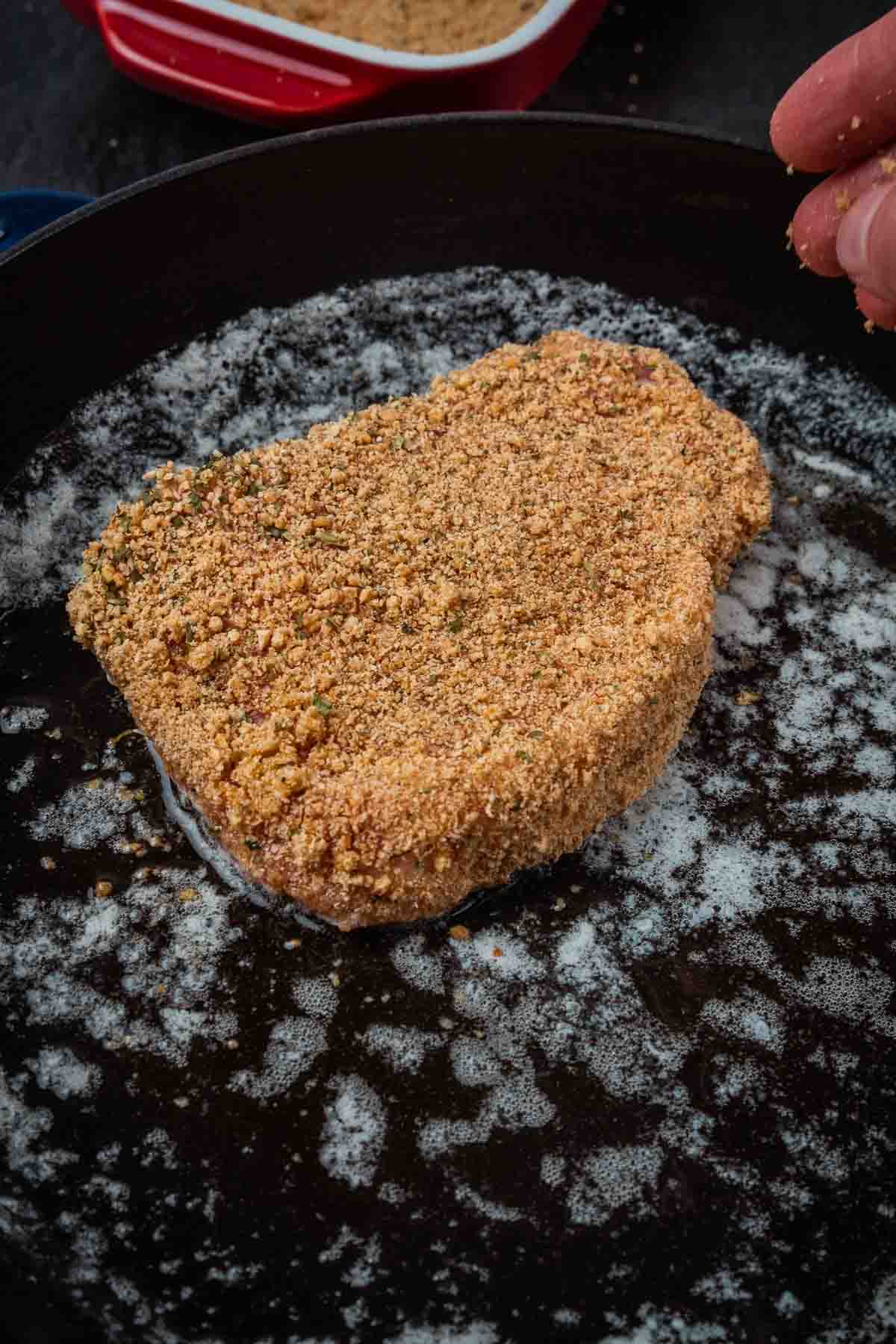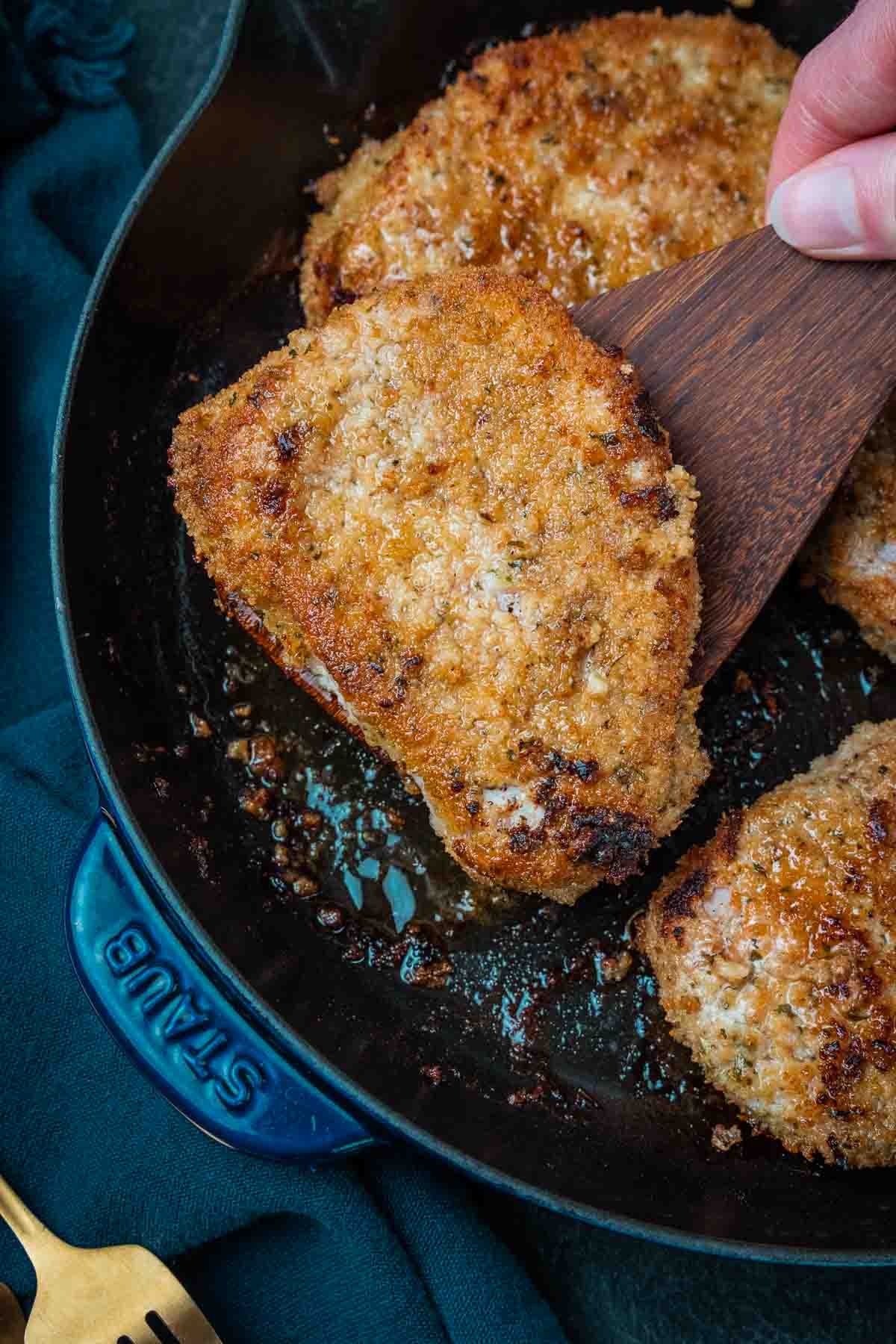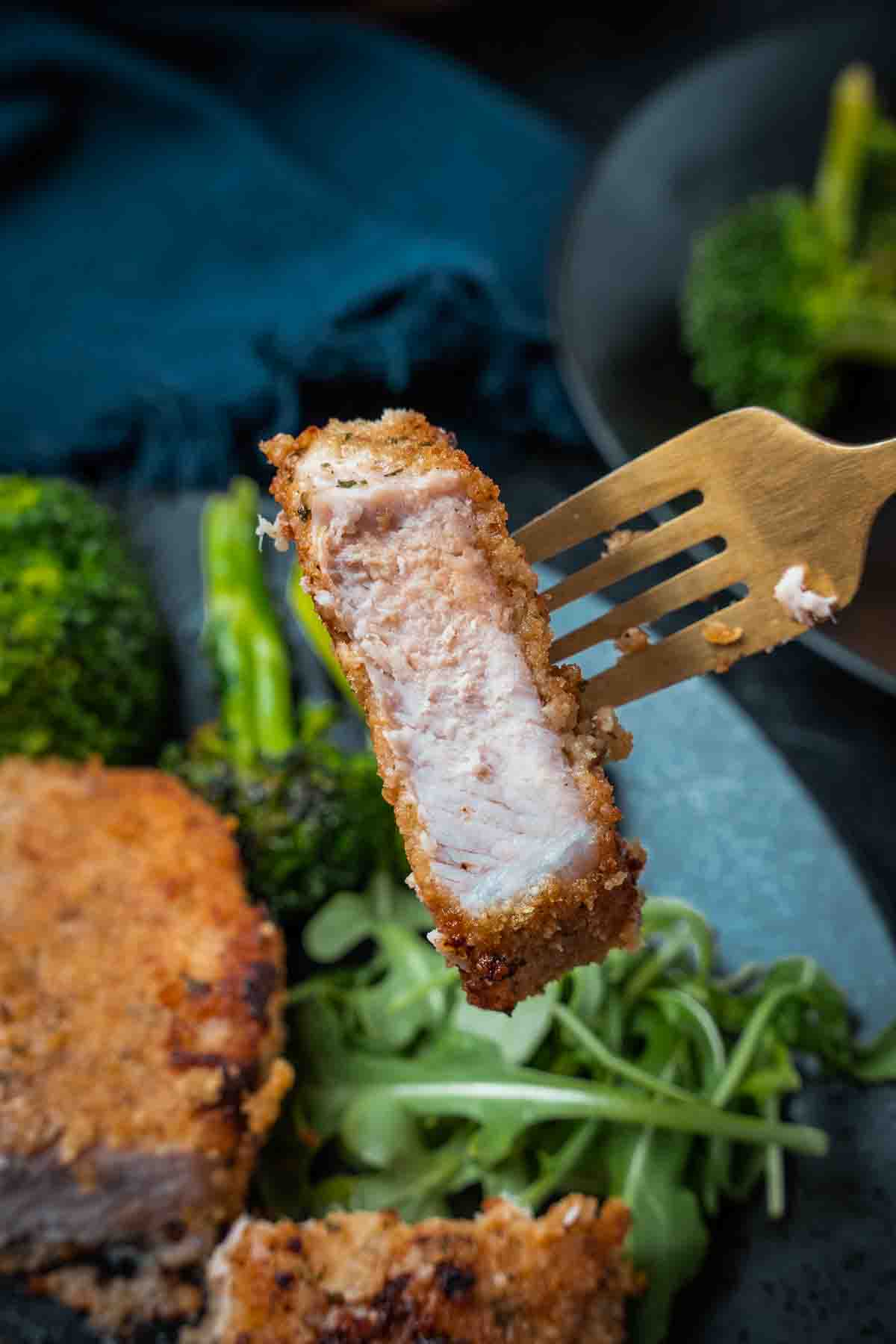 Girl Carnivore Expert Recipe Tips
Use a meat thermometer to check the doneness of cooking roast pork chops
If you have a thermometer handy, then we recommend using it. Pork needs to be cooked to an internal temp of 145 Fahrenheit to be cooked through. Even if you see a bit of pink, don't sweat it as long as the internal temp is that high. Pork, like chicken, the juices should run clear when it is fully cooked. If you use extra thick cuts, especially the bone-in cuts, then you might need to add a few minutes of cooking time.
Make your own seasoned breadcrumbs to use for the pork
If you don't have some seasoned breadcrumbs in the pantry, don't sweat. No need to run to the store just for that. If you have some sliced bread handy and a few seasonings available, then you can make your own.
Toast the bread two or three times, so it is extra crisp but not burned. Toss the crunchy bread into a blender with some herbs and seasonings, then give a quick grate pulse or three. You don't want to grind it too fine. Now you have your own breadcrumb mixture.
Great options for herbs to add include our GirlCarnivore Over Easy spice blend or Italian seasoning, kosher salt, black pepper, garlic salt, garlic powder, and any other seasonings you have on hand. Parmesan cheese is often added for some extra flavor, so keep that in mind as you create your flavorful coating. Panko breadcrumbs are super easy to customize and add to all sorts of delicious dinners. Make the breading mixture your own by experimenting with flavors you love. To keep it keto, we use pork panko.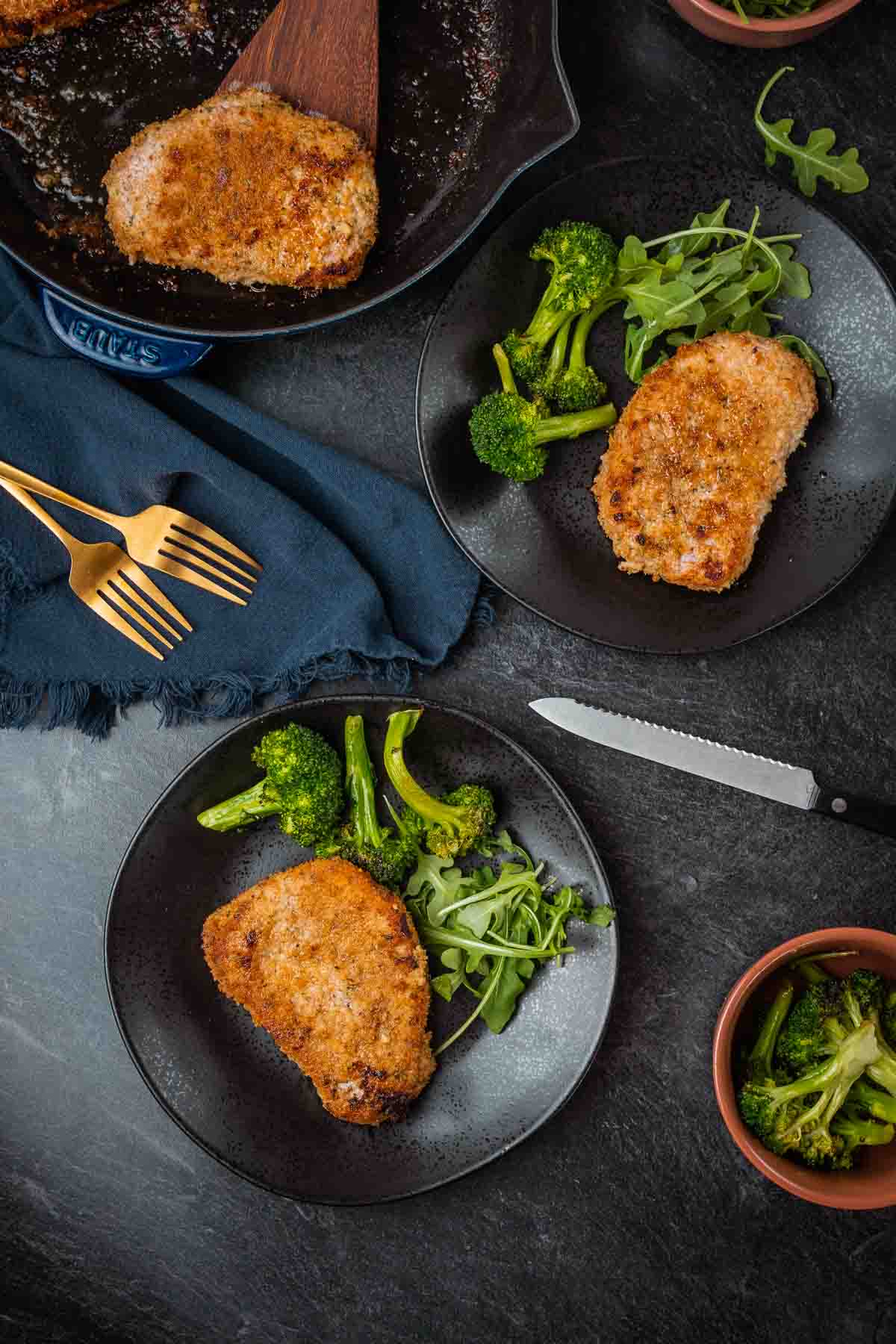 What to Serve With
Pork chops go amazing with many different sides. We like to add a vegetable to our protein. Some of our favorites are BBQ Glazed Smokes Brussels Sprouts, Smoked Corn on the Cob, or a Kale and Apple Salad. Other amazing options include homemade smoked mac and cheese, green beans, applesauce, or cooked carrots.
Leftovers & Reheating
If you don't eat all the pork chops during your meal, store leftovers in an airtight container. The best way to reheat your meat is by preheating an air fryer or oven to 350 degrees. Place the leftover shake and bake pork chops in the oven or air fryer until heated through. This will take about 3 to 5 minutes in an air fryer and up to 10 in the oven. We don't recommend using the microwave, as this will result in soggy pork chops.
Recipe FAQs
Is Shake and Bake Crispy?
The seasoned coating on your chicken or pork chops will provide a crispy crust. The benefit is that you don't have the mess of frying your meal. The crispy coating provides savory flavors for your boneless pork chops. Crispy baked pork chops are the best kind of pork chops.
How do you make shake and bake pork chops not soggy?
While cooking your meat, you may notice juices pooling on the pan. This will create excess moisture, but you can prevent this by cooking the meat on a wire rack. The meat will be raised above the juices and remain crispy.
How to roast pork chops perfectly
Once the pork chop is nicely coated with the bread crumbs, make sure your oven is nice and hot. Pre-heating makes a huge difference. Pork chops are typically only about a half-inch thick unless you buy the super-thick ones.
With the thinner cuts, they are going to cook quickly… But here's the thing: You don't want them to dry out, but you do want them to brown up the breading.
So, having a nice high heat is crucial. You will only need to flip them once. That's perfect because then you don't have to lose the heat opening the oven again and again.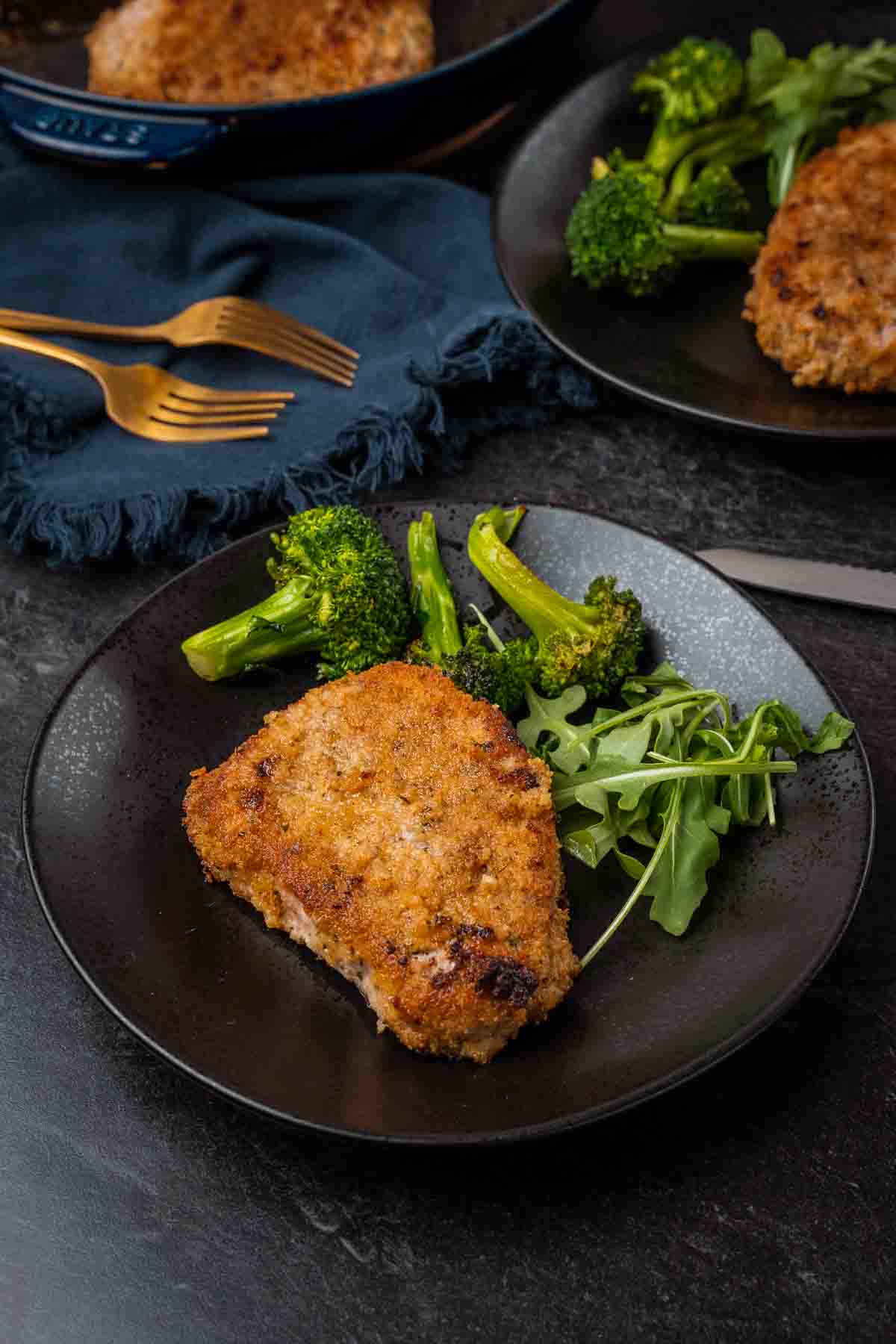 More Delicious Pork Recipes
Pork chops always seem to be on sale at the grocery store. Are you tired of cooking them the same way every week? Don't get stuck in a rut. There are so many ways to cook that chop. Try these easy pork chop recipes!
If you've tried my Oven Roasted Pork Chops recipe, or any other recipe on GirlCarnivore.com please don't forget to rate the recipe and let me know where you found it in the comments below. We get inspired by your feedback and comments!
Shake and Bake Pork Chops Recipe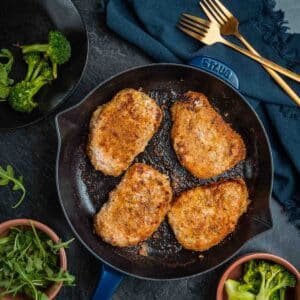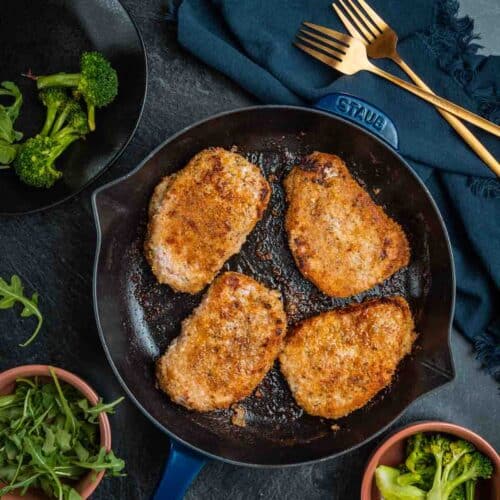 Make shake and bake style pork chops then roast them in the oven for a delicious and affordable dinner
Ingredients
4

boneless pork loin chops

about 3/4″ thick, trimmed

1

egg

beaten

2

tbsp

milk

1

tsp

Salt

1/2

tsp

pepper

1

cup

bread crumbs with herbs
Instructions
Preheat the oven to 425 degrees F. Swirl butter in a large baking dish to coat the bottom. (I didn't need both tablespoons for my entire pan, and used less to keep the bottoms from getting soggy)

In a large shallow dish, whisk the egg and milk to combine. Place the breadcrumbs in another shallow dish.

Season the pork with salt and pepper.

Dip a chop in the egg mix, allowing excess to drain. Then place in bread crumbs, to cover, pressing to coat.

Lay each chop in the prepared pan.

Bake for 20 to 25 minutes, flipping chops once halfway through cook time until the pork chops reach an internal temperature of 145 F with an instant read thermomter.

Remove from oven and allow to rest 5 minutes before serving with your favorite sides.
Nutrition
Calories:
385
kcal
|
Carbohydrates:
19
g
|
Protein:
34
g
|
Fat:
17
g
|
Saturated Fat:
7
g
|
Cholesterol:
146
mg
|
Sodium:
331
mg
|
Potassium:
577
mg
|
Fiber:
1
g
|
Sugar:
2
g
|
Vitamin A:
235
IU
|
Calcium:
73
mg
|
Iron:
2.2
mg