This garlic stuffed pork roast doesn't take all day, it's moist, loaded with flavor, and the leftovers make one hell of a sandwich.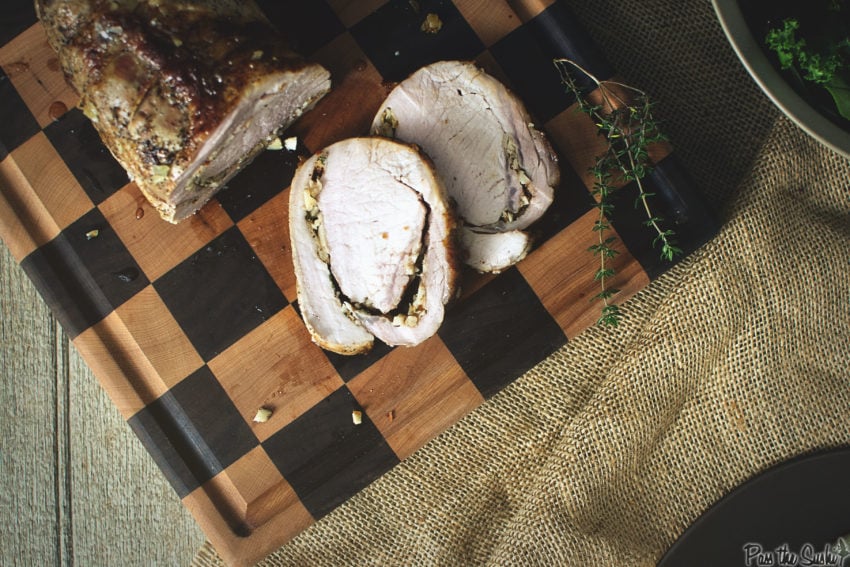 Pork is the "other white meat" but I think it takes on flavor and seasoning even better than chicken. Although the loin is much more lean than other cuts, you don't miss out. The garlic infuses more than enough flavor to make up for it.
Plus, you get that added benefit of how cool the stuffed pork loin looks as you cut off slices. There is an attractive swirl of pure flavor gracing each slice.
Bonus… The garlic and seasoning helps add moisture as well. This works nicely because pork loin can easily dry out if you are not careful.
Perfectly Cooked Stuffed Pork Loin Roast
With pork loin, all too often folks over cook it. Since pork loin actually presents one of the leanest cuts of pork, over cooking it happens all too easily.
Most of us also have a pork phobia too. If we see any trace of pink, then that means it is under cooked. Un-timely death is knocking at the door.
But that isn't the case. First of all, in a well cooked pork loin, a bit of pink does not mean it isn't cooked. To avoid any concerns whatsoever, trust your meat thermometer. It won't lie.
As long as your pork has an internal temp of about 145 degrees Fahrenheit then you are all good.
Is Pork Loin The Same As Pork Tenderloin?
Easy to confuse, pork loin and pork tenderloin are not actually the same cut. The tenderloin is the muscle that runs under the rib cage and looks like a tube of pork. The loin is a slightly wider and flatter muscle that comes from the back of the animal.
However, both the loin and the tenderloin are much leaner cuts of pork, so that is why overcooking is a challenge in both.
With loin, you might find it with the bone in, or boneless. Tenderloin is always going to be boneless.
You can substitute tenderloin here, but the cooking time will be about half the time for the smaller cut of pork.
Every now and then you need to mix up the menu. Maybe you are looking for a recipe that dresses up the holiday spread. Maybe you are hunting for something that doesn't need to roast all day to be dry and dull. Or, if you are really wanting to take a stuffed pork roast to the next level, check out our pork belly porchetta!
Stuffed Pork Loin Makes Great Holiday Eating Too
Maybe you are just tired of traditional turkey. Let me show introduce you to this. This garlic stuffed pork roast doesn't take all day and best of all, it's loaded with flavor. It's moist, literally loaded with flavor, and the leftovers make one hell of a sandwich.
Throw out tradition. Get to cooking.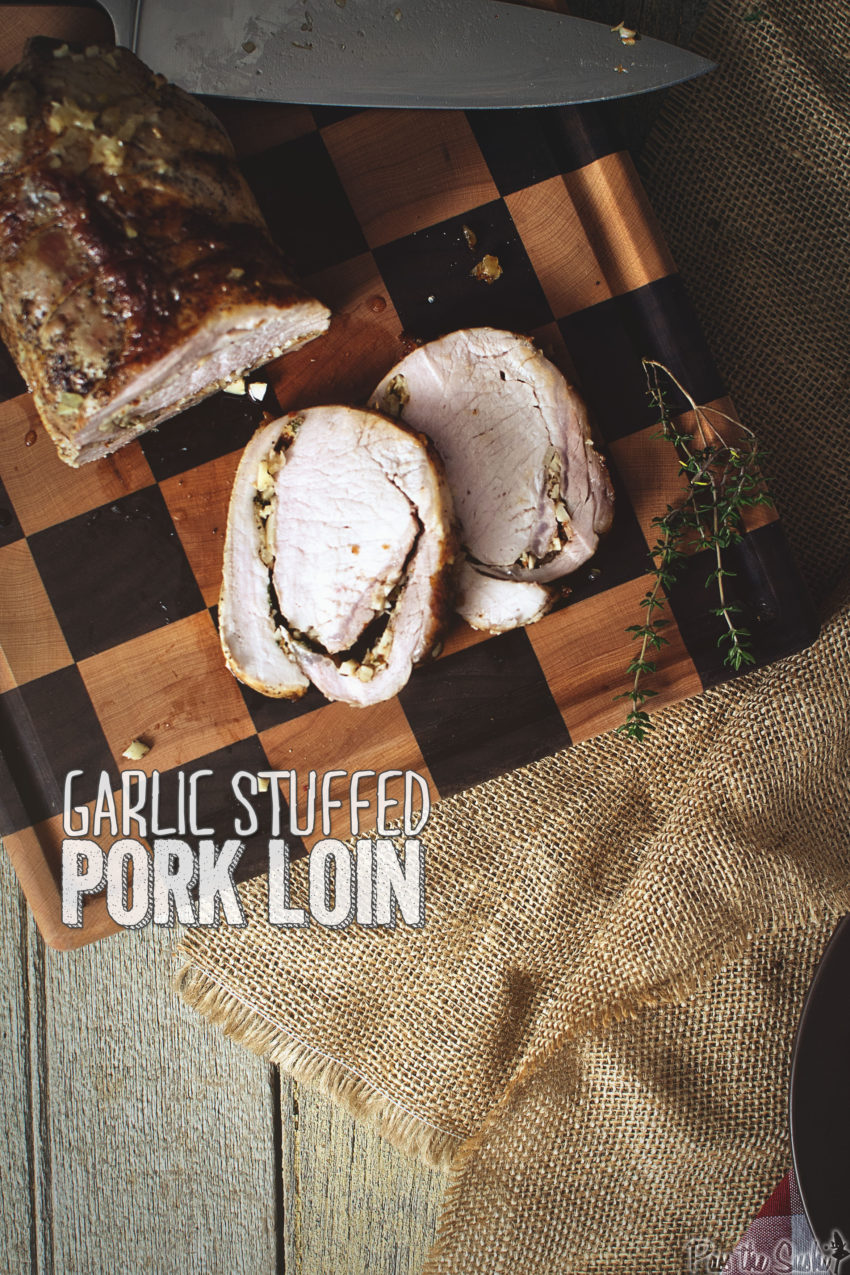 I'm serious when I say that we need to consider pork as a holiday meal alternative. Check out these beauties, and you'll never look at pork the same again!
If you've tried my Garlic Stuffed Pork Roast, or any other recipe on GirlCarnivore.com please don't forget to rate the recipe and let me know where you found it in the comments below. I get inspired by your feedback and comments! You can also FOLLOW ME on Instagram @girlcarnivore as well as on Twitter and Facebook.
Garlic Pork Roast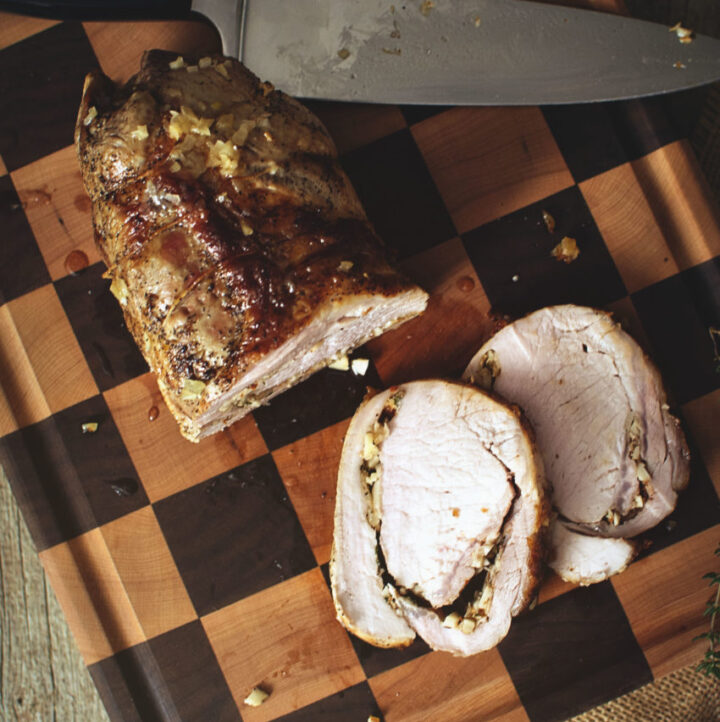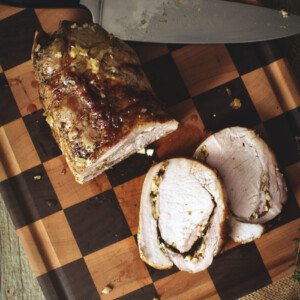 Stuffed pork roast is easy to make and works great for regular dinners or even as a holiday meal instead of a big stuffed bird.
Ingredients
1/2

cup

olive oil

plus 2 tbsp

22

garlic cloves

10 peeled and crushed, 12 whole unpeeled

salt and pepper

1 2 1/2 to 3

lbs

pork loin roast

boneless

1/2

tsp

red pepper flakes

1 1/2

tsp

thyme

fresh is best

2

tbs

unsalted butter

1/4

tsp

sugar
Instructions
Add 1/2 cup oil and 10 crushed garlic cloves to a large resealable bag.

Butterfly the pork and place in the bag. Seal, coat evenly, and allow to marinate for up to 4 hours.

Meanwhile, toast the remaining 12 garlic cloves in a skillet over medium heat until lightly browned and fragrant, about 8 minutes. Remove from skillet.

When cool enough to handle, peel 10 and mince. In a small bowl, combine minced roasted garlic with 1 tbs oil, red pepper flakes, thyme and 1/2 teas salt, 1/4 teas pepper.

Mash with a fork to make a paste.

When ready to cook preheat the oven to 325 degrees F, remove the pork from the marinade and pat dry with paper towels. Smear the paste inside leaving a 1" border.

Securely tie using cooking twine. Season with salt and pepper.

Heat the skillet with the remaining 1 tbs oil over medium high heat. Add the pork roast and brown on all sides, about 10 minutes.

Place the pork on a wire rack on a rimmed baking sheet. Roast for 50 to 60 minutes, until it temps at 140 F at it's thickest point.

Mince the remaining 2 toasted cloves and add to a microwave safe bowl with the 2 tbs butter and 1/4 sugar. Microwave until garlic is golden and butter is melted, about 1 minute.

Transfer the pork to a cutting boar and brush with the garlic butter. Cover and let rest for 20 minutes.

Slice and serve.
Notes
Inspired by the Cooks Country Sampler Recipe
Let it rest for 10 minutes to reabsorb the moisture evenly.
Serves great with potatoes and grilled veggies. 
Nutrition
Calories:
560
kcal
|
Carbohydrates:
4
g
|
Protein:
60
g
|
Fat:
33
g
|
Saturated Fat:
8
g
|
Trans Fat:
1
g
|
Cholesterol:
177
mg
|
Sodium:
135
mg
|
Potassium:
1041
mg
|
Fiber:
1
g
|
Sugar:
1
g
|
Vitamin A:
191
IU
|
Vitamin C:
4
mg
|
Calcium:
37
mg
|
Iron:
2
mg