This stuffed pork loin recipe is one of those recipes that may take you back to your childhood. Stuffed with a hearty mushroom and bacon filling, cooked to perfection and served with creamy mashed potatoes and green beans, it's a perfect Sunday dinner. And then even better the next day, sliced thin for sandwiches. And the day after and after.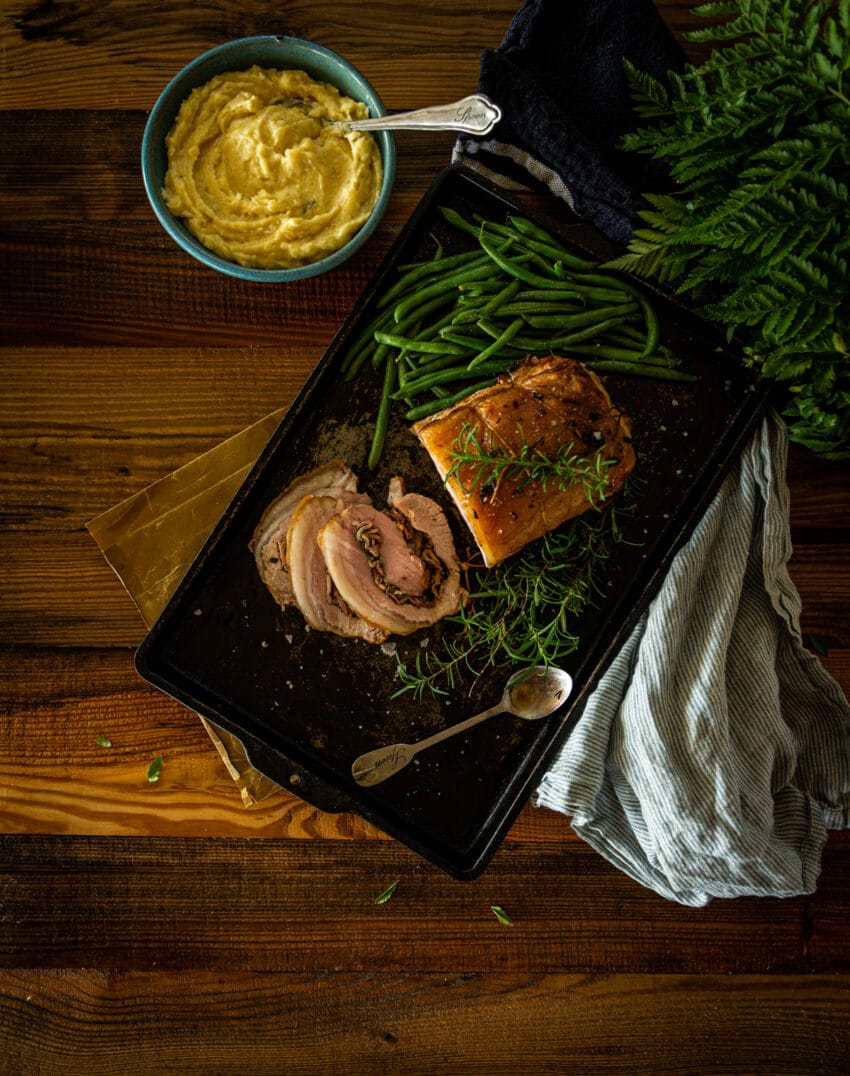 This recipe has been updated with more adult flavors, less Stove Top, more fresh herbs, and plenty more bacon. This will quickly become one of your favorite roasts to make. It's perfect for the holidays, especially if you have someone who isn't into red meat or want to feed many people on a smaller budget.
Pork tends to be a lot less expensive than other proteins, and you can get a large loin for a good value. Easily whip it up for a group of 10; everyone will love it. Serve it with creamy homestyle mashed potatoes, crisp fresh green beans, or a simple salad. Perfect mini-feast!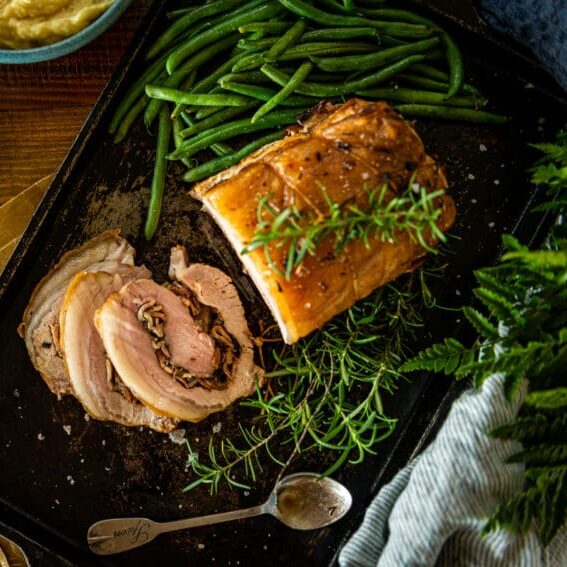 What is Stuffed Pork Loin
Stuffed pork loin is a tender, juicy pork loin stuffed with aromatic herbs and spices and served as a main dish. Not to be confused with the pork tenderloin, the loin is the large muscle that runs along the back of the pig, where pork chops are cut from. It can be bone-in or boneless and is often found in a 3 to 4-pound portion at local grocery stores. Occasionally, you can find entire loin roasts, perfect for breaking down into smaller roasts for smoked pork loin, or even individual boneless chops and freezing for later.
Packed with protein and even more so with a nostalgic flavor, this stuffed pork loin is sure to transport you right back home. With a mild but juicy flavor, pork loin acts as a canvas that's absolutely delicious. Plus, it's relatively quick and inexpensive. If you want a fancier dish, take it up a notch with this classic Italian porchetta for extra crispy pork skin!
The key to juicy pork is not overcooking it. According to the USDA, roast pork is safe to eat at 145F, which may have a slight pink color in the center.
A roasted stuffed pork loin is an easy recipe to prepare for family or large gatherings. There are tons of stuffed pork varieties to play around with. The end result is tons of flavor and happy guests! If you are feeding a smaller crowd, try a bacon-wrapped pork tenderloin. It's the filet mignon of pork that feeds 2 to 3 people and cooks much faster.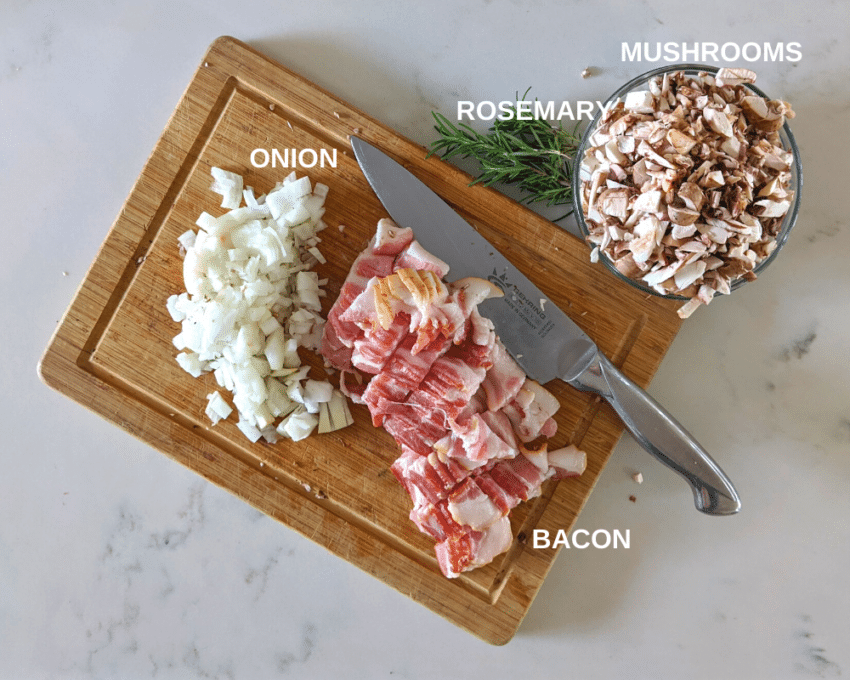 Ingredients for Stuffed Pork Loin Roast
Bacon – let's be honest, bacon is always the best part of the recipe
Vegetables – onions, minced garlic, and mushrooms are sauteed for extra flavor to make the best pork loin
Salt– we always use kosher salt when cooking
Fresh rosemary – rosemary is added to the bacon mixture to bring out the pork flavor. You could use fresh thyme as well.
Olive oil – or your favorite neutral cooking oil
Pork loin roast – choose the size of the pork roast based on how many people you have to feed and the time you have to cook it. The bigger the meat, the longer it will take to prepare.
How to Make Stuffed Pork Loin
Make the Filling
Start by heating a large skillet over medium heat. Add the bacon strips and cook them until they're crisp. Remove them from heat to set aside, draining all but a tablespoon of the fat.
Next, add your mushrooms to the skillet. Season them with a pinch of salt and cook them until dry (about 12-15 minutes).
Add the diced onion in the last 5-7 minutes and cook them until they're soft.
Add the garlic and cook everything 30 seconds longer. Remove everything from the heat, but add the rosemary and diced bacon while it's still hot.
Stir the stuffing mixture to combine. Allow the filling to cool before stuffing the pork.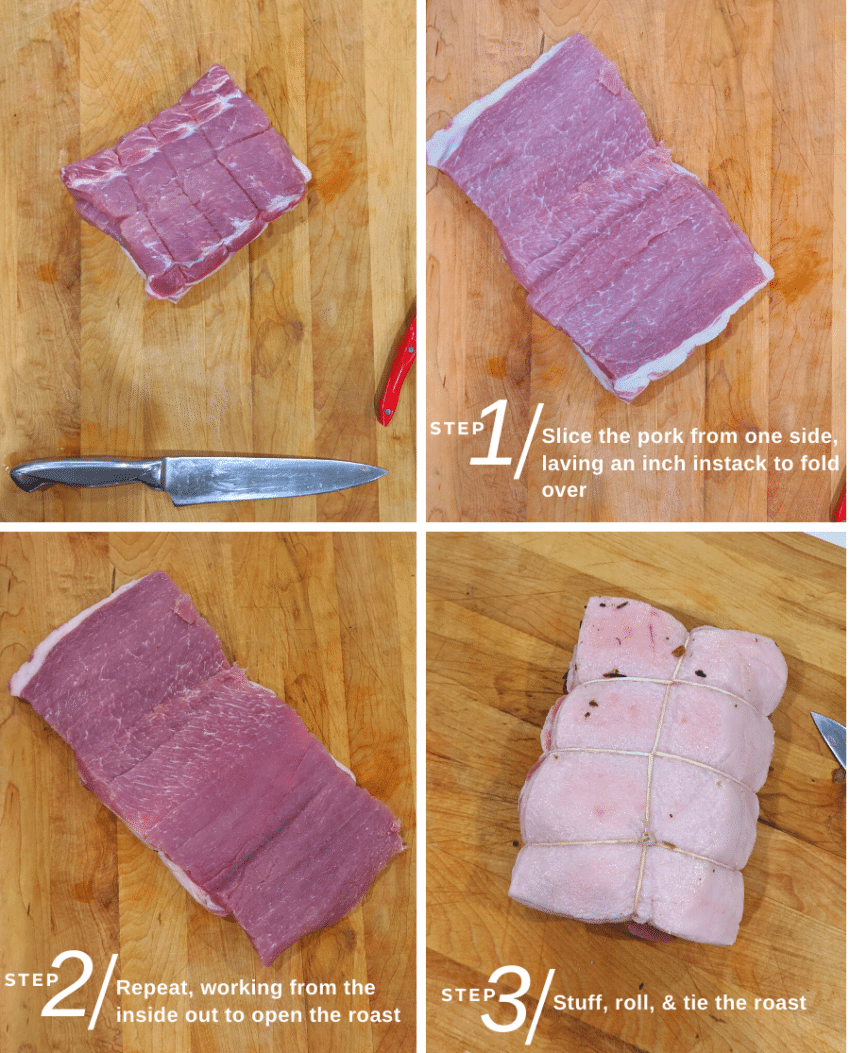 Prepare the Pork Loin
Start by preheating your oven to 375 degrees F.
Remove the pork from the packaging and dry the pork loin.
Next is the tricky part. On a clean cutting board or work surface, butterfly the pork. Do this by carefully cutting the pork loin with a sharp knife from one edge about 3/4 of the way through the whole roast. Fold the meat open to expose the full surface area. If it's a larger roast, consider evening out the surface with a meat mallet; for smaller roasts, this step can be skipped. We love this fillet knife when trimming meat.
Layer the mushroom filling to coat the insides of the pork and roll it back up. Secure the rolled pork loin with kitchen twine about every inch or so to keep it bound and the stuffing mix from falling out.
Season the outside pork with salt.
Meanwhile, heat a skillet over medium-high heat. Swirl olive oil to coat the pan, then place the pork in the roasting pan (fat side down, fat cap on top and fresh rosemary as desired, with a few extra whole garlic cloves if you have them on hand). If you use a cast iron skillet, skip the roasting pan and go directly to the oven to bake.
Allow the pork to brown and the fat to crisp (this should take about 5-7 minutes). Brown each additional side of the pork (this should take about five minutes total).
Finally, place the pork in the preheated oven for about 50-60 minutes until it's golden brown and fully cooked. Always check that an instant-read thermometer reads 140 degrees F for pork roasts.
Remove it from the oven, cover it, and let the pork rest for 10 minutes before slicing it up to serve. The internal temperature will rise to 145 degrees F as it rests. Voilà! Serve with additional salt and pepper if desired.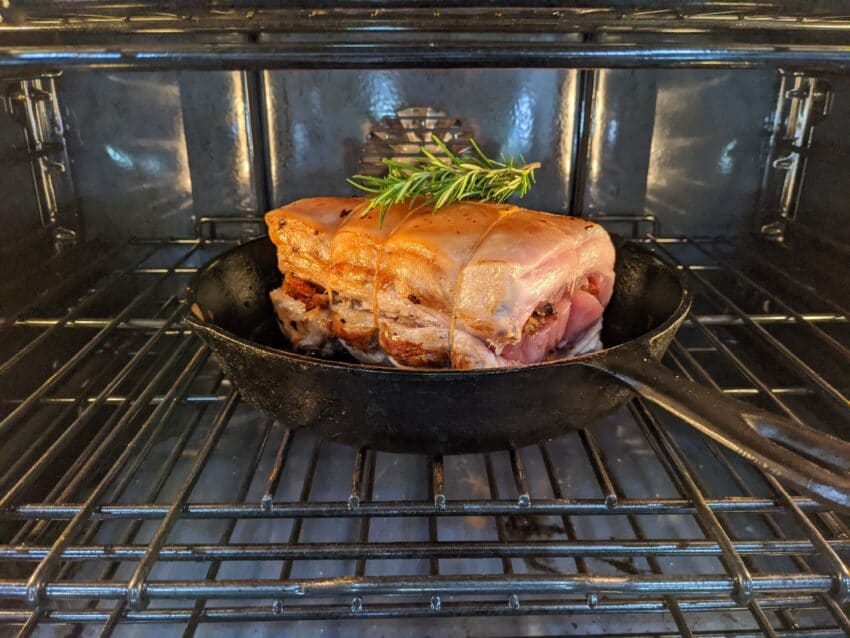 Girl Carnivore Expert TIp
We skip the baking dish and cook this stuffed pork loin from start to finish in one large cast iron skillet. It helps the pork even all over and is safe from the range top to the oven.
For a more robust stuffed loin, wilt baby spinach and add it to the pork filling with breadcrumbs or pork panko.
What to Serve with Stuffed Pork Loin
This juicy pork loin works best with classic, nostalgic sides like smoked baked potatoes, or roasted potatoes and veggies, a simple kale and apple salad, or smoked corn on the cob. The leftover slices make a delicious sandwich that you can jazz up however you like.
This recipe is also great served with sweet apples (cooked with a hint of cinnamon or fresh) as a side dish for a classic combination.
Leftovers and Reheating
This wrapped, stuffed roast should last in your fridge for 24 hours, while just the pork slices in an airtight container will keep for 3-4 days. The roast can also be frozen for up to three months. This pork loin has so much leftover potential!
You can slice this leftover stuffed pork loin thin, quickly pan-sear it, and serve it between slices of Wonder Bread for an incredible next-day sandwich. You can also wrap it in foil and reheat it low-and-slow in the oven for a second dinner. No need to use a meat thermometer this time as the meat is already cooked through.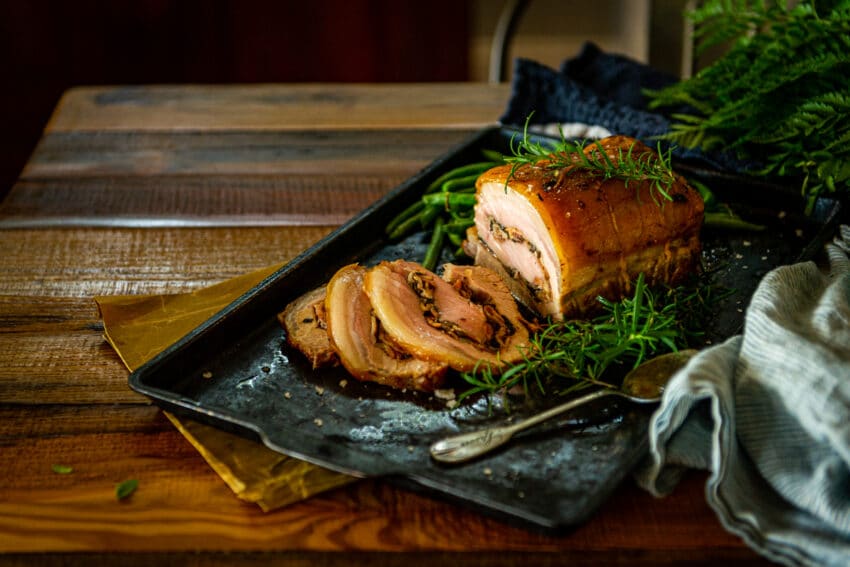 Recipe FAQs
Which Pork Roast Should I Buy?
Buying a loin doesn't have to be complicated, and I love that it can fit any budget. However, if you feel like going the extra mile, check out pasture-raised or even Kurobuta, like the one we used on our oven-roasted rack of pork.
There tends to be a thicker fat cap on these as they don't trim them as lean. It adds a wonderful flavor, and we are sure to get a delicious crust. Make sure to position it so the fat is on top, so it bastes the pork as it renders. If cooking with Kurobuta pork or some pasture-raised, the color can be darker than normal market pork. That's okay–cook to temp, not color.
How Long to Cook a Stuffed Pork Loin?
When buying your piece of meat, think about how many people you are trying to feed (this recipe is perfect for a dinner party or the holiday season). We go for a half-pound per person as a safe bet for this pork roulade. Some will want more, some less. Generally, a five-pound stuffed pork loin makes enough to feed ten people. Knowing we love the leftovers for this one, we go a little bigger. Besides, there are always side dishes everyone can fill up on. And dessert.
How Many People Will My Stuffed Pork Loin Feed?
Depending on the size of a pork loin, you might roast it anywhere from 20 to 75 minutes, but we always recommend adjusting your cook time for a safe internal temperature. This particular stuffed pork loin recipe calls for a five-pound pork loin, cooked on the stove and then roasted for 50 to 60 minutes. If this is your first time making a stuffed pork roast, keep your eye on it to ensure it doesn't overcook. And always use an instant-read thermometer.
Try this amazing recipe for your next special occasion. Guests will enjoy this meat recipe and the best part is that it's simple to make! Tried it? Be sure to rate the recipe and leave a comment below to help out the next guy!
Oven Roasted Stuffed Pork Loin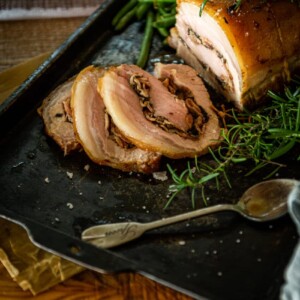 This nostalgic classic stuffed pork loin is sure to satisfy your craving, and it's stuffed (literally) with veggies and lean protein! It's the perfect mid-week special dinner (and you'll have bangin' sandwiches for the next few days).
Ingredients
6

oz

bacon

cut into 1" strips

½

onion

minced

3

cups

mushrooms

diced

2

cloves

garlic

minced

1

tsp

salt

1

tsp

fresh rosemary

minced

1

tsp

olive oil

5

lbs

pork roast
Instructions
Make the filling
Heat a large skillet over medium heat. Add the bacon and cook until crisp.

Remove the bacon from the pan, set aside, and drain all but 1 tablespoon of the bacon fat.

Add the mushrooms to the skillet, season with a pinch of salt and cook until the liquids cooked out of the mushrooms and they are dry 12-15 minutes.

Add the onions and let them cook until soft for the last 5 to 7 minutes.

Add the garlic and cook 30 seconds longer.

Off heat, while everything is still hot, add the rosemary and bacon to the mushroom mix and stir to combine.

Allow the mushroom filling to cool before stuffing the pork.
Prepare the Pork Loin
Preheat the oven to 375.

Butterfly the pork and arrange it flat.

Layer on the mushroom filling to coat the insides and roll the pork back up, tieing as needed to secure. Season with salt.

Meanwhile, heat a skillet over medium-high heat.

Add the olive oil. And swirl to coat.

Place the pork in the hot pan, fat side down, and allow the pork to brown and the fat to crisp, 5 to 7 minutes.

Brown all sides, about 5 minutes.

Place pork in the skillet with the fat cap on top, add fresh rosemary to the top if desired and toss in a few extra garlic cloves if you have them.

Place the pork in the oven and roast for about 50 – 60 minutes, until the internal temperature reads 145 with an instant-read thermometer.

Remove from the oven, cover and allow to rest 10 minutes before slicing to serve.
Notes
If you aren't keen on rosemary try mixing in other fresh herbs like thyme, sage, and parsley. Or use all of the above. Just not like confetti. That's too much. The filling can be made ahead of time and the pork can be butterflied, stuffed, and tied until ready to cook, up to 24 hours ahead. Be sure to wrap tightly with plastic wrap and store in the refridgerator until ready to cook.
Nutrition
Serving:
1
g
|
Calories:
383
kcal
|
Carbohydrates:
2
g
|
Protein:
54
g
|
Fat:
16
g
|
Saturated Fat:
5
g
|
Cholesterol:
154
mg
|
Sodium:
458
mg
|
Potassium:
982
mg
|
Fiber:
1
g
|
Sugar:
1
g
|
Vitamin A:
6
IU
|
Vitamin C:
1
mg
|
Calcium:
14
mg
|
Iron:
1
mg
Sources
Pork Cooking Temperature via Pork.org: https://pork.org/pork-cooking-temperature/