There is nothing quite like the comfort of homemade stuffed pork. It fills the air with that delicious aroma while oven roasting and makes everyone excited for dinner. What I really love about this is that it's inexpensive and a top-quality loin makes for an amazing dinner and even better leftovers!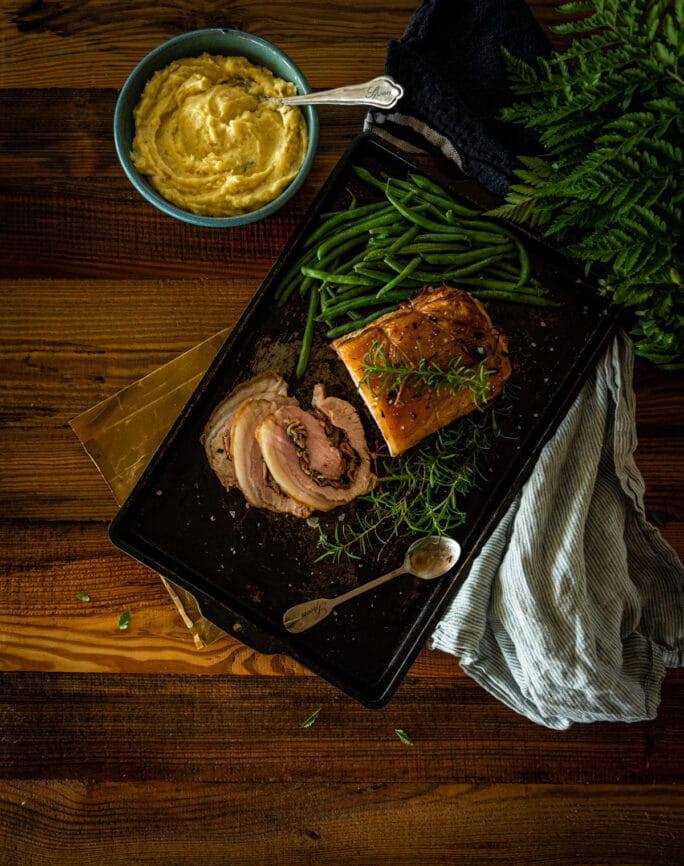 This is one of those recipes I remember from my childhood. A once in a while stuffed pork loin that I absolutely loved with creamy mashed potatoes and green beans. And then even better the next day, sliced thin for sandwiches. And the day after and after. Actually, pretty sure I snagged a boyfriend once because of that exact sandwich.
Nowadays, I confess, I don't make it very often, and it's not the same stuffing I used to have as a teen. I have updated it with more adult flavors, less Stove Top, more fresh herbs and bacon. Less gravy, more a perfect 145 degrees please – now that we know pork is safe at that temp.
But it is still one of my favorite roasts to make. One that is perfect for the holidays, especially if you have someone who isn't into red meat, or you want to feed a lot of people on a smaller budget. Pork tends to be a lot less expensive than other proteins and you can get a large loin for a good value. I just whipped this up for a random group of about 10 and everyone loved it! We served creamy homestyle mashed potatoes, crisp fresh green beans alongside, and a simple salad. Perfect mini-feast!
This is truly one of those recipes you can whip up and pull out of the oven as guests are sitting down and they will really think you worked your booty off. Turns out, butterflying a pork loin really impresses. Who knew?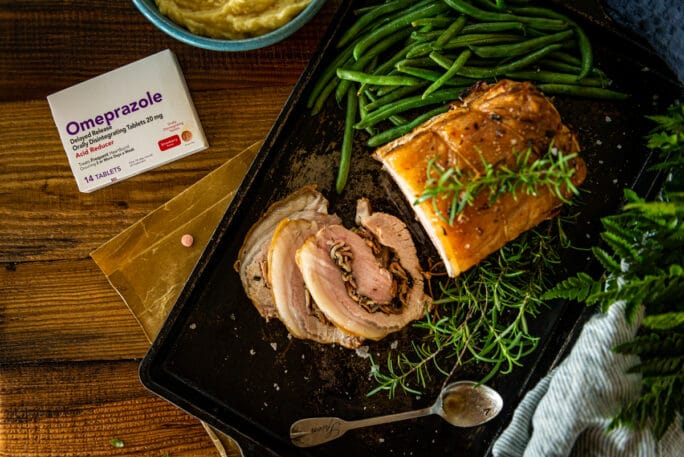 What you need to master this roast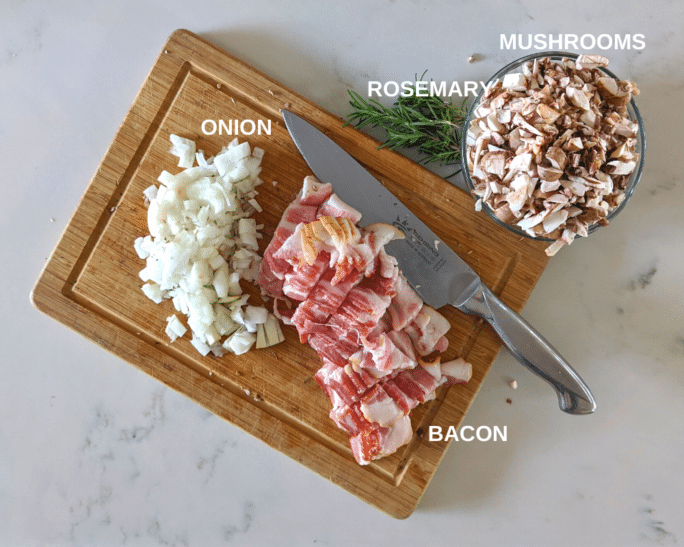 Make sure you have a good heavy-duty oven-safe skillet for this one. I love searing the pork fat right over the heat on the range and then sliding the loin into the oven in the same pan. Cast iron is my go-to on this. It is safe for both but isn't good on all cook surfaces so make sure you have what you need before tackling this roast.
Butchers twine is a must for this one. You do not have to perfect the butcher's knot (tho, I do love practicing) but tieing this baby up all 50 shades of whatever keeps everything where it needs to be as it cooks. Otherwise, your beautifully butterflied roast just won't…
After that, all you need is a large pork loin and the stuffing fixings.
Oh, and an instant-read thermometer because food safety is a thing. Pork is best when it's cooked to the proper temp. Not overcooked when it gets all dry and boring. So make sure this roast temps at 145 for optimal deliciousness.
How to make the pork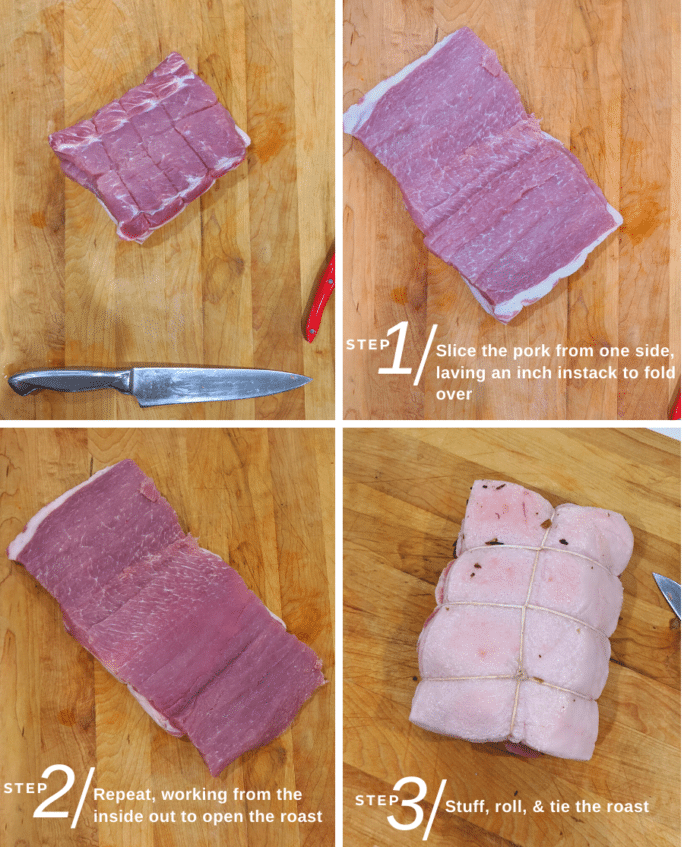 Now, If we are going to impress our company, we might as well speak like we know what we're doing. Don't go all Alton Brown on them, but you know, show off a bit.
First, prep the filling by following along with the recipe. You want to sweat the mushrooms of all their liquid. As they cook the heat pulls liquids out and they create dampness in the pan. You will cook them past this stage, to when they are dry again and dark brown. This is so they don't get soggy inside of the roast when it's cooking. You want to do this ahead of time so that you are not putting hot mushroom filling into the cold meat.
Then, we butterfly the pork loin. This simply means to cut one flap, think like you are going to open the roast up and lay it flat so that you can roll it filled with stuffing next. And then cutting another, both about 1/3 through the roast.
Starting From one long side, cut about 1/2 " to 1" from the top leaving one inch so that you can fold the meat outwards.
Repeat again from the inside, working out. You should finish with two folds that reform the original loin. (Promise, it's not hard, practice while no one's looking). For the visual learners, like myself, its like unfolding a frozen puff pastry.
From there you stuff the loin, roll it and if you really want to show off whip out those butchers knots, but really just secure it with some good old fashioned square knots.
The next step is to get a skillet good and hot. You want to crisp up the outside of the roast, especially if it has a fat cap, before sliding it in the oven to cook.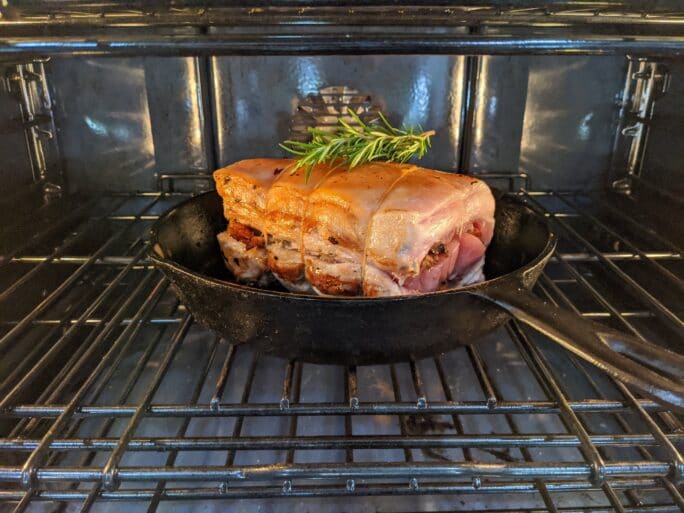 Make sure that you temp your pork. It's hard to tell when a roast is done and safe, and there is no sense slicing in too soon. Cook it to 145 and double-check with an instant-read thermometer inserted in the center – making sure you are temping the meat and not the filling. Once you are there, allow that baby to rest a solid 10 minutes while everyone oohs and aahs over your mad skills before you slice into it.
Which pork roast to buy?
Buying a loin doesn't have to be complicated, and I love that it can fit any budget. However, if you feel like going the extra mile, check out pasture-raised or even Kurobuta, like the rack I used on this recipe. There tends to be a thicker fat cap on these as they don't trim them as lean. It adds a wonderful flavor and I am sure to get a solid crust and make sure to position it so the fat is on top so it bastes the pork as it renders. If cooking with Kurobuta pork, or even some pasture-raised, the color can be darker than normal market pork. That's ok, cook to temp, not color.
How many people will my pork loin feed?
When buying, think about how many people you are trying to feed. I go for a half-pound per person as a safe bet. Some will want more, some less. Generally, a 5-pound road can feed 10 people. Knowing I love the leftovers for this one, I go a little bigger. Besides, there are always side dishes everyone can fill up on. And dessert.
Pork leftovers. No worry.
As I mentioned above, this is the perfect OMG sandwich the next day. Slice thin, pan sear, serve between wonder bread and it's pure magic.
Otherwise, you can also wrap this baby in foil and reheat low and slow to serve again as a second dinner. Think Hobits. Bring extra mashed potatoes.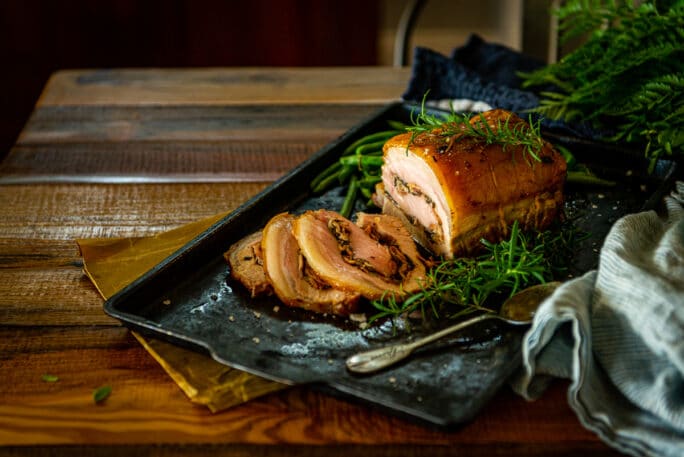 Want more show-stopping main course inspiration? Try some of my favorite recipes
If you've tried my Stuffed Pork Loin Recipe or any other recipe on GirlCarnivore.com please don't forget to rate the recipe and let me know where you found it in the comments below.
I get inspired by your feedback and comments! You can also join in on the adventures on Instagram @girlcarnivore, Twitter & Facebook.
Stuffed Pork Loin with Mushroom Stuffing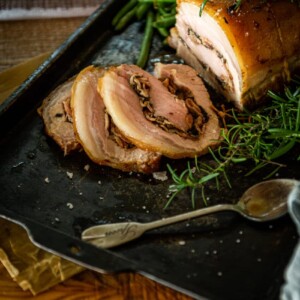 This stuffed pork loin is oven-roasted to perfection and the perfect meal to feed a lot of people with amazing flavor. Bonus the leftovers are pretty fantastic too!

Ingredients
6

oz

bacon

cut into 1" strips

½

onion

minced

3

cups

mushrooms

diced

2

cloves

garlic

minced

1

tsp

salt

1

tsp

fresh rosemary

minced

1

tsp

olive oil

5

lbs

pork roast
Instructions
Make the filling
Heat a large skillet over medium heat. Add the bacon and cook until crisp.

Remove the bacon from the pan, set aside, and drain all but 1 tablespoon of the bacon fat.

Add the mushrooms to the skillet, season with a pinch of salt and cook until the liquids cooked out of the mushrooms and they are dry 12-15 minutes.

Add the onions and let them cook until soft for the last 5 to 7 minutes.

Add the garlic and cook 30 seconds longer.

Off heat, while everything is still hot, add the rosemary and bacon to the mushroom mix and stir to combine.

Allow the mushroom filling to cool before stuffing the pork.
Prepare the Pork Loin
Preheat the oven to 375.

Butterfly the pork and arrange it flat.

Layer on the mushroom filling to coat the insides and roll the pork back up, tieing as needed to secure. Season with salt.

Meanwhile, heat a skillet over medium-high heat.

Add the olive oil. And swirl to coat.

Place the pork in the hot pan, fat side down, and allow the pork to brown and the fat to crisp, 5 to 7 minutes.

Brown all sides, about 5 minutes.

Place pork in the skillet with the fat cap on top, add fresh rosemary to the top if desired and toss in a few extra garlic cloves if you have them.

Place the pork in the oven and roast for about 50 – 60 minutes, until the internal temperature reads 145 with an instant-read thermometer.

Remove from the oven, cover and allow to rest 10 minutes before slicing to serve.
Notes
If you aren't keen on rosemary try mixing in other fresh herbs like thyme, sage, and parsley. Or use all of the above. Just not like confetti. That's too much. The filling can be made ahead of time and the pork can be butterflied, stuffed, and tied until ready to cook, up to 24 hours ahead. Be sure to wrap tightly with plastic wrap and store in the refridgerator until ready to cook. 
Nutrition
Serving:
1
g
|
Calories:
383
kcal
|
Carbohydrates:
2
g
|
Protein:
54
g
|
Fat:
16
g
|
Saturated Fat:
5
g
|
Cholesterol:
154
mg
|
Sodium:
458
mg
|
Potassium:
982
mg
|
Fiber:
1
g
|
Sugar:
1
g
|
Vitamin A:
6
IU
|
Vitamin C:
1
mg
|
Calcium:
14
mg
|
Iron:
1
mg