Cottage cheese biscuits make a wonderful side for the holidays or any day. Want a perfectly crispy outer biscuit that has perfect pockets of flaky buttery goodness on the inside? These herb and bacon cottage cheese biscuits are a quick homemade recipe for an amazingly savory biscuit.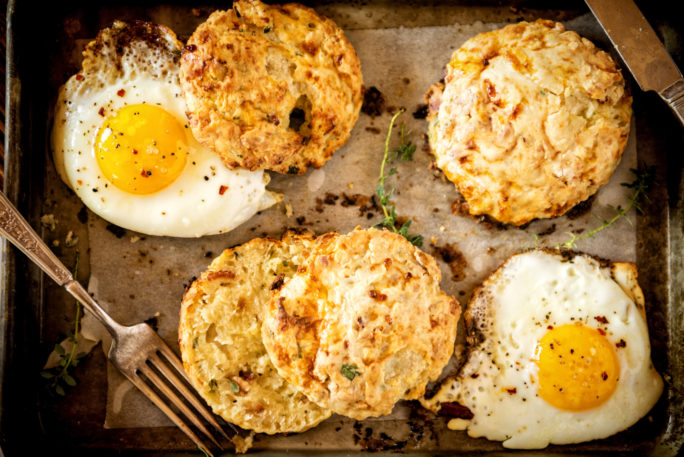 Can you believe in all my years cooking, I never incorporated cottage cheese into a recipe? I recently discovered Muuna at my local market and was really excited to try it. The packaging was fun and leaned more towards trendy yogurt than what I had considered blasé cottage cheese.
I thought of it as something my grandma would eat for breakfast, not a crazy healthy and delicious alternative to other dairy options. And cottage cheese biscuits? The thought never crossed my mind.
I've been crushing it with cutting out the junk in the ingredient list of the items I am buying, and Muuna looked excellent with no artificial sugars or coloring. Bonus, the plain cottage cheese used for this recipe was loaded with 19g protein per 5.3oz. That's before we even get to the fun flavors.
But how would it hold up as a biscuit?
Pretty darned well, actually. You might even want to try them in this recipe too.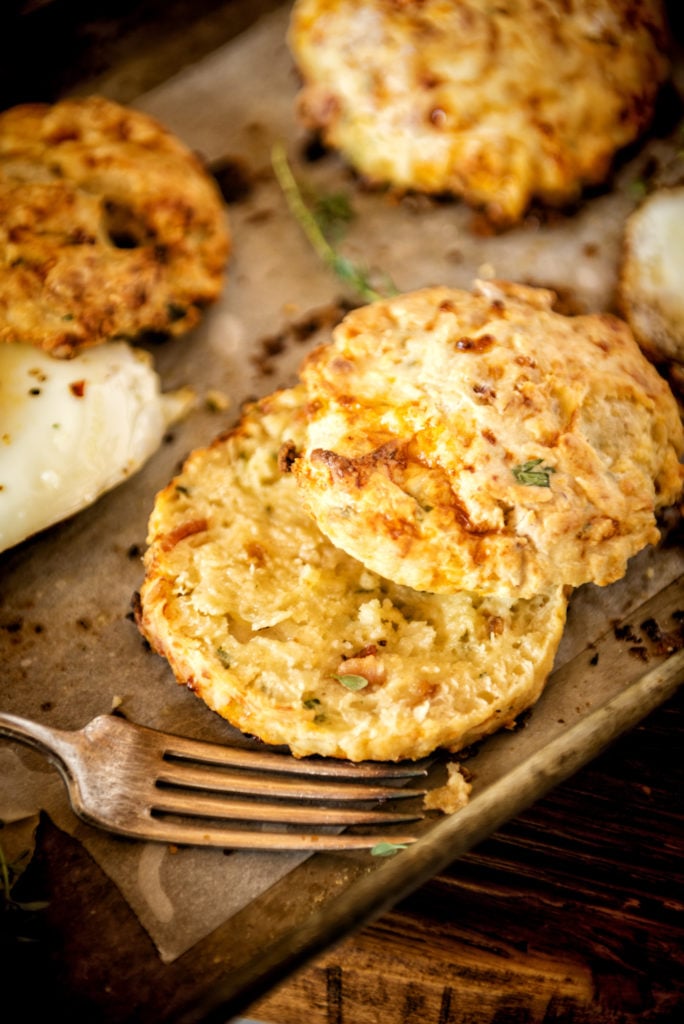 Easy cottage cheese biscuits
I wanted to bump up the flavor, change things up and still create a desirable biscuit (cuz let's face it, I am a biscuit snob). I tested this recipe three times, improving upon the concept each time before coming to this final version. Bonus for me, they were all pretty darned good.
By adding chopped bacon and fresh herbs from my garden I was able to make these biscuits tasty. You can change the herbs up with whatever you have fresh on hand. I love thyme, rosemary, or chives as a great starting base. Mix and match with whatever you have in your garden.
Consider omitting the bacon altogether and using one of the fruit flavors, like peach or strawberry to create sweet biscuits perfect for breakfast with fresh jam. This recipe is a classic biscuit that can act as the starting point for so many variations! Thyme blueberry cottage cheese biscuits with lemon curd may just have to happen.  
Tips for better biscuits
Truth be told, biscuits are one of those notorious recipes, so simple to make, so hard to get right. So it always helps to have a few extra handy bits of advice from those who's trials and errors have driven them crazy… But luckily found cure and redemption through the process.
First off, make sure to use super cold butter. You can even take frozen sticks of butter and use a coarse setting on a grater. Be careful and grate on the short side to create little bits of butter.
Remember this, even if you forget everything else, including your BFF's birthday. The colder the butter, the better the biscuit will rise. The steam from the heating butter in the biscuit make all the difference.
If possible, then give your flour a quick sift. Without a proper sifter, you can use a fine screen strainer and just shake it through.
Finally, don't over mix the ingredients. You want those pea sized chips of butter to stay that way. Don't feel like you have to knead it out like you are making pizza dough.
What is the best flour to use for biscuits?
In actuality, the best flour to use for biscuits is the one sitting hopefully right now in your pantry. Really, you can make a great biscuit with any flour. In fact, the coldness of the butter and the other ingredients are more important than the type of flour.
So you can use bleached or unbleached, all purpose or plain flour, whole wheat or whatever. The whole wheat is a bit heavier, but you can always use a half and half portion with whole wheat and regular. That is a good way to keep from making a biscuit that doubles as a hockey puck.
Unless of course you are a hockey player. In which case, put the biscuit in the basket any way you like.
What is cottage cheese exactly?
If you want to make cottage cheese biscuits, then it helps to know what cottage cheese actually is. Cottage cheese goes back a few thousand years, but the term "cottage" only came around in the 19th century.
Remember Little Miss Muffet, eating her curds and whey? Well, she just happened to be eating cottage cheese. Most likely with peaches in it but that is just a hunch. Cottage cheese is also known as curds and whey. It is an un-aged fresh and soft cheese curd kept in its own whey. Cream is also added, which is known as "dressing.
Fun facts about Muuna Cottage Cheese (because the more you know the better it tastes, right?)
Muuna's premium fruit-on-the-bottom flavors each have 130 calories, 9-11g sugar, and 15g protein per 5.3oz container. Muuna's Lowfat Plain has 120 calories, 4g sugar, and 19g protein per 5.3oz container. Visit

muuna.com

for specific nutrition and ingredient information.

All Muuna products contain no high fructose corn syrup or stevia and are free of artificial flavors, colors and sweeteners. Muuna is also gluten-free and certified Kosher.

Muuna low-fat plain single-serve cups have 19g protein and 4g sugar.

Muuna cottage cheese is currently available on the shelves of select Northeast regional retailers, including ShopRite and Shaw's.
Have you worked with cottage cheese before or do you eat it right out of the package? I have some fun ideas for combining a few of the other flavors into savory recipes as well. I'd love to hear how you use it in the comments below.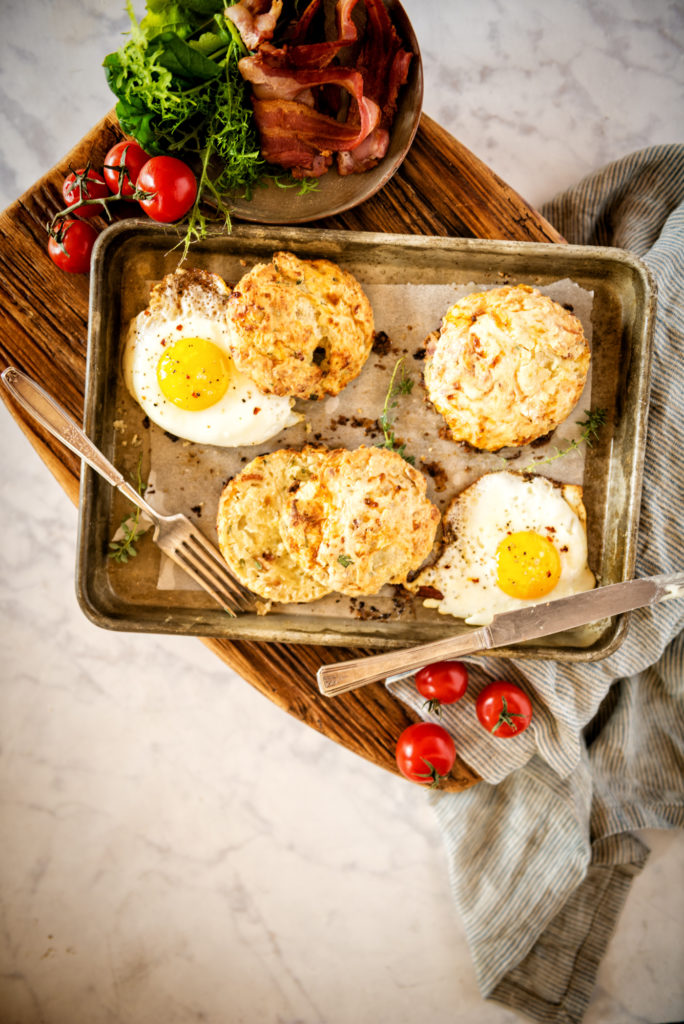 Looking for more breakfast ideas to blow their socks off with? These will set them to begging for more!
If you've tried my Herb and Bacon Cottage Cheese Biscuits, or any other recipe on GirlCarnivore.com please don't forget to rate the recipe and let me know where you found it in the comments below. I get inspired by your feedback and comments! You can also FOLLOW ME on Instagram @girlcarnivore as well as on Twitter and Facebook.
Herb and Bacon Cottage Cheese Biscuits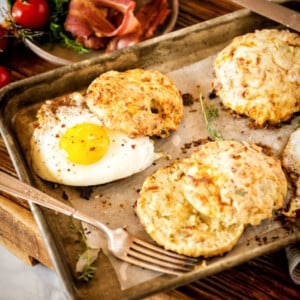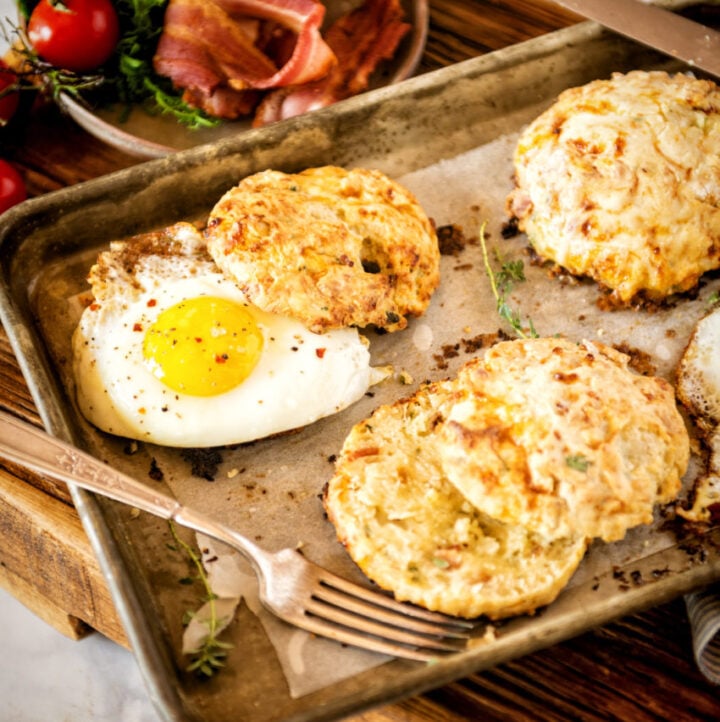 These Herb and Bacon Cottage Cheese Biscuits are an irresistible combination of savory and sweet! Enjoy a buttery, cheesy biscuit with a hint of bacon for breakfast or dinner.
Ingredients
2

cups

flour

1/4

tsp

baking soda

1

tbs

baking powder

1

tsp

salt

2 – 3

strips of bacon

cooked and crumbled

2

tsp

fresh thyme

removed from the stems

1

tsp

freshly crushed black pepper

large grind (or 1/2 teas regular black pepper)

6

tbs

cold butter

1/4

cup

buttermilk

1 – 1 1/4

cup

Cottage Cheese

1

tsp

milk
Instructions
Preheat the oven to 425

Toss the flour, baking soda baking powder, salt, bacon, black pepper, and thyme together in a large bowl.

Dice the cold butter into small cubes, and with your fingers rub into the flour mixture, creating pea sized portions of butter.

Add the cold buttermilk and cottage cheese and with a wooden spoon, mix until just combined.

Cover the bowl and place in the fridge for 20 to 30 minutes to allow everything to cool and come together.

Dust a work surface with a little flour and line a baking sheet with parchment paper.

Fold the dough out and work into a 1 1/2 thick disc. Cut out six 2 1/2 – 3 1/2″ biscuits and arrange on the baking sheet. Brush the tops with milk.

Bake for 15 to 20 minutes, until golden brown and cooked through.

Allow to cool for a few minutes before serving warm.
Notes
Allowing the biscuit batter to cool in the fridge before cooking is a very important tip I picked up from fellow girl grill master
Christie, of GirlsCanGrill.com
Nutrition
Serving:
1
g
|
Calories:
416
kcal
|
Carbohydrates:
37
g
|
Protein:
16
g
|
Fat:
23
g
|
Saturated Fat:
11
g
|
Polyunsaturated Fat:
2
g
|
Monounsaturated Fat:
7
g
|
Trans Fat:
0.5
g
|
Cholesterol:
57
mg
|
Sodium:
872
mg
|
Potassium:
391
mg
|
Fiber:
1
g
|
Sugar:
3
g
|
Vitamin A:
518
IU
|
Vitamin C:
1
mg
|
Calcium:
179
mg
|
Iron:
2
mg