These Argentinian inspired sandwiches, known as Choripan, are a classic street food – a juicy grilled spicy sausage on a fresh crisp bun drenched in a bright herbacous sauce. Such a simple combination of ingredients, and yet with the right mix of ingredients, so much more than just another sandwich.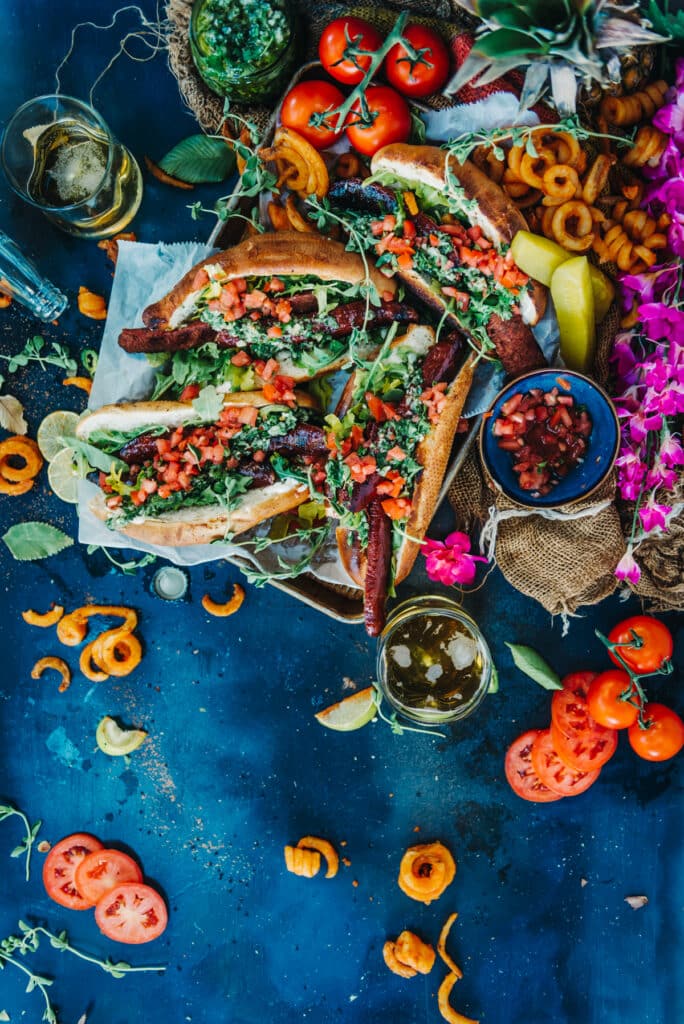 Traditionally, choripan can be found in South American countries, a staple, much like the hot dog at ever summer barbecue up north. In this case, though, the flavors are so much more than just a frank (and don't get me wrong, I love a good hot dog).
It starts with spicy sausage, known as chorizo, grilled and placed inside a crusty bread and then topped with fresh ingredients from minced onion to my personal favorite, cilantro chimichurri or red chimichurri. 
Like the hot dog, the choripan is a street cart staple, at most asados (aka, bbq), big games, tailgates, and any other casual reason to fire up a grill.
And just like the hot dog, every region has its own version of what should – or should not – be on top.
But, for today, we are going with a classic version to level up your next grilled sausage sandwich.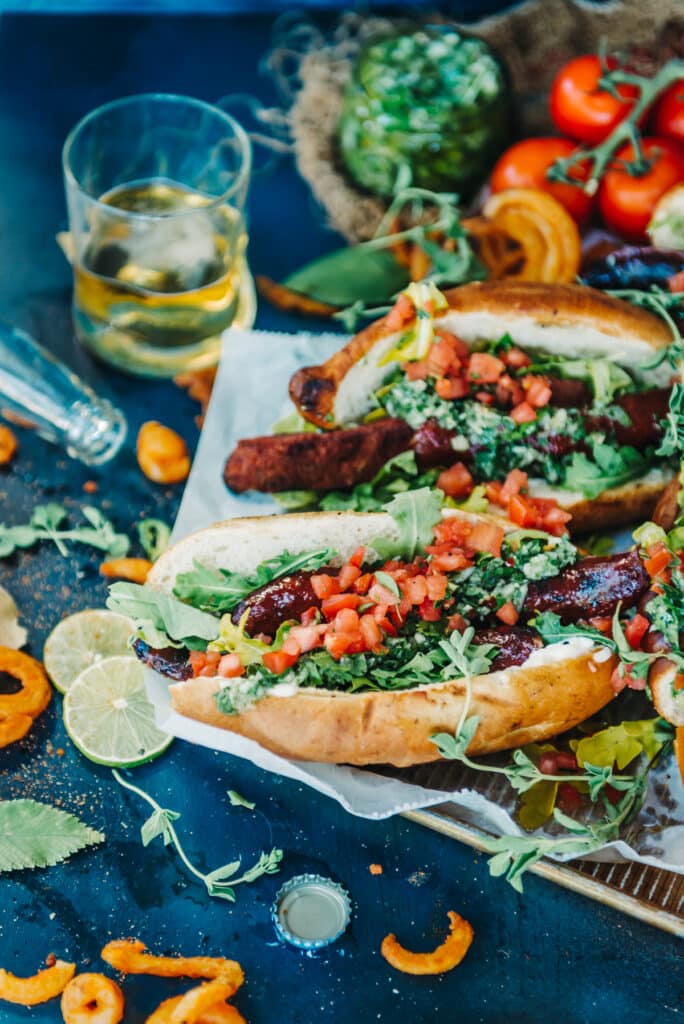 What you need
Choripan consists of two major components – the chori and the pan. Get it, choripán.
The Chori: Chorizo, spicy sausage, typically seasoned with smoked paprika, garlic, salt, and a hint of spice. The paprika is what leaves that signature orange color in the pan as the fat renders in the sausage. It's best to use fresh chorizo for classic flavors and not pre-cooked / pre-cured sausages. Check out the butcher counter and request a good chorizo.
The Pan: Crispy bread, like a French bread loaf, sliced down the center.
Toppings: A batch of chimichurri, the signature sauce made with oil, garlic and herbs. Sometimes minced tomatoes, and onions, or even full-on salsa.
I make a batch of chimichurri almost weekly, mixing up the flavors with whatever herbs I have on hand that need to be used up. Traditionally it's made with oregano and parsley, but, as I have come to call them magic green sauce, I use a blend of cilantro, thyme, and even (but not much, or we're moving towards a pesto) basil.
Want more ways to use chimichurri? Try it on eggs, meatballs, power bowls, and even hearty cuts like picanha. It's pretty much my be all end all sauce.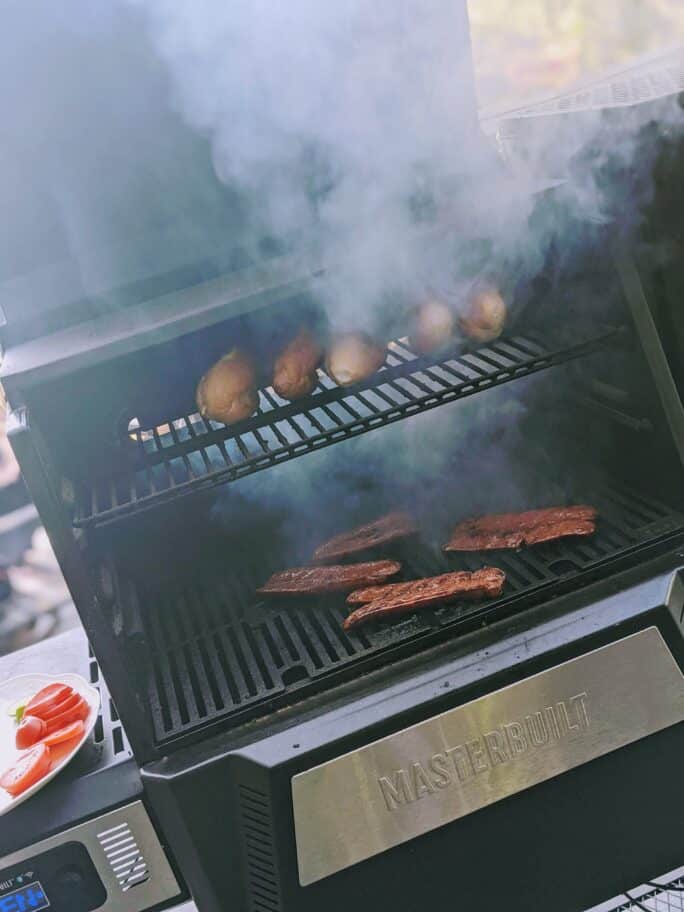 Making choripan
Much like any good grilled sausage sandwich, having the condiments ready ahead of time mitigates any unnecessary steps for when you are ready to grill.
After you have your coals heated (or gas grill set over a medium-high heat) set for indirect grilling, grill the sausages until they are cooked through – to an internal temperature of 160 degrees F according to the USDA.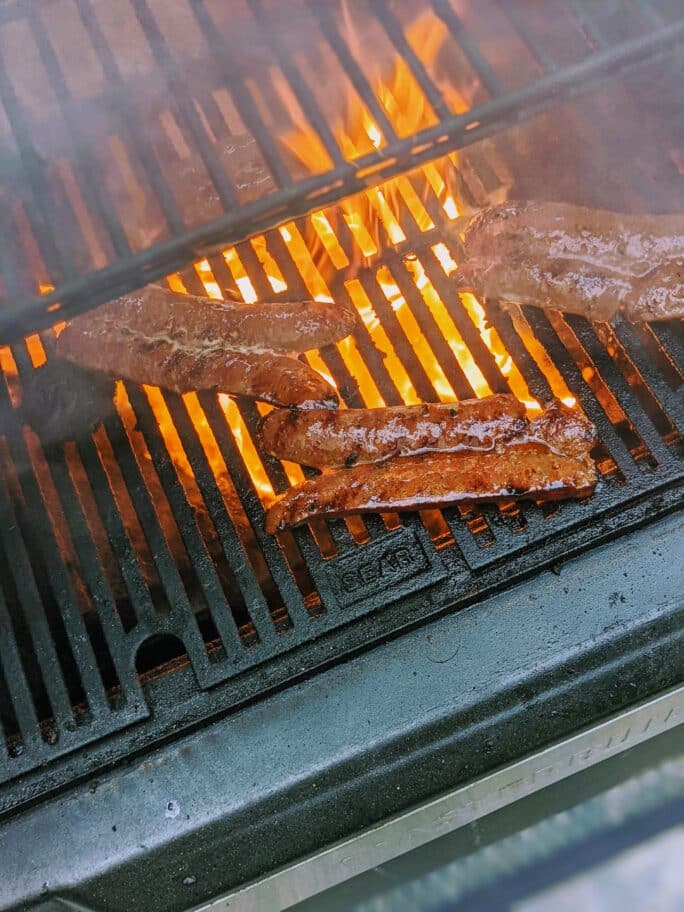 Want more ideas to serve alongside this recipe? Try these!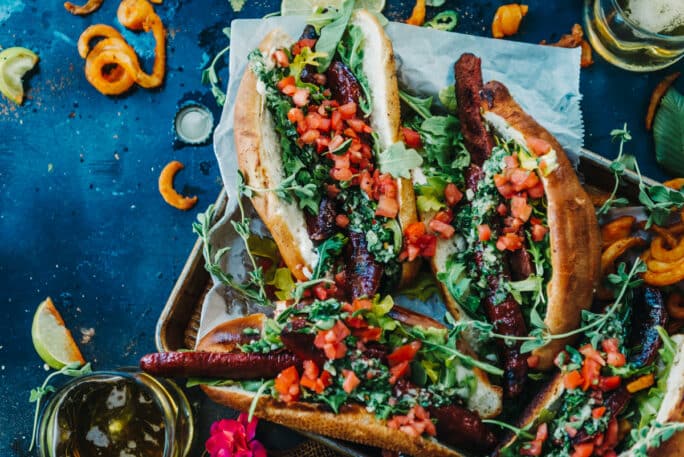 If you've tried this Choripan Recipe or any other recipe on GirlCarnivore.com please don't forget to rate the recipe and let me know where you found it in the comments below. I get inspired by your feedback and comments!
FOLLOW ALONG on Instagram @girlcarnivore as well as on Twitter and Facebook.
Choripan – Argentinian Grilled Sausage Sandwiches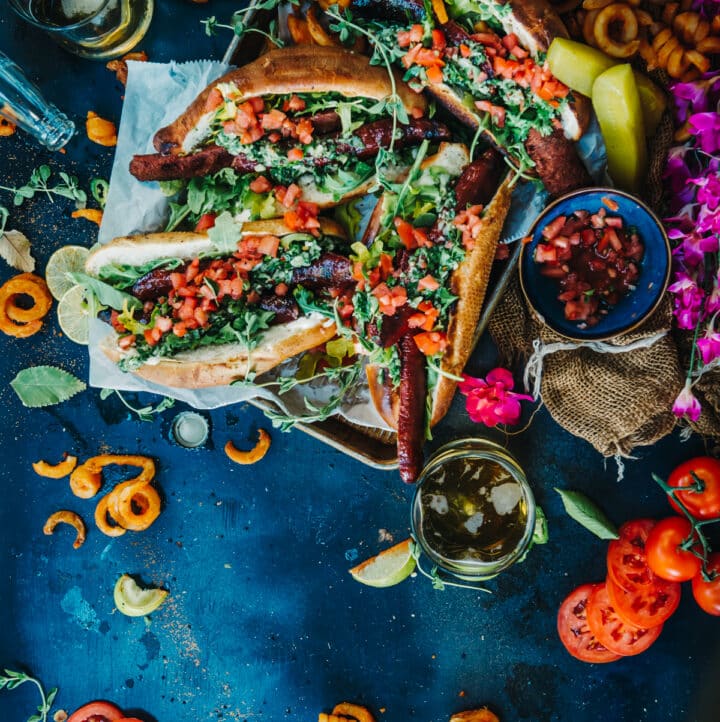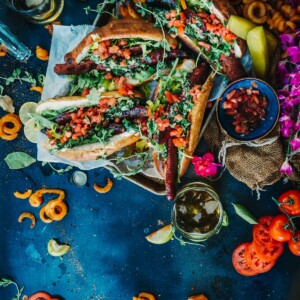 These grilled sausages sandwiches are a tribute to Argentinian Choripan, with spicy chorizo, toasted buns, and a fresh chimichurri. Sausage sandwiches will never be the same.
Ingredients
For the Argentinian Chimichurri
2

Garlic cloves

smashed

¼

Red Onion

roughly chopped

¼

cup

fresh Oregano

1 1/2

cup

fresh Parsley

stems discarded

1/3

cup

canola oil

¼

cup

olive oil

1

tsp

Vinegar

½

tsp

Salt

¼ to ½

tsp

Red pepper flakes
For the Choripan
2

lbs

fresh chorizo

2

loaves French bread

¼

cup

mayo

2 to

matoes

chopped

Fresh arugula

if desired
Instructions
Make the Chimichurri
Using a food processor, pulse the garlic and onion until minced.

Add the oregano and parsley and pulse 5 to 7 more times.

Remove from the stand and transfer to a bowl.

Stir in the canola oil, olive oil, vinegar, salt and red pepper flakes.

Set aside or store until ready to use. See notes.
Grill the Sausage
Preheat the grll to medium-high heat for indirect grilling, around 350 to 400 degrees.

Split the sausages down the center, if desired, and place on the cooler side of the grill.

Grill the horizo, rotating as needed for even cooking and to avoid flare ups. Use caution as fresh sausage had a lot of fat that will drip.

Chorizo is done when it reads 160 degrees F internally with an instant read thermometer, about 10 to 15 minutes.
Assemble the Sandwiches
Slice the bread into even portions to fit the sausages and toast on the grill, if desired.

Slather the mayo evenly over the inside of the bread.

Add arugula, if desired.

Place hot sausages in the center of each bun.

Top with a heavy spoonful of chimichurri and minced tomatoes.

Serve hot.
Notes
Fresh herbs are the key to a good chimichurri. Using dried herbs will not work as a substitute in this recipe.
I like to make my chimichurri in batches ahead of time. I find the flavors infuse in the oils after they have been allowed to marinate together for several hours to overnight.
Store chimichurri in an airtight jar or resealable container for up to 1 week.
When ready to use, spoon some of the sauce into a bowl and let it come to room temperature before slathering it over meat, bread, or veggies.
Nutrition
Serving:
1
g
|
Calories:
396
kcal
|
Carbohydrates:
48
g
|
Protein:
10
g
|
Fat:
19
g
|
Saturated Fat:
2
g
|
Cholesterol:
2
mg
|
Sodium:
570
mg
|
Potassium:
230
mg
|
Fiber:
3
g
|
Sugar:
3
g
|
Vitamin A:
998
IU
|
Vitamin C:
16
mg
|
Calcium:
70
mg
|
Iron:
4
mg