Red Chimichurri (Chimichurri Rojo) is a bright, refreshing oil-based sauce made with aromatic, fresh herbs popular in South America. It's the perfect accompaniment to chicken, veggies, and fresh fish. Red Chimichurri sauce will add a pop of flavor and freshness to any recipe. Plus, it's quick and easy to make!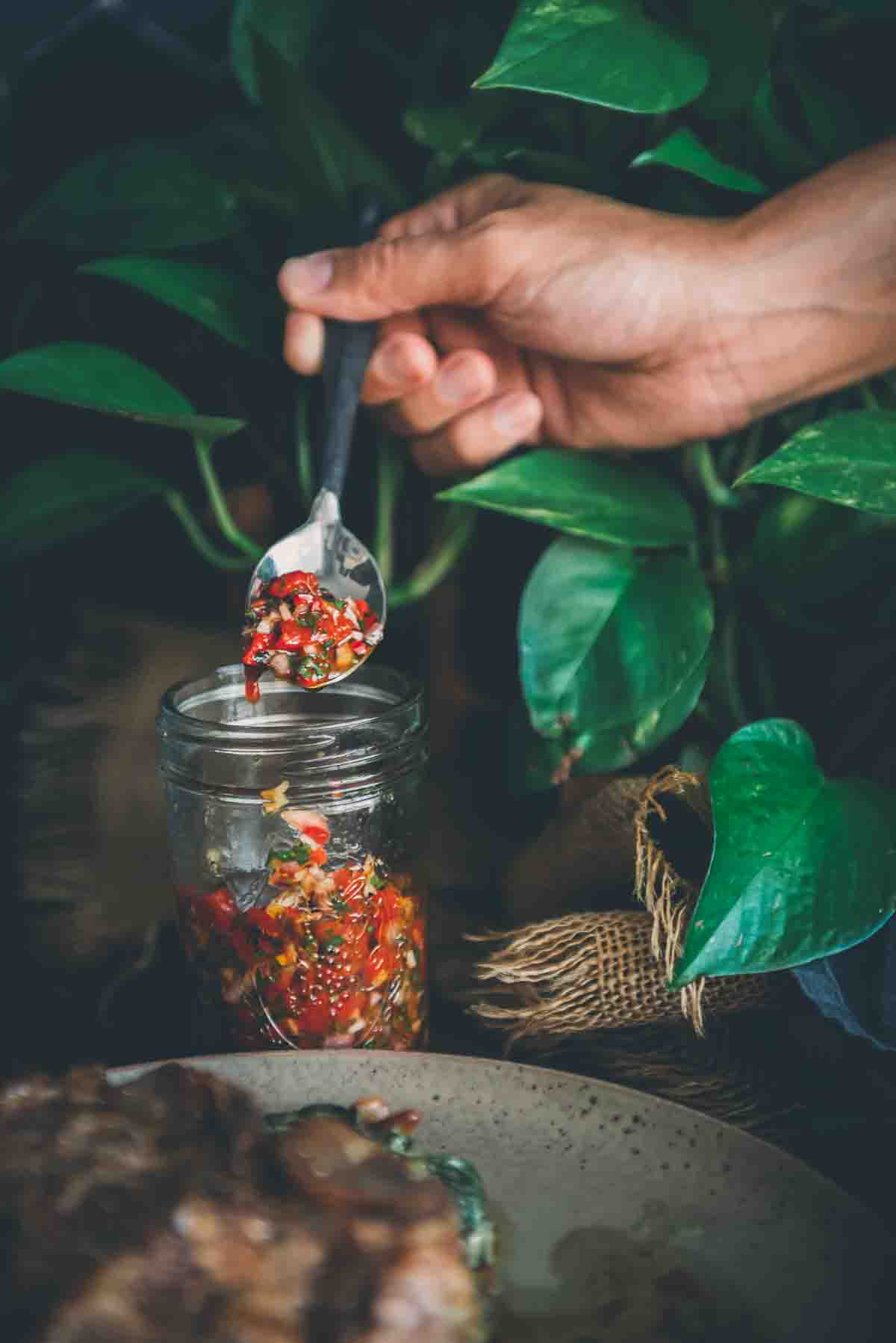 If classic chimichurri is my magic sauce, this smoky red chimichurri sauce recipe is the next best thing!
Chimichurri is such a versatile sauce loaded with fresh ingredients. You can easily swap out some of the herbs to change the flavor profile. Want spicier, add more pepper, want brighter, add more parsley, more lemon juice and so on! This is simple a base, play to create a balance you love.
Next time you're serving dinner, and you're worried your meal is looking a little boring, give this red version a go! Made with fresh herbs, oil, and red wine vinegar, this sauce will take any recipe from bland to absolutely delicious. Plus, you probably already have most of the ingredients in your pantry!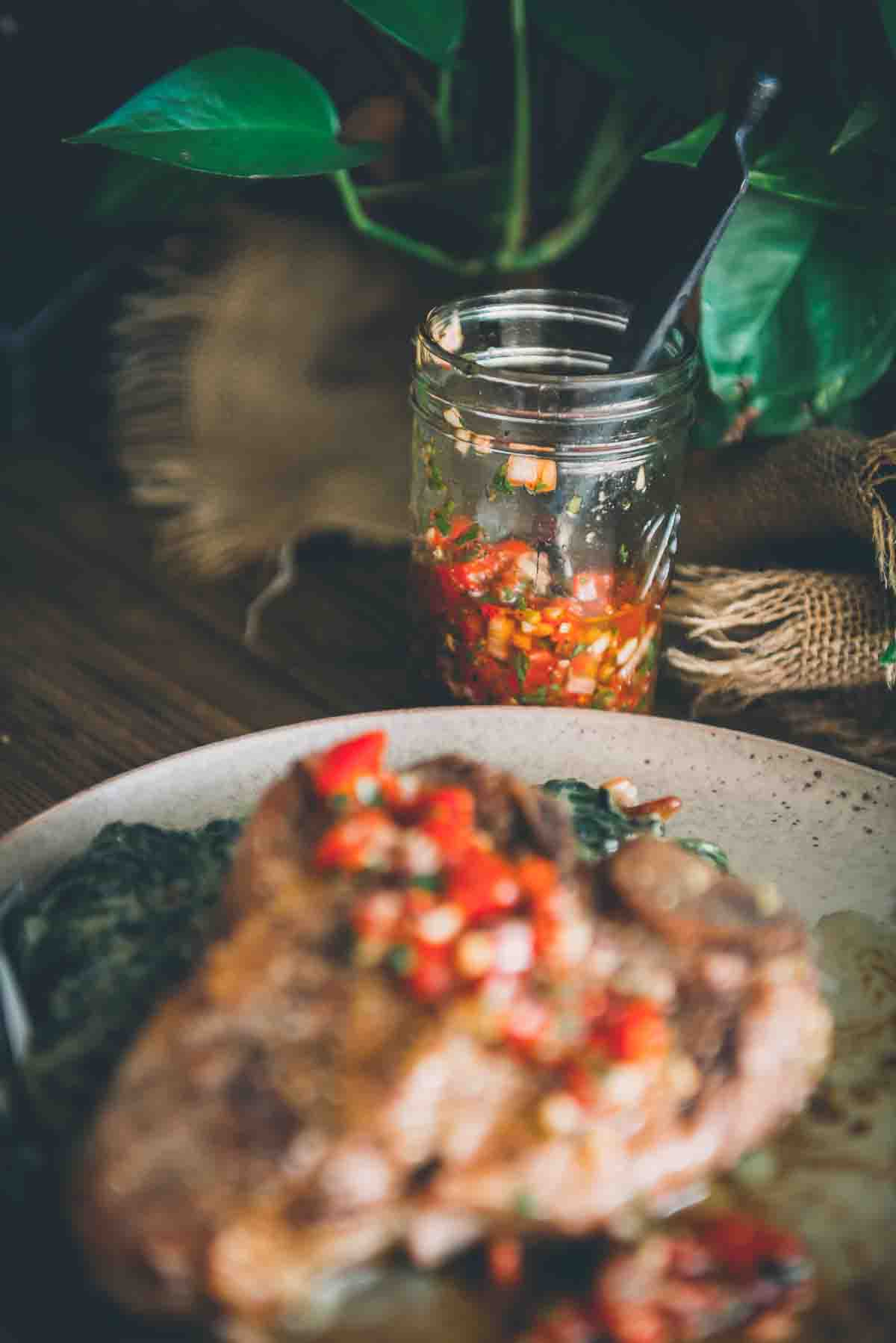 What is Red Chimichurri?
Traditional chimichurri is a fresh sauce consisting of fresh parsley, minced garlic, olive oil, oregano, and red wine vinegar, like my Cilantro chimichurri recipe. It is used in recipes or as a condiment and can be found in Argentinian and Uruguayan cuisines. We dive into a lot of the history in that recipe post too.
There are typically two versions. A green and a red chimichurri are both used in a variety of dishes and as a dipping sauce, marinades, and basting for grilled meats and veggies.
Red chimichurri can be the spicier of the two drawing on red peppers, paprika, and Fresno peppers for added heat and smoky flavor.
Green chimichurri is much more mild but just as delicious. You've probably seen classic chimichurri served at steakhouses (we love it over grilled bavette steak tacos). Its clean, bold flavor makes it a perfect match for a range of dishes, but it's especially popular to serve with grilled steak and other rich meats.
Both work great because the rich oil and bright herbs help to cut the fat of hearty beef and meats.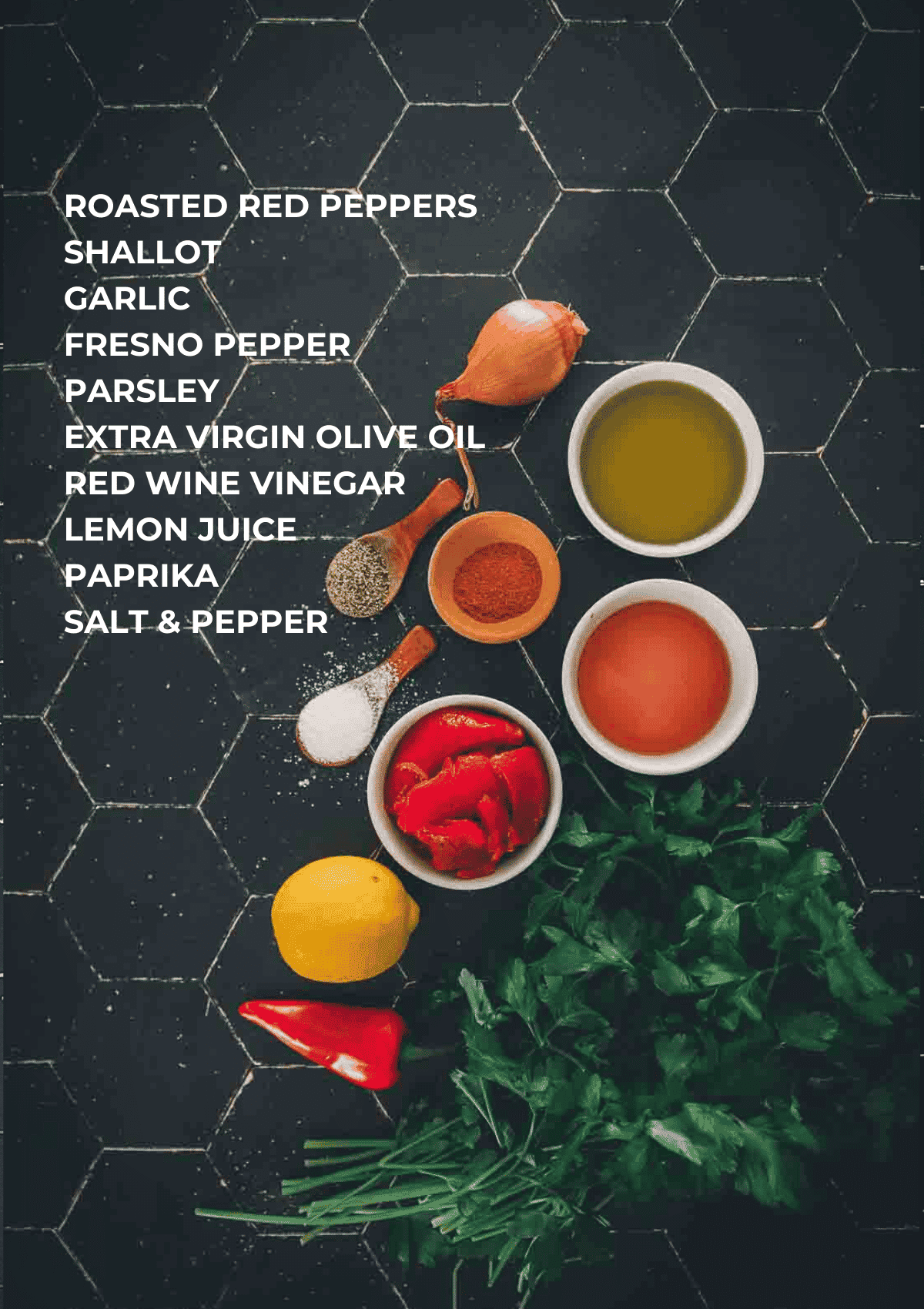 Red Chimichurri Ingredients
To make this red chimichurri recipe, you'll need:
Roasted Red Peppers – look for these in glass jars in the condiment area near the pickles.
Shallot
Garlic cloves
Fresno Pepper
Fresh Parsley – we love flat leaf parsley for our recipes; see our tips below on the best flavors!
Extra Virgin Olive Oil
Red Wine Vinegar
Lemon Juice – from a fresh lemon
Paprika – smoked paprika really pops in this recipe
Kosher Salt and freshly ground blackPepper
How to Make Red Chimichurri
Once you've gathered your ingredients, you're ready to start. This chimichurri rojo is so easy it takes under 5 minutes to make a batch!
Grab a small bowl and add the roasted red peppers, shallot, garlic, and parsley.
Next, whisk olive oil, red wine vinegar, lemon juice, and paprika.
Then pour the extra-virgin olive oil into your red pepper mixture and stir until they are thoroughly combined.
Lastly, season with salt and pepper to taste! Voila! You've got red chimichurri sauce!
Spoon over meats, beef or veal, fish, roasted or grilled veggies, and more!
Pro Tip: Where we love the ease of a food processor, we do not recommend making this sauce in one. The blades quickly pulse the ingredients and when the oil is added create an emulsification, which changes the texture of this entirely.
You can pulse the shallot, garlic, Fresno chili, and parsley in the food processor but leave the rest to chop and mix by hand.
Expert Recipe Tips
If you don't have a Fresno pepper, you can substitute it with jalapenos or piquillo peppers. Make sure to use whatever spice is good for you and your pallet
If you want to up the heat, consider adding some red pepper flakes.
Opt for fresh herbs. Dried herbs will not give you the flavor and texture you're looking for. If you are making a marinade for your chicken wings, dried herbs are fine, but when you are making a classic chimichurri sauce, fresh herbs are a must!
Red wine vinegar is preferred, but if you absolutely have to, white vinegar will work.
Take your time removing the parsley stems. You may be tempted to hack away with the stems still there, but they hold an overpowering woodsy flavor. Removing the parsley stems will ensure you get all the flavors of the parsley you want without any of the harsh woodsiness of the stems.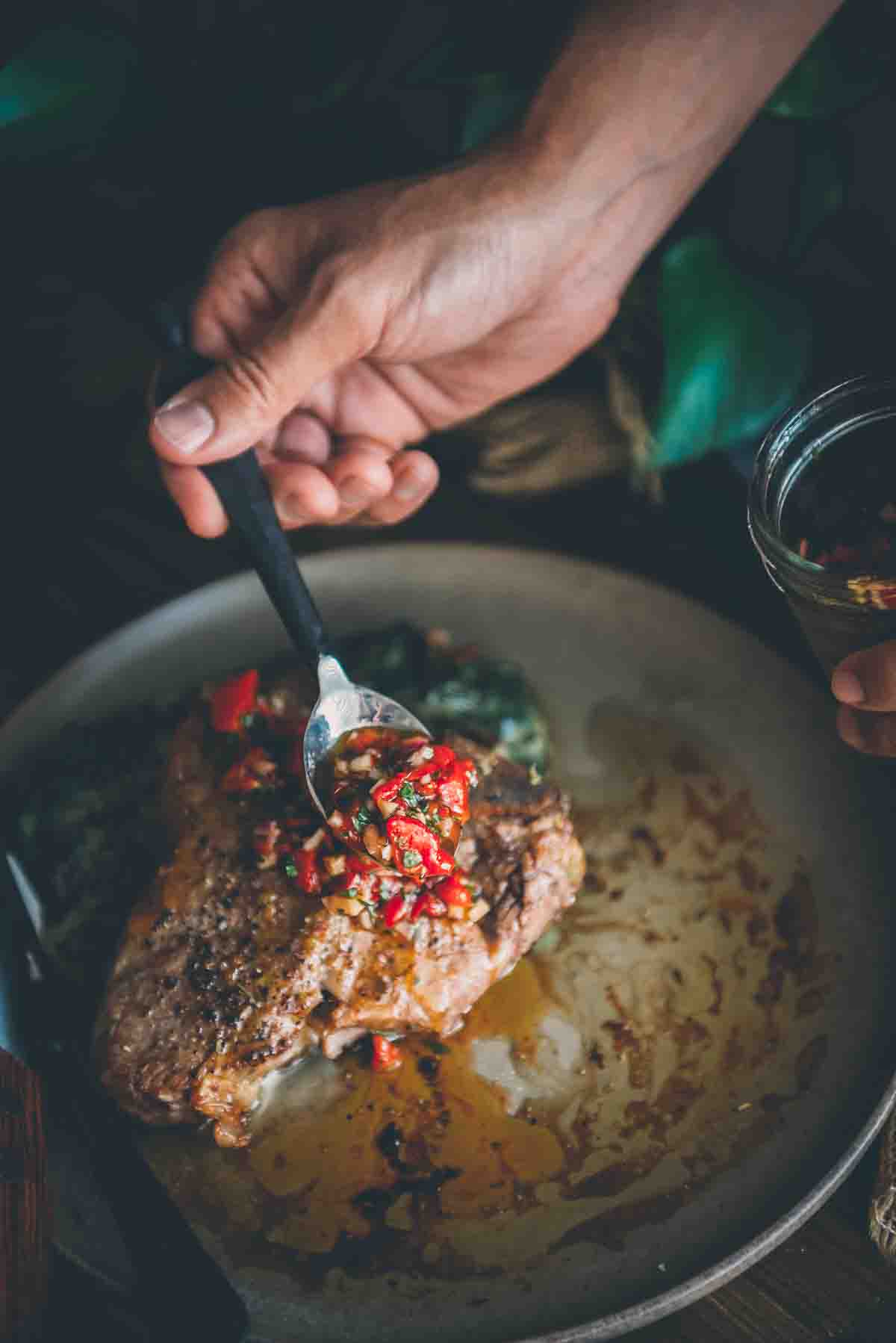 How to Store Red Chimichurri
You can store any leftover Red Chimichurri sauce in an airtight container. A wide-mouth mason jar will do the trick. You can leave it on the counter for up to 3 days and in the fridge for a week. Since it's oil-based, allow it to return to room temp before serving, so the oil liquefies.
Pro tip: use ice cube trays to store the sauce in the freezer for up to 3 months! The ice cube tray will allow you to use the sauce in smaller portions. This way, you don't have to thaw more than you need! Once the cubes are completely frozen, you can transfer them to a bag or container to keep them fresh.
Really want a pop to a dish, simply toss a cube or two of frozen red chimichurri into al dente pasta for an easy meal!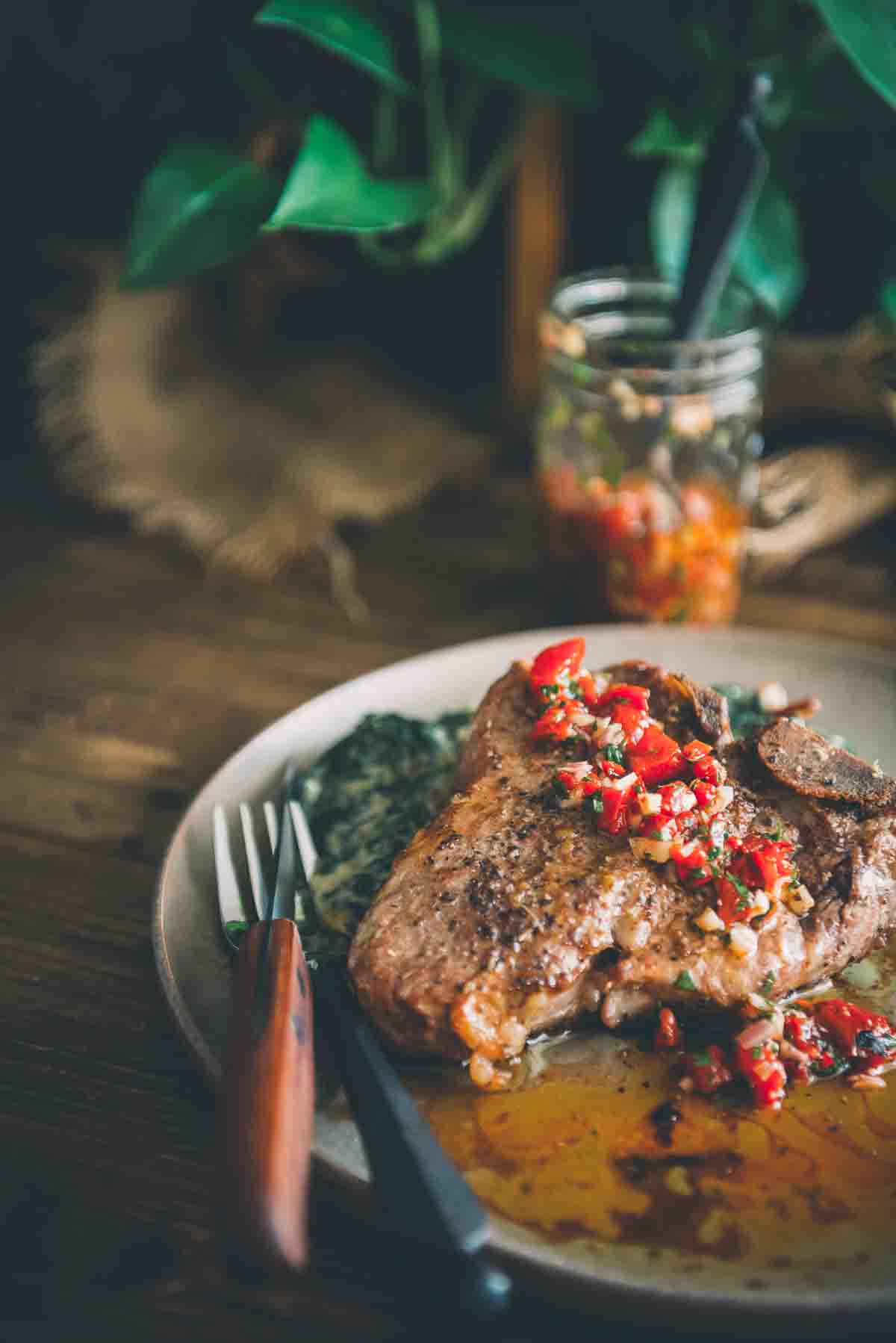 What to Serve With Red Chimichurri
Red chimichurri is one of the most versatile sauces; try it over grilled veal loin chops, Smoked Turkey Legs, Instant Pot Chipotle Chicken Tacos, or Traeger Smoked Chicken Thighs. Chimichurri tastes amazing with any dish, if it sounds good to you—give it a try! You won't be disappointed. 
Red Chimichurri FAQs
What's the difference between red chimichurri and green chimichurri?
Red chimichurri is the spicier of the two. It's made with red pepper, paprika, and Fresno peppers giving it a spicy, smoky flavor and its red color.
Green chimichurri is made with olive oil, parsley, oregano, red wine vinegar, and seasonings. If you're sensitive to spice but still want the bright, refreshing flavor of chimichurri, opt for green.
This spicy sauce is your new best friend. You'll want to put it on everything! It's the perfect way to add some excitement and flavor to any dish. I love how little time it takes to toss together. Chimichurri should be a staple in everyone's household—it's that good!
If you want the perfect chimichurri recipe to serve with tortilla chips, try my Homemade Cilantro Chimichurri! It's one of my favorites!
I hope you enjoyed this red chimichurri recipe. If you did, let me know what you used it for and how it turned out in the comments!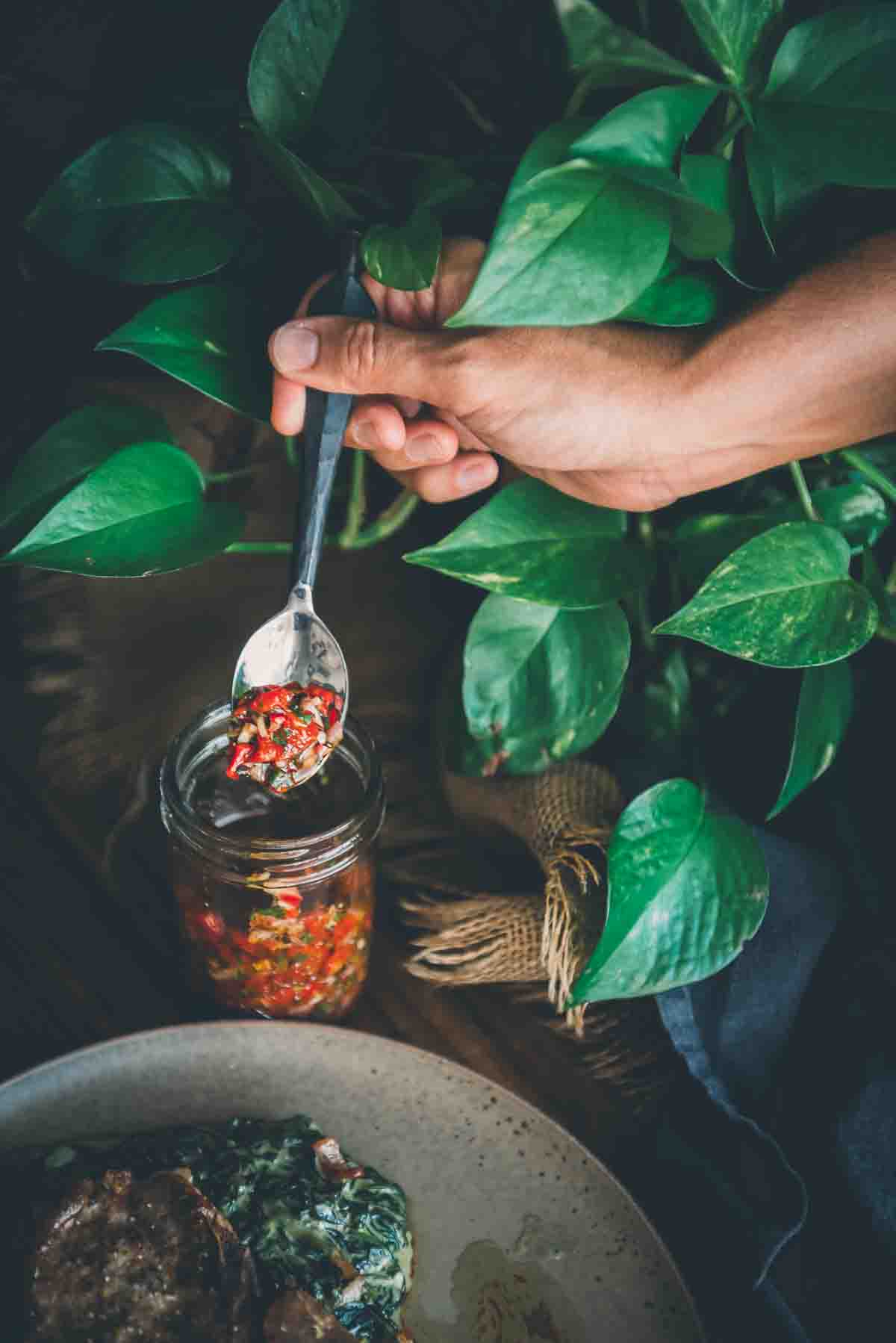 More homemade sauce recipes to try
Red Chimichurri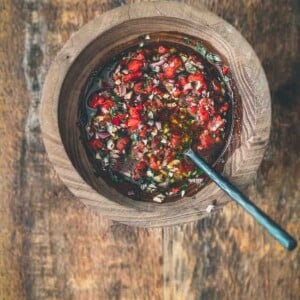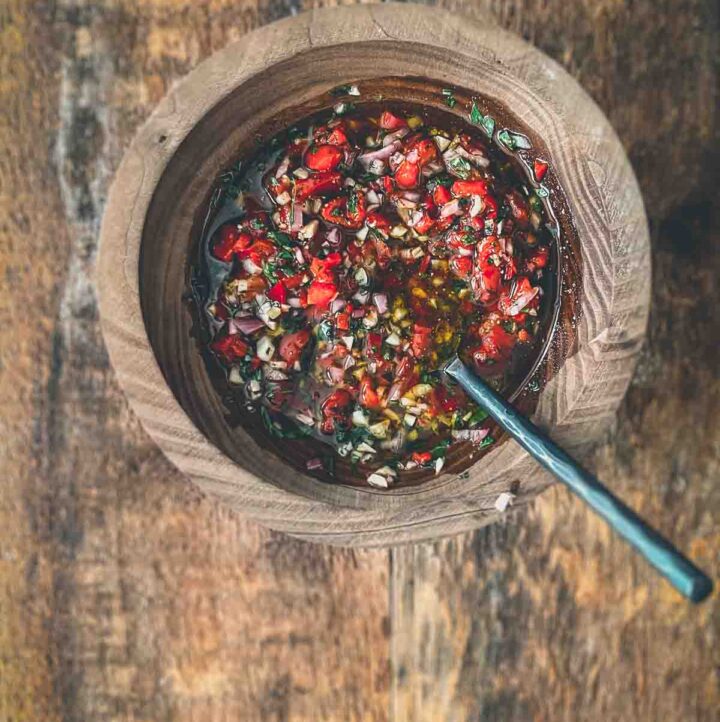 This smoky red chimichurri sauce recipe is full of bright spicy flavor that is begging to be spooned over steaks, meats, grilled veggies and more!
Ingredients
¼ – ½

cup

Roasted red peppers

1

Shallot

minced

2

Garlic

cloves, minced

1

Fresno pepper

seeded, stemmed and minced

1

tbsp

Parsley

minced

½

cup

extra virgin olive oil

1

tbsp

Red wine vinegar

1

tsp

Lemon juice

½

tsp

Paprika

Salt and pepper

to taste
Instructions
In a small bowl, combine the roasted red peppers, shallot, garlic, and parsley.

Whisk together olive oil, red wine vinegar, lemon juice, and paprika.

Stir the olive oil into the red pepper mixture.

Mix to combine.

Season with salt and pepper to taste.

Spoon over meats, fish, roasted or grilled veggies, and more!
Notes
Substitute jalapeno for the Fresno and add more or less to your spice liking.
Feel free to add a pinch of minced fresh cilantro for pop too!
Store in an airtight container in the fridge for up to 4 days. Shake well before opening and using again. Allow the red chimichurri sauce to come to room temperature, so the oil liquefies, before serving.
Nutrition
Serving:
1
g
|
Calories:
63
kcal
|
Carbohydrates:
1
g
|
Protein:
0.1
g
|
Fat:
7
g
|
Saturated Fat:
1
g
|
Polyunsaturated Fat:
1
g
|
Monounsaturated Fat:
5
g
|
Sodium:
31
mg
|
Potassium:
16
mg
|
Fiber:
0.1
g
|
Sugar:
0.2
g
|
Vitamin A:
73
IU
|
Vitamin C:
3
mg
|
Calcium:
3
mg
|
Iron:
0.1
mg