Want the perfect snack food? 5 ingredients is all you need for these fan favorite bacon wrapped chrizo stuffed jalapeno poppers!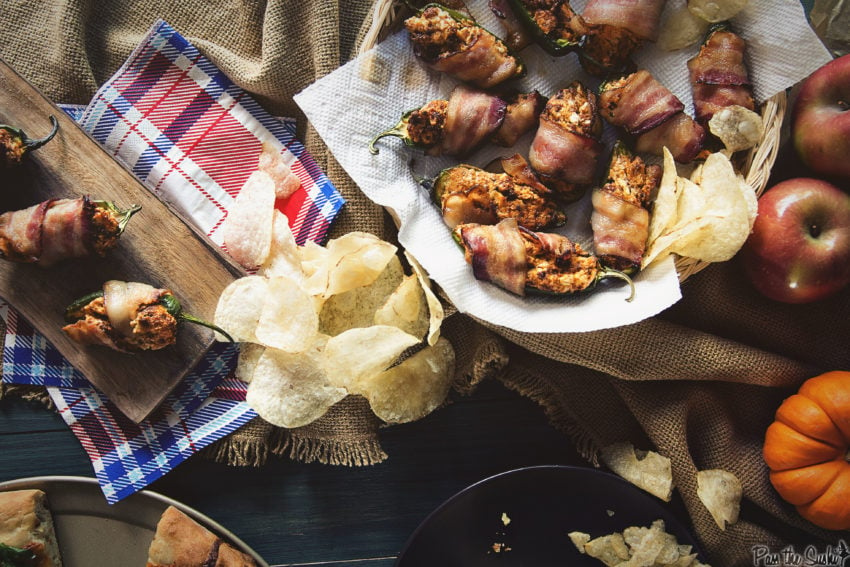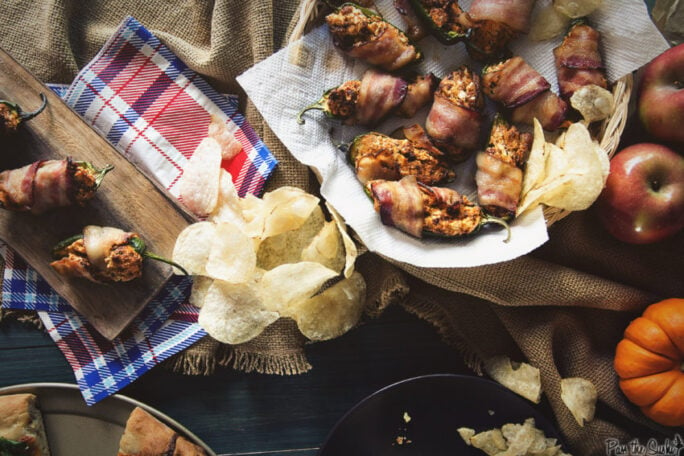 Ultra Amazing Bacon Wrapped Chorizo Jalapeno Poppers
Pop a bacon wrapped jalapeno pepper into your mouth. Don't fear the heat. The bacon and the cream cheese help you offset the pain by distracting your tastebuds with taste and texture. Not only are you going to live, but you are going to love the nip of heat too.
Ok, I have to confess… Don't be surprised if when you eat these you suddenly hear something that sounds like a couple of cherubs playing harps while riding silver lined clouds.
They are so divine.
If you take them to a tailgate and your team loses, then you still leave a winner regardless. Because you will feel like you scored every bite you took.
Win.
You may have eaten jalapeno poppers before (or maybe even campfire fries with creamy popper dip), but have you ever eaten chorizo-stuffed and bacon-wrapped poppers before? Prepare to be amazed.
Chorizo Can Mean Many Things
Chorizo style pork goes back thousands of years. Any food that has been around that long will of course be transformed by the course of history and the migrations of regional recipes.
Chorizo is no exception. Basically, chorizo is typically spiced chopped pork sausage stuffed and smoked in a natural casing. The most consistent seasoning country to country, region to region, town to town, is the smoked paprika. (Known as "pimenton" in Spanish and you should keep a barrel of it on hand to use in recipes. Its awesomeness knows no bounds).
If it comes from Mexico though it can be made with beef, lamb, chicken, or even tofu. I apologize for the last one. That word should never appear on this site. Please excuse me. I promise to never ever let it happen again. However, you should check out these meatballs (no tofu, all meat promise)
From Portugal and Spain then it can come either fermented and dried, hot, sweet, or smoked and ready to eat without cooking. If you find chorizo in the fancy deli section of the market then likely it is the European style version of it.
If you are lucky enough to be close to a Mexican Carniceria (butcher shop) then go in there and get some Mexican style chorizo. Usually the shop makes its own and will have its own style of seasoning.
When you are in the grocery store, then you might see tubes of chorizo meat or you might see "chorizo seasoned ground pork" in the refrigerated Latin section, or even now in the pork area by mainstream brands as a ground option.
Make sure you get a chorizo that will crumble, not the sausage kind that hold together when sliced. (Reserve that stuff for kicking up your mac and cheese).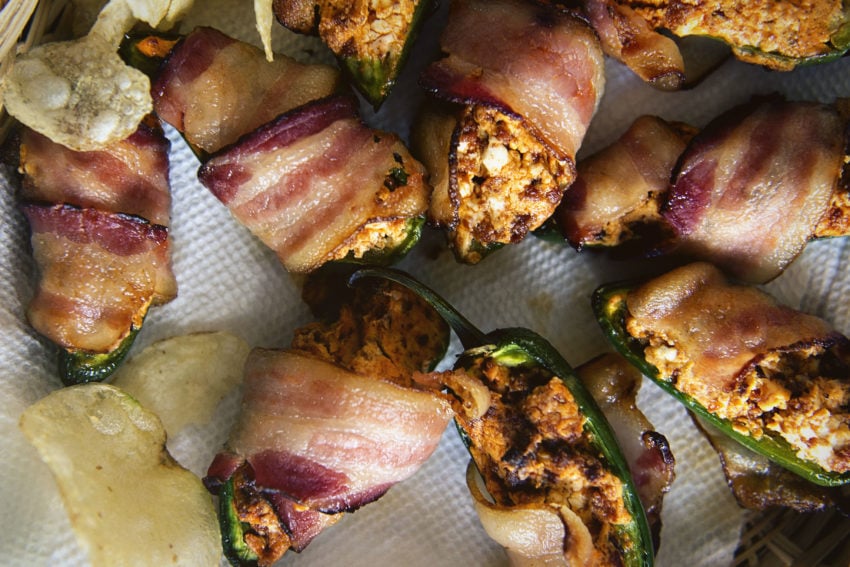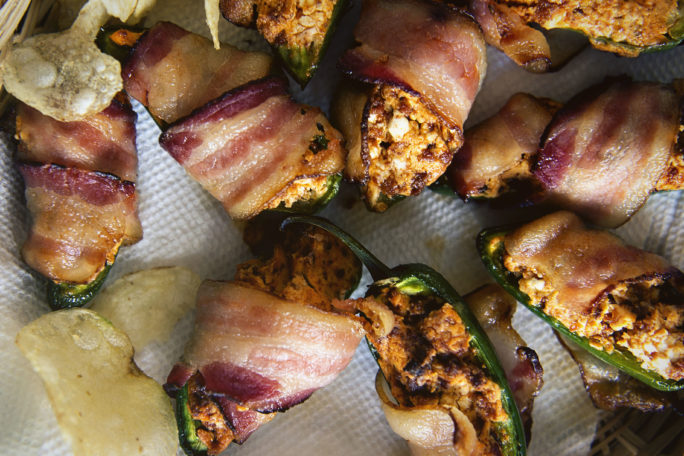 Jalapenos Are Not The Only Pepper For Poppers
Jalapenos are the go-to pepper for poppers but they are not the only game in town. Depending on your tolerance for heat you can do bacon-wrapped poppers with a pretty wide selection of peppers.
You can go hot or not – don't feel like you are not invited to the dance just because you can't tolerate a bit of heat. Jalapenos work well because they are relatively thick and won't split open, but there are other peppers that work as well.
If you don't want any heat then seek out those bags of multi-colored sweet baby bells. They tend to be a bit thinner walled, so make sure to use really thinly cut bacon. That way you still will cook the bacon in time with the pepper.
Banana peppers look like yellow jalapenos and they are very mild. A hint of heat, but even a baby can handle it.
Of course, if you want to bring on the heat, then habaneros or scotch bonnets will singe your mouth properly.
Also, if you want to control the heat a bit more then make sure to remove those white strips of pith the seeds are attached to and the seeds. Those are the hottest part of the peppers.
The Right Bacon For Wrapping
Pretty much any brand will have a bacon to fit your needs, but I know I personally play favorites.
For these poppers, avoid the bacon that is too thick. It doesn't wrap easily and it takes longer to cook. The thinner slices work best. Even where you overlap the strip will still cook and will hold together well as you cook the popper.
Also, make sure your bacon wraps around the entire "boatload" of stuffing in your halved pepper.. It will help keep everything inside when the sizzling starts.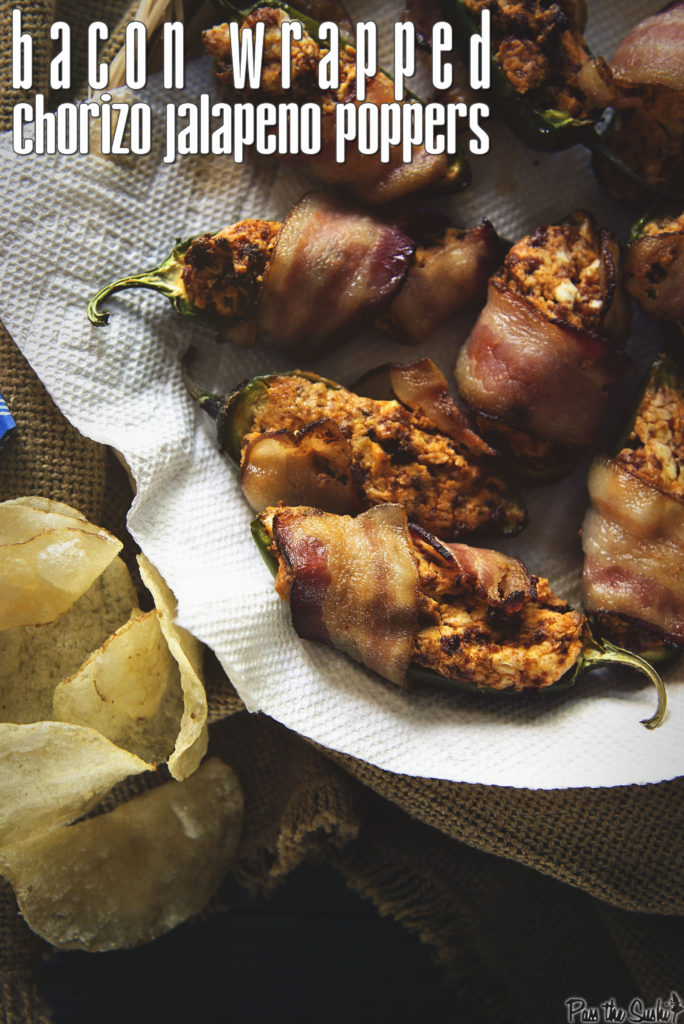 Some Great Appetizers To Take To The Tailgate
If you want other foods that travel well for picnics, tailgates, or just the backyard bbq, then happy to help make some suggestions!
If you've tried my Bacon Wrapped Chorizo Stuffed Jalapeno Poppers recipe or any other recipe on GirlCarnivore.com please don't forget to rate the recipe and let me know where you found it in the comments below. I get inspired by your feedback and comments! You can also FOLLOW ME on Instagram @girlcarnivore as well as on Twitter and Facebook.
Bacon Wrapped Chorizo Stuffed Jalapeno Poppers
These bacon wrapped jalapeno poppers are stuffed with a spicy chorizo filling and perfect for your next game day snack!
Ingredients
12

fresh jalapenos

4

oz

fresh chorizo

removed from casing

8

oz

cream cheese

softened

4

oz

sharp cheddar cheese

shredded

12

slices

bacon
Instructions
Slice the jalapenos in half and remove the seeds and as much of the inner walls as possible. Set aside.

Brown the chorizo in a skillet over medium-high heat until cooked through. Drain on a paper towel. Let cool.

In a bowl combine the cream cheese with the chorizo and cheddar.

With a tablespoon, scoop cream cheese filling into each jalapeno half (use your thumb to press the cream cheese mixture in place if needed).

On a clean work surface, arrange 12 slices of bacon and slice in half at the middle.

Starting at the bottom of each filling stuffed pepper, wrap each in bacon and arrange on an oven-safe wire rack, filling side up to prevent spilling.

You can store the peppers in the fridge for up to 4 hours until ready to cook.

If cooking in an oven: When ready to cook, line a baking sheet with aluminum foil and preheat the oven to 375 degrees F.

Place the wire rack on the prepared baking sheet and bake for 20 to 25 minutes until bacon is cooked and crispy.

If smoking: Preheat your smoker to 335 degrees and place the jalapeno poppers over the grill grates, lining with foil if your heat isn't offset.

Smoke for about 45 minutes to 1 hour until the bacon is crisp. 

Allow to cool 10 minutes before serving.
Nutrition
Nutrition Facts
Bacon Wrapped Chorizo Stuffed Jalapeno Poppers
Amount Per Serving
Calories 120
Calories from Fat 99
% Daily Value*
Fat 11g17%
Cholesterol 26mg9%
Sodium 191mg8%
Potassium 75mg2%
Carbohydrates 1g0%
Protein 4g8%
Vitamin A 255IU5%
Vitamin C 8.3mg10%
Calcium 45mg5%
Iron 0.2mg1%
* Percent Daily Values are based on a 2000 calorie diet.