Looking for the perfect appetizer? These smoked Bacon-Wrapped Jalapeño Poppers are a 5-ingredient fan favorite. They're made up of jalapeño, chorizo, cream cheese, and cheddar; all wrapped up in perfectly cooked, crispy bacon.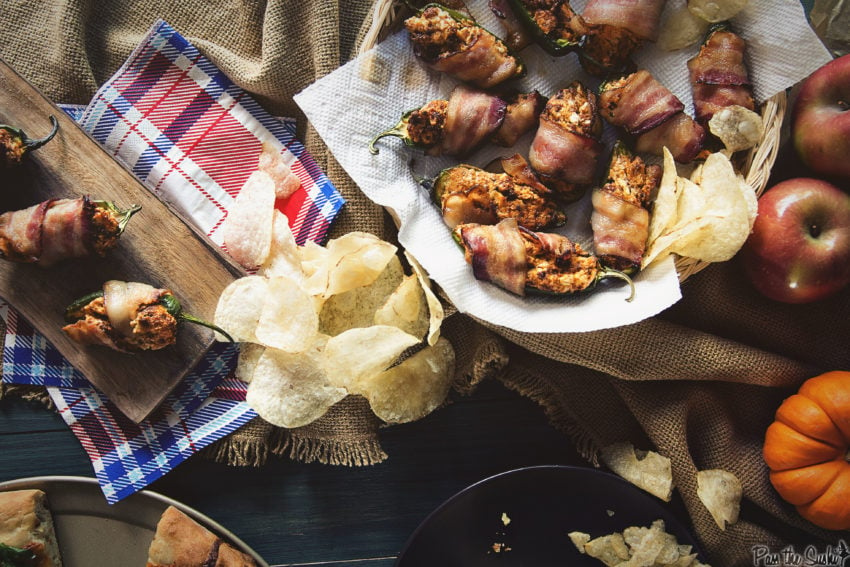 Need some delicious appetizer recipes to serve at your next party or family gathering? Look no further than these bacon-wrapped jalapeño poppers – the perfect party appetizer and side dish for those who love a bit of heat in their food. With simple ingredients like fresh jalapeños, smoky bacon, and a rich cream cheese mixture, this classic appetizer is a huge hit on social media and at any game day snack table.
What Are Bacon-Wrapped Jalapeno Poppers?
Bacon-Wrapped Jalapeño Poppers are made with spicy jalapeños scooped out and topped with yummy chorizo and cream cheese, then wrapped in thin-cut bacon! First, you take a spicy jalapeño, cut it in half, and remove the white membrane. Then, you stuff it with cream cheese and wrap it in a strip of bacon. Next, you can either bake them in the oven or, if you're fancy, air fry them for a crispy, delicious finish. And voila! You've got a savory jalapeño popper perfect for any party or gathering!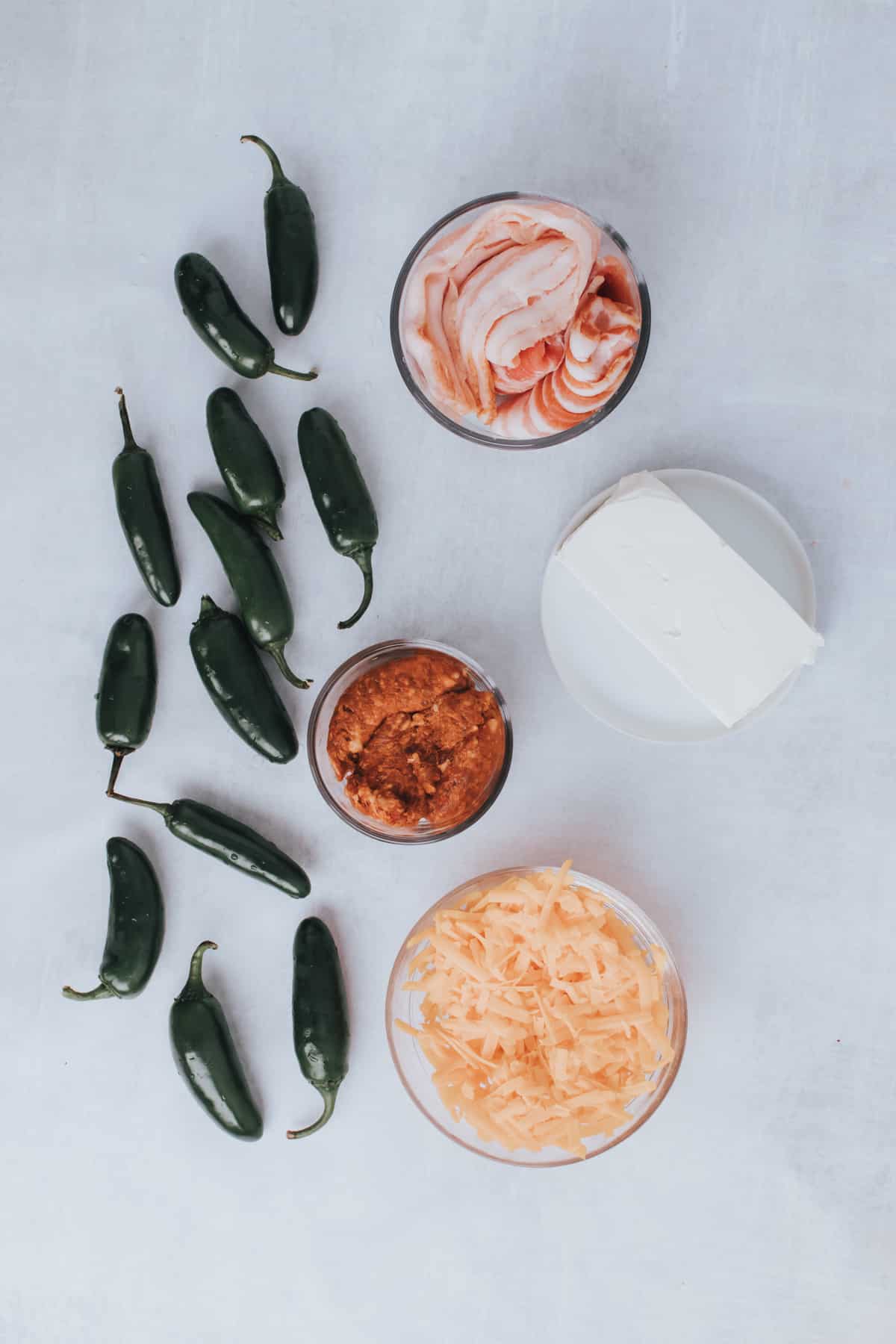 Bacon-Wrapped Jalapeno Poppers Ingredients
Jalapeños
Chorizo – Use any type of Chorizo you like, whether that's hot, sweet, smoked, Mexican-style, you name it.
Cream Cheese – Softened to room temperature.
Bacon – Use thin-cut bacon so it wraps easily and cooks fully.
How to Make Bacon-Wrapped Jalapeno Poppers
Slice the jalapeños in half, then remove the seeds and as much of the inner walls as possible.
Brown the chorizo in a skillet until cooked through, then drain on a paper towel. Set aside.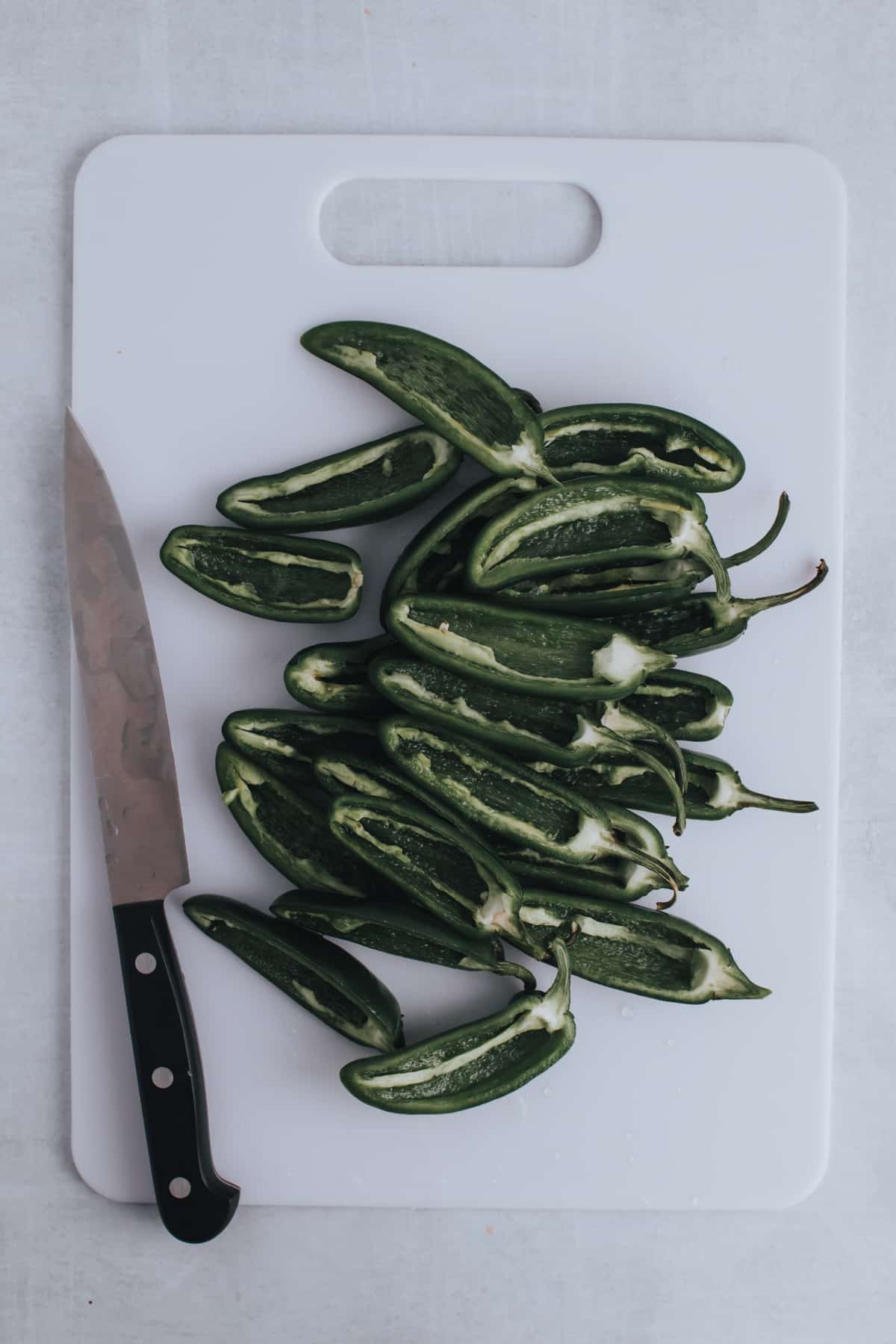 In a small bowl, combine cream cheese, chorizo, and cheddar.
Use a tablespoon to scoop the cream cheese filling into each jalapeño half. Use your thumb to press the mixture in place, if necessary.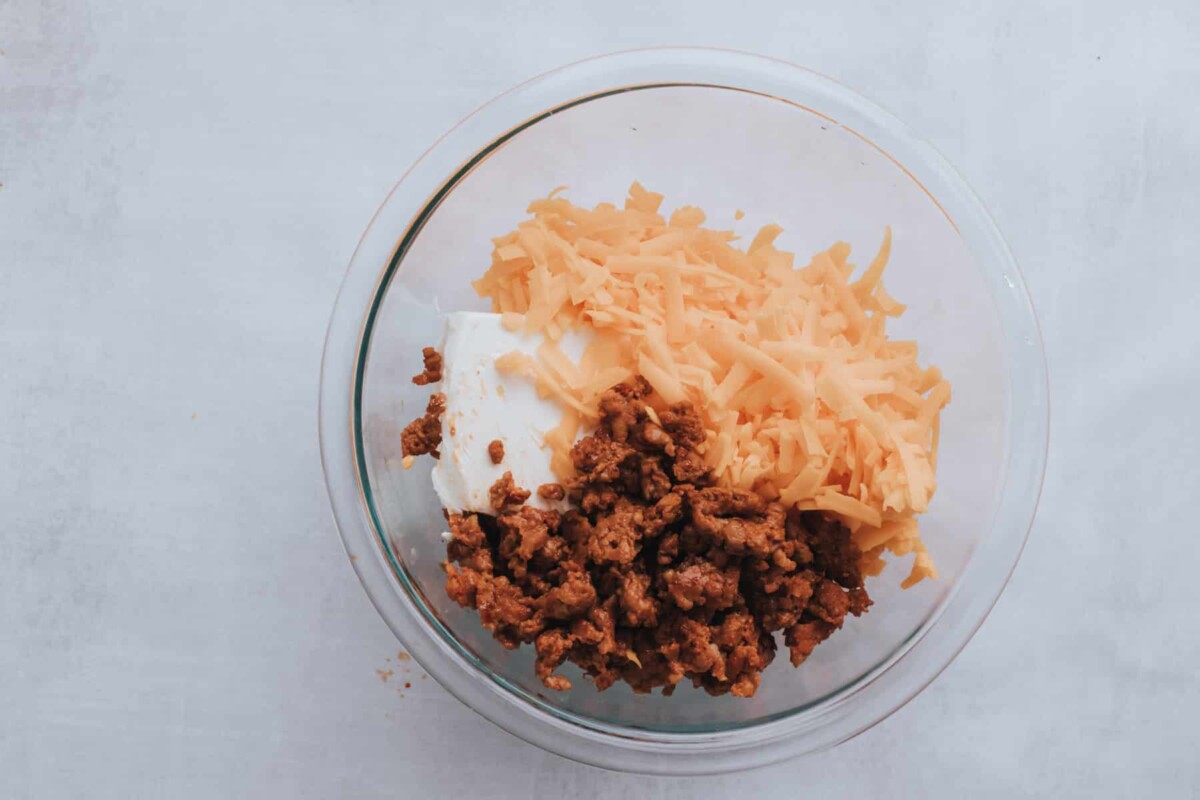 Arrange 12 slices of bacon onto a clean work surface, slice each in half in the middle, then wrap each jalapeño half in 1 slice of halved bacon.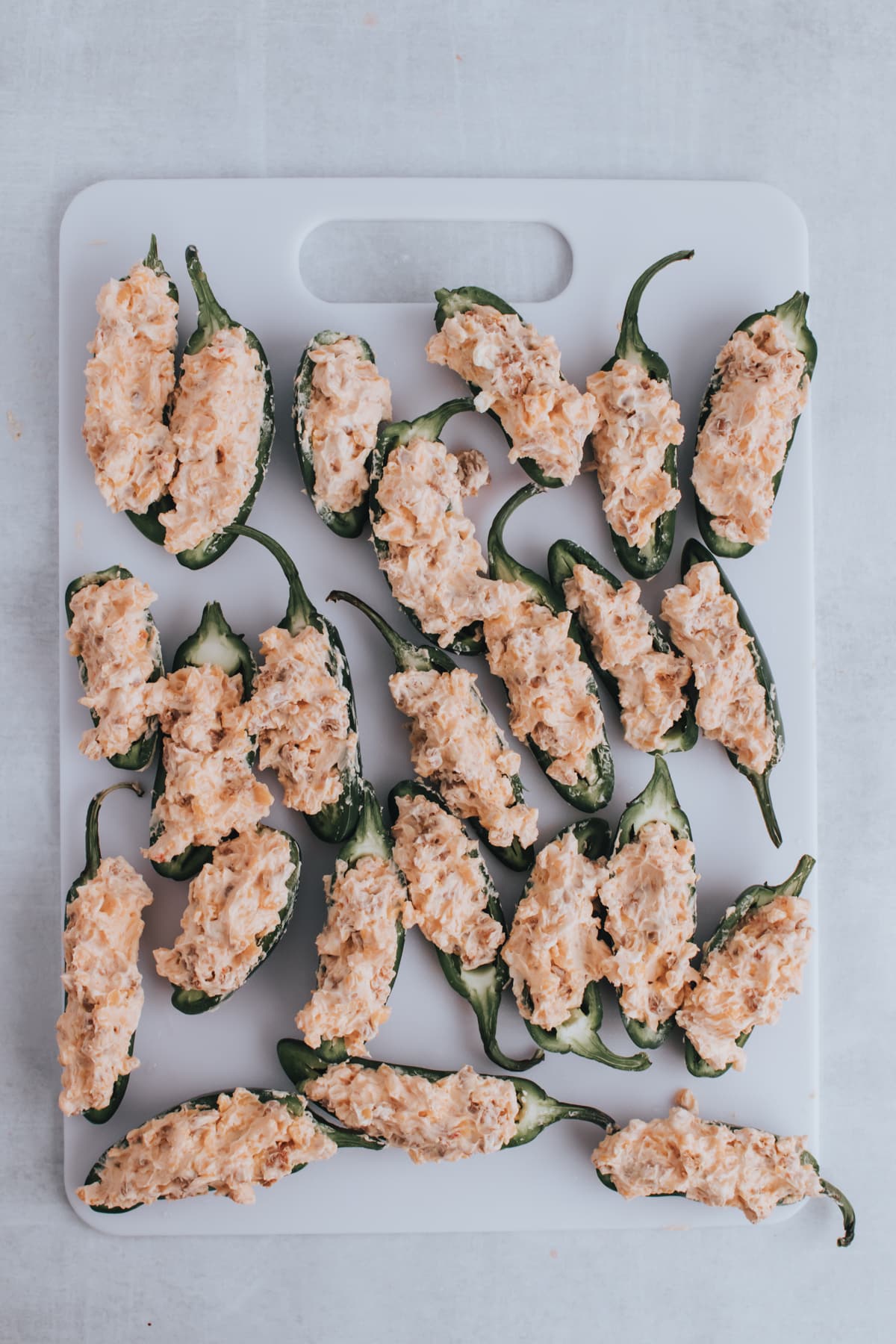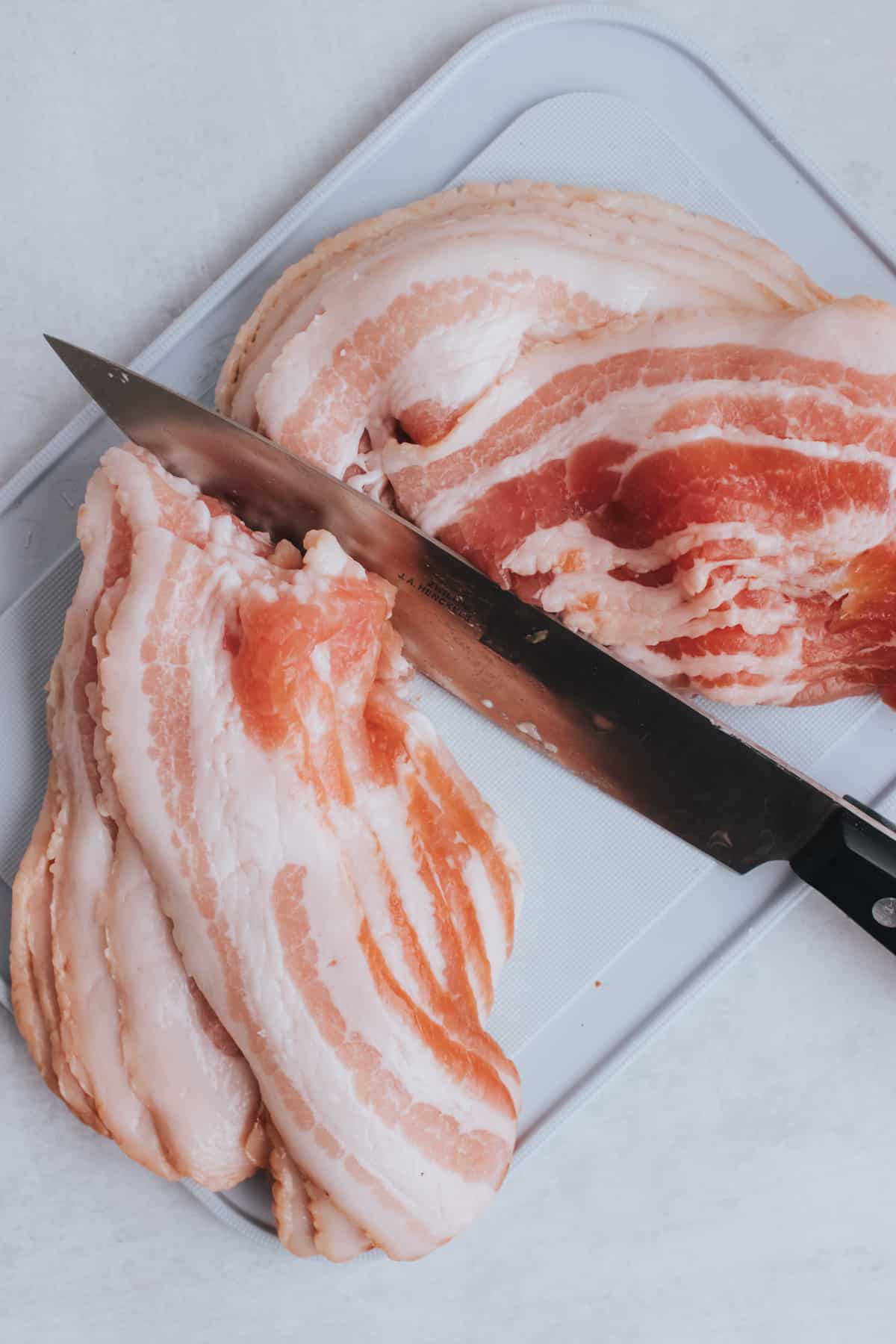 If baking: place jalapeño halves on an oven-safe wire rack in a single layer with the filling side up, then place the rack on a baking tray lined with aluminum foil or parchment paper. Bake at 375ºF for 20-25 minutes.
If smoking: place the jalapeño poppers over the grill grates (lining with foil if your heat isn't offset), then smoke at 335ºF for 45-60 minutes.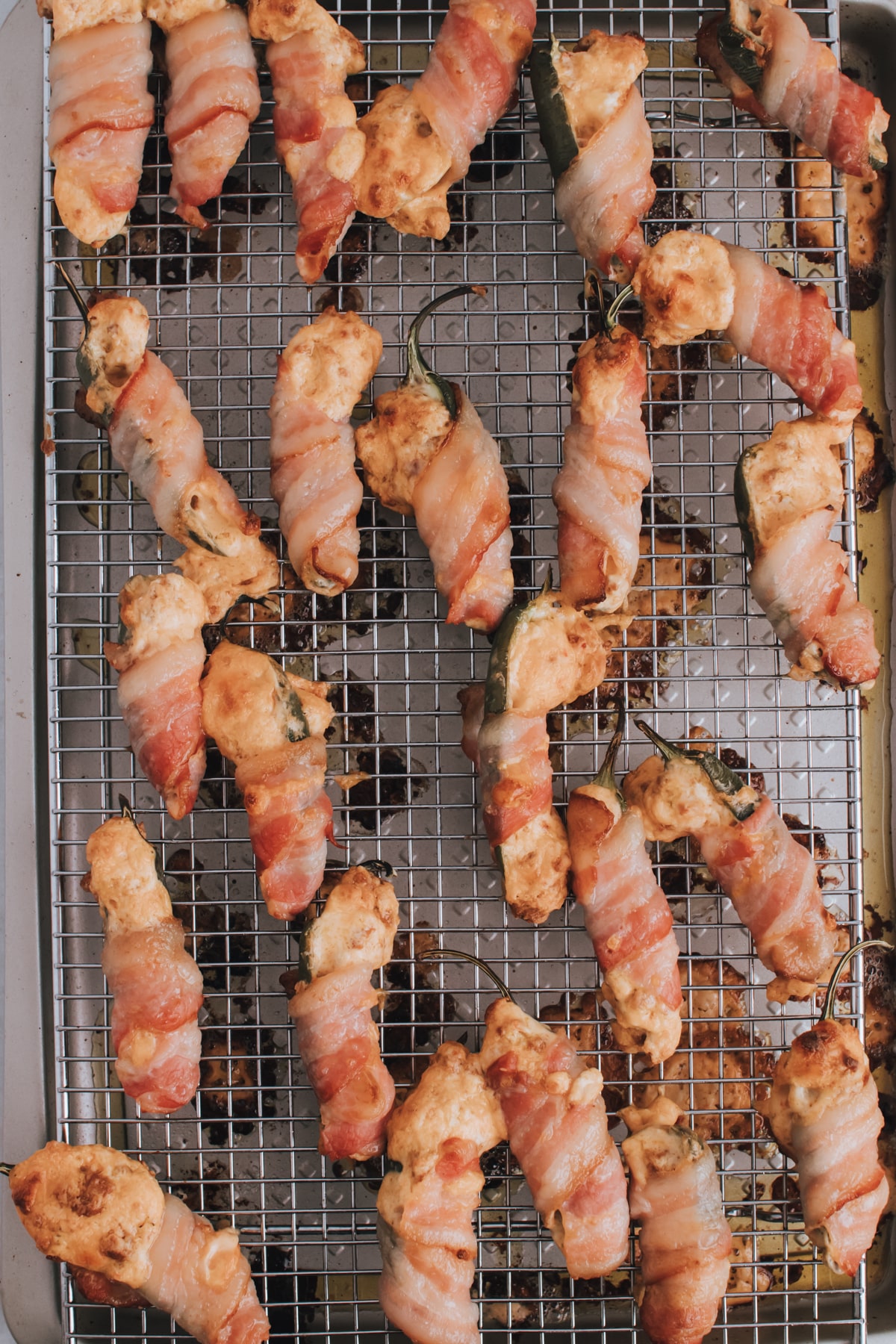 Let the poppers cool for 10 minutes before serving! Then, serve with ranch dressing or any of your favorite sauces!
Girl Carnivore Expert Recipe Tips
If you want to control the heat a bit, remove the white strips of pith and the seeds from the jalapeños. Those are the hottest part of the peppers.
You can use pretty much any brand of bacon you like, but make sure you avoid thick-cut bacon. If it's too thick, it will be hard to wrap and take longer to cook. Thinner works best!
Wrap the bacon around the entire "boatload" of stuffing in each halved pepper. This helps keep everything inside the popper.
Make sure you get a chorizo that will crumble, not the sausage kind that holds together when sliced.
If you don't have a smoker, you can bake these in the oven. However, the smoker does add a little bonus flavor that I think really makes these poppers.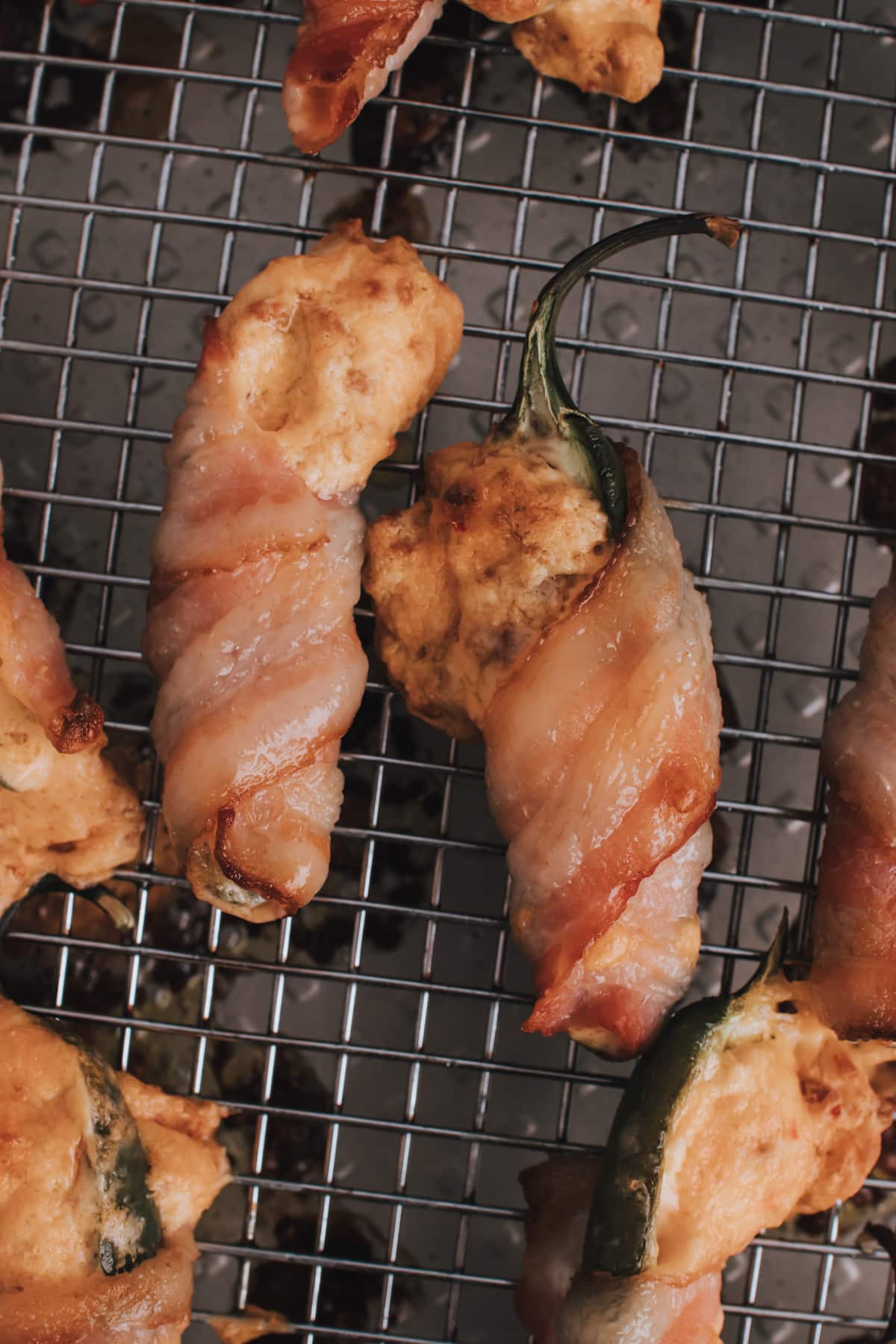 Leftovers & Reheating
Leftover, cooked poppers will last in the fridge for up to 5 days in an airtight container. Then, to enjoy again, bake in the oven at 350ºF for 10 minutes or until they're heated through.
What to Serve With Bacon-Wrapped Jalapeno Poppers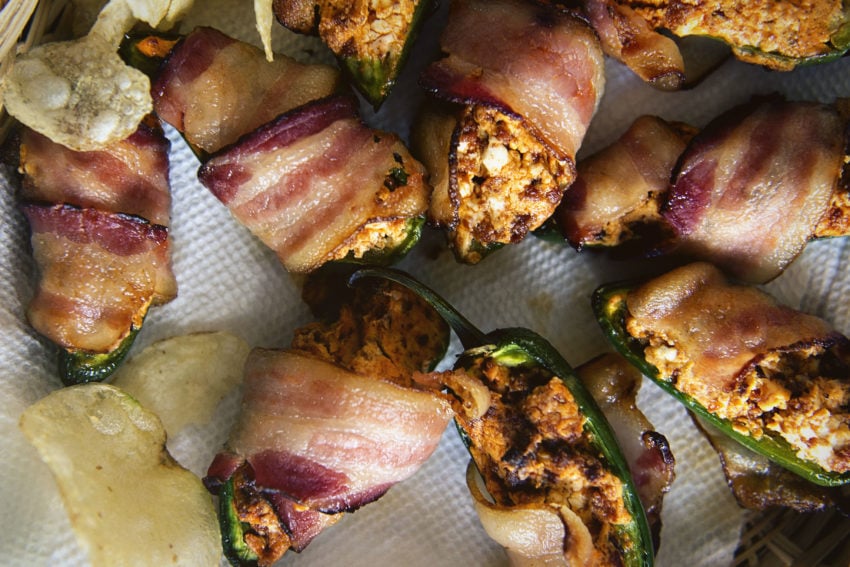 Recipe FAQs
CAN YOU USE ANOTHER PEPPER?
Yes! Although jalapeños are the go-to pepper for poppers, they are not the only option. Depending on your tolerance for heat, you can do bacon-wrapped poppers with a pretty wide selection of peppers—hot or not!
Bell Peppers – if you don't want any heat, seek out those bags of multi-colored sweet baby bells. These tend to be a bit thinner walled, so make sure to use really thinly cut bacon so the pepper and bacon are done cooking at the same time.
Banana Peppers – these look like yellow jalapeño peppers. They're very mild, with just a hint of heat that even a baby can handle!
Poblano Peppers – these are bigger, so they would be more like a meal than an appetizer like these enchilada stuffed peppers. Make with more chorizo and rice for a main course.
NOT RECOMMENDED: Habanero Peppers or Scotch Bonnets – these two options will singe your mouth properly, and the heat overwhelms the enjoyment of the cheesy chorizo popper.
ARE JALAPEÑO POPPERS SPICY?
Yes, jalapeño poppers are spicy, but the cream cheese in the filling helps to curb the heat from the peppers.
CAN JALAPEÑO POPPERS BE MADE AHEAD OF TIME?
They sure can! To make these poppers ahead of time, simply prep and fill as directed, then place the unbaked poppers onto a lined baking sheet. Cover with saran wrap and store in the fridge for up to 2 days. Then, for best results, enjoy the next day.
When you're ready to bake, bring to room temperature, then bake as directed.
CAN I MAKE AIR FRYER JALAPEÑO POPPERS?
Absolutely! Pop them into the air fryer and cook at 375ºF for 18 minutes.
CAN I USE ANOTHER TYPE OF CHEESE OTHER THAN CREAM CHEESE!
Yes! You can use a mixture of cheeses, Mexican blend cheese, pepper jack cheese, sharp cheddar cheese, etc. The cream cheese works well as a creamy filling that cuts the heat, whereas the other cheeses would melt in a different way. We suggest mixing your desired additional cheeses into cream cheese for the best results.
More Delicious Appetizer Recipe
These easy appetizers will surely become a crowd favorite at your next party! Not only are these poppers a low-carb favorite, but they also showcase the magical powers of bacon. Cooked to perfection with chorizo and cream cheese, these poppers will hit the spot in one fell swoop. Be sure to rate the recipe card and leave a comment below to help out the next reader.
Bacon Wrapped Jalapeño Poppers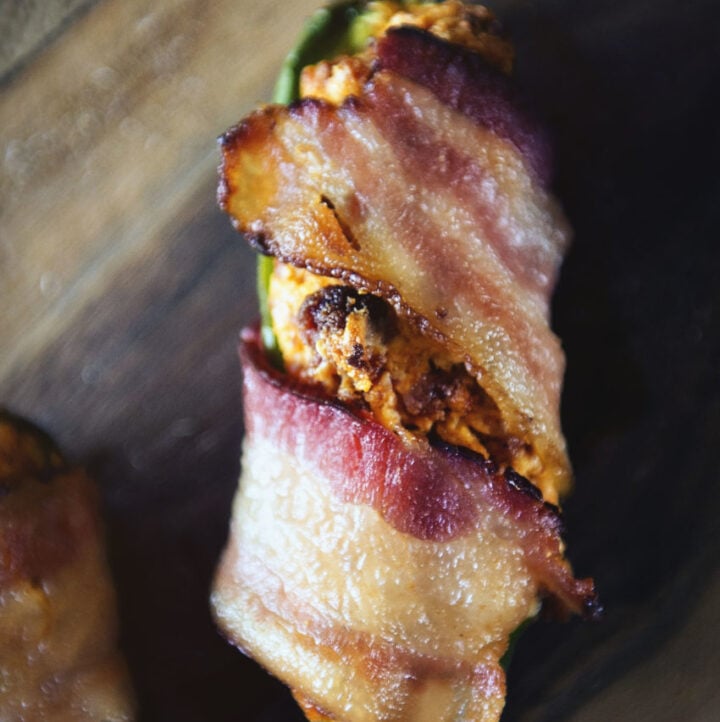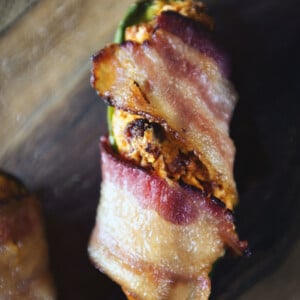 Add some excitement to your appetizer game with our mouthwatering Bacon Wrapped Jalapeño Poppers recipe, featuring spicy jalapeños, creamy cheese, and crispy bacon. Perfect for parties or game day, these flavor-packed bites are sure to be a hit with friends and family alike.
Ingredients
12

fresh jalapenos

4

oz

fresh chorizo

removed from casing

8

oz

cream cheese

softened

4

oz

sharp cheddar cheese

shredded

12

slices

bacon
Instructions
Prep the jalapenos
Slice the jalapenos in half and remove the seeds and as much of the inner pith as possible. Set aside.
Cook the Chorizo
Brown the chorizo in a skillet over medium-high heat until cooked through. Drain on a paper towel. Let cool.
Prep cheesy filling and stuff
In a bowl combine the cream cheese with the chorizo and cheddar.

With a tablespoon, scoop cream cheese filling into each jalapeno half (use your thumb to press the cream cheese mixture in place if needed).
Wrap in bacon
On a clean work surface, arrange 12 slices of bacon and slice in half at the middle.

Starting at the bottom of each filling stuffed pepper, wrap each in bacon and arrange on an oven-safe wire rack, filling side up to prevent spilling.
Smoke the Jalapeno Poppers
Preheat your smoker to 335 degrees.

Place the jalapeno poppers over the grill grates, lining with foil if your heat isn't offset.

Smoke for about 45 minutes to 1 hour until the bacon is crisp.

Allow to cool 10 minutes before serving.
Notes
You can store the peppers in the fridge for up to 4 hours until ready to cook.
If cooking in an oven: When ready to cook, line a baking sheet with aluminum foil and preheat the oven to 375 degrees F. Place the wire rack on the prepared baking sheet and bake for 20 to 25 minutes until bacon is cooked and crispy.
Nutrition
Calories:
120
kcal
|
Carbohydrates:
1
g
|
Protein:
4
g
|
Fat:
11
g
|
Saturated Fat:
4
g
|
Cholesterol:
26
mg
|
Sodium:
191
mg
|
Potassium:
75
mg
|
Vitamin A:
255
IU
|
Vitamin C:
8.3
mg
|
Calcium:
45
mg
|
Iron:
0.2
mg