Sweet Smoked Maple Pulled Pork French Toast is a perfect savory-sweet breakfast for anyone looking to impress their guests.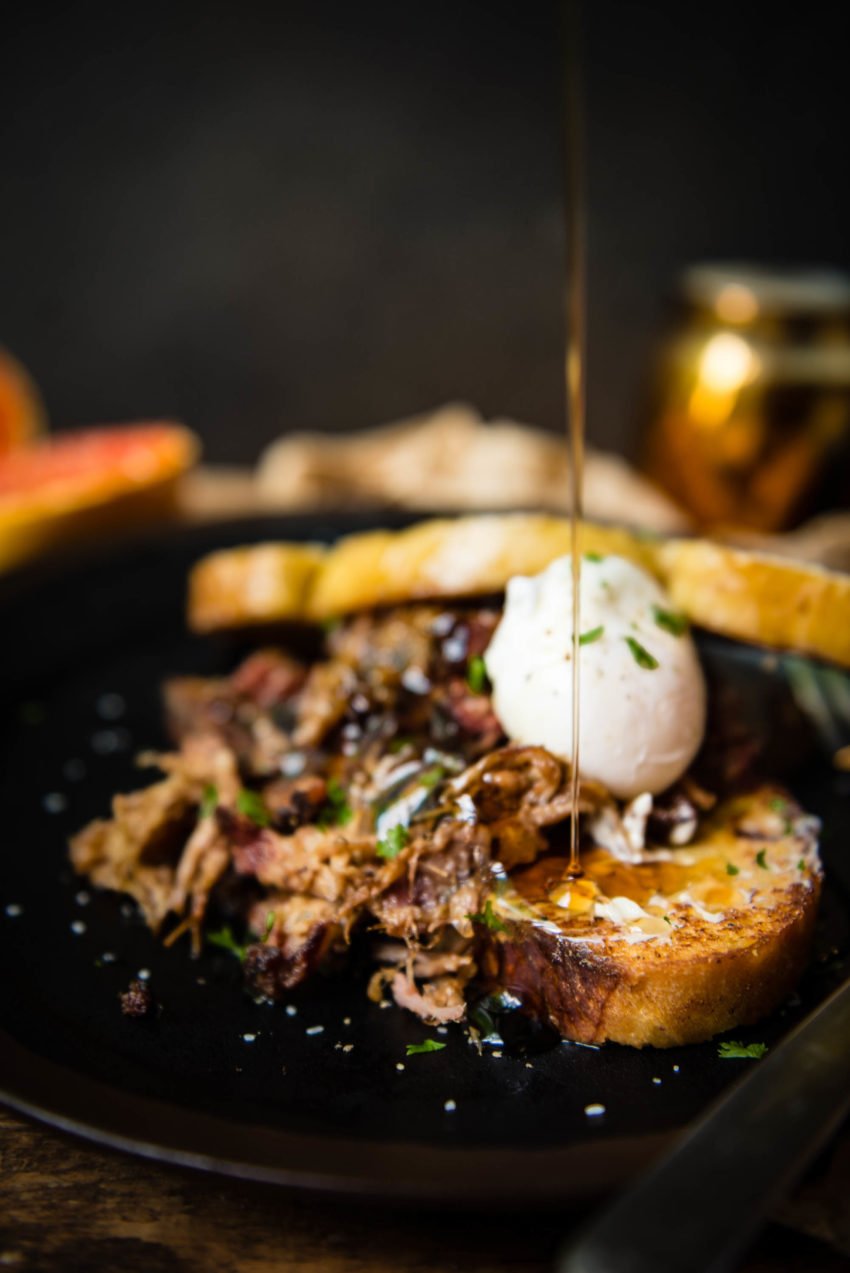 If you are looking for the best smoked maple pork recipe out there, this is it. The sticky sweet flavor is a perfect twist on the normal barbecue classic. Stuffing thick homemade challah dough with this maple pulled pork and topping it all with a perfect poached egg was one of the best ideas I've had yet.
Hello, savory breakfast. You make me love mornings.
How to make Smoked Maple Pulled Pork
Slow smoked pulled pork is as good as it gets. Start by prepping the spice rub the night before and coating the pork evenly. Wrap and store in the fridge overnight.
Prep your smoker when ready to cook and always have a wireless digital thermometer ready for use. Smoke until the pork reaches 195 to 201 degrees. This is that melt in your mouth fall off the bone magic temperature. Be patient though, as this can take several hours in your smoker.
During the last hour, baste every 20 minutes with the maple glaze.
Wait for the pork to cool before using gloves and meat shredders to pull the pork. And as always, toss in extra maple goodness for that sweet smokey flavor. See the recipe below for the full details.

What is challah bread?
Challah bread is a simple bread also known sometimes as "challo" bread. It is typically associated with Hebrew cuisine and customs because a piece of it is ritually set aside as a tithe before baking it.
You will definitely find the best challah in Jewish delis, but you can also find it in many grocery stores.
It is different than brioche, and more closely related to French baguette style bread. Although it is lighter in texture so sort of like brioche as well, though less sweet.
So if you need a challah substitute, then either of those will work.
What exactly is pork butt?
If you found yourself giggling at the phrase "pork butt" like it was a recollection of some sort of puerile taunt from the seventh grade, then you are not alone. You wouldn't be the first.
But let's hope your the last. Because assuming it refers to the tail end of the pig is a rookie reveal. In fact, pork butt is actually the top shoulder meat of the pig. As opposed to "pork shoulder" per se. Which guess what?
Isn't really the shoulder so much as it is the meat below the butt on the front leg of the pig. Confused?
Don't be, if you see anything labeled pork butt or pork shoulder then you are in the right ballpark.
Which is fattier pork butt or pork shoulder?
If you are looking for the leaner cut, then pork shoulder has less marbling than pork butt. But since you want the pork to cook low and slow, basting for hours and hours, the butt is best.
Since this is going to cook for hours in the smoker, the extra fat helps keep the meat extra moist and juicy. Full of flavor that just gets better and better as the smoke tickles it for hours on end.
Need more Savory Maple Recipes?
Maple is the perfect addition to a savory dish. It holds it's own with the rich deep flavors of meat and adds a layer that can't be created with just sugar alone.
Here are some of my favorites: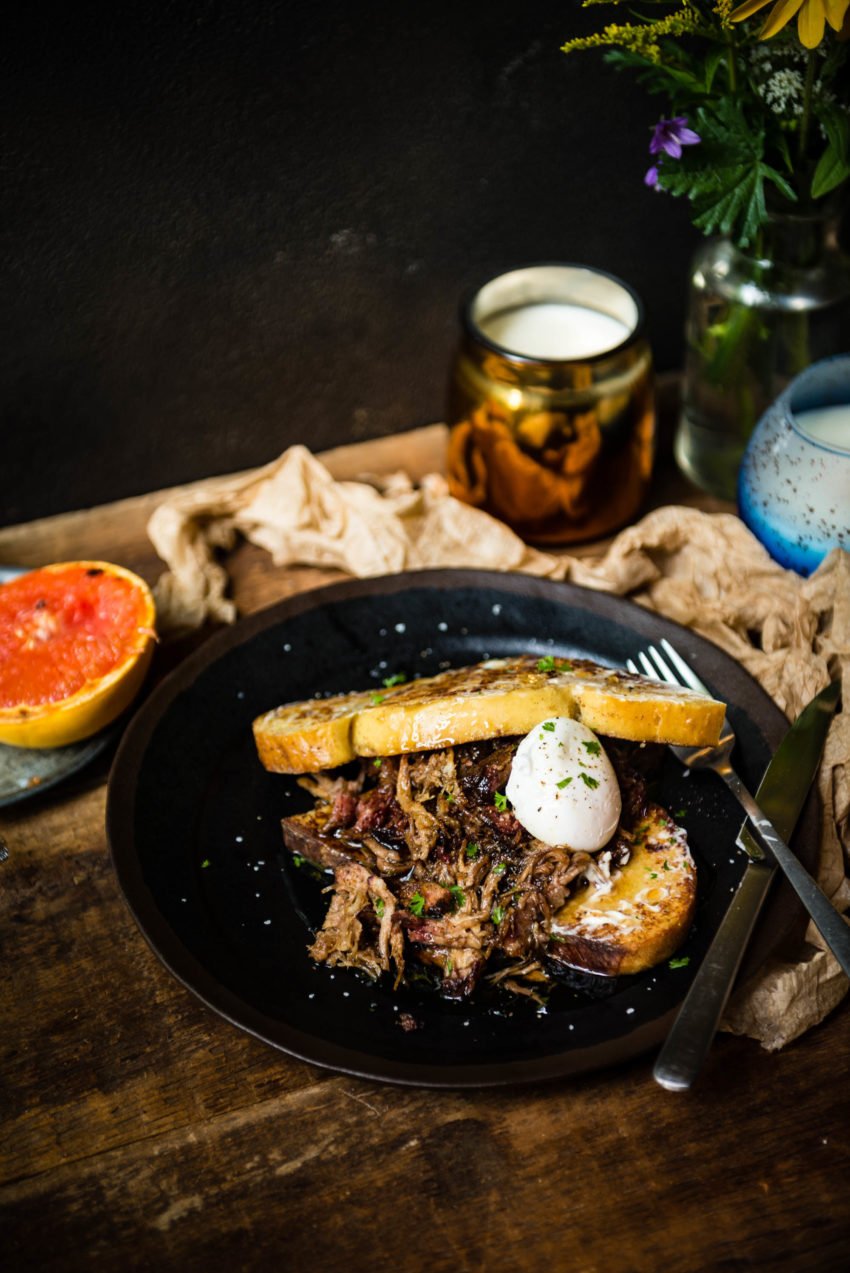 How to use Maple Pulled Pork
In all of the things. No really, try this maple pulled pork in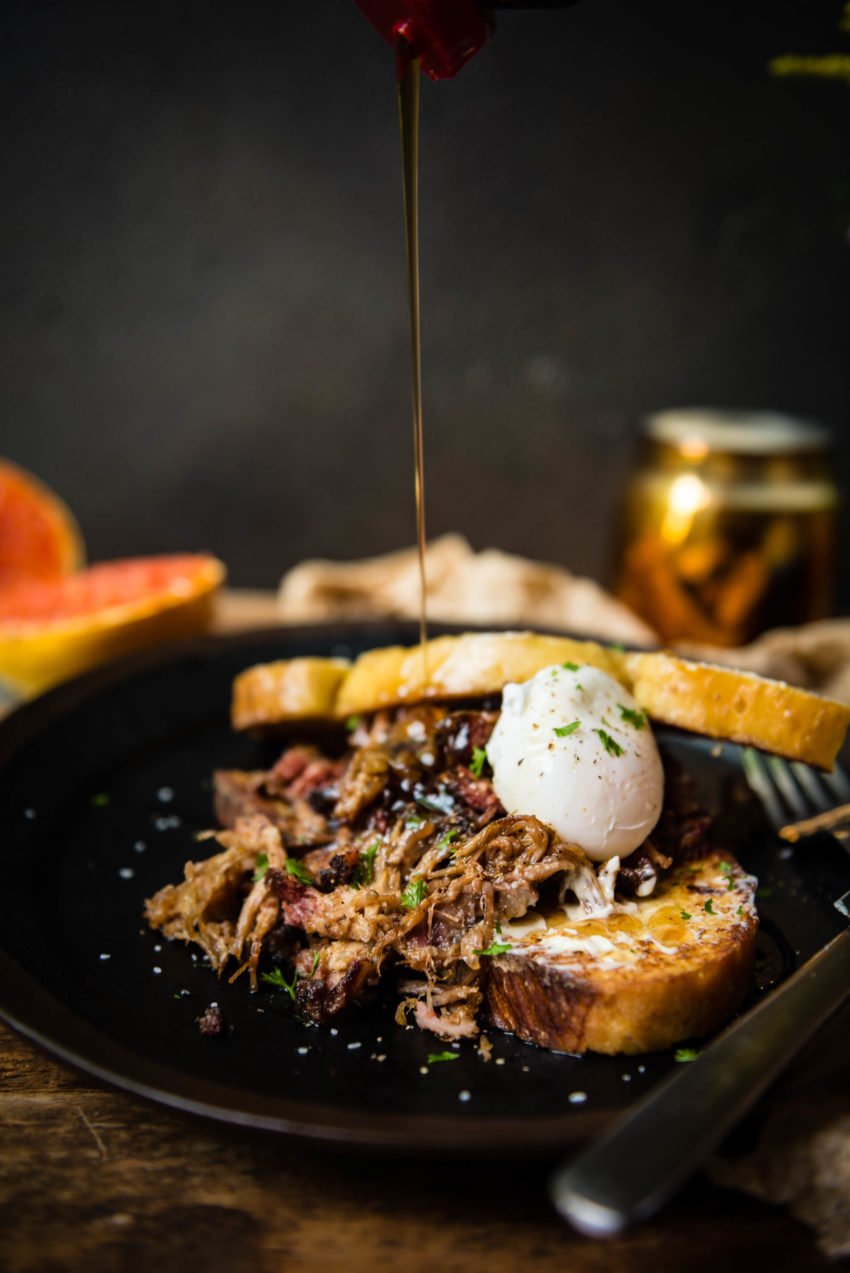 Want some more maple recipes? Try my favorites:
If you've tried my Sweet Smoked Maple Pulled Pork French Toast recipe, or any other recipe on GirlCarnivore.com please don't forget to rate the recipe and let me know where you found it in the comments below. I get inspired by your feedback and comments! You can also FOLLOW ME on Instagram @girlcarnivore as well as on Twitter and Facebook.
Smoked Maple Pulled Pork Recipe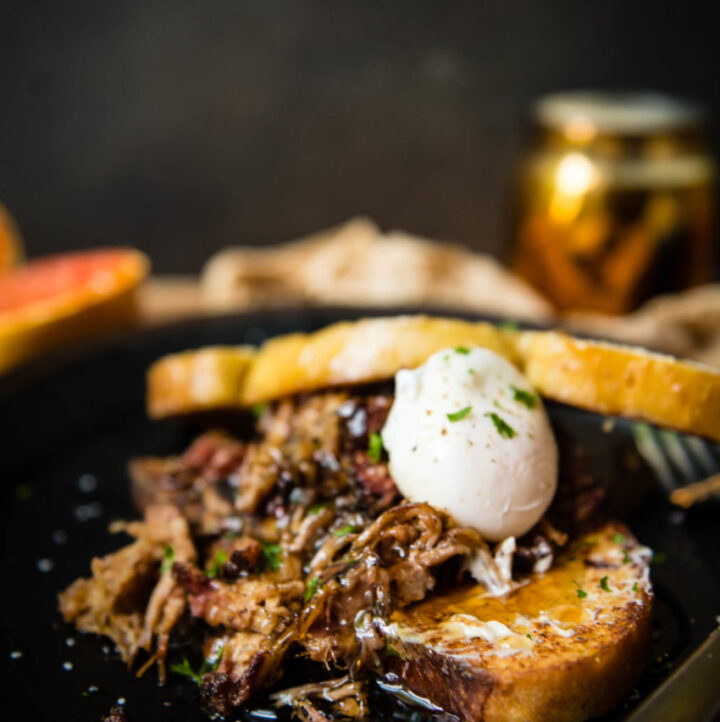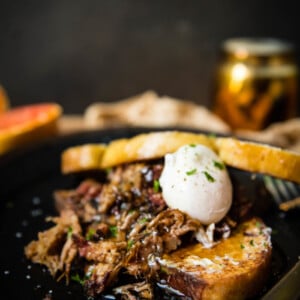 Use this sweet and savory smoked maple pulled pork for a variety of recipes! It's always an unexpected twist from traditional barbecue. Cooked low and slow.
Ingredients
1 5

lbs

bone-in pork butt
For the Seasoning Blend
2

tbsp

salt

1

tbsp

brown sugar

1

tsp

garlic powder

1

tsp

onion powder

1

tsp

paprika

1/2

tsp

cayenne powder

1/2

tsp 

black pepper

1/2

tsp

cinnamon

1/4

tsp 

nutmeg
For the Maple Glaze
1/2

cup

real maple syrup

1/4

cup

bourbon

Any whiskey works

1

tbsp

cayenne powder

Season to taste if you prefer more or less spice

pinch

salt
Instructions
Pat the pork butt dry and place on a clean work surface.

Whisk the salt, brown sugar, garlic powder, onion powder, paprika, cayenne, black pepper, cinnamon and nutmeg together in a bowl.

Liberally season the entire pork shoulder.

Wrap and store in fridge until ready to smoke, at least 8 hours later.

Preheat your smoker to 225.

Smoke the pork until a wireless thermometer reads 195-201. This can take around 7 to 12 hours depending on your smoker.

Apply smoke for the first 3 hours for the best flavor.
Meanwhile, make the Maple Glaze.
Whisk the maple syrup, bourbon, cayenne powder and a pinch of salt in a small pan over medium heat.

Whisk until the cayenne has dissolved.

Lower heat and allow the glaze to thicken about 20 minutes longer. Keep warm.

During the last hour of cook time, baste the pork in the maple glaze every 20 minutes.

Pull the pork from the smoker and allow to cool before shredding.

Drizzle any of the remaining maple glaze over top.

Store in an airtight container or serve hot.
Nutrition
Calories:
427
kcal
|
Carbohydrates:
13
g
|
Protein:
51
g
|
Fat:
15
g
|
Saturated Fat:
5
g
|
Cholesterol:
163
mg
|
Sodium:
1574
mg
|
Potassium:
978
mg
|
Sugar:
10
g
|
Vitamin A:
370
IU
|
Vitamin C:
0.4
mg
|
Calcium:
58
mg
|
Iron:
3.4
mg
Now for the Sweet Smoked Maple Pulled Pork Recipe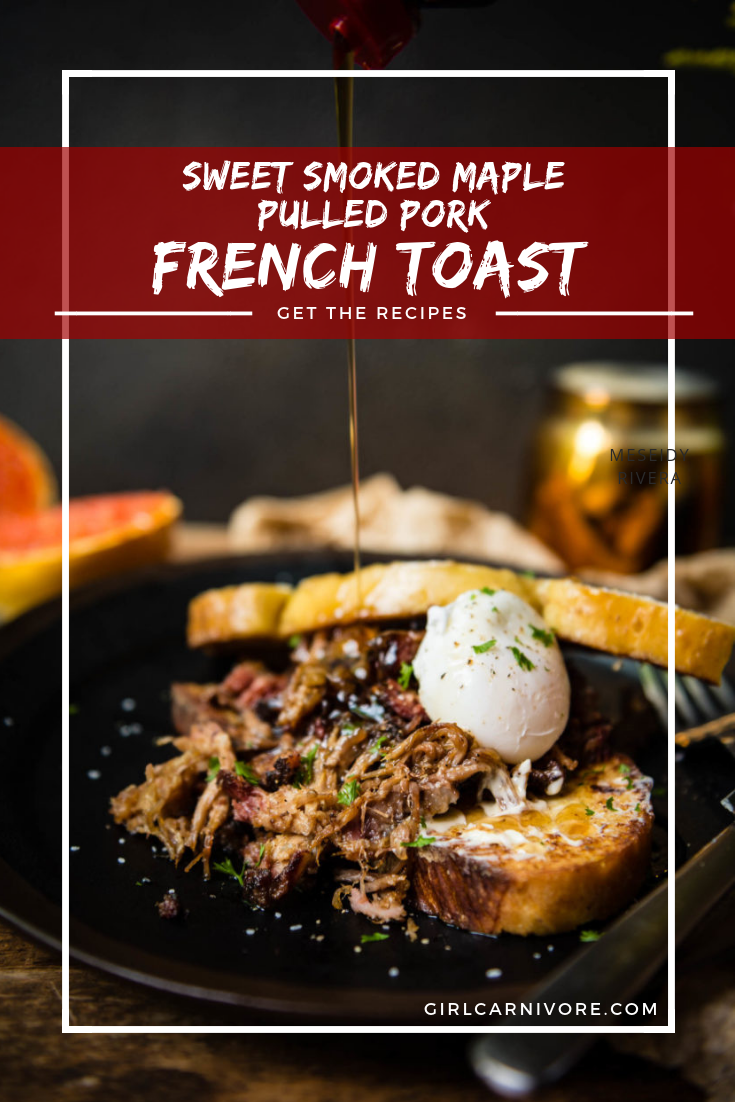 Sweet Smoked Maple Pulled Pork French Toast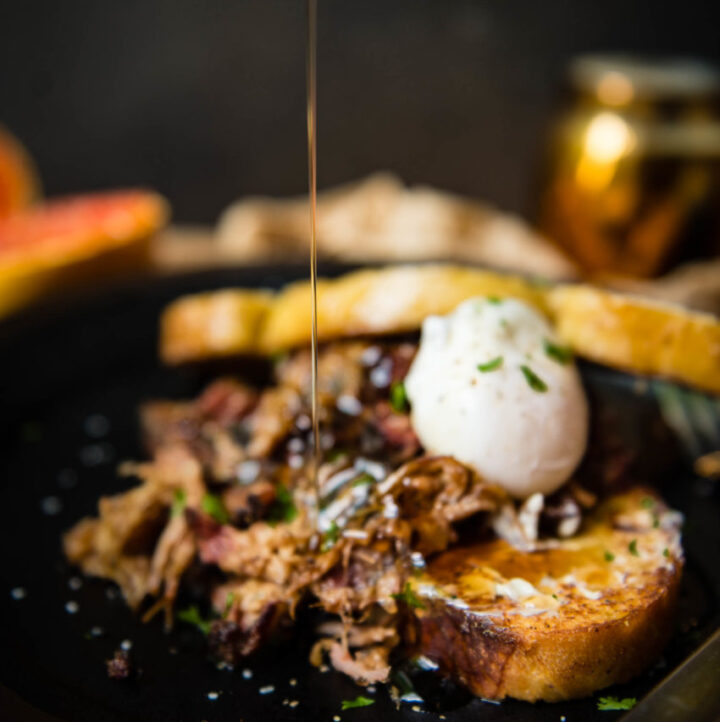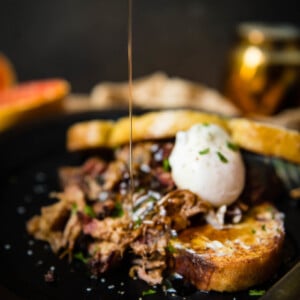 This is the brunch recipe for all your carnivore friends! With smokey sweet maple pulled pork and perfect challah French toast with a poached egg, it's an over the top perfect menu item!
Ingredients
1

recipe Smoked Maple Pulled Pork

1

cup

half and half

3

eggs

1

tbsp

bourbon

2

tbsp

cinnamon

divided

Butter
To serve
6

eggs

poached

maple syrup

warmed
Instructions
Heat the maple pulled pork for serving.

Slice the challah and allow to lay on a wire rack for 2 to 4 hours before making the French Toast.

Whisk the half and half, eggs, bourbon, and 1 tbsp cinnamon together in large shallow dish.

Preheat a large griddle to medium-high heat.

Working in batches, dip the challah into the half and half mix, coating both sides.

Swirl butter over griddle to coat.

Fry the batter coated challah until golden on both sides.

Place in a preheated oven set to 200 degrees on a wire rack to keep warm for serving.

Add the remaining 1 tbsp cinnamon when you are halfway through the slices and repeat.

Plate the challah with hefty portions of pulled pork on top.

Top each with a poached egg, another slice of challah French Toast and serve with powdered sugar and warmed maple syrup.
Nutrition
Calories:
159
kcal
|
Carbohydrates:
4
g
|
Protein:
9
g
|
Fat:
10
g
|
Saturated Fat:
4
g
|
Cholesterol:
260
mg
|
Sodium:
112
mg
|
Potassium:
154
mg
|
Fiber:
1
g
|
Vitamin A:
500
IU
|
Vitamin C:
0.3
mg
|
Calcium:
105
mg
|
Iron:
1.4
mg