Maple Pepper Bone-In Pork Chops are the perfect balance of sweet and savory. A light touch of sweet maple and crunch of freshly ground black pepper is perfect over these expertly seared pork chops. Updated comfort food done so incredibly right.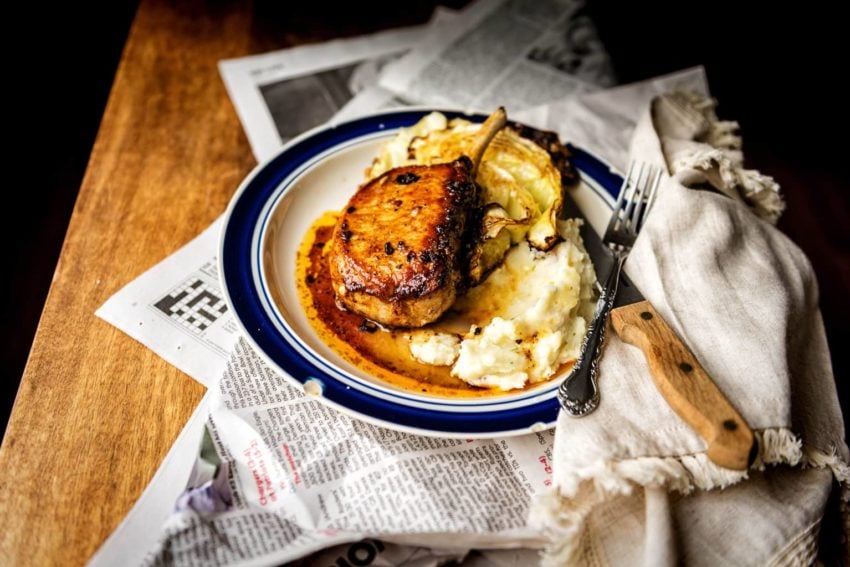 It must be the season because I am craving some serious down-home meals. Think coming home from a chilly day to the aroma of homemade comfort food calling to you. The kind when mama used to make mashed potatoes for supper just because and you know a whole stick of butter was being melted into them for extra flavor. They would be perfect alongside these Maple Pepper Bone-In Pork Chops.
My mama used to make us a dish called 'Candied Ham.' I have yet to recreate it exactly, as no one transcribed her random kitchen adventures, but I have been working on it time and again. It involves ham steaks and, I am almost certain, my weight in brown sugar.
So, when I whipped out these bone-in heritage chops from my Karv box, something about that memory came to mind. But updated, and amped up for my far my own table. I'd say mature palate, but that would be a bald-faced lie as we all know I'd crush a plate of mama's candied ham if I ever had the chance again….
These Maple Pepper Bone-In Pork Chops were created, and damn, they were magical. The sweet touch of maple at the end with the crunch of the thick black peppercorns over perfectly seared chops. That's updated comfort food right there.
How to Cook Bone In Pork Chops
This recipe uses a good skillet to put a sear on thick-cut chops, before transferring them to the oven to cook evenly, a great way to make sure the pork is cooked through (with a slight pink in the center), without fear of drying it out. Pork chops are safe to eat at 145 degrees, which leaves the chops juicy and loaded with flavor! And this recipe is the perfect method to achieve that.
The sear allows for a solid crust to form on the chops while the oven regulates the cook through the middle.
Basting in butter before finishing the pork in the oven allows them to keep their juicy tender bite when served and adds a layer of luscious flavor to the pork. It's a steakhouse restaurant trick for that mouthwatering taste. This recipe uses that method, which is perfect for a busy kitchen or fast weeknight meal.
Make sure, with a thicker cut, in particular, to cook through for safety. As always, use an instant-read thermometer for exact temps. I pull my pork from the heat when they reach 140 degrees F, then wrap in foil, and rest until the middle of the pork reaches 145 for serving.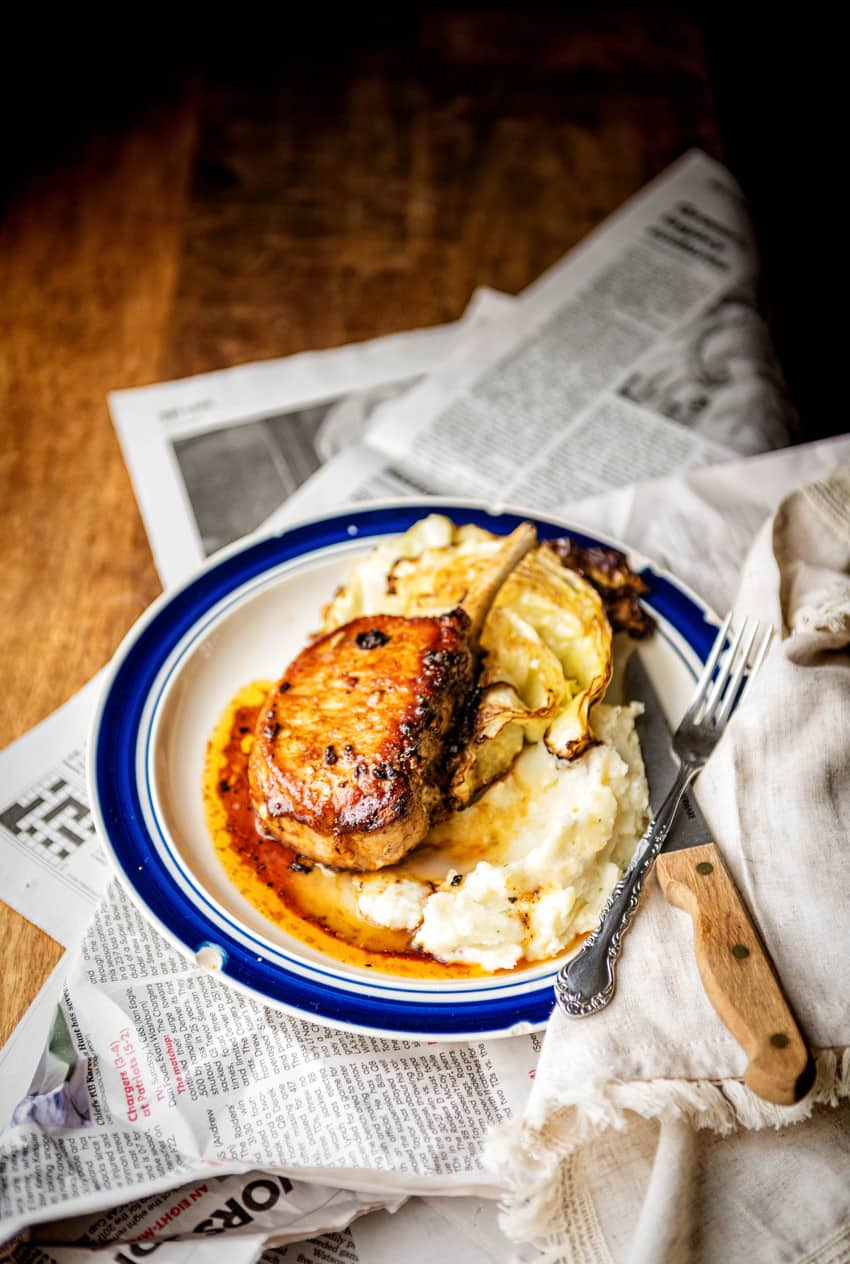 What you need for this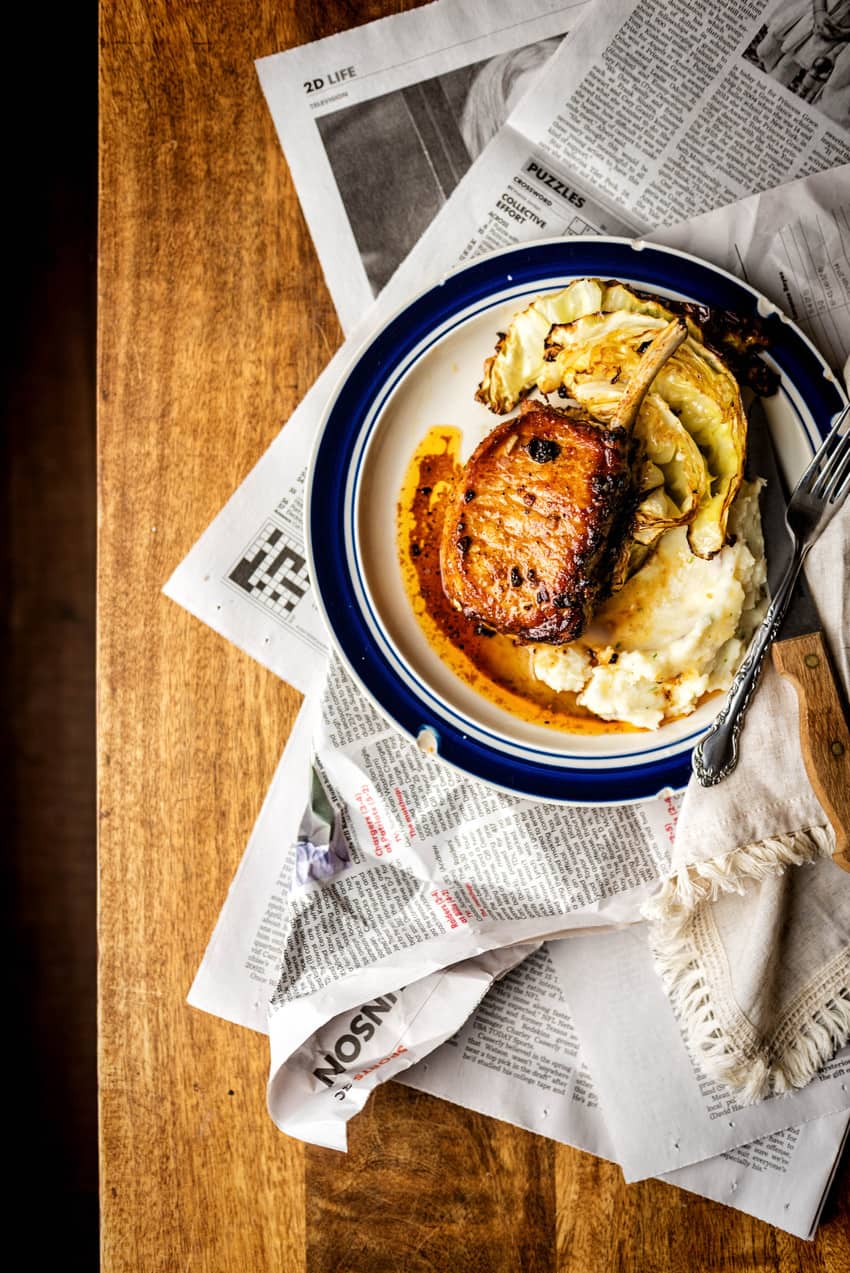 Want more delicious chop inspiration? Try some of my favorite recipes
If you've tried these homestyle maple chops please rate the recipe and let me know where you found it in the comments below.
I get inspired by your feedback and comments! You can also join in on the adventures on Instagram @girlcarnivore, Twitter & Facebook.
Maple Pepper Bone-In Pork Chop Recipe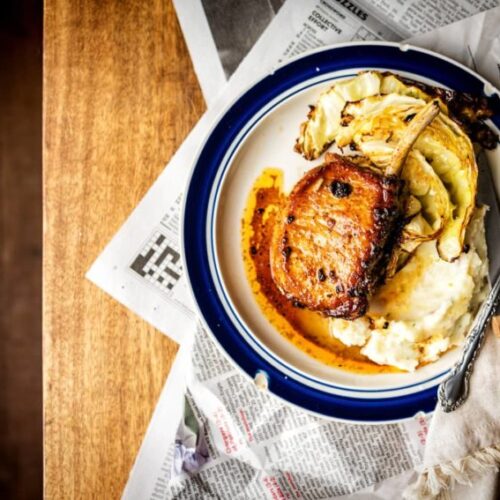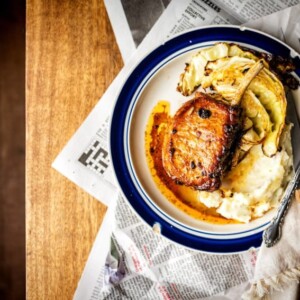 When it comes to delcious juicy bone -n pork chops in the oven, this recipe is the BEST! Nothing will be left but the bone.
Ingredients
2 – 4

Heritage Bone-In Thick Cut Pork Chops

this recipe works with bone-in or boneless chops

2

tbs

olive oil

salt and pepper

1/2

teas

Cumin

1/2

teas

Paprika

6

tbsp

butter

divided

4

cloves

garlic

minced

Coarse grind black pepper

4

tbs

real maple syrup
Instructions
Preheat the oven to 400.

Heat a large oven safe skillet over medium heat. Add the olive oil when hot and swirl to coat pan.

Meanwhile, pat the pork chops dry. Season with salt, pepper, cumin, and paprika.

Sear 4 to 5 minutes, until a good crust forms. Flip and quickly add 3 tbsp butter and garlic to the pan. Carefully, with an oven mitt, tilt the pan and spoon the melting butter garlic sauce over the chops.

Place in the oven and cook 5 to 7 minutes longer until an instant-read thermometer temps at 145.

Remove from heat, brush with a bit of the maple and grind a healthy portion of freshly ground black pepper over each cover with foil, and rest 5 minutes.

Meanwhile, in the same pan, add the remaining maple and butter and stir, scraping up and browned bits. Simmer for a minute or two, just to mix everything together and serve as a pan sauce alongside the chops.
Nutrition
Calories:
274
kcal
|
Carbohydrates:
14
g
|
Fat:
24
g
|
Saturated Fat:
11
g
|
Cholesterol:
45
mg
|
Sodium:
155
mg
|
Potassium:
57
mg
|
Sugar:
12
g
|
Vitamin A:
655
IU
|
Vitamin C:
0.9
mg
|
Calcium:
32
mg
|
Iron:
0.3
mg