Maple Pepper Bone-In Pork Chops are the perfect balance of sweet and savory. A light touch of sweet maple and a crunch of freshly ground black pepper is perfect over these expertly seared pork chops. This is comfort food done right.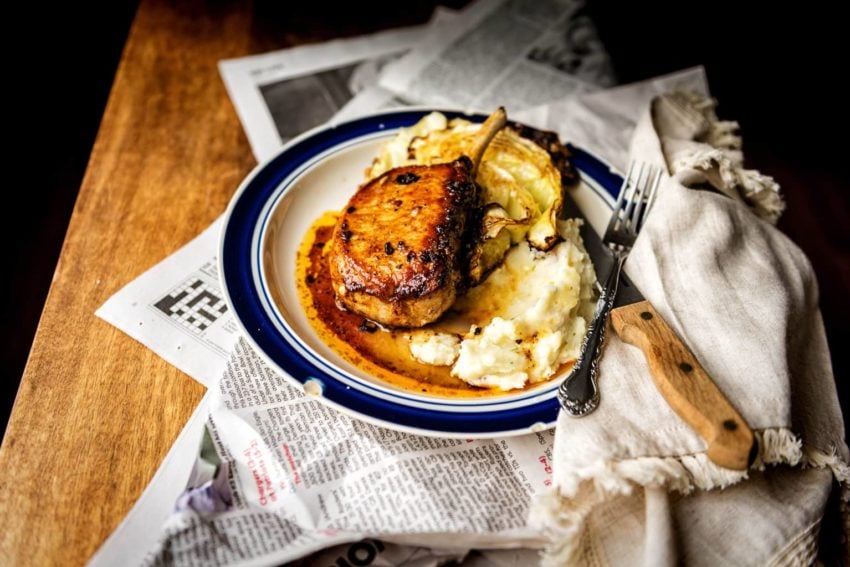 These pork loin chops are very similar in flavor to Candied Ham, one of mama's favorites. The sweet yet flavorful loin meat will remind you of the sweetness in spiral ham. The recipe is packed with brown sugar, coating each piece of meat with a little bit of heaven. Apply that to these oven-baked bone-in pork chops, and yum!
This Maple Pepper Bone-In Pork Chops recipe was created, and damn, they were magical. The sweet touch of maple at the end with the crunch of the thick black peppercorns over perfectly seared chops. That's updated comfort food right there. Try the easy pork chop recipe for yourself.
The Cut: What Are Bone-In Chops?
Bone in pork chops comes from the upper back part of the pig. This part of the pig is called the loin section, where we get baby back ribs and loin roasts from. The meat comes from the area below the rib cage, and it's the most tender portion of the animal. There is often a nice fat cap left on the pork chops for extra flavor and tenderness, giving us the juiciest thick pork chops.
Look for even thickness and sized chops when you're at your local grocery store for even cooking time. Alternatively, we get ours from Porter Road as one of our trusted places to order meat online.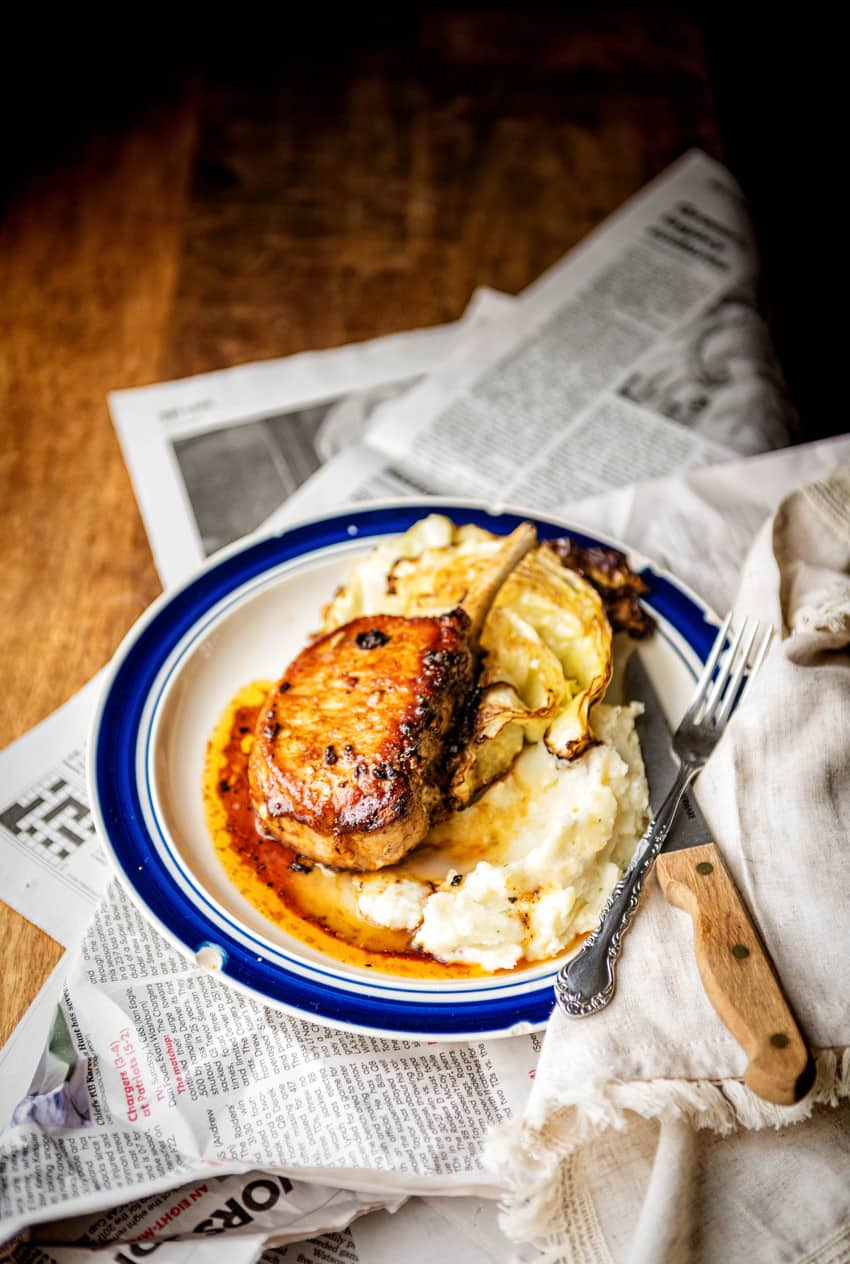 Bone In Pork Chops Ingredients
Bone-in Pork Chops: This recipe uses bone-in chops that are at least 1-inch thick, but thick boneless chops also work well; however, adjust the cooking time.
Olive Oil: Used to sear the pork chops. You can also use your favorite neutral cooking oil.
Seasonings: This recipe calls for a simple dry rub of kosher salt, black pepper, cumin, and paprika.
Butter: Basting the meat in unsalted butter before finishing the pork allows them to keep their juicy, tender bite when served. It also adds a layer of luscious flavor to the pork. We love using homemade compound butter to add an extra pop of flavor.
Minced Garlic: Fresh garlic always adds amazing flavor to any recipe.
Top quality Maple Syrup: The maple syrup adds a bit of sweetness to the chops. The unique flavor is delicious.
How to Make Bone-In Chops
Begin by preheating your oven to 400 degrees F. Remove the pork chops from the packaging and pat them dry with paper towels.
Next, heat a large cast iron pan over medium heat. When the pan is hot, add your olive oil and swirl it around to coat the pan.
Meanwhile, pat the pork chops dry and season them with salt, pepper, cumin, and paprika.
Sear each chop on the pan for 4 to 5 minutes until a good crust forms. Flip the chops over to the second side and add three tablespoons of butter and garlic to the pan. Tilt the pan and spoon the melting butter garlic sauce over the chops. Use an oven mitt to protect your hands if necessary.
Then, place the oven-safe skillet in the oven and continue to bake pork chops for 5 to 7 minutes. They are ready when an instant-read thermometer hits 140 degrees F inserted into the thickest part of the pork chop.
Remove the chops from heat and brush them with maple syrup and grind a healthy portion of black pepper on top. Cover each pork chop with aluminum foil and let the meat rest for 5 minutes. The internal temp will continue to rise 5 degrees to the USDA-recommended 145 degrees F for serving.
Meanwhile, in the same pan, add the remaining maple syrup and butter. Stir continuously and scrape up any browned bits. Let the mixture simmer for a minute or two to let things mix together well. Serve as a pan sauce alongside the chops.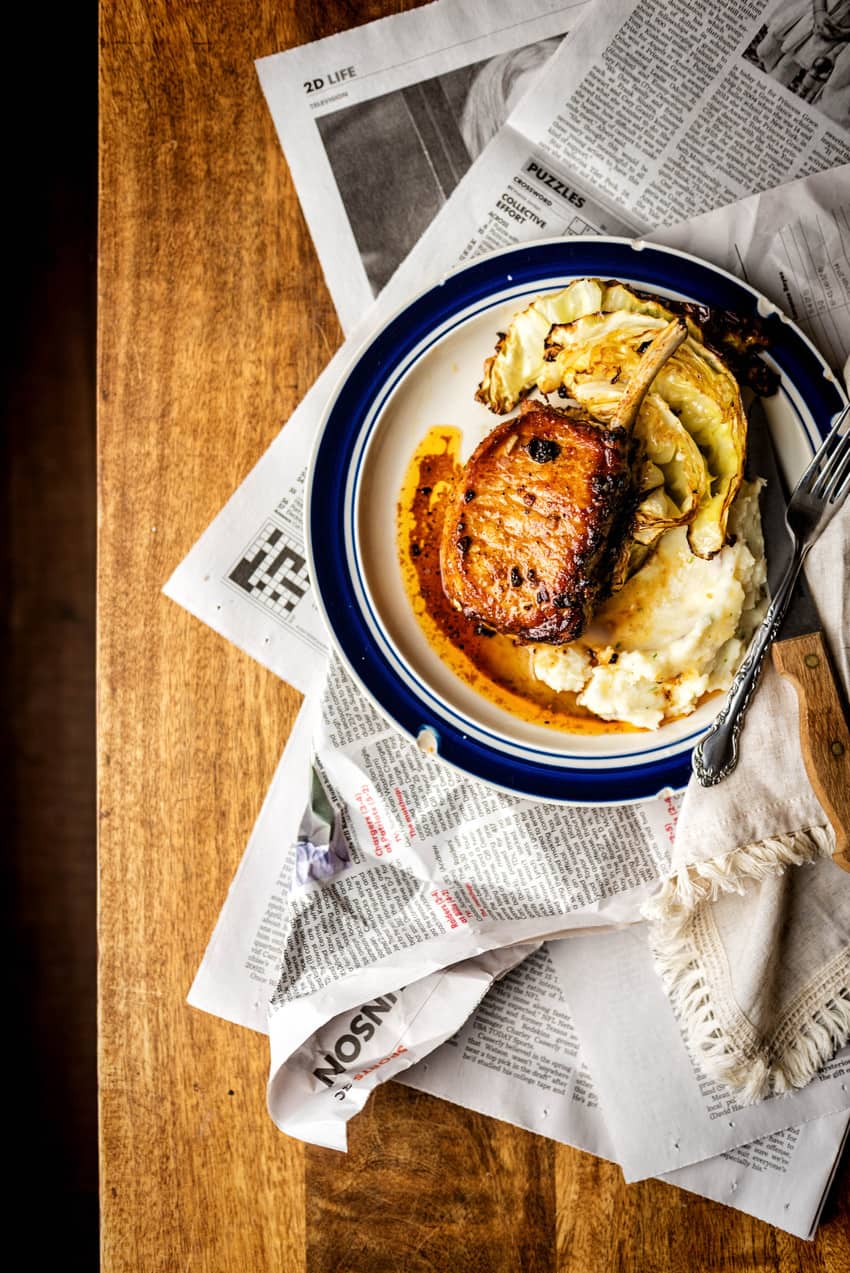 GirlCarnivore Expert Recipe Tips
Let the meat rest: Wrapping the meat in foil with butter and maple syrup lets the meat rest and fill up with flavor. This step isn't necessary but adds great flavor to your tender pork chops.
Cook on medium-high heat: As with many types of meat, it's best to cook on low and slow. Cook time will vary based on the thickness of the pork chops, but letting them sear slowly will keep them tender and avoid dryness.
Use a meat thermometer: While many people can look at cuts of meat and know when they are done, the safest way to ensure your meat is thoroughly cooked is to use a thermometer in the thickest part of the meat. A thick chop will take longer to cook, so always check before consuming. Pork chops should reach a temperature of 145F degrees internally to be safe. The pork will continue to cook, rising 5 more degrees as it rests.
Cook from room temperature: About 30 minutes before you begin cooking, set your cold meat out on the counter. Letting it sit at room temperature will help it heat more evenly than if cooked straight from the fridge.
Want to keep it keto? Substitute date or Choczero syrup and golden monk fruit sweetener for the brown sugar and syrup.
Leftovers & Reheating
Store your leftover boneless pork chops in an airtight container in the refrigerator. The best way to reheat them is by placing them in the oven at 350 degrees. Add a few tablespoons of water to the pan (chicken broth also works) to create moisture. Cover the pan with aluminum foil and reheat the chops for 10 to 15 minutes.
If you are looking for tasty things to make with leftover amazing pork chops, try making sliders, nachos, a stir fry, lo mein, or serve the pork with a side salad! All of these make great additions to the best pork chops you'll ever taste.
What to Serve With
These pork chops are amazing when served with mashed potatoes and smoked cabbage. Green beans, creamed spinach, a side salad, smoked baked potatoes, or baked carrots are also fantastic choices to go with this main dish.
FAQs
Can you make Bone in Pork Chops in Air Fryer
You can easily make these bone-in chops using your air fryer. Place the chops in the fryer for about 12 minutes for best results. Be sure to check the internal temperature when they are done cooking.
Can I Make Bone In Chops on the Grill
If you don't want to place these pork chops in the oven, you can cook them on your grill by searing them for about 3 minutes on each side. Lean meat will take less time, and the fat cap can cause flare-ups. So, keep an eye on them at all times. Alternatively, we love smoked pork chops for amazing flavor.
More delicious pork recipes
Sauces, Mops, & Condiments
These updated and amped-up juicy pork chops are a delicacy, and your family is sure to love them. Try making your own flavorful pork with these simple ingredients. And if you do, be sure to rate the recipe and leave a comment with feedback for the next person trying this one!
Baked Bone-In Pork Chops Recipe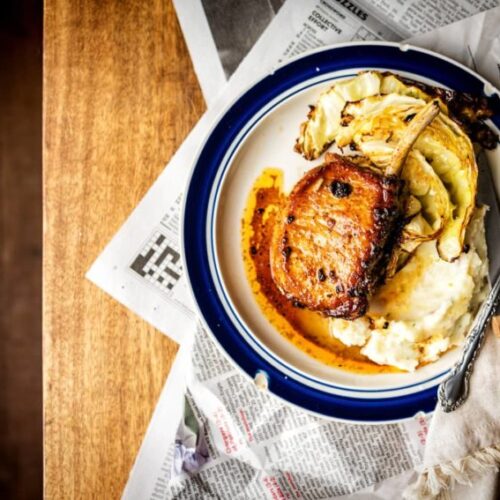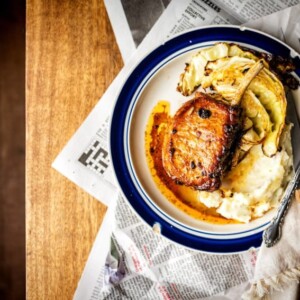 When it comes to delcious juicy bone-in pork chops in the oven, this recipe is the BEST! A quick sear, tons of flavor and an oven bake makes tender juicy chops every time!
Ingredients
2 – 4

Bone in pork chops

this recipe works with bone-in or boneless chops

2

tbs

olive oil

1

tsp

salt and pepper

1/2

tsp

Cumin

1/2

tsp

Paprika

6

tbsp

butter

divided

4

cloves

garlic

minced

Coarse grind black pepper

4

tbs

real maple syrup
Instructions
Preheat the oven to 400.

Heat a large oven safe skillet over medium heat. Add the olive oil when hot and swirl to coat pan.

Meanwhile, pat the pork chops dry. Season with salt, pepper, cumin, and paprika.

Sear 4 to 5 minutes, until a good crust forms. Flip and quickly add 3 tbsp butter and garlic to the pan. Carefully, with an oven mitt, tilt the pan and spoon the melting butter garlic sauce over the chops.

Place in the oven and cook 5 to 7 minutes longer until an instant-read thermometer temps at 145.

Remove from heat, brush with a bit of the maple and grind a healthy portion of freshly ground black pepper over each cover with foil, and rest 5 minutes.

Meanwhile, in the same pan, add the remaining maple and butter and stir, scraping up and browned bits. Simmer for a minute or two, just to mix everything together and serve as a pan sauce alongside the chops.
Nutrition
Calories:
274
kcal
|
Carbohydrates:
14
g
|
Fat:
24
g
|
Saturated Fat:
11
g
|
Cholesterol:
45
mg
|
Sodium:
155
mg
|
Potassium:
57
mg
|
Sugar:
12
g
|
Vitamin A:
655
IU
|
Vitamin C:
0.9
mg
|
Calcium:
32
mg
|
Iron:
0.3
mg