Carolina barbecue is a battle of east versus west with smoked pork on point. For this Carolina pulled pork we smoke a shoulder and drench it in a tangy vinegar-based barbecue sauce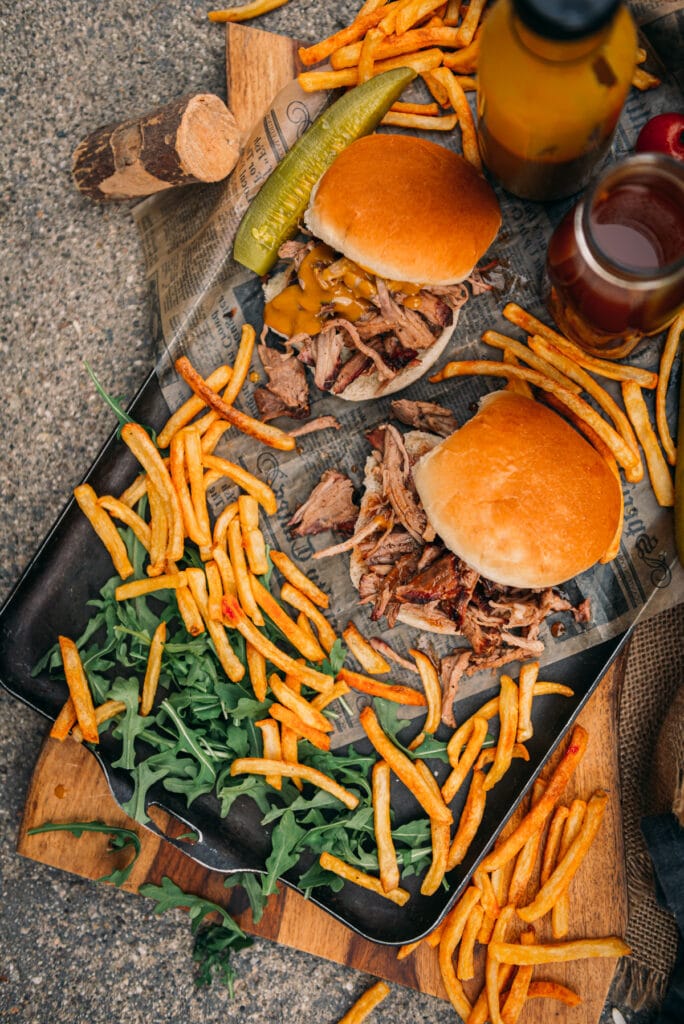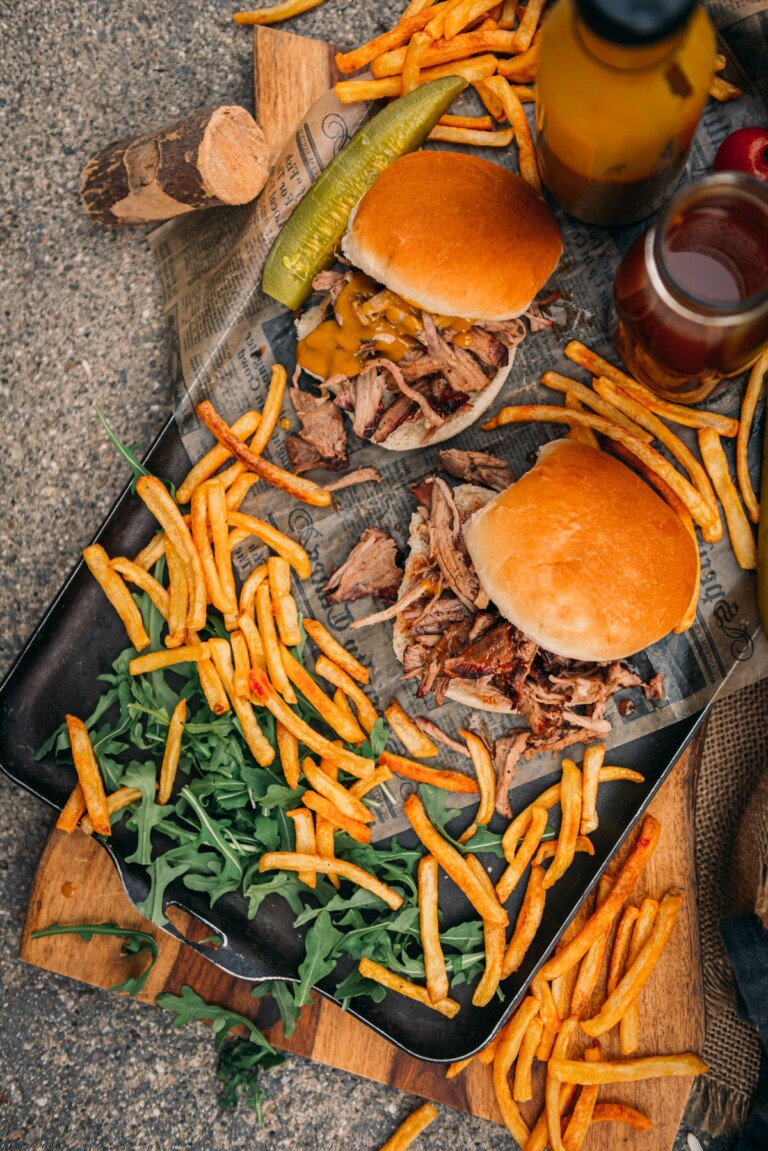 This post was sponsored by Western Wood – because their products rock and they let me share my mouthwatering barbecue with you guys. Obvs, thoughts, and opinions are my own.
Tangy Carolina Pulled Pork Barbecue
When discussing barbecue it's fun to explore the conversation about the unique bbq regions in the US. There's Texas barbecue, which is its own thing, but I'd say brisket. Then the battle of ribs between dry rubs and spicy sauces in the heart of America.
See the clickable web story for Carolina Pulled Pork here.
Whole hog out of Tennessee, white sauce over chickens in Alabama, and of course the tangy kick of the vinegar-based sauce from the Carolinas.
It's not just the meat, it's the spice blends and sauces that accompany the experience. But one thing they all have in common, besides aromatic smoke pits, is knowing how to feed people.
A few years ago I was visiting Charlotte, North Carolina for a barbecue event. I made sure to book a few extra days to explore the city and the famous "Carolina style" barbecue. On my adventure, I made sure to take about an hour-long detour to head over to Lexington Barbecue to received amazing hospitality and I am pretty sure one of everything on the menu.
Lexington's been a community staple since 1962 and has roots in the battle of eastern vs western barbecue. Of all the bites I had that day (and no lie, I am a sucker for a hush puppy) the chopped pork slow-smoked over hickory was the winner.
Wanting to introduce some west coast friends to east coast bbq the other day, I popped a pork shoulder in the smoker over hickory chunks and set out for a few hours just letting the time go by. When it was all said and done, served with a quick slaw, vinegar sauce and mustard sauce for sampling, and some fried mac and cheese on the side. 
Immediately, my friends, who don't like 'smoked pork' because it's too smokey, decided that this version was pretty dang good. But first….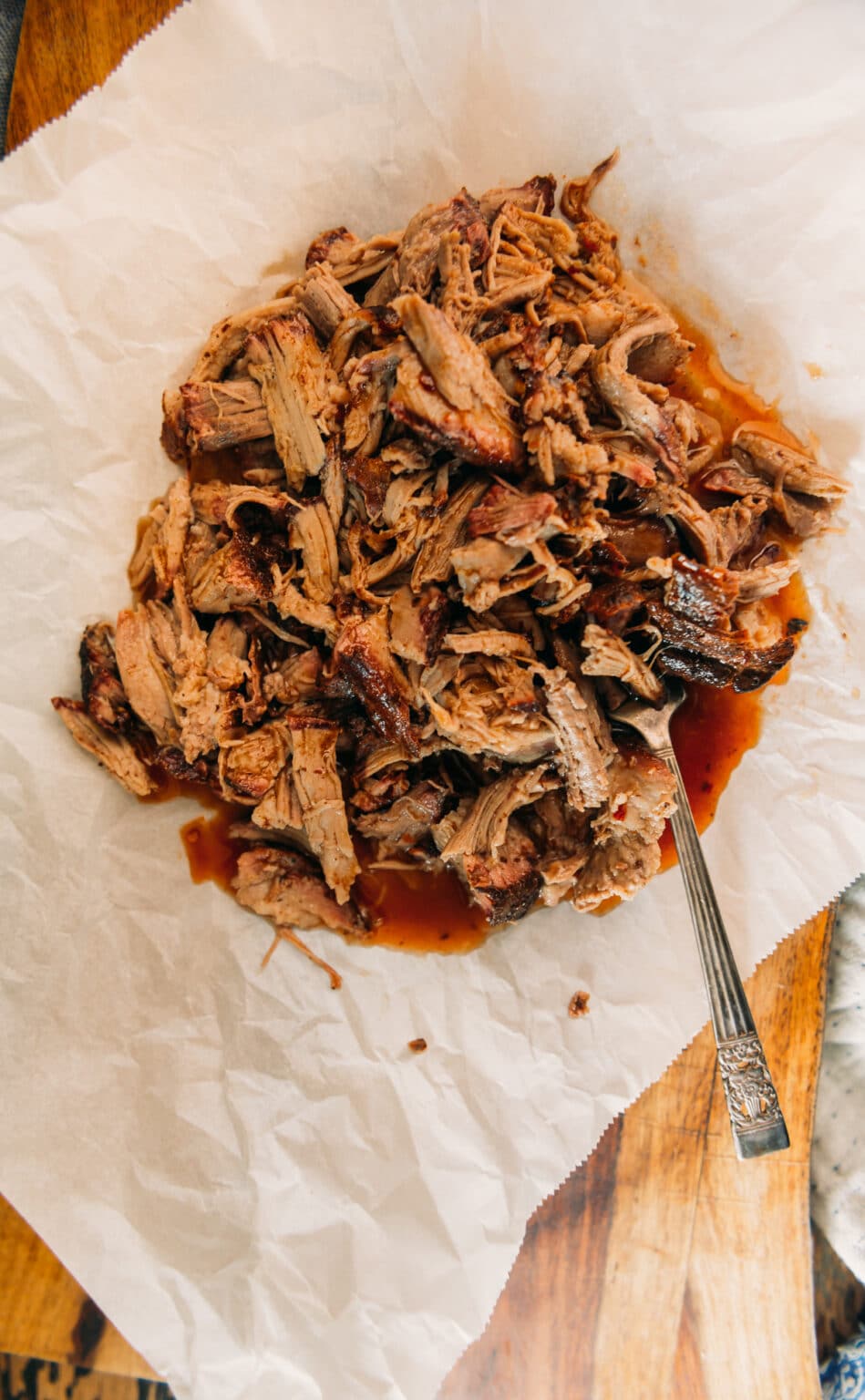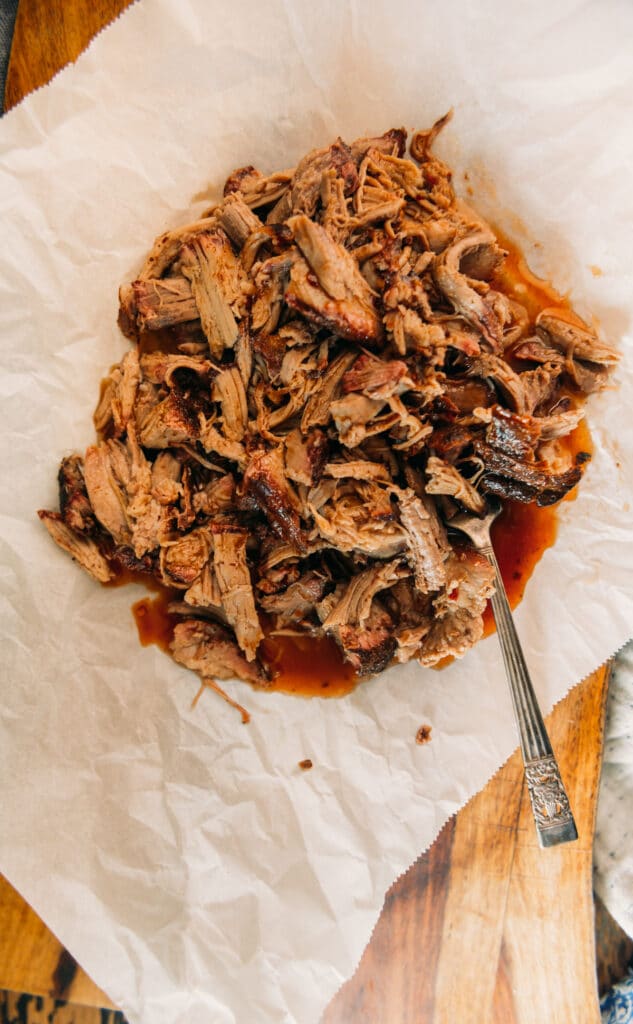 What is Carolina Barbecue?
Barbecue is a lot of things, to a lot of people. But when you hear Carolina barbecue, people are referring to smoked pork, It comes pulled, shredded or chopped. It's based in a vinegar sauce and served on a plate as is, or on a bun dipped in that tangy vinegar-based sauce.
Carolina pork can be whole hog or just the shoulder, but often not rubbed in much more than a quick salt blend with nothing too fancy. Paired with the simple, not fruity or overly pungent woods produce a subtle flavor without overpowering the meat.
The key to picking the wood for Carolina barbecue is to keep it simple. Post oak and hickory are the way to go here. They burn with a subtle flavor for the hours the pork will be lingering over the coals. The smoke ring you can get is pretty impressive without worrying the flavor will be too overpowering.

East Vs West.
To the untrained eye, Carolina may just seem like a state hung up on 'just barbecue pork,' but there is a difference between Lexington-style and the eastern region of the state. Things on the east are more simple with just the pork and a vinegar mop, where the further out in the state you get, things get spiced up a bit with a dash of sugar and sweet tomato in the sauce and slaw.
Whether you like one or the other is open for friendly debate, but one thing is for certain with Carolina barbecue, it's all about the hog.
Mustard Sauce Vs Vinegar Sauce
Welp, here's another battle of tastes but it's more a north vs south thing (well, at least between the Carolinas) as the thin vinegar sauce is more of a North Carolina tried and true classic while the mustard base (and also vinegar heavy) sauce is regionally more common in South Carolina.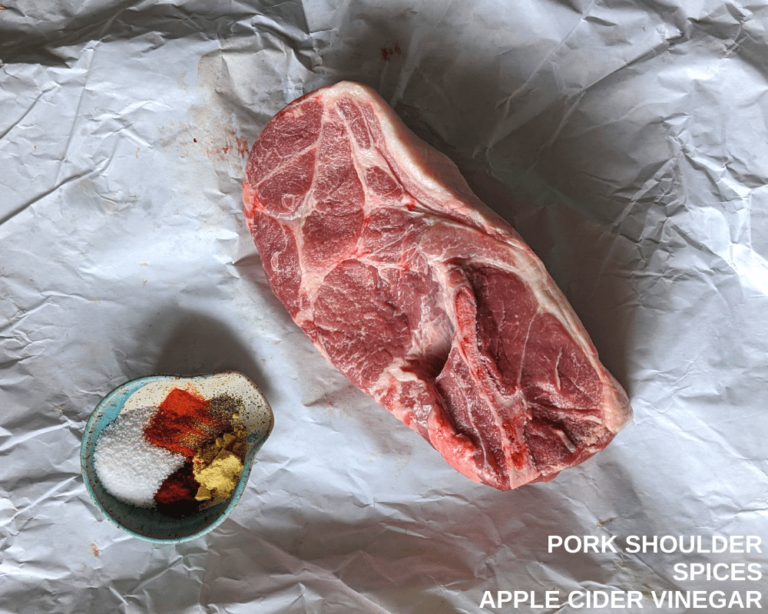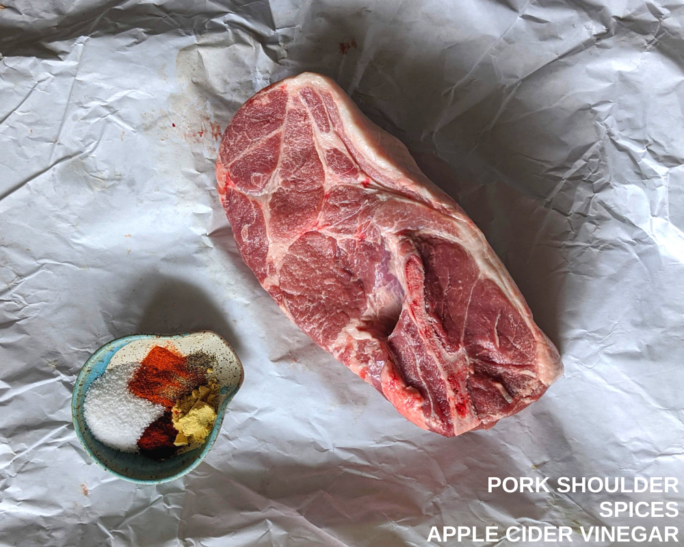 What Cuts Of Pork Can I Substitute For Shoulder?
When it comes to smoking pork for hours, the key is using the right cut. I recommend the shoulder because it has all the right components to work the magic. Long fibers, plenty of fat and collagen to keep things moist, and flavor for days.
But, there are other cuts you can use, like butt, no pun actually intended. Pork butt is also actually pork shoulder, however it comes from a spot higher up on the leg close to the shoulder.
It is a every bit as fatty and tough before you get it on the smoker. Which is perfect. You want that fat to melt into the meat. The toughness from the extra collagen melts down too. Those are what make the pork so delicious after sitting by hot coals for hours on end.
The Best Vinegar For Carolina Style Barbecue
For the vinegar mop, stick with apple cider vinegar. Can you use a white vinegar or other vinegar? Sure. But apple cider vinegar has a nice level of acidity and adds just a touch of sweetness to the meat as well.
You can't go wrong with it and won't color the meat like a red wine vinegar will. White vinegars tend to be higher in acidity so use them if your goal is to up the level of tang.
What You Need for this Recipe:
This one works in a few steps. The shoulder, the rub, and the vinegar sauce. The easy recipe below breaks down the simple steps and the rub is an uncomplicated blend of salt, pepper, paprika, garlic, and cayenne (though some would argue, great Carolina Q only needs salt).
Other than the pork shoulder and sauce, you will need a smoker, charcoal, wood for smoking, and a drip pan.
The smoker for this is method is a classic pit style smoker with coals and wood chips under the pork. However, an offset smoker would work perfectly as well. I used my Pit Barrel Junior.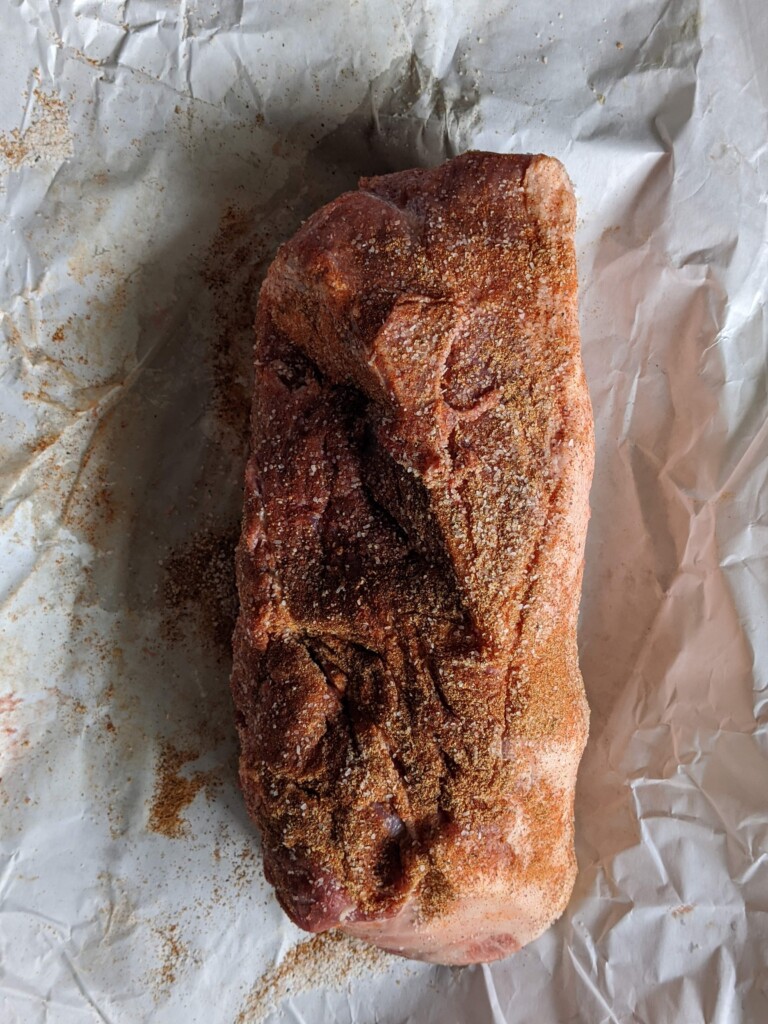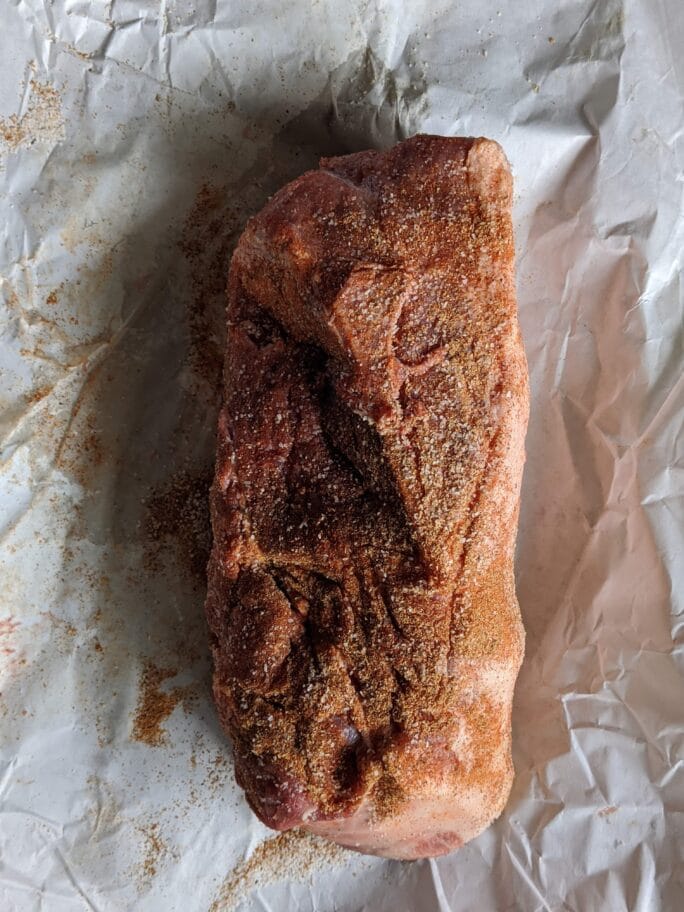 The Trick to Perfect Smoked Pork
Patience. Delivered low and slow.
When you smoke a perfect pork shoulder (or even whole hog) the pork shreds easily. Things like weather and temp affect the cook time as well as how steady your smoker is holding heat. You want to maintain a pile of embers that lingers in the 225 to 250 degrees area for the duration of the cook.
For a shoulder, the bone will pull clean from the meat in an easy tug once things have cooled enough to get a good handle on it. In order to achieve this, you want to smoke your pork to a temperature of 190 to 205 degrees so that the collagen breaks down and the pork easily shreds.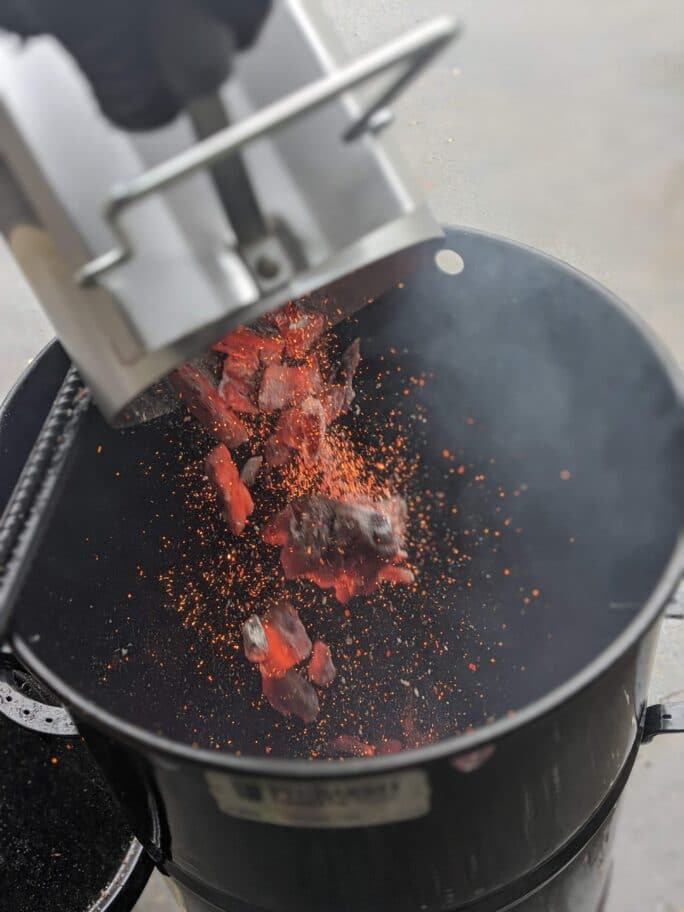 Good barbecue is about temp, not time.
All in all, the pork smoked four about 7 to 10 hours depending on the size of the shoulder. I let it cook to about 3 to 4 hours until it temps at 160 before wrapping it in foil and mopping it. After that, it returns to the grill for another few hours until it temps at 190 degrees.
Remove the pork at 190 from the smoker and wrap it in foil. Let it rest for 30 minutes to an hour before shredding the meat. Even then, it may be retaining a lot of heat, so make sure to pop on clean heavy-duty grilling gloves if needed to handle it or use forks or grilling 'claws.'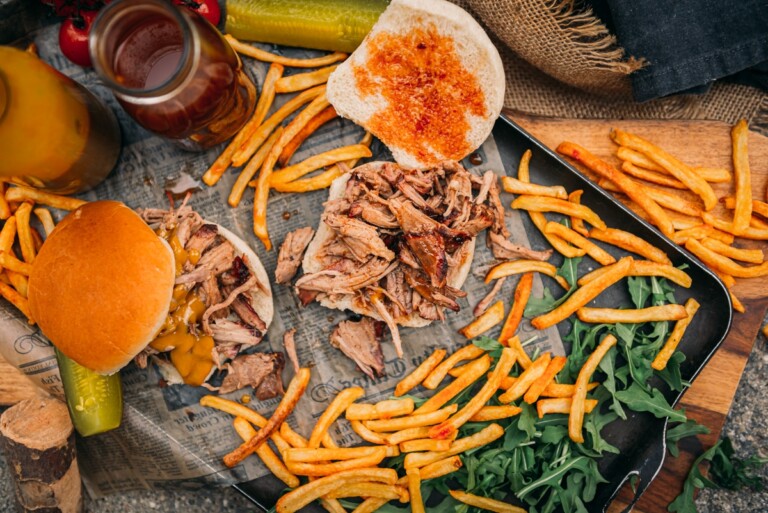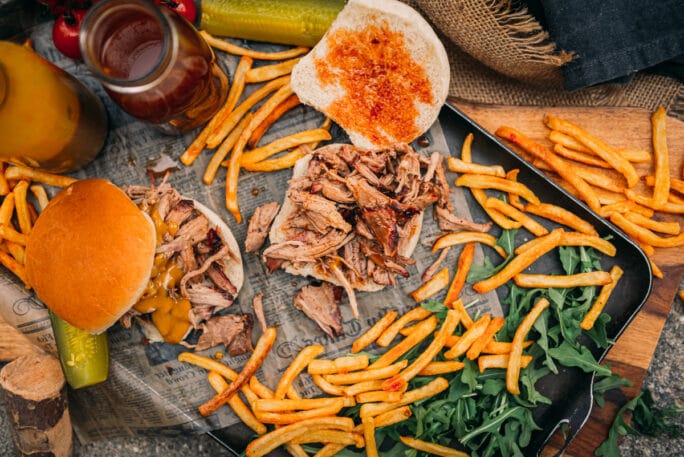 Want more slow and low inspiration? Try some of my favorite recipes
If you've tried this or any other recipe on GirlCarnivore.com please rate the recipe and let me know where you found it in the comments below. I get inspired by your feedback and comments! Follow along with behind the scenes and more day to day antics on Instagram @girlcarnivore as well as on Twitter and Facebook.
Carolina Pulled Pork
Smoked Carolina style pulled pork low and slow over hickory wood shreds perfect and pairs beautifully with a vinegar or mustard based sauce.
Ingredients
Spice Rub
1

tbsp

Salt

½

tbsp

Ground mustard

1

teaspoon

Black pepper

1

teaspoon

Paprika

¼

teaspoon

Cayenne
For the Pork
5

lbs

pork shoulder

bone in

½

cup

apple juice

vinegar mop or apple cider vinegar
Instructions
Prep the Pork
In a small bowl, mix the salt, ground mustard, pepper, paprika, and cayene together.

Rub the pork liberally on all sides with the seasoning.

Cover and place in the fridge until ready to smoke, for 4 to 24 hours.
Prep the Smoker
Prep your charcoal in a chimney starter and once the embers are ashed, carefully transfer to your smoker per the manufacturer's directions

When ready to smoke, place the wood chunks over the coals.

Arrange a drip pan in the smoker if your smoker has the room for it.

Place the grate in the smoker.
Smoke the Pork
Place the rubbed pork shoulder in the smoker and cover.

Smoke the pork 3 to 4 hours until the pork temps at 160 degrees.

Remove the pork from the smoker and wrap in heavy duty foil.

Pour the apple juice or cider over the pork and fold the foil up over the top and pinch to seal.

If you are using a vinegar based mop, spray liberally every 30 to 35 minutes

Place the foil wrapped pork back in the smoker and cook for another 2 to 3 hours until the pork reaches an internatl tempature of 190 to 200 degrees.

Remove the pork from the smoker and allow the pork to rest in the foil for at least 30 minutes.
Pull the Meat
When the pork is safe to handle, remove the bone from the pork and shred the meat or chop into bite sized pieces.
Notes
Serve the pulled pork over a simple bun soaked in vinegar based sauce. Or as a quesadilla, shoved in a taco, over a baked potato or as a pizza topping. 
This smoked pork stores in an airtight container for up to 4 days. 
Reheat the pork in a microwave or wrapped in foil in an oven preheated to 325 degrees for 15 mintes. 
Nutrition
Nutrition Facts
Carolina Pulled Pork
Amount Per Serving (1 g)
Calories 178
Calories from Fat 72
% Daily Value*
Fat 8g12%
Cholesterol 77mg26%
Sodium 670mg29%
Potassium 408mg12%
Carbohydrates 1g0%
Protein 23g46%
Vitamin A 119IU2%
Vitamin C 1mg1%
Calcium 16mg2%
Iron 1mg6%
* Percent Daily Values are based on a 2000 calorie diet. Nutrition information provided is an estimate. For specific health concerns, please put the recipe into your Dr recommended nutrition calculator.