This Oven Baked Salmon has great texture and lacks that 'fishy' flavor. Baked, grilled, smoked, or broiled – you pretty much can't screw salmon up. Unless you overcook it, let's not do that.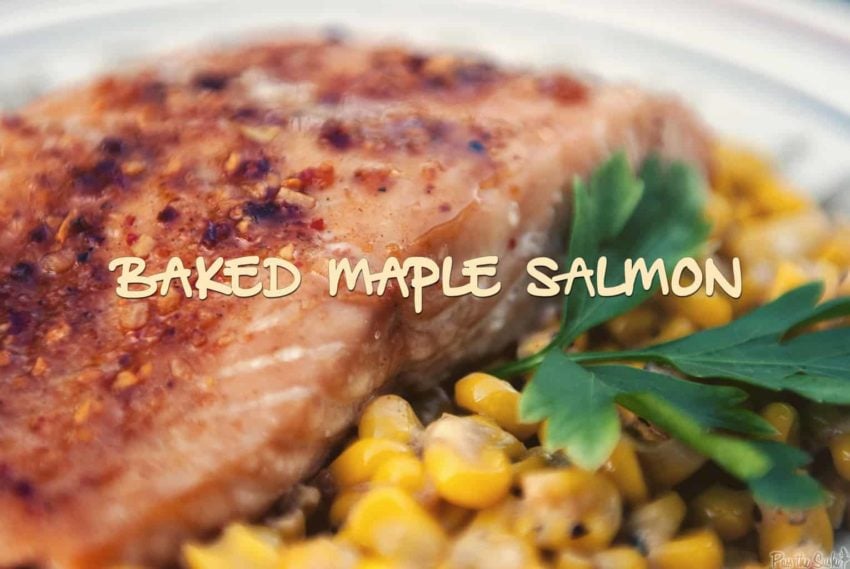 If you're looking for an easy seafood recipe that will knock your socks off, you have to try this Oven Baked Salmon! We love experimenting with different ways to whip up delicious fish, from Blackened Salmon to Homemade Salmon Dumplings! This easy Salmon recipe may be basic, but it's one of our favorite ways to cook salmon. Rubbed in a molasses bacon spice blend, drizzled with maple syrup, and placed atop a bed of buttery corn, this is an easy dinner for any occasion!
What Is Oven Baked Salmon?
Oven Baked Salmon is rubbed with a spice blend and maple syrup and cooked to perfection in the oven. The oven allows the salmon to stay super moist and juicy without drying it out. Plus, the nice blend of flavors in this recipe deliciously complements the fish's buttery flavor and texture.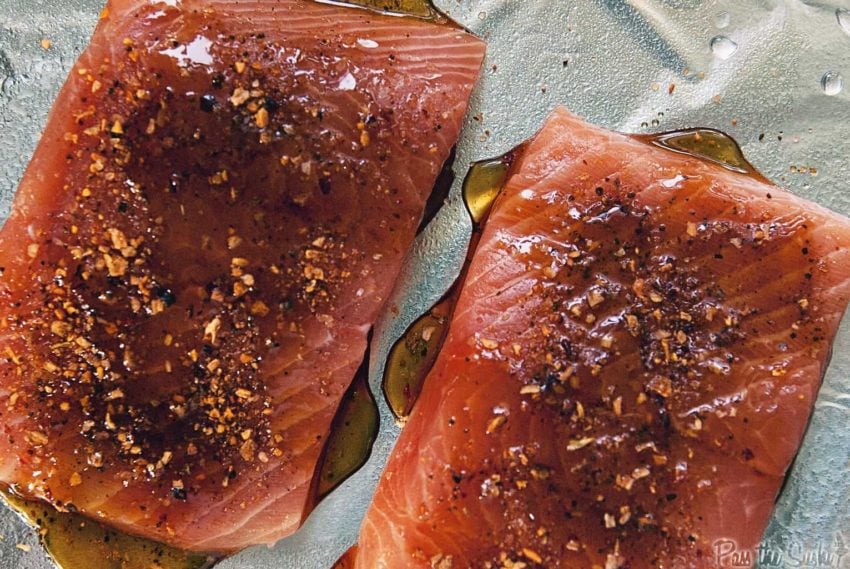 Oven Baked Salmon Ingredients
Salmon – Try to find a large piece of salmon for this recipe.
Molsassas Bacon Spice Blend
Maple Syrup (use good quality pure maple syrup)
Butter
Frozen Corn
Salt and Pepper
How to Make This Easy Baked Salmon Recipe
Preheat the Oven
First things first, crank up that oven to 425 degrees F. While it's heating up, line a baking sheet with some aluminum foil or parchment paper and give it a little spritz of non-stick cooking spray.
Prep the salmon
Pop the salmon onto the baking sheet and sprinkle the top of the fish with the Molasses Bacon Spice Blend. Make sure you massage it into both sides of the salmon to really work that seasoning into the fish.
Next up, pour the maple syrup love all over the salmon. Go for the good stuff, you know, the pure maple syrup, not the fake kind.
Bake The salmon
Slide the baking sheet into the preheated oven and let it bake for about 18-20 minutes. You'll know it's ready when the salmon easily flakes apart when you poke it with a fork.
While the salmon cooks, prep the skillet. Heat it up on medium-high – this is where we cook the corn. Toss in the butter and let it swirl around, coating the pan.
Toss the frozen corn into the skillet until heated. Season it up with a sprinkle of salt and pepper, just enough to taste.
Serve and Enjoy
Finally, plate up that delicious salmon over a bed of that buttery, seasoned corn. It's a match made in flavor heaven.
Girl Carnivore Expert Recipe Tips
There is a time and place for "maple-flavored" products, but not here. Use good quality real maple syrup. Yes, it makes a difference. Instead of eating sugar that tastes faintly like salmon, you get a nice piece of salmon enhanced by lightly sweet real maple syrup.
Play around with different seasonings and flavors, like adding some Dijon mustard and fresh herbs.
Dry the salmon with a paper towel before baking, as this allows the filet to get nice and crispy.
Let the salmon get to room temperature before baking to allow for even cooking.
Swap the maple syrup for brown sugar if you like!
What to Serve With Tender Salmon
This simple baked salmon is super yummy and perfect for serving up with side dishes like Grilled Corn on the Cob, fresh or roasted green beans, Grilled Asparagus in Foil, and an Easy Smoked Baked Potato!
Leftovers & Reheating
Store any leftover salmon in an airtight container in the fridge for 3-4 days. You can also freeze leftover salmon for 4-6 months.
To reheat leftover salmon, turn on the oven to 275-300 degrees F and cook the salmon for 15 minutes.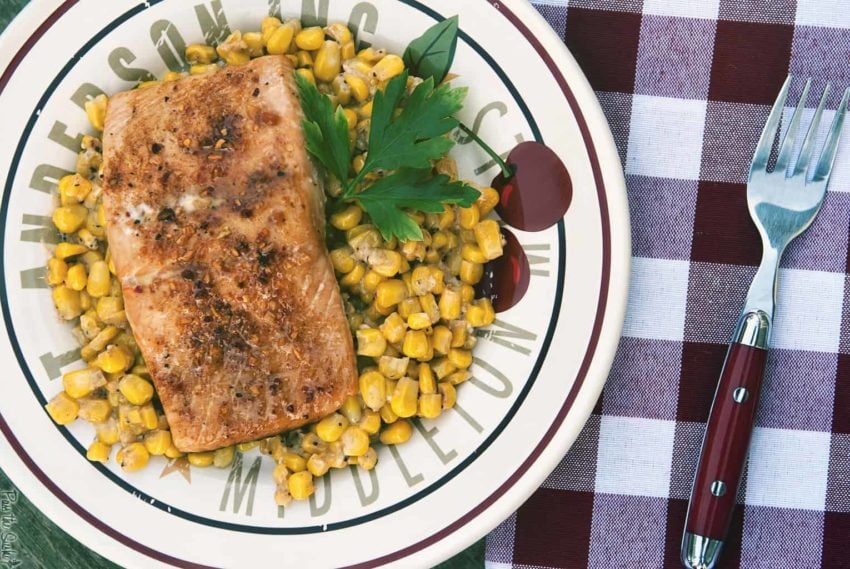 With simple ingredients like fresh salmon filets, molasses spice rub, maple syrup, and buttery corn, this salmon dinner will become your new favorite way to eat this delicious fish! Even if you're not a fan of salmon, this recipe is the best way to dip your toes in and enjoy this healthy dinner! If you try this recipe, please rate the recipe card and leave a comment below to help out the next reader!
Oven Baked Salmon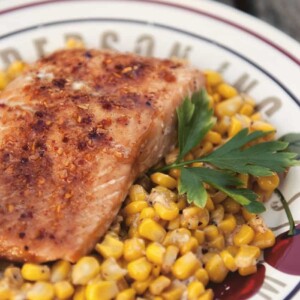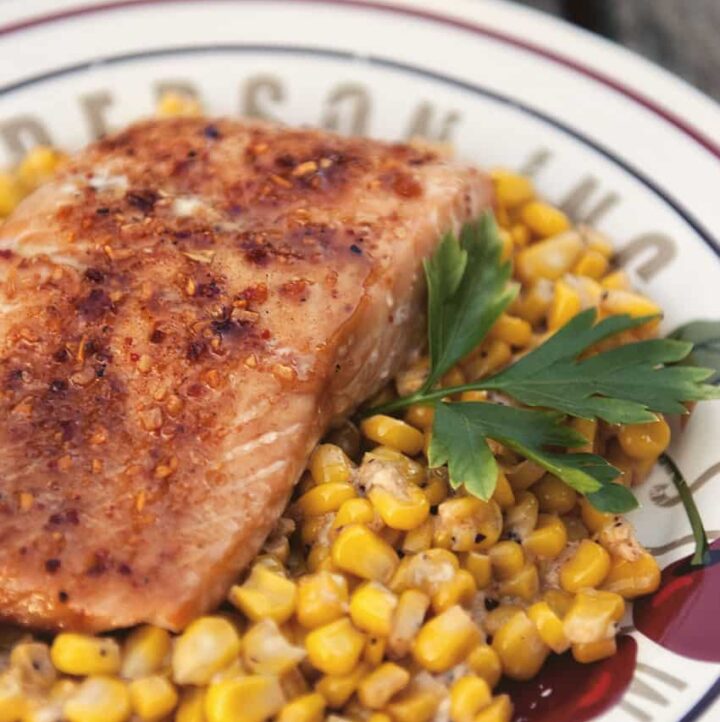 Add a touch of sweetness to your baked salmon with maple syrup
Ingredients
2-4

oz

salmon

1

tbsp

Molsassas Bacon Spice Blend

2

tbsp

maple syrup

use good quality pure maple syrup

1

tbsp

butter

2

cups

frozen corn

salt and pepper
Instructions
Preheat oven to 425 degrees F. Line a baking sheet with aluminium foil and spray with non stick cooking spray.

Place salmon on the baking sheet and sprinkle with seasoning. Rub into both sides of the fish.

Spread syrup over top.

Bake for 18-20 minutes, until salmon flakes easily with fork.

Meanwhile preheat a medium skillet over medium-high heat.

Add the butter and swirl around the pan.

Add the corn and cook until heated through. Season with salt and pepper as needed.

Serve salmon over corn.
Notes
Nutrition
Calories:
527
kcal
|
Carbohydrates:
57
g
|
Protein:
39
g
|
Fat:
18
g
|
Saturated Fat:
5
g
|
Cholesterol:
108
mg
|
Sodium:
137
mg
|
Potassium:
1456
mg
|
Fiber:
7
g
|
Sugar:
12
g
|
Vitamin A:
370
IU
|
Vitamin C:
11.9
mg
|
Calcium:
167
mg
|
Iron:
5.2
mg
Recipe FAQs
How can I avoid overcooking salmon?
Salmon is pretty forgiving, but you can overcook it. Truth be told, we think many people don't enjoy salmon just because they are used to eating it way overcooked.
Then it does get dry and picks up a not-so-palatable aftertaste. It's more mineral than fishy, but it's not pleasant either way.
In fact, salmon is best-cooked medium-rare. Yes, you heard that correctly. It's still a little pink on the inside. Well, most salmon is pink anyway, but we mean the darker pink rather than the lighter shade salmon becomes when cooked well done.
In Japanese cuisine, there is a style of cooking salmon or other fish referred to as "tataki," where the fish is just lightly seared on the outside. The inside is still pretty raw. Now, you might want to heat it with a bit more heat, but no need to go overboard.
If you are eating the salmon for the health benefits, it is best NOT to obliterate those healthy fish oil fats with heat anyway.

What types of salmon should I use for this recipe?
Use whatever you can get your hands on, whether that's sockeye salmon, Atlantic salmon, or wild caught salmon. Our personal favorite, though, is Copper River coho salmon. We love using their fish whenever we get the chance.
How do I know when my salmon is done?
The salmon should easily flake apart when nudged with a fork, but if you want to be extra sure, use an instant-read thermometer to ensure the internal temperature is at least 145F before consuming.