Let the slow cooker do all the work, and get your jam on with some damn fine pork. This slow cooker pulled pork is one of those recipes you'll have on hand for summer barbecues and delicious pork sandwiches.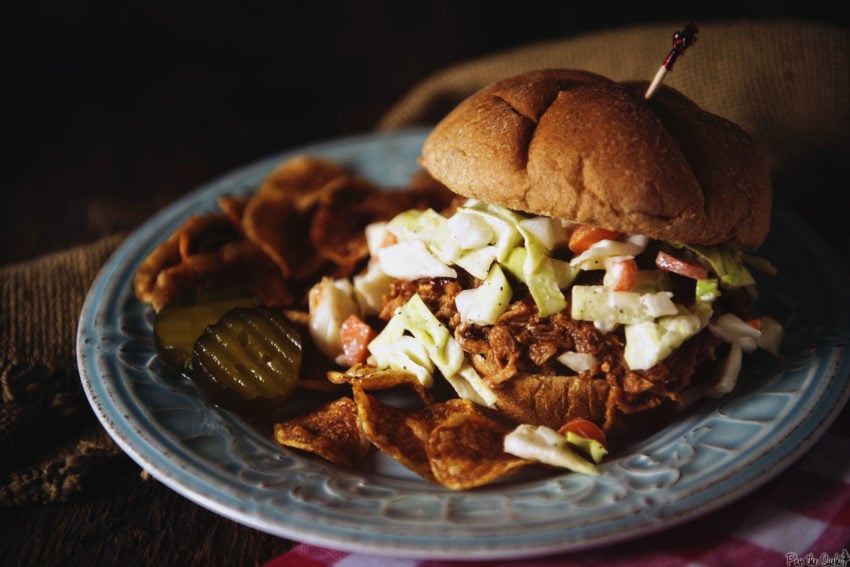 Grills are good and all, but sometimes there's a shortcut that can create equally drool-worthy results. No, there aren't going to be smoke rings, and you aren't going to be able to brag to your buddies about how you maintained the perfect temp to produce fall-off-the-bone action, but you are going to be able to roll up your sleeves and get your jam on with some damn fine pork because you let the slow cooker do all the work and didn't bat an eyelash.
But make sure you set them up with Alabama white sauce, mustard-based bbq sauce, and a little vinegar-based bbq sauce to pick from to dress up this tender pulled pork.
What is Slow Cooker Pulled Pork
Cooking something in the slow cooker means it is cooked at a low temperature for a long period of time. Meat connoisseurs usually use this method while barbecuing or smoking cuts of meat. It doesn't always get the fastest results, but the slow cooking process makes for flavorful and tender meat.
The best slow cooker pork is served with a potato salad and a little extra bbq sauce! This is by far the easiest pulled pork recipe you will find.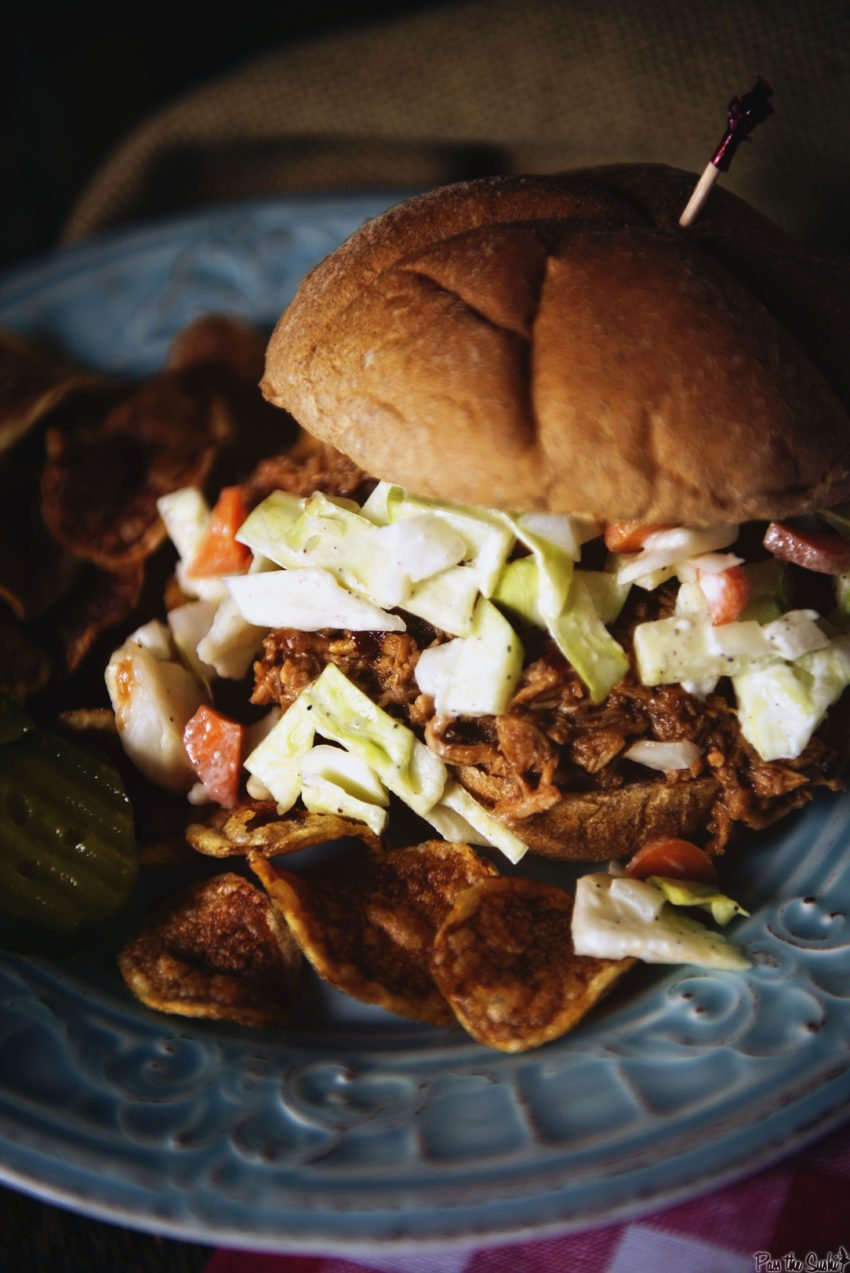 Ingredients for Delicious Shredded Pork
Boneless Pork Shoulder
Diced Onion
Minced Cloves
Salt and Black Pepper
Water
Apple Cider Vinegar – This, paired with the water and spices, makes up for the absence of chicken broth in your recipe.
Worcestershire Sauce
Ancho Chile Powder
BBQ Sauce
Buns – a brioche bun will give you an incredibly soft texture to pair with the meat. Hamburger buns or slider buns do just fine as well.
Optional Toppings: Coleslaw, Cheese, your favorite barbecue sauce, Fritos, etc
How to Make The Best Slow-Cooker Pork
Begin by patting your pork roast dry and seasoning it with salt and pepper. Arrange your onion and garlic in the bottom of the slow cooker.
Place the pork in the crockpot with the vegetables.
Whisk together your water, apple cider vinegar, Worcestershire sauce, and ancho chili powder in a small bowl. Pour this mixture over your pork butt and cover it with the lid. Allow cooking for 8 to 10 hours on low.
Remove any excess fat with a fork. Toss the pork in barbecue sauce and allow it to thicken for about 30 minutes before serving it on your fresh buns.
GIRL CARNIVORE EXPERT RECIPE TIPS
Pull apart with forks.
You'll know the pork is done when you can pull it apart nicely with two forks. It will be extremely tender at this point.
Leftover and Reheating
To store leftover tender pork, place it in a gallon ziplock freezer bag and seal it tightly. You can also store it in an airtight container in the fridge for 3 to 4 days.
To reheat your delicious meat, place it in the oven on a low setting with a little bit of liquid. Place it in a baking dish with a small amount of water and cook at about 250 degrees until it is warm. You can also reheat it in the microwave but it may come out a little dry.
Leftover pulled pork is incredibly served in sandwiches, pork tacos, and as Enchiladas.
What to Serve with Easy Slow Cooker Pulled Pork
Serving up your best cut of pork with some sides but not sure where to start. Beef tallow French fries are always a winner. Other delicious sides include smoked mac and cheese, potatoes, greens, Jalapeno popper fries, beans, and anything as indulgent as deep-fried mac and cheese!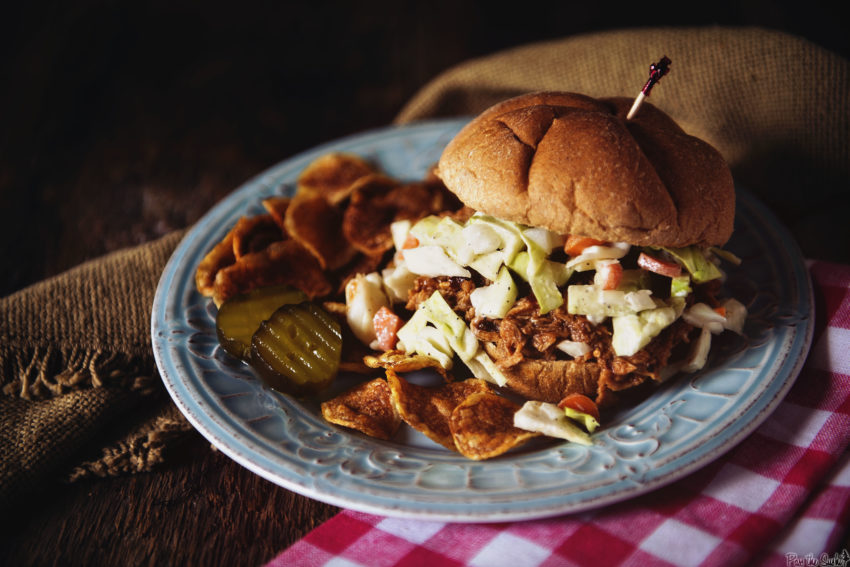 Recipe FAQs
What is the secret to tender pulled pork?
The key to tender and juicy meat is to cook this easy recipe low and slow. The best cut of meat will come out tasty when cooked at a low temperature pretty much all day. There are many different ways to achieve this, and the slow cooker is just one of them.
Can you overcook pulled pork in a slow cooker?
While it's difficult, it is possible to overcook your meat in a crock pot. The best advice here is to make sure you have enough moisture in your pot while the meat cooks. If you can, check on it occasionally and add more water if it has evaporated.
What is the best liquid to cook pulled pork in?
This recipe calls for water, but you can also use chicken broth. This will add some extra flavor to your meal. If you need more but are out of broth, just add water!
Check these out and never have a boring lunch again!
Sauces, Mops, & Condiments
This great recipe is our favorite way to cook pork for sandwiches, tacos, and more all year long. It's great for busy days when we can just hook up the slow cooker and let it do it's thing.
Easy Slow Cooker Pulled Pork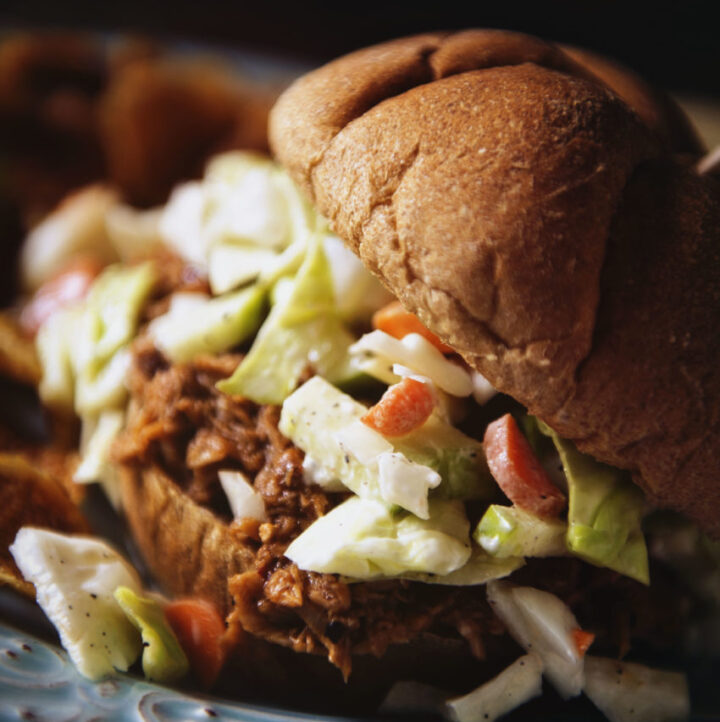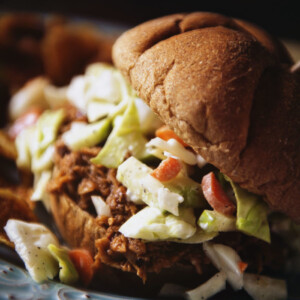 Discover the ease and deliciousness of Slow Cooker Pulled Pork, resulting in tender, juicy meat that's perfect for a variety of dishes. Let your slow cooker work its magic for mouthwatering pulled pork sandwiches, tacos, sliders, and more.
Ingredients
1 3

lbs

boneless pork shoulder

1

onion

rough dice

2

garlic cloves

minced

salt and pepper

1/2

cup

water

3

tbs

cider vinegar

2

tbs

Worcestershire sauce

1

teas ancho chile powder

BBQ sauce

Buns

Toppings: pickes

slaw, cheese, more bbq sauce, etc
Instructions
Pat the pork roast dry and season with salt and pepper. Arrange the diced onion and garlic on the bottom of the crock pot.

Season the pork with salt and pepper. Place in the crock pot.

Whisk the water, cider vinegar, Worcestershire sauce, and ancho chili powder in a bowl together. Pour over the pork. Cover with lid and allow to cook on low for 8 to 10 hours, until the pork easily pulls apart.

Remove any fat from the pork pull apart with 2 forks. Toss with barbecue sauce and allow to thicken about 30 minutes before serving on fresh buns.
Notes
BHG Creative Slow Cooker 2011
Nutrition
Serving:
1
g
|
Calories:
239
kcal
|
Carbohydrates:
2
g
|
Protein:
41
g
|
Fat:
6
g
|
Saturated Fat:
2
g
|
Polyunsaturated Fat:
1
g
|
Monounsaturated Fat:
3
g
|
Trans Fat:
0.03
g
|
Cholesterol:
109
mg
|
Sodium:
144
mg
|
Potassium:
735
mg
|
Fiber:
0.2
g
|
Sugar:
1
g
|
Vitamin A:
6
IU
|
Vitamin C:
1
mg
|
Calcium:
21
mg
|
Iron:
2
mg