Pulled Pork Rolls with Alabama bbq Sauce – Imagine a portable, dippable savory roll that is easy to make and will impress the whole team. These pulled pork rolls are everything you've ever wanted.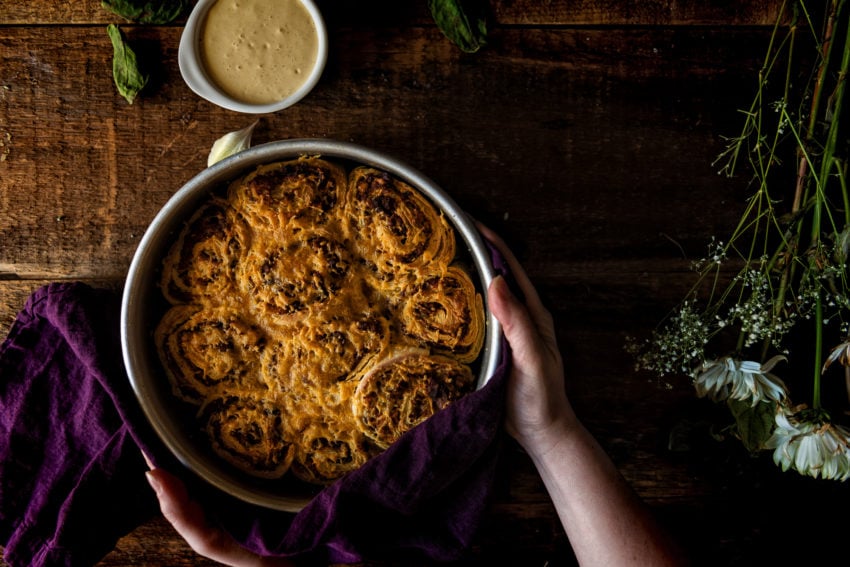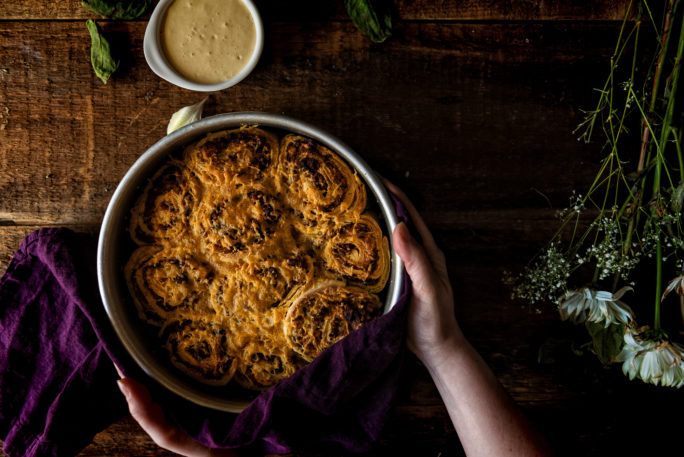 Excited to partner with Curly's BBQ to highlight the Curly's BBQ Showdown – and a chance to win a trip to Pheonix for the game! These rolls – these glorious rolls (and that Alabama sauce that goes with them) are a creation that's mine all mine. 
There's something about hand-held food and watching sports. Finger licking, napkins passing, and a little messy all seem to go hand in hand with a cold drink and passionate cheers for your favorite teams. It's the environment, and the community, and the flavors that make the whole package entertaining. You wouldn't find yourselves in the 3rd row, watching the ball get tossed back and forth without a stadium snack in your hand, and the same goes for when you're at home.
I was challenged by my new team members over at Curly's BBQ (RoadTripEats.com) to take on their new Road Trip inspired pork for a quick but delicious meal worthy of the halftime special. Given that I wanted to make a good impression, and truthfully, I wanted to deliver something I knew that could make it to the final round against my fellow competition er, teammates, I got to work dreaming up something perfect for entertaining, and yet easy enough anyone could make.
I know these Pulled Pork Rolls with Alabama BBQ Sauce are delicious – and I want you to give them a try (you can easily find Curly's in the refrigerated meat case in your grocery store). But I am really hoping you like them enough to head over to the Curly's BBQ Showdown page and VOTE on my recipe as your favorite recipe in the sweepstakes so that I make it to the next round! Bonus, there's a little something in it for you too. When you vote, you gain an entry that gives you a chance to win a trip to Phoenix for the game on April 3rd!
No pressure, but I'm kinda counting on you.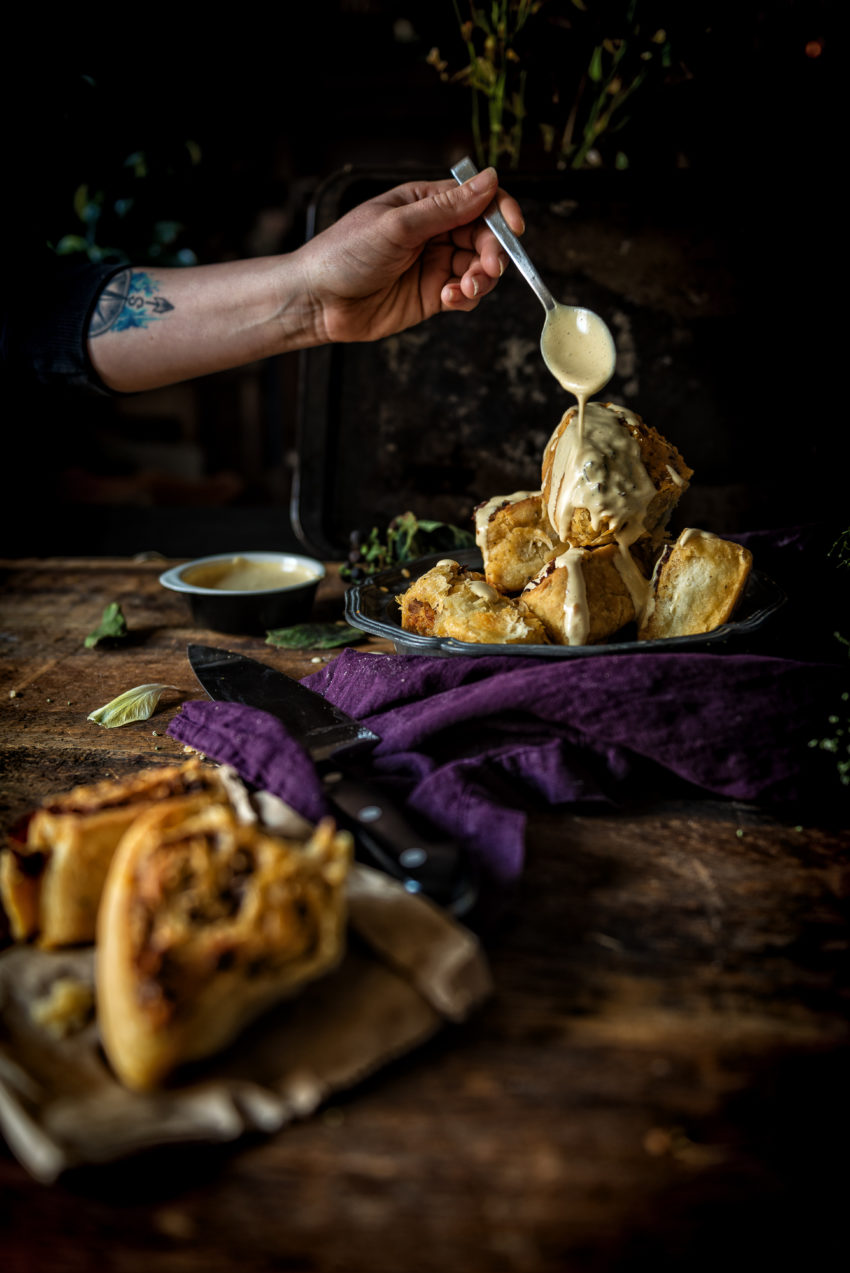 Curly's "BBQ Madness" Sweepstakes info!
Go VOTE on my dish to gain an entry for a chance to win a trip for two to Phoenix for the game on April 3rd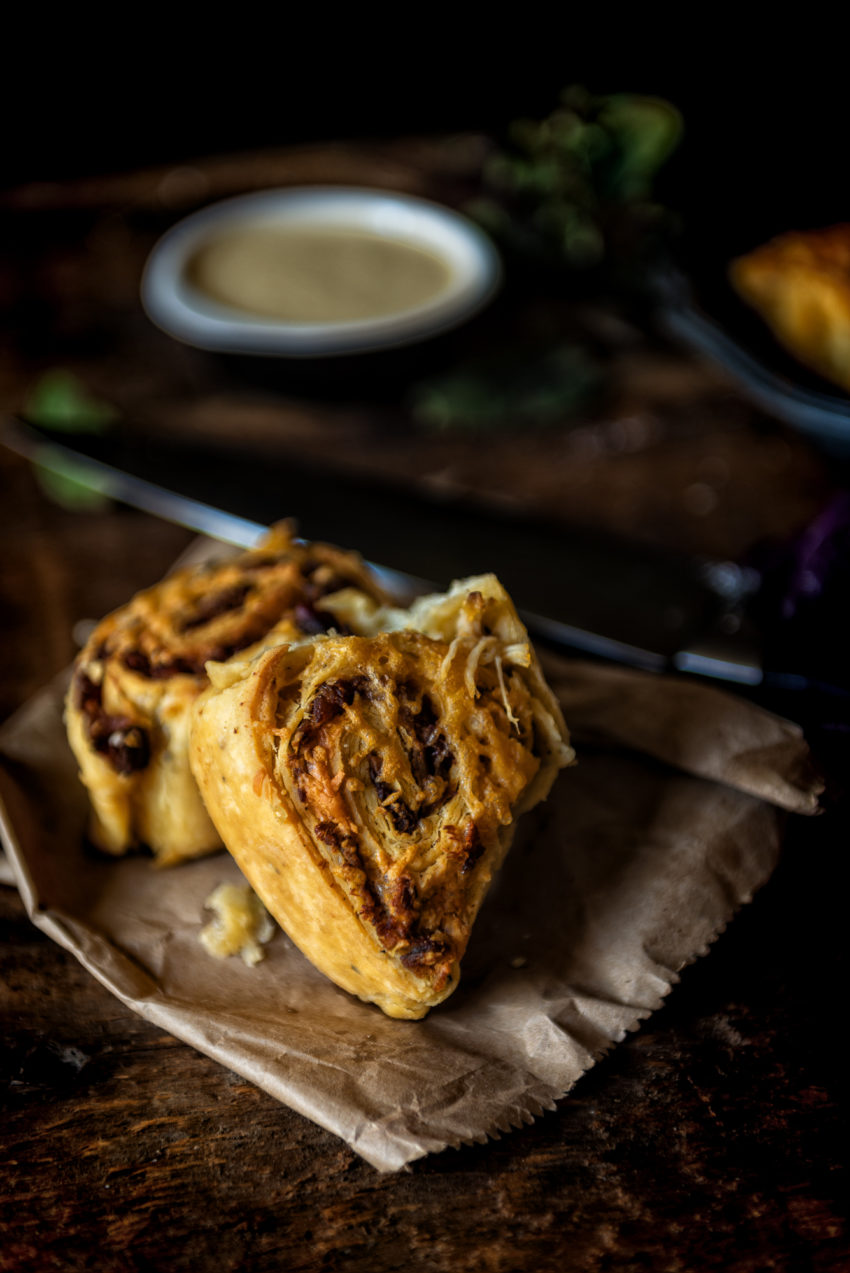 Ingredients
3

cups

flour

1

teas salt

1

tbs

baking soda

1

teas fresh thyme

chopped

¼

teas ground sage

½

teas coarse ground black pepper

½

cup

butter

cold and cut into ¼" cubes

1

cup

milk

2

packages Curly's BBP Pork Belly

thawed

1 ½

cup

shredded cheddar cheese

divided
For the Alabama Sauce
½

cup

mayo

¼

cup

apple cider vinegar

1

teas spicy mustard

½

teas salt

¼

teas ground black pepper

⅛

teas onion powder

⅛

teas ground white pepper

1

teas horseradish

1

teas Worcestershire sauce

1

teas lemon juice

1

teas brown sugar
Instructions
Preheat the oven to 385 degrees F. Grease a 9" round baking pan.

Mix the flour, salt, baking soda, thyme, sage, and black pepper in a large bowl. Work the butter in with your fingers until it's mixed in and they are the size of small peas.

Add in the milk and with a wooden spoon, mix until everything is just moistened.

On a clean work surface, sprinkle a little flour. Turn the dough out onto the work surface and form into a loose disc. Wrap and allow to rest for 10 minutes in the freezer if you have the time.

Roll the dough out onto the work surface into a 10 x 14 rectangle (don't go for perfection here).

Spread Curly's BBQ pork belly evenly in the center, leaving a 1" board around the edges. Sprinkle with 1 cup cheddar cheese. Roll up using the long edge to form a tight roll.

Cut the roll into 9 or 10 equal portions and place into the prepared pan.

Bake for 35 minutes. Carefully remove from the oven and sprinkle with the remaining cheese immediately.

For the sauce: Add all of the bbq sauce ingredients to a food processor and pulse until smooth. Store for 2 days in an airtight container if making ahead of time. Allow to warm before serving.

Serve the pinwheels with the bbq sauce for dipping or drizzle over top.
Nutrition