Hands down, the best fried chicken and waffles recipe out there. A mix of heat and sticky-sweet maple syrup coats this buttermilk fried chicken as it sits over savory cornbread waffles.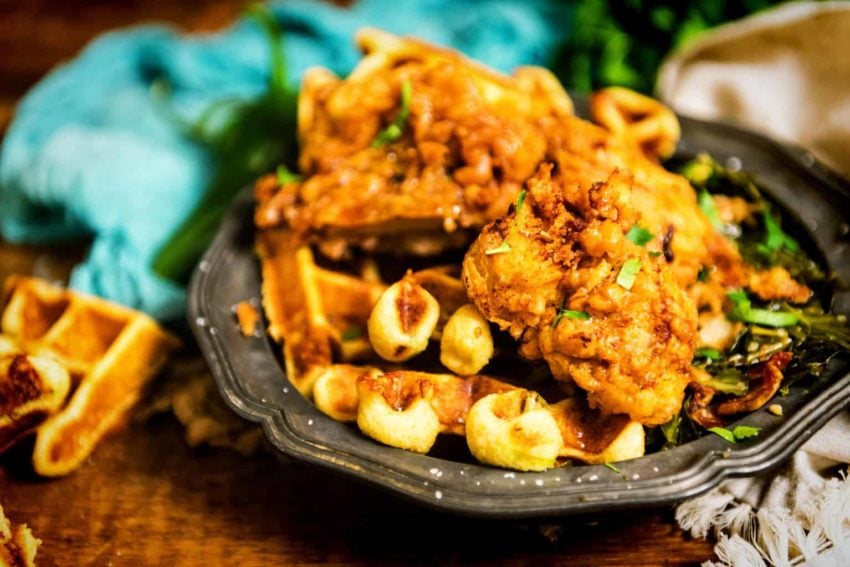 This post was sponsored by Coombs Family Farms, however, the dreamy chicken and waffles were totally inspired by their syrup and the recipe, opinions and what-nots are all, as always, my own.
What do you get when you take a girl with roots in the south and a secret ingredient from the north? The best-damned chicken and waffles a Yankee can make. Promise.
Now, let's break it down.
Fried Chicken and Waffles
Fried chicken; I judge a place by its fried chicken. Actually, I won't even order fried chicken at most places, just assuming I'd be disappointed. But, in the south, it's the one thing every grandma can make better than anyone else in the world.
Crispy skin hiding juicy, flavorful chicken is about the most umami inducing mouthfeel you can get out of a single bite. What was once a weekly occurrence, has become a menu item left for special occasions or when we're ready to haul out the heavy stock pot and load it with oil.
Most contemporary recipes will have you do a bake on the chicken, which without argument is a healthier alternative to the fried version.
But, I have also never experienced a baked 'fried-chicken' that had the same crispy bite for the outer texture as a proper piece of fried chicken.
Combine that with a buttermilk brine, and a couple of hearty sides, this becomes the definition of a modern cheat meal. But a cheat meal that's worth it.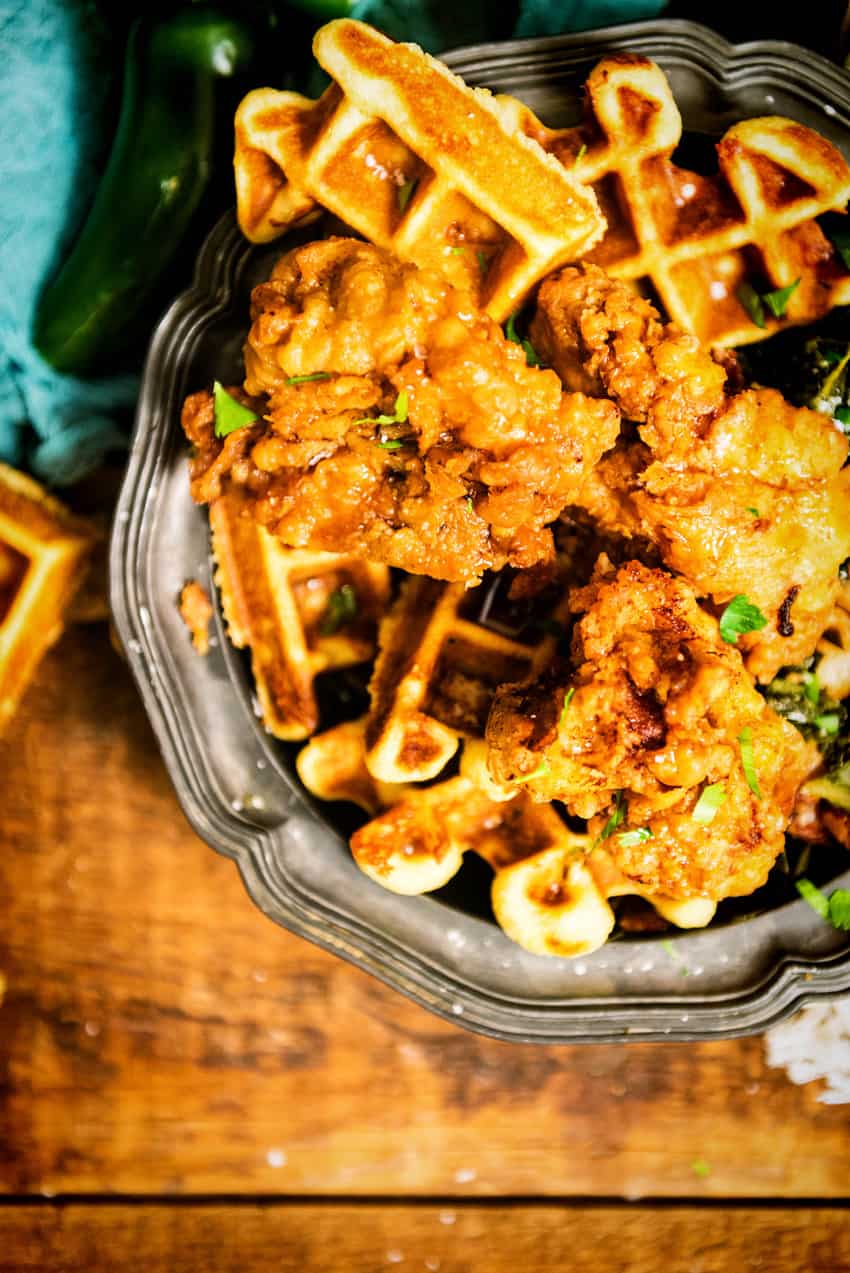 Using Chicken Thighs for Fried Chicken
By using boneless skinless chicken thighs, I was guaranteeing a solid cook time, for perfect crisping of that outer layer to be achieved while still ensuring a juicy bite.
I chose skinless because I didn't want the crunchy outer texture to rip away n the first taste (not that I wouldn't have eaten it), but to be there for every bite.
Now, the next challenge, the waffles. No one wants sugary-sweet waffles under their chicken. Ok, some people might, but it isn't what I was going for. I was looking for savory loaded with heat and cheese and just the perfect amount of sweet.
I tested several before the combination of cornmeal, jalapenos and another sharp New England ingredient came to mind.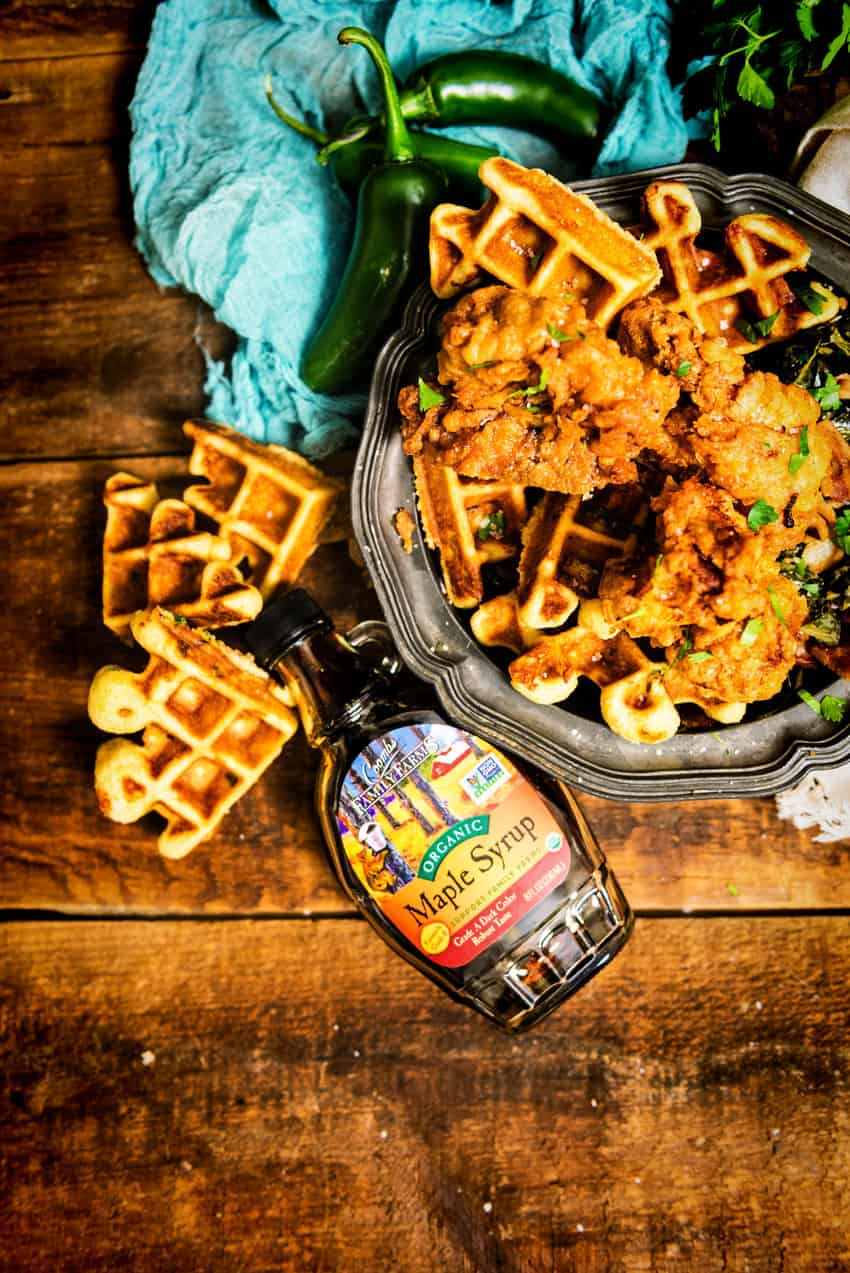 So, my secret Northern weapon in all this?
About Real maple syrup.
I am not talking that thin stuff on sale cheap, but a serious Grade A dark-amber syrup where the only ingredient on the bottle is maple syrup.
Using a darker color with a robust taste is perfect for savory recipes, like grilling and of course, meat. Curious about maple grades? Read this little cheat sheet on them. The kind you can only get from the hand tapped small maple farms of Vermont.
For seven generations the folks at Coombs Family farm have been working to practice environmental stewardship and harvesting some of the best maple syrup in the region. As their operation grew, they expanded locally, now working with over 3000 small farms in the New England region.
An honest ideal with deep roots in American agriculture and to help build one another up for the future. A little food for thought for your next maple syrup purchase, because of these partnerships, they can distribute maple syrup around the country at local markets for consumers nationwide.
When it was all said and done, the best-damned buttermilk fried chicken and cornbread waffles was born. With a sweet touch hidden in every step to round out the heat and salt as you devour.
Grab a napkin. Things are going to get good.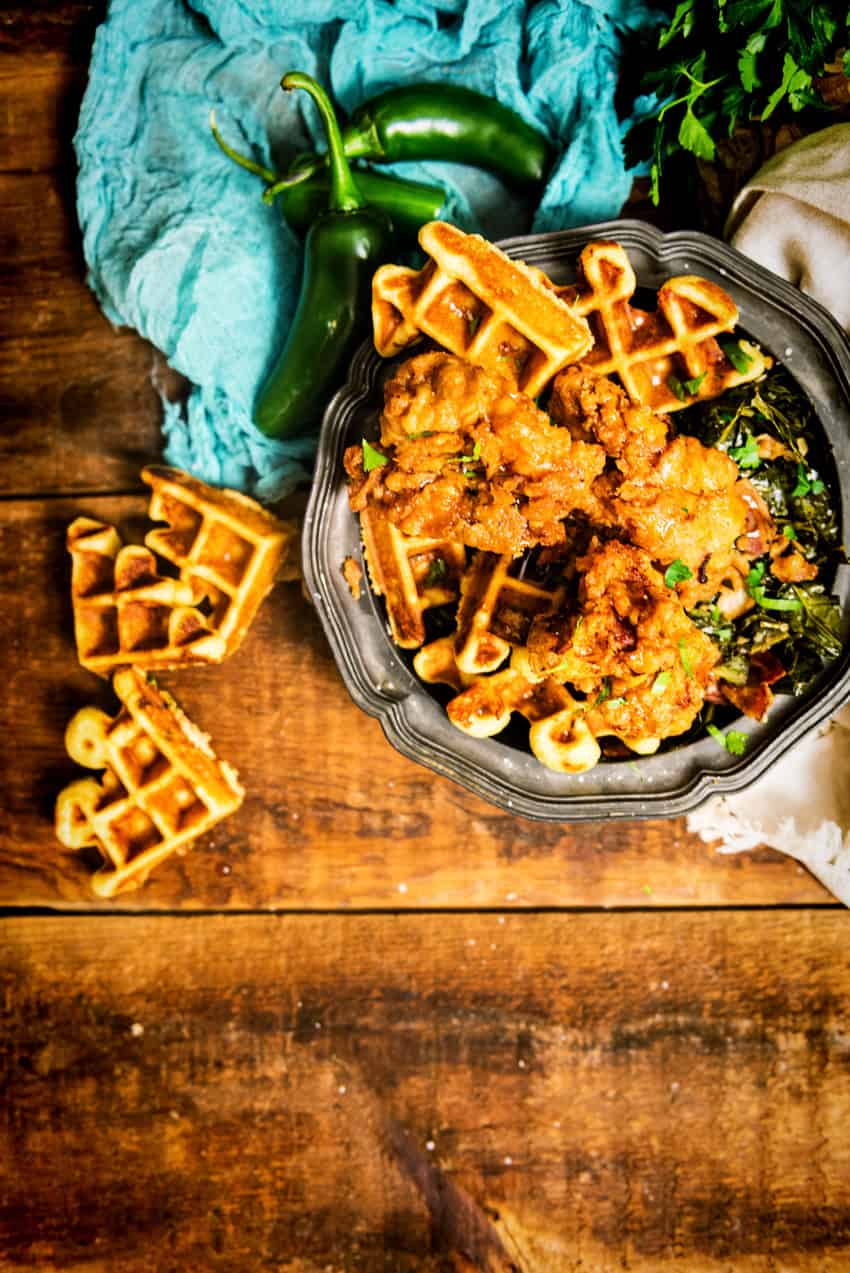 Tools Used for This Recipe:
Need more inspiration? Check out these recipes:
If you've tried my Best Ever Fried Chicken and Cornbread Waffles recipe, or any other recipe on GirlCarnivore.com please don't forget to rate the recipe and let me know where you found it in the comments below. I get inspired by your feedback and comments! You can also FOLLOW ME on Instagram @girlcarnivore as well as on Twitter and Facebook.
Best Ever Fried Chicken and Cornbread Waffles
Hands down, the best fried chicken and waffles recipe out there. A mix of heat and sticky-sweet maple syrup coats this buttermilk fried chicken as it sits over savory cornbread waffles.
Ingredients
Savory Cornbread Waffles
1

cup

flour

1

cup

cornmeal

2

tsp 

baking powder

1

tsp

baking soda

1

tsp

salt

¼

tsp

cayenne pepper

½

jalapeno

seeded and minced

2

scallions

minced

3

oz

sharp cheddar cheese

shredded

½

cup

butter

melted and cooled

3

eggs

lightly beaten

¾ – 1

cup

buttermilk

4

tbs

Grade A Maple Syrup
Perfect Fried Chicken Thighs
Canola

vegetable, or if you are winning at life, peanut oil for frying

4

boneless skinless chicken thighs

Buttermilk

to cover

4

tbsp

Grade A Maple Syrup

2

cups

Flour

1

tsp

Cayenne

2

eggs

1

tbsp

buttermilk

1

tsp

maple syrup

salt & pepper
Instructions
For the Buttermilk Cornbread Waffles
Preheat your waffle iron according to manufacturers instructions

Whisk the flour, cornmeal, baking powder, salt, and cayenne together in a large bowl. Toss the jalapeno, scallions, and cheddar in to mix.

Whisk the butter, eggs, buttermilk and maple syrup in another bowl to combine.

Pour into the flour mixture and toss until everything is just moistened.

Working in batches, scoop batter into your preheated waffle iron and cook until golden brown.

Set cooked waffles in a preheated oven to keep warm while you finish prepping the rest of the batch.

Waffles can be made ahead of time, and frozen for later use.
Perfect Fried Chicken Thighs
In a heavy duty resealable bag or container, mix enough buttermilk to cover the chicken and maple syrup to combine.

Add the chicken thighs and allow to sit overnight.

When ready to cook, pour cooking oil into a large heavy-duty pot (preferably cast iron) to about 4 inches deep, leaving at least 1 inch from the top of the surface of the oil to the rim of the pot.

Bring to 375 degrees.

Set up your workstation. Whisk the flour, cayenne, and pinch of salt together in a large bowl, divide into two bowls.

Whisk the eggs, buttermilk, and maple syrup in another large bowl.

Working in batches, arrange the chicken in the buttermilk next to the first bowl of flour, dip and cover in flour.

Shake off any excess flour. Dip the chicken into the egg bath and coat, draining off excess egg.

Then toss in a bowl filled with the remaining flour mixture for that perfect outer coating.

Using a cook safe thermometer, monitor the temperature of the oil, and adjust your heat level as needed.

Without shaking off any extra flour, using tongs, transfer the chicken carefully to the pot of hot oil and allow to cook.

Using a cook safe thermometer, monitor the temperature of the oil, and adjust your heat level as needed.

Too hot or too low can produce soggy, oil-drenched undercooked chicken and no one wants that.

Carefully remove the chicken with a slotted spoon and drain on a wire rack over a baking rack lined with paper towels. Repeat as needed.

Check the internal temperature of the chicken and make sure it is 165 before serving.

Otherwise, finish the cook by tossing the chicken in an oven preheated to 350 degrees for another 10 minutes.
Notes
Pro Trick: Preheat the oven to 200 degrees to keep everything warm for serving while you work your way through the frying and waffle making process.
Nutrition
Nutrition Facts
Best Ever Fried Chicken and Cornbread Waffles
Amount Per Serving
Calories 1117
Calories from Fat 387
% Daily Value*
Fat 43g66%
Cholesterol 395mg132%
Sodium 1423mg62%
Potassium 966mg28%
Carbohydrates 131g44%
Protein 48g96%
Vitamin A 1560IU31%
Vitamin C 3.5mg4%
Calcium 374mg37%
Iron 7.8mg43%
* Percent Daily Values are based on a 2000 calorie diet.