Upgrade steak night with this high-class version of a classic staple. But, can steak and fries be anything but over-salted bar food? By frying the potatoes to a perfect crisp in duck fat and pan-searing top-quality beef in a compound butter and a quality iron skillet, this steak frites recipe is worthy of your finest table linens.
Steak Frites originated in Europe and literally translates to steak and fries. But with a touch of class. These shoestring fries piled high atop a pan-seared New York strip steak are the perfect example of elevating pub fiar.
Wanting to create a restaurant-worthy dish at home, I started with some duck fat and a craving for herb spiced fries and the perfect New York strips steaks for this recipe. Without the bone of a ribeye, the strip is ideal for slicing through and getting fries all in one bite.
Using fresh Russet Idaho Potatoes, sliced thin and rolled in the duck fat and baked to crispy perfection for a solid crunch on a hot aluminum cookie sheet and seasoning liberally with garlic, fresh herbs, and Jacobson Smoked Rosemary Salt things were looking up.
Then I whipped up a quick Dijon aioli, thinking that serving ketchup with this masterpiece would be downright criminal. The crunch, herbs, and peppery kick from the aioli almost made these fries a meal in themselves.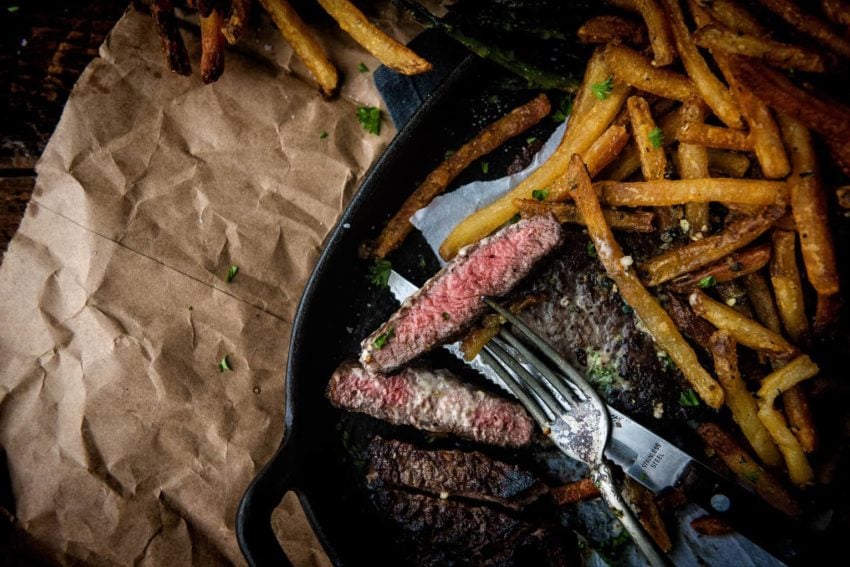 Paired with the New York Strip things just got sexy.
A simple roasted garlic compound butter, rolled in thick black peppercorns, was the start to the perfect pan-seared New York strip. Set aside to rest, while the fries came together, I started heating the pan to get things smoking. Literally.
When the fries were just ready to be pulled, the strip steaks when on medium-high smoking hot cast iron. The sear was perfect. Flipped, basted in butter, and finished in minutes for that perfect medium-rare center.
Finally, assembled under the Rosemary Duck Fat Fries, with a dollop of that roasted garlic black pepper compound butter atop, this recipe made my previous Steak Frites experience a pale and distant memory.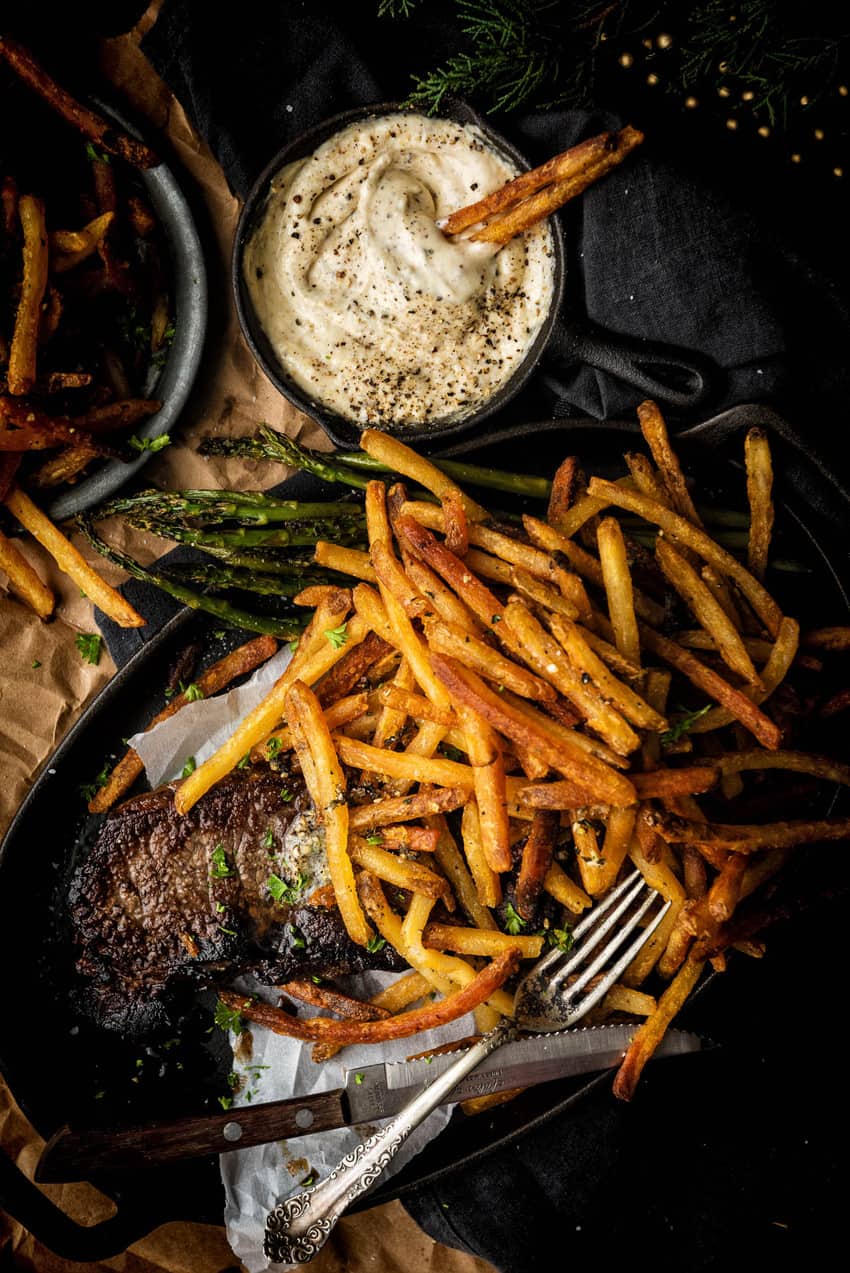 Tools used for this recipe
Jacobsen Rosemary Salt
Duck Fat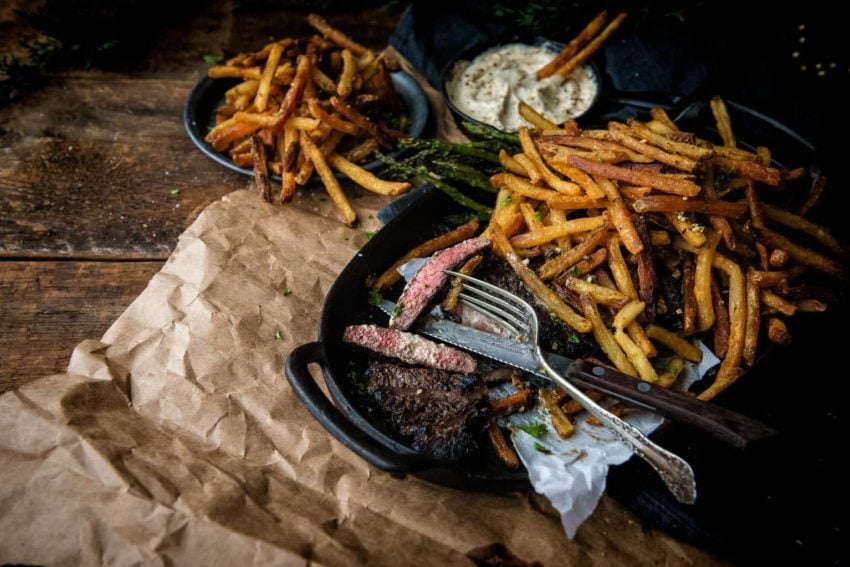 Want some more amazing steak night recipes? Try my favorites:
If you've tried my Steak Frites with Rosemary Duck Fat Fries recipe, or any other recipe on GirlCarnivore.com please don't forget to rate the recipe and let me know where you found it in the comments below. I get inspired by your feedback and comments! You can also FOLLOW MEon Instagram @girlcarnivore as well as on  Twitter and Facebook.
Steak Frites with Rosemary Duck Fat Fries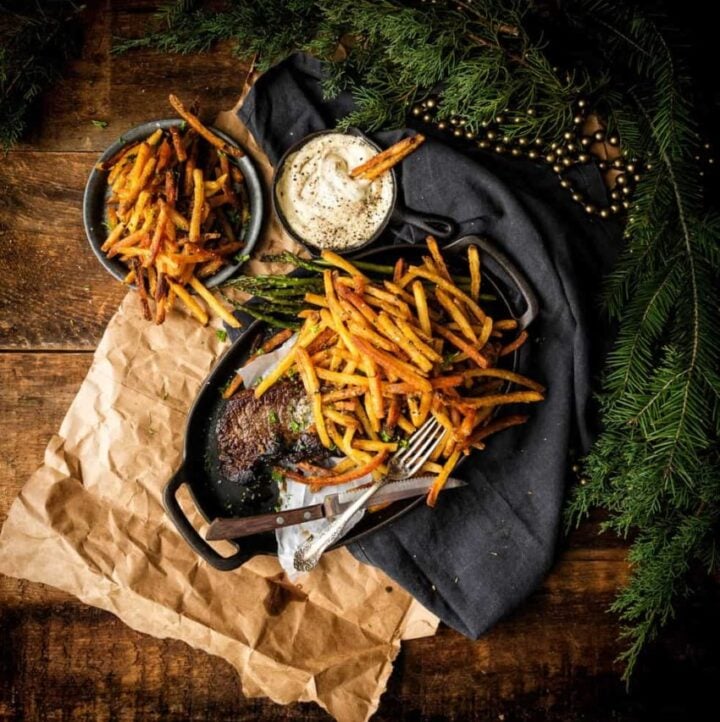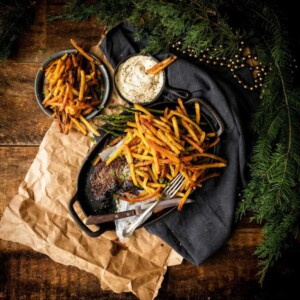 This delicious pan seared steak recipe is cooked to a beautiful medium rare and served with a compiund butter on top and paired with ultra crispy fries for an epic steak frites!
Ingredients
For the Roasted Garlic Peppercorn Compound Butter
1

head garlic

tip 1/3 removed

4

tbs

olive oil

4

tbs

unsalted butter

room temperature

1

tbsp

smoked sea salt

1/4

cup

coarse ground black pepper
Rosemary Duck Fat Fries (recipe follows)
For the New York Strips
4

tbs

unsalted butter

2

New York Strip Steaks
Instructions
Roasted Garlic Peppercorn Compound Butter
Preheat the oven to 425 degrees. Wrap the head of garlic in a aluminum foil makeshift basket, drizzling with olive oil. Cook, for 25-30  minutes, until golden and soft. Allow to cool and then mince.

When cooled, press the garlic cloves out from the husk. Chop and set aside.

Mash the butter with a fork, adding  4 to 6 cloves of garlic and smoked sea salt.

Arrange plastic wrap on a smooth surface and dollop the butter in the center, wrap the edges and roll into a tube.

Unroll the butter and sprinkle the pepper over top, rolling back and forth to coat the butter. Re-wrap in the plastic wrap and place in fridge until ready to use.

Butter can be made 2 to 3 days ahead.
For the Pan Seared New York Strip Steaks
Allow a heavy bottomed iron skillet over medium-high heat until smoking hot. I mean smoking hot.

Pat steaks dry and season with salt.

Pull the pan from the heat and add butter. This will produce smoke, so have the oven vent on. As soon as the foam subsides, toss the steaks into the pan, back over the heat.

Allow the steaks to sear, forming a nice crust, without touching them for 1 to 2 minutes. Flip, toss the remaining butter into the pan, baste the steaks, and allow the steaks to sear on the other side, another 2 – 3 minutes.

Check temp for the desired doneness off heat. Allow to rest on warmed serving platters. Serve with a mountain of frites atop.
Notes
Warm serving dishes in an oven ahead of time, on the keep warm or at 190 degrees. Only use oven safe dishes and placemats on your table when using this trick. Never serve hot dishes to children. Duh.
Nutrition
Calories:
563
kcal
|
Protein:
23
g
|
Fat:
53
g
|
Saturated Fat:
23
g
|
Cholesterol:
129
mg
|
Sodium:
1806
mg
|
Potassium:
302
mg
|
Vitamin A:
725
IU
|
Vitamin C:
0.2
mg
|
Calcium:
15
mg
|
Iron:
2
mg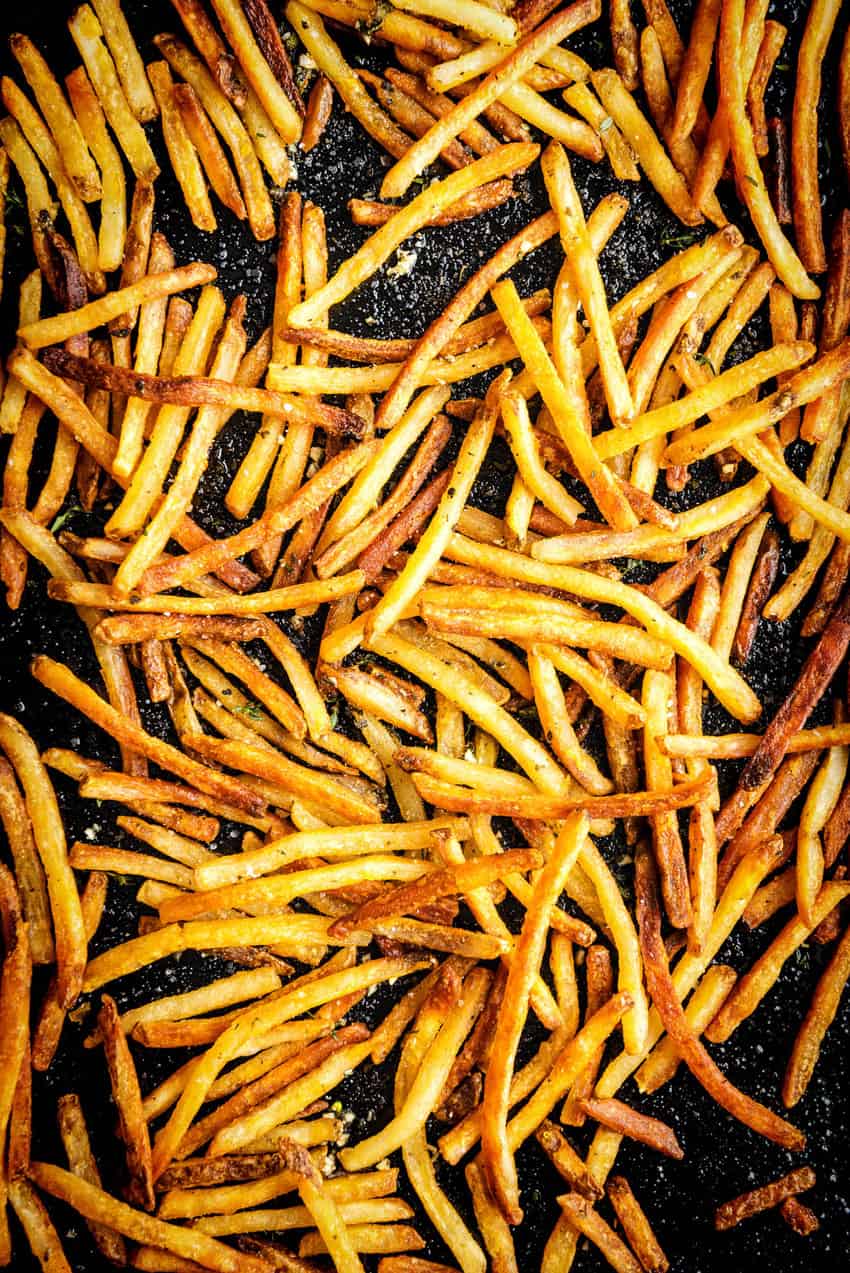 Rosemary Duck Fat Fries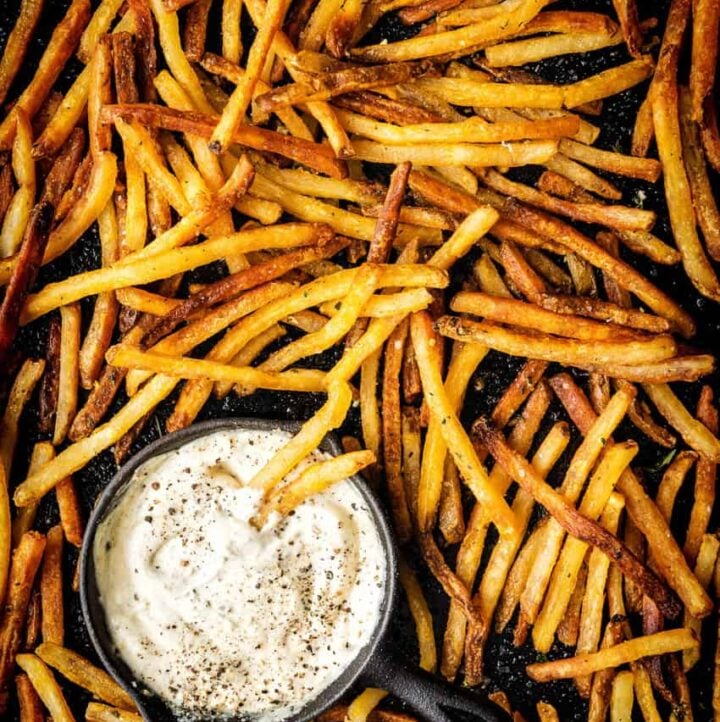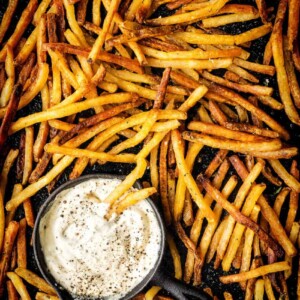 This ultra crispy French Fry recipe uses duck fat for the best homemade fries you have ever tasted!
Ingredients
4

large russet potatoes

scrubbed and sliced into 1/4″ strips

1/2

cup

Duck Fat

room temperature

salt and pepper

1

tbsp

Truffle Oil

2

cloves

chopped roasted garlic

chopped rosemary

thyme, sage

Jacobsen Rosemary Salt
For the Aioli
1/4

cup

Mayo

1

tbsp

Dijon Mustard

1

teas Worcestershire Sauce

1/2

Truffle Oil

Chopped Rosemary

Smoked Salt

Coarse Ground Black Pepper
Instructions
Preheat the oven to 450 degrees.

Toss the sliced potatoes in a dish with the duck fat, reserving 2 tbsp. Season liberally with salt.

Rub 2 baking sheets with a thin layer of the reserved duck fat.

Arrange the potatoes onto the baking sheets in a single layer.

Bake for 25-30 minutes, flipping fries and rotating pans halfway through cook time, until golden and crunchy.

Meanwhile, whisk the mayo, mustard and Worcestershire together in a small bowl. Drizzle truffle oil, chopped rosemary salt, and pepper over top. Set aside.

When the fries are removed from the oven, toss with truffle oil and season with the chopped roasted garlic, herbs and Rosemary Salt.

Allow fries to cool for a few minutes before serving with aioli.
Nutrition
Serving:
1
g
|
Calories:
210
kcal
|
Carbohydrates:
16
g
|
Protein:
2
g
|
Fat:
16
g
|
Saturated Fat:
4
g
|
Polyunsaturated Fat:
4
g
|
Monounsaturated Fat:
7
g
|
Trans Fat:
0.01
g
|
Cholesterol:
13
mg
|
Sodium:
58
mg
|
Potassium:
362
mg
|
Fiber:
1
g
|
Sugar:
1
g
|
Vitamin A:
6
IU
|
Vitamin C:
5
mg
|
Calcium:
14
mg
|
Iron:
1
mg
See the Web Store for Steak Frites with Rosemary Duck Fat Fries