Upgrade steak night with this high-class version of a classic staple. But can steak and fries be anything but over-salted bar food? By frying the potatoes to a perfect crisp in duck fat and pan-searing top-quality beef in a compound butter and a quality iron skillet, this steak frites recipe is worthy of your finest table linens.
Steak Frites originated in Europe and literally translates to steak and fries. But with a touch of class. These shoestring fries piled high atop a pan-seared New York strip steak are the perfect example of elevating pub fare. Tender, boldly flavored beef paired with deliciously seasoned, crispy fries–nothing could be more satisfying. You'll feel like you're in Paris (or, more historically accurately, Belgium) at your own kitchen table.
What is Steak Frites
With roots in France and Belgium (both nations claim ownership, though Belgium seems to be more widely considered the winner), steak frites (literally "steak and fries") are a staple of Western European cuisine. Legend has it that, despite being considered a French bistro classic, during the cold Belgian winter of 1680, there was a shortage of fish to fry, so potatoes took their place. The concept of fries spread, reaching American troops in World War I (who mistakenly thought they were in France and called them " French fries ").
Frites were paired with steak recipes in bistros and brasseries throughout the region in subsequent decades and were traditionally served to couples in love (a great excuse to whip out this recipe for your next dinner date night).
We top ours with a savory compound butter recipe and serve it with duck fat french fries with a peppercorn aioli for a serious spin on elevated pub food.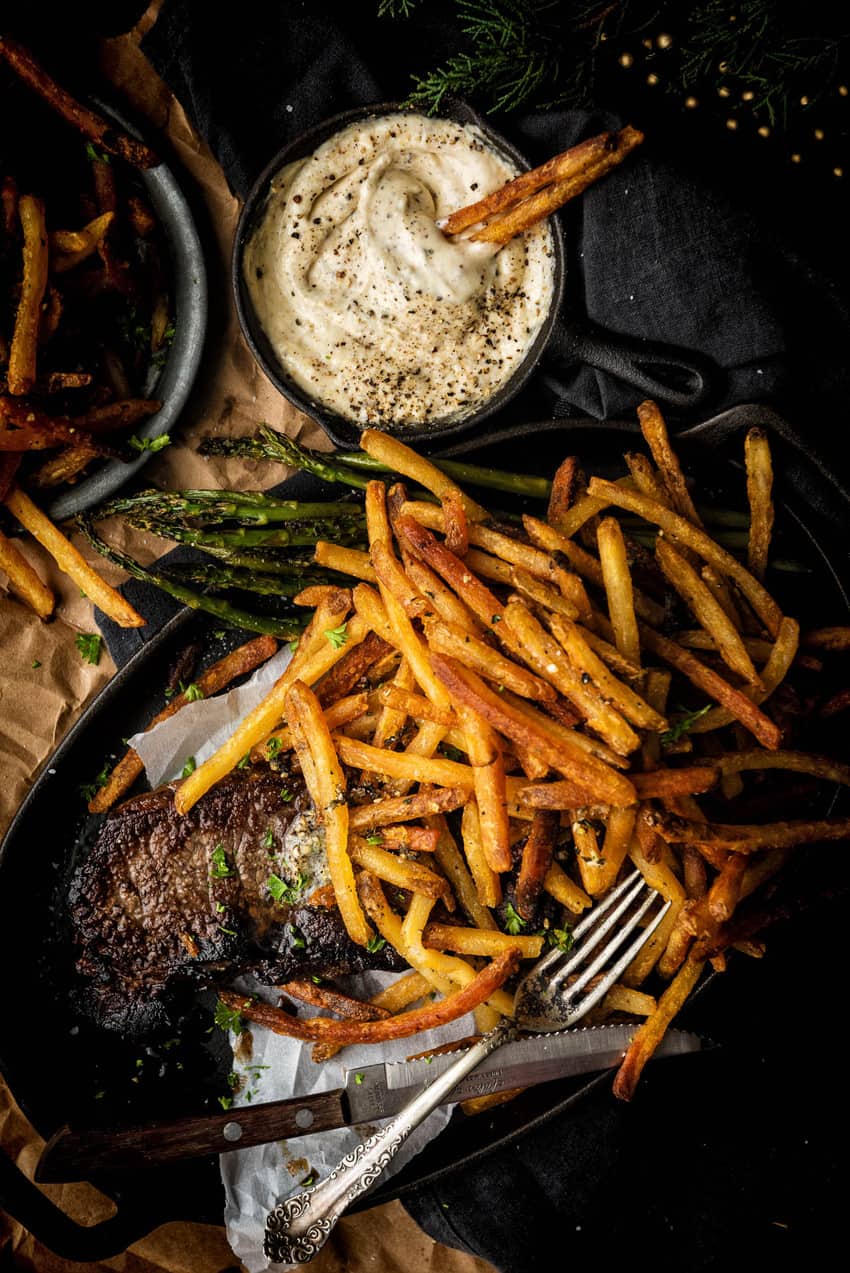 Ingredients for Steak Frites
For the Roasted Garlic Peppercorn Compound Butter
Head of garlic, tip ⅓ removed
Olive oil
Unsalted butter, room temperature
Smoked sea salt or coarse kosher salt
Coarsely ground black pepper
For the New York Strips
Unsalted butter
New York strip steaks
Tools Used for This Recipe
Jacobsen Rosemary Salt
Duck Fat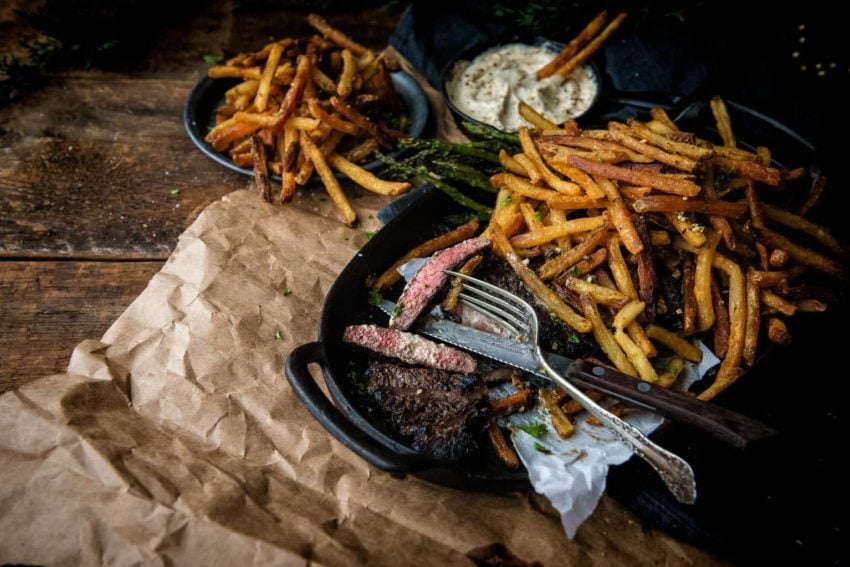 How to Make Steak Frites
Making the Roasted Garlic Peppercorn Compound Butter
Start by preheating your oven to 425 degrees F.
Wrap your head of garlic in a makeshift aluminum foil blanket and drizzle with olive oil.
Cook the garlic in the oven for 25-30 minutes, or until it becomes soft and golden.
Once the head cools, press the garlic cloves out from the husk, chop each clove, and set the garlic aside.
Mash the butter with a fork and add it to four to six cloves of garlic, mixing everything with smoked sea salt.
Spread plastic wrap over a smooth surface, dolloping the garlic butter at the center.
Wrap the butter and roll it into a tube, then unroll it, and sprinkle it with pepper.
Roll the butter back and forth to coat it in the pepper, re-wrap it in plastic wrap, and stick it in the fridge (you can make the butter up to 2-3 days in advance).
Making the Pan-Seared New York Strip Steaks
Place a heavy-bottomed cast iron skillet over medium-high heat, allowing it to get truly smoking hot.
Meanwhile, pat your steaks dry and season them with salt.
Pull the pan from heat and add butter (be ready to see some smoke–turn your oven vent on in advance).
As soon as the foam subsides, toss the steaks in the pan and put it back on the stove.
Let the steaks sear until a nice salt-and-peppery crust forms (don't touch them for a minute or two).
Flip the steaks and toss the remaining butter into the pan to baste. Let the steaks sear for another 2-3 minutes on the other side. Cooking time will vary based on how thick your cuts are.
Finally, use an instant-read thermometer to check for your desired doneness off of the heat. When they're done to your preference, allow your steaks to rest on warmed serving platters topped with the compound butter, and serve with a mountain of fries on top. Season everything with a pinch of salt and pepper to serve.
Leftovers and Reheating
You can store your leftover steak frites in an airtight container in the fridge for up to four days. You can also freeze your seared steak for up to six months (but keep in mind that it may dry out over time and we don't recommend it).
You can reheat this steak low and slow in the oven or use the microwave in a pinch. You can also reheat it with beef broth in a nonstick skillet. Use medium heat and place the steaks down in a single layer to heat evenly.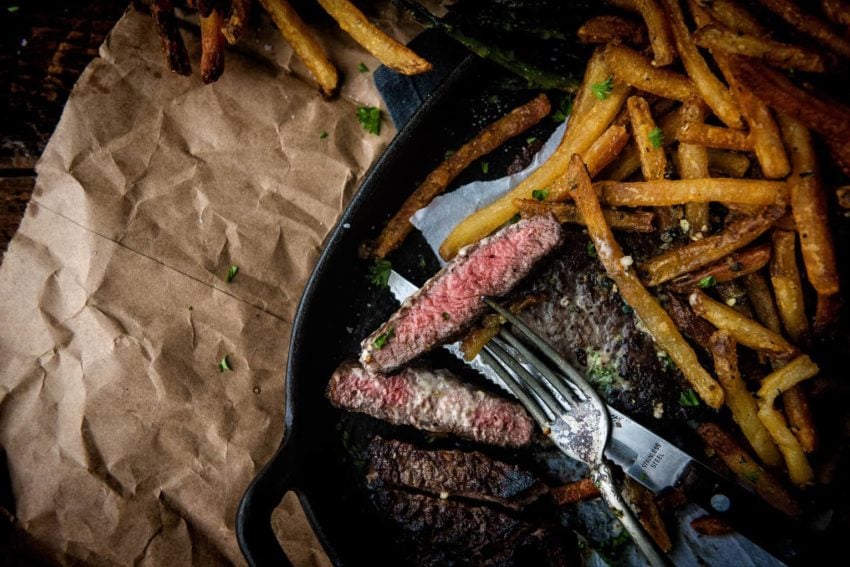 What to Serve with Steak Frites
Steak frites is an absolutely delicious combo all on its own, but you can also pair it with a simple side salad or a veggie of your choice (like roasted carrots, broccoli, smoked cabbage, or smoked brussels sprouts). Try it with a buttered roll, smoked mac and cheese, or even alongside less sophisticated pub food classics like grilled pizza or mozzarella sticks.
FAQs
What Cut of Steak is Best for Steak Frites?
This steak frites recipe calls for the New York strip, a famously tender cut from the short loin of the cow. Known for its intense, beefy flavor and chewy texture, the New York strip complements the soft, salty fries nicely. Other common steak frites cuts of steak include the rib eye, the porterhouse, and the flank steak.
Is Steak Frites Expensive?
Some foodies are shocked to learn that steak frites can get pricey–it's essentially pub fare, after all. However, a good European steak frites uses a high-quality cut of steak and is seen as far more than just meat and potatoes. The New York strip this recipe calls for is a relatively expensive cut of steak. However, there are other options available, and especially since you're cooking your steak fries at home, it doesn't have to break the bank.
What Sauce Goes Best with Steak Frites?
The classic sauce pairing for perfect steak frites is a bold black peppercorn sauce. Other options include mustard cream, classic Béarnaise, and any kind of aioli or garlic butter sauce. Plus, you'll of course, need ketchup and Dijon mustard for the fries (and preferably some kind of aioli there as well).
Can I make my own fries?
One of the best ways to enjoy this recipe is by making your own Duck Fat Fries or even beef tallow fries. Use Yukon golds to achieve delicious potato flavor to go with your steak. These golden brown fries are a delicacy coated in steak juices and extreme flavor.
MORE STEAK NIGHT INSPIRATION:
Create this succulent steak recipe at home and enjoy the flavors of traditional street fare. If you've tried our Steak Frites recipe or any other recipe on GirlCarnivore.com, please don't forget to rate the recipe and leave feedback in the comments below.
Classic Steak Frites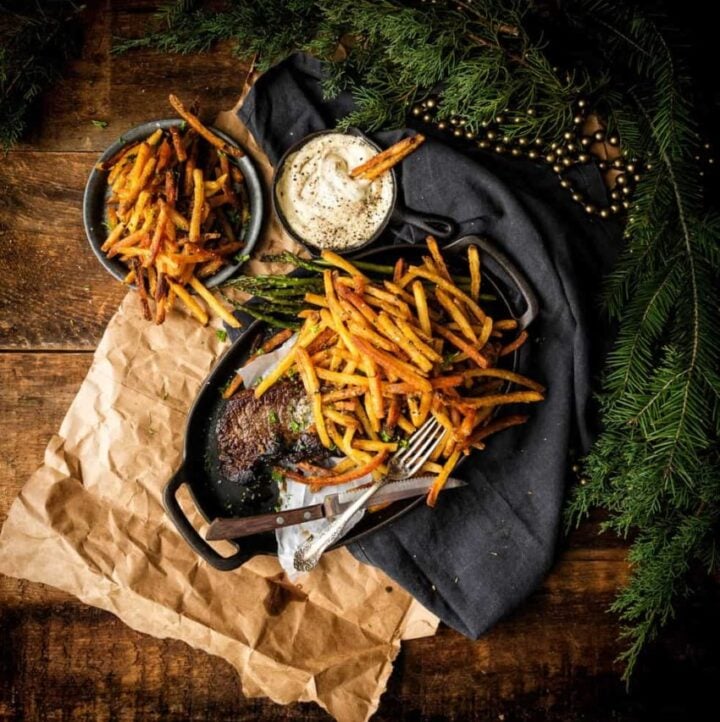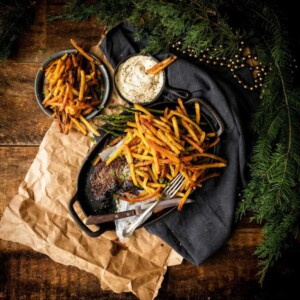 This epic pan-seared steak frites is cooked to a beautiful medium rare and served with compound butter, paired with ultra-crispy fries! You'll feel like you're in Paris for a fraction of the price.
Ingredients
For the Roasted Garlic Peppercorn Compound Butter
1

head garlic

tip 1/3 removed

4

tbs

olive oil

4

tbs

unsalted butter

room temperature

1

tbsp

smoked sea salt

1/4

cup

coarse ground black pepper
For the New York Strips
4

tbs

unsalted butter

2

New York Strip Steaks
Instructions
Roasted Garlic Peppercorn Compound Butter
Preheat the oven to 425 degrees. Wrap the head of garlic in a aluminum foil makeshift basket, drizzling with olive oil. Cook, for 25-30 minutes, until golden and soft. Allow to cool and then mince.

When cooled, press the garlic cloves out from the husk. Chop and set aside.

Mash the butter with a fork, adding 4 to 6 cloves of garlic and smoked sea salt.

Arrange plastic wrap on a smooth surface and dollop the butter in the center, wrap the edges and roll into a tube.

Unroll the butter and sprinkle the pepper over top, rolling back and forth to coat the butter. Re-wrap in the plastic wrap and place in fridge until ready to use.

Butter can be made 2 to 3 days ahead.
For the Pan Seared New York Strip Steaks
Allow a heavy bottomed iron skillet over medium-high heat until smoking hot. I mean smoking hot.

Pat steaks dry and season with salt.

Pull the pan from the heat and add butter. This will produce smoke, so have the oven vent on. As soon as the foam subsides, toss the steaks into the pan, back over the heat.

Allow the steaks to sear, forming a nice crust, without touching them for 1 to 2 minutes. Flip, toss the remaining butter into the pan, baste the steaks, and allow the steaks to sear on the other side, another 2 – 3 minutes.

Check temp for the desired doneness off heat. Allow to rest on warmed serving platters. Serve with a mountain of frites atop.
Notes
Warm serving dishes in an oven ahead of time, on the keep warm or at 190 degrees. Only use oven safe dishes and placemats on your table when using this trick. Never serve hot dishes to children. Duh.
Nutrition
Calories:
563
kcal
|
Protein:
23
g
|
Fat:
53
g
|
Saturated Fat:
23
g
|
Cholesterol:
129
mg
|
Sodium:
1806
mg
|
Potassium:
302
mg
|
Vitamin A:
725
IU
|
Vitamin C:
0.2
mg
|
Calcium:
15
mg
|
Iron:
2
mg
SourceS
HistoryEats: History of Steak Frites via Youtube:
https://www.youtube.com/watch?v=UJX25qex2gU